Cheap and Homemade Fire Pit Seating Designs and Landscaping Ideas – We're building a fire pit in our backyard – yay!
We're going to do a simple round DIY fire pit design – nothing TOO fancy, but I really want small backyard designs and ideas of ways to do seats AROUND my new fire pit…AND do it on a budget.
I LOVE creative and cheap backyard makeover ideas that don't LOOK cheap, don't you?
If you're looking for homemade, creative and CHEAP fire pit seating ideas for your outdoor fire pit area, these simple seating area ideas I've found in the pictures below will probably interest you.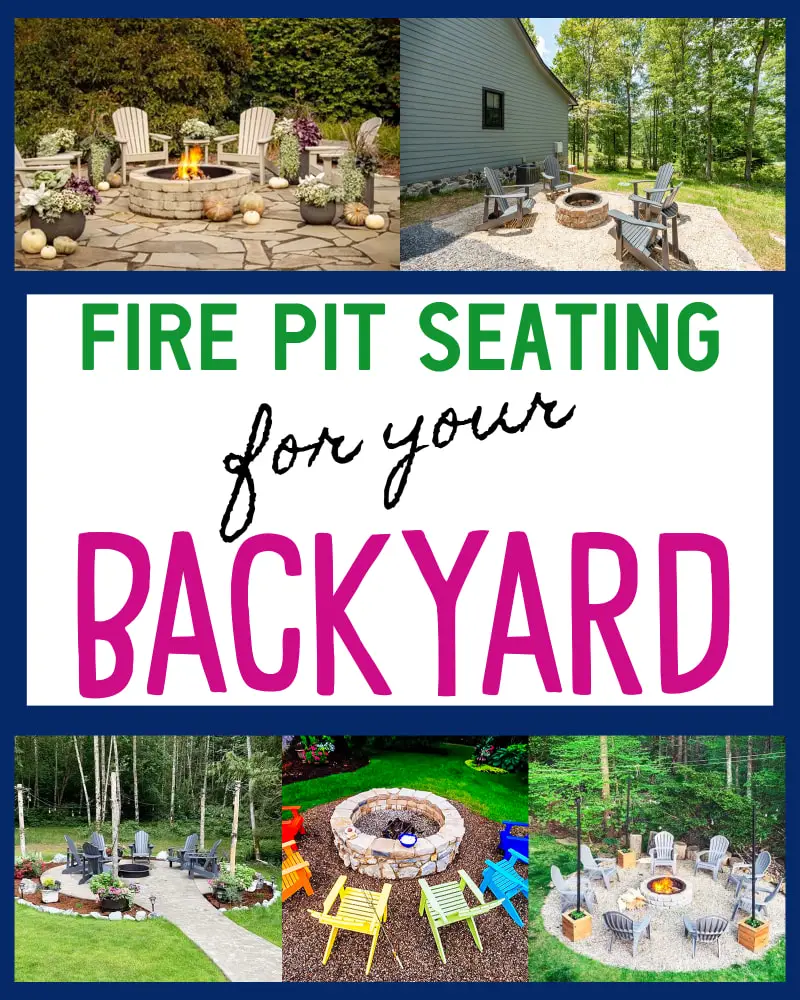 Welcome to Decluttering Your Life - we hope you enjoy our quick decluttering tips, organization ideas and simple DIY solutions for your home - posts may contain ads & affiliate links - that's how we keep the lights on =)
---
---
---
Fire Pit Seating Designs
Let's look at some cheap store-bought and homemade fire pit seating designs for a small fire pit area in your backyard or patio.
I'm a big fan of rustic fire pits since we have a country backyard, but WOW do I LOVE those bright and funky colored chairs around that circle fire pit in the picture below!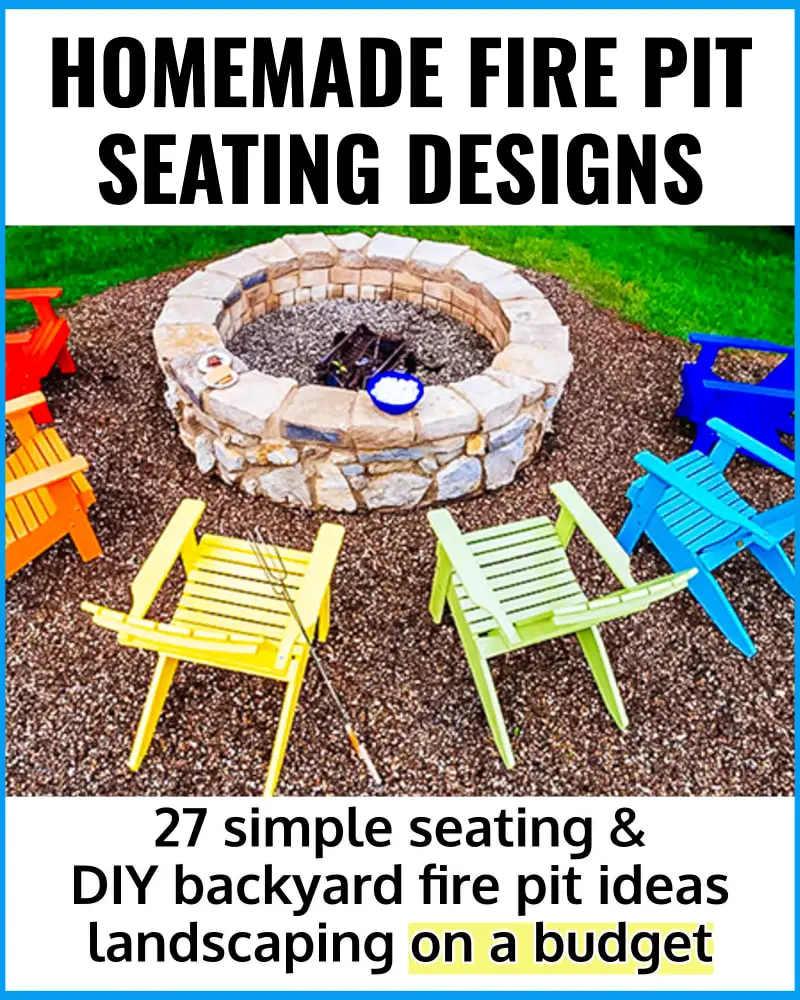 This next simple and cheap outside fire pits backyard designs is something like these chairs…
note: pay attention to the arrows on the picture of fire pit seats below.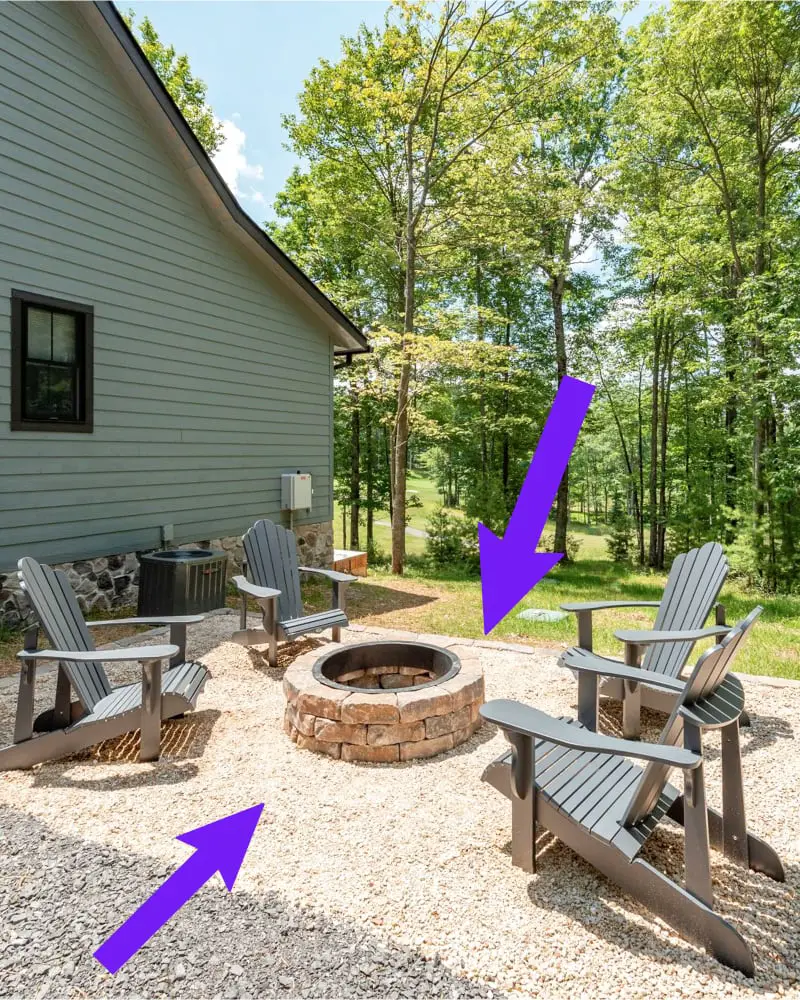 You see where I added those 2 purple arrows in the seating area?
Personally, I think those 2 spaces each need another chair, don't you?
I've seen those types of outdoor chairs at Lowe's and Home Depot lots of times, but never sat in them because they didn't LOOK comfortable.
But then, one of our really close friends built a fire pit area in his backyard and put those type of chairs around it.
Let me tell you something – those chairs are CRAZY comfortable!
So, I think we'll go with that type of seating, but I don't want my fire pit design to be THAT simple.
Then I found this idea in the next picture for landscaping our fire pit area.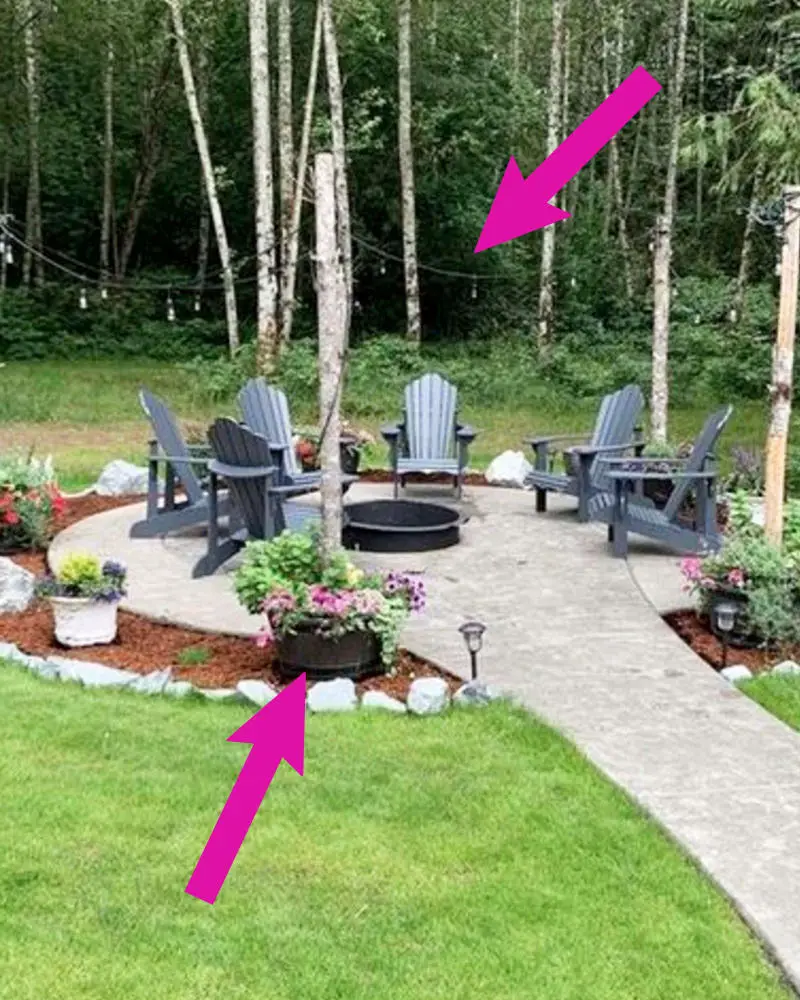 Now THAT fire pit design and landscaping is more what I'm thinking about for our yard!
Isn't it GORGEOUS!
I love the seating and really love the container plants and flowers in the rock lined border around the fire it that one of my arrows points to.
AND, look at the top arrow – it's pointing to hanging outdoor lights all around over the fire pit area.
BEAUTIFUL!
While I feel pretty certain I won't be able to get my hubby to pour a concrete walkway and fire pit area pad like that, I think we can achieve the same concept with gravel around the fire pit and then the landscaped area on the outside of that.
I do like black gravel for my fire pit area, but I'm truly not in LOVE with it.
Something like in this picture: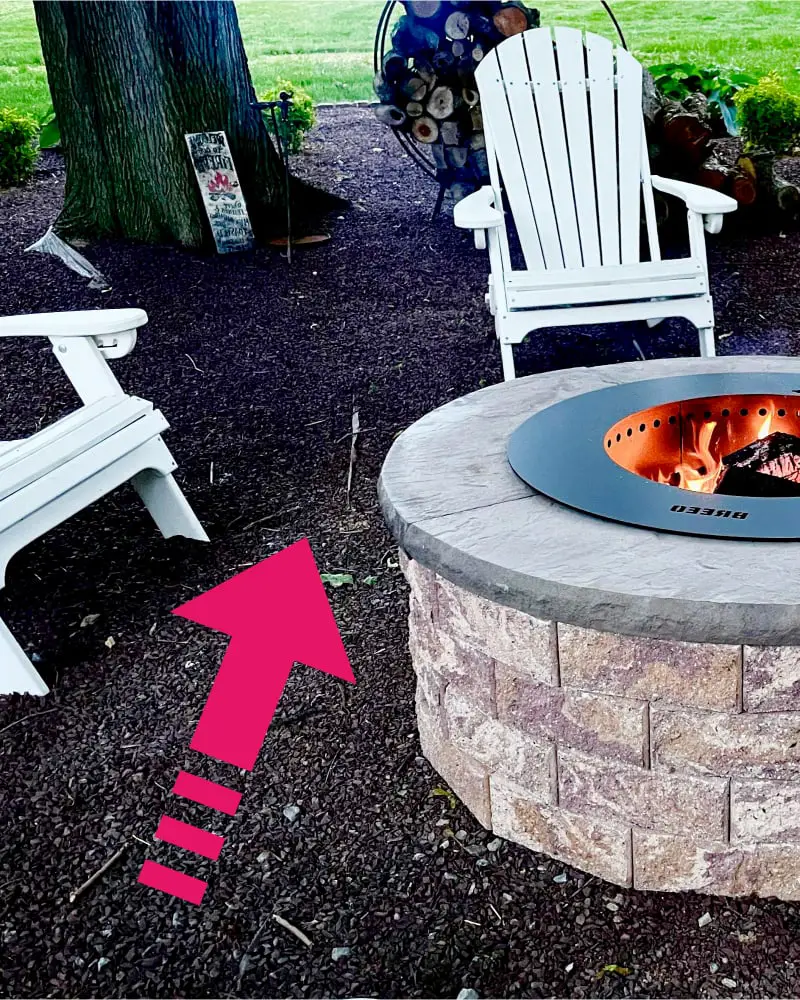 What I'd REALLY love is a brick patio type of base like in the outdoor fire pit picture below.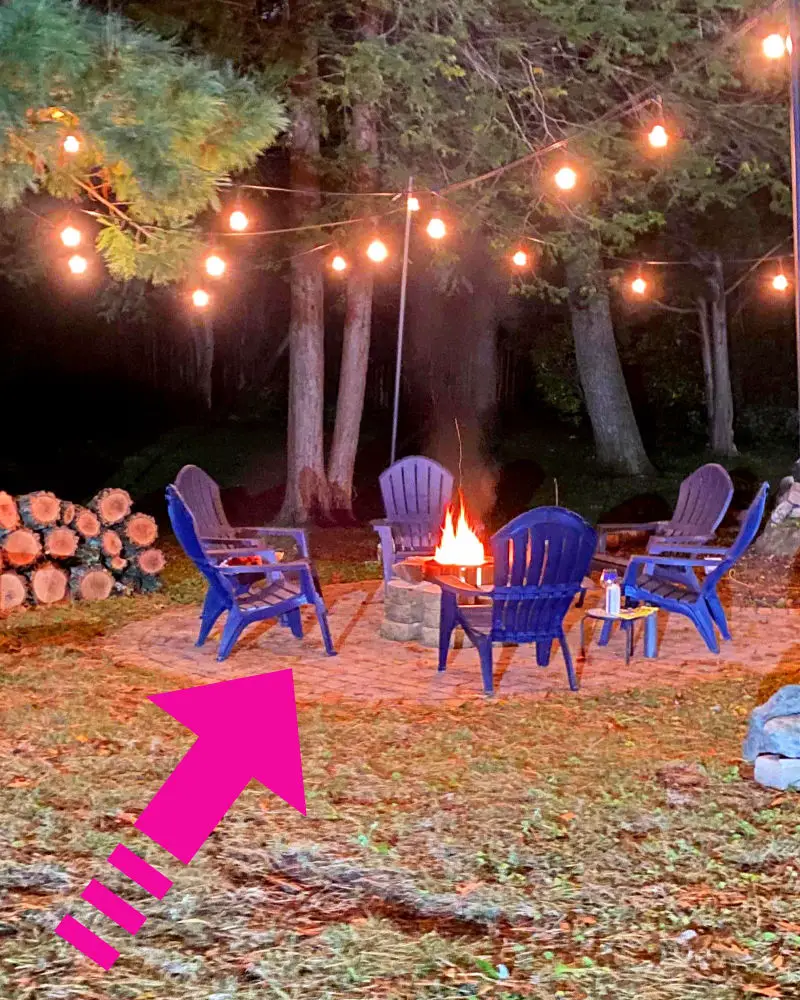 And aren't those blue chairs just stunning?
I'm putting that one my list of seating ideas!
Now, my hubby has a whole 'nother plan for the seating around our fire pit…
He wants to DIY some creative seats like the porch swings type seats in the country backyard fire pit picture below.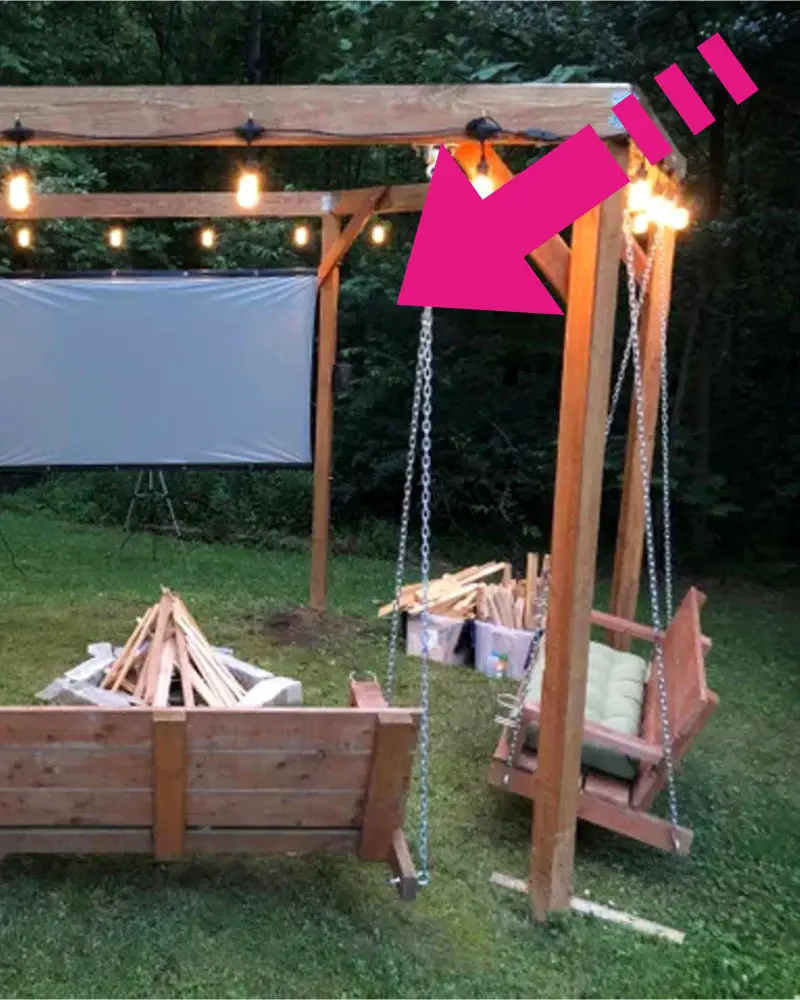 While I think it's really cute, I'm not sure I want the seating to be UNmoveable… still undecided on his idea haha!
And while I'm ALL about do it yourself homemade ideas to save some money, I really think I'd rather just BUY those chairs I like from the pictures above and be done with it.
Plus, those chairs are all-weather and can handle ALL the seasons staying outside.
Want to see some more seating ideas and pictures and designs?
I found a lot of really clever and creative fire pit seating designs on the page below…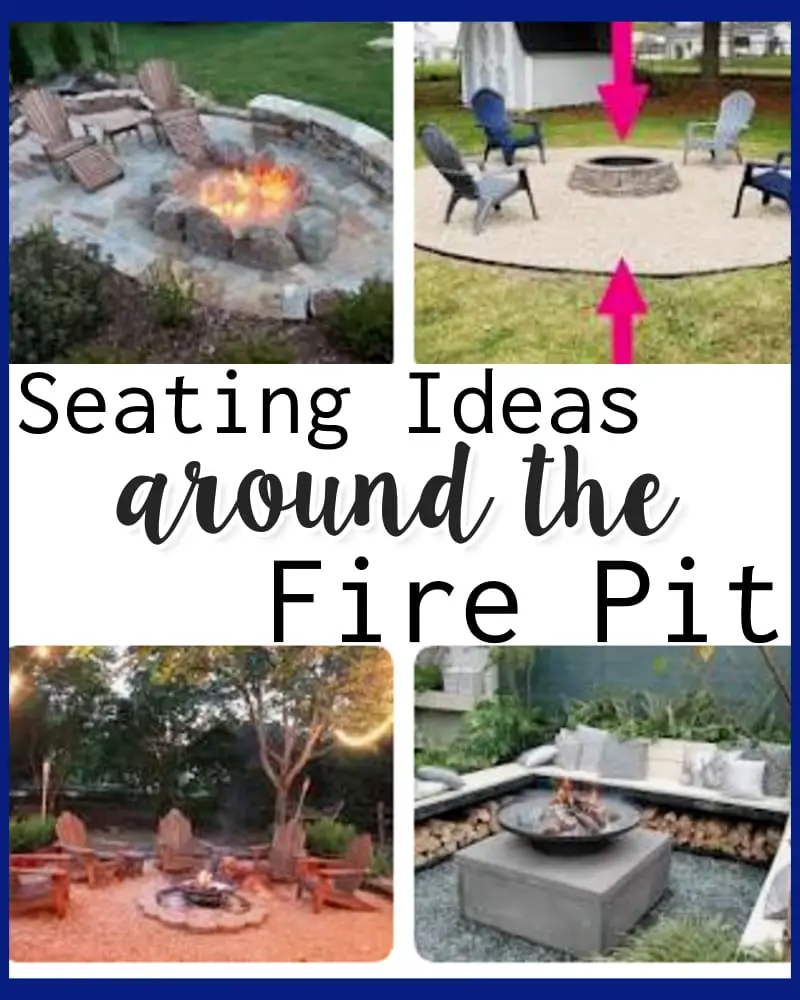 That page has LOTS and LOTS of ideas that are more the country rustic design concept that I personally like the best.
And trust me, you have GOT to see the fire pit design with WHITE gravel – it is STUNNING!
More Home Improvement and Decorating Ideas: