Whether you're a single mom, working mom, stay-at-home mom or NEW mom (or not even a mom at all) there is one thing many of us have in common: Money, finances, bills – they can all get VERY cluttered, can't they? Money-stress is a BIG DEAL – especially when you have no idea where your money goes each month.
These feelings of overwhelm with money can be especially common for women. No, not ALL women, ok? I'm really just speaking from first hand experience with money AS a woman.
For example, I had NO IDEA how to save $5,000 quickly and easily – my mind didn't "work" that way.
But now, I use this weekly savings plan chart to save $10,000 every year!
As a gift, you can print out my chart below for FREE.
Free 52 Week Money Challenge pdf
This free printable weekly savings chart is my favorite way to save $10,000 in a year. I use this savings plan every year and let me tell you, that extra $10,000 SURE comes in handy for Christmas money, vacations, when we bought a new house, emergency fund, for a new car etc.
Just print it out and fill it in each week (tip: I enter the date next to each week number – bonus tip: I've started doing TWO of these 52 week saving challenges each year – one for my main savings account and one in my money market)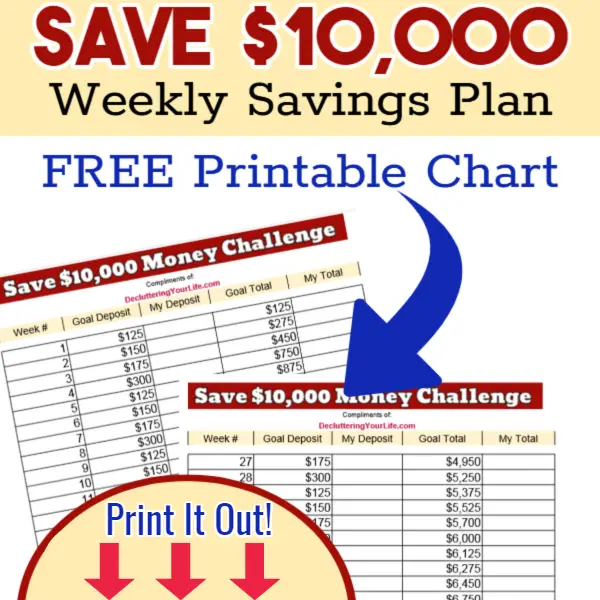 Here are some more tips to help women understand money and budgeting so they can be empowered by knowledge.
Women can easily gain the empowerment they desire by gaining the right knowledge about their money.
Knowledge is confidence. Knowledge is safety. Knowledge is power.
Three ways women can become empowered with their money are to get educated about money, overcome their innocence and work with trusted experts.
Get Educated About Money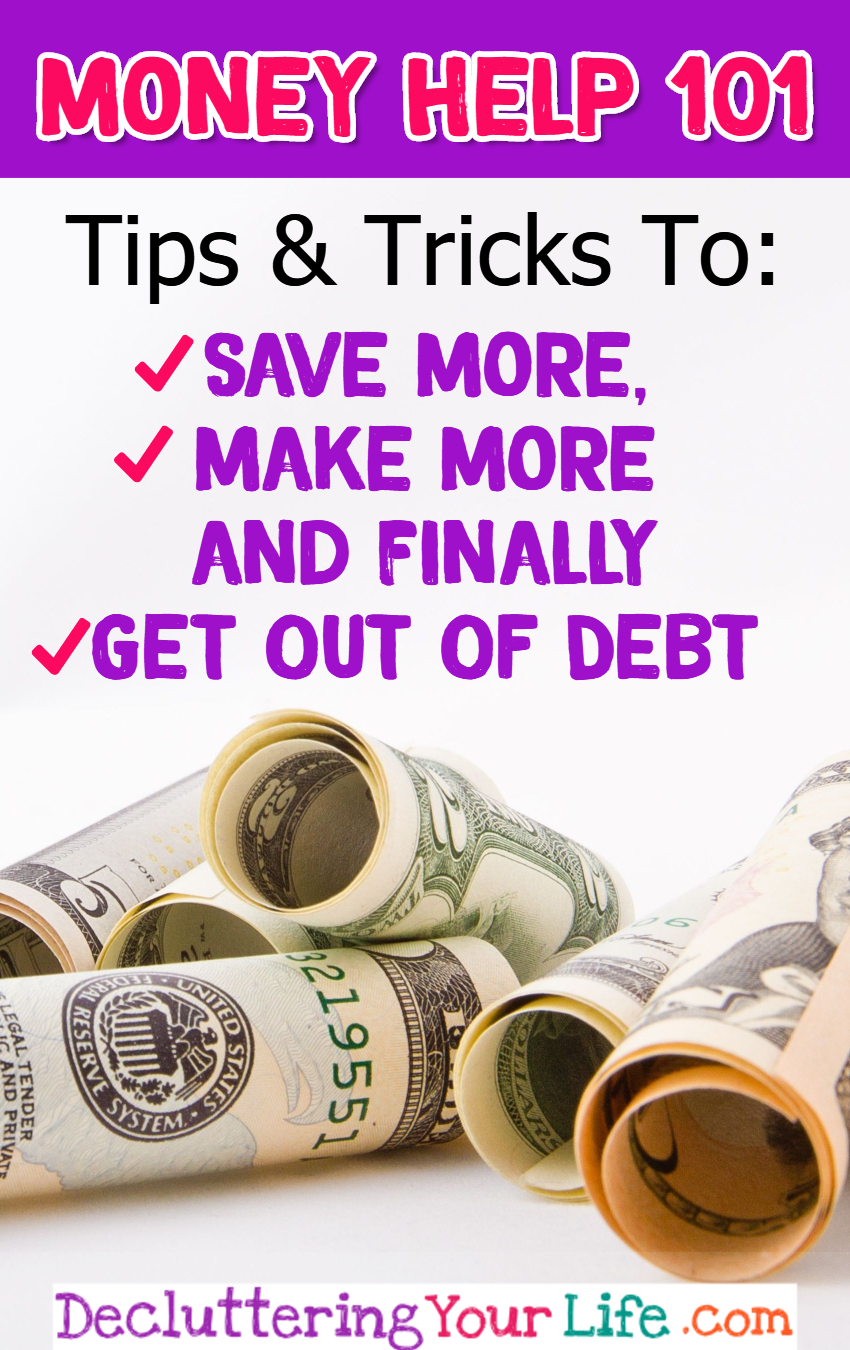 Where were you taught about growing, maintaining and protecting wealth? Probably not in school or by your parents. In fact, there have been very few places to gain financial education unless you wanted to major in accounting or finance in college (I know… sounds extraordinarily exciting, right?)
But now you have more options, there are many places on-line to help you learn about insurance, investments, taxes, estate planning and more. The important thing is that you do it. Take action. Don't ignore your retirement, expose your assets, and take unknown risks with your investments because you are too nervous to learn. You can talk to an expert or work with a money coach… but don't just do nothing.
Ready to shortcut your money education right NOW?
These guides WILL help you not only learn about money, but fix YOUR money situation quickly.
Stop Hiding Behind Your 'Innocence' of Money
Do not be taken advantage of because you don't understand something. Also, don't let your heart blind you and leave you exposed in your close relationships by ignoring warning signs of a money-mess boyfriend.
Gain confidence in yourself by taking trustworthy actions. Your innocence will disappear with a good financial education, trustworthy advisers and mentors, experience and the willingness to take charge of your money. The more confident you become, the more empowered you will be. You are not a victim, you are a warrior!
Work with Professionals & Advisors
I know it is intimidating to walk into that big office with the brass, mahogany and thick carpet. Not to mention that 90% of the time the advisor will be a man. But it's important that you do. You must invest in good advice so that you learn and you are protected. Interview advisers, check their credentials, get referrals, and most importantly make sure you are comfortable working with them and feel respected and heard.
Often women are dissatisfied with their advisers because they don't feel heard or understood. Make sure this is not the case for you.
To continue to grow your self-confidence and empowerment, gain an awareness of your own money habits and spending patterns as well.
Free Help With Money and Budgeting
This budgeting workbook is VERY helpful!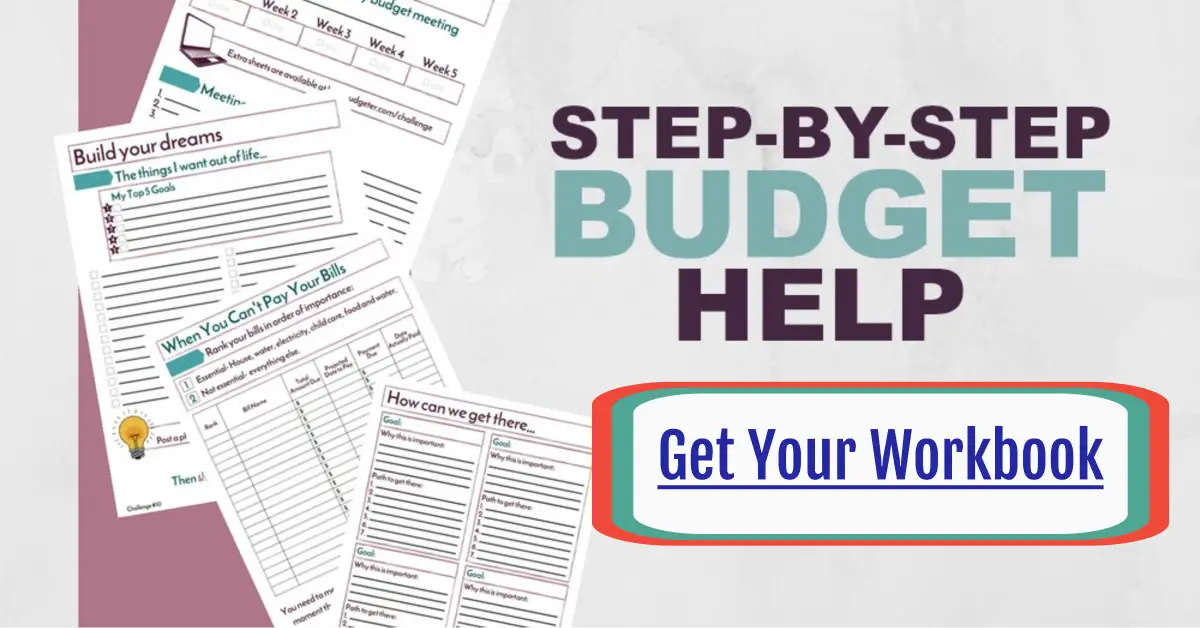 These money decluttering tips below from Decluttering Your Life will help remove a lot of the stress that cluttered spending can cause.
Here's our best tips to declutter your money and financial situation –

---
---