FREE Decluttering Workbooks and PDF lists – Here's my list of the best free printable decluttering workbooks and multi-page PDF sheets to help you declutter your home.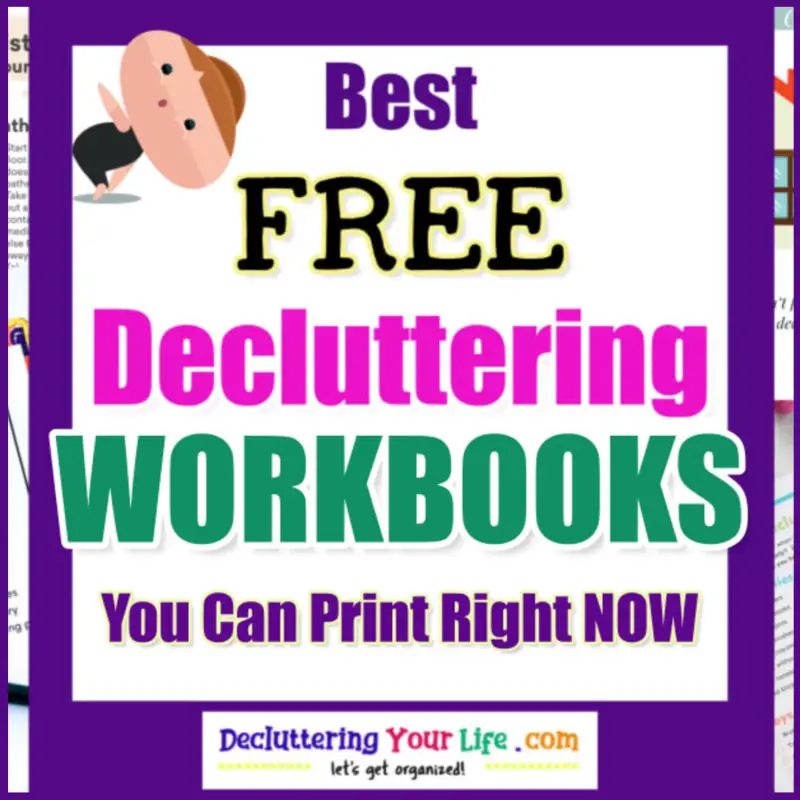 Welcome to Decluttering Your Life - we hope you enjoy our quick decluttering tips, organization ideas and simple DIY solutions for your home - posts may contain ads & affiliate links - that's how we keep the lights on =)
---
---
---
Decluttering Workbooks
When you're trying to clear the clutter that has invaded your home, you need a decluttering plan to follow.
These free printables WILL help you get your home decluttered and organized!
Print one or all of the free decluttering workbooks below to get you started on YOUR plan or use one of the worksheets below as a template to create your own workbook to declutter your home step by step.
 Cluttered Mess to Organized Success Workbook✅ See This Decluttering Made Easy Workbook & Checklists✅ See This
NOTE:
All of the links below will take you directly to the PDF to print.
There is only ONE resource below that requires your email address to print it – and I made a notation on that particular link.
 Free Printable Decluttering Checklist PDFsSee The Workbooks
KonMari Method Decluttering Workbook
If you've read The Life Changing Magic of Tidying Up and are a Marie Kondo KonMari decluttering method fan, you will LOVE this free decluttering workbook below.
 KonMari Declutter WorkbookPrint the PDF
100 Things To Get Rid Of
I LOVE this challenge tracker – get rid of 100 things and fill a circle as you do it.
 100 Things To Get Rid OfPrint the PDF
Declutter Your Home Workbook
This free decluttering PDF is actually a multi-page workBOOK full of cheat sheets to help you declutter your home.
 Declutter Your Home WorkbookPrint the PDF
(note: requires your email address)
What To Sell Worksheet
I've talked about how to sell your clutter for cash before, but here is a handy free decluttering workbook that lists out specific items you might have cluttering up your home that you can sell.
 What To Sell ListPrint the PDF
Room by Room Workbooks
This free 2-page decluttering workbook is a super helpful checklist of things to get rid of in these rooms and areas in your home:
Bedrooms
Home Office
Bathrooms
Closets
Kitchen
Laundry Room
Living Room
Foyer
Garage
Basement
Attic
Here's what the first page of these workbooks looks like:
 Room By Room WorkbookPrint the PDF
Declutter Workbooks For Kids
If you're trying to get your kids to help declutter their stuff, these decluttering sheets can help your older children figure out what to get rid of.
 Declutter Workbook For KidsPrint the PDF
More Free Workbooks
Miss Anything?
Go back to the top of:
==>> Free Decluttering Workbooks
Go back to a specific section: