Handmade Christmas Decorations Made With Random and Unexpected Items – When it comes to creative and cheap DIY Christmas decorating ideas, I love using unexpected items and turning trash to treasure, don't you?
If so, you're gonna LOVE with these cute DIY Christmas decorating ideas in the pictures below for using recycled materials, upcycled items and repurposed STUFF to make Christmas decor for decorating, as handmade Holiday gifts – or to SELL for extra money so you're NOT broke this Christmas.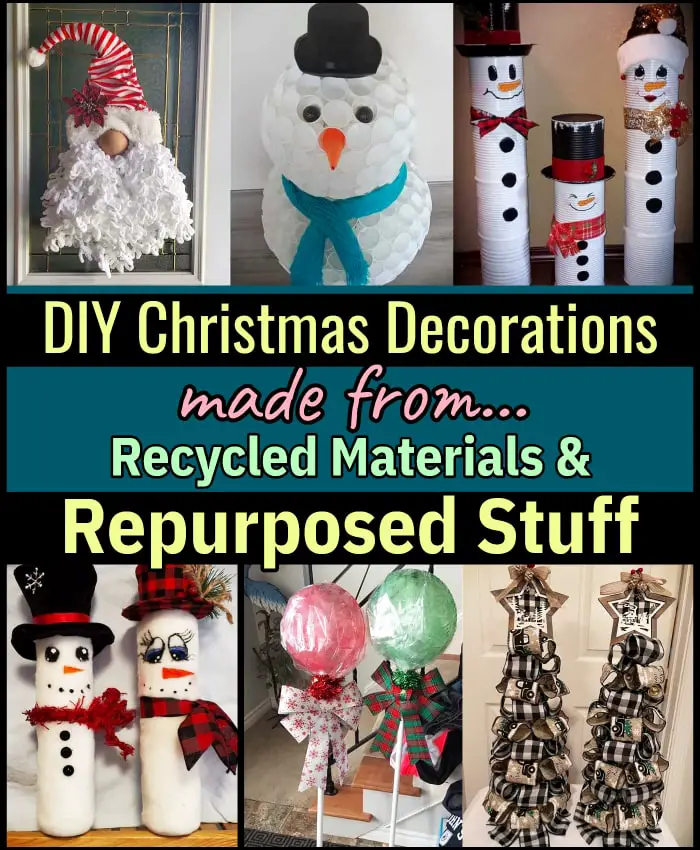 Welcome to Decluttering Your Life - we hope you enjoy our quick decluttering tips, organization ideas and simple DIY solutions for your home - posts may contain ads & affiliate links - that's how we keep the lights on =)
---
---
---
Cute DIY Christmas Decorations
This is my Christmas Edition for 'Use THIS To Make THAT'
Here's how it works…
I'll show you a picture of a handmade Christmas decoration that has an arrow pointing to something IN the picture.

Then, you guess what that repurposed item IS.
Got it?
Let's try this one first….
I LOVE Gnome Christmas Trees like in the picture below.
Now look at what I'm pointing to… and try and guess what it IS.
Then, scroll down and see if you're right!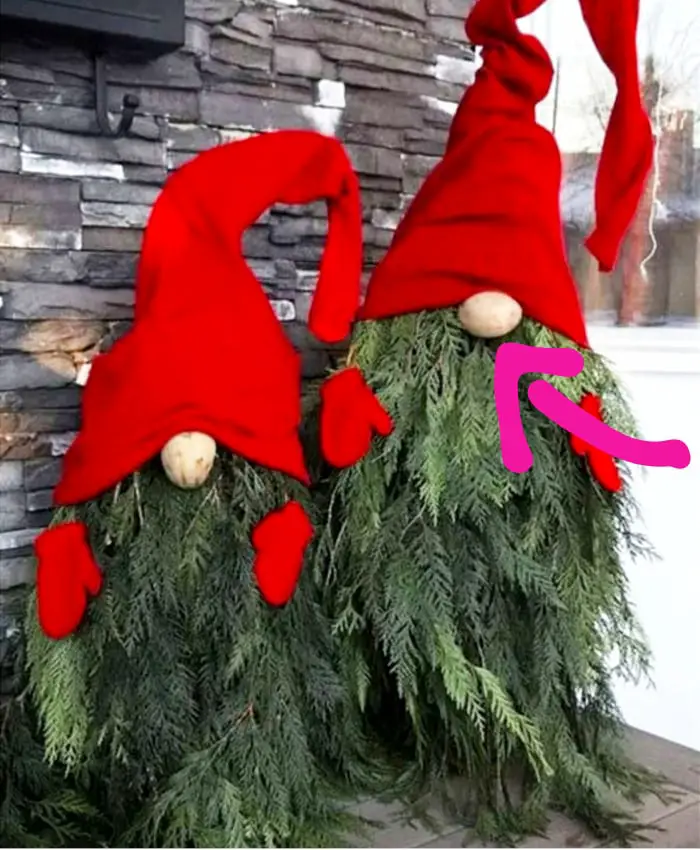 So what do you think the nose is on those gnome Christmas trees on the front porch?
If you guessed POTATO, you're right!
I've also seen people take a round ball and cover it with panty hose to make the gnome noses.
Here's another of my favorites…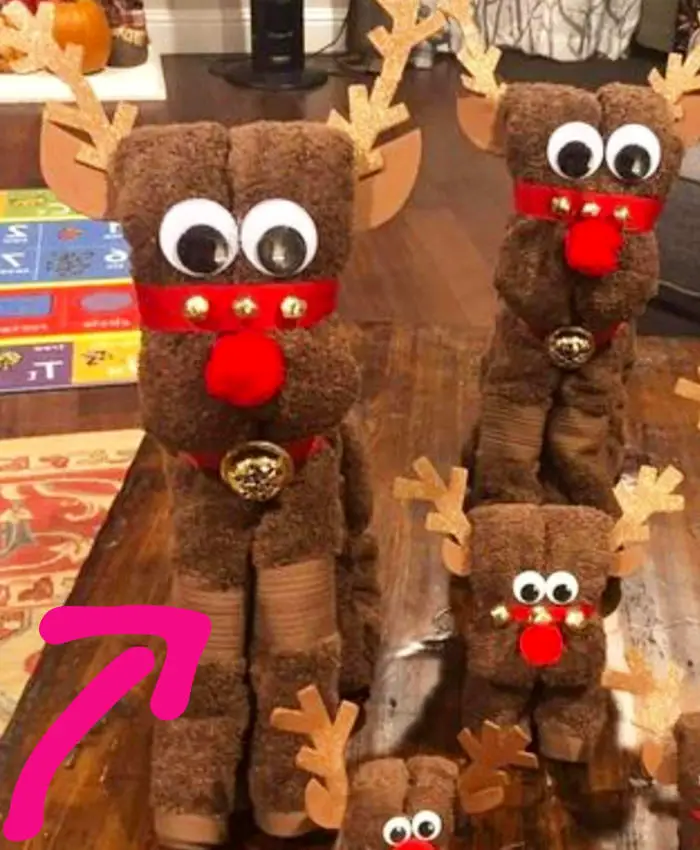 See the arrow? Know what it is?
If you guessed, BROWN TOWELS, you're right!
Here's how to fold towels into reindeer.
Ok, you got how this works?
Good! let's play!
Use THIS To Make THAT
Let's start with an easy one…
Look at the picture of the snowmen below…. what is it?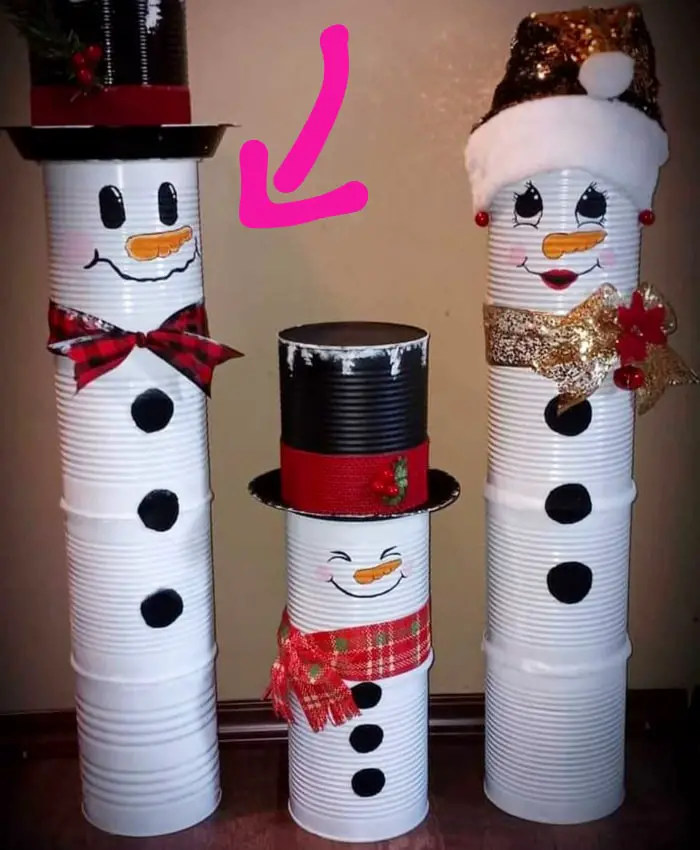 Yep, those DIY Christmas snowmen are made from old coffee cans that are painted white.
How about these cute decorations on the fireplace hearth?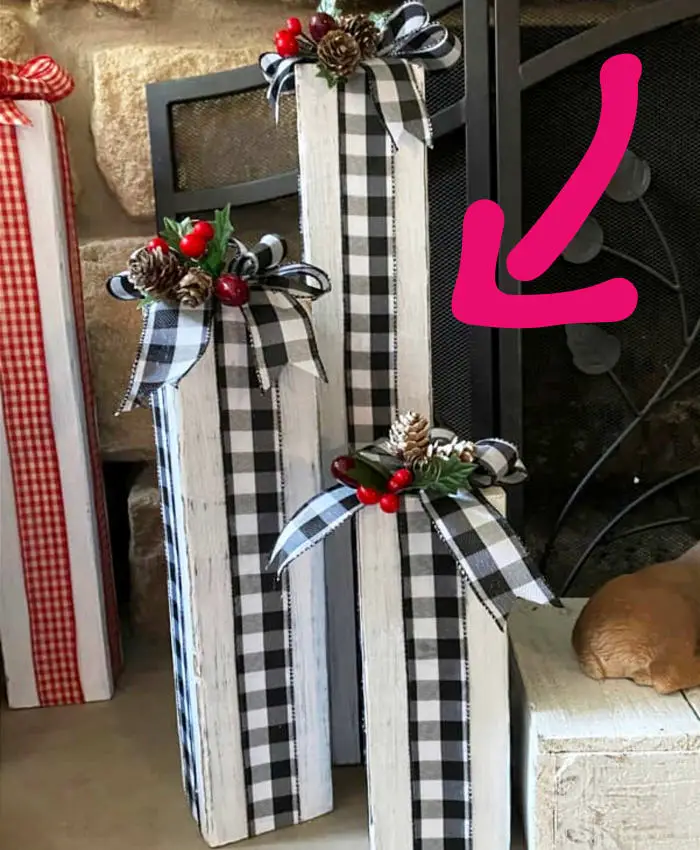 Did you guess what they're made out of?
If you guessed "SCRAP WOOD PIECES", you're right!
Here's another super cute Christmas decoration you can make with scrap wood: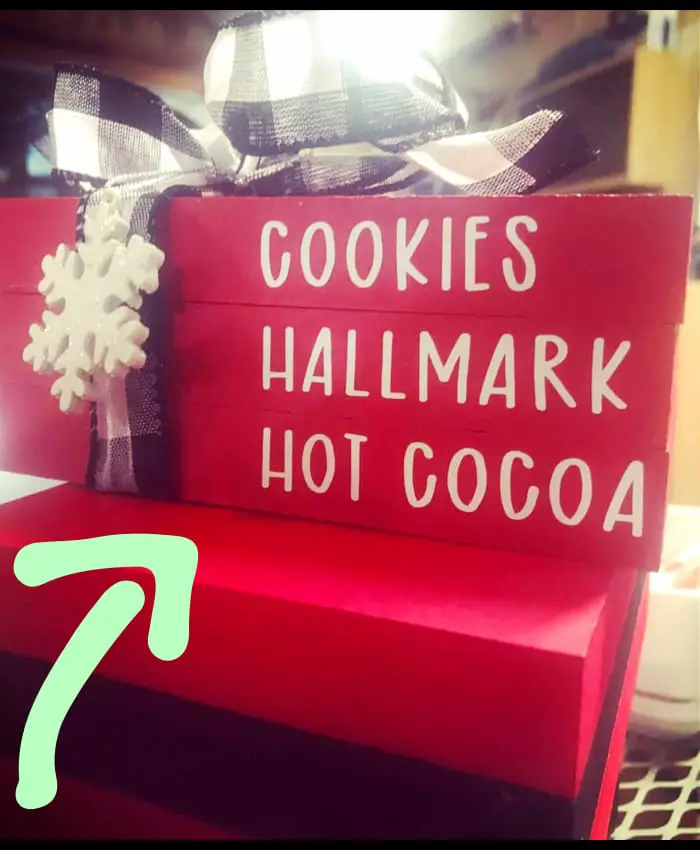 If you love Hallmark Christmas movies, I bet you think that idea above is as cute as I think it is!
And yep, just painted scrap wood stacked together and wrapped up as a Christmas gift.
Now, take a look at this Gnome Christmas wreath on the front door…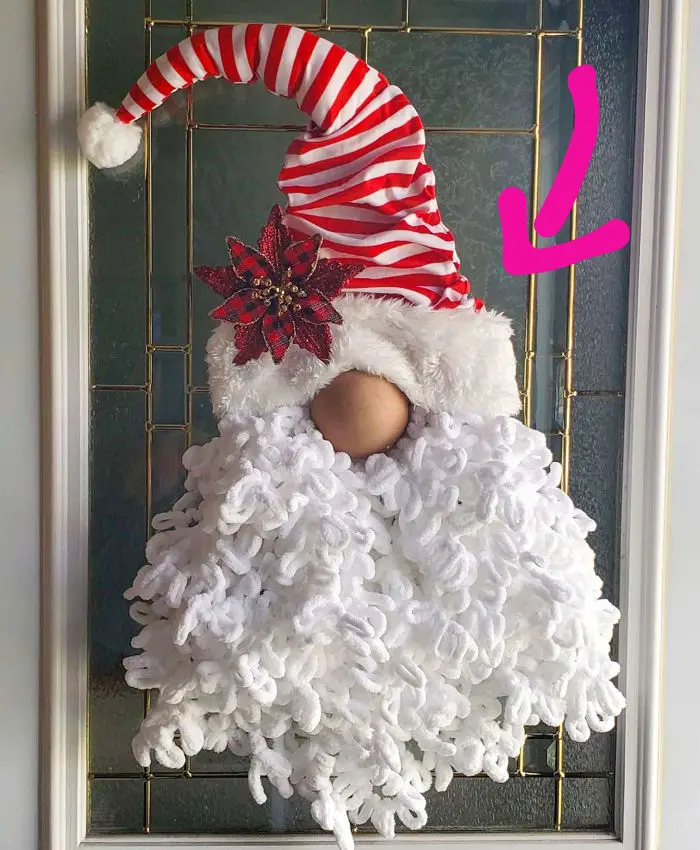 Now this one is a little harder, but can you guess what was used to make the shape of that gnome Christmas wreath?
It's a Christmas TREE craft board like this here.
People use that board for ALL Holiday decorating crafts – Easter, Halloween, etc… they've even used it to make Christmas Angel wreaths!
✅  See all crafts made with that board here
Gnome Wreath Supplies:
 Use This For The Gnome Wreath FormSee It Here And Use This Yarn For His BeardSee It Here
Now, look at these mini Grinch Christmas Tree decorations –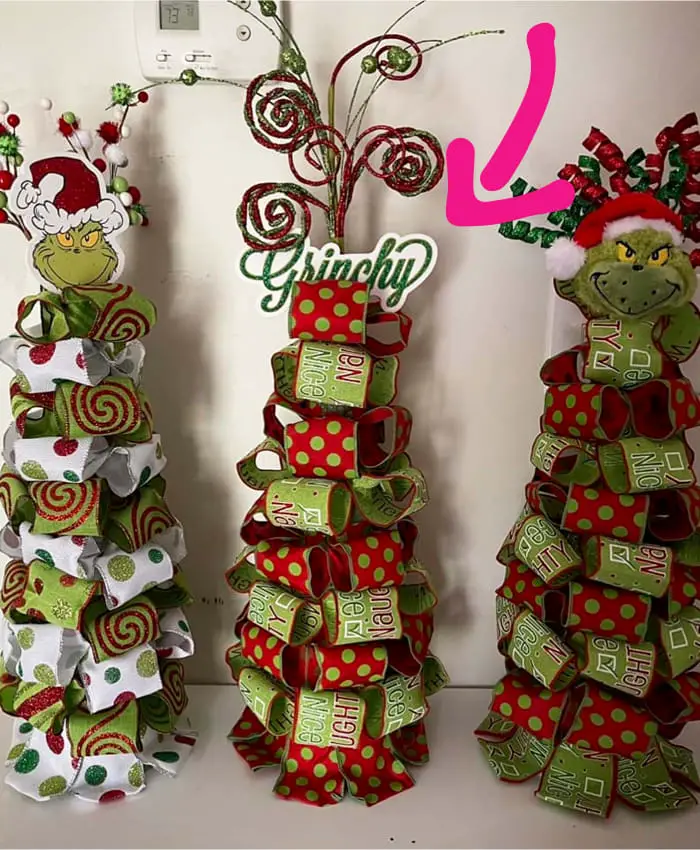 I LOVE handmade Grinch Christmas decorations, so naturally, I fell in love with those mini Grinch trees…
But HOW to get the looped ribbon to form a tree like that?!?!
Turns out, they repurposed this form florists use.
Clever!
Here's another idea using that trick: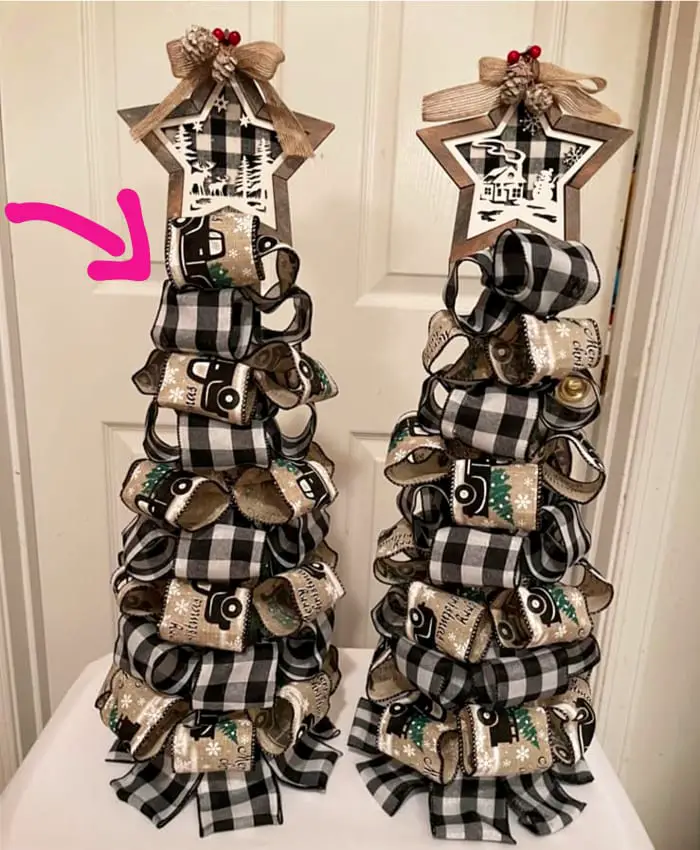 I just LOVE that buffalo plaid ribbon, don't you?
Here's what to use to make those mini Christmas trees:
Use These Forms:
 Use this green floral moldSee It Here or these taller white onesSee It Here
Use Ribbon Like These:
 Grinch Christmas Craft RibbonSee It Here Black and White Plaid Craft RibbonSee It Here
Know what else you can make with those cone-shaped floral molds?
How about this precious Christmas gnome…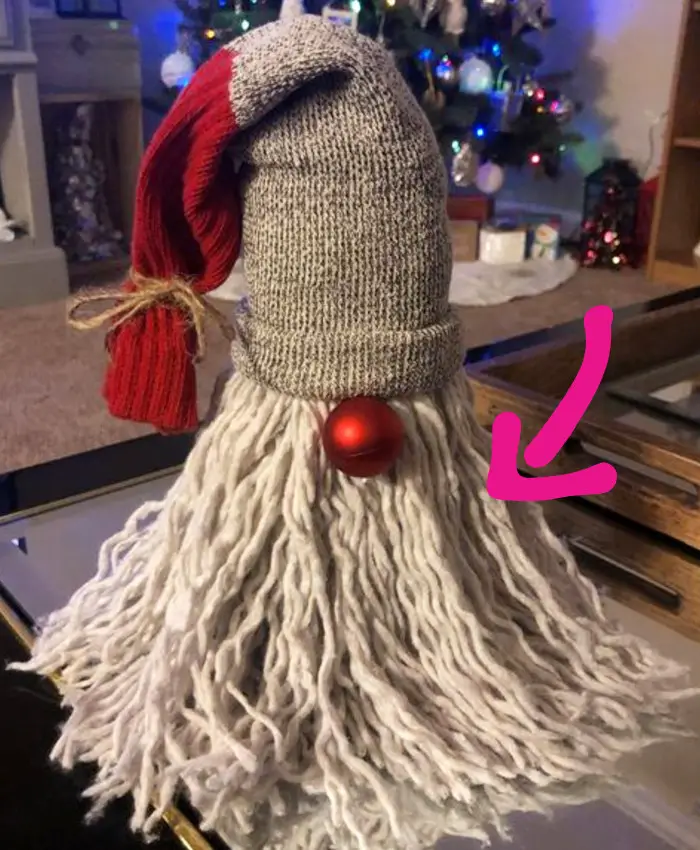 Did you notice what his hair is made out of?
Yes, it's a mop head.
And his hat?
It's just a sock!
Now, look at this GORGEOUS handmade Christmas wreath…. can you guess the item?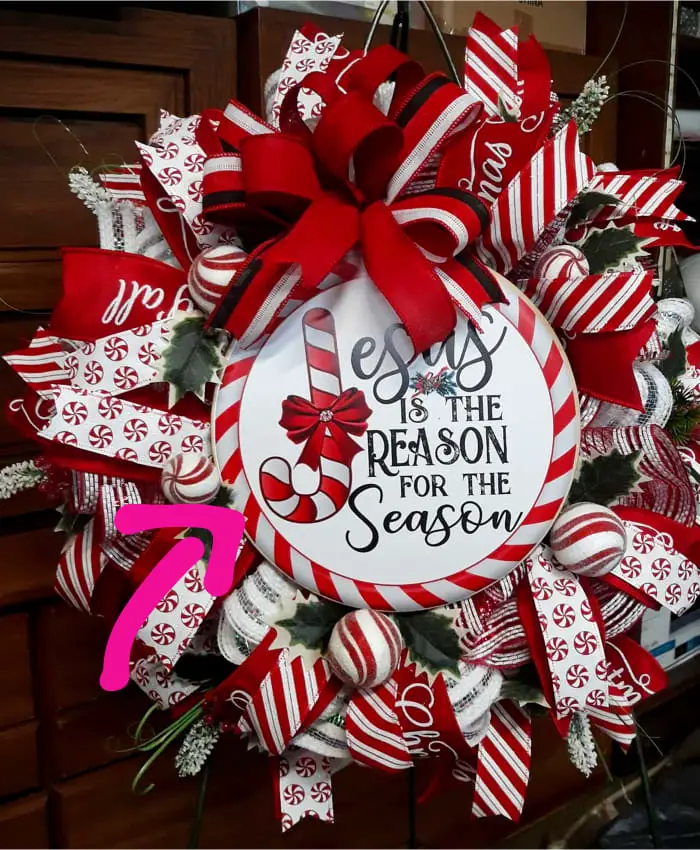 That center decoration in the wreath is…
the top from an old Christmas cookie tin!
 Just use a cookie tin lid like theseSee It Here or just put a sticker over an old lidSee It Here
Now, look at these adorable snowmen (well, snowMAN and snowWOMAN)
Can you guess what they're made out of?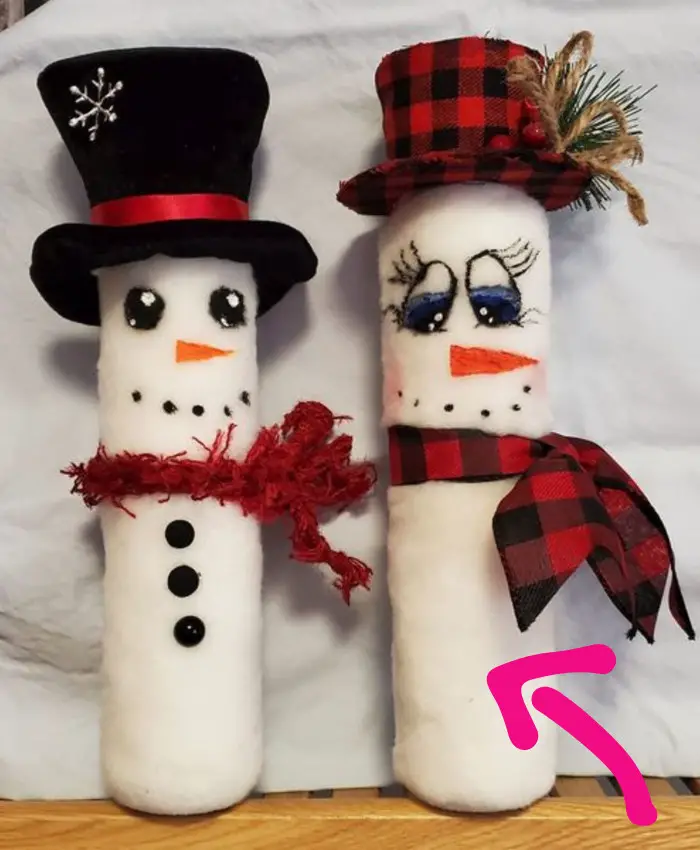 The snowman body is made from a PAINT ROLLER!
Or how about this snowman…
Look carefully and you might see it…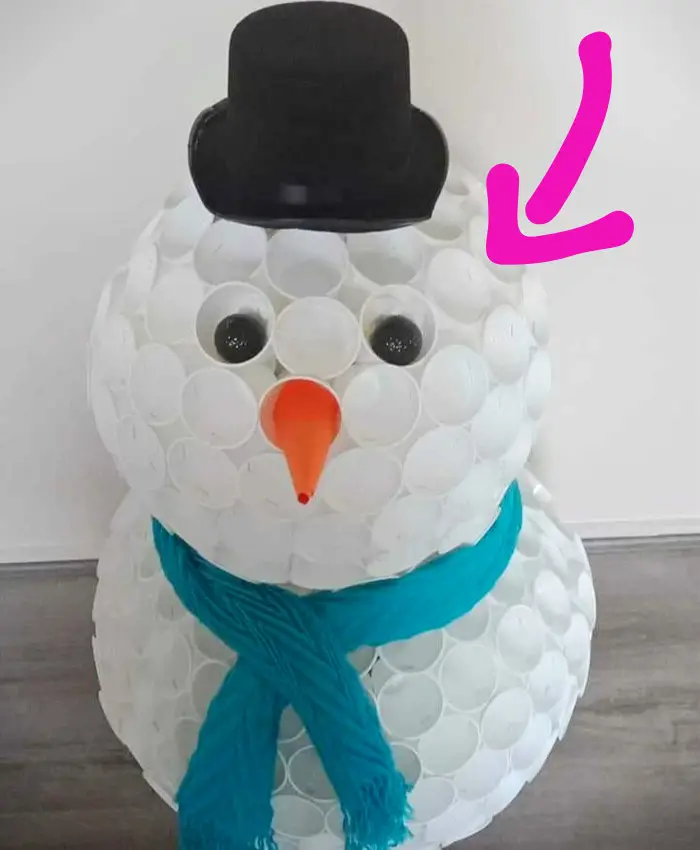 Do you see it?
If you guessed WHITE PLASTIC CUPS, you're right!
Here's a video showing how to make a snowman with plastic cups:
The next one is pretty easy, but since it's a GRINCH decoration, I feel obligated to include it haha!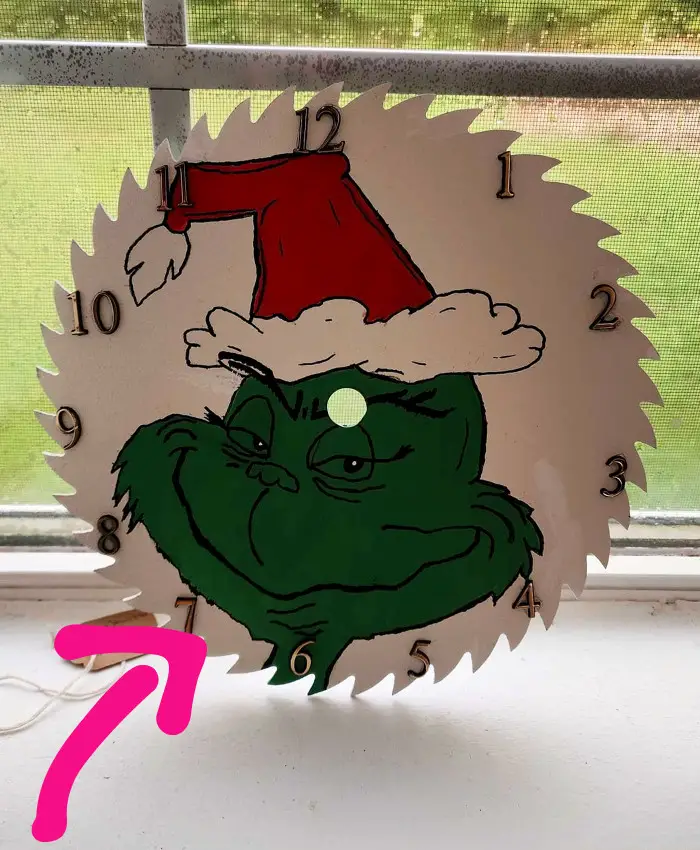 Yep, it's an old saw blade painted and turned into a Christmas clock.
Or how about this handmade Santa Christmas tree ornament in the picture below…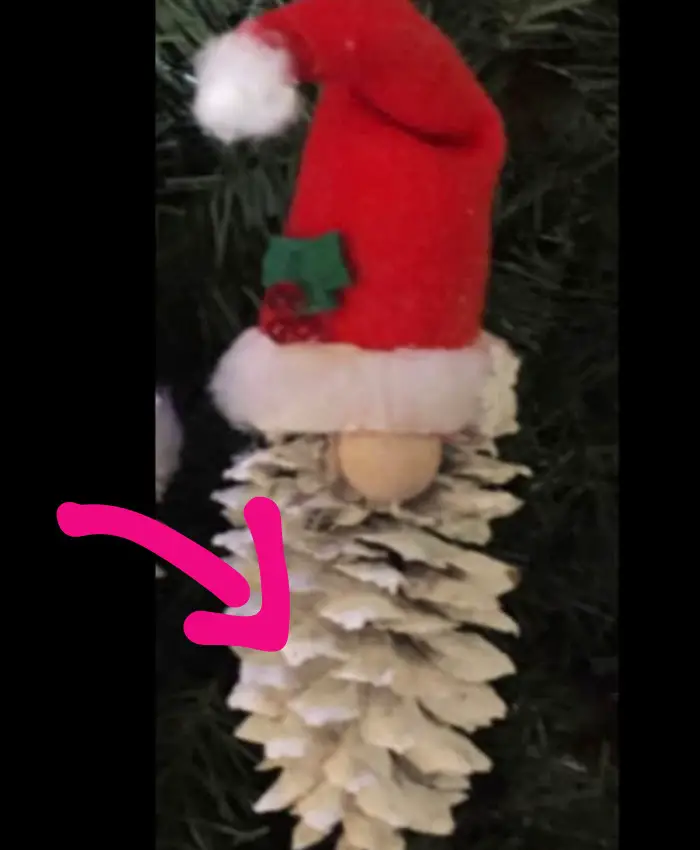 I bet you guessed it, right?
It's a painted pinecone!
Here's a cute Christmas decoration you can make for your wall…
So you see what was repurposed and upcycled to make it?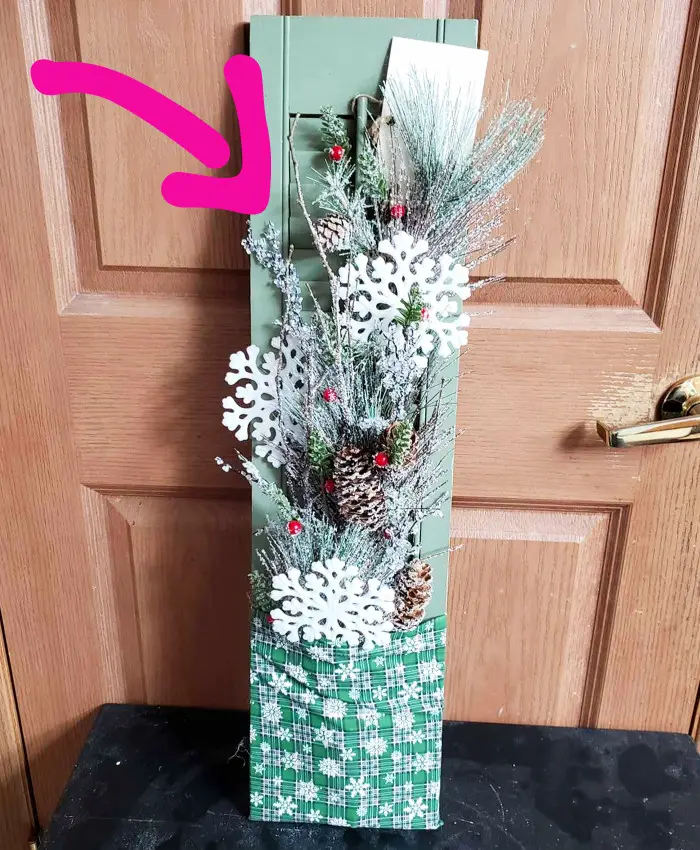 Yes, it's an upcycled house shutter!
Here's another cute idea using shutters to make Christmas snowmen: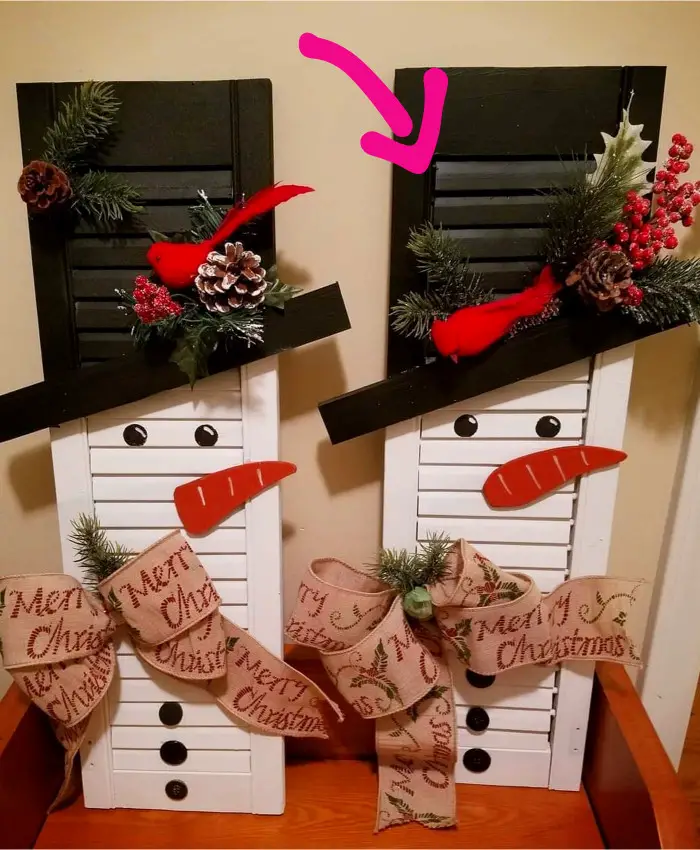 Aren't they ADORABLE?!?!
Naturally, I saved MY favorite for last…
Look at the arrow…
Can you see what that snowman is made out of?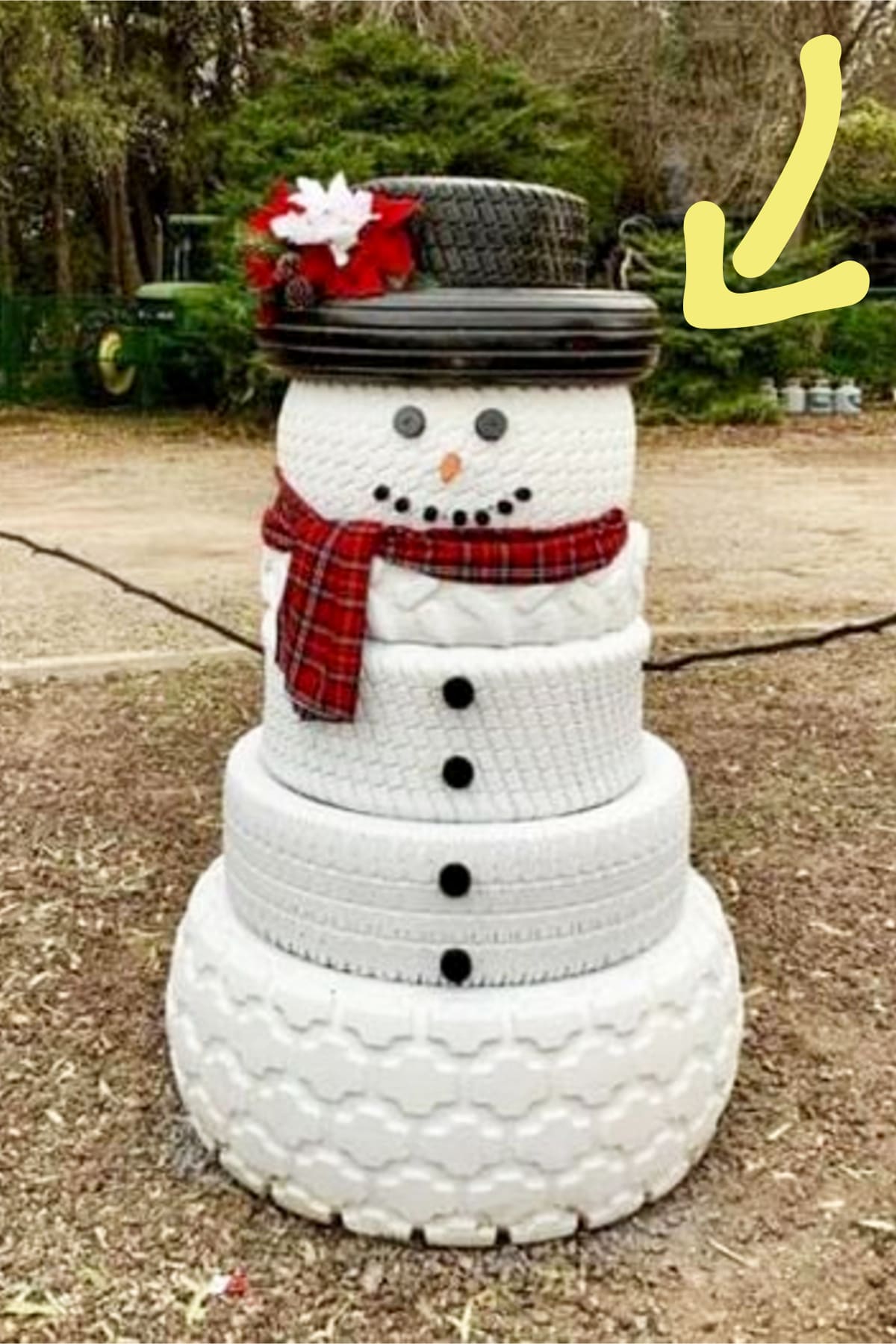 If you guessed: recycled old tires, you're right!
If you want to paint tires and turn them into a snowman too.
First, be SURE to wash your tires. Brush clean the tires with a good de-greaser dish soap (like Dawn) and then rinse them off really well.
Let the tires day and then paint them with a good spray paint like this.
(no, you do NOT need to prime them if you do it following the steps above.)
 This spray paint works best for painting tires…See This …but this is usually cheaper and works well tooSee This
Miss Anything?
Go back to the top of: ==>> DIY Christmas Decorations
Go back to a specific handmade Christmas decoration idea:
More Easy Christmas Crafts