Unique Baby Shower Basket Ideas To Make As Gifts When You're on a Budget – Homemade DIY Baby Shower Gifts To Make On a Budget – Saving money is a BIG deal right now and with THREE baby showers to make gift baskets for in the next 2 weeks, I needed some super cute, unique and budget-friendly DIY baby shower gift baskets to make…. wanna see them?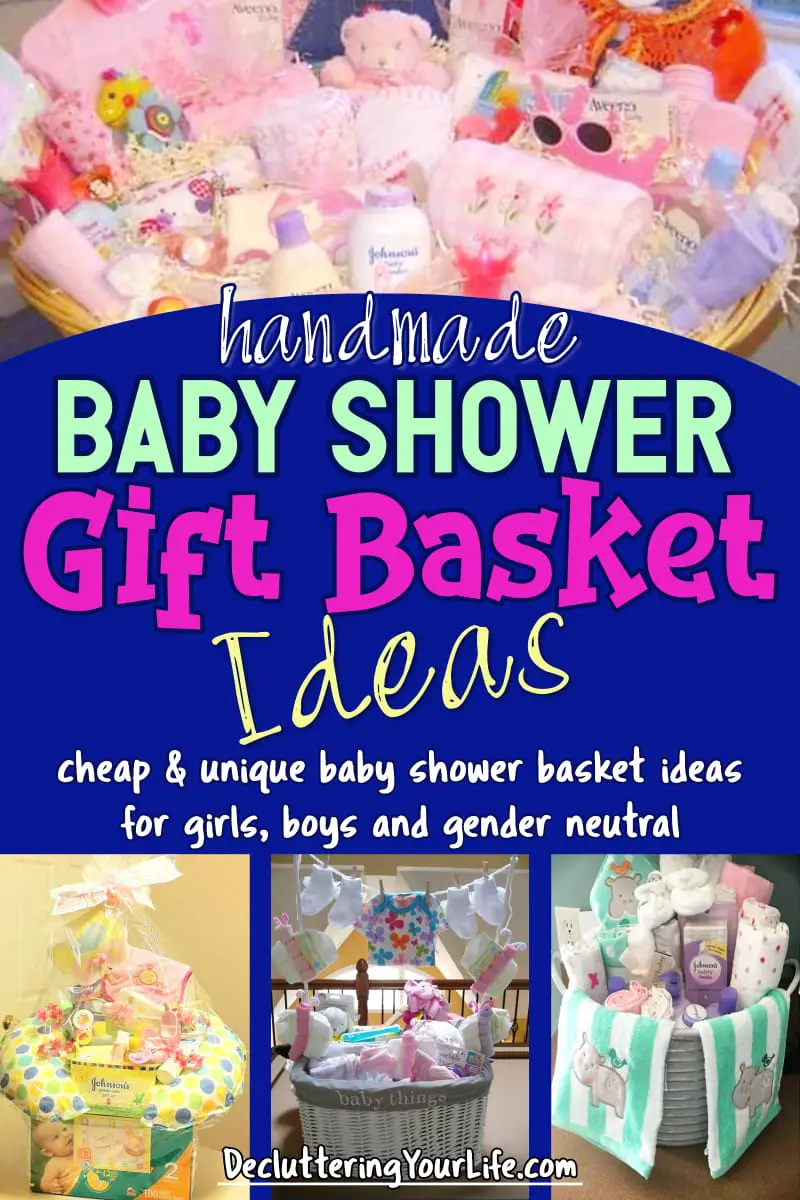 Welcome to Decluttering Your Life - we hope you enjoy our quick decluttering tips, organization ideas and simple DIY solutions for your home - posts may contain ads & affiliate links - that's how we keep the lights on =)
---
---
---
I have 3… count 'em… THREE baby showers to go to in the next two weeks alone! I have a baby shower for a baby girl this weekend, a baby boy baby shower NEXT weekend… and then a gender-neutral baby shower the day after that.
Was there something in the water 9 months ago? haha!
And as we all know, EVERYTHING is expensive right now.
That sent me on a quest to find unique baby shower basket ideas I can make and put together inexpensively (and not LOOK like a cheapskate lol!)
Let me show you the 3 homemade baby shower gift baskets I'm going to try and DIY myself (sheesh – wish me luck… I'm not all that crafty!)
For the baby girl baby shower, this baby gift basket -isn't it CUTE?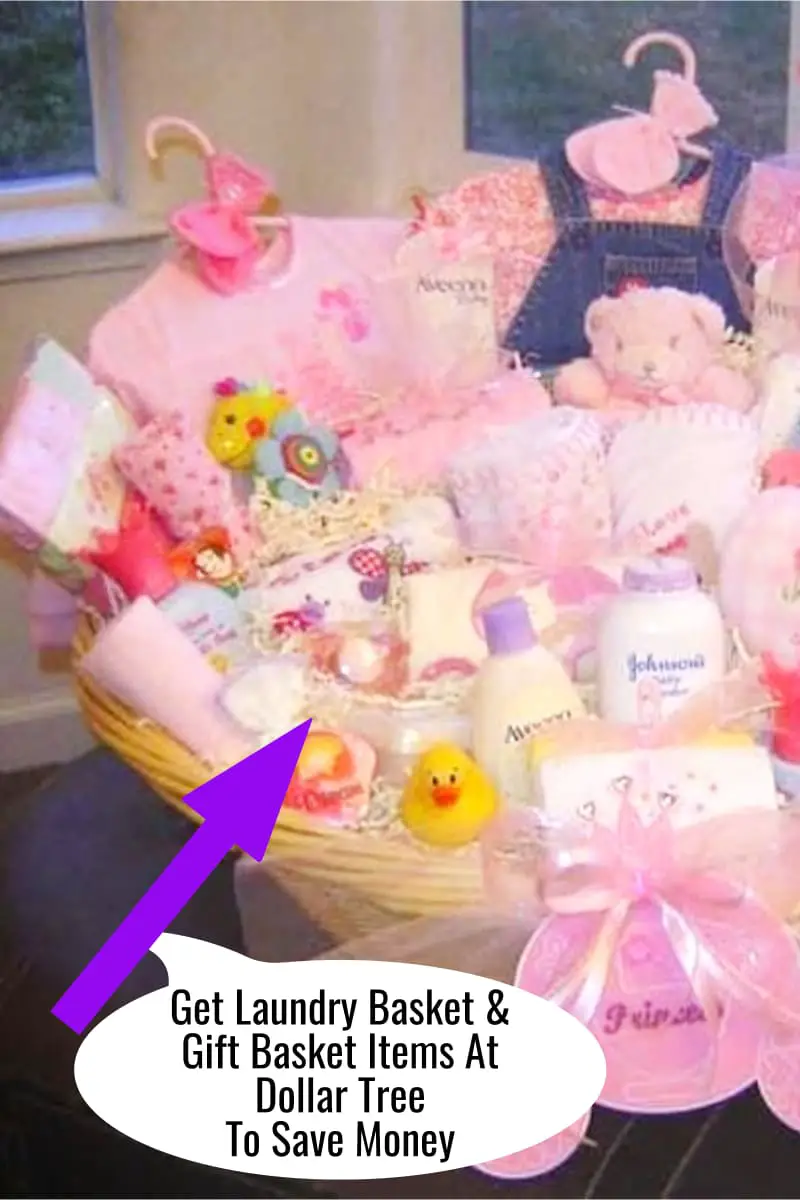 I feel really confident I can find that large wicker laundry basket AND all the baby basket items at my Dollar Tree for pretty cheap, but the overall appearance of the gift basket does not LOOK cheap.
For the baby boy baby shower, this creative baby gift basket idea: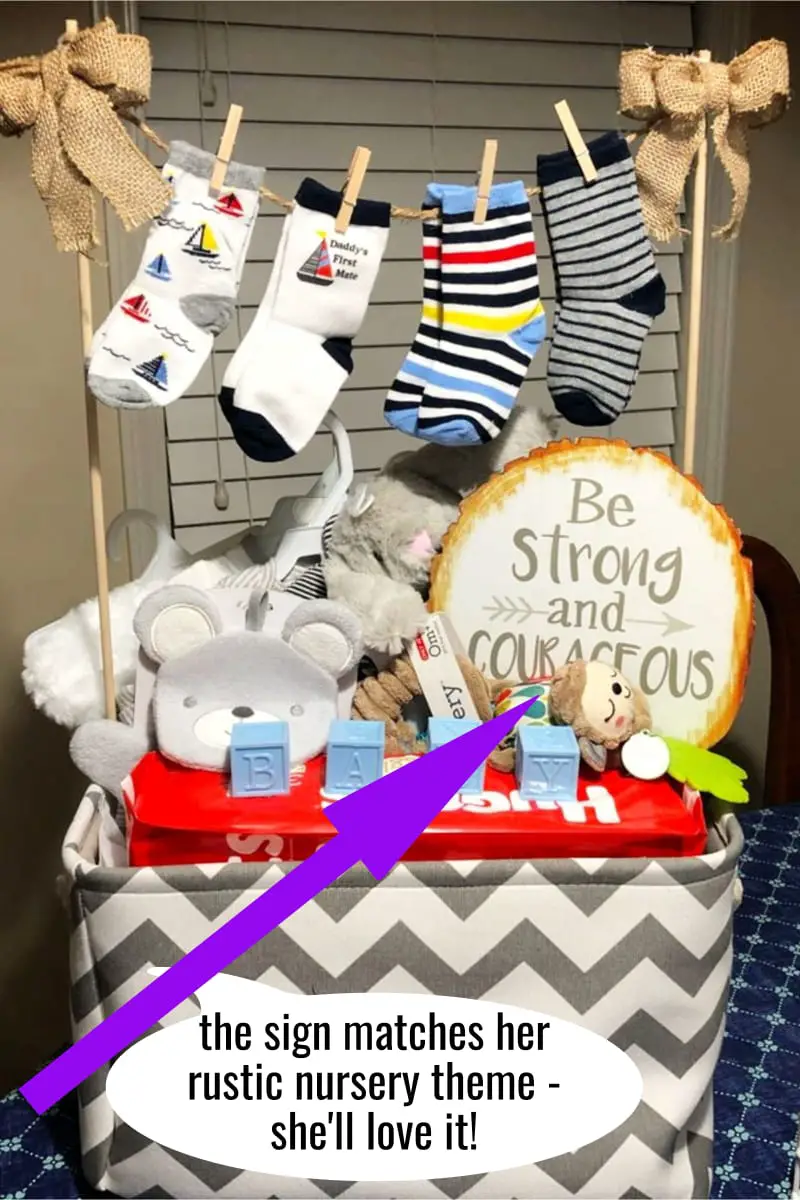 The little Be Courageous sign and the burlap bows will match her rustic baby nursery theme the mom-to-be has set up so I feel like she'll really love it.
I like the clothesline concept on a baby gift basket – it gives the gift basket height and looks more unique than just a bunch of baby stuff packed in a basket.
I also found that same concept for a baby girl gift basket: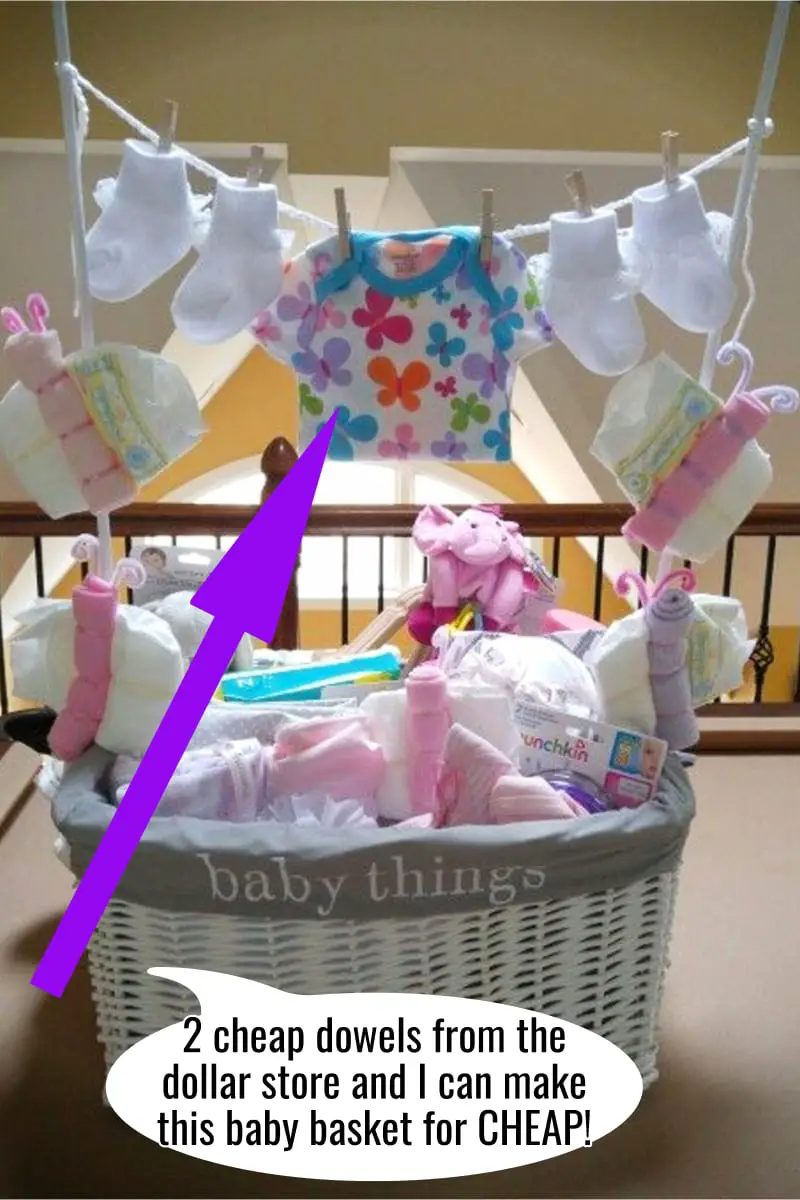 LOVE that cool baby basket!
And be sure to notice the newborn baby diapers made to look like butterflies with a rolled / wrapped baby washcloth and some pipe cleaners – so creative!
For the gender-neutral couples baby shower, this DIY baby basket idea: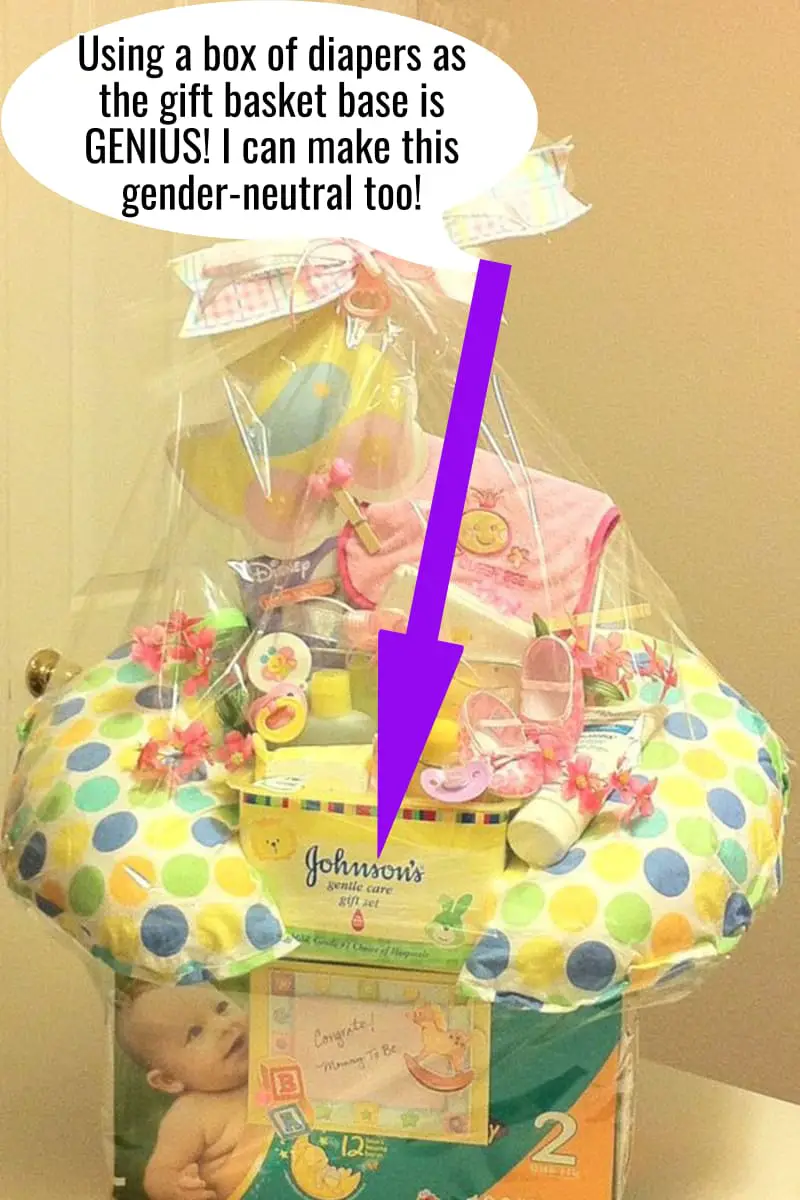 To me, it is simply GENIUS to use a box of diapers as the base for the baby basket, then layer other gift items on top of the box.
I know there's some pink bibs and other things in that baby gift, but I'll do all neutral colors since the new parents have decided not to find out their baby's gender until he/she is born.
I was NEVER able to do that – once I could find out, I wanted to know right then – how about you?
Another DIY baby shower gift for the gender-neutral baby shower I'm going to is this homemade idea: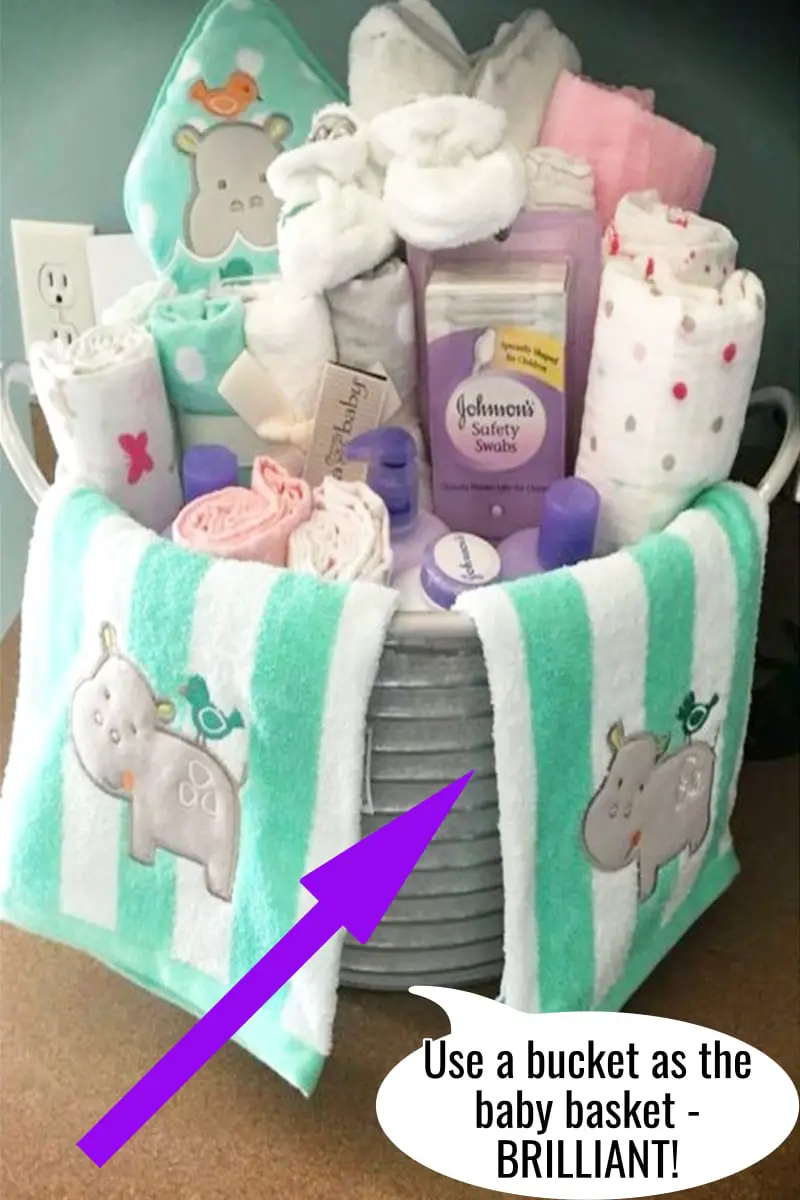 How cute and UNIQUE to use a bucket / galvanized pail as the gift basket, right?!!?
CHEAP Dollar Tree Baby Basket Ideas:
This video below shows three different unique baby shower basket ideas you can make for $5 – yes, ONLY FIVE dollars:
Here are some more pages that have really cute and UNIQUE baby shower basket ideas if you're also looking for budget-friendly baby baskets to make and give as gifts.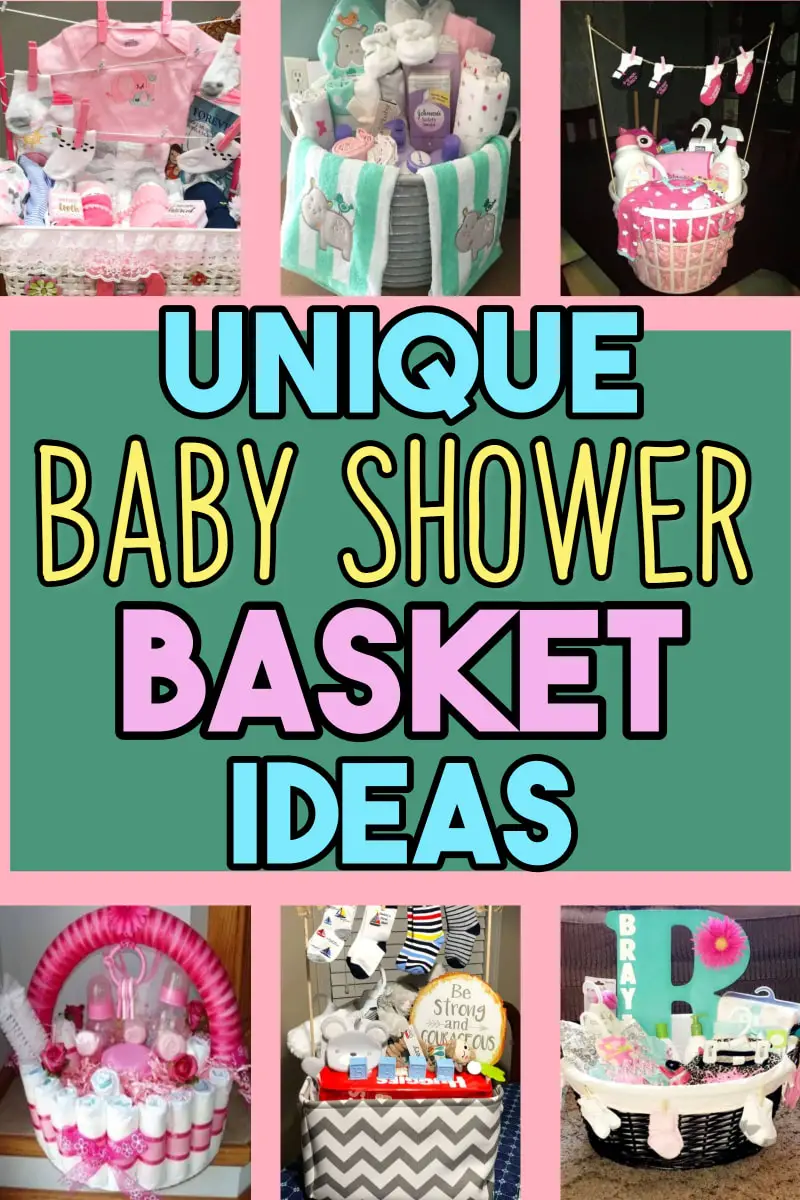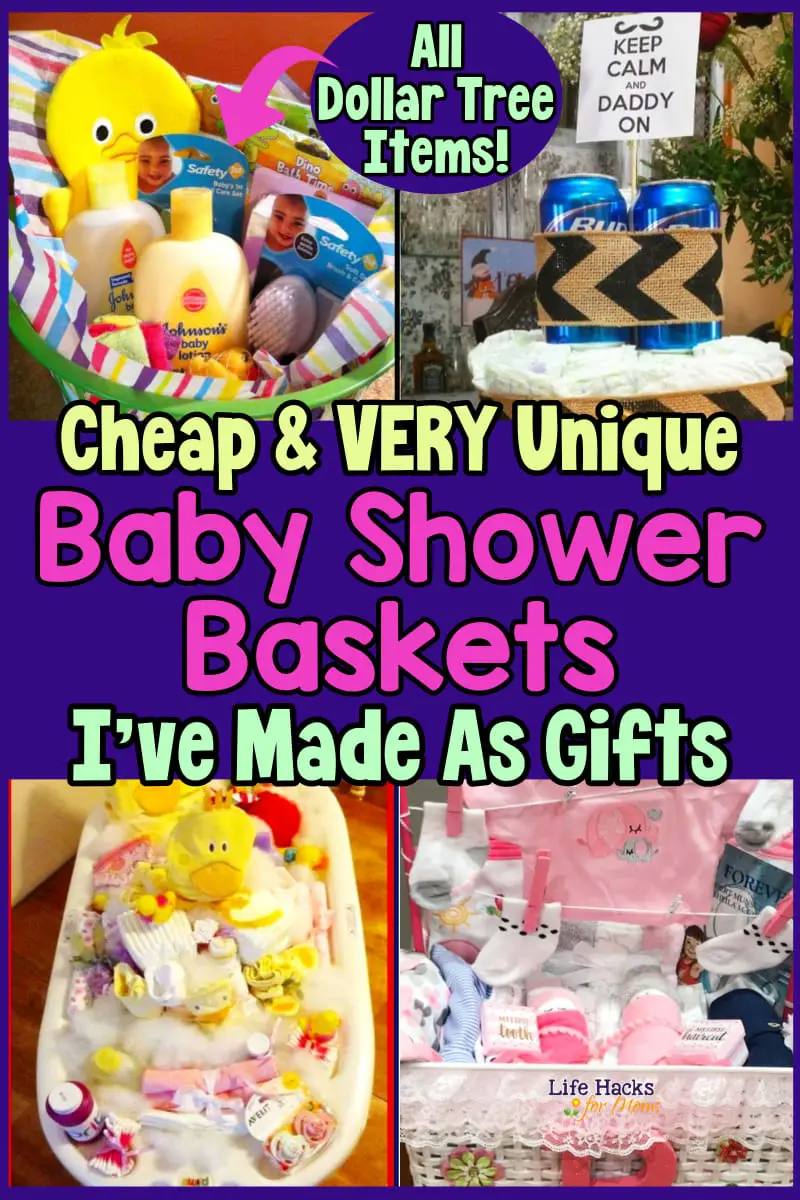 See More Ideas: