Brilliant and Easy Under Sink Kitchen Organization Hacks •
Let's declutter and organize under your kitchen sink with these cheap and easy DIY organization ideas, storage hacks, tips and tricks we love! I don't know how it looks under the sink in YOUR kitchen, but mine is a total disaster – clutter city (just like my infamous junk drawer)!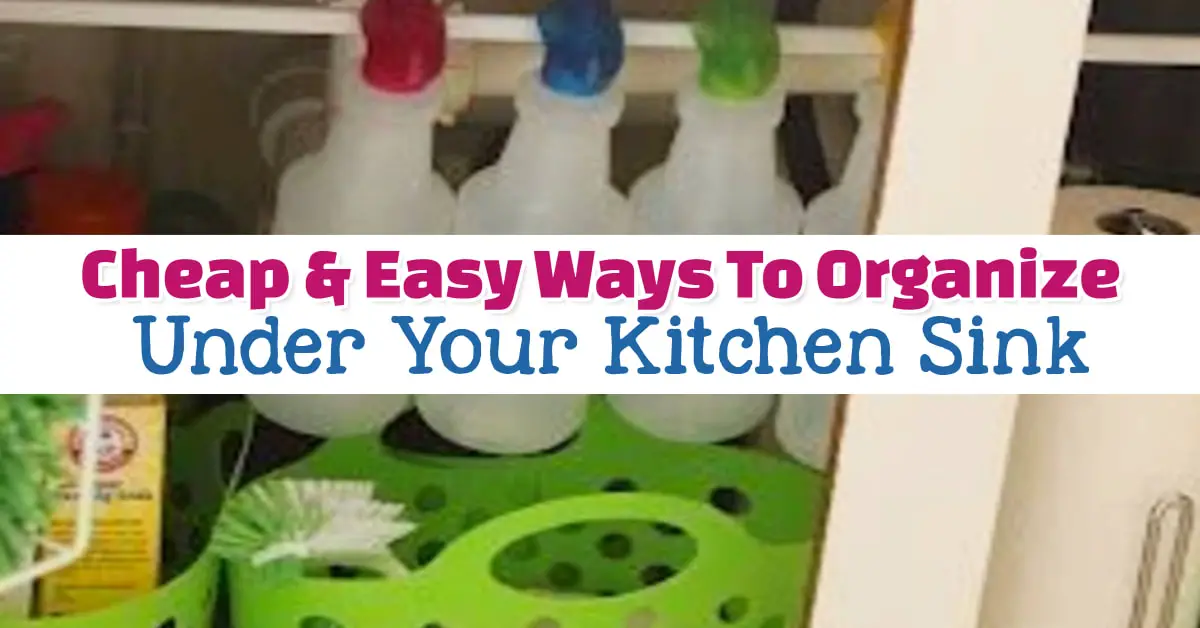 I never could find truly simple ways to organize under my sink – until I found these GREAT ideas below.
If you have the room to use pivot slide-out shelves like these in your cabinet – USE THEM – such a wonderful invention!
This is what they look like:
I love those pivot shelves! No more bending over and digging into the deep pits of the clutter under my kitchen sink!
I found the pivot shelves here.
(and yes, they're easy to install)
Want some eye-candy inspiration to get you motivated to organize under the sink?
Take a look at these before and after pictures below that show what an amazing difference a quick organize can make.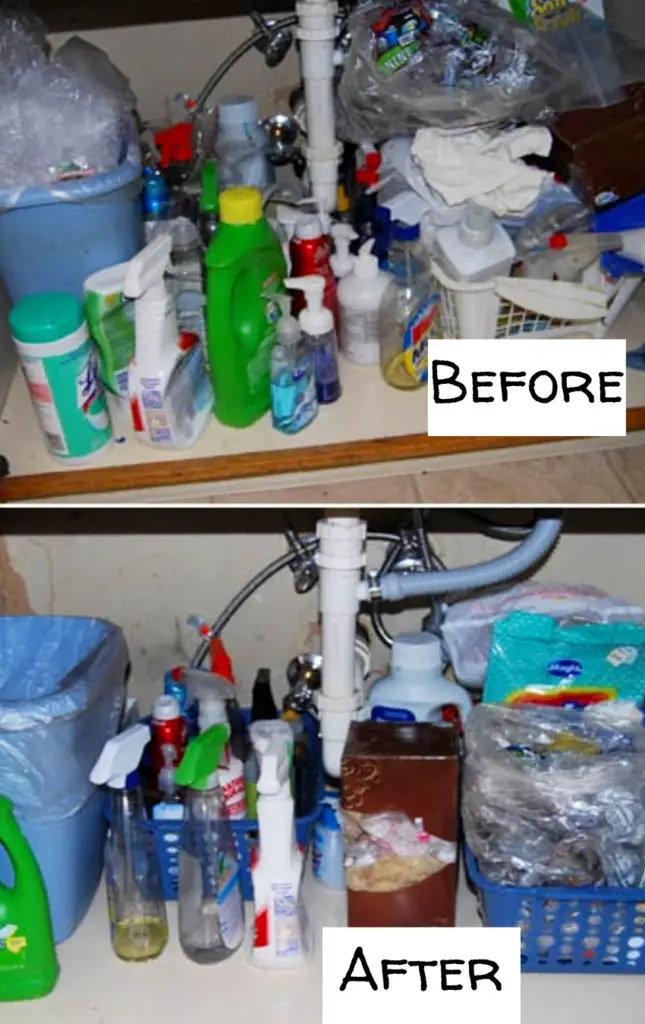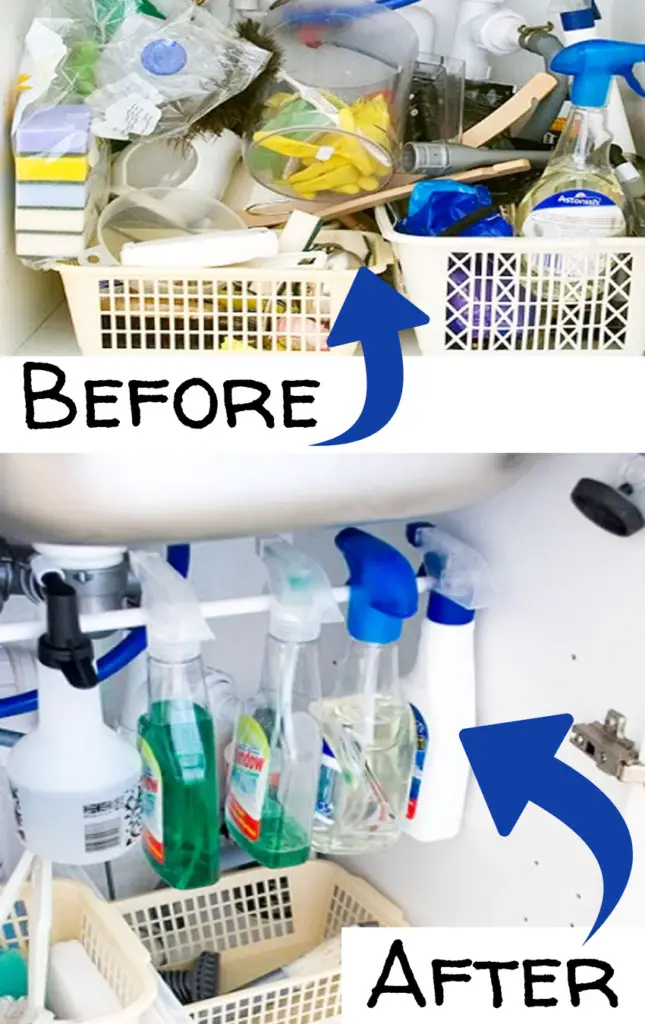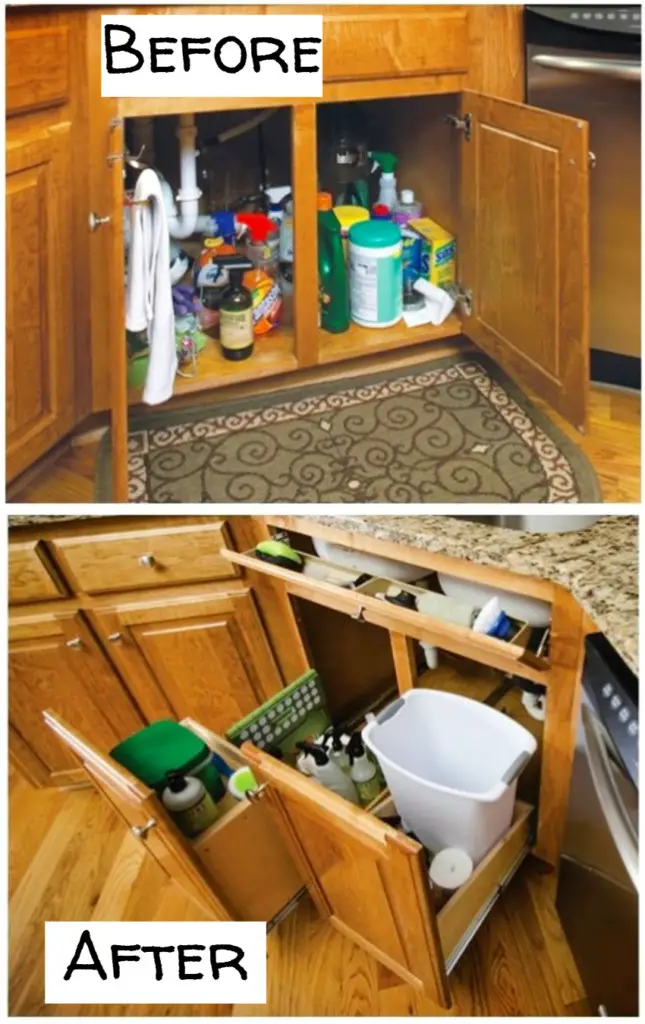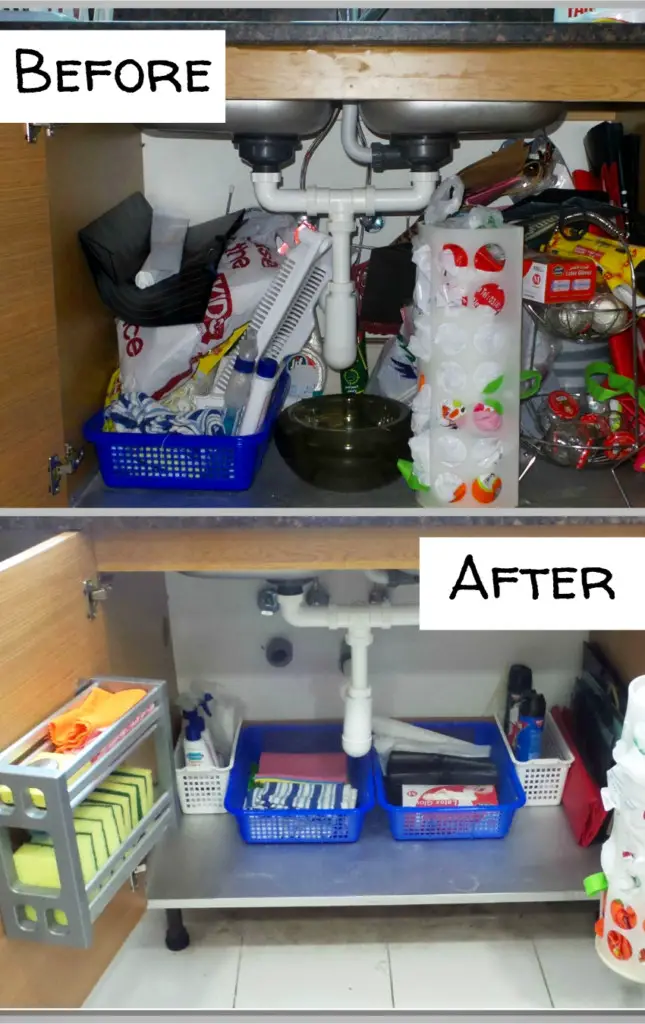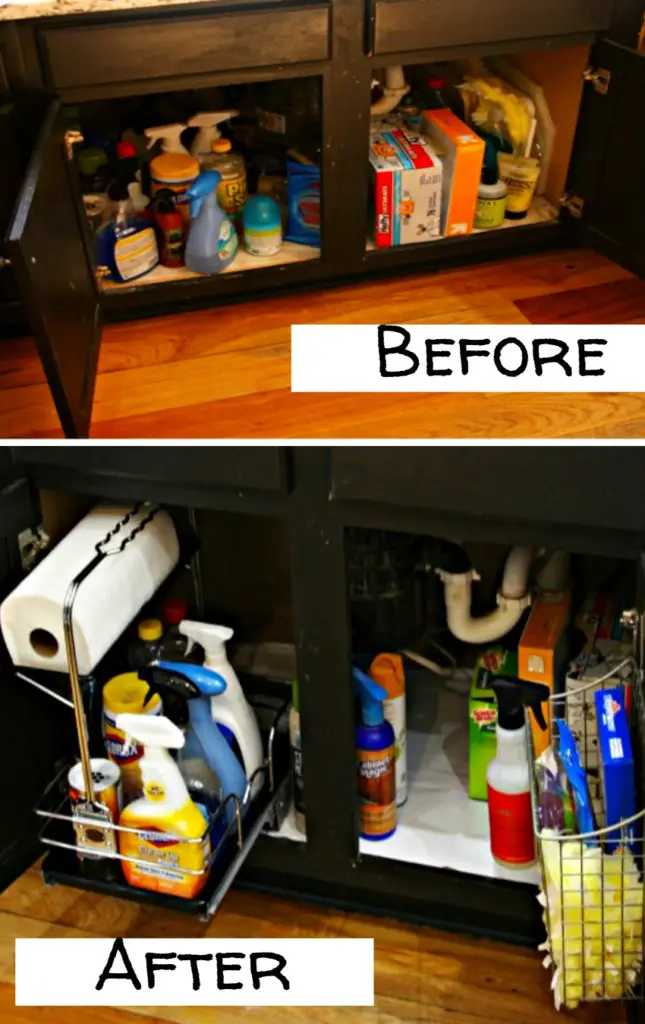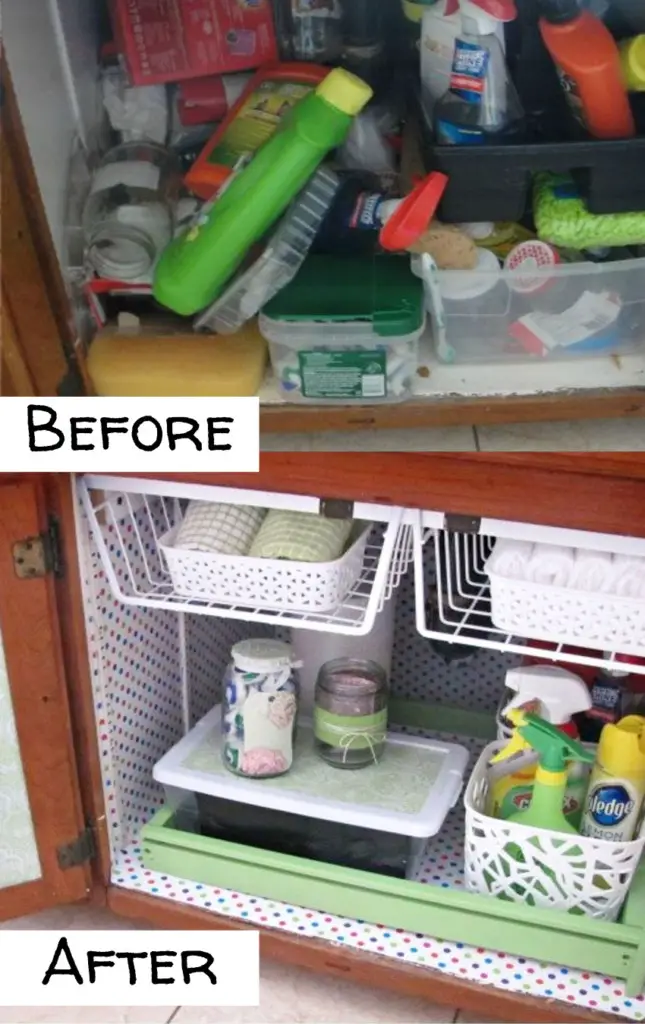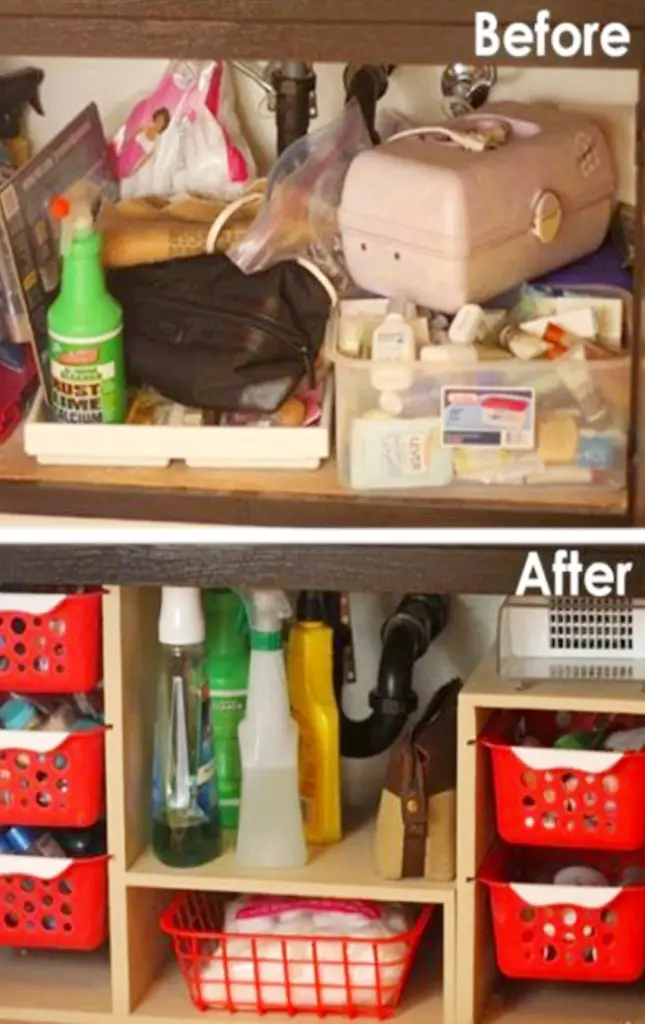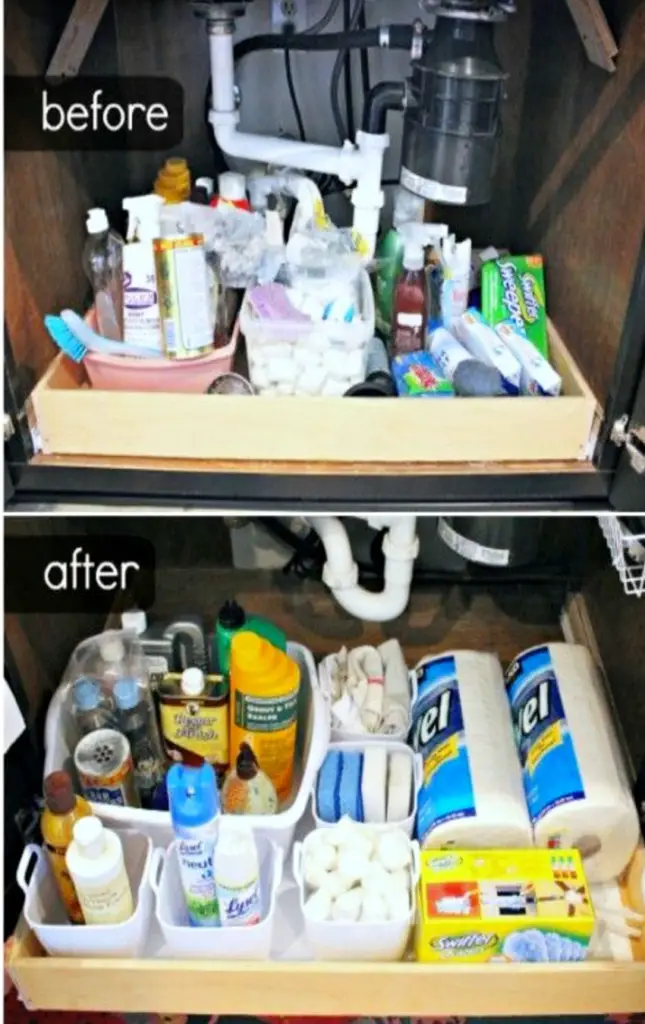 And it doesn't have to be an expensive organization project, either. To save money, just try some of these brilliant Dollar Store organizing ideas and products.
Here's more clever ideas for organizing under your kitchen sink.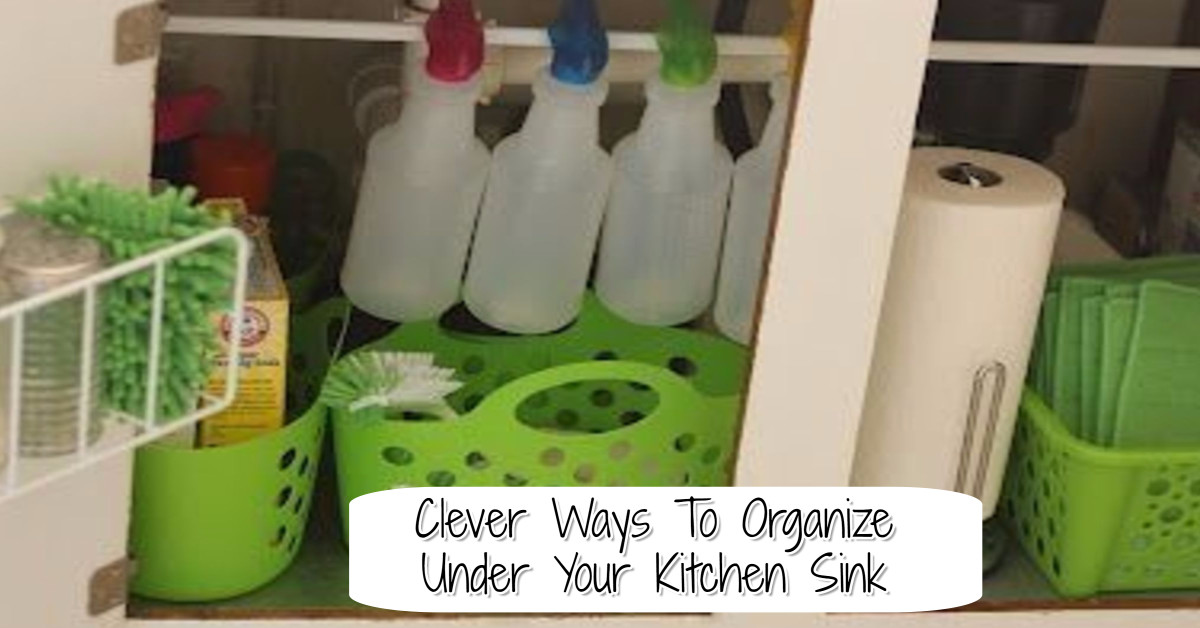 I love the use of the bright green baskets in the idea above. And do you notice the tension rod that holds all the spray bottles? Genius!
Even if you have a garbage disposal under your kitchen sink, you can easily organize with an adjustable undersink organizer like this organizer that will adjust for the space the garbage disposal takes up.
I found that adjustable organizer here.
Under Sink Organization Hack…
This is a BRILLIANT idea: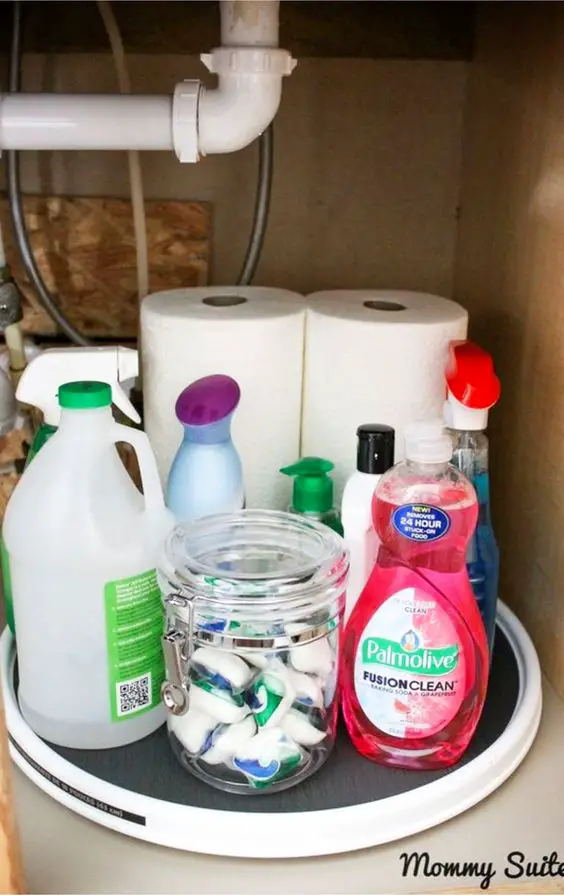 The idea above is such a simple yet GENIUS way to organize and declutter under your kitchen sink.
Sarah from Mommy Suite says this about her brilliant idea:
"I purchased a large lazy susan (turntable) to place all of my cleaning products and a few extra rolls of paper towels. This turntable is huge and reaches from the front of the cabinet to the back. I can now see all of my cleaning products by rotating the turntable instead of shifting everything around to reach what I need. I also put my dishwasher tabs into an airtight container that my children cannot open."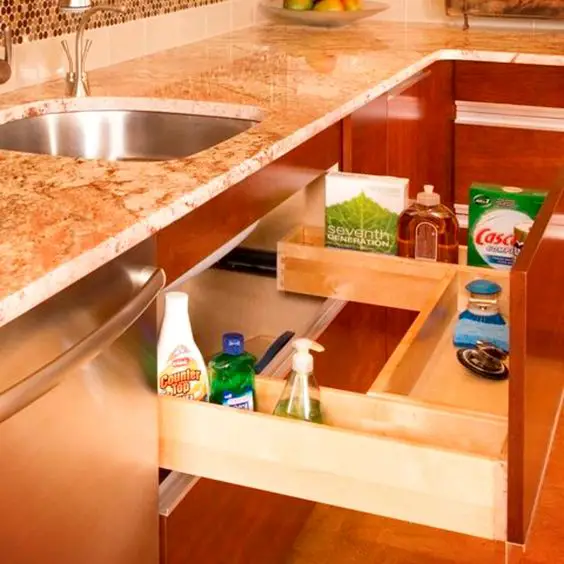 What a great use of space under your kitchen sink to declutter and organize your kitchen!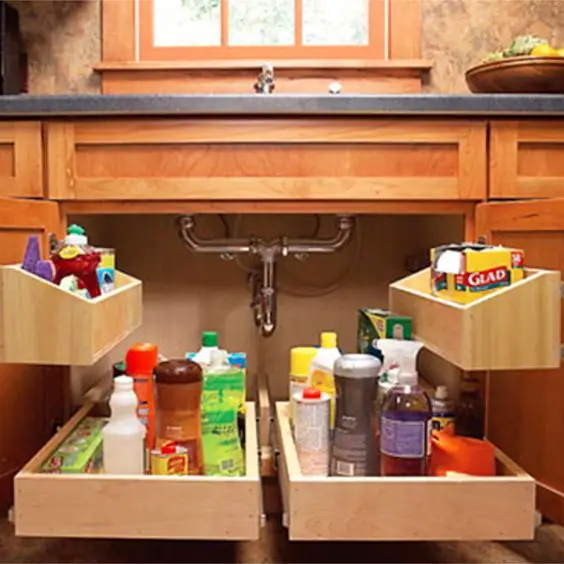 This is such a smart way to declutter and organize under your kitchen sink – and wow, how easy it would be to find everything!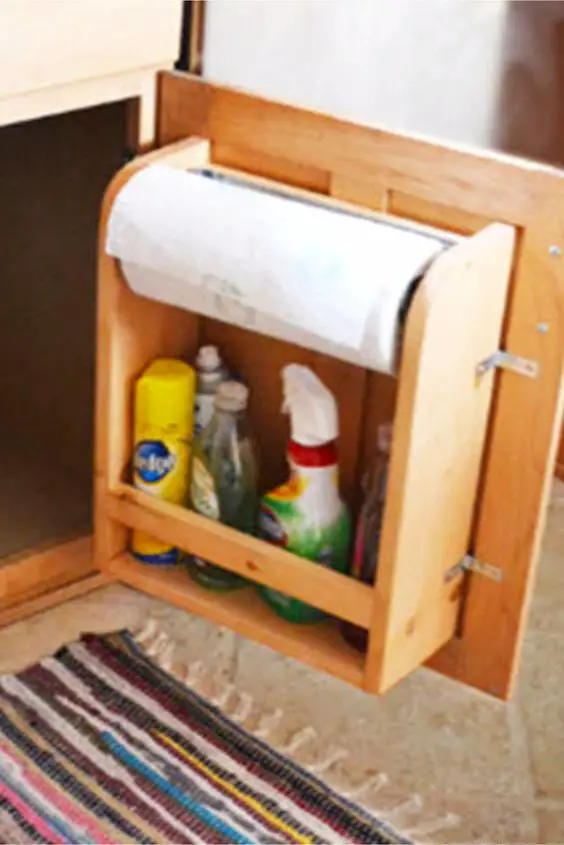 And how about this GENIUS kitchen sink cabinet door organizer!
Homestead and Survival said this:
"With this nifty organizer, you can store paper towels underneath the sink and within easy reach. This means more free space on your countertop. Plus, you can move your frequently used cleaners out from under the sink and store them in the door for easy access."
You might also like…
=> Clever ways to organize your Junk Drawer
More Clever Ideas To Organize Under Your Kitchen Sink:
Last updated on October 2, 2023 6:01 am