Kitchen Organization Ideas! Cheap and Easy DIY Organization Hacks to Organize Your Kitchen on a Budget –
Kitchen clutter got ya down?
These simple tips and cheap tricks WILL help – even if you feel overwhelmed and hopeless – and you're chronically disorganized!
Welcome to Decluttering Your Life - we hope you enjoy our quick decluttering tips, organization ideas and simple DIY solutions for your home - posts may contain ads & affiliate links - that's how we keep the lights on =)
---
---
---
In my house, the kitchen is THE most used room in our house. Which means, it's also the hardest room to keep clean, organized and clutter-free!
This sure leads to lots of anxiety from the clutter and feeling OVERWHELMED.
The good news is these simple and creative kitchen organization ideas will make a big difference – even if you're on a budget.
Let's jump in and organize YOUR kitchen for cheap… or for FREE!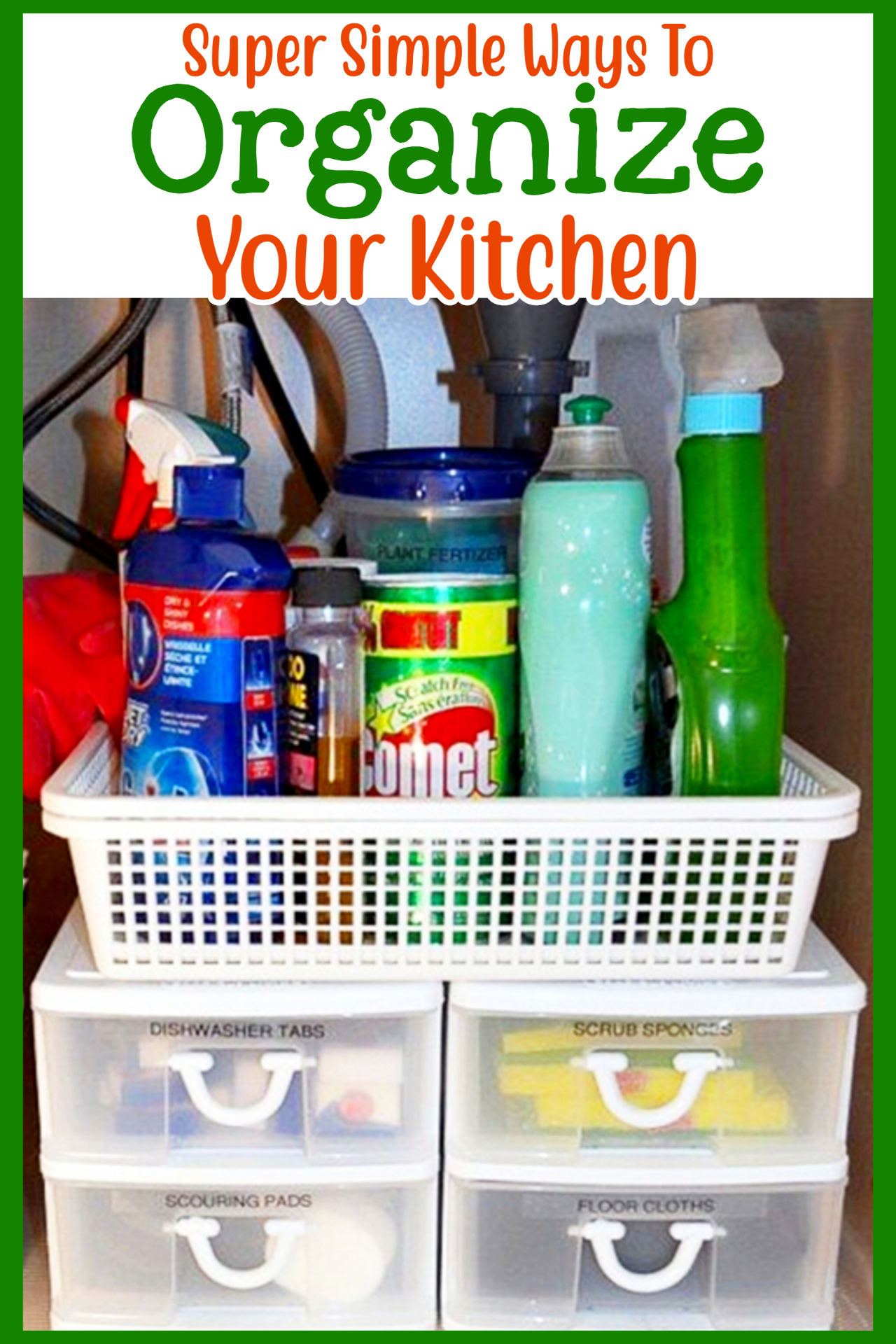 Kitchen Organization for the Hopelessly Unorganized
Even if you're hopelessly unorganized, there are cheap and EASY ways to organize your kitchen – below are our FAVORITE DIY ideas.
 Chef's Path Airtight Food Storage Container Set – 7 PC Set – 10 Chalkboard Labels & Marker – Kitchen & Pantry Containers – BPA-Free – Clear Plastic Canisters with Improved Durable LidsShow Me This [16 Pack] Food Storage Containers with Lids, Plastic Food Containers with Lids, Airtight Storage Container Sets for Healthy Diet, Vegetables, Snack & Fruit (Small&Large Size), BPA Free & LeakproofShow Me This BAYKA Food Storage Containers with Lids, 6 Pieces Set Airtight Food Containers with Chalkboard Labels, Interchangeable Lock Design & Heavy Duty BPA Free PlasticShow Me This 40 Pc Food Storage Containers Airtight Dry Food Space saver w/Innovative Dual Utility Interchangeable Lid, FREE 14 pc Measuring Cups/Spoons – One Lid Fits AllShow Me This
Like this idea below – what a cheap and CREATIVE way to organize in your pantry!
Turn your wire shelving upside down at an angle so you can actually SEE all your canned goods!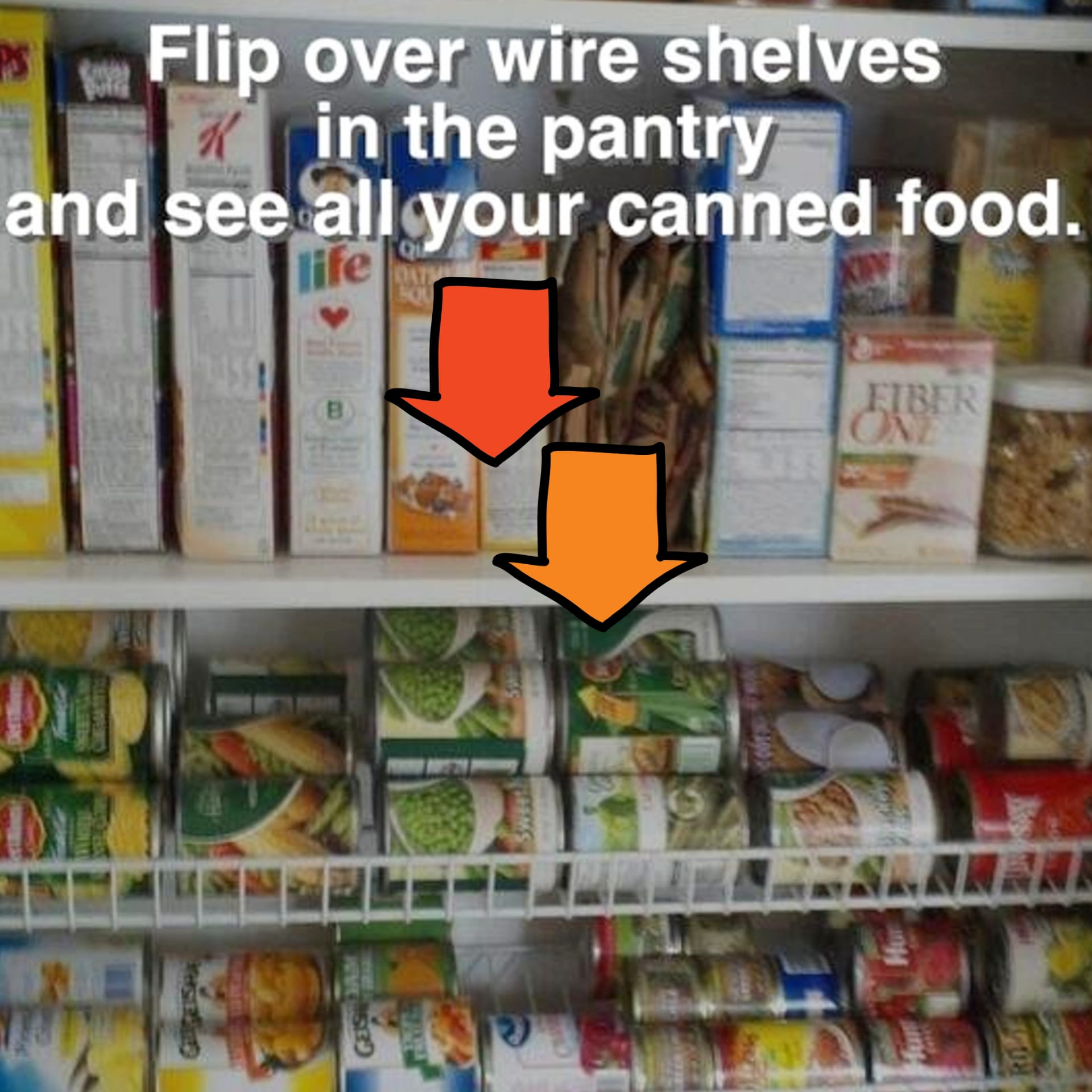 Now, if you don't want to mess with your pantry shelving, you could just get some cheap plastic organizer bins from your local Dollar Tree and use them to organize your canned food in your pantry like this: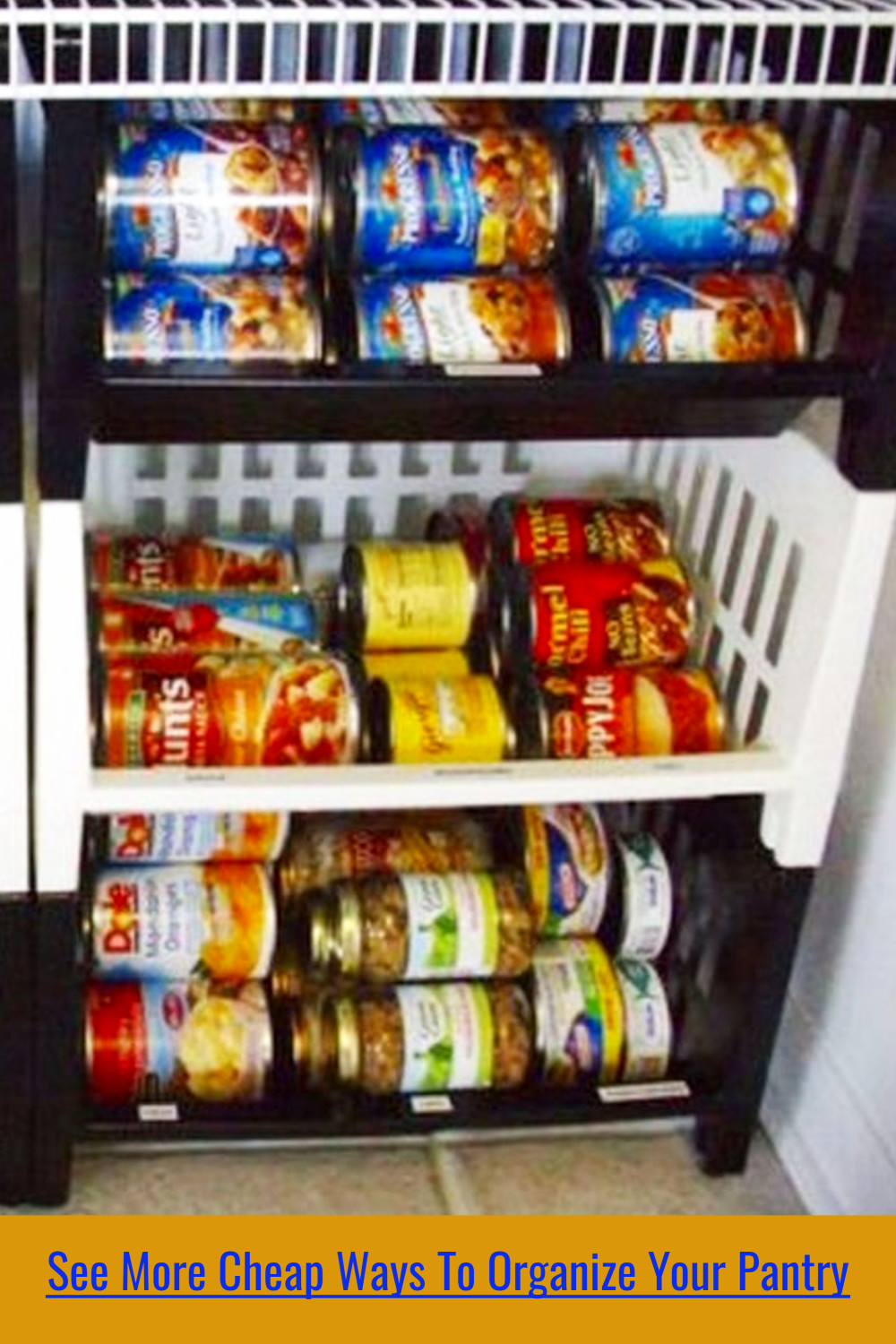 Or this cheap idea – use an over the cabinet door organizer from your local Dollar Store to organize your cutting boards and/or baking sheets.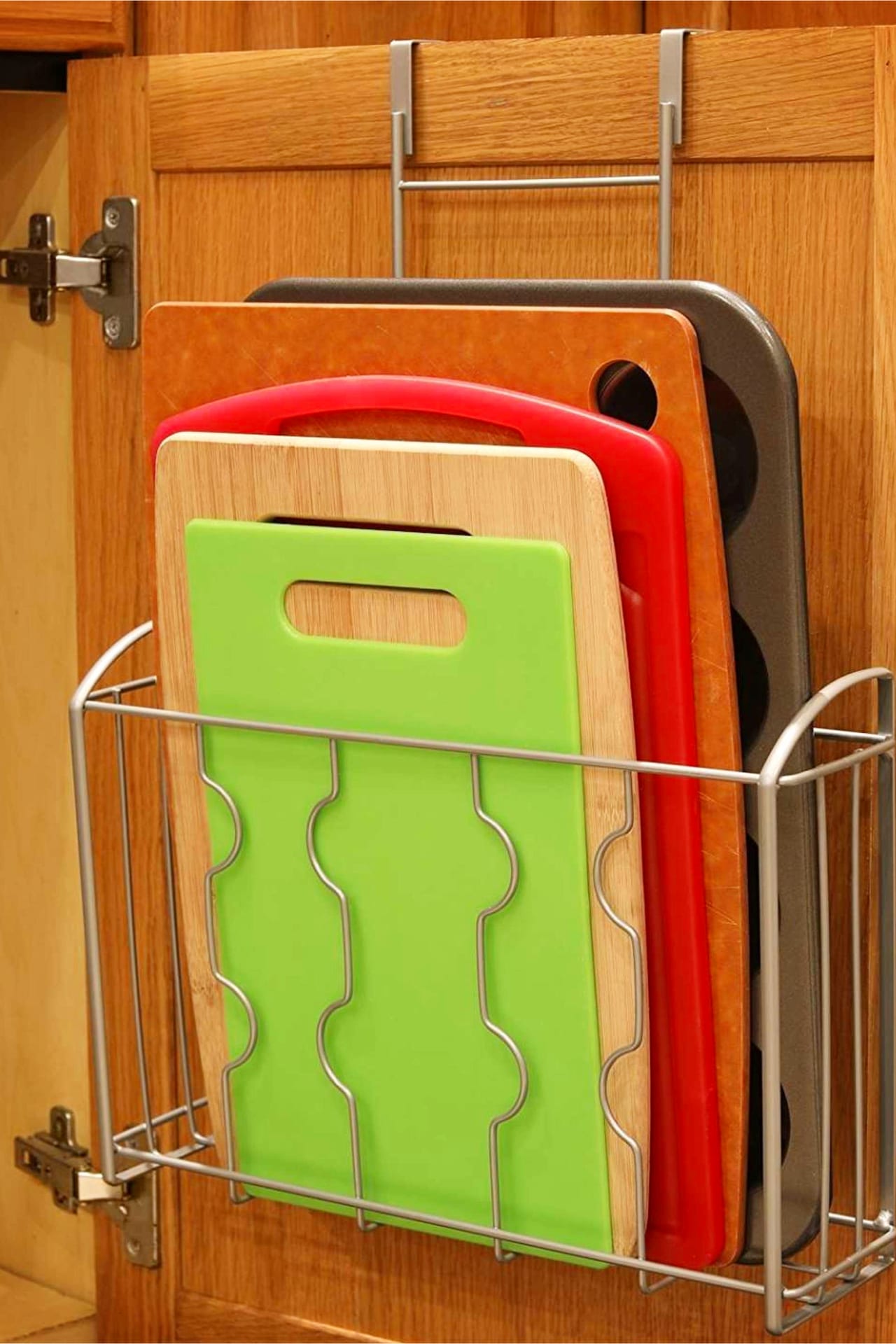 This next idea is so cheap to do, but a brilliant way to organize inside your kitchen cabinets – use cheap Dollar Store or Dollar Tree plastic organization trays to sort your spices – genius!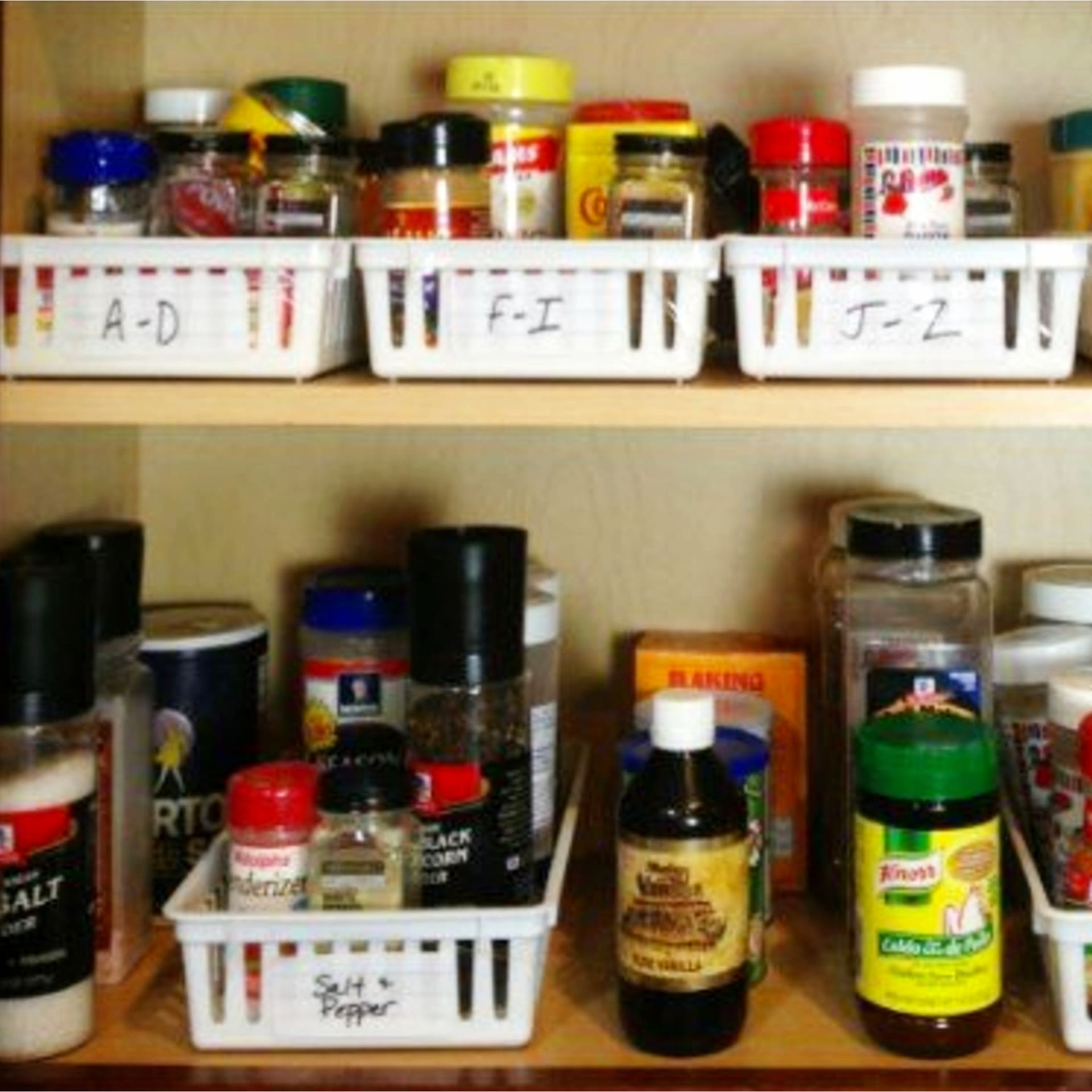 Just remember, the first and most important step of organization is to DECLUTTER first so you aren't just organizing clutter and stuff you don't need or use anymore.
First clean out everything you do not use.
Do you really use all 15 of those empty whipped topping containers?
What about those 20 coffee cups?
Could you narrow that number down to 5 or 6?
If you simply MUST keep them, at least do some clever organizing with baskets to keep it all neat: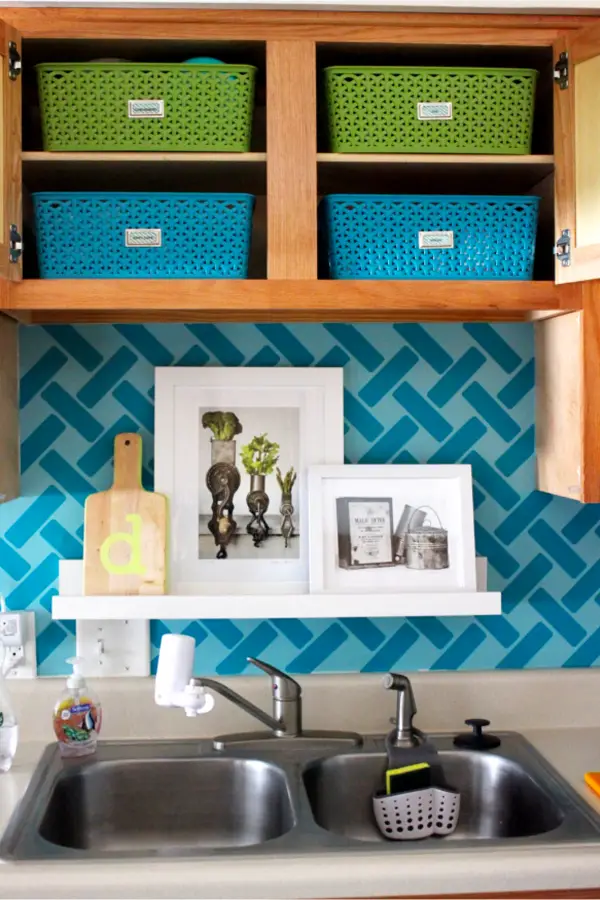 ---
---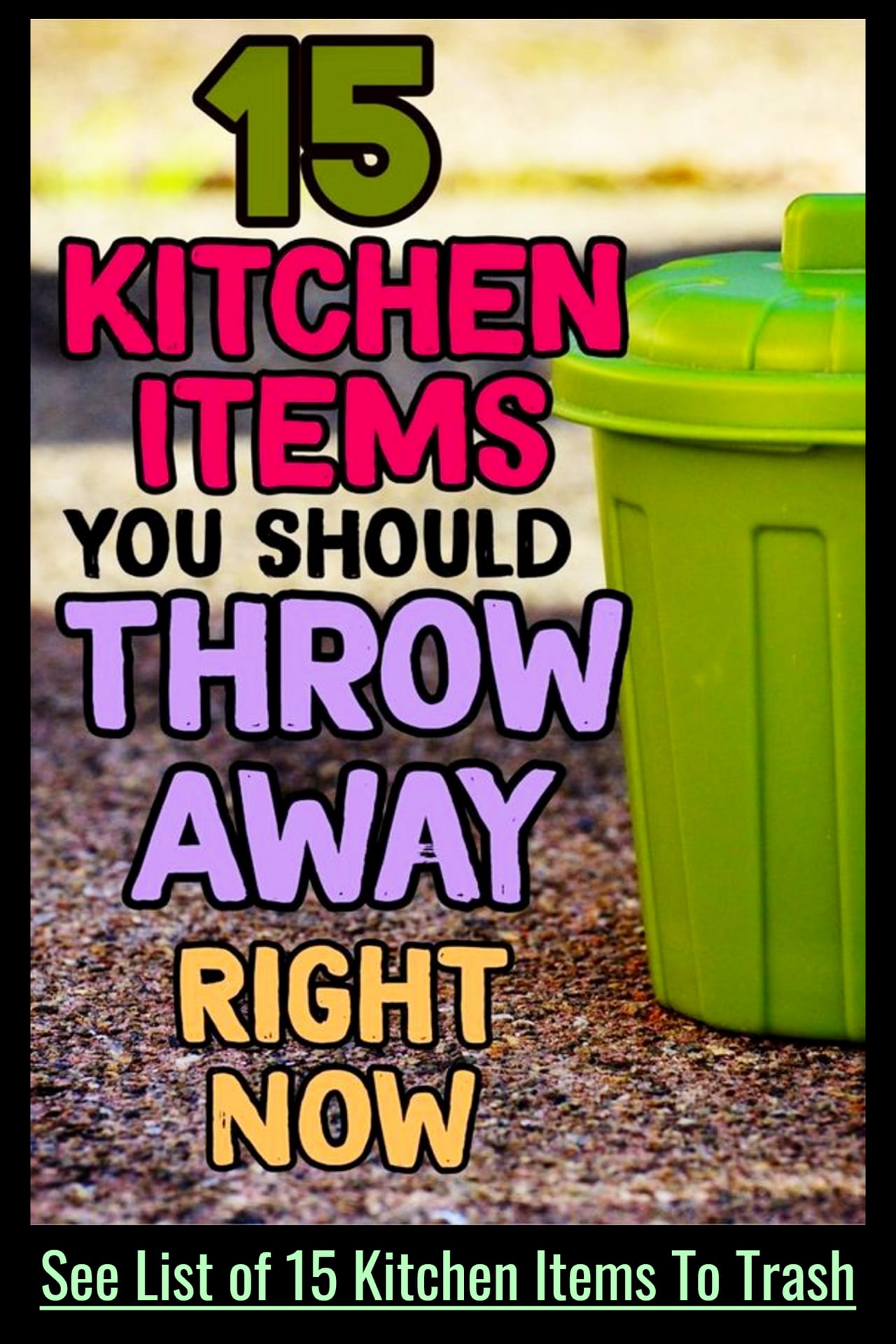 Next, see if you could change things around to save you time.
Are the pots and pans close to the stove?
Are the glasses close to the refrigerator?
Are your dishtowels and dishcloths near the sink?
These may be obvious suggestions, but sometimes we just put things anywhere and leave them there, even though it's not the best place.
The "best place" is where you will be able to find the kitchen items you use most often.
Like this idea: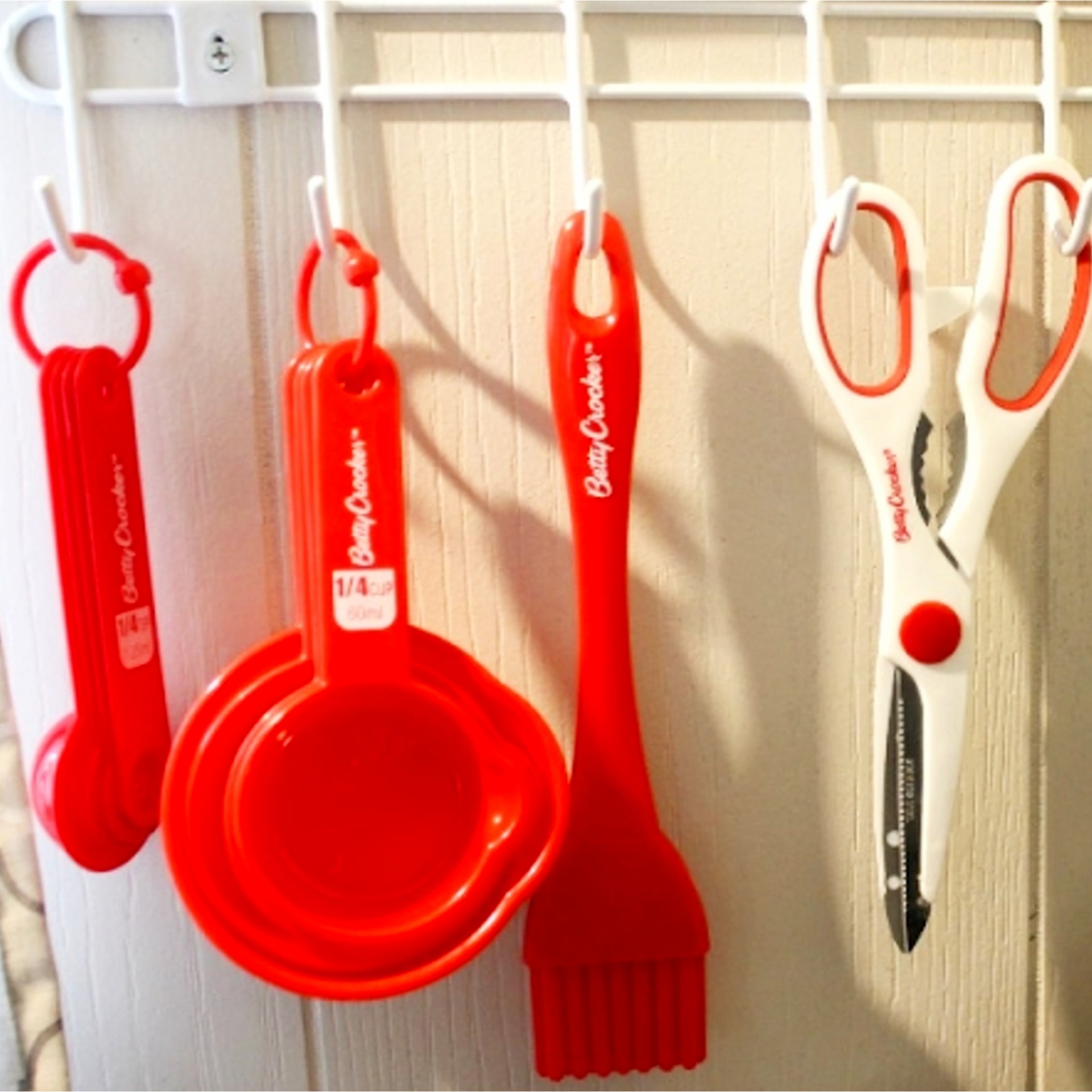 Even your cookbooks should all be on one place that is closest to where you'll use them.
Personally, I love the idea of displaying cookbooks, like this: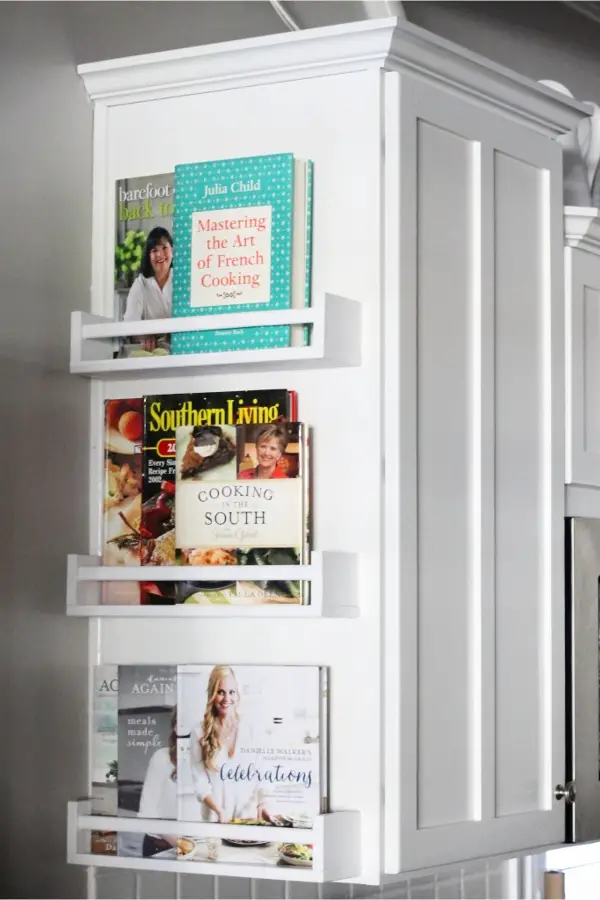 If your cabinet space is limited or you have a small kitchen, try these simple organization tips for small spaces.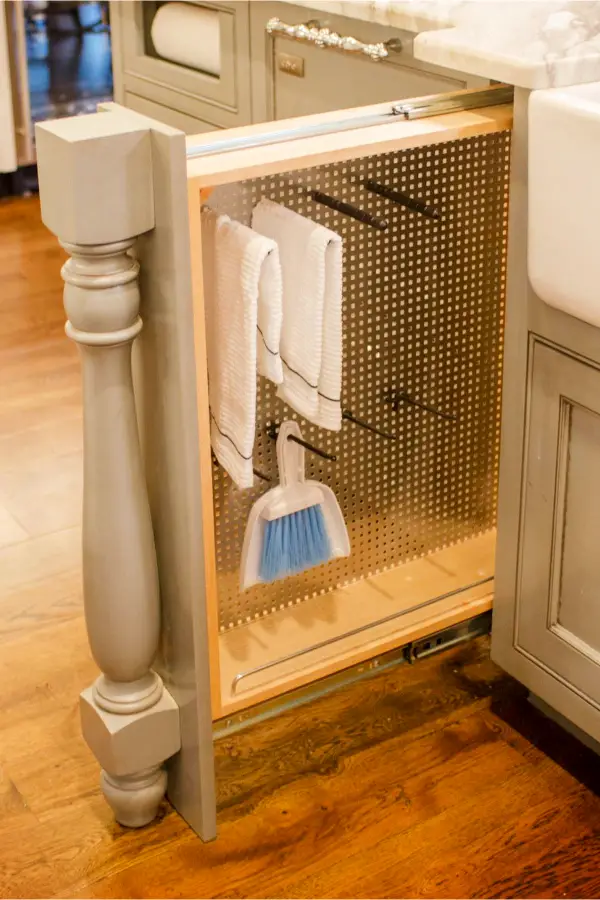 If you live in an apartment or condo, try these small apartment kitchen organization hacks: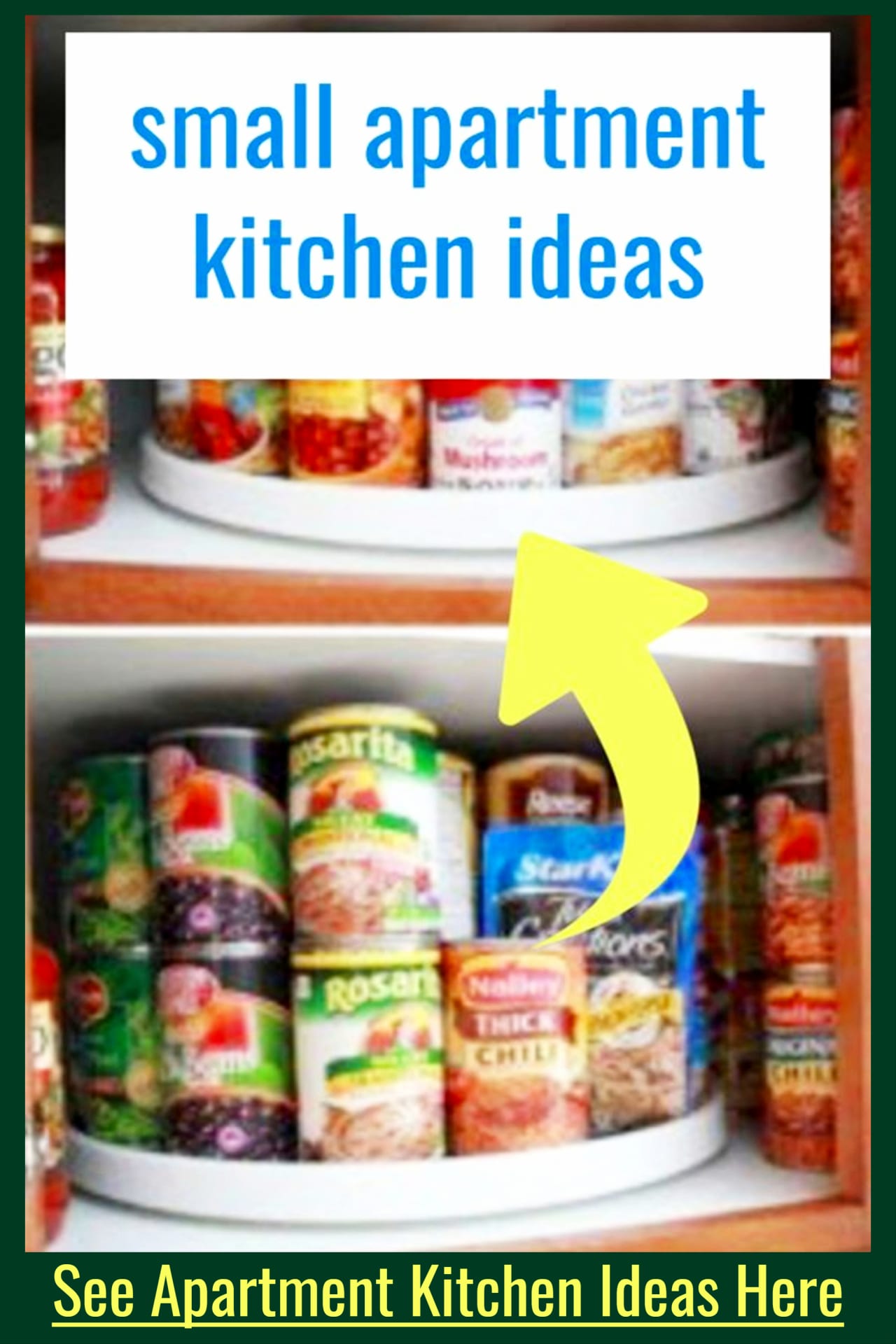 Use plate organizers so you can stack plates and still remove them easily.
Use hooks for mugs and cups. Use drawer organizers for silverware.
Here's a BRILLIANT idea for using cheap Dollar Stores sticky hooks to organize all those little attachments for your kitchen appliances.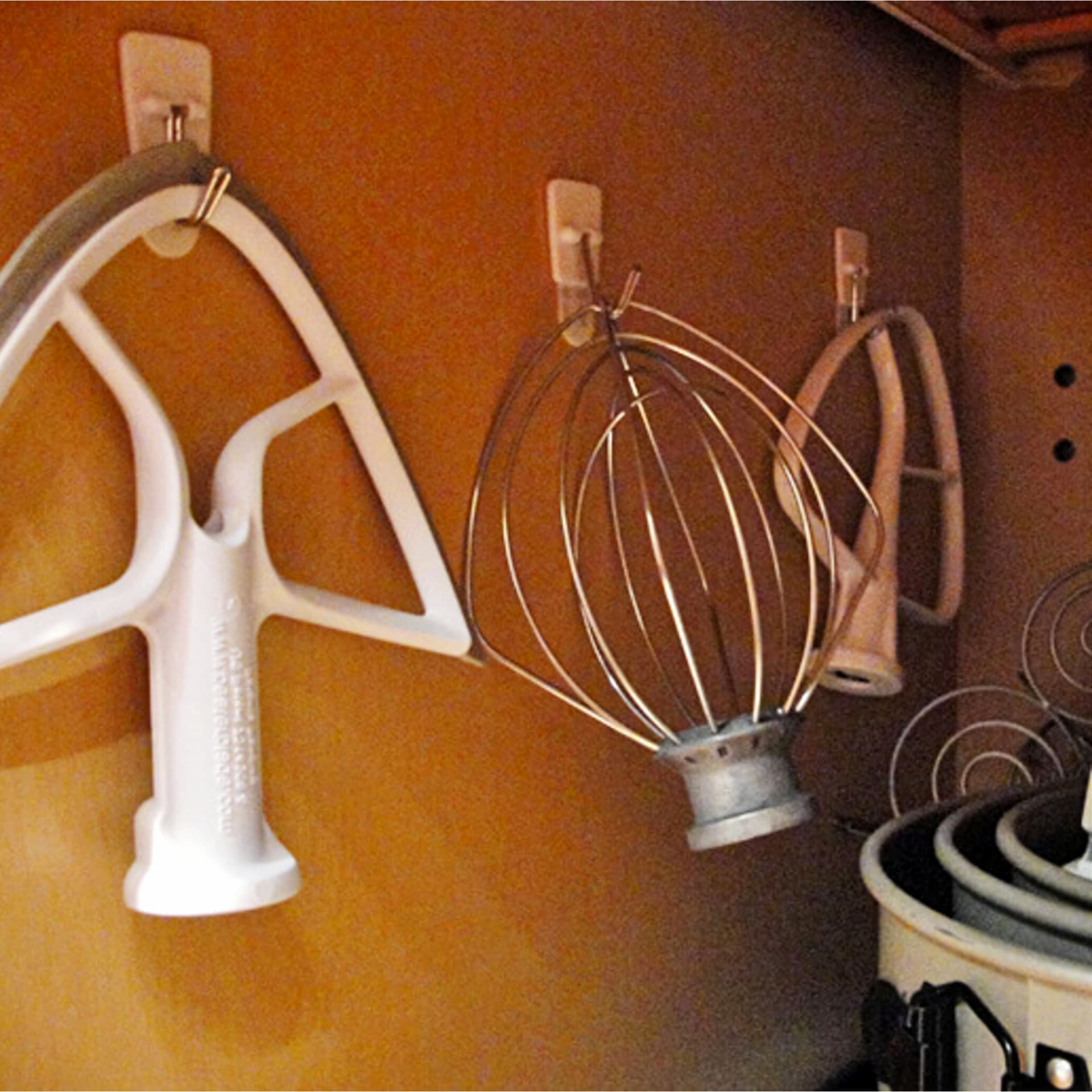 ---
Tip: Don't forget about that NASTY 'Junk Drawer'!
Read:
---
Attach an organizer to the inside of your cabinet door for aluminum foil and plastic wrap.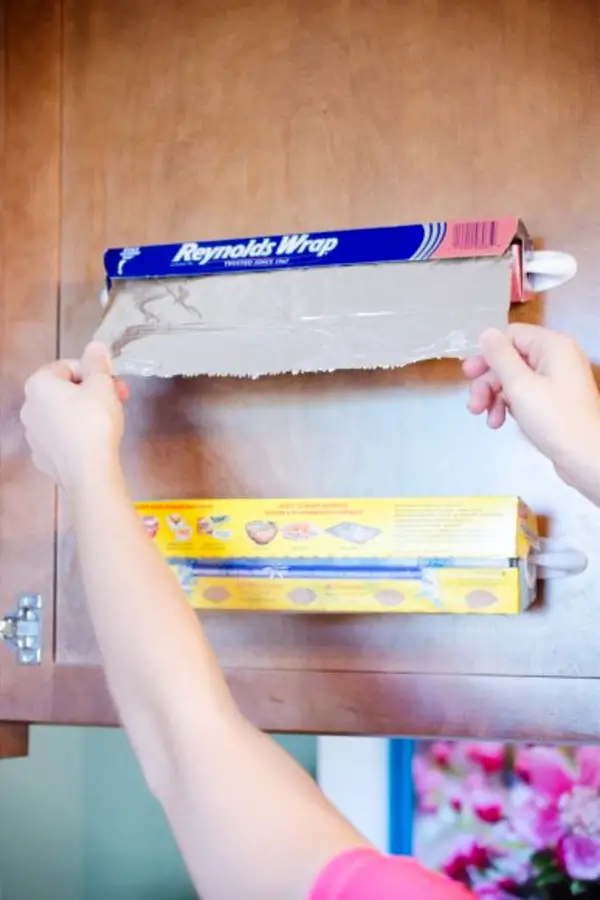 Use under the sink organizers to take advantage of the space there.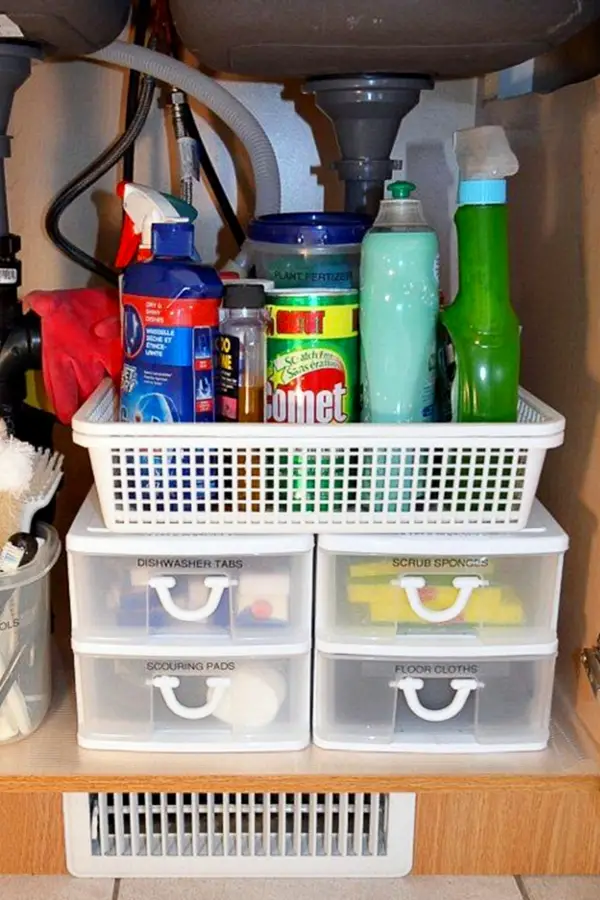 ---
---
If you have a pantry, there are organizers that hang over the inside of the door to put more items and create even more kitchen storage space.
Use pretty baskets and bins to organize – it's really helps to KEEP things organized when you love how beautiful it looks!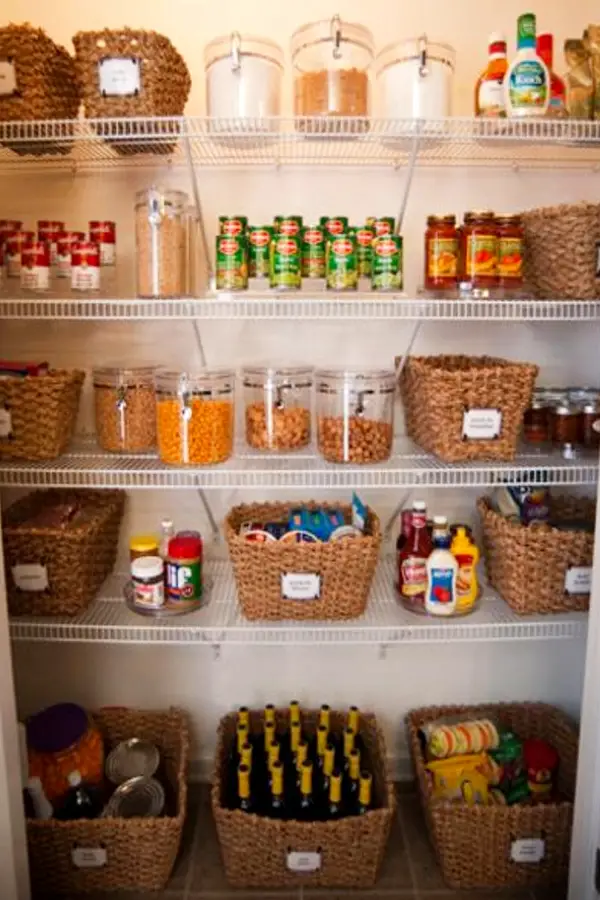 ---
Don't HAVE a Pantry?
Read:
---
Remember, the whole point of decluttering and organizing your kitchen is to have LESS stuff AND be more organized – but that does NOT require you spend a ton of money to DO that, ok?
When it comes to organizing your kitchen for CHEAP, the possibilities are endless. Most of these organizing items are fairly inexpensive and can be found at any Dollar Store if you're on a tight budget.
---
Like Dollar Store DIY Ideas?
Read:
---
If you're trying to do a "ZERO spend organization" in your kitchen, get creative and use things you already have.
Like this clever kitchen organization hack for ALL those plastic bags: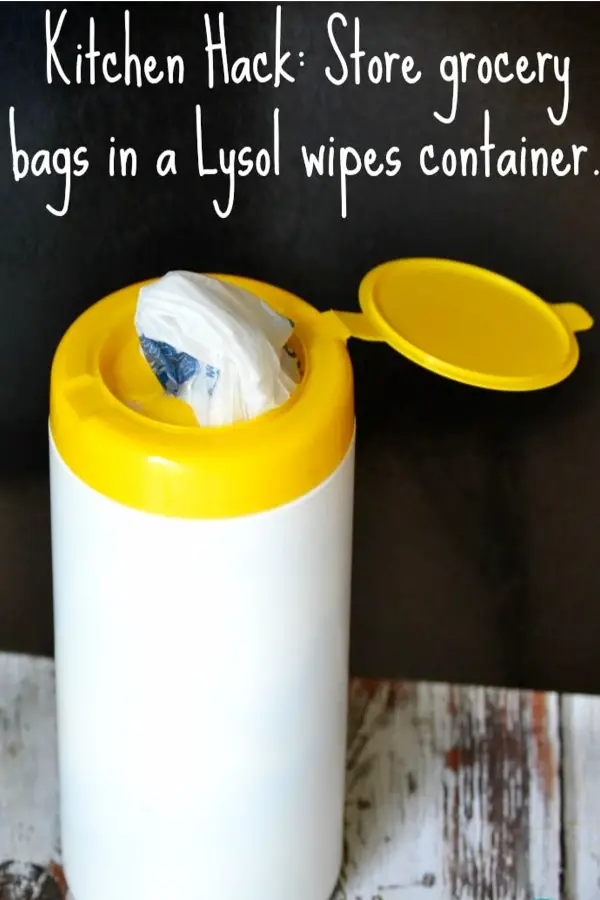 Organize your pantry by boxes, cans, jars, etc…
You could also organize it by breakfast, lunch, dinner and snack items.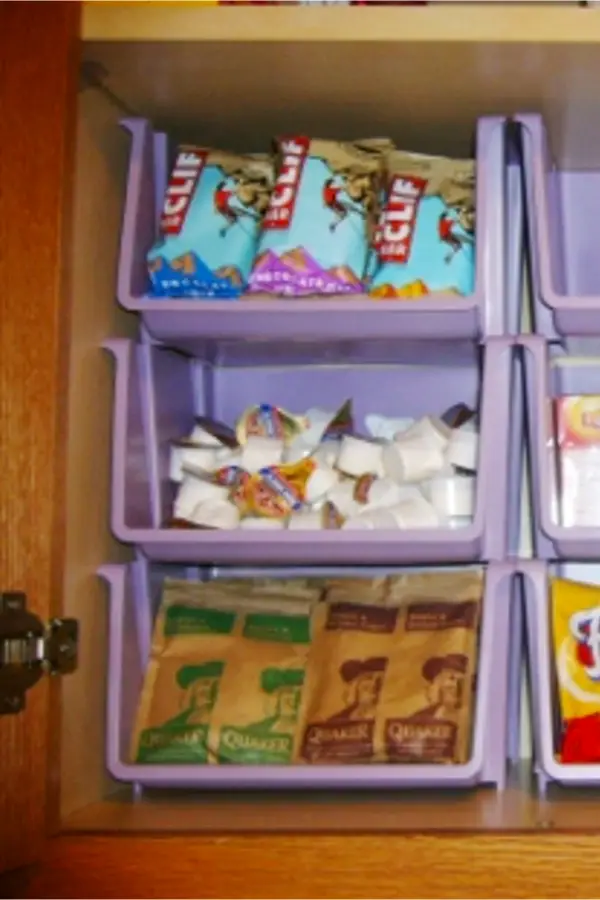 Use simple & cheap plastic containers to store smaller items-see my pictures. You can also use those cheap baskets I found to store things like packets of hot chocolate and instant oatmeal and grits. Having three or four boxes that only have a few packs left, take up too much space. Take the boxes out and put those last few packets into a plastic container together.
These easy DIY kitchen organization tips are fairly simple and easy to incorporate into your home.
Try them and you'll have a more organized kitchen, more kitchen storage space and MUCH less anxiety!
---
More Ideas:
---
My House Was a MESS!
And my anxiety was through the roof!
I needed a plan to get it together - it was all pushing me over the edge.
Thing is - we
LIVE
here... I never had the fantasy that my home would ever look "Pinterest perfect".
I simply wanted more control, less clutter and much less anxiety.
I finally found something that worked for ME.
My house is now easier to clean - I can now clean it in minutes, instead of hours.
I can now actually FIND the things I'm looking for.
I learned some simple decluttering systems that make me much more efficient every day - and I'm more relaxed and less overwhelmed all the time (finally)
My house now looks pretty darn good almost all the time.
Best of all - I no longer stress about guests unexpectedly showing up.
Turns out, it was so much easier to do than I ever expected.
This is how I did it
.
---
Miss Anything?
Go back to the top of:
==>> Kitchen Organization on a Budget
---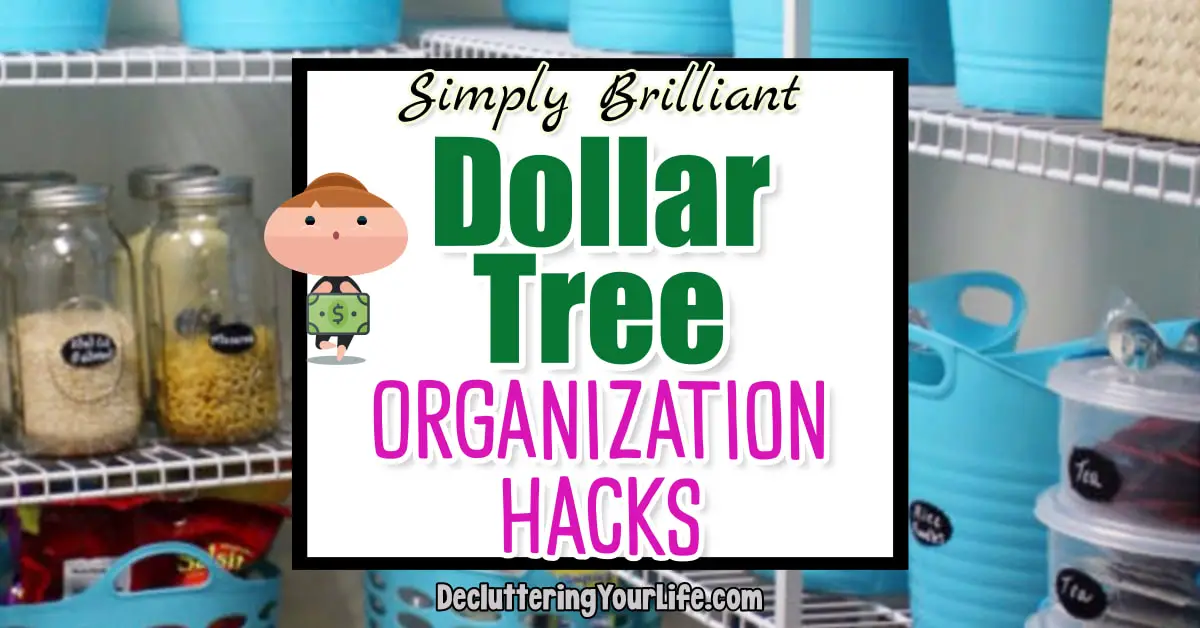 Dollar Store Organization Hacks and Cheap Organizing Ideas - Organizing Your Home on a Budget! Below are some BRILLIANT Dollar ...
Read More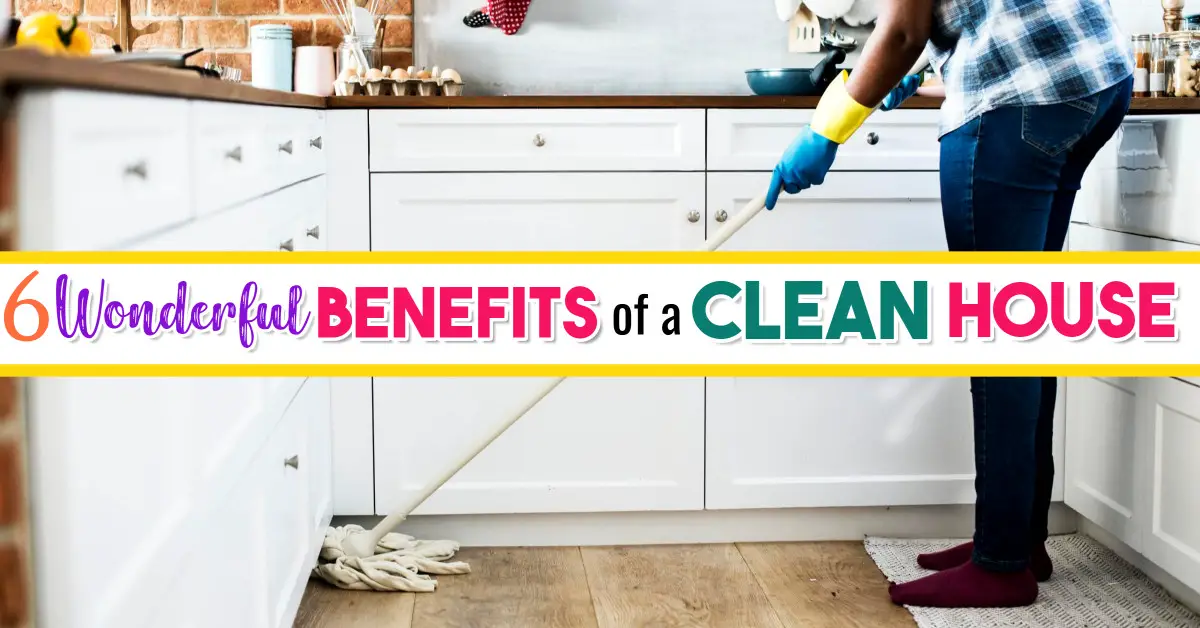 Why It's IMPORTANT To Have a Clean House • There are many benefits to being clean and organized and having ...
Read More
---