Dollar Tree Bathroom Organization and Storage SOLUTIONS – Small bathroom organization hacks using cheap Dollar Tree storage items and inexpensive organizers.
Is your small bathroom a cluttered MESS? Let's take a look at some brilliant Dollar Tree small bathroom storage ideas.
No Dollar Tree near you? These small bathroom storage ideas work with Dollar General items, Dollar Store organizers or any $1 type discount store.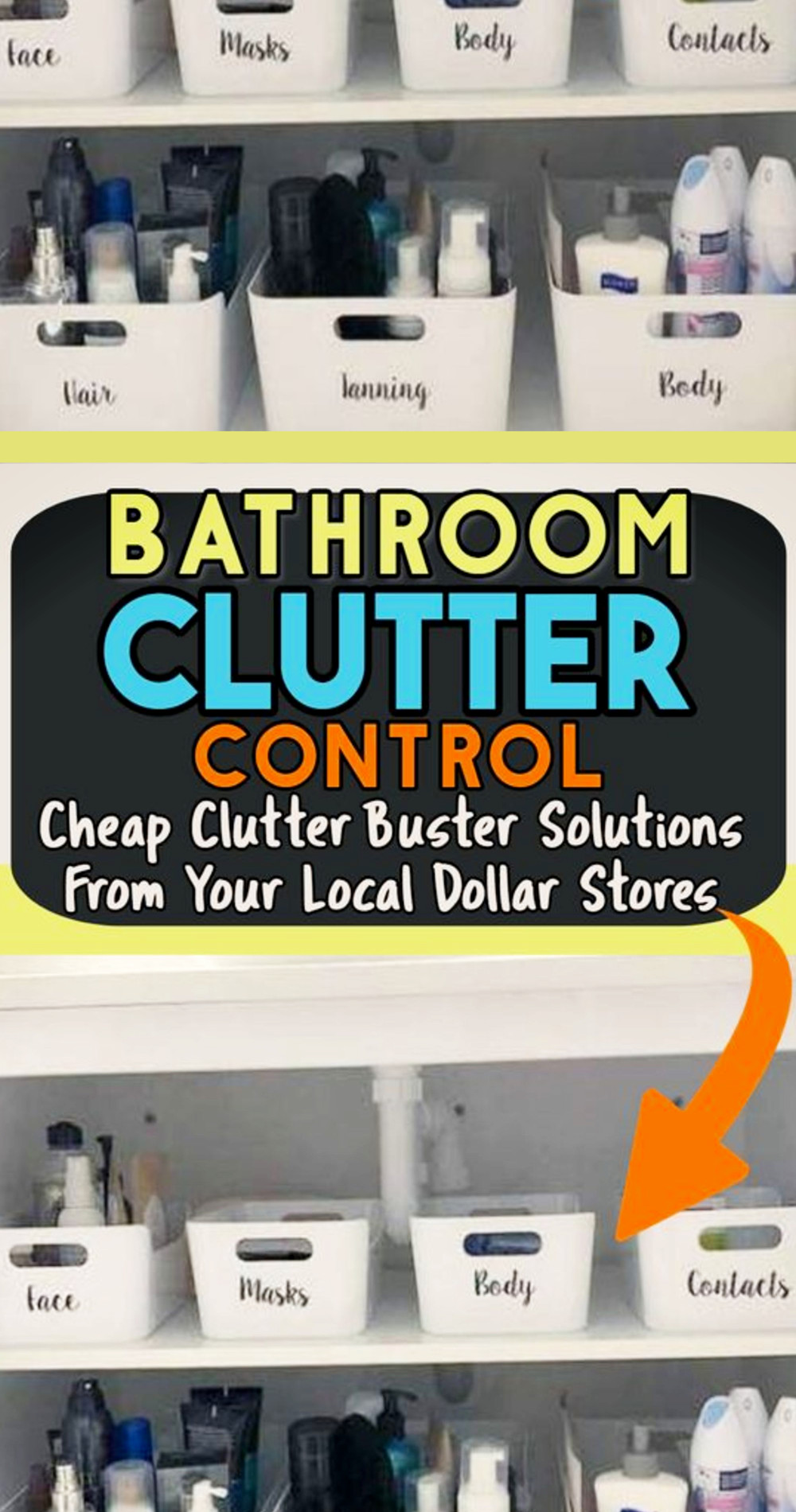 Welcome to Decluttering Your Life - we hope you enjoy our quick decluttering tips, organization ideas and simple DIY solutions for your home - posts may contain ads & affiliate links - that's how we keep the lights on =)
---
---
---
Below are some of my favorite borderline GENIUS bathroom storage ideas using Dollar Store items for getting even a teeny-tiny, small bathroom organized and clutter-free.
 Under Sink OrganizersShow Me This Cabinet Door OrganizersShow Me This
Dollar Store Organizing HACKS!
There are SO many beautiful and functional ways to organize even the smallest bathroom using inexpensive items from your local Dollar Store (or whatever bargain store is near you).
The "secret" is to use ANY available space you DO have to well… put all your STUFF.
Simple ideas like these are perfect for creating more storage space: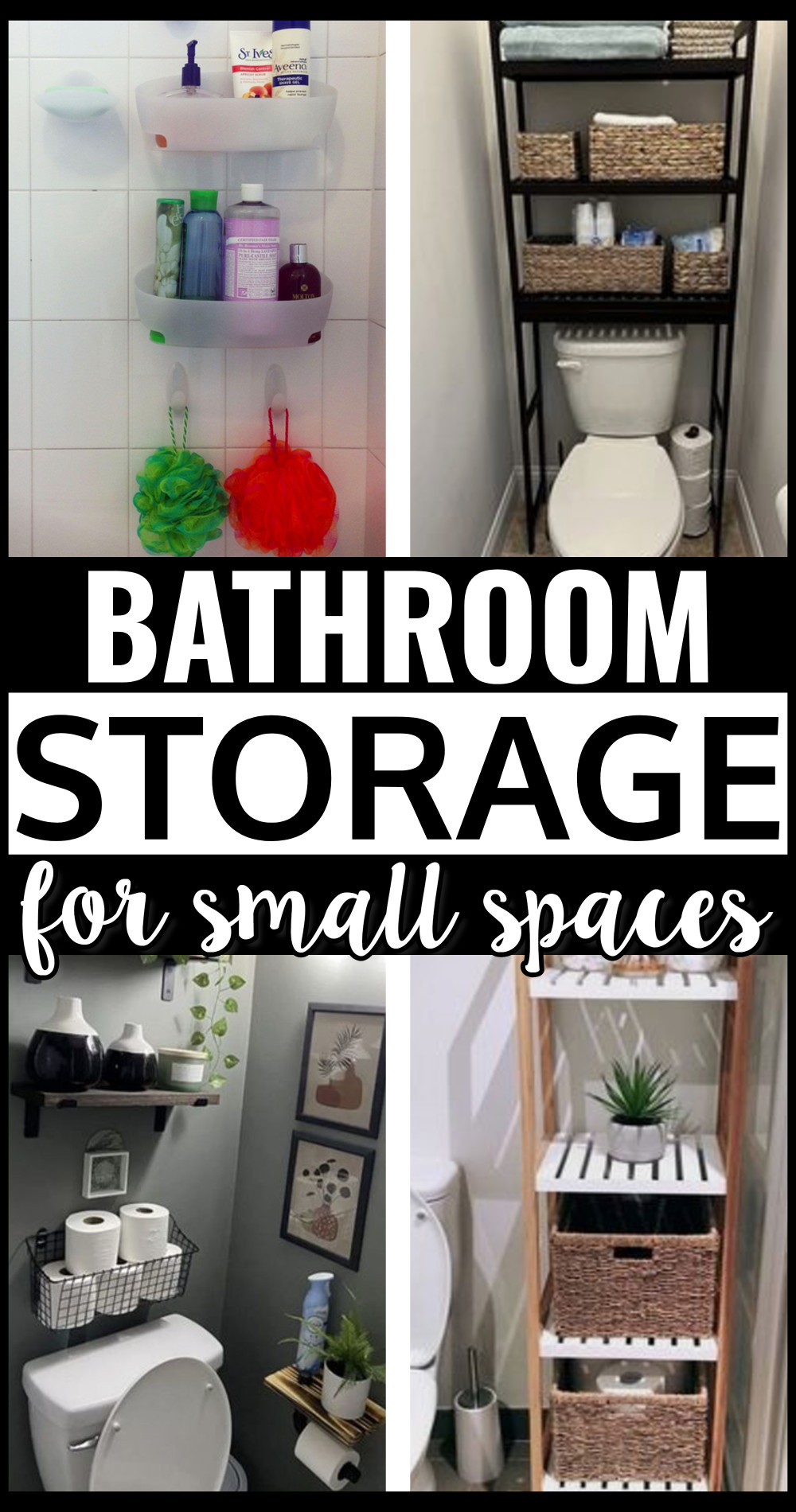 This below is a great idea for organizing your bathroom on a budget AND creating more storage space in a small bathroom.
This ONE simple idea has cleared a LOT of my bathroom counter clutter:
Hook cheap Dollar Store organizer baskets inside your cabinet door under your bathroom sink.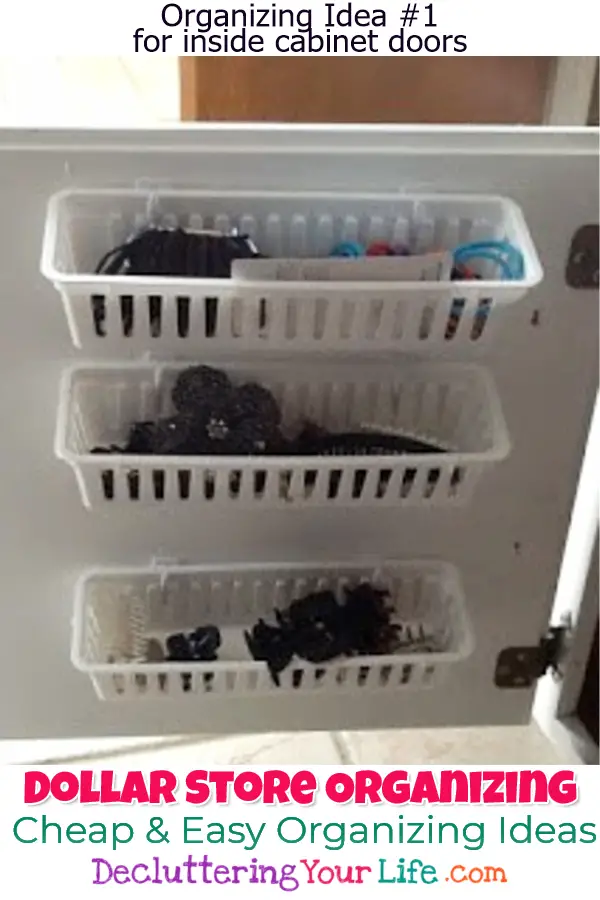 How about this cheap bathroom organizing idea?
Use a cheap utensil drawer organizer to keep the kids toothbrushes organized!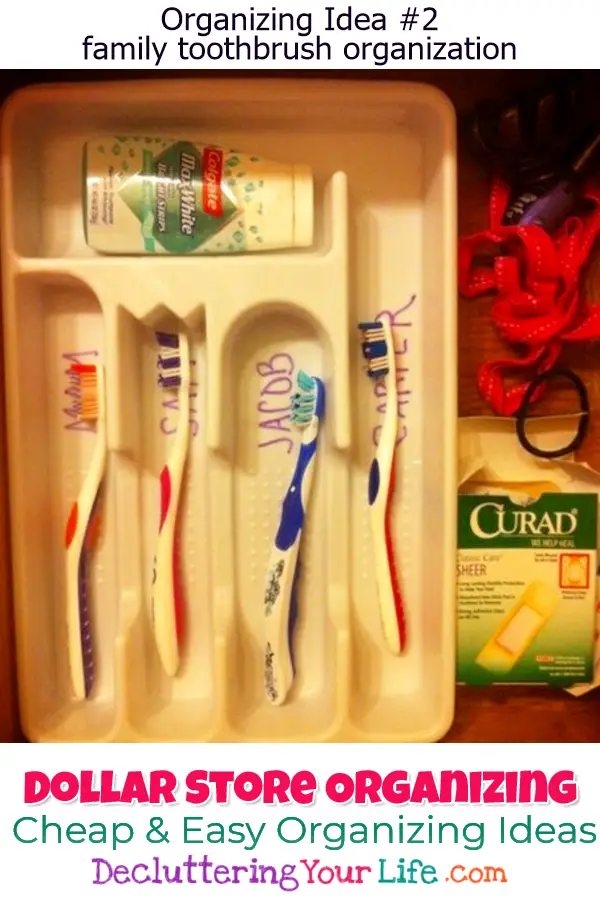 As the saying goes – "a place for everything and everything in its place", right?
This will help the kids help YOU keep everything organized, neat and tidy!
Does your small bathroom need more storage space for towels and stuff?
Try this clever Dollar Store organizing hack!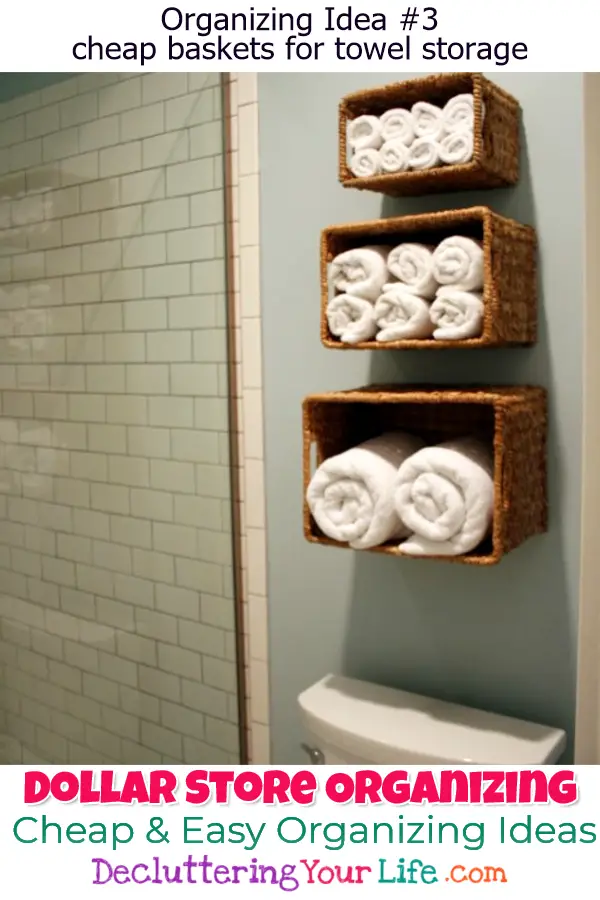 Is your make-up drawer a cluttered mess?
(mine, too!)
How about using some cheap Dollar store organizer bins like these on Amazon to get that make-up drawer under control?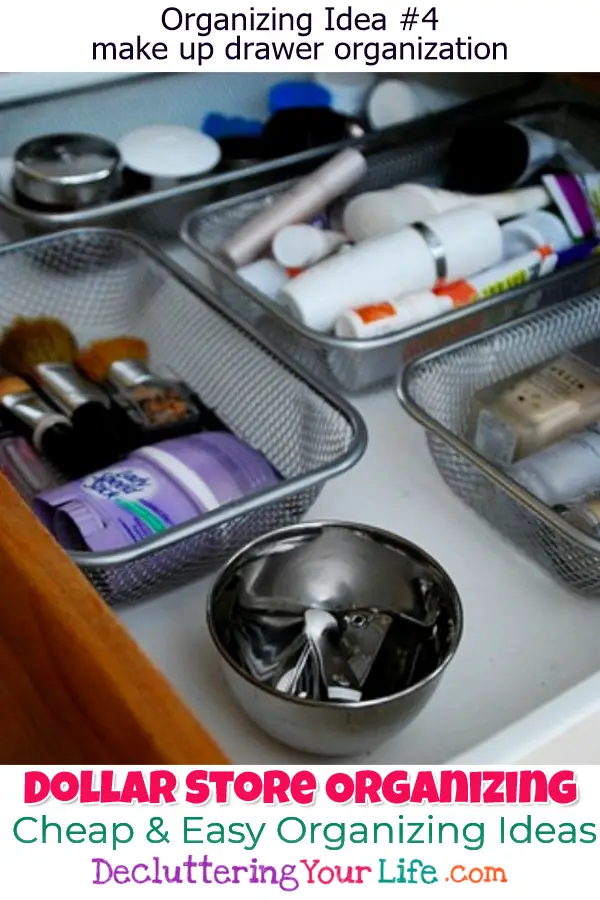 Use cheap wire organizer bins like these to keep all your make-up organized.
Next: Under the sink – UGH!
Under the sink ALWAYS seems to be a clutter magnet and a disorganized mess.
With some cheap stackable organizing bins from your local Dollar Store, you can get that disaster area clutter-free!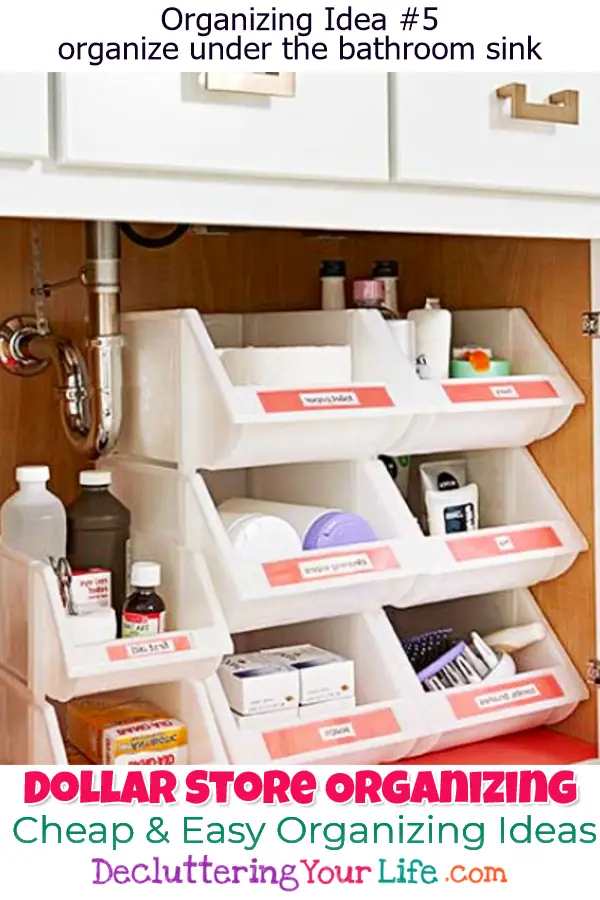 Below is one of my favorite Dollar Store organizing hacks of all times!
A simple cheap shower curtain tension rod like this hung against the wall in your tub/shower allows you to hang baskets for a TON more storage space to keep things neat and organized.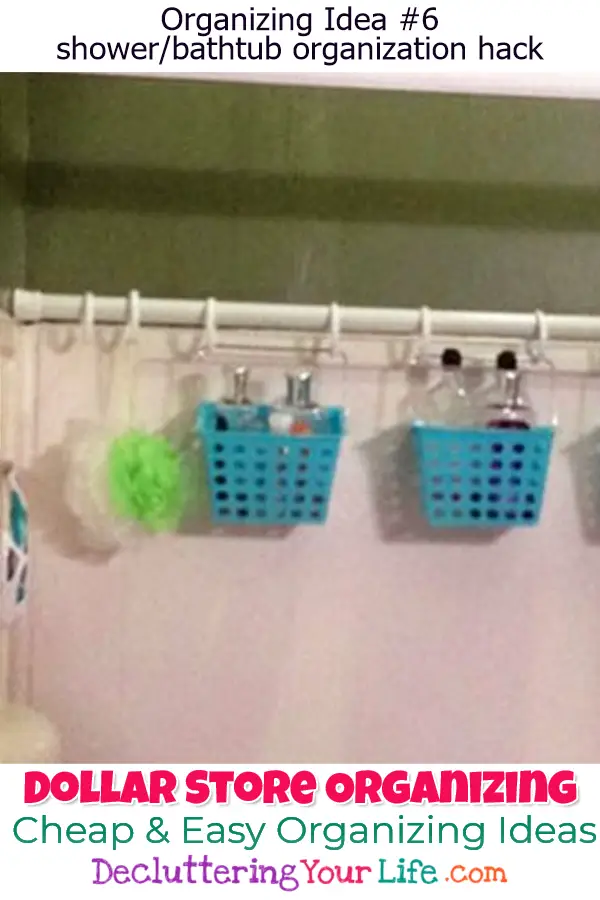 This next cheap organization idea is perfect for the cabinet under ANY sink – not just for under the bathroom sink.
Say hello to this magical little tension rod – you're gonna want at LEAST one!
A cheap little tension rod from your Dollar Store (or found here on Amazon) can be used to hang cleaner bottles etc to make more storage space AND keep things organized and right where you need them.
Add in a cheap organizing basket and that normal "catch all clutter" area becomes a neat and organized thing of beauty.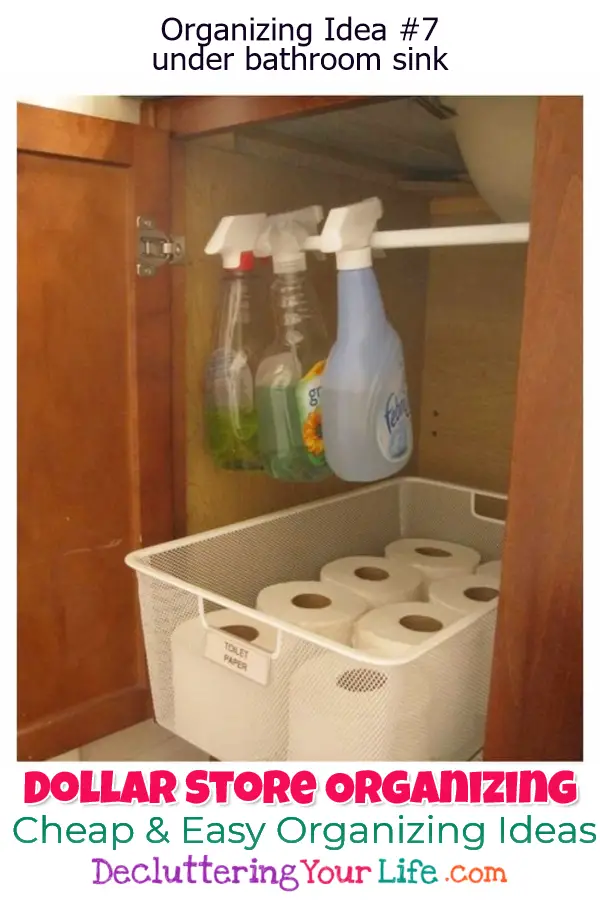 Here's another clever Dollar Store organizing hack to create more storage space in a small bathroom, apartment bathroom, half bath etc.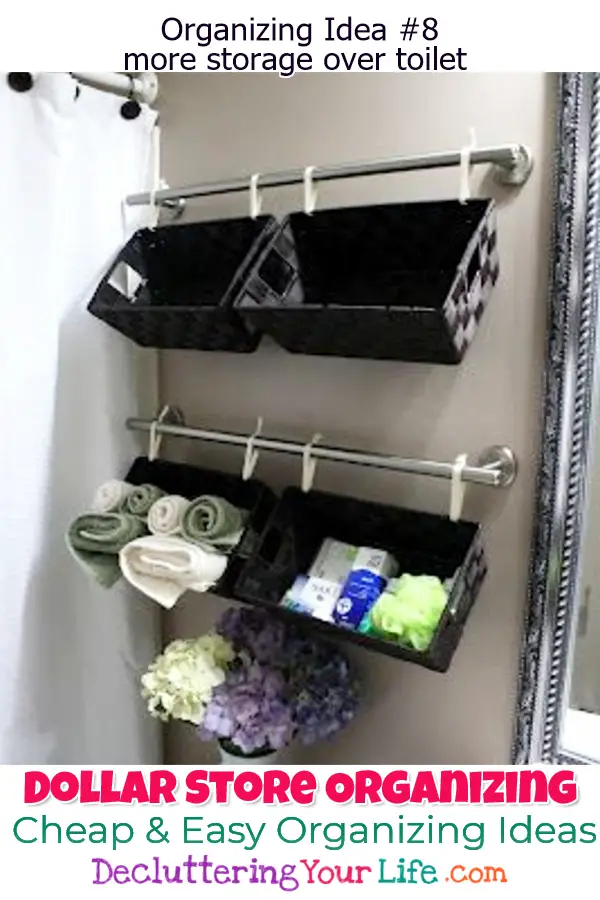 With maybe $15 – $25 at your local Dollar Store or Dollar Tree, you can get your bathroom totally organized – just look how organized it is under this bathroom sink!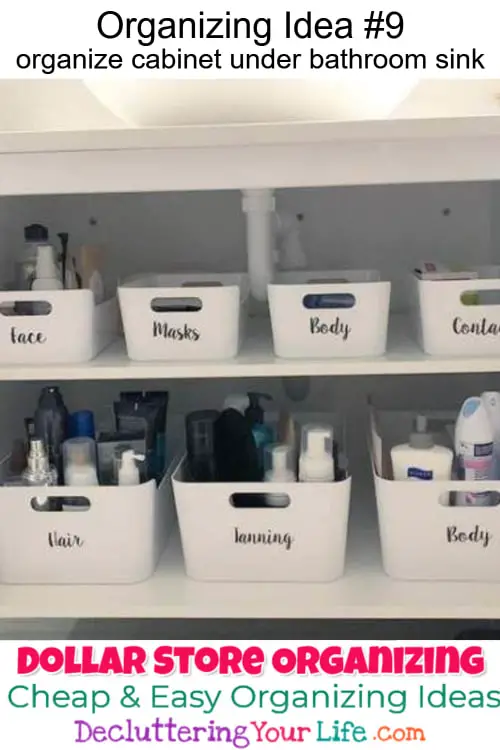 Under Sink OrganizersShow Me This Cabinet Door OrganizersShow Me This
Don't overlook unusual and CHEAP items at your local Dollar Stores to create clever and easy DIY organizing items and finally get that bathroom organized… on a budget!
Like these ideas?
Why not pin them to Pinterest to save for future reference?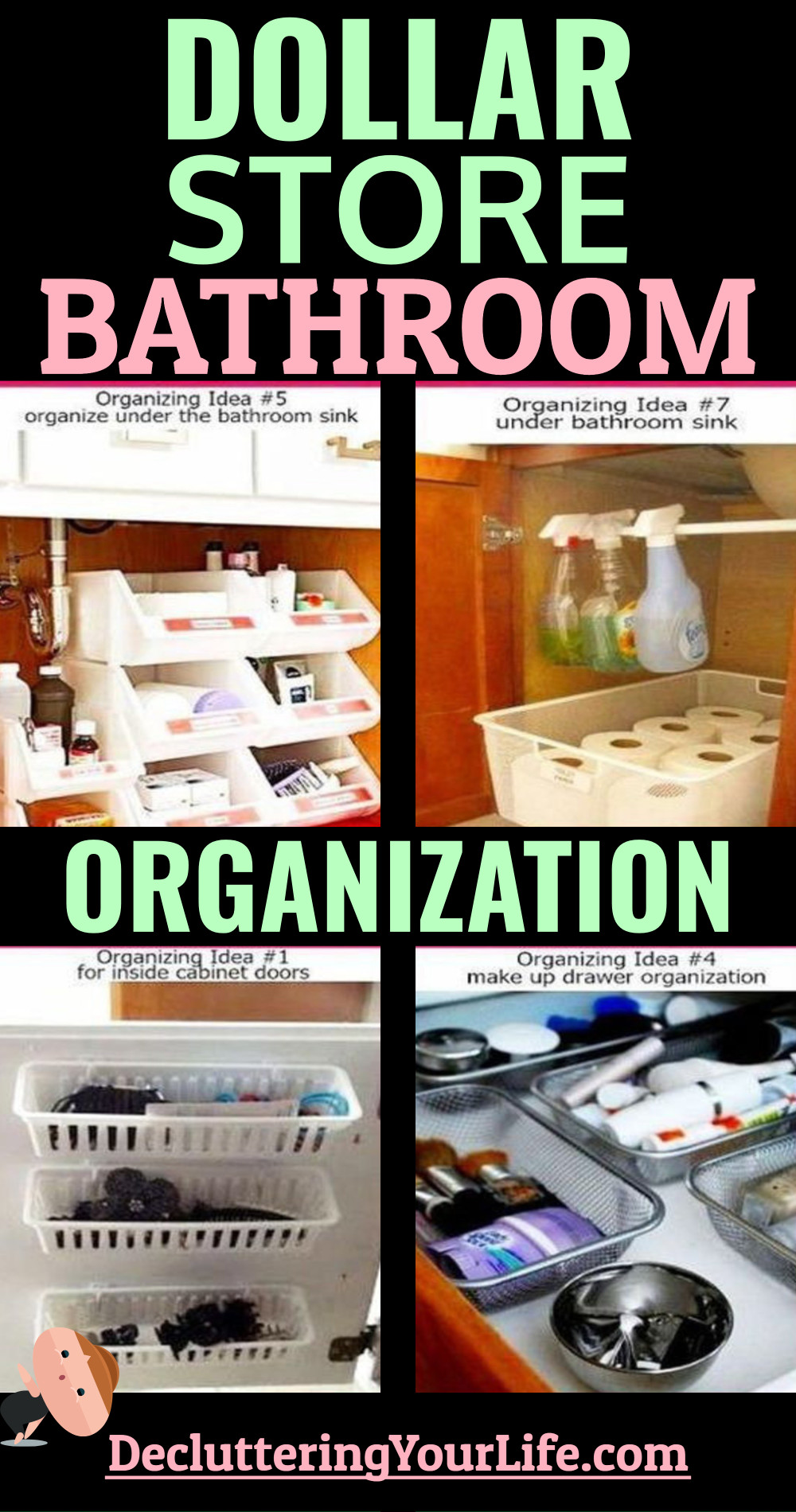 More Ideas:
---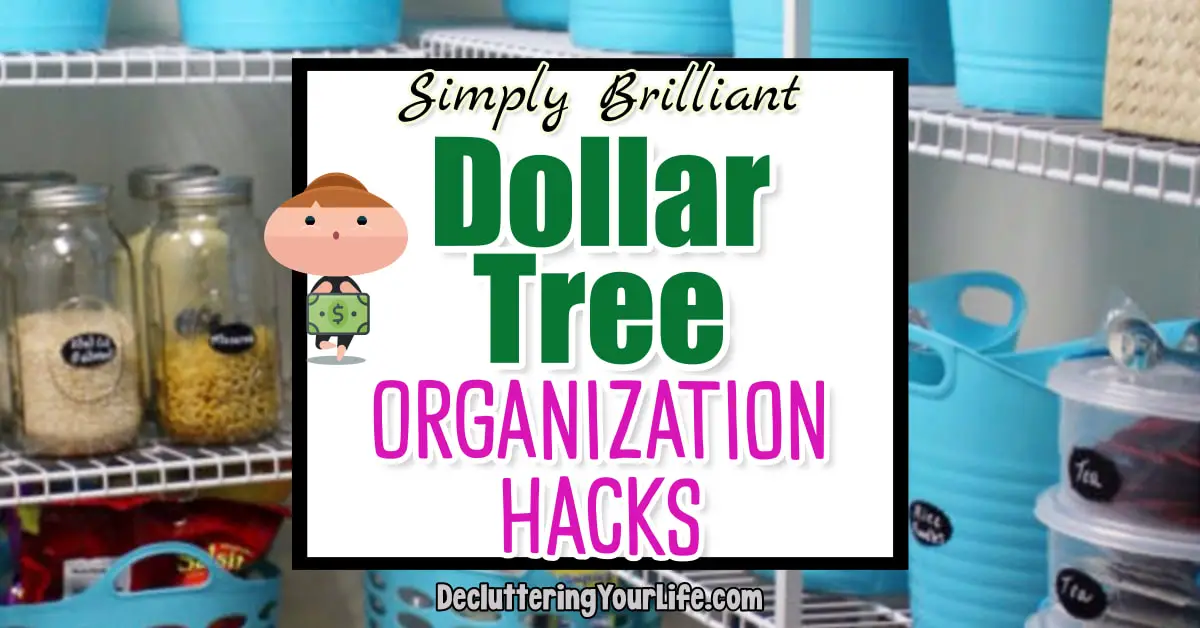 Dollar Store Organization Hacks and Cheap Organizing Ideas - Organizing Your Home on a Budget! Below are some BRILLIANT Dollar ...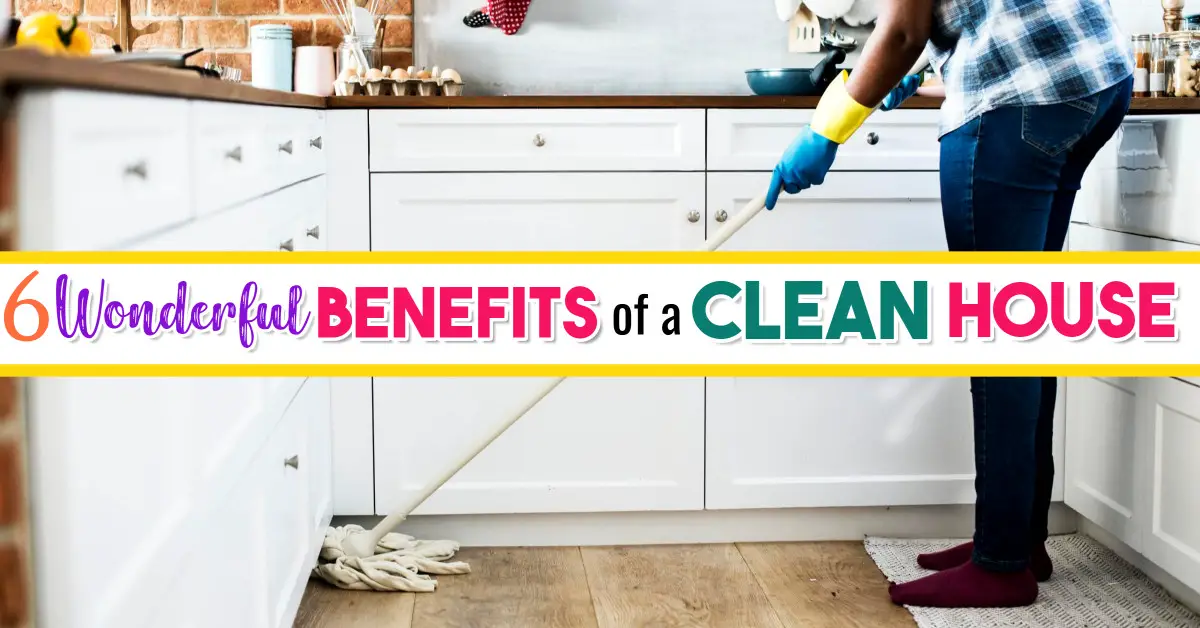 Why It's IMPORTANT To Have a Clean House • There are many benefits to being clean and organized and having ...

---