Whether you're expecting your first baby, or have multiple kids, a BIG question moms ask is – "Can I AFFORD to be a stay at home mom?" Here's how to KNOW if YOU can afford it – or if your family would go BROKE – and deeper in debt – if you stay home with your kids.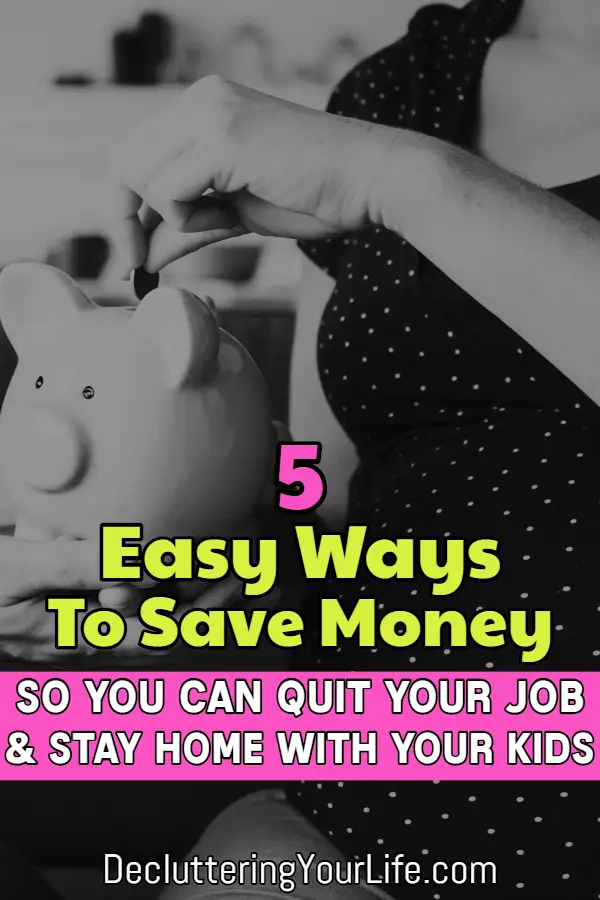 Welcome to Decluttering Your Life - we hope you enjoy our quick decluttering tips, organization ideas and simple DIY solutions for your home - posts may contain ads & affiliate links - that's how we keep the lights on =)
---
---
---
How To Financially Prepare To Be a Stay At Home Mom
Are you really wanting to be a stay at home mom and NOT leave your kids to go to work each day? This can be a tough decision for many moms – ESPECIALLY after having your first baby!
Deciding whether or not you can be a stay at home Mom on ONE income after you have a baby can be a big emotional decision that almost ALL moms face, but I'll show you how to figure it out.
Those New Mom Emotions play a big factor, especially after holding that precious newborn for the first time. It's hard to imagine leaving this tiny little bundle of joy with a stranger – or even with a family member or close friend.
Simply put: you won't WANT to leave your kids to GO to work.
Neither did I!
That's why I decided to learn how to blog – and NOW…
THIS blog makes money AND I get to be home!
That's a Win/Win in my book!
We aren't going broke because I am making money too AND I get to be a stay at home mom.
If you've ever thought about starting your own blog, but have no idea how to do it the right way…
You need to go read Suzi's blog.
She explains how blogging works all so clearly in a way that even I understand…
and I am NOT a "techy" person at all, but look at me – I'm doing it!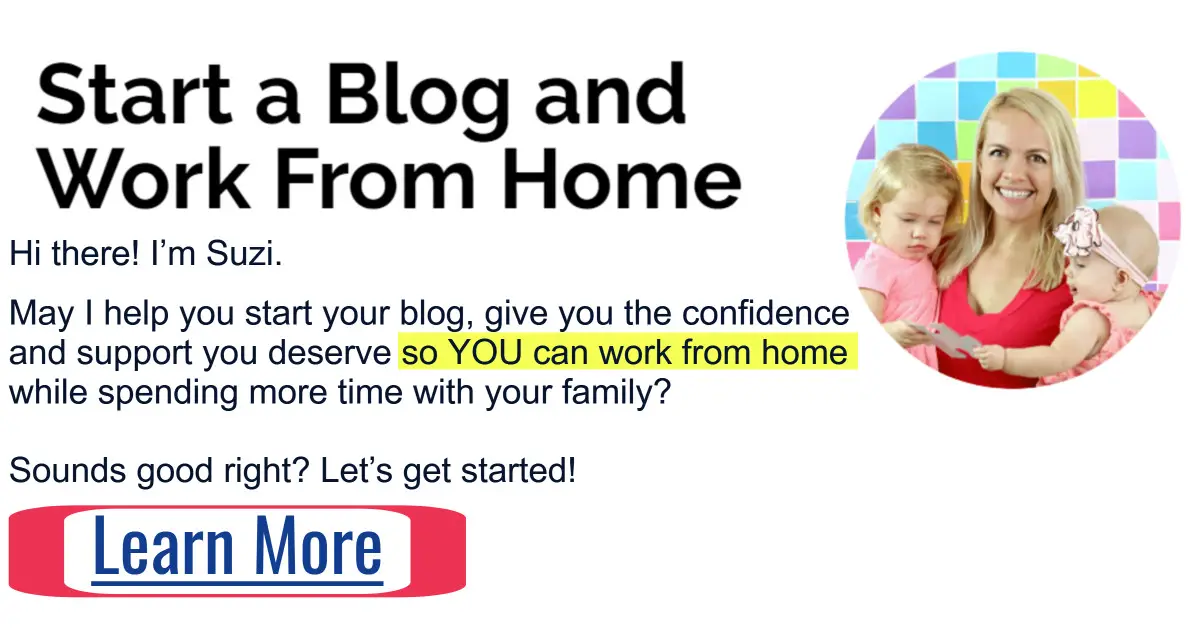 I don't know about you, but I've always felt a sense of accomplishment and relevance by working and earning money.
It's not like I wanted to be a Stay At Home Mom so I could sit around all day!
(like moms EVER get to just "sit around" haha!)
But after kids, the kicker was:
I needed – and WANTED – to BOTH to be with my kids AND make my own money.
She made the emotional and 'scary' part of me staying home SO much more do-able…
and now, financially, it's really working for us.
No matter how you and your husband/ co-parent face it emotionally, if you are considering becoming a stay at home mom at all, you first need to figure out if you CAN do it financially.
As usual, it all comes down to the MONEY.
So let's take a moment and figure out if YOU really can afford to be a stay at home mom.
Ready? Good! Let's jump in and start at the beginning…
Make a Budget
The start of the whole process to figure out if being a stay at home mom is affordable and do-able for YOUR family is this:
Figure out where your finances stand right NOW.
You MUST know – to the penny – how much money your household has coming IN every month – and going OUT every month.
To start this process, let's figure out your expenses. For at least one month, better yet three, record everything you spend from latte's to toilet paper to dinners out. Everything needs to be accounted for. There is no need to go on a budget diet yet, the goal is to find out how much you currently spend and on what items, so that if you find you do need to scale back, you can recognize where to do so.
Need Additional Budgeting Help?
How To KNOW Where Your Money Goes
How To Easily Set Up a Household Budget
There are a couple of ways you can go about recording all of your purchases.
One is you can carry around a little notebook and make a note every time you buy something
or you can make it all super simple and just use a budget workbook like this.
The other way is to charge everything you purchase with your debit or credit card and use your monthly statement as your notebook of purchases.
However, if you choose to charge everything to your credit card, you must promise yourself to pay off the full amount when your statement comes.
Going into credit card debt is not going to help you achieve your goal of becoming a stay at home mom.
Once you have every cup of coffee, every grocery trip and every pair of new shoes accounted for, it's time to write it into a budget worksheet.
When you have everything filled out, look at your bottom number. Hopefully this will be positive.
Now go up and delete your income at the top.
Don't forget to delete any expenses that occur from you working (dry cleaning bill, gas costs, lunches out, etc.).
Remember also that your taxes will change once you drop down to one income and you may be able to change your withholdings to bring more monthly income in.
Go to the IRS website and use their tax withholding calculator with only your husbands paycheck information to see how much you can change your withholdings.
If your bottom number is still positive, then you are fortunate enough to be able to be a stay at home mom without causing too much financial hardship on your family.
However if it's now dipped to a negative number, don't freak out and think you CAN'T afford staying home with your kids.
We now just have to figure out how to SAVE money on monthly expenses so you CAN be a stay at home mom.
5 Ways To SAVE Money So You Can Stay Home
Saving money doesn't always have to be painful. Many women say that one of their biggest jobs as stay at home moms is to seek out bargains and make sure the family sticks to a budget.
Consider this your new "job description" and make it your new career to keep your family budget working – and NOT fall into debt (or DEEPER debt).
Below are 5 easy ways to SAVE money so you can afford to be the stay-at-home mom you want to be.
#1 – Save on Your Mortgage or Rent
This is often a couple's largest monthly expense.
The obvious way to reduce this cost is to move to a less expensive place to live, but that's not always the best option for your family. Try looking at refinancing. That can be a fantastic way to lower your monthly mortgage payment and may make it financially feasible for you to be able to become a stay at home mom. Plug some numbers onto an online refinancing company to see if this might make sense for you.
If you rent, ask your landlord if there is anything you can do around the property that could reduce your monthly rent. Ask if you can help manage their other properties, take on the yardwork, do other chores or even sign on for a longer lease for a reduction in rent.
#2 – Save On Your Credit Cards, Car Payments and Other 'Bad' Debt
These kinds of debts you want to try and get out of as soon as possible. Make is a goal to get out of credit card debt before you decide to become a stay at home mom.
There are a number of credit cards that offer zero percent interest for a specific amount of time. Take advantage of these offers to reduce your monthly bill and use the amount you would have paid with your old card towards paying off the principle.
Condense your monthly expenses and throw everything you can towards paying your credit card debt and car payment off so that your time for being a stay at home mom will be less stressful.
#3 – Save On Your Grocery Bill and Shopping
You can easily reduce your grocery bill by planning a weekly menu and making a shopping list. Designate one night a week for sitting down with the grocery ads and your cookbooks. Come up with seven different meals that take advantage of the weeks grocery sales and write down the list of ingredients you will need. There are many great website services that will plan your weekly meals and e-mail you a weekly shopping list too. Make sure to clip coupons from the Sunday paper and from coupon websites. Also try the generic version of your favorite brand. Chances are you'll never notice the difference.
You can also get cash BACK when you shop online (it's free, too!).
#4 – Save On Your Utilities
Take Dad's advise and start turning off the lights when you leave a room. Replace incandescent lights with fluorescent, get a hot water heater blanket for your hot water heater. There are a number of different ways you can reduce your energy bill. Don't hesitate to call your utilities and ask how you can save money on your monthly bill. You phone company can find a more efficient and cheaper plan for you and the garbage company can suggest a smaller garbage can size.
Also ask yourself if you really need all of the gadgets you've become accustomed to: Do you really need that cell phone now that you won't be commuting? Do you really need the fancy cable TV package or can you live without it for a few years?
Keep moving down each category on your budget worksheet and ask yourself how you could reduce costs.
#5 – Learn Ways To Make Money From Home
There is a perfect solution for most moms who want to be a stay at home mom AND still contribute to the family income each month.
Just because you're a 'Stay At Home Mom" Does NOT Mean You Can't Also MAKE Money! It's NOT an 'Either/Or' Situation – You Can Do BOTH!
The "secret" is finding that "right" thing that enables YOU to make money AND be a stay-at-home mom.
There are many, MANY legit ways for stay at home moms to make money online – TONS of ways.
The "magic" of this solution is: you're paying for internet anyway – so why not USE it to make money?
Now, what that perfect, "magical" solution is for YOU is up to you to research and take the time to educate yourself on all the options.
The Internet has opened up MULTIPLE opportunities for moms to be at home with their kids AND still contribute money to the family finances.
For many moms (like ME), that dream to be at home with their kids, while not compromising their family budget, was made possible by the Internet.
For me, I am able to stay home AND work from home because
I make money blogging
.
That is MY "perfect solution" – I'm home, my time and schedule are flexible AND we aren't going broke BECAUSE I'm a stay at home mom.
If you're curious about making money by blogging, you can read my story here.
Or – just get this free email course below – it explains everything.
---
Summing Up:
In this day and age most families have to make sacrifices for a parent to become a stay at home parent.
The odd thing for ME was – it FELT like BIG sacrifices at first, and then having a little less, and spending a LOT less, made our lives SO much better.
Remember that it's temporary though.
Children grow up before you know it and being a stay at home mom may just be more satisfying than any payroll job you could ever have.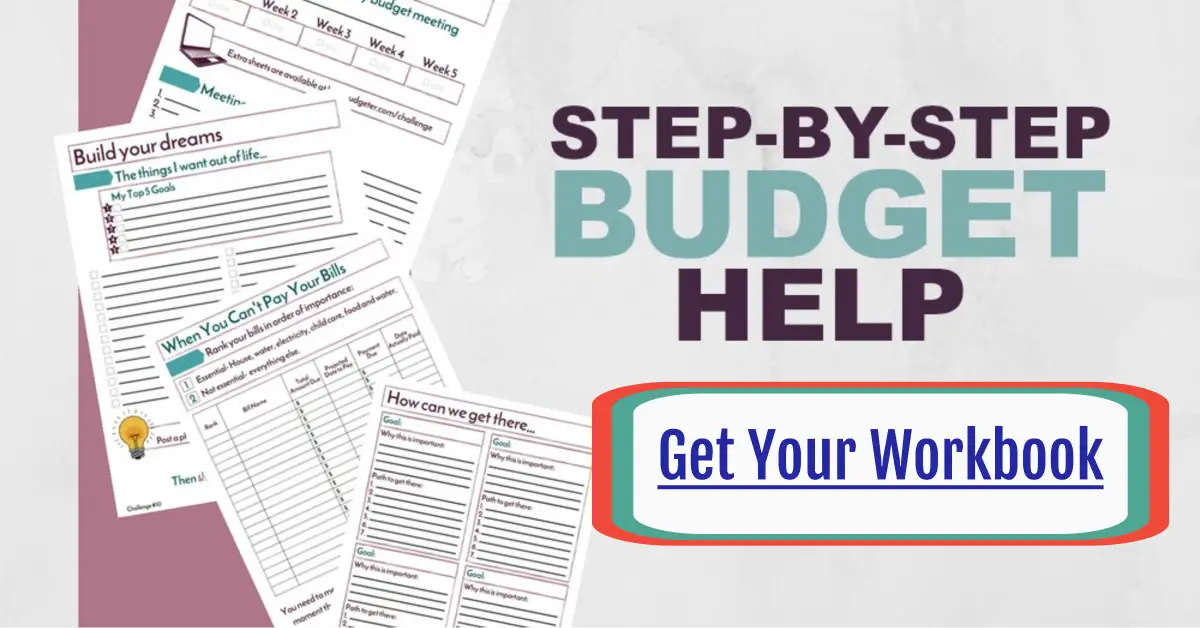 If you DO decide to blog for money like I do…
Consider these these questions:
Are you self-motivated, or do you need someone else to push you along?
Are you a clear thinking person, or do you panic in a crisis?
Are you prepared to work hard and persevere, even when times get tough?
Are you confident enough to stand on your own two feet, and accept the responsibility?
Can you manage your finances properly?
Can you organize yourself and your time effectively?
Even if you answer "no" to some (or ALL) of those questions right NOW, you will AMAZE yourself at what you CAN do once you set your mind to it.
If being a stay at home mom is VERY important to you, you will figure out how to make it work!
☑ This is How *I* Make It Work
---
My House Was a MESS!
And my anxiety was through the roof!
I needed a plan to get it together - it was all pushing me over the edge.
Thing is - we
LIVE
here... I never had the fantasy that my home would ever look "Pinterest perfect".
I simply wanted more control, less clutter and much less anxiety.
I finally found something that worked for ME.
My house is now easier to clean - I can now clean it in minutes, instead of hours.
I can now actually FIND the things I'm looking for.
I learned some simple decluttering systems that make me much more efficient every day - and I'm more relaxed and less overwhelmed all the time (finally)
My house now looks pretty darn good almost all the time.
Best of all - I no longer stress about guests unexpectedly showing up.
Turns out, it was so much easier to do than I ever expected.
This is how I did it
.
---
---