How To Declutter Your Budget – Tips for Budgeting Success Even If You're REALLY Bad With Money –
In order to get from barely living paycheck-to-paycheck to budgeting success, you first have GOT to KNOW where your money goes. If you can't identify and STOP those money leaks, you will have a very hard time getting your budget in order.
A budgeting workbook like this can really help.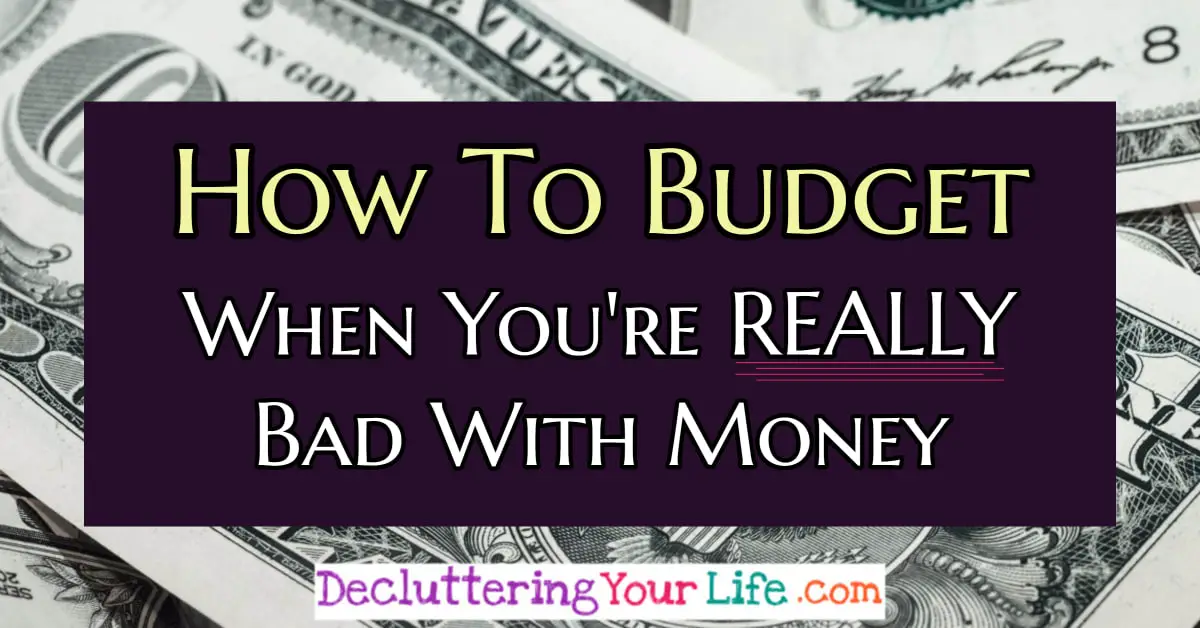 Welcome to Decluttering Your Life - we hope you enjoy our quick decluttering tips, organization ideas and simple DIY solutions for your home - posts may contain ads & affiliate links - that's how we keep the lights on =)
---
---
---
If your household finances are a cluttered mess and you find yourself wondering, "WHERE did all my money go?" each month (or each week), it's time to take control and declutter your budget so that you can accurately SEE where every single dollar goes.
First step:
It's SO helpful – and made such an amazing difference for my family and I!
While decluttering your spending habits isn't exactly like decluttering a linen closet, organizing the kitchen shelves, or finally decluttering toys, your household situation is absolutely something you must do in order to totally declutter your life.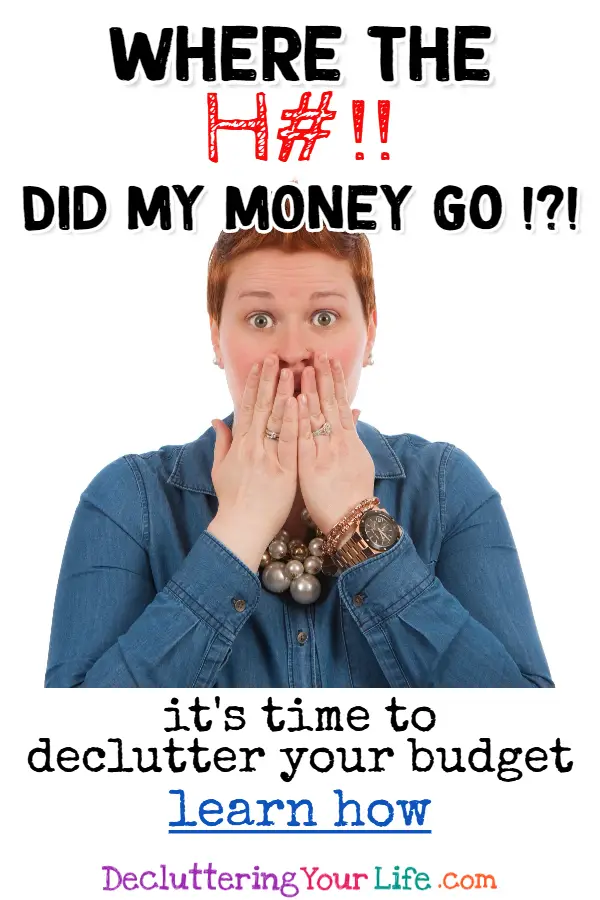 While we may know how much money we have coming in, studies show that most of us don't know what is going out.
Not knowing how much money we spend each month may put us in a position where we need money that we don't have.
You MUST know, to the penny, how much money you SPEND each month.
Spending more than you have coming in is a recipe for financial disaster.
We need to actually monitor our spending habits to find out the best way to maximize our financial resources.
The best way to do this is to keep track of every single purchase you make, regardless of whether you use a check, debit card, credit card, or cash.
In learning how to prepare a budget, it is important that this is done for two to three months.
Monitoring spending is helpful
This may seem to be a little bit tedious to do, but the results will really help get you on track financially. You accomplish two things by monitoring your spending habits.
First, you will be able to confirm that your budget is accurate. If your budget calculations are off, then it will not be easy to stick with.
Remember, a budget is not meant to be a constraint.
You want to have a budget that reflects your actual spending habits.
Here are some categories to sort your earnings and spending into while you are decluttering your budget and spending.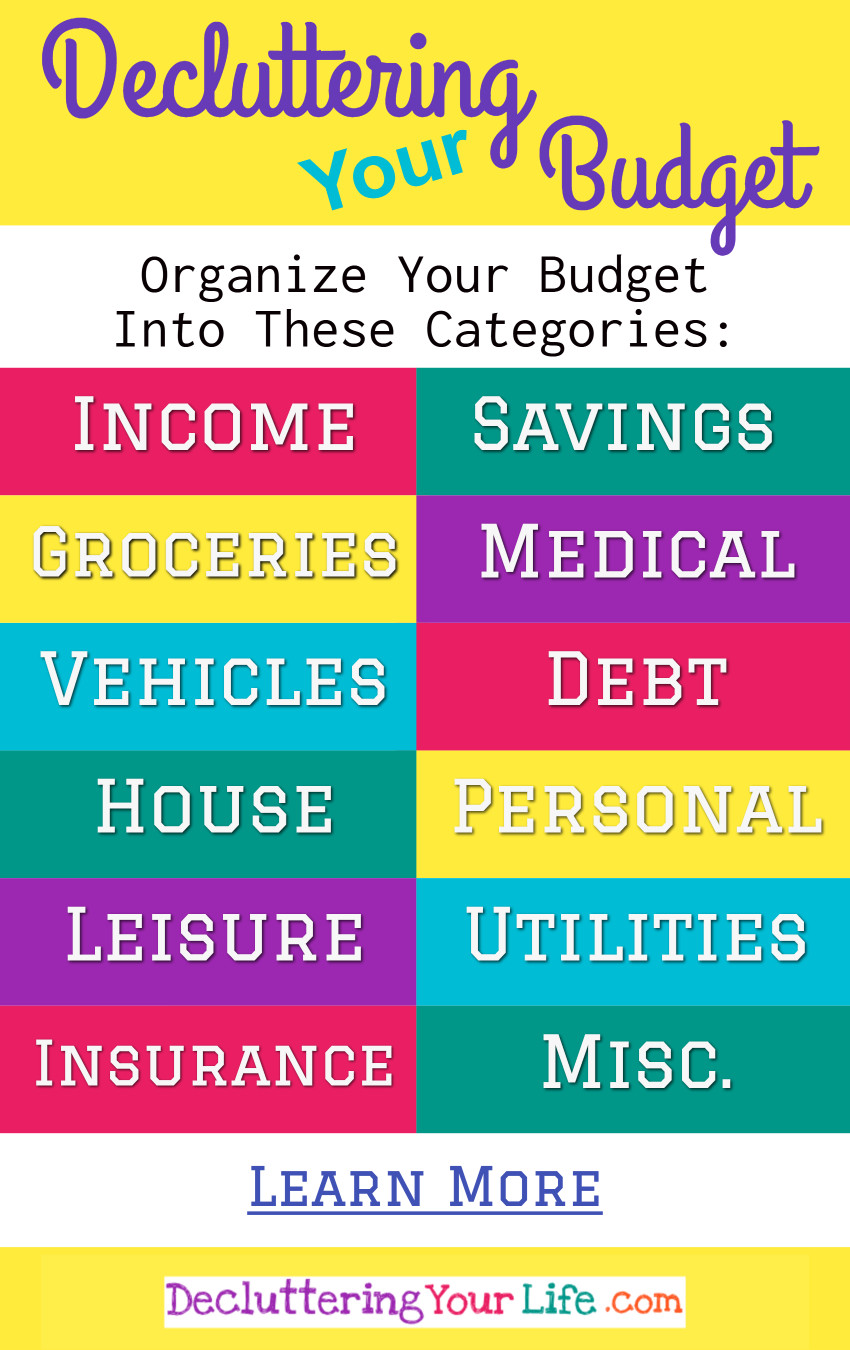 Second, you will be able to see some of your own common mistakes and how little purchases can add up VERY quickly.
For example, I love donuts.
There are several times that I've bought one or two donuts from the mini-mart when I stopped to get gas.
I may only spend one dollar at each stop, but if I do this several times each week, it can really add up.
And if I get coffee at each stop too – I suddenly am adding a significant amount to my weekly spending.
If I did not figure this into my food budget, I would have a problem since all of the money we spend is supposed to be accounted for.
That means that if I don't take those "small" purchases into account, I'll throw my entire budget off course.
Our Finances Were a MESS!
We used to be so overwhelmed with how to actually stick to a budget - I thought we were doomed to be yet
another
family that
barely scraped by paycheck-to-paycheck
.
Instead of just accepting it,
I got help
- and it made ALL the difference in the world!
This workbook
made it so easy.
We just filled it out in order and by the end we were finally in control of our money.
And - as of this week...
We are NOW 100% credit card debt free!
This is the budget workbook we used
Beware of small, impulse purchases
Small and impulsive purchases like this are usually the reason that our money does not make it through the month.
Lots of little purchases can end up eating away a significant chunk of our monthly income because we don't really see it happening.
The money disappears a little at a time, so it doesn't hurt – until we look at the big picture.
Another good example of this happening is buying lunch every day at work.
If we run out and get fast food off the $1 menu every work day, that might be ONLY $5 a DAY… BUT that adds up to $25 a week, and $100 a month… and $1,200.00 a YEAR.
If two spouses are doing this, it adds another $200 a month to the food budget!
To make this exercise easier, ask for receipts for each purchase you make and keep your receipts in envelopes labeled for each budget category.
Then, take time at least once each week to review those receipts and tabulate the totals for each category.
After two or three months, you have much more information to work with and are better able to find trends in your spending habits.
Then, it will be easier to make the necessary adjustments so that your budget accurately reflects your spending lifestyle.