Get Rid Of It Challenge – Works With BAGS Too!
If you're busy searching for easy organization ideas for your home but are STILL so darn overwhelmed with ALL the clutter – try this simple Declutter Challenge.
Our Decluttering Club has been amazed at how simple it is to do AND how motivated it gets you to easily get rid of things you don't need that are cluttering up your home.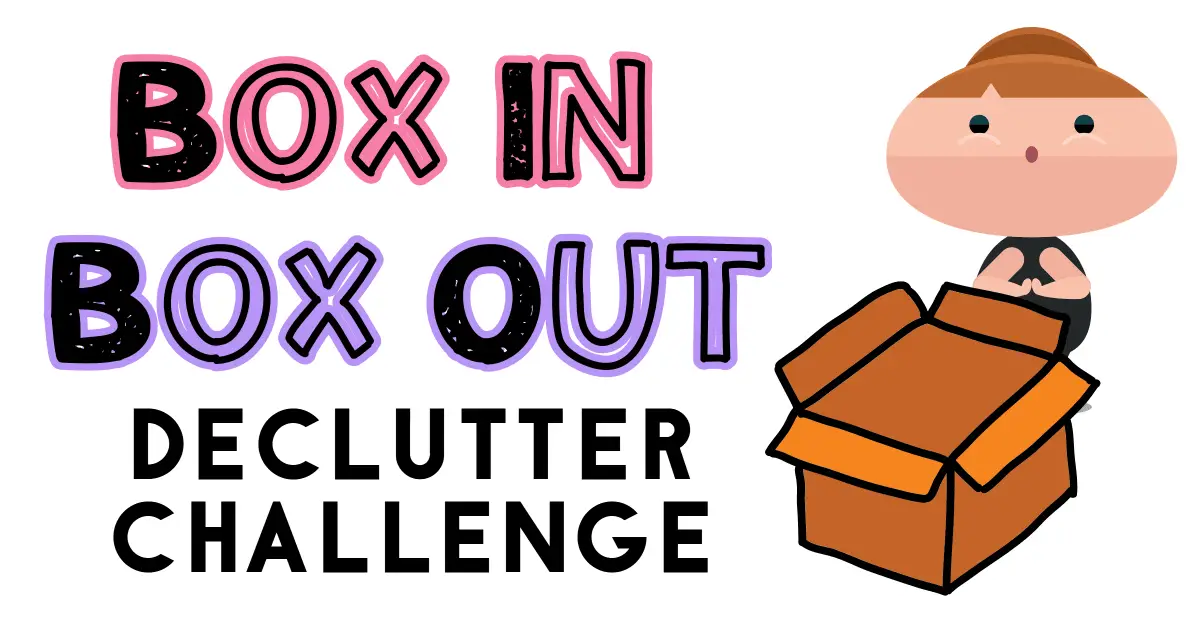 Welcome to Decluttering Your Life - we hope you enjoy our quick decluttering tips, organization ideas and simple DIY solutions for your home - posts may contain ads & affiliate links - that's how we keep the lights on =)
---
---
---
Get Rid Of It Challenge
You're working SO hard to declutter your home – and doing a great job!
Now we need to talk about the best way to prevent clutter from coming back.
That's what this Decluttering Club Challenge is all about – an easy way to KEEP your house or apartment clean and clutter-free in one simple step.
It's called the Get Rid of It Challenge – and it really works!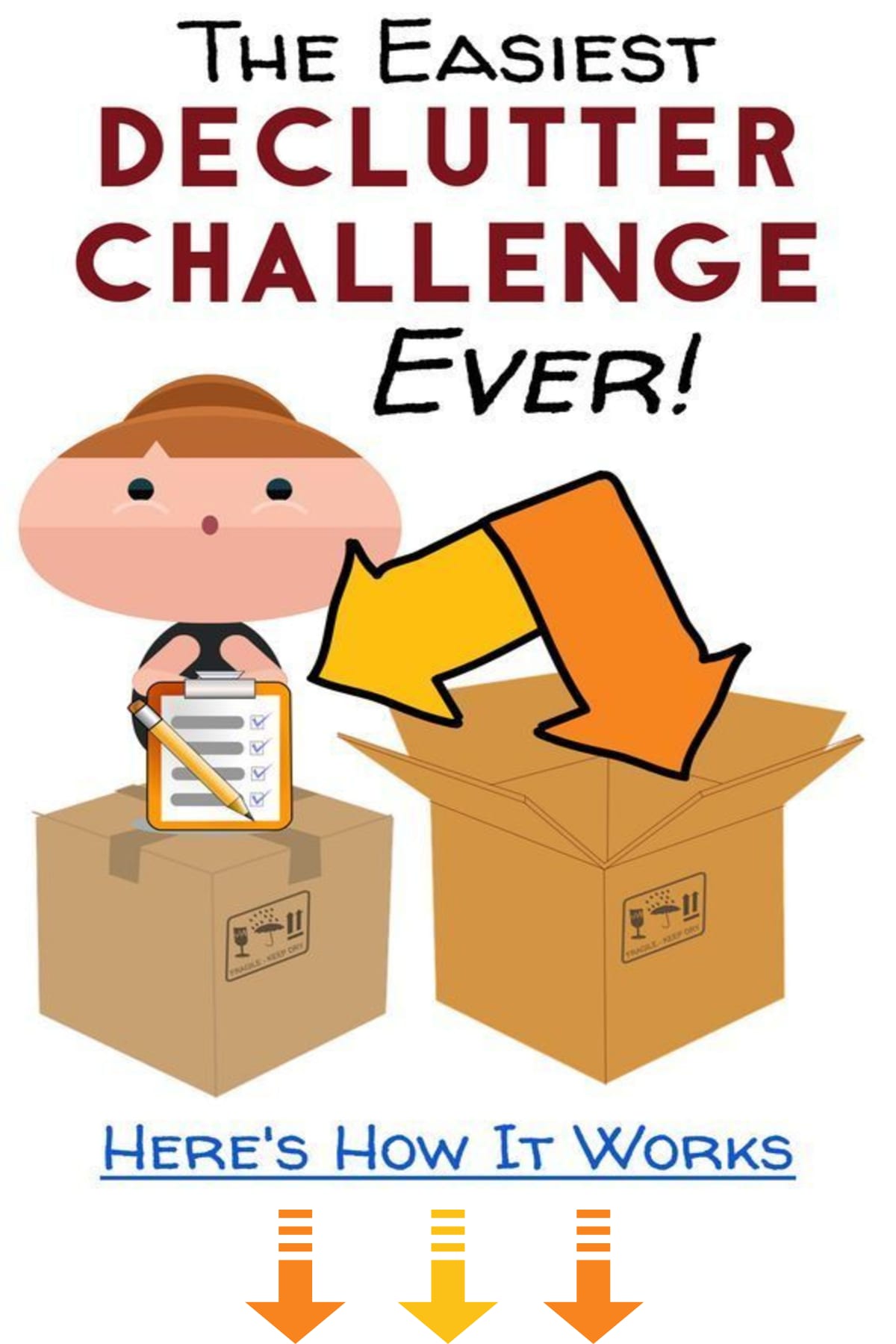 ✅  How It Works
I know I've talked about using boxes as one of the BIG mistakes people make when decluttering – but this is a different situation, ok?
This is when you DO uses boxes (and you can use bags too – whatever works for YOU)
This is super simple so won't take long to explain how this one easy decluttering strategy can really help move new clutter OUT of your house.
Ready?
Every single time a box comes in your house with something new, you then fill that box with old stuff or clutter and get that box OUT of your house.
For example…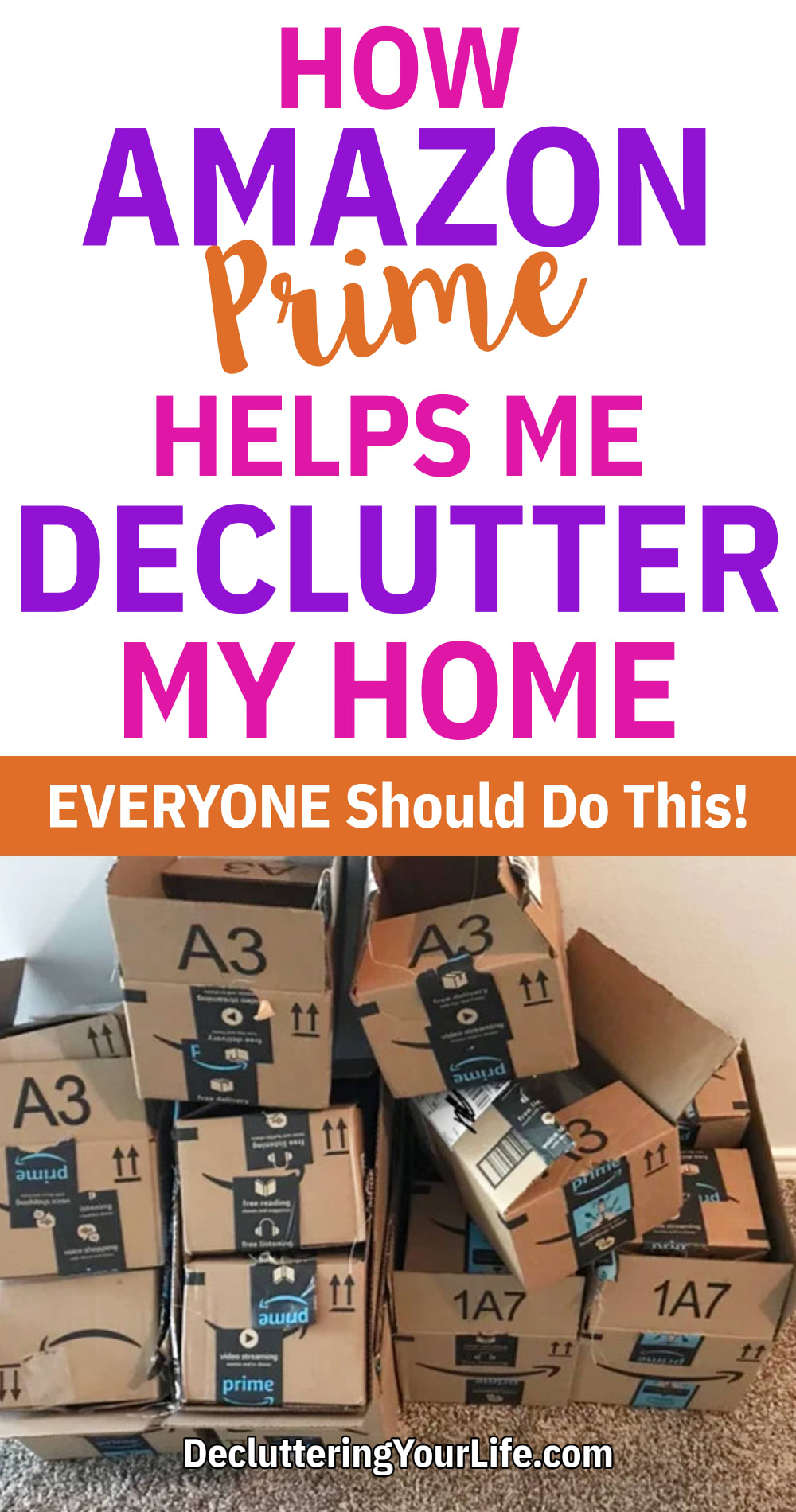 I sure LOVE me some Amazon Prime.
Like, seriously LOVE it (I almost need a support group haha!)
Every time an Amazon box comes IN this house, I then fill that Amazon box with stuff to get rid of.
The box can be full of trash and useless clutter and taken out to the curb for your trash pickup.
The box can be full of donation items (clothes, etc) and then taken to the charity.
The box can be full of outgrown children's clothes and then handed down to friends and family that need them.
The whole point is…
When a box comes in, you KNOW you then must fill it with things going OUT of your house.
Another Option
Another awesome option for this Get Rid Of It Challenge is to use a free service called GiveBackBox.com
When you fill an empty shipping box with USEFUL items to donate, you can then go to GiveBackBox.com and print off a shipping label to ship your stuff to various charities for FREE.
How cool is that?!?!
Using Bags
I also challenge myself to get rid of clutter with grocery bags, too.
And yes, it IS better to declutter with BAGS and NOT with boxes (here's WHY it's better – and it makes perfect sense)
You might notice a trend here of me loving things brought TO me, but…
I am also in love with Walmart+ Grocery Delivery.
I get free delivery, free shipping, a free account with Paramount+, cheaper gas prices and a TON more benefits.
It's truly awesome!
It is so handy and saves me a bunch of time.
Best of all, the prices are NOT higher when ordering online as opposed to SO many other grocery delivery services.
I ordered groceries online tonight about 10 pm – and they will be on my front porch in the morning by 10 am.
Tell me THAT'S not awesome!!
Anyway…
I order my groceries online and then someone BRINGS my groceries TO me FOR FREE (yay!)
And those groceries are all in…
BAGS.
Now, remember, plastic grocery bags are one of the 15 items that clutter up your kitchen…. so we do NOT keep them.
Instead of tossing them, I use them for this challenge.
Each bag IN gets filled with clutter, trash and crap from around the house and then…

It's THROWN AWAY.
No more need for bag storage ideas or wondering what to DO with them – instead, they are now clutter removers!
This challenge is really that simple…
Box In – Box OUT.
Bag In – Bag OUT.
Make this a new habit and you will be amazed at how easy it is to prevent clutter from taking over your home…again.
More Challenges To Try:
---
– Biweekly Money Saving Challenge
---
– 10-Minute Declutter Challenge
---
– Apartment Kitchen Ideas for Renters
---
– How To Clean a Messy House in One Day
---
Miss Anything?
Go back to the top of: ==>> Get Rid Of It Challenge
Go back to a specific section: