Linen Closet Storage and Organization Ideas (that actually work – even if you're organizing on a budget!) Ready to declutter and organize your home linen closet? All it takes is a little thought and some clever linen closet organization ideas like you'll see below.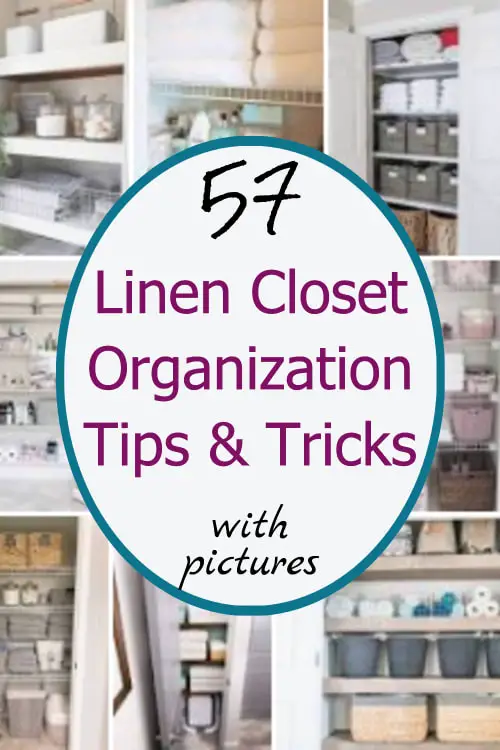 Don't you just LOVE home organization hacks? Me too! Let's take a look at some creative ways to organize your linen closet. The ideas below really helped me sort out my cluttered mess!
Picture From:
Organizing With Baskets
If you are like many people, your linen closet may be in a state of organized chaos… or just plain CHAOS!
I know this is true in MY house!
I spend SO much time decluttering toys and decluttering my budget, that the closets don't seem nearly as important.
For some reason, things behind closed doors don't make a room feel cluttered, but once you open that linen closet door – it's a mess that is NOT usable.
Picture From: 50 Cheap Home Organization Tricks
Also, it tends to be a battle of avoiding the linen closet "avalanche" whenever trying to get something out (and close to impossible to put stuff IN it as well).
If you need some help getting your linen closets clutter-free and usuable, here are some tips which are super helpful to declutter and organize your linen closet.
---
---
Declutter and Organize Your Linen Closets
Step one when decluttering and organizing your linen closet is to take EVERYTHING OUT of your linen closet. There's simply no way to avoid this part. Pull it ALL out.
Now, throw stuff away.
WHAT should you throw away when decluttering the linen closet?
"I threw out most of my hotel freebies and expired medications and ointments that had been forgotten in the shoe holder." source
I can tell you this: I have a LOT of hotel shampoos and freebies – for some reason, those are super hard for me to throw away. Why? Simple… I might need them "one day".
Trust me on this – toss them! If you absolutely MUST keep some, put a few in your overnight bag or suitcase, maybe a few in your guest bathroom, then throw away what's left.
& 
Towels are another thing I have a tough time getting rid of. If that's an issue for you too, try this:
Take half of your towels and put them in a sealed container or bag – and put that container/bag away out of sight for a month or so.
After a month is up, ask yourself if you really missed all those extra towels. You'll be surprised to find how little you really need (this is a great way to delutter just about every area in your house – put it away for awhile and see if it was truly missed). Decluttering your life means having less… and being HAPPY about it.
& 
What To Keep in Your Linen Closet
The first tip is to assess what types of items you need to stock your cabinet. This usually consists of bath towels, wash cloths, and possibly even cleaning supplies and bed linens.
Depending on what you already have on hand and what you will need to purchase, the best rule of thumb is to not have much more than you really need. A good way to look at it is to have a few sets for each individual person, as well as a couple of extra sets for guests.
When each person has his or her own set of linens, it will help to eliminate the unnecessary clutter in your cabinet. It will also go a long way toward maintaining neatness. In addition, it will also make it more likely that each person will have the clean linens that he needs when he needs them.
Organizing Your Linens
One good way to accomplish this is to assign each person his or her own style of linens. When everyone has their own favorite color, design, or fabric, it is much easier to keep track of which items belong to each person. As a result, there should be less arguing about ownership, use, and care of the linens, because each person will know in advance which ones belong to him.
While little children may like linens which show cartoon characters, and older children prefer sports or other similar themes, their choices can all be harmoniously stored and used alongside the solid colors favored by the adults in the family.
picture from: 36 Cheap Ways To Organize With Baskets
How To Keep Your Linen Closet Clutter-Free
You can further the neatness by selecting a cabinet which has enough individual shelves or shelf space for each person. This way, you are less likely to end up with a cabinet "stuffed" with items in bunches that no one can find when he needs something. Giving each person some space of his own can encourage your family members to put his linens away neatly, and also not have to sort through everyone else's items when he is looking for something of his own.
Linen Closet Organization Goals – Before & After Hiring a Professional Organizer

Linen Closets For Kids
Storing younger children's linens on the lower shelves of the linen cabinet will make their items more accessible. Even the youngest tots will be encouraged to do their part in keeping the cabinet nicely organized when they are more able to reach their own special bath towels, wash cloths, and other necessities.
A linen cabinet is a basic necessity for your home. When you consider the needs of each person who will be using it, all it takes is a bit of organization to keep your bathroom linen cabinet efficient and at its best appearance.
As you can see, there MANY ways to organize your linen closet no matter how big or small it is.
What are some of YOUR favorite ideas?
&