Money Saving Challenges, Charts & Free Printable 52-Week Money Challenge $10,000.
Saving money challenges with a PLAN (and a free PDF printable chart).
Ready to learn 8 easy ways to save money – even if you're living paycheck to paycheck and on a tight budget?
The money saving charts and savings plans below will really help you figure out how to save money from your salary each month to save a BIG amount of money in the easiest way possible.
Welcome to Decluttering Your Life - we hope you enjoy our quick decluttering tips, organization ideas and simple DIY solutions for your home - posts may contain ads & affiliate links - that's how we keep the lights on =)
---
---
---
Savings Challenge
A savings challenge (also called a Money Challenge) is a great way to save for a new house, a new car, save for Christmas, maternity leave, your wedding, a savings nest egg, or ANY reason you have to save money.
Even if you're living paycheck to paycheck, there is still a way to set aside a little bit of money each week or each month – you just need a plan of action that is 'do-able'.
These money saving plans and charts below ARE do-able – and your savings adds up quickly
✅  Printable PDF
Want to save $10,000 in 52 weeks?
This free printable money savings challenge chart pdf below is the easiest way to save $10,000 in a year.
I use this savings plan every year and let me tell you, that extra $10,000 SURE comes in handy for Christmas money, vacations, college money, when we bought a new house, emergency fund, for a new car etc – and REALLY took the pressure off living paycheck to paycheck.
If you want to save $20,000 in 52 weeks, just double the amounts in the pdf below.
Just print it out and fill it in each week (tip: I enter the date next to each week number)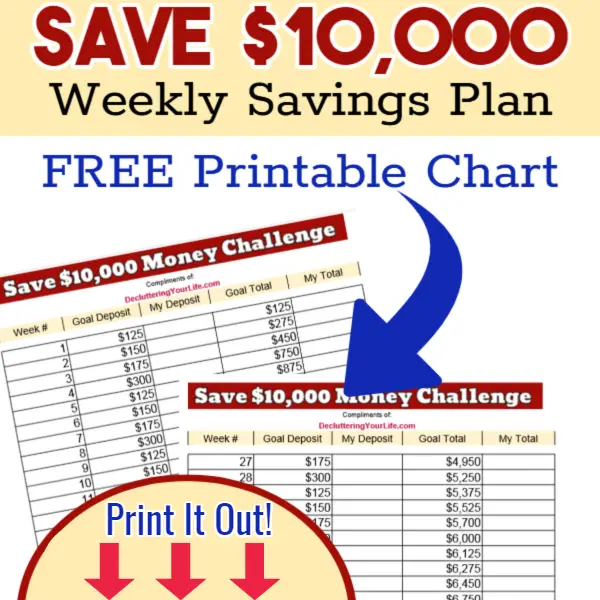 Money Challenges
Below are more easy Money Challenge Ideas for any budget or savings ability that will help you save up to $10,000 (or more!)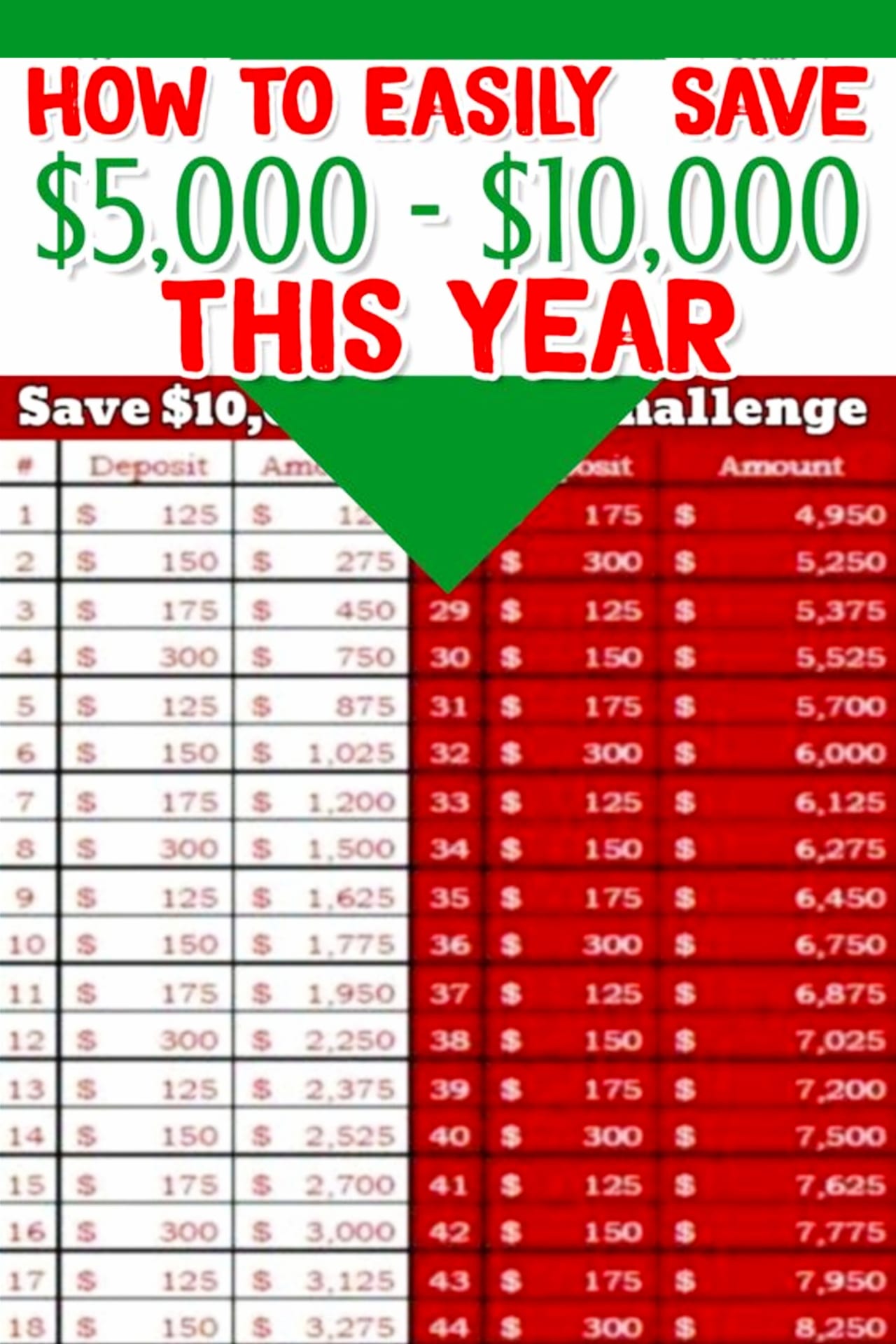 Our Finances Were a MESS!
We used to be so overwhelmed with how to actually stick to a budget - I thought we were doomed to be yet
another
family that
barely scraped by paycheck-to-paycheck
.
Instead of just accepting it,
I got help
- and it made ALL the difference in the world!
This workbook
made it so easy.
We just filled it out in order and by the end we were finally in control of our money.
And - as of this week...
We are NOW 100% credit card debt free!
This is the budget workbook we used
How To Do a Money Challenge
Each week of the year, you save that much in dollars!
Week ONE: You save $1
Week TWO: You save $2
Week THREE: You save $3
If you save on this money challenge plan, you will have $1,378 saved at the end of the 52-weeks.
52-Week Money Challenge Chart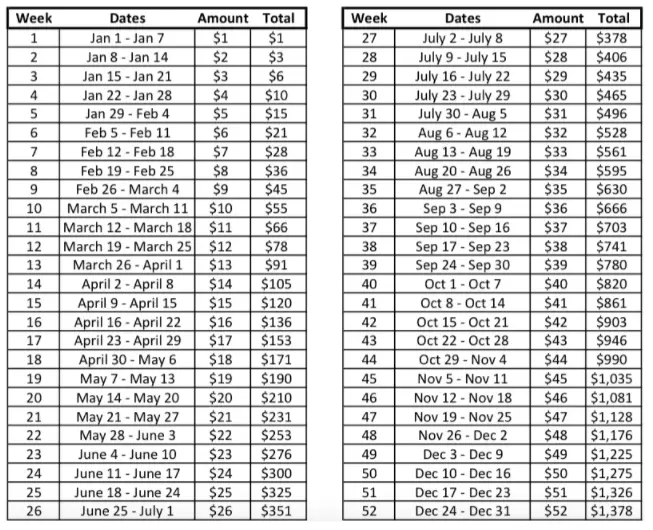 Save $5,000+ in 52 Weeks
Here is money challenge chart that has you saving exactly $5,000 after 52 weeks.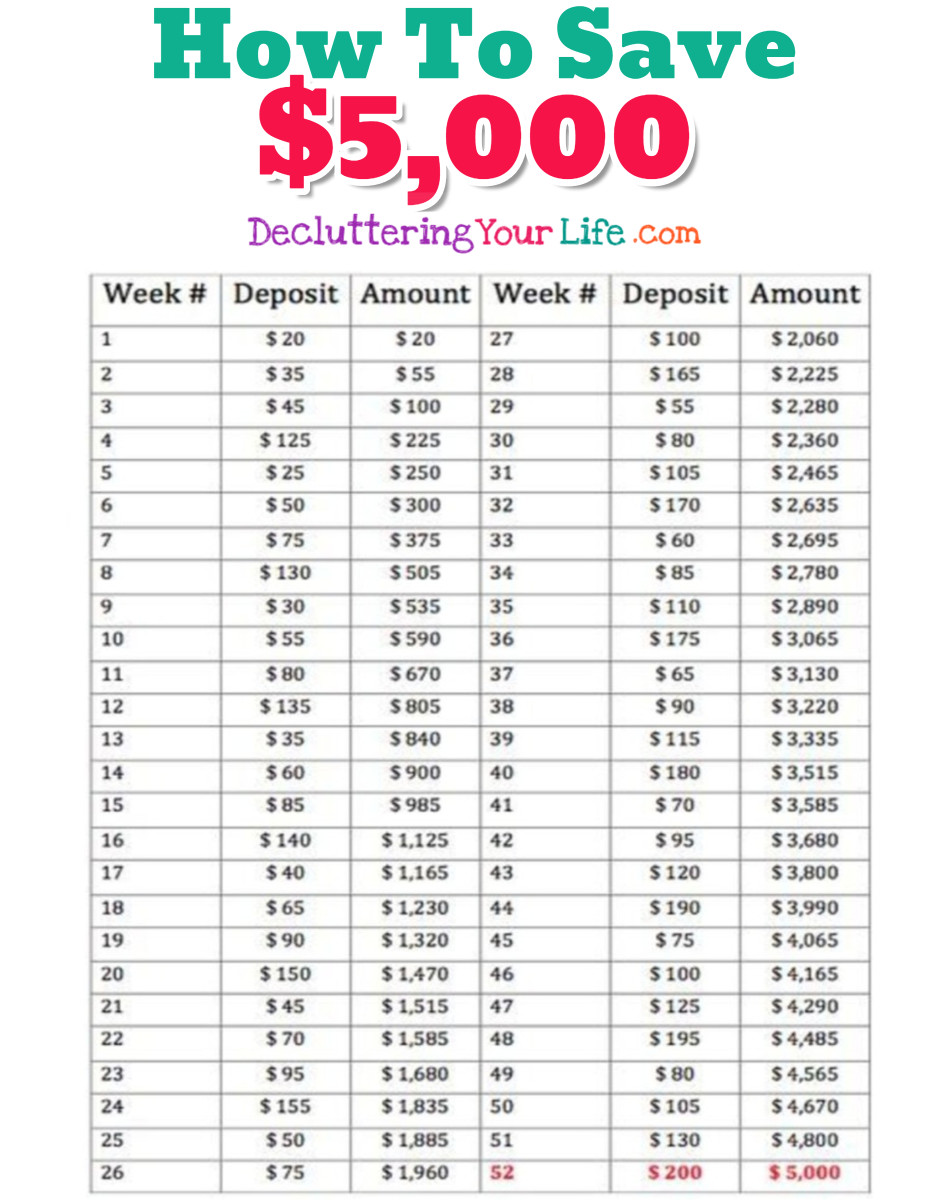 Naturally, there are variations of this $5000 money challenge – it all depends on what you feel you can save each week.
This next Money Challenge option has you saving over $5500.
Save $5,512 Money Challenge
How It Works:
Each week of the year, you save that week number times $4.00
Week ONE: (1 x $4.00)
You save $4
(you have $4 saved in total)
Week TWO: (2 x $4.00)
You save $8
(you now have $12 saved in total)
Week THREE: (3 x $4.00)
You save $12
(you now have $24 saved in total)
You can see below on the $5000+ Money Challenge Chart just how quickly this adds up.
At the end of the 52 week money challenge, you should have $5,512.00!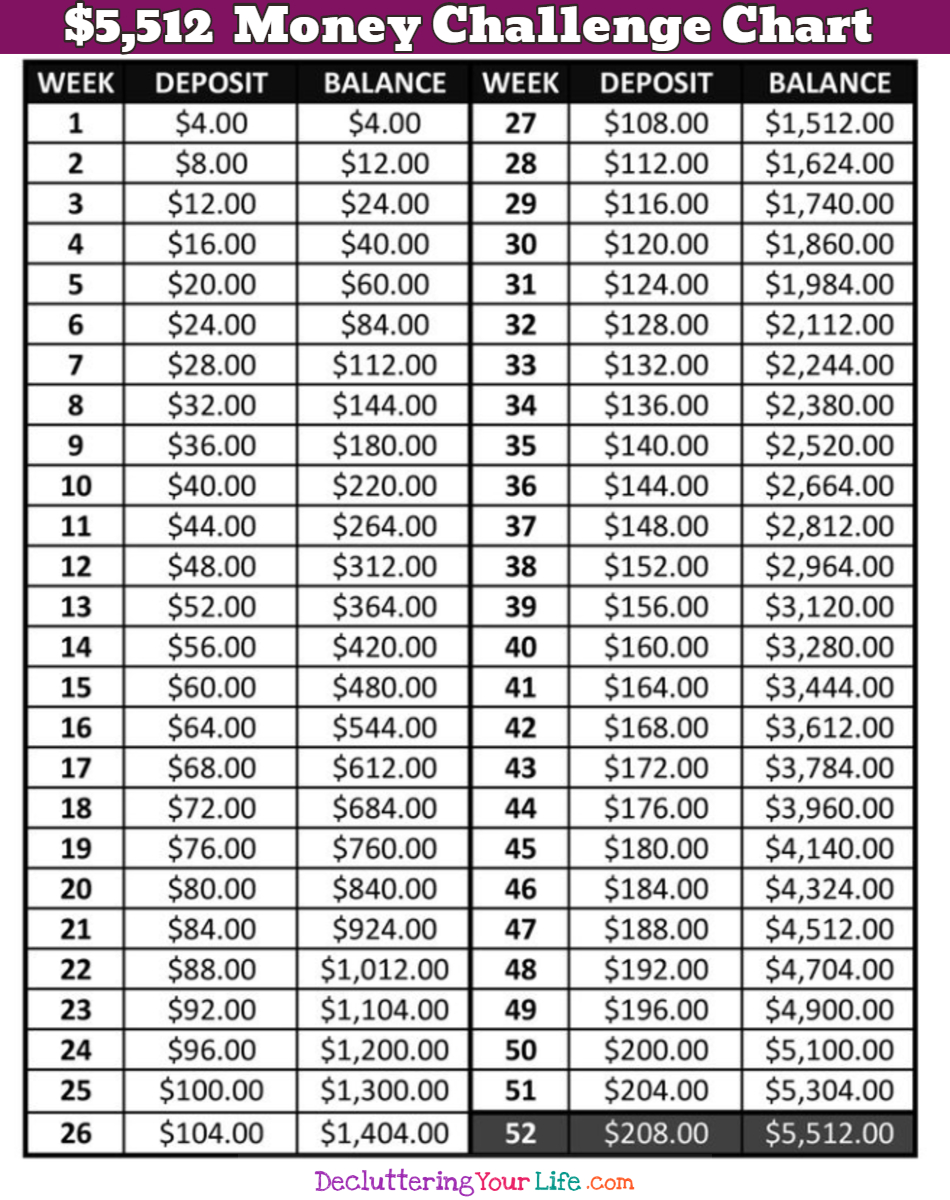 Save $6,890 Money Challenge
You can even get a bit more aggressive with your weekly savings and get your total money challenge savings over $6800!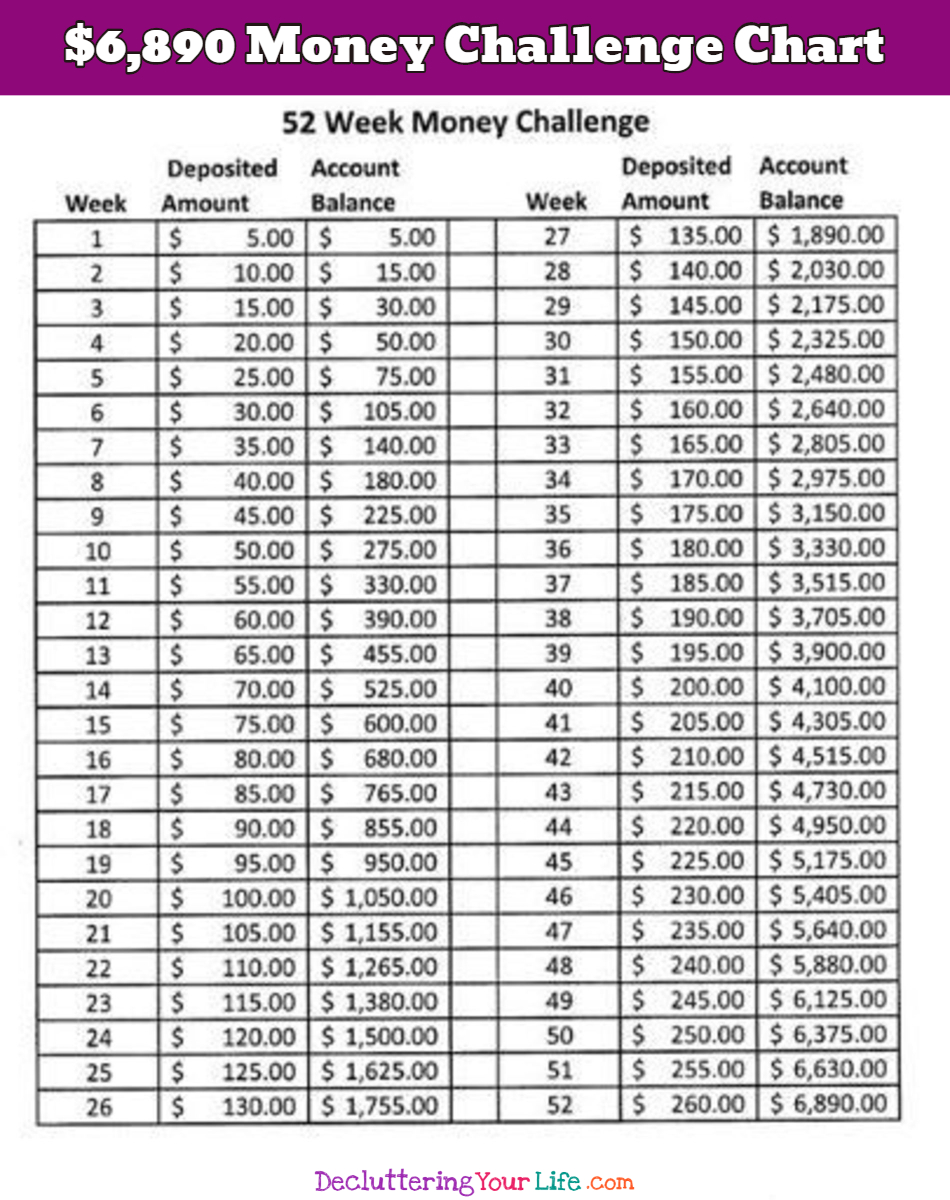 Save $10,000 Money Challenge Chart
If you're going BIG time this year with your money challenge savings, here's a weekly chart that will have you saving $10,000.00: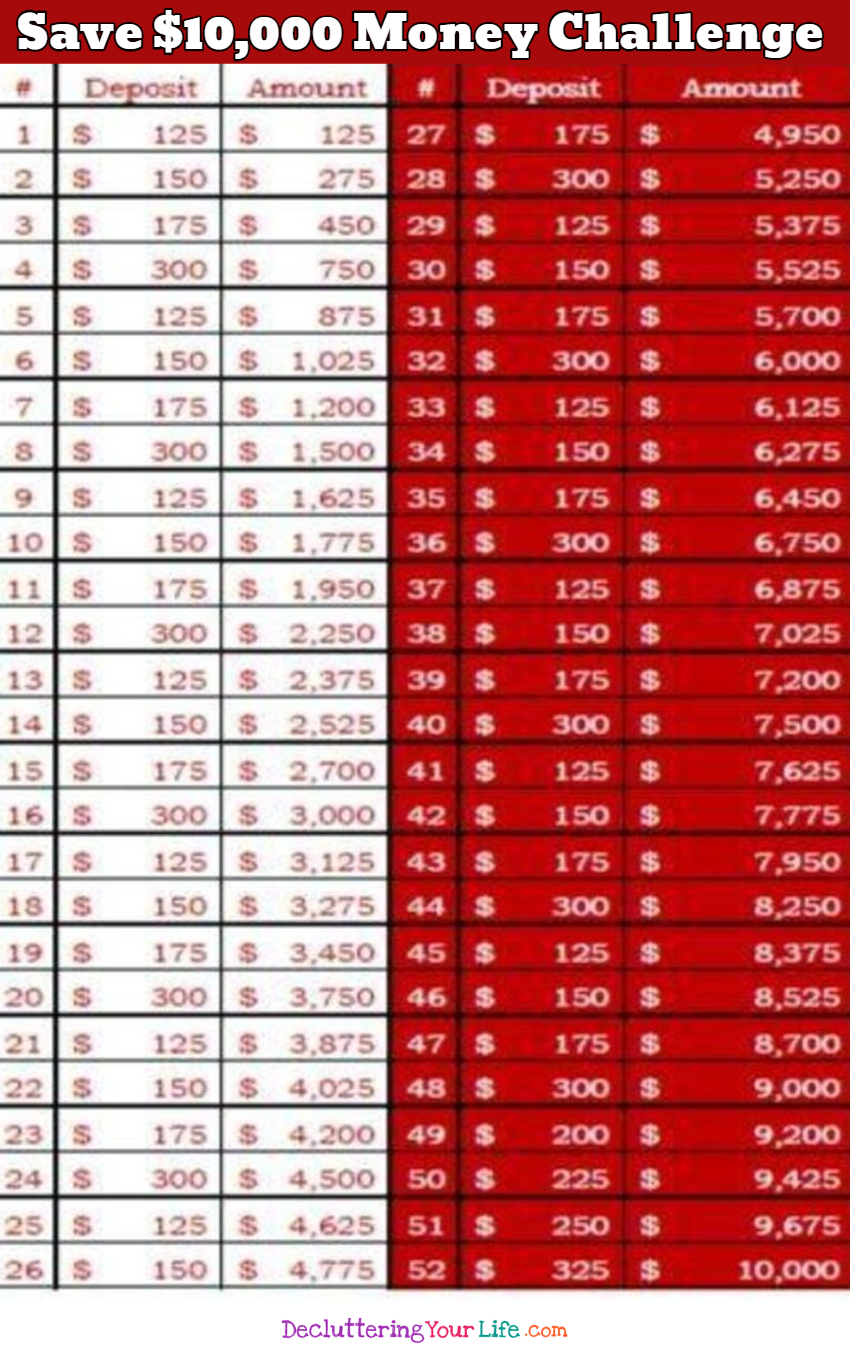 More Money Challenge Ideas & Options
There are MANY variations of money challenges out there.
Picking the right money challenge for you all depends on how much you feel comfortable saving each week (or bi-weekly, or daily) so that you will actually see it through and complete the savings challenge plan.
Here are some more options that you can try.
Reverse 52 Week Money Challenge
For many people, the later in the year it is, the less "free" money there is for savings.
If that applies to you and your household budget, why not try this Reverse 52-Week Money Challenge idea?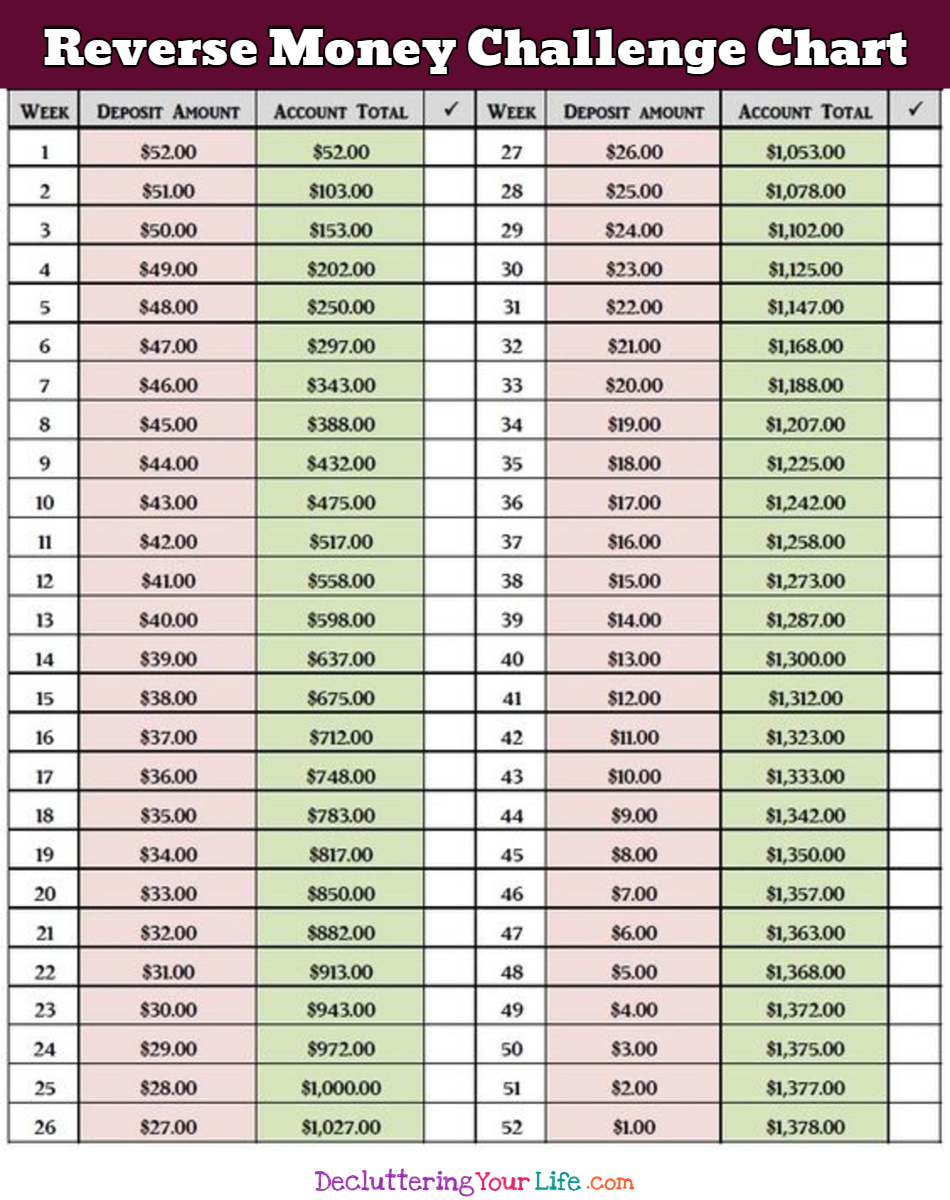 Monthly Money Savings Challenge Chart
Perhaps you're only interested in contributing to your money challenge savings once a month – that works too!
Here's a money challenge chart for monthly savings.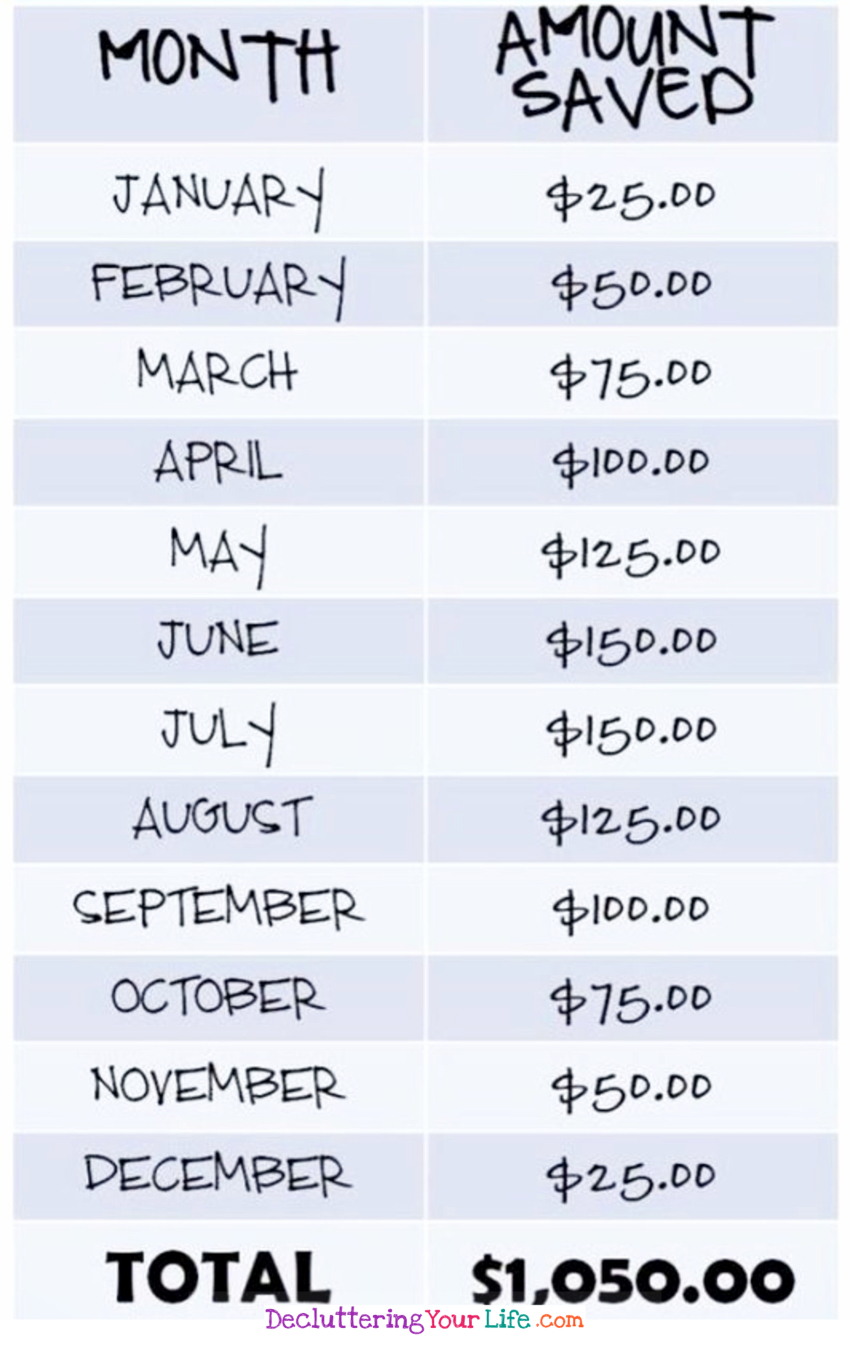 30-Day Money Saving Chart
If you need to save money quickly – perhaps for a trip or spending money… maybe even for Christmas money or a special occasion – this 30-day money saving chart can help you save money quickly.
The chart below has you saving $465 in 30 days, but you easily modify the savings amount to fit your savings goal.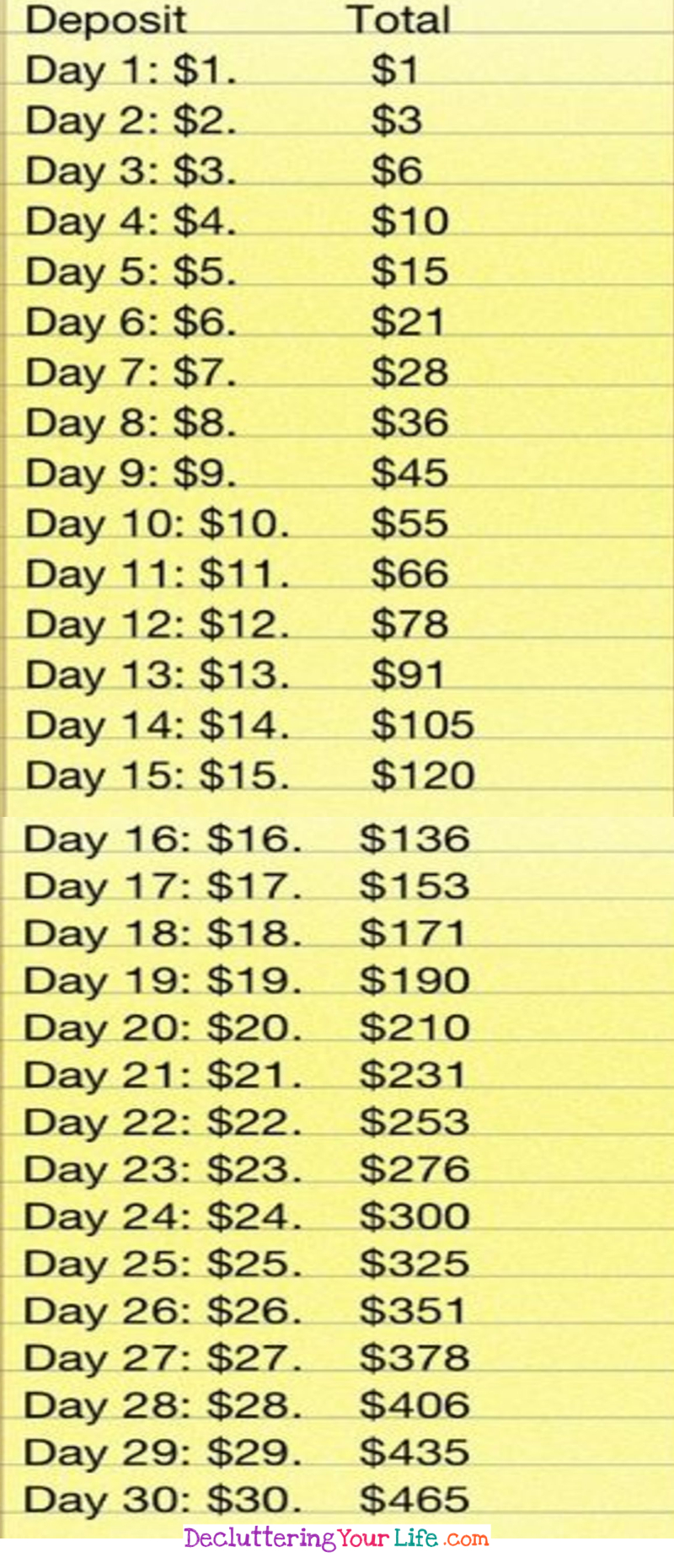 Money challenges are a great way to save money for any reason without feeling overwhelmed.
Best of all – they really work (IF you DO it).
Happy saving!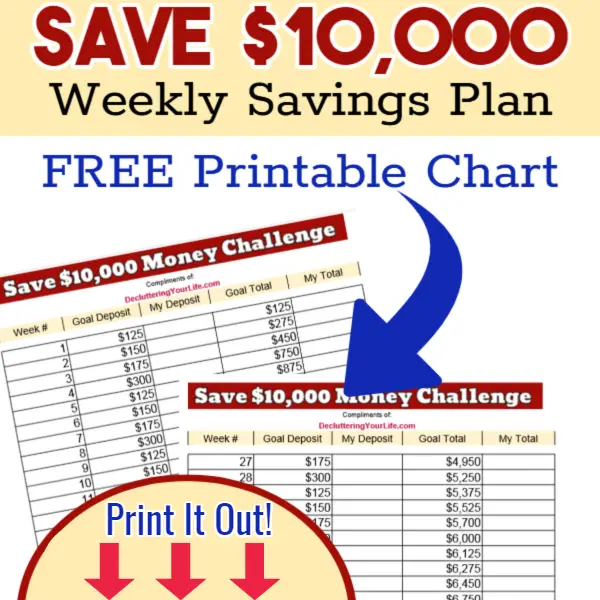 Miss Anything?
Go back to the top of:
Go back to a specific section:
$8.99
in stock
3 new from $8.99
1 used from $8.25
$10.43
$14.99
in stock
29 new from $1.99
23 used from $5.15
$19.95
in stock
4 new from $19.95
8 used from $5.00
Last updated on November 30, 2023 3:37 pm
More Ideas: