How To Organize Your Monthly Bills With My Personal Free Printable Bill Payment Tracker –
Keeping track of monthly household bills can sure feel overwhelming.
I have my own simple system for tracking home bills that are due and I use to log what I've paid each month.
You're welcome to use it for yourself!
If you're tired of forgetting which bills need to be paid when AND tired of MISSING bill payments, my little system will work wonders for you!
My family bill tracker system is super simple and works SO well for me – you can even add it in your household bill organizer binder too!
To get started – first download and print out my free monthly bill organizer pdf below and I'll then I'll show you how I do it.
How I Keep Track Of Paying Bills
I have very simple system for keeping track of paying bills here's how it works:
First, I print out one of the free monthly bill tracker sheets from above each month.
On that worksheet, I list out all my bills for the month as they come in the mail.
I add in the amount of the bill in the proper column in my monthly bills list printable, then I add the date the bill is due that month.
As bills are paid, I enter the date I paid the bill and check it off the list.
Important Tip: Be sure to write down and log each bill AS it comes in the mail – don't let your bills pile up!
Any 'paperless' bills I know are due are immediately added to my bill tracker at the start of the month.
Seriously, it's THAT simple to keep track of my monthly bills and it works SO well for me.
If you're OVERWHELMED with keeping track of YOUR Monthly bills and SO tired of missing payments – TRY MY SYSTEM, it really works!
My Bill Organization System
Here's how to make a monthly bill organizer:
I use a cheap file box like this for organizing bills for every month of the year.
I hook the current month bill organization form to the outside of the box so I can ALWAYS see it easily and at a glance so I know which bills are due, what I've already paid, and what monthly bills I still need to pay.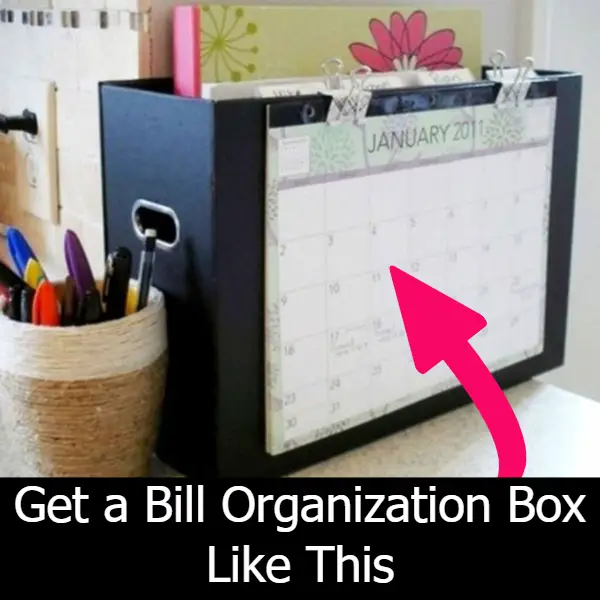 I put the bills for each month into individual monthly file folders like these and when the month is over, I put my completed bill tracking worksheet into the month it goes to.
Seriously, that's it!
My bills AND my payments are organized, I never miss a bill AND all my monthly bills are easy to organize come tax time – all thanks to my personal printable bill paying organizer.
Free Family Bill Tracker
Here's My Personal Bill Payment Tracker and Bill Tracker Template – Sure, you COULD organize your bills online or use a fancy, complicated bill organizer app, but if you want to really track your expenses and monthly payments due, this bill payment tracker and spreadsheet is the most simple and EFFECTIVE way to keep track of your bills.
My bill payment tracker pdf is free and is the best way to organize bills and papers from your monthly household expenses – even if you're paying bills online or using a bill payment organizer app!
Nothing beats good old paper that you can look at and hold in your hand – AND you can easily refer back to come tax season!
Get my personal bill payment tracker below:
Miss Anything?
>