From fabric storage ideas to sewing room organization hacks, getting ANY space in your home organized on a budget can be quite challenging. Below are our favorite budget-friendly storage ideas for your sewing room (or small sewing space) to help you keep ALL your sewing stuff neat and organized.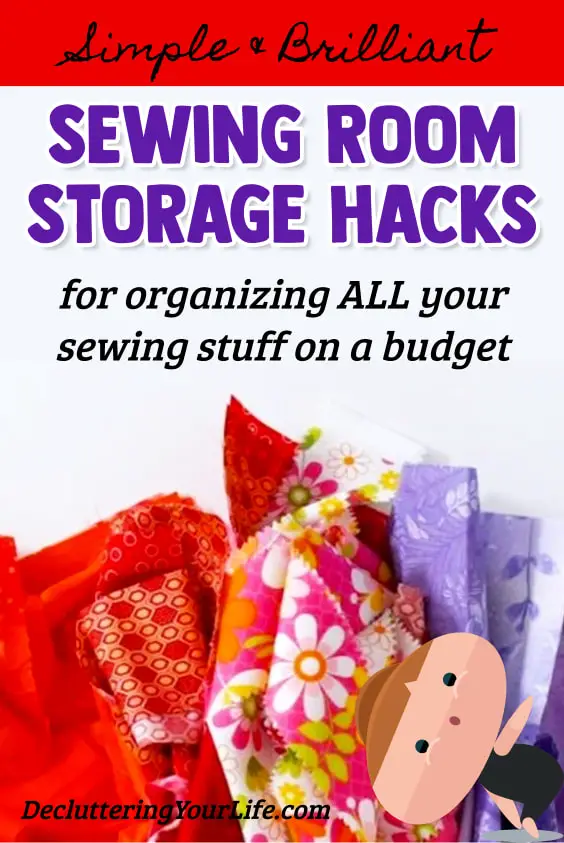 A truly effective storage system in your sewing room is so much more than just hiding ALL your sewing supplies clutter. This does NOT require a lot of money, either! Below are sewing room storage ideas on a budget that will help you whip that sewing room into shape.
Like you, I've also drooled over all the super expensive sewing room storage systems and furniture, but then I come back to reality to MY limited budget for organizing my sewing room – and I feel overwhelmed and defeated.
While you might feel your limited storage budget won't allow you to truly organize your sewing room properly, the good news is: there are TONS of ways to create your own storage system in your sewing space WITHOUT spending a lot of money – or any money at all!
Let's talk about ideas to get our sewing rooms UNcluttered AND organized so we can not only enjoy a neat sewing space, but also be able to FIND the things we need when we need them.
Below are my 9 favorite sewing room storage ideas that are perfect for those on a budget like me!
Cheap Storage Hacks
☑   Use all the space available to you, both horizontal and vertical, so that even small spaces will be useful. Take advantage of vertical space by hanging items on a pegboard (a board that has holes where hooks can go in) attached to the wall. The holes make it easy to move your hooks around. Hang smaller supplies, such as scissors, rulers, cutters, spools of thread, etc from the hooks.
☑   Use rolling storage bins. When they are not in use, they can be rolled under a table where they are out of the way. Not only are you using the space effectively, but it looks neater too!
☑   Make it easy to find your supplies. Use bins that are see-through so that you can see what is in each drawer at a glance. Layer fabrics so that you can see the color of each fabric by just looking at them without having to touch the fabric.
☑   Place infrequently used items at the bottom and top of shelves or closets that are harder to reach. This allows you to use all your space and since you don't have to get those supplies often, you won't mind having to pull out a chair or stool once in a while to get to them.
☑   Place frequently used items in places that are easy to get to. This means that you will use those supplies and put them away when you aren't using them. If a system is easy to use, you are more likely to keep using it.
☑   Find items that will help to protect your supplies. For example, drape a clear plastic sheet over thread racks to keep the dust off the thread, while still allowing you to see what thread colors you have.
☑   Use a folding table for pinning and cutting. Fold the sides of the table out when you need the space for cutting, and fold the sides in when the table is not is use so that your room won't feel cramped.
☑   Think outside the box and don't dismiss an item just because you think it can only be used for something else. For example, use a clear plastic shoe organizer that can be hung on the wall to hold smaller supplies, such as ribbons and buttons. The shoe organizer is great because it has individual pockets to store items in. Plus, it is clear so that you can see what supplies are in what pocket without having to open each pocket.
☑   Have a place for each item and always put it away once you are done working with it. If you know where each item is, then you will spend less time looking and more time sewing. As well, don't let things build up. Otherwise your sewing room will become very messy and cluttered. Eventually, you will start to avoid the room because you are overwhelmed and can't deal with the mess. So, avoid this potential stress by always keeping everything in its place.
Clever Sewing Room Storage Hacks
No matter which of those sewing room storage hacks above work for you, an effective storage system is one that allows you to easily find your supplies in a glance and uses all the available space in a room, so that you can spend your time sewing instead of searching for supplies.
Want More Ideas?
✅  Read:
Cheap Craftroom Organization Ideas To Organize Your Craft Supplies
Have any other cheap ways to organize your sewing room?
Let us know!
Happy sewing!