Creative Ways To Organize Desk Clutter To Get Seriously Organized In Your Home Office Space – Does your home office desk workspace tend to become a cluttered mess? I know mine sure does! I've been on a search to find ways to control my desk clutter and paper piles and pens and note pads and all The STUFF.
Below are some simple, yet useful, DIY desk organization hacks and desk organization tips to get your desktop area organized… and KEEP it organized.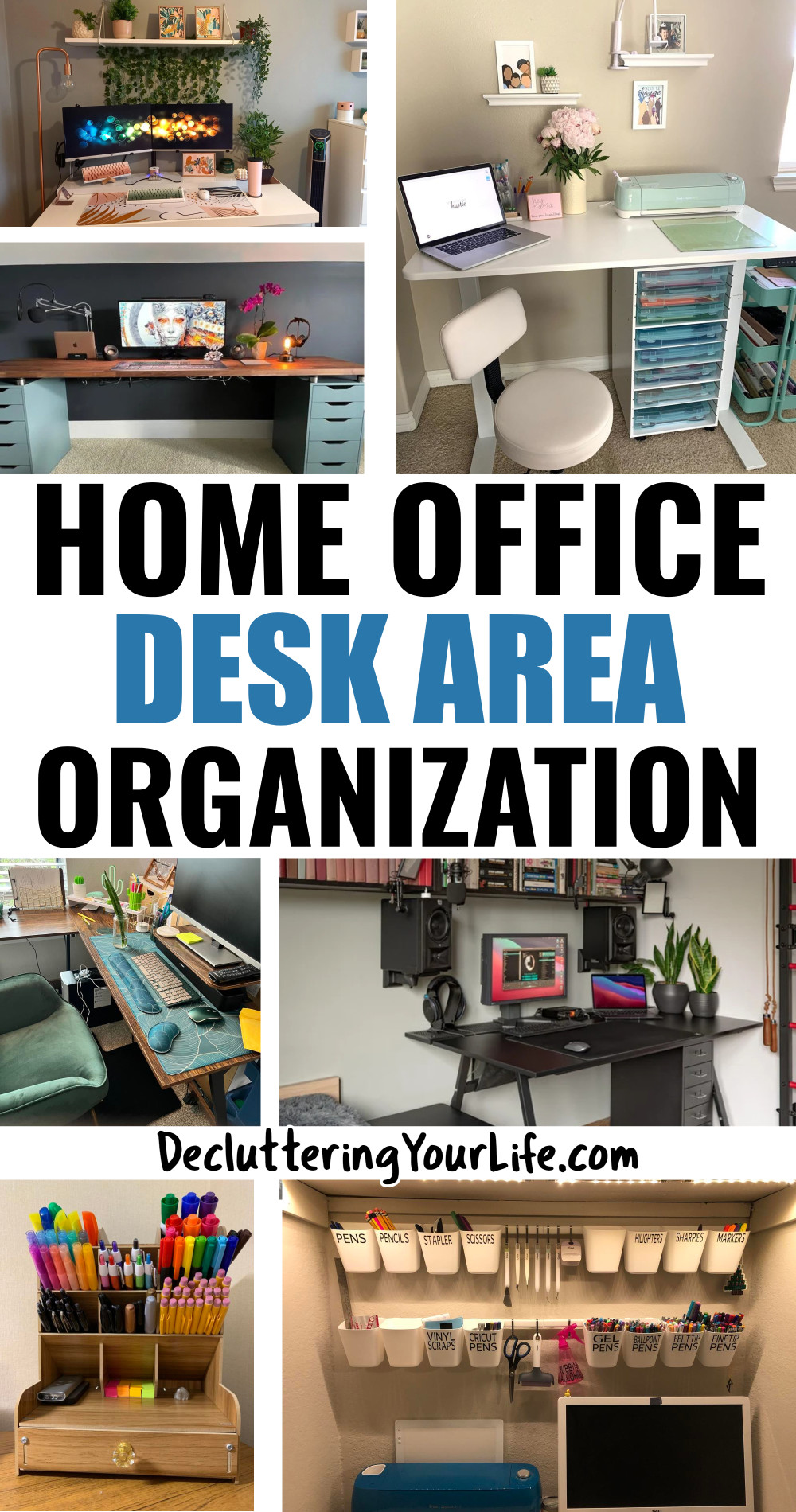 Welcome to Decluttering Your Life - we hope you enjoy our quick decluttering tips, organization ideas and simple DIY solutions for your home - posts may contain ads & affiliate links - that's how we keep the lights on =)
---
---
---
A Place For Everything
The first and most important part of organizing your desk is to have a PLACE for everything so you can KEEP everything in its' place.
I've found that a desk stays neater when the "place for everything" us UNDER the desk.
For example, using multi-drawer cabinets like these: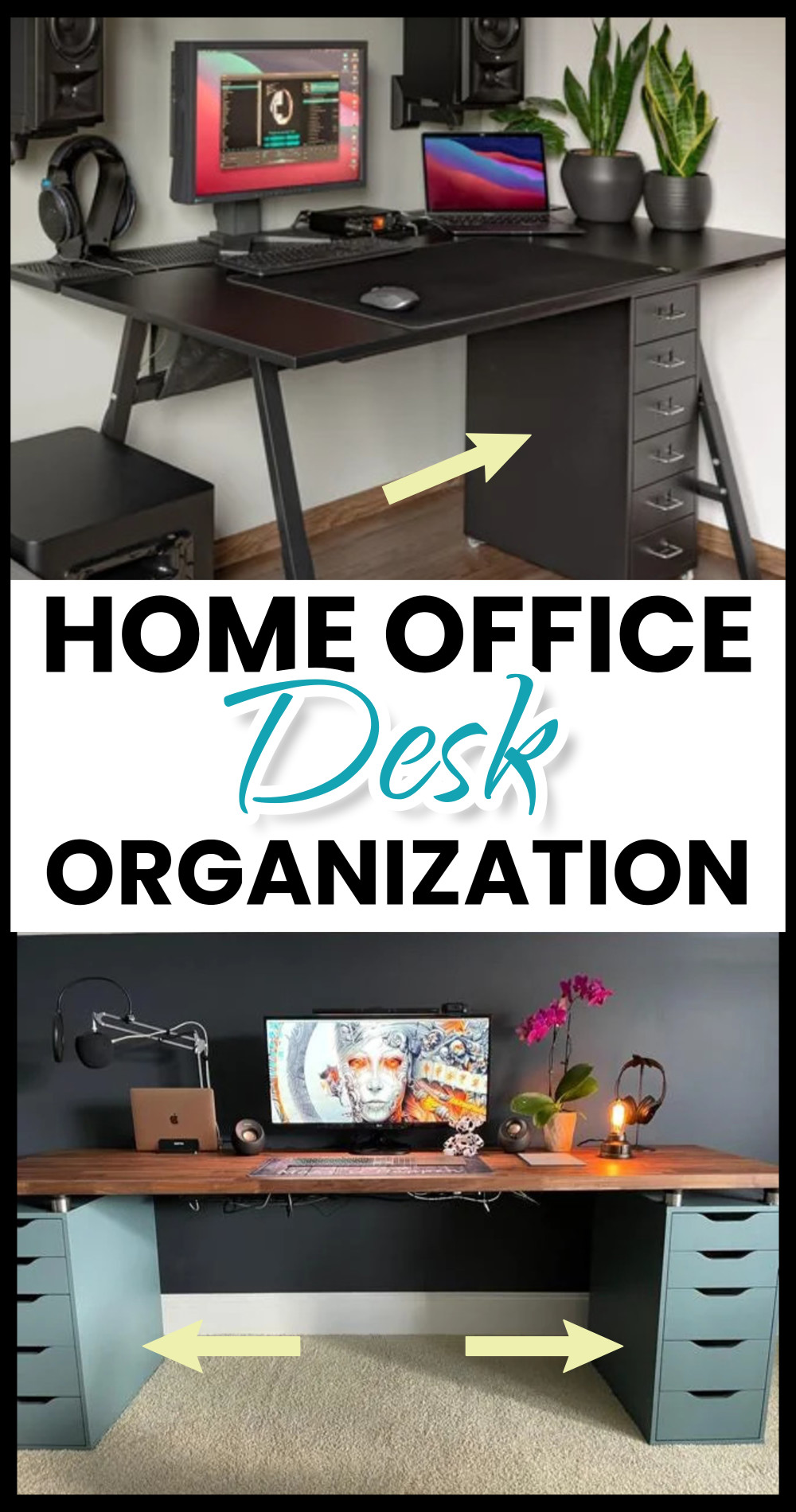 Not only do they provide storage for all your STUFF to keep it OFF your workspace, they can also be multi-functional and be the base for your desk.
If you're in a SUPER small area and there's simple not room for drawers UNDER your desk, you're gonna have to get super creative with creating storage space for your supplies.
My cousin lives in a tiny apartment with no storage space, let alone a separate ROOM for her home office space – so, she uses a CLOSET for her home office.
Yes! A Closet!
Trust me, she got VERY creative in keeping that space organized AND functional.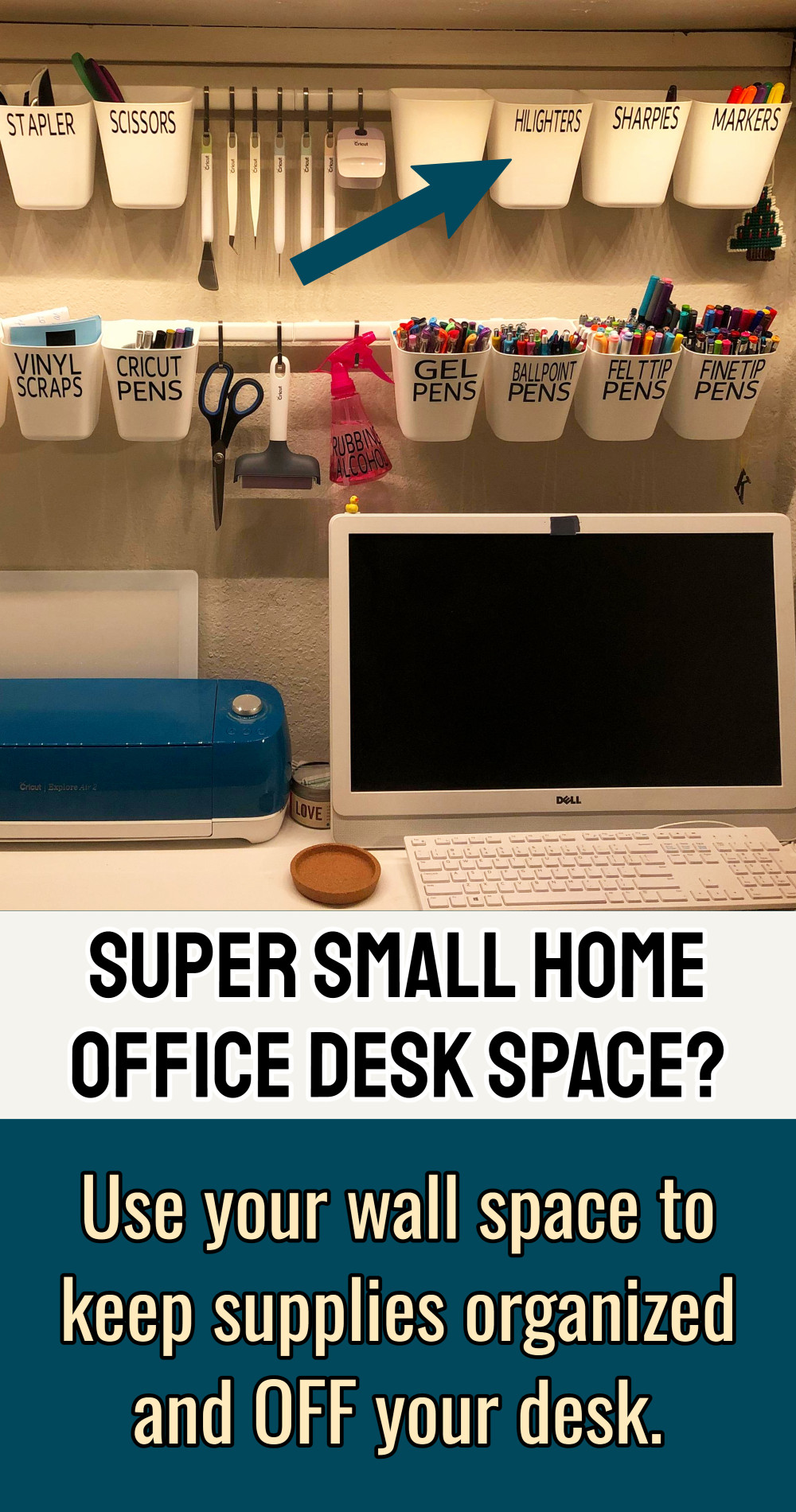 My desktop space gets SO cluttered.
I subscribe to the saying that a "messy desk is a sign of a brilliant mind" or whatever the saying is haha!
It took me a long time to realize that the clutter kept piling up on my desk because it was all stuff I didn't have a "home" for.
Like pens, markers, pencils, remotes, post-it notes, paper clips… you know, all the STUFF.
While I did have a junk drawer to throw all that stuff, I never did because… my junk drawer was a mess too!
Once I got a few inexpensive, yet practical and functional, organizers, I found that I put things back in their "home" more consistently AND it was much easier to clean and organize my desk space when it did start to clutter up because… every THING had a home.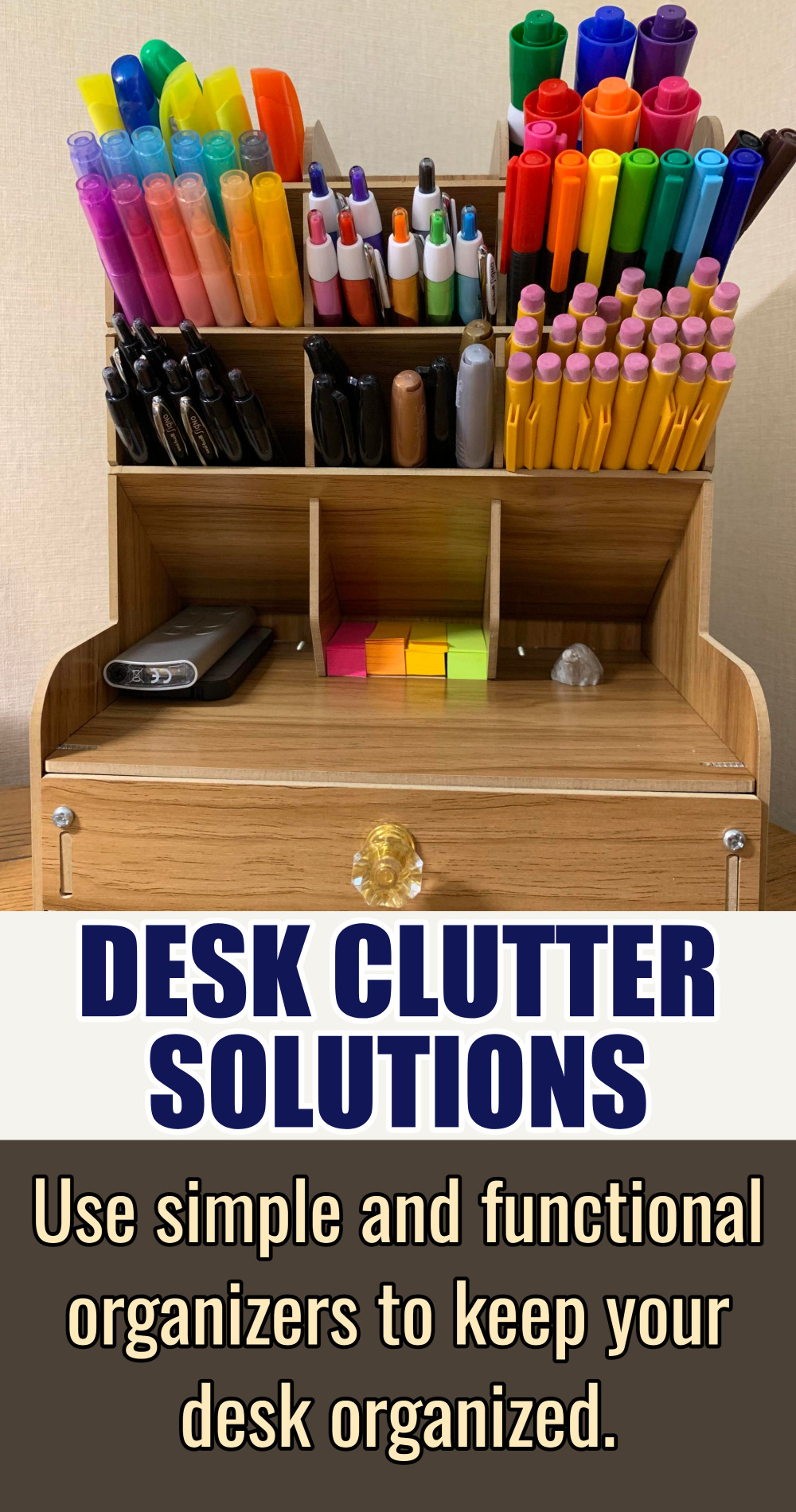 Use whatever space you have to work with so every THING has a home to totally organize your desk area!
Simple Desk Organization Ideas
Let's take a look at some clever bedroom desk and home office desk organization ideas – there are LOTS of simple desk organization ideas for your home office desk, bedroom desk, dorm room desk or heck for ANY Desk you want to get organized.
If you have a small home office space (or a corner in your guest bedroom), keep your monitor raised and OFF your desk area.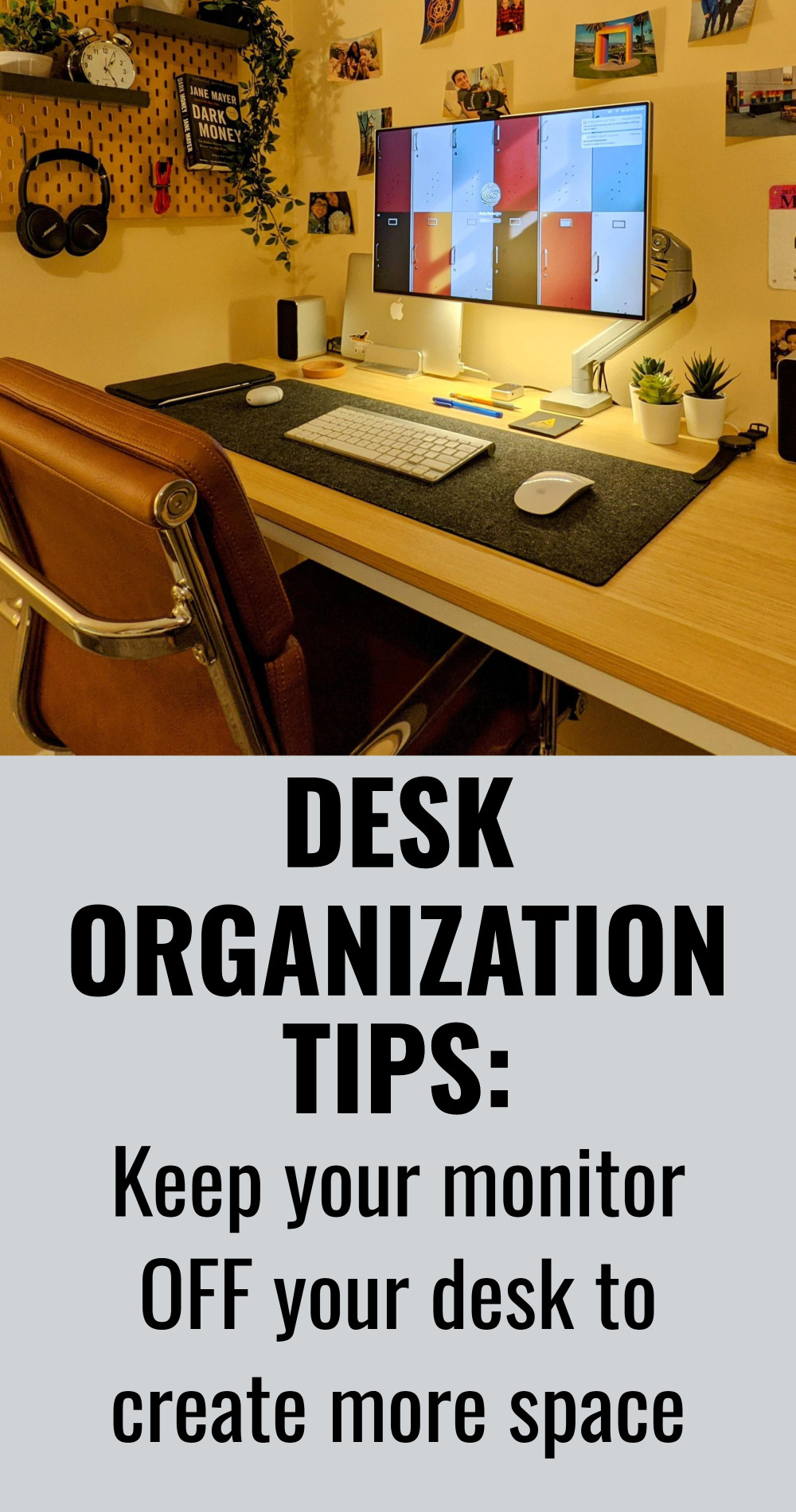 This not only helps create more space, but also makes your desk LOOK neater when it's all clean and organized.
And remember, how your desk looks to YOU makes a huge difference in not only your productivity, but also to keep you motivated to KEEP your workspace clean and organized.
Have fun decorating your work area…
Use coordinated desk decor, use some plants for a calm and relaxing desk area – and have good lighting that is not too harsh, yet provides the right amount of light so you don't strain your eyes.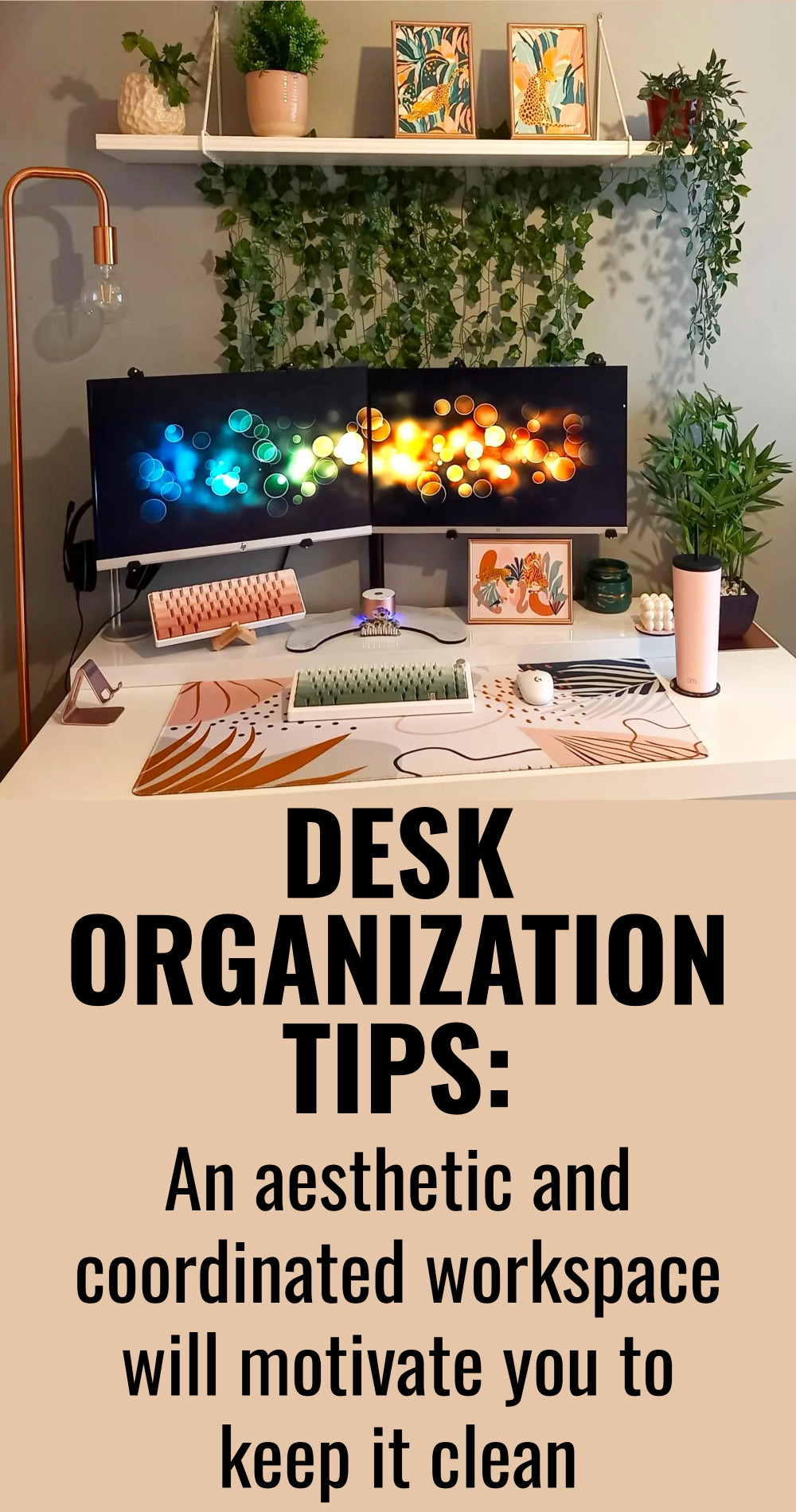 When everything looks pretty to YOU, you will want to KEEP it that way.
Many times, our home office desk serves MANY purposes – it's where we run our household business, work from home, do our craft projects etc etc etc.
If your multipurpose home office desk is ALSO in a shared room (ie, not a room that is ONLY your office area), getting things organized is an extra challenge.
For example, if you have a home office + craft room + guest bedroom type of set up, that is a LOT of STUFF to organize so that you can easily access it, but everything has a place for when you need to put it all away for guests to stay in that spare room.
While I have a TON of craft room organization ideas here, this picture below shows a very effective way to organize all that stuff you use AND to be functional for you to actually use day to day.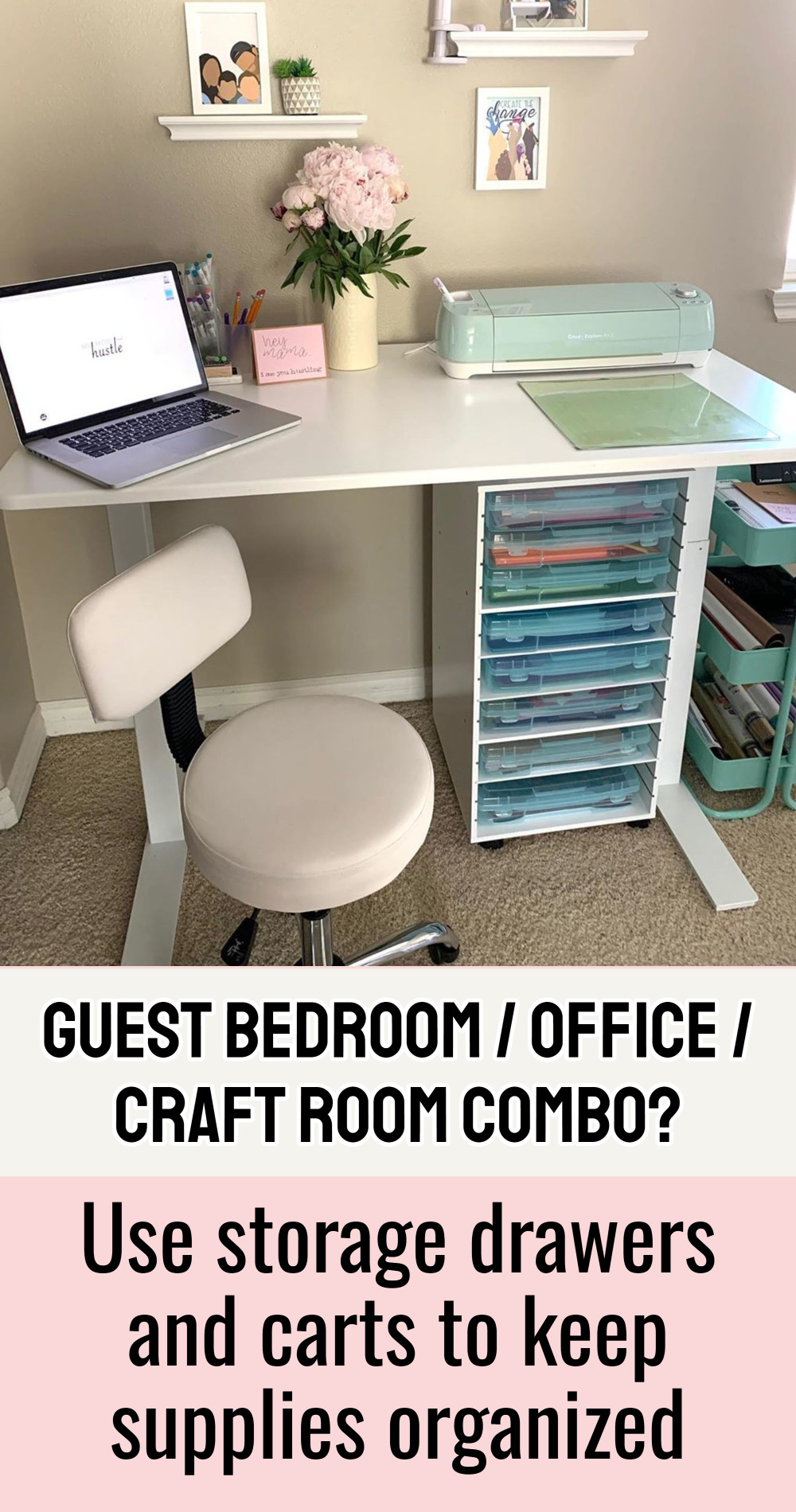 How To Organize Your Desk
Ready to see some creative desk clutter solutions? If you really want cheap and easy DIY ways to organize your desk and KEEP your desk organized, take a look at the pictures and ideas in the quick slideshow below.
You'll see how to organize pens and markers with some creative craft pen storage ideas, desk organization ideas for small spaces (like a bedroom, dorm room or small home office), how to make desktop organizers for your desk clutter and useful desktop organizer ideas to unclutter your desk workspace.
And as always, feel free to pin any ideas you like to Pinterest!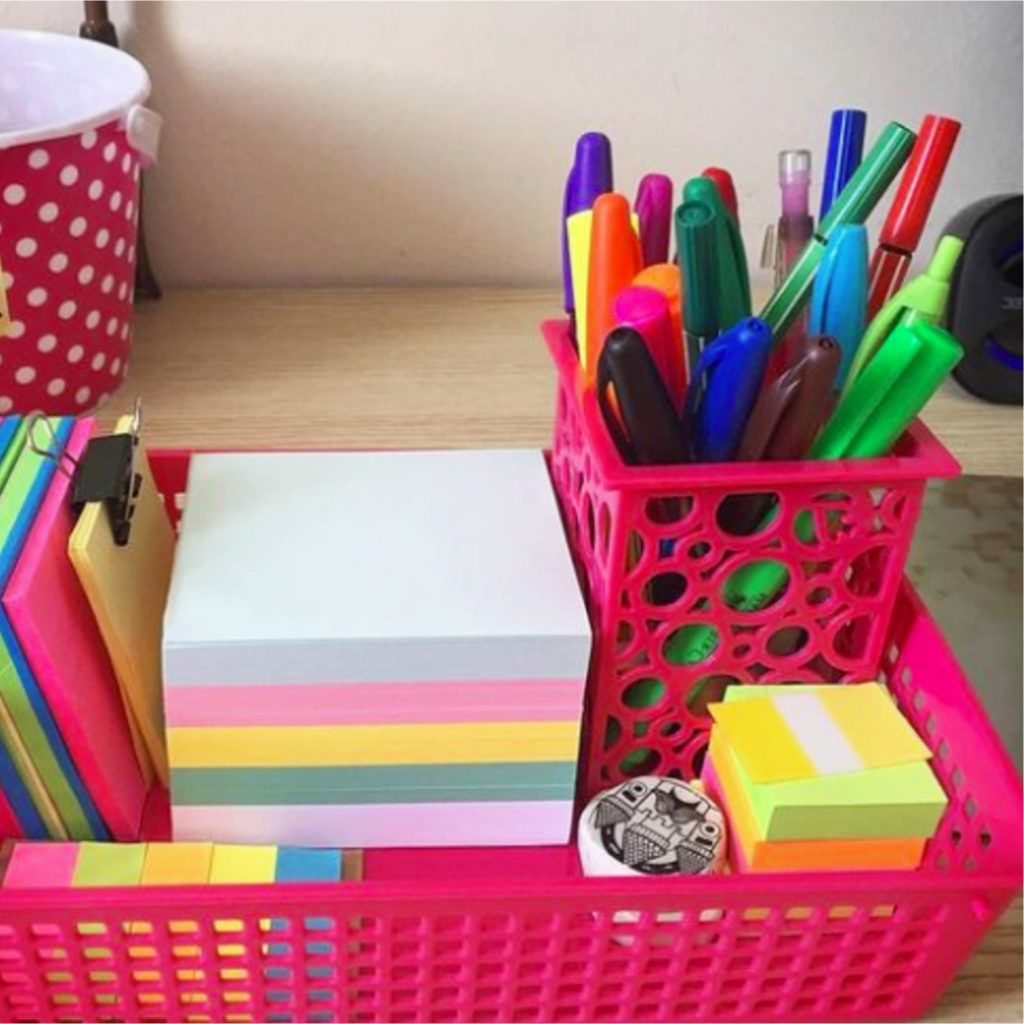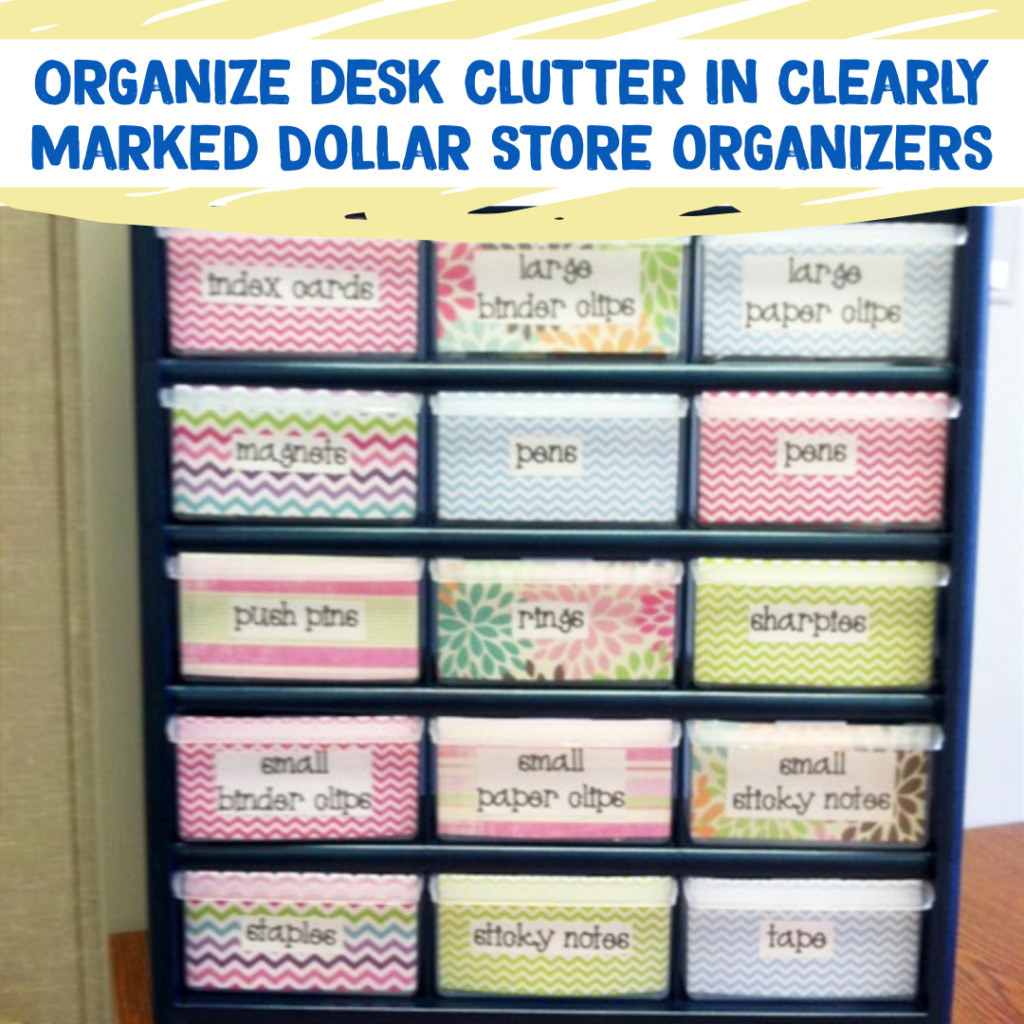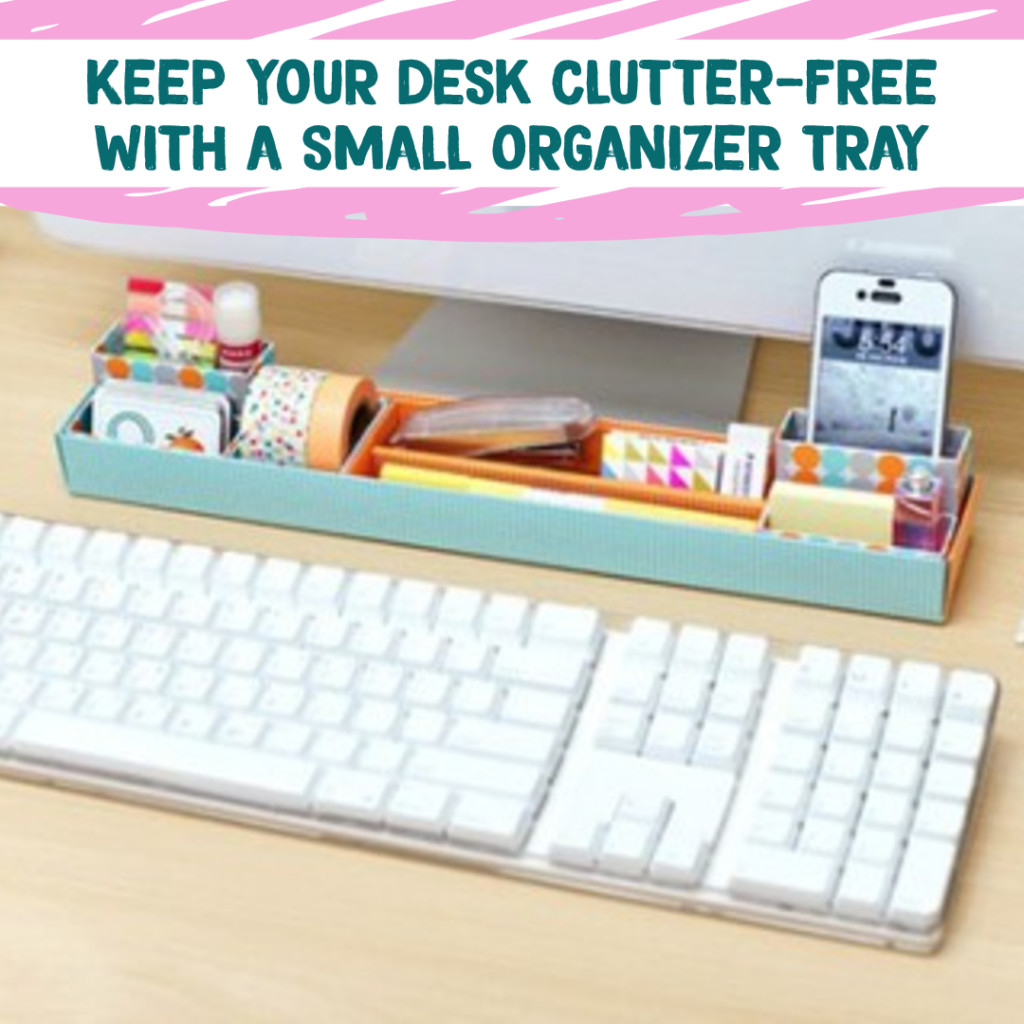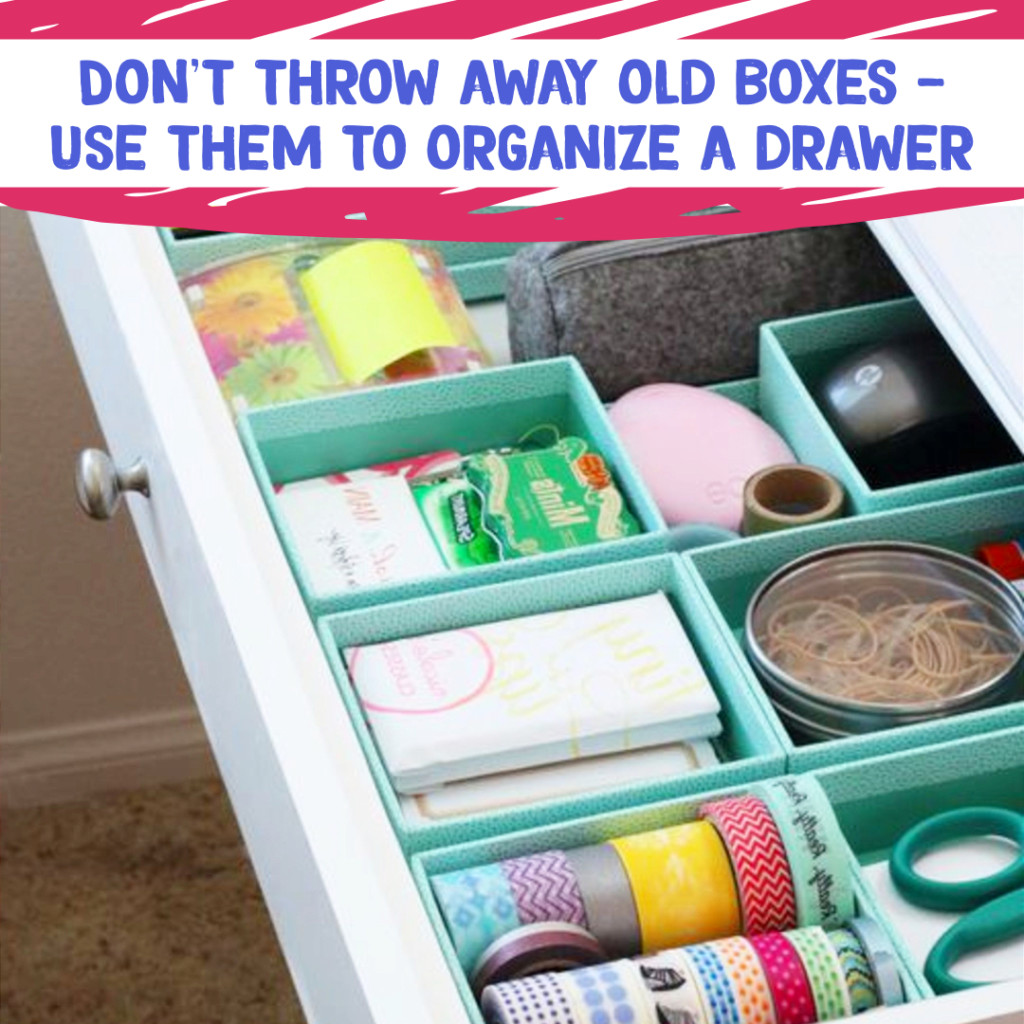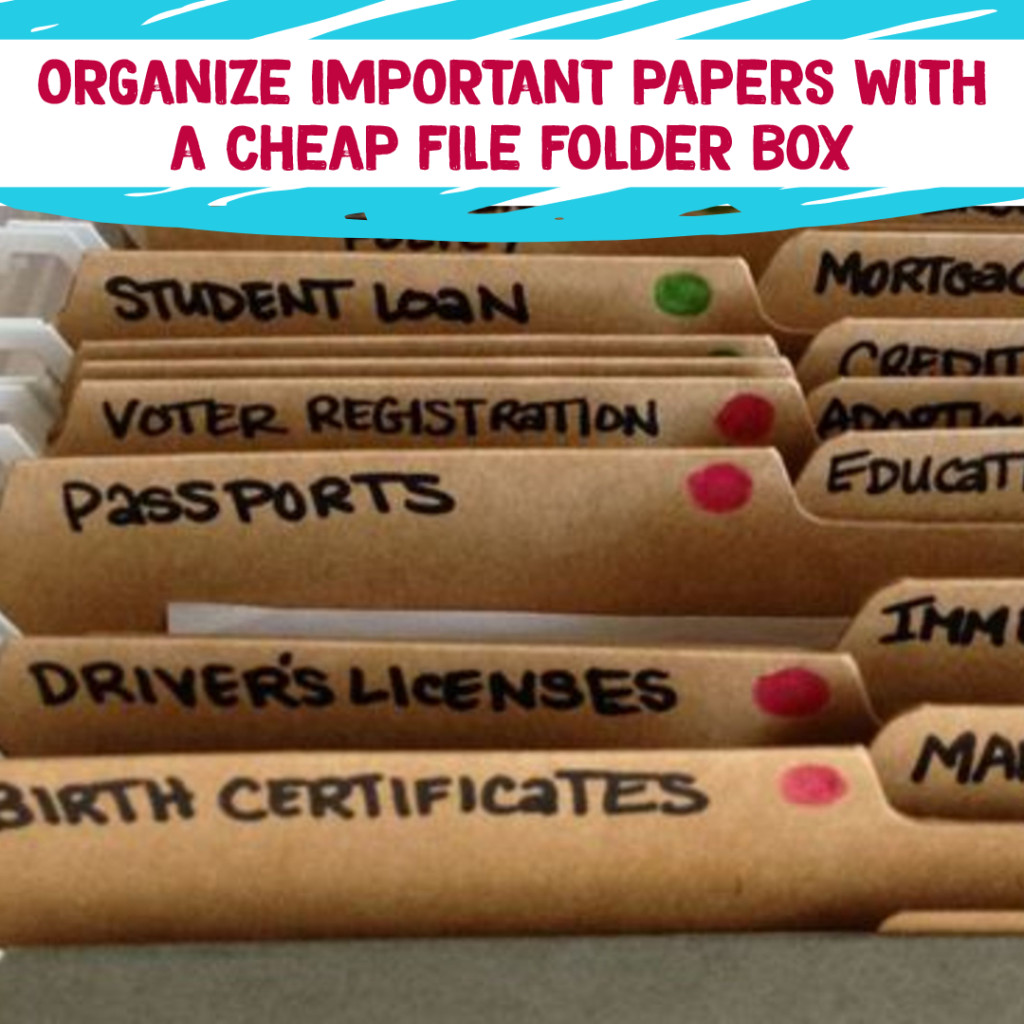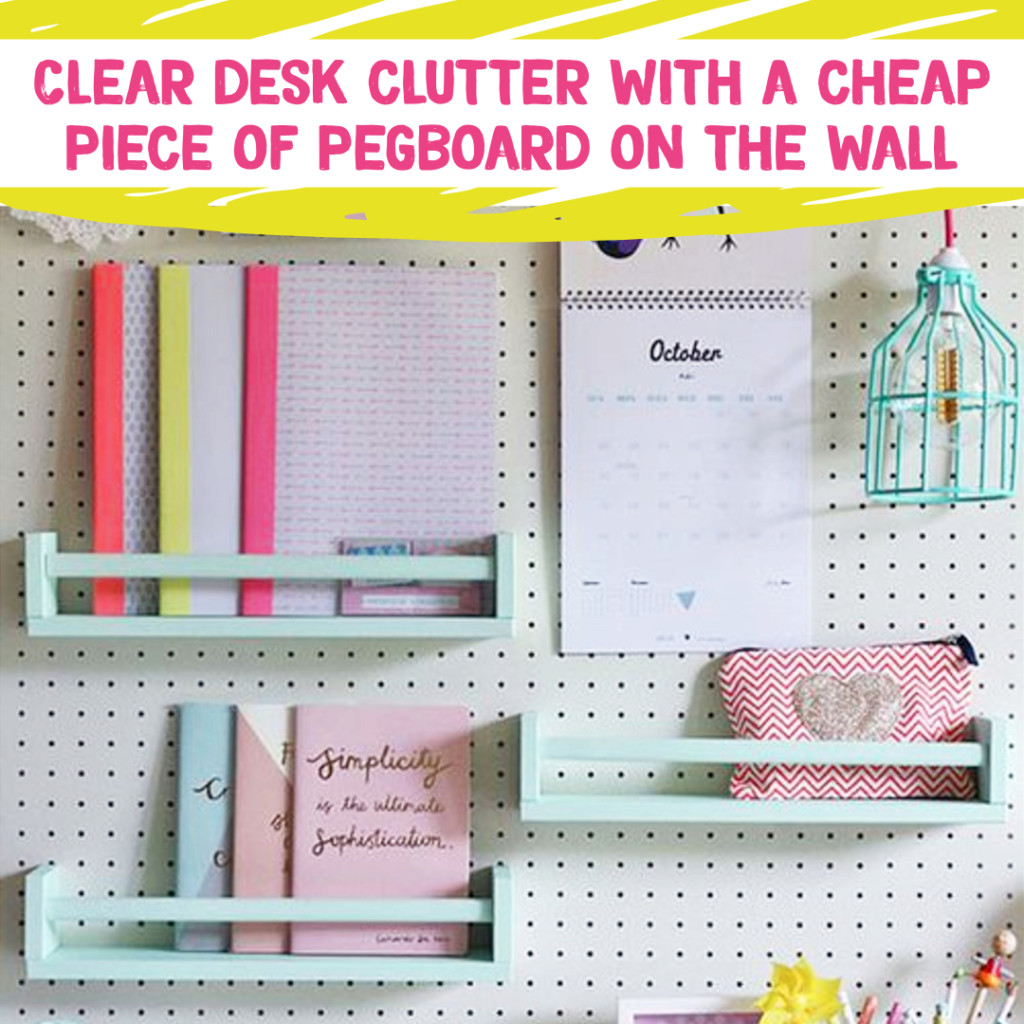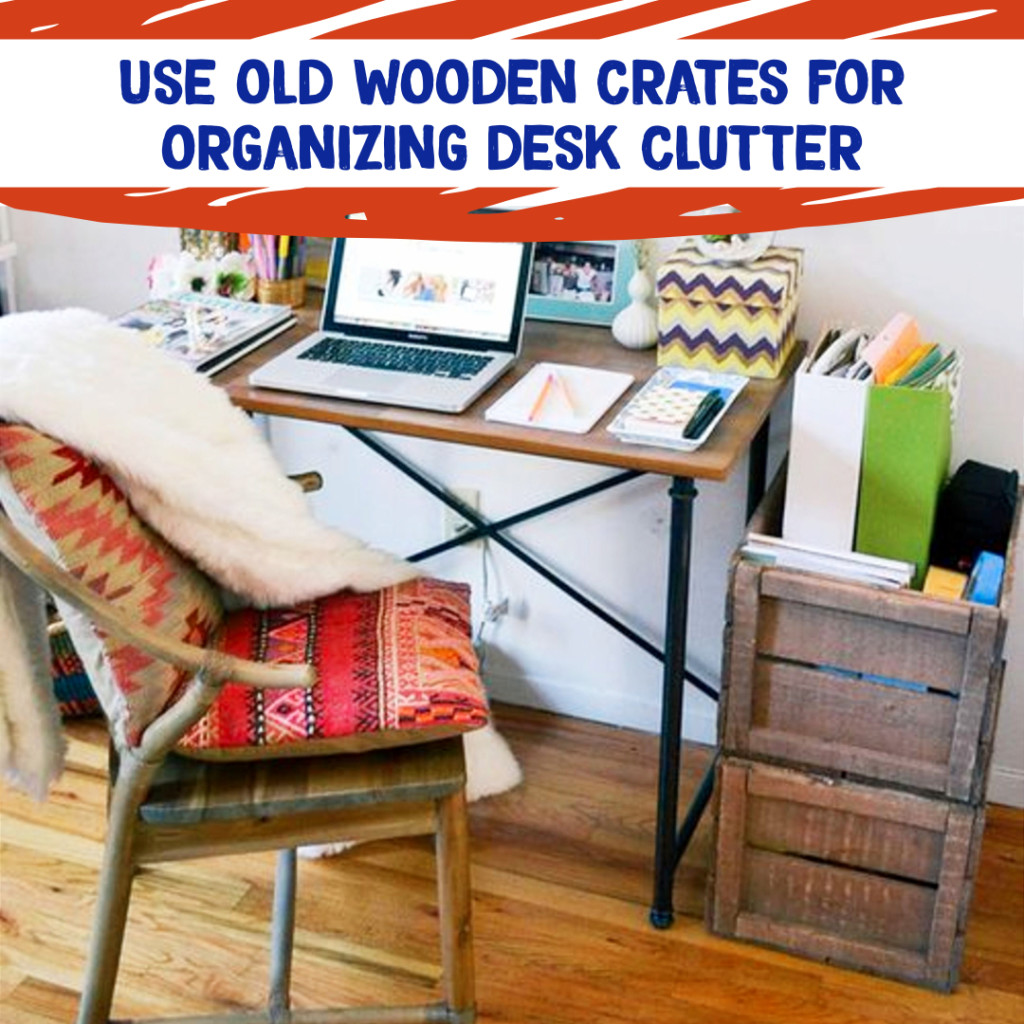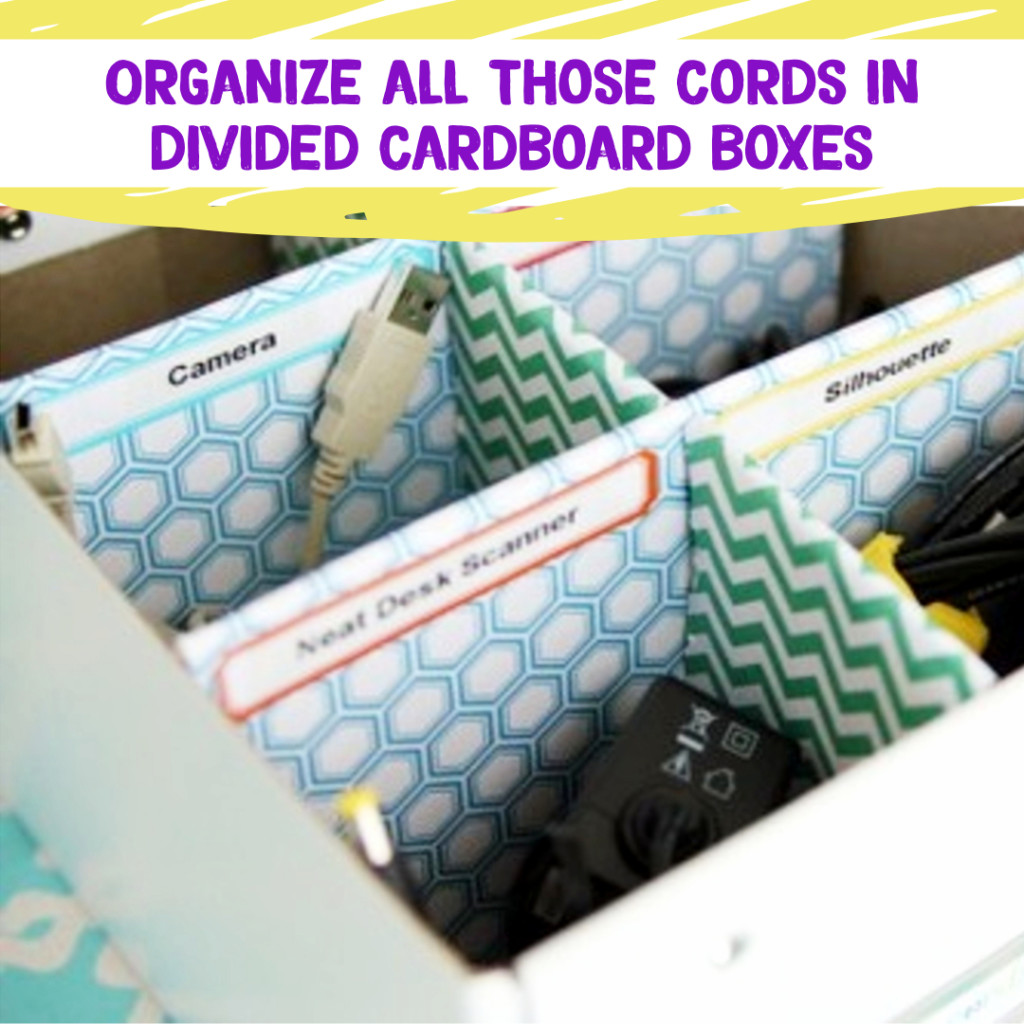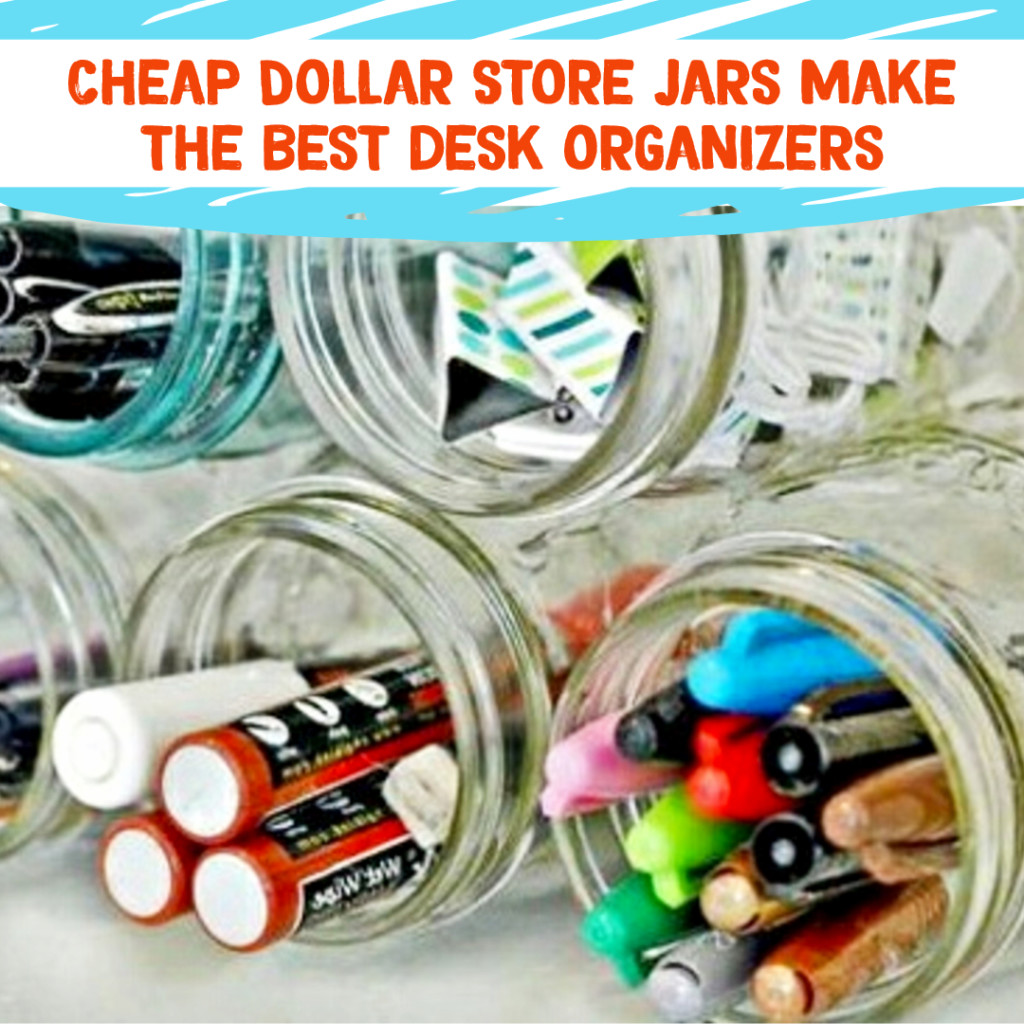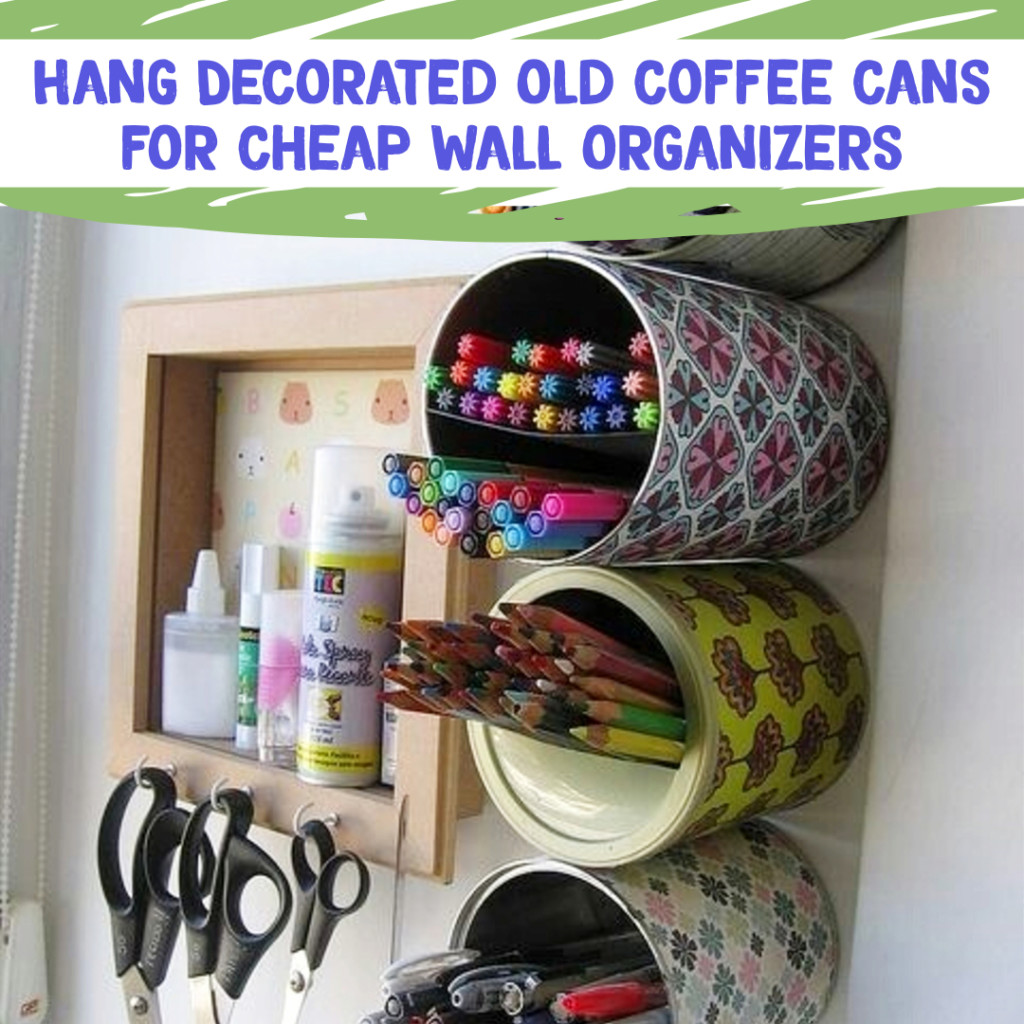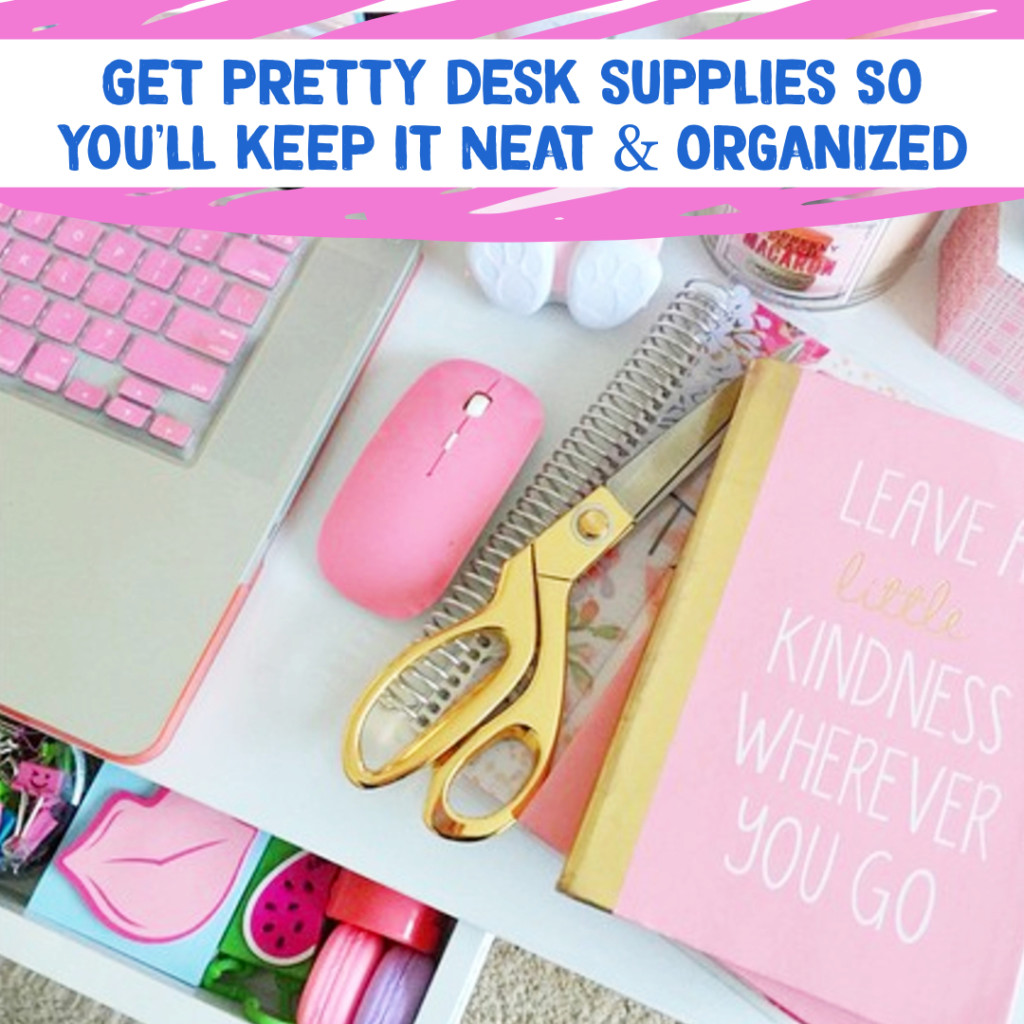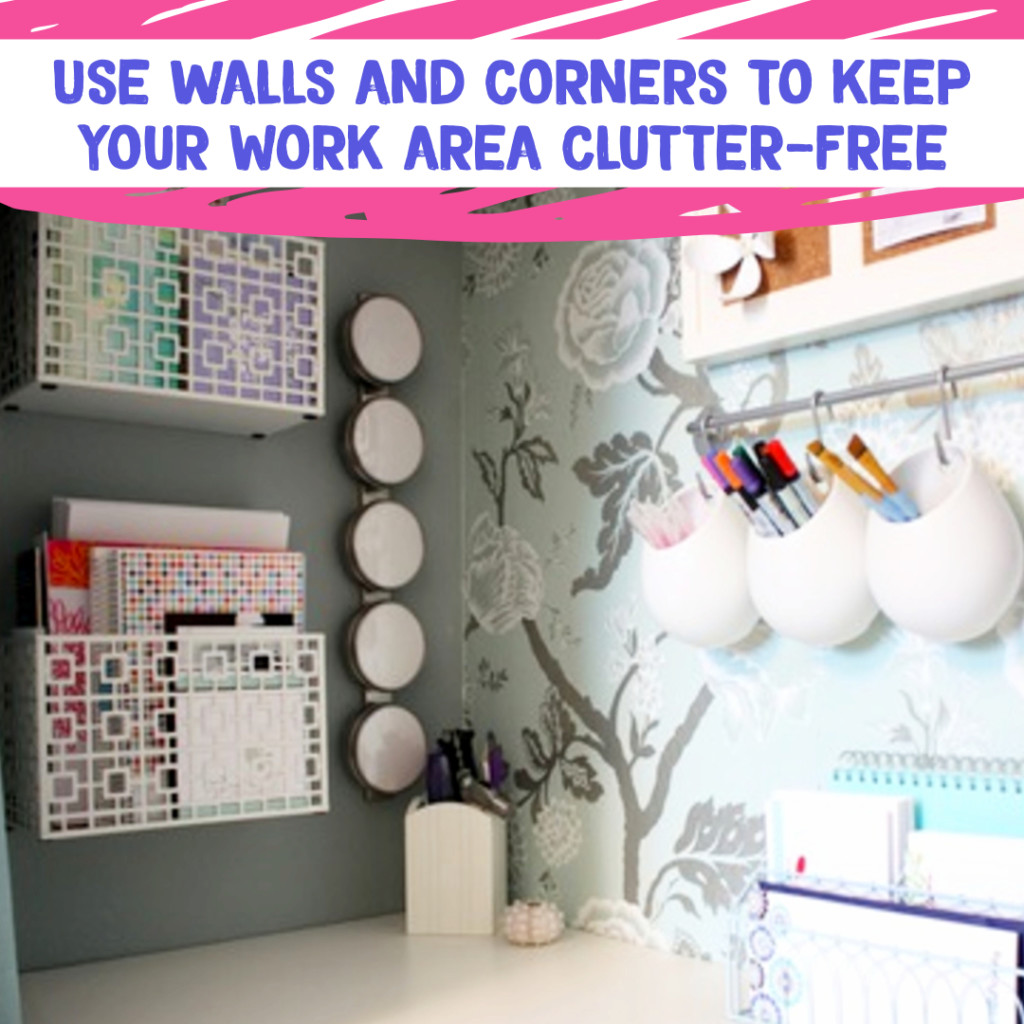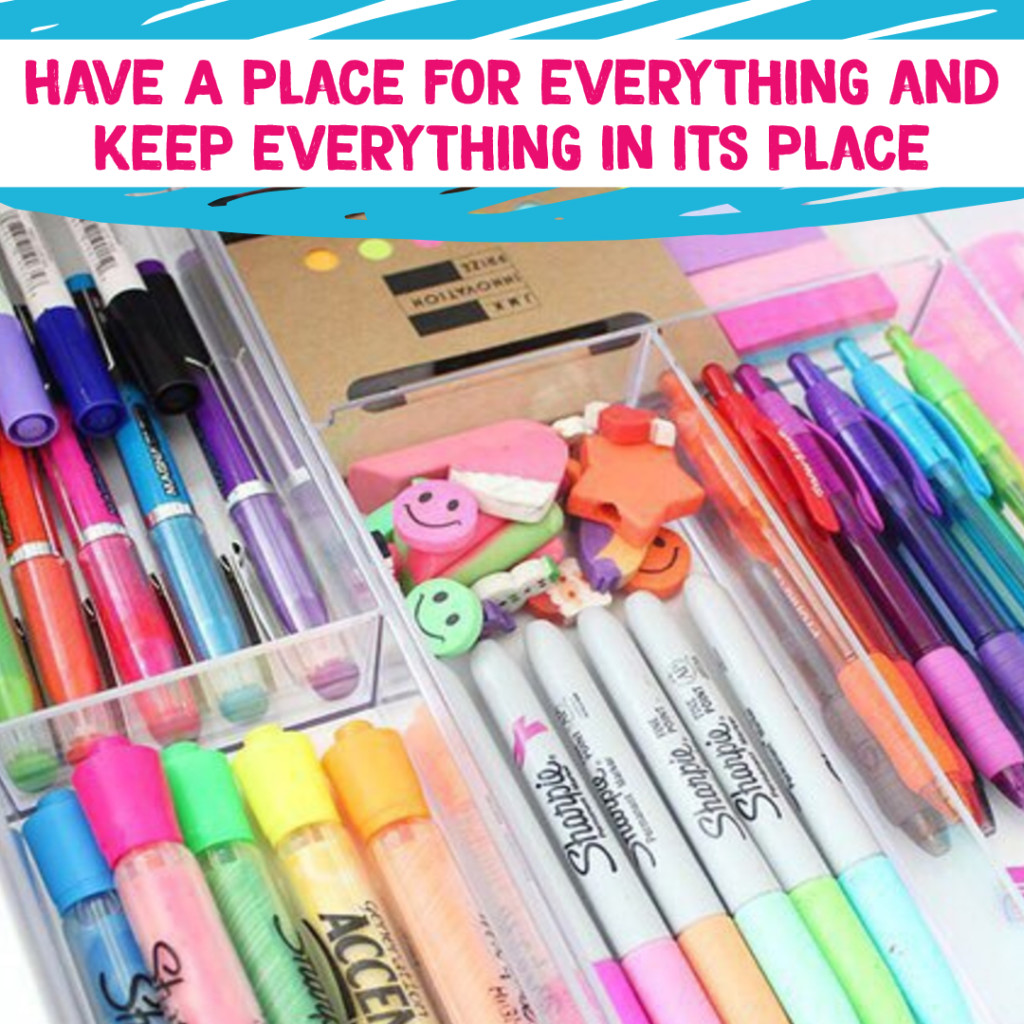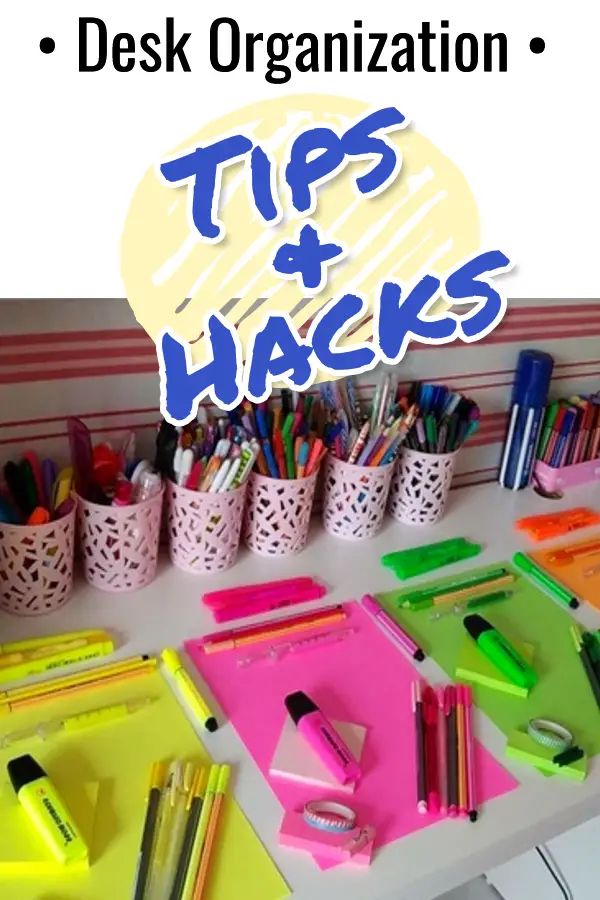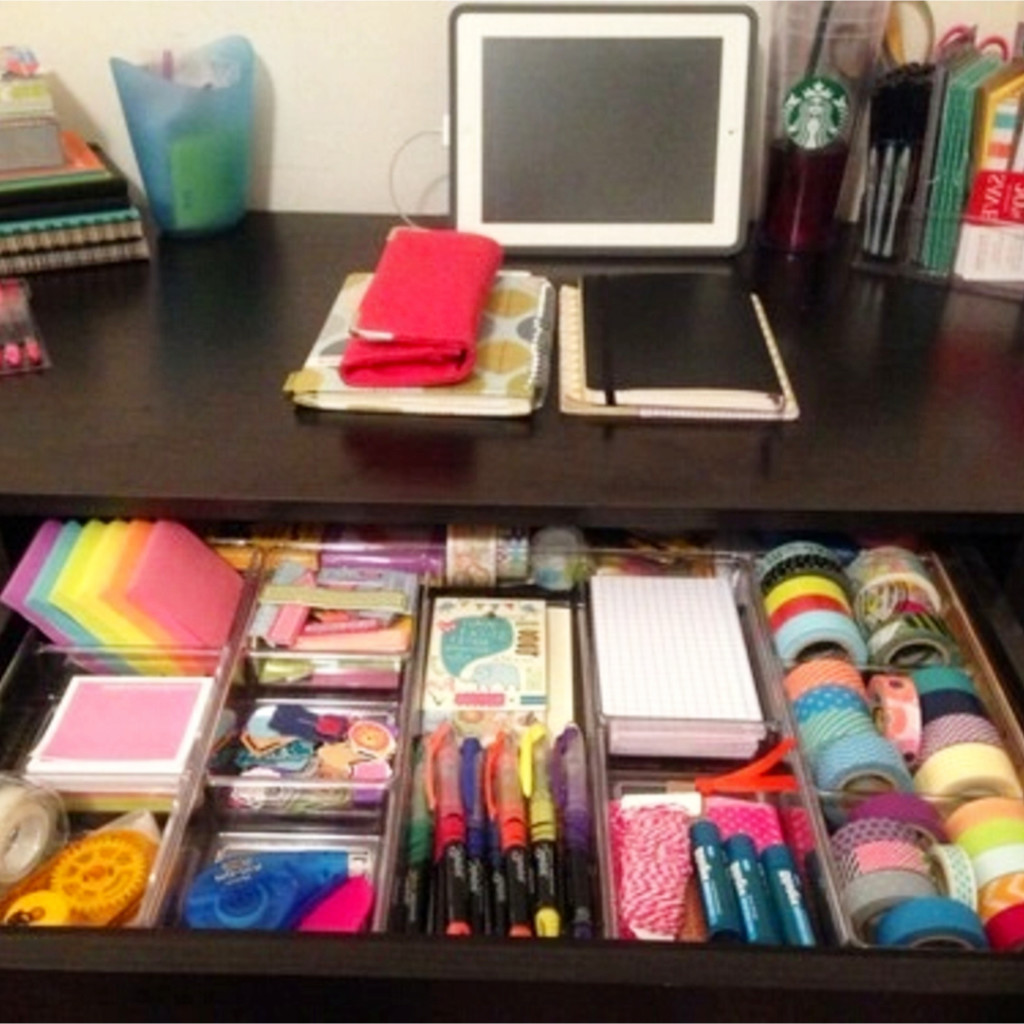 Combo Room Solutions
If you have a combo room – meaning, a guest bedroom / home office combo or a spare room / home office / craft room combo (or any mix and match of those combinations), here are some really helpful ideas to get it organized and totally functional for all your needs of that space.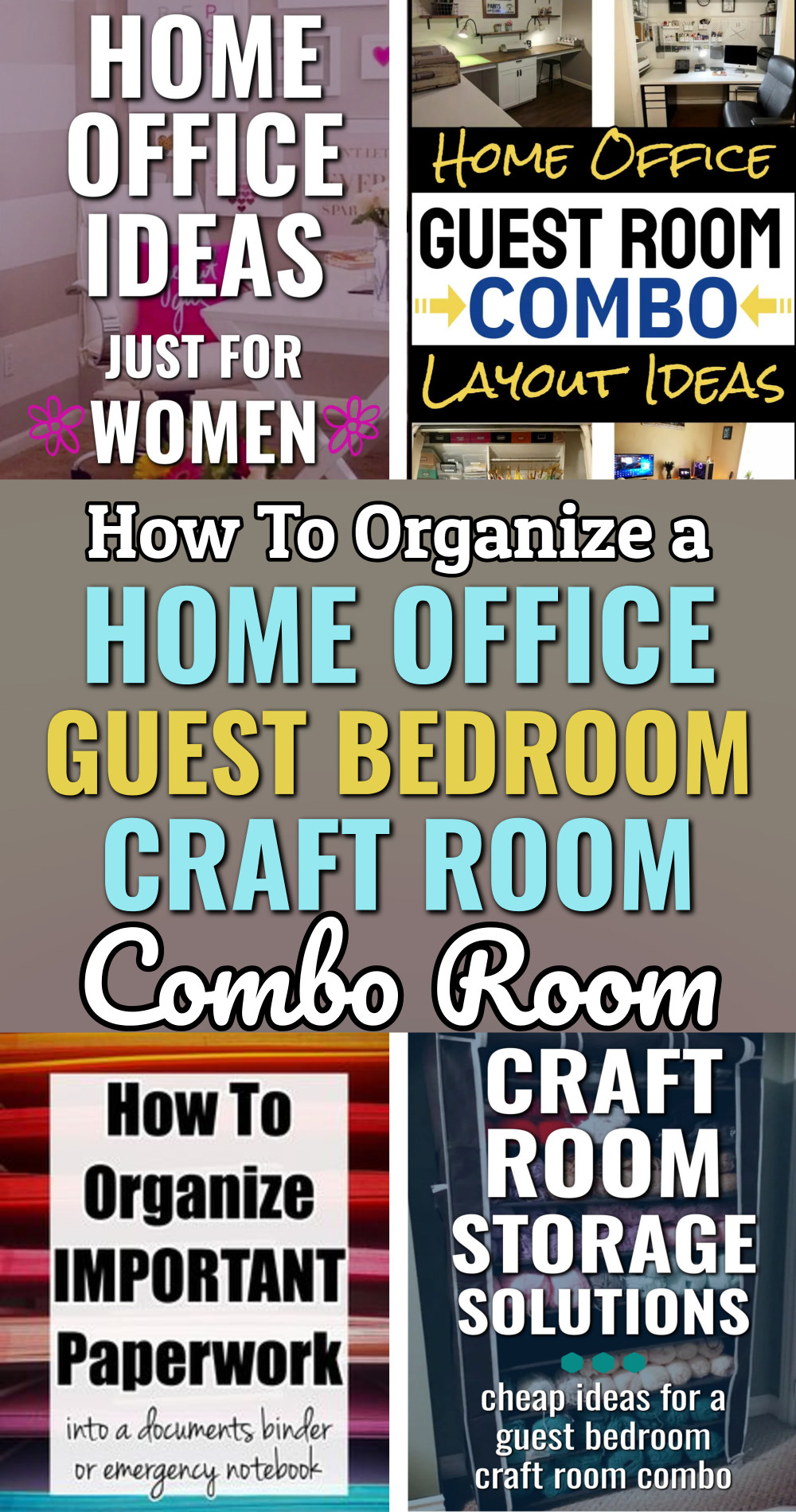 Resources in the picture above:
(1) – Home Office Ideas Just For Women – great layout ideas for a small home office or home office SPACE in another room in your house or apartment.
---
(2) – Home Office Guest Room Combo Layout Ideas – Helpful ideas for setting up a combination multi-purpose guest bedroom or spare room.
---
(3) – How To Organize Important Paperwork – no matter how big your home office space is, paper clutter is a real challenge – especially IMPORTANT papers. Learn how to organize all that important information into one household type binder so it's easy to find for you – and for anyone else in case something happens to YOU.
---
(4) – Craft Room Storage Solutions – great ideas for organizing a guest bedroom crafting room combination room.
Desk Clutter Solutions
Got desk clutter? Don't we all – ugh!
Below are some really helpful resources for organizing desk clutter (and crafting stuff).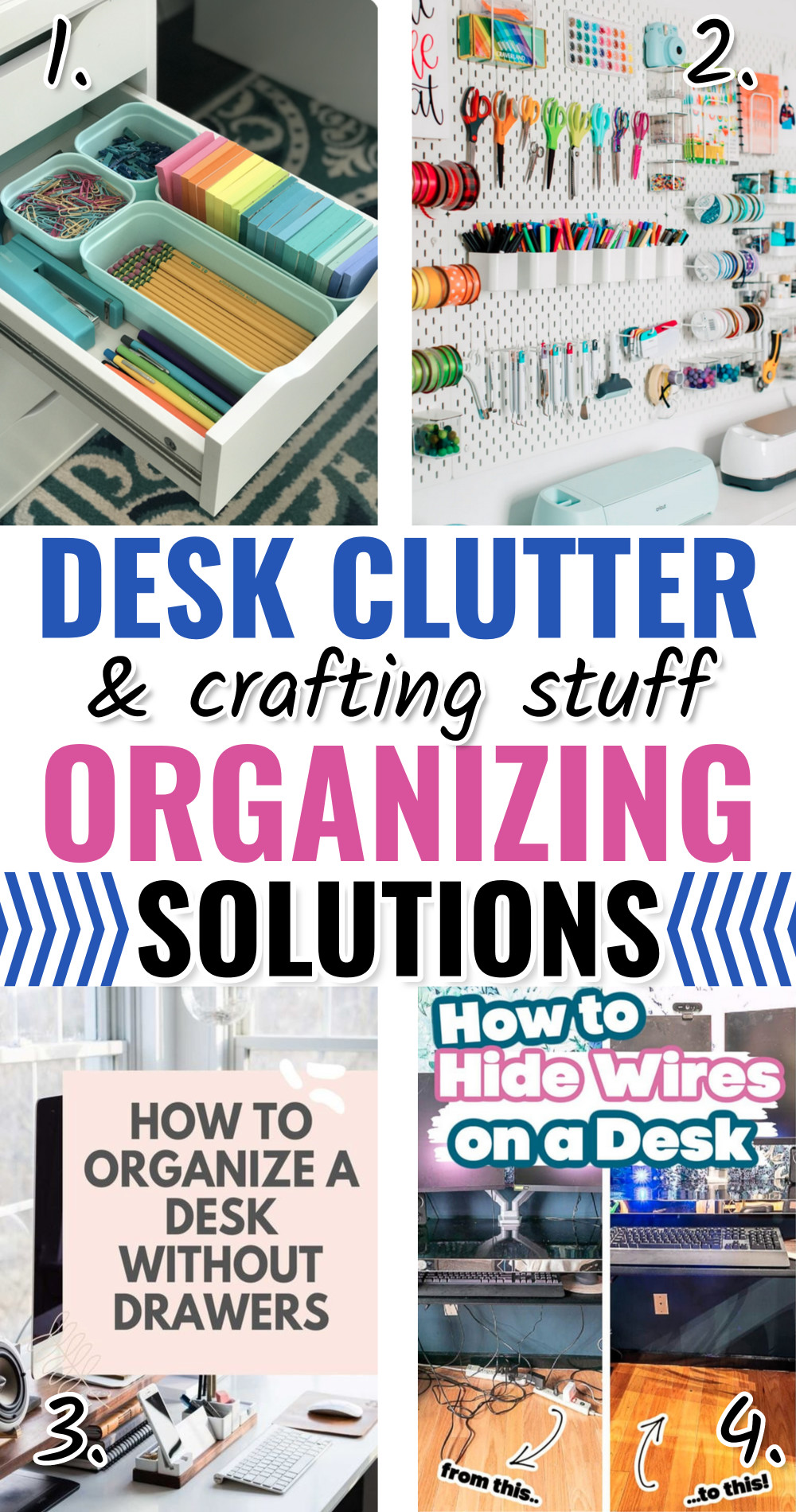 Resources in the picture above:
(1) – Teacher Desk Organization Ideas: How to Declutter and Organize Your Workspace
---
(2) – How to Set Up Your Craft Space for your Cricut Business
---
(3) – How To Organize a Desk Without Drawers
---
(4) – How To Hide Wires On A Desk
Home Office Organization Ideas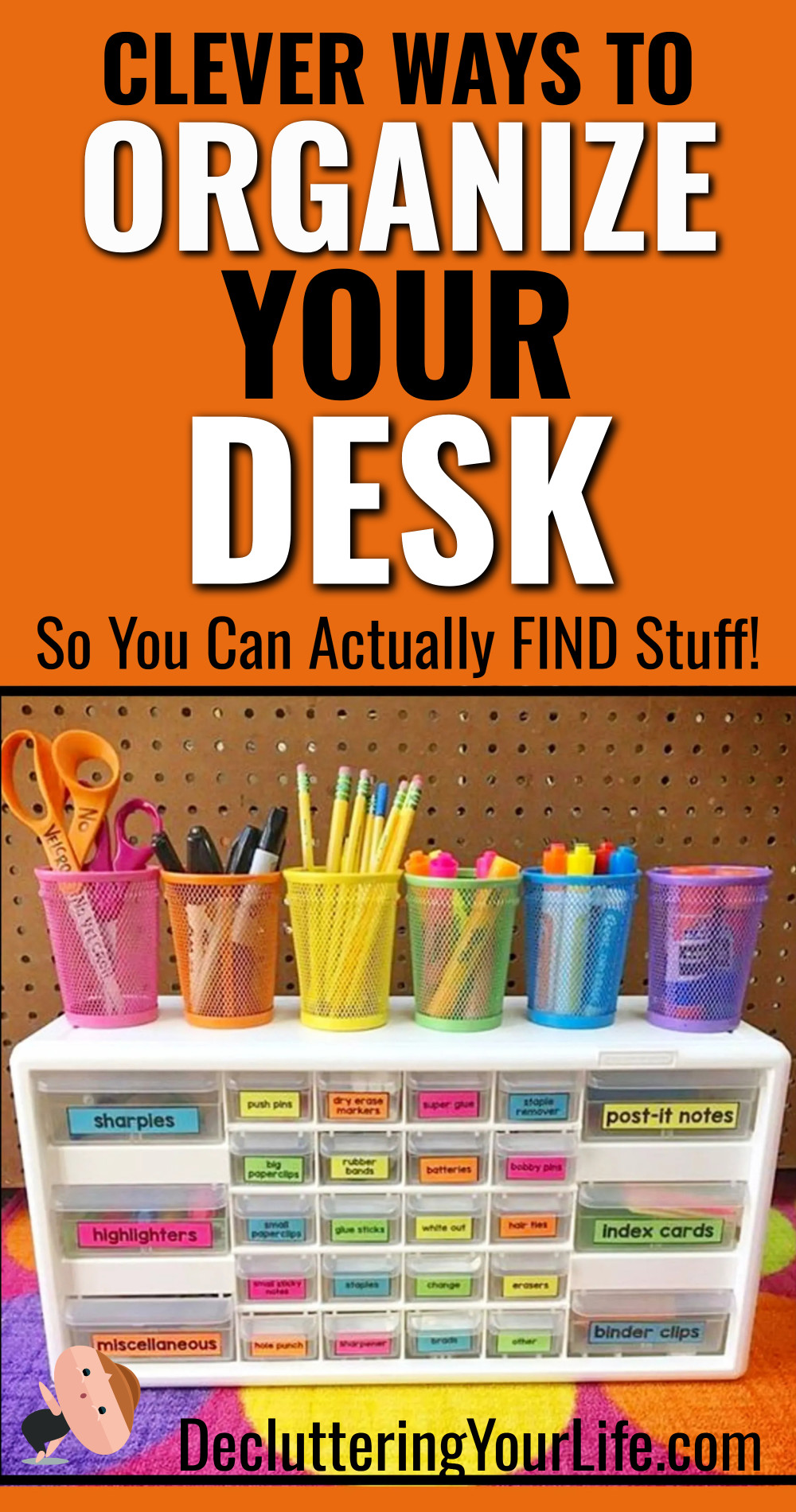 Ready to finally set up a home office? Already HAVE a home office but you want to transform it into a beautiful space?
Take a look at these home office ideas for women – they're gorgeous!
On a Budget?
We have some cheap home office ideas here.
Miss Anything?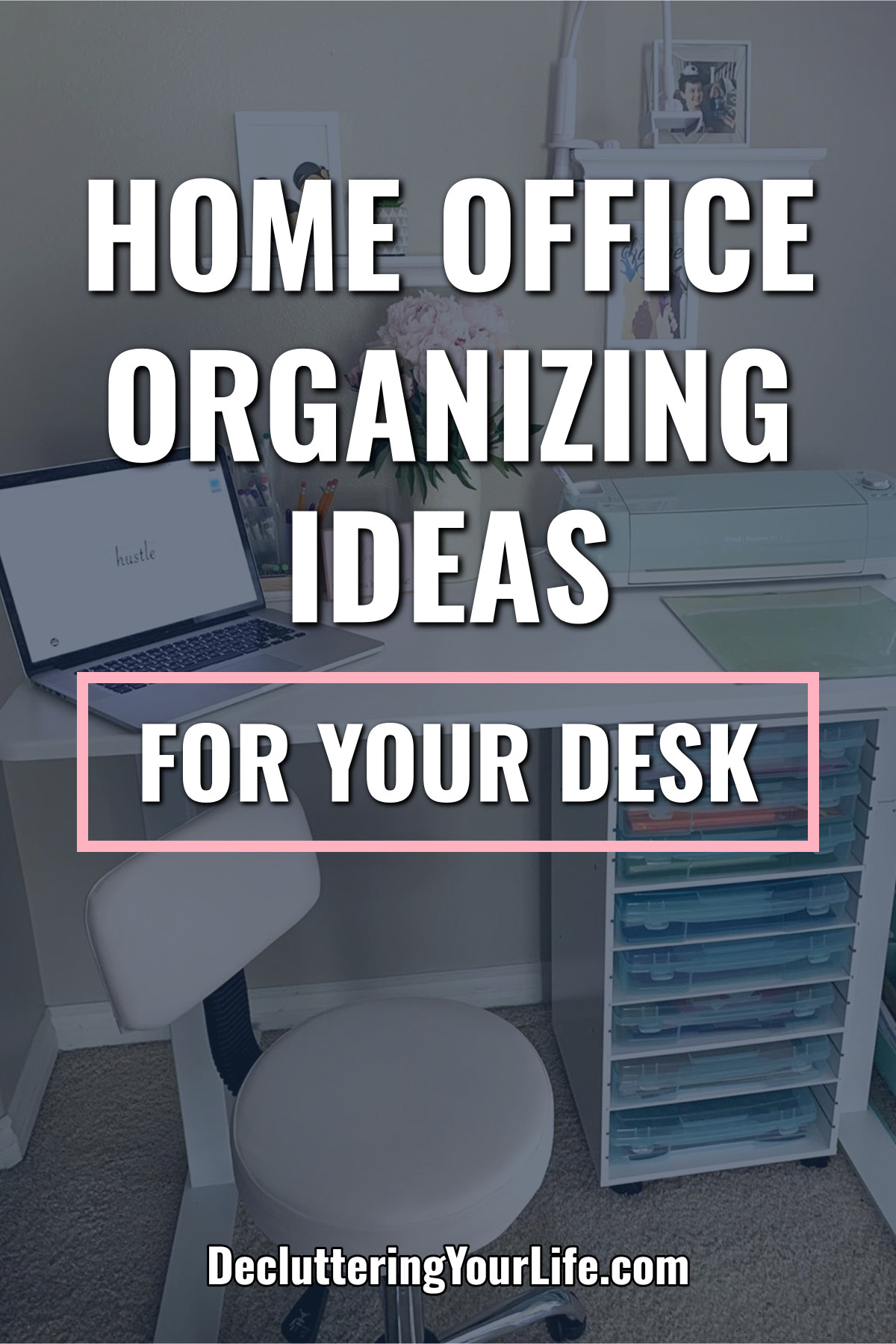 Overwhelmed?
- you're NOT alone -
How To Keep Your Home Organized With Kids, Pets, a Job...
and STILL have a LIFE.
Learn Hilary's secret here