Small Apartment Storage Ideas To Maximize Storage Space In Your Tiny Apartment (even if you're on a budget)!
50 clever hacks, pictures and space-saving ideas to create MORE space in your tiny rental whether you're getting organized this Spring or simply have GOT to organize all your STUFF.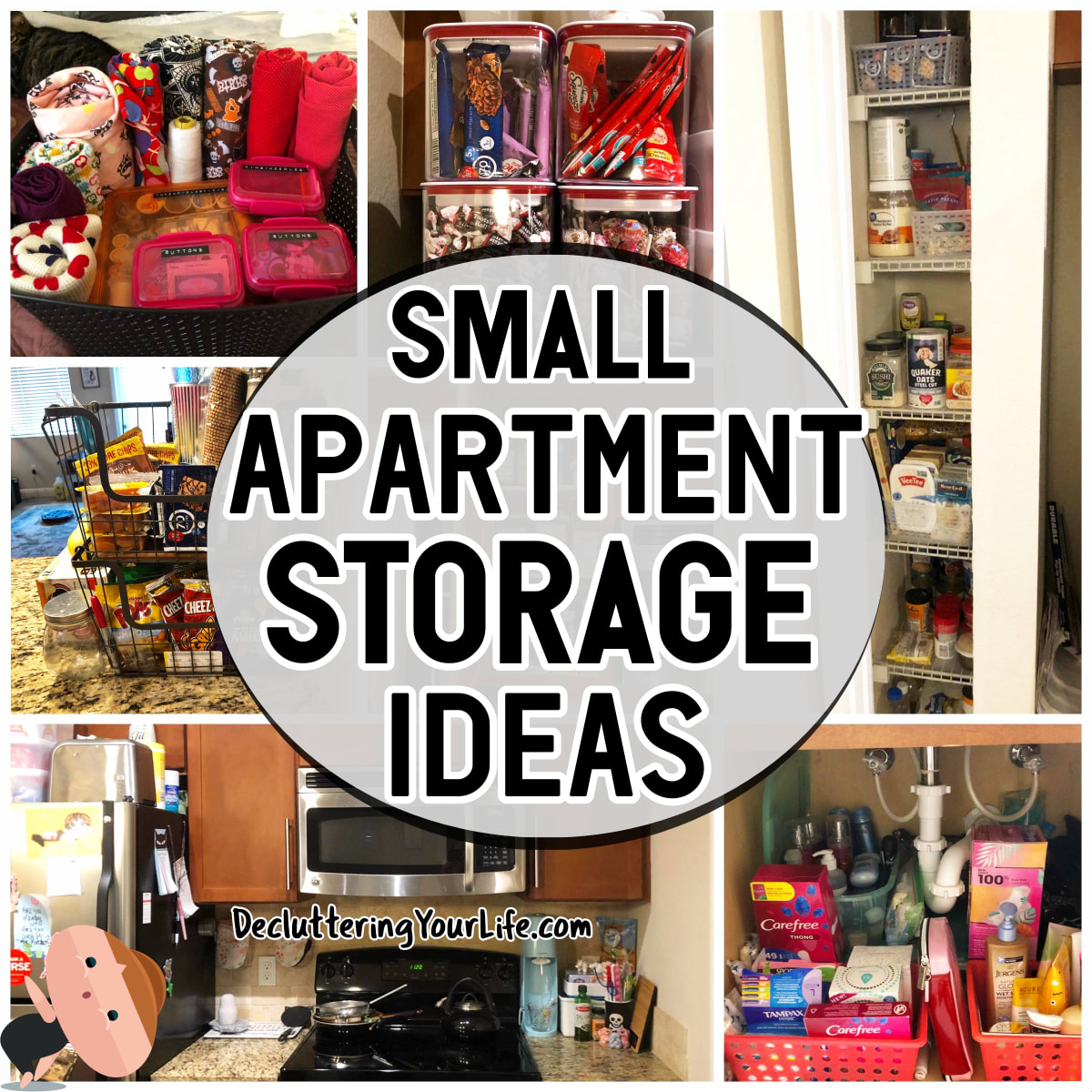 Welcome to Decluttering Your Life - we hope you enjoy our quick decluttering tips, organization ideas and simple DIY solutions for your home - posts may contain ads & affiliate links - that's how we keep the lights on =)
---
---
---
Is your tiny studio apartment or small rental house a cluttered mess with boxes or piles of stuff that you just don't have room to store?
It can be very challenging to live in a small space you rent when you simply have TOO MUCH STUFF – but I've got some really creative ideas for you to try.
If you feel stuck, defeated and overwhelmed wondering what to DO with all your stuff in a small apartment, keep on scrolling.
Simple (and CHEAP) storage hacks (like in the picture below) can create more storage space to help you organize your tiny rental.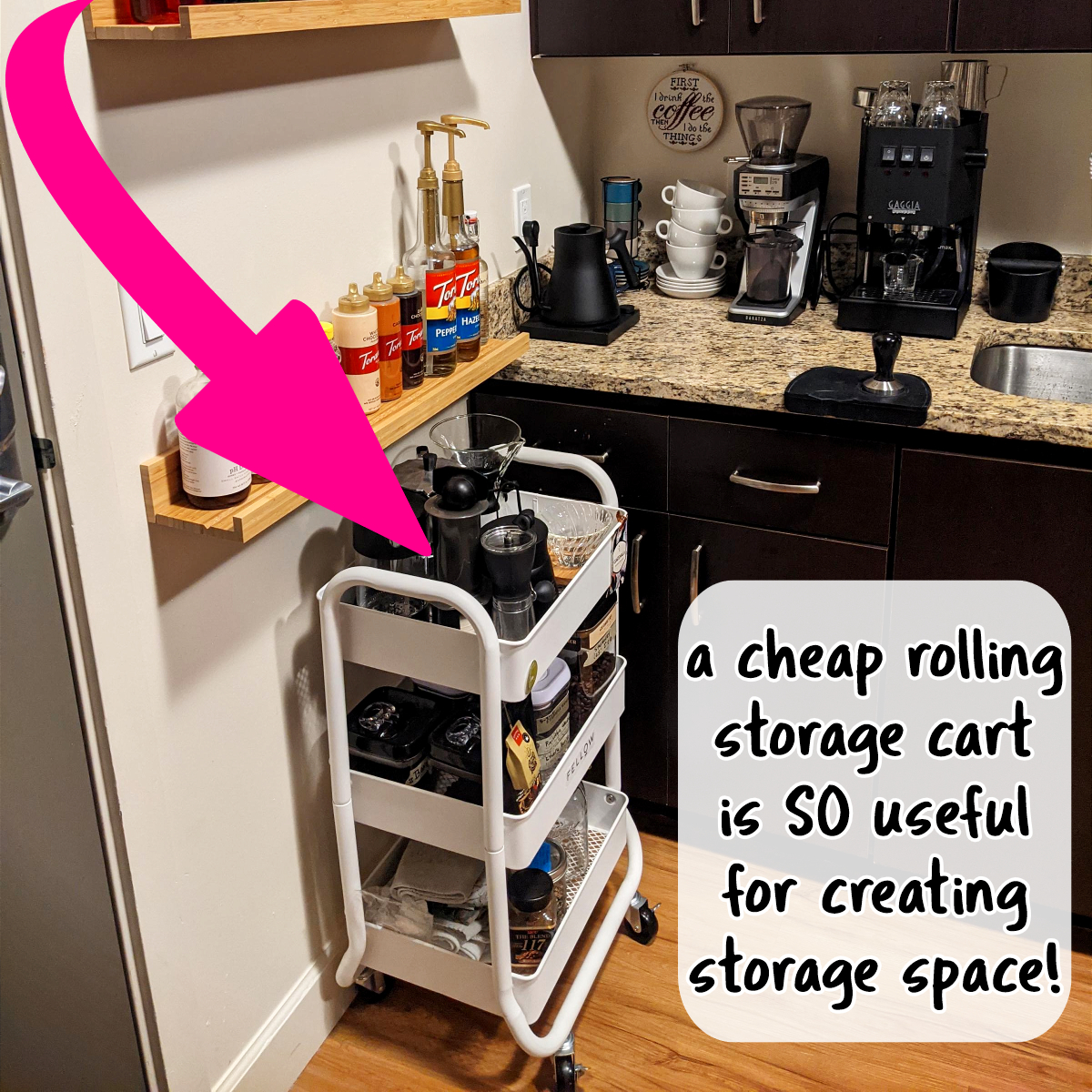 The storage cart in the picture is THE best storage solution for ANY small space – EVER!
It's so functional and versatile – I have them in my bathroom, my pantry, my home office, my kitchen…. everywhere!
Truly a WONDERFUL purchase when you're trying to get organized on a budget!
I'll show you many more ways to organize with that storage cart in the slideshow of pictures below – so keep scrolling so you see ALL the clever storage ideas
 Meet your new Best Friend – The AMAZING rolling storage cartShow Me This These hanging organizers made such a difference in my small condoShow Me This
Small apartments have specific storage issues (hint: there ISN'T any STORAGE) – and if you just downsized, you might be shocked at how little storage space you now have.
Here's the GOOD news…
I've got 50 simply genius solutions for you that WILL help your storage situation.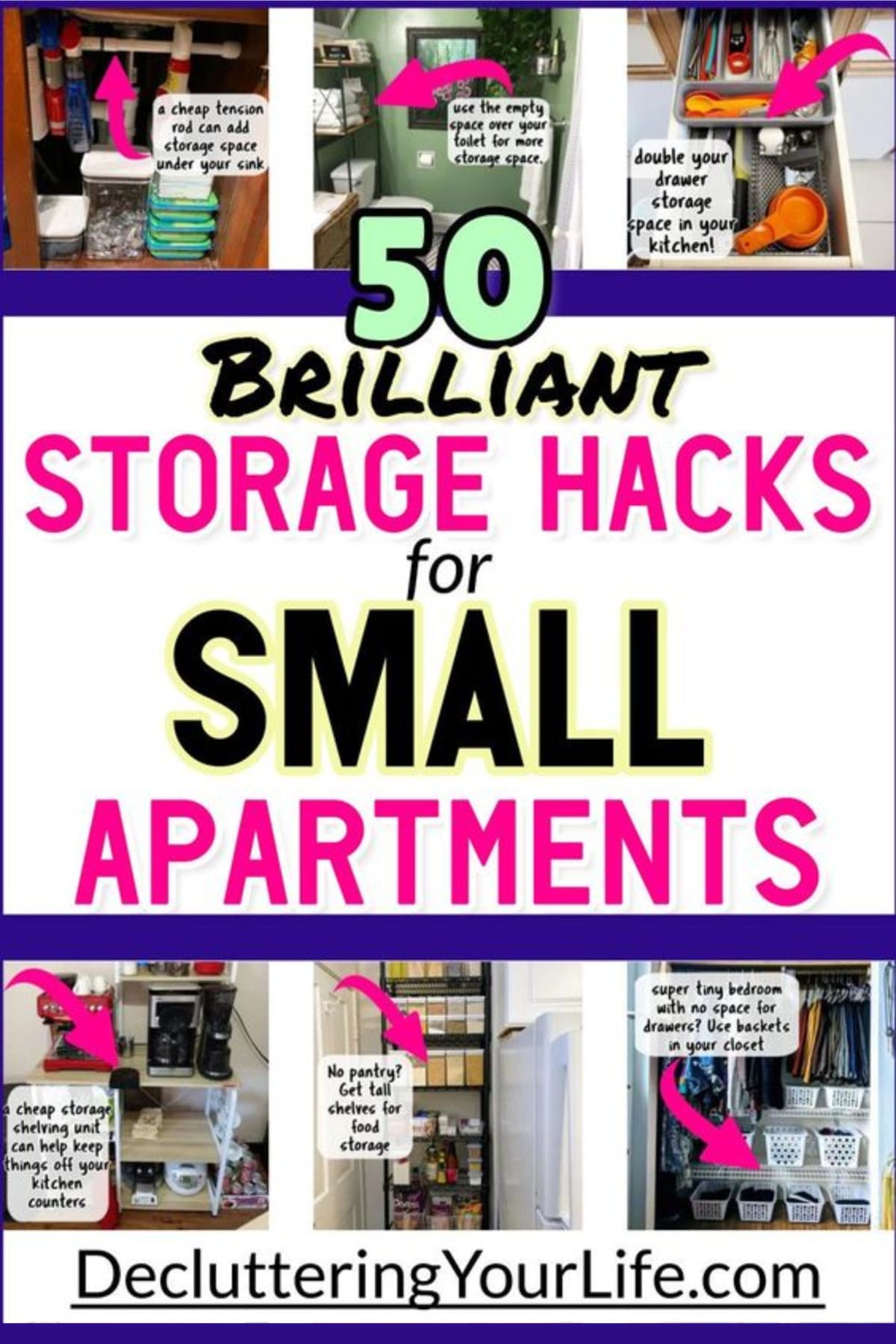 ✅  Do any of these apply to YOU?
(clicking the link will take you to SOLUTIONS for your situation)
– I do NOT have a linen closet
– My apartment has NO storage space!
Let's take a look at a LOT more clever storage ideas to organize your small rental on a budget even if you're living in a teeny, tiny studio apartment.
Apartment Storage Hacks
If might FEEL impossible, but you CAN create more storage space in your small apartment or tiny rental house – and it can be neat, organized and clutter free as well!
Just LOOK at this aesthetic apartment storage solution: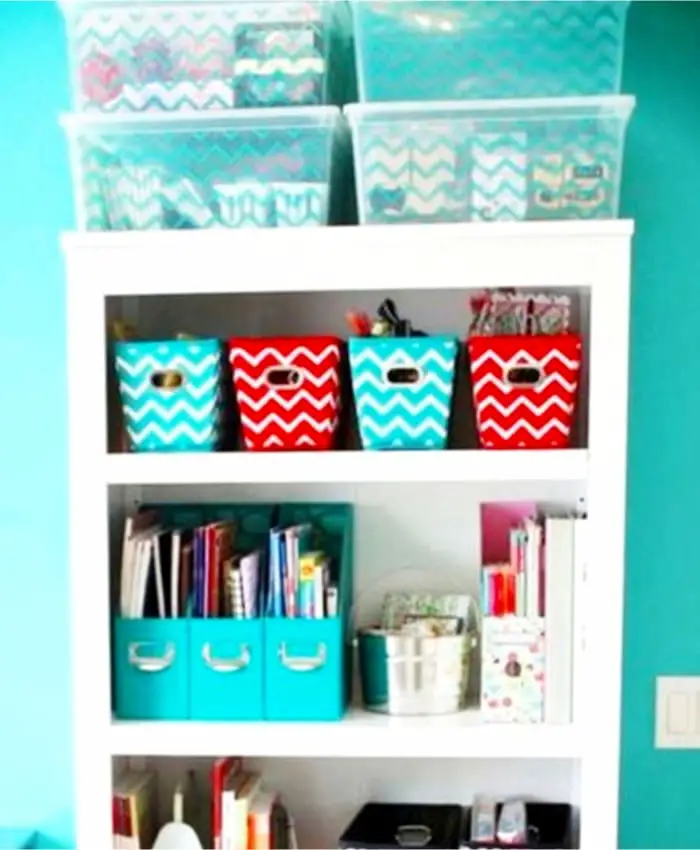 Tons more storage space created AND it's a beautiful addition to that tiny room.
The first step should be to declutter the stuff you do NOT need. If you find yourself in a situation where you simply have too MUCH stuff in your tiny space, you're gonna have to get rid of some if it.
You absolutely need to declutter and organize BEFORE you even know how much storage space you really have!
Once you have purged your stuff down into your apartment must haves, let's look at really clever storage SOLUTIONS you can create in your small apartment to maximize your available storage space.
Take a look at all the pictures below!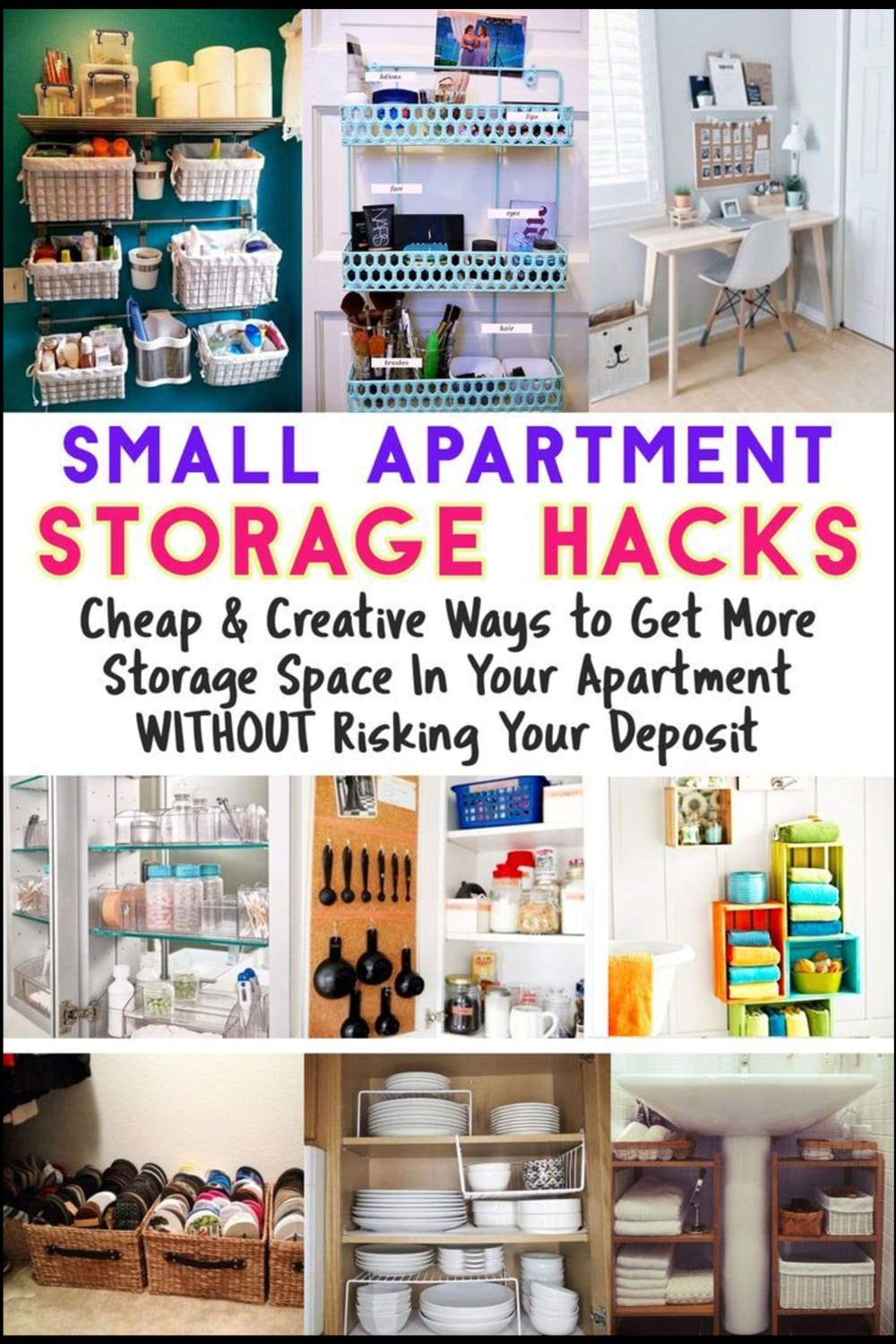 Are you a "packrat"?
☑ Read:
✅  Pictures
50 Clever Ways To Organize a Small Apartment – this slideshow of small apartment storage ideas is sure to give you some great ideas for maximizing space in a small apartment or rental.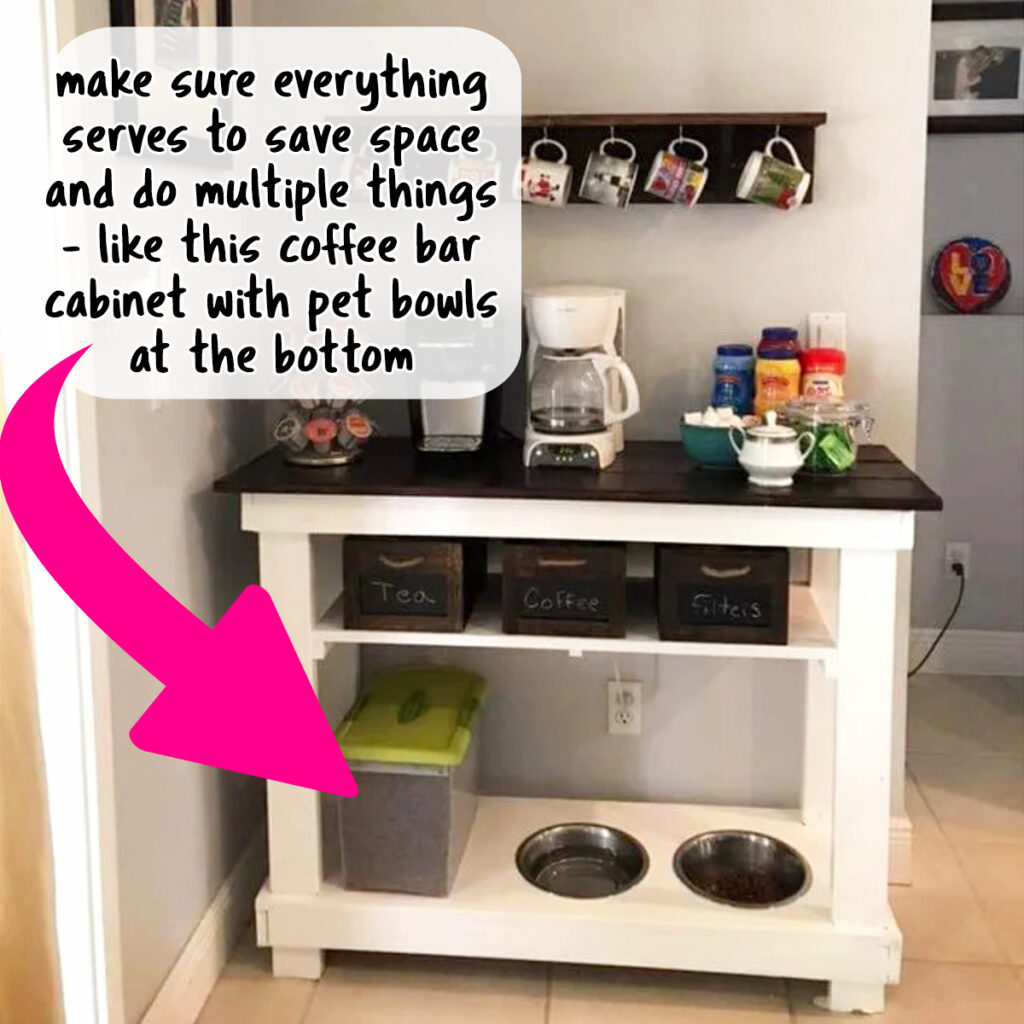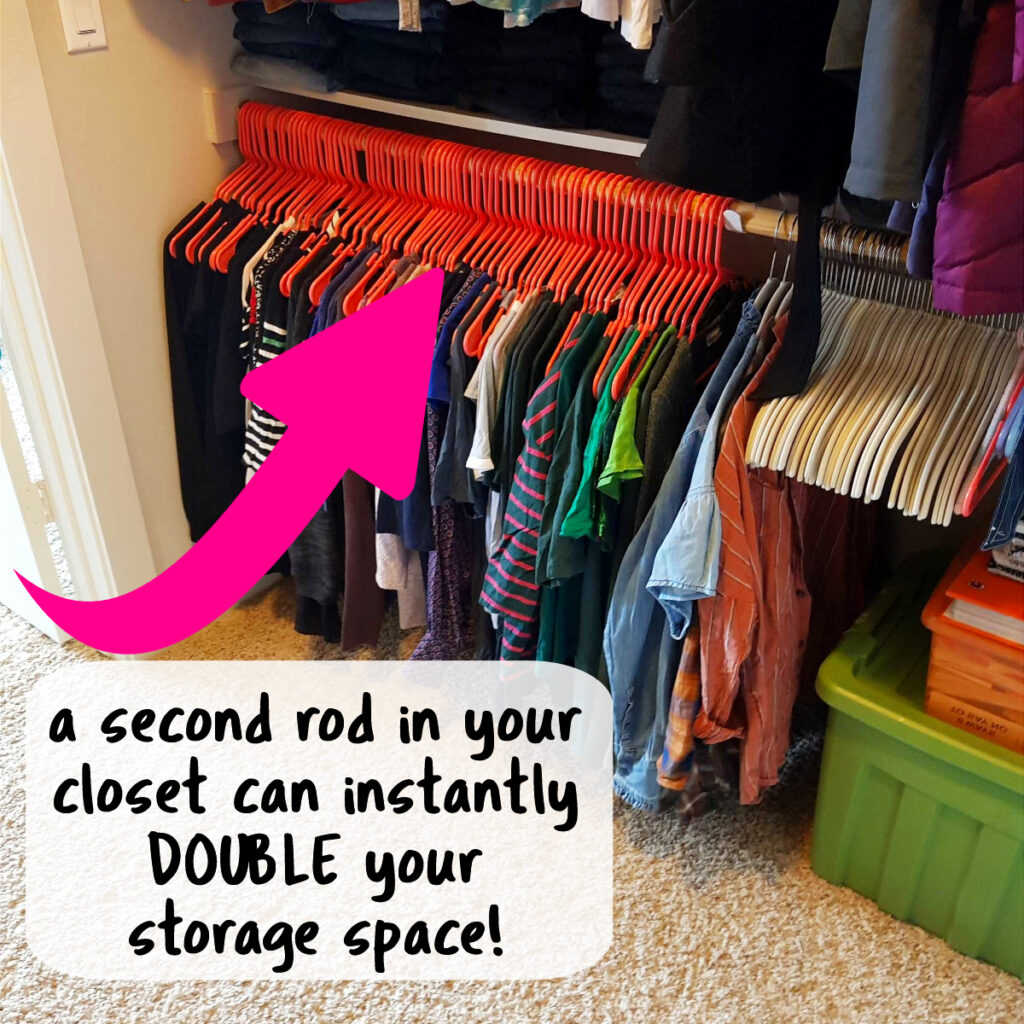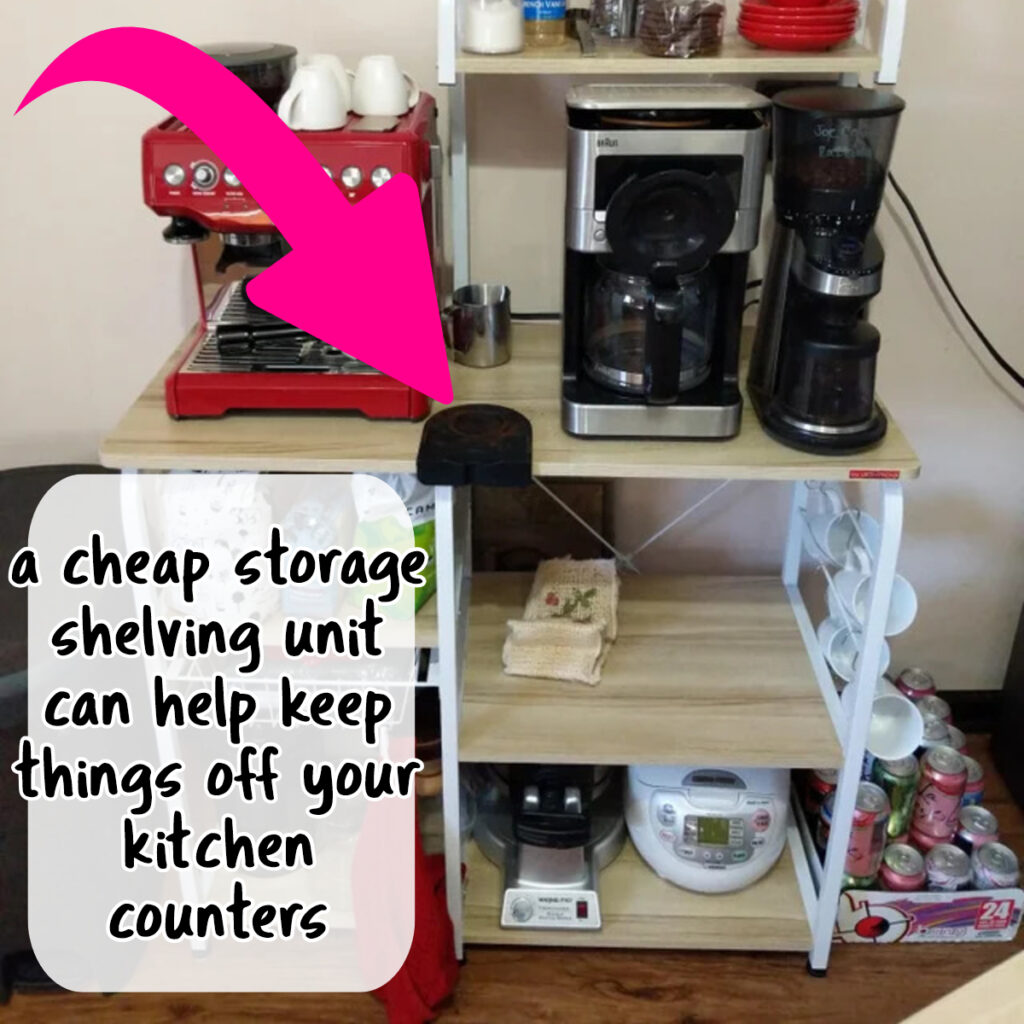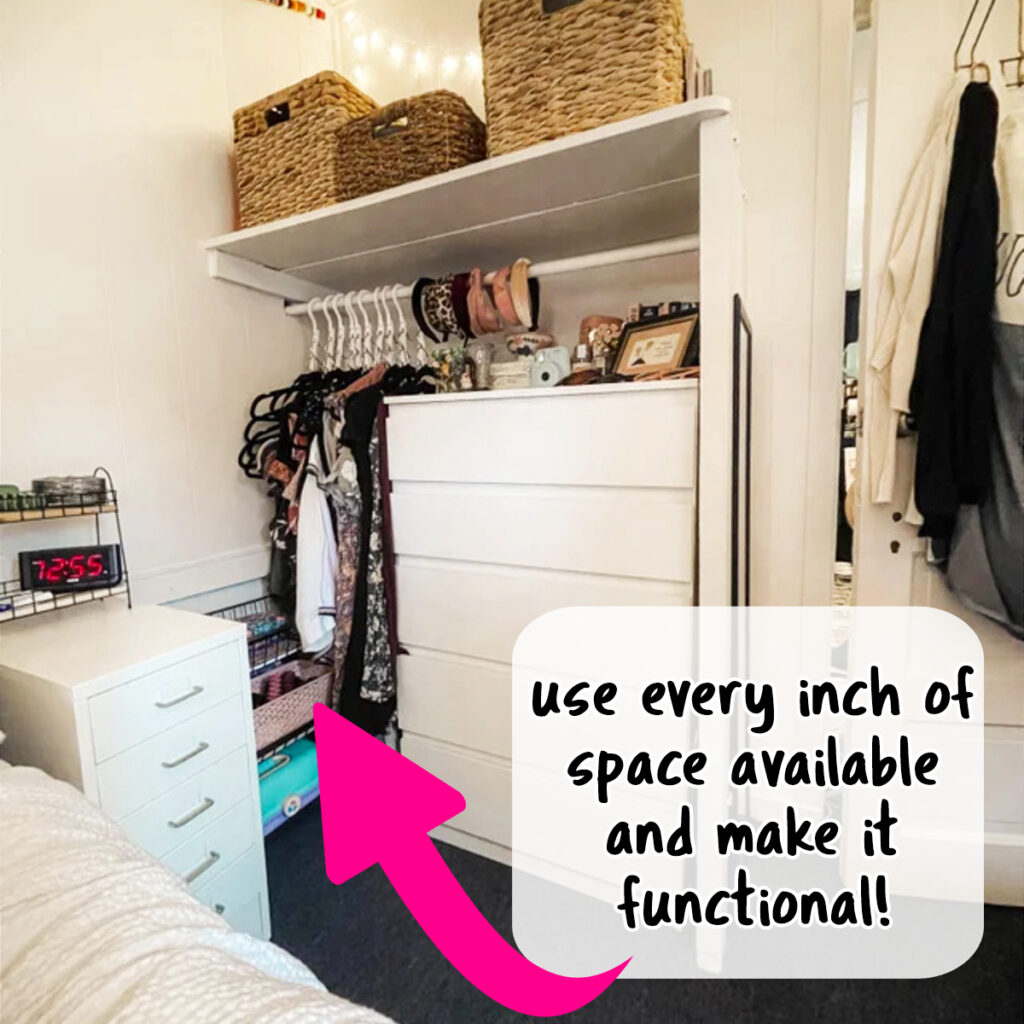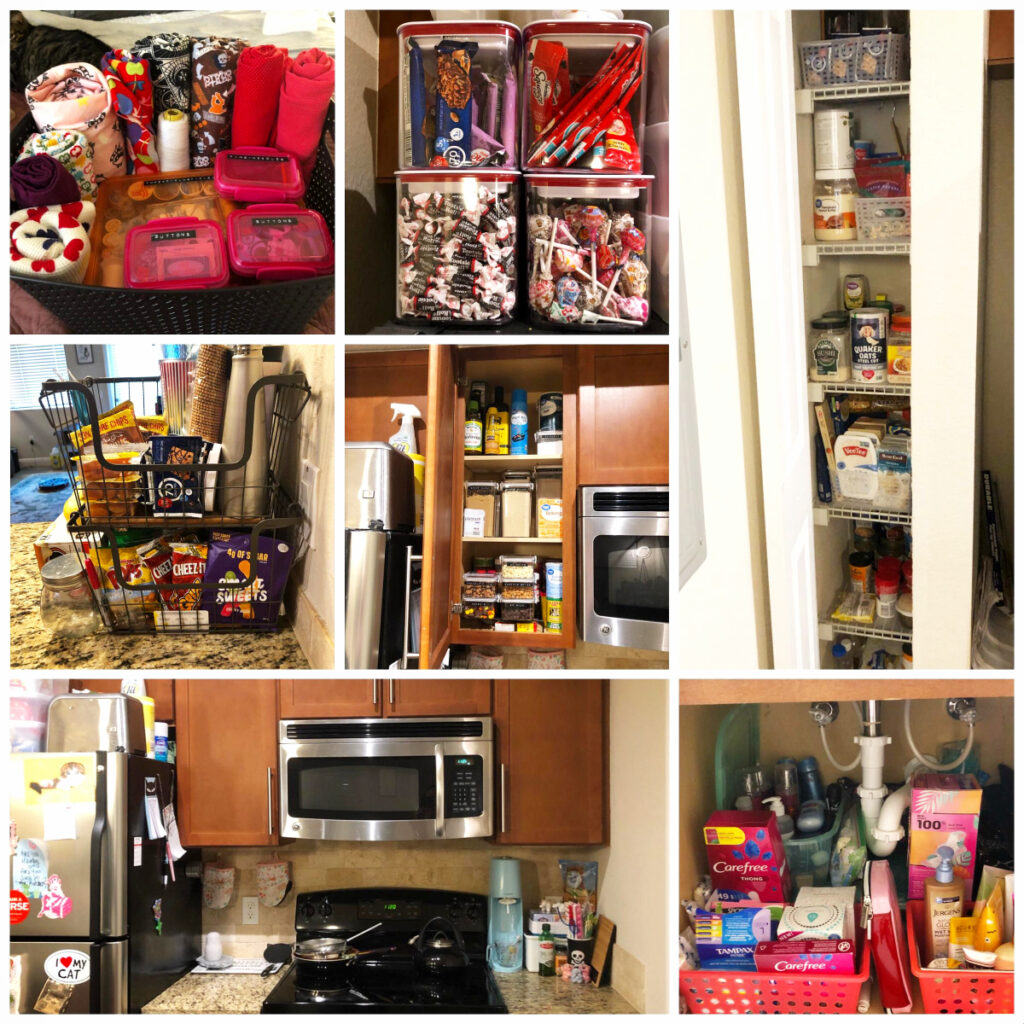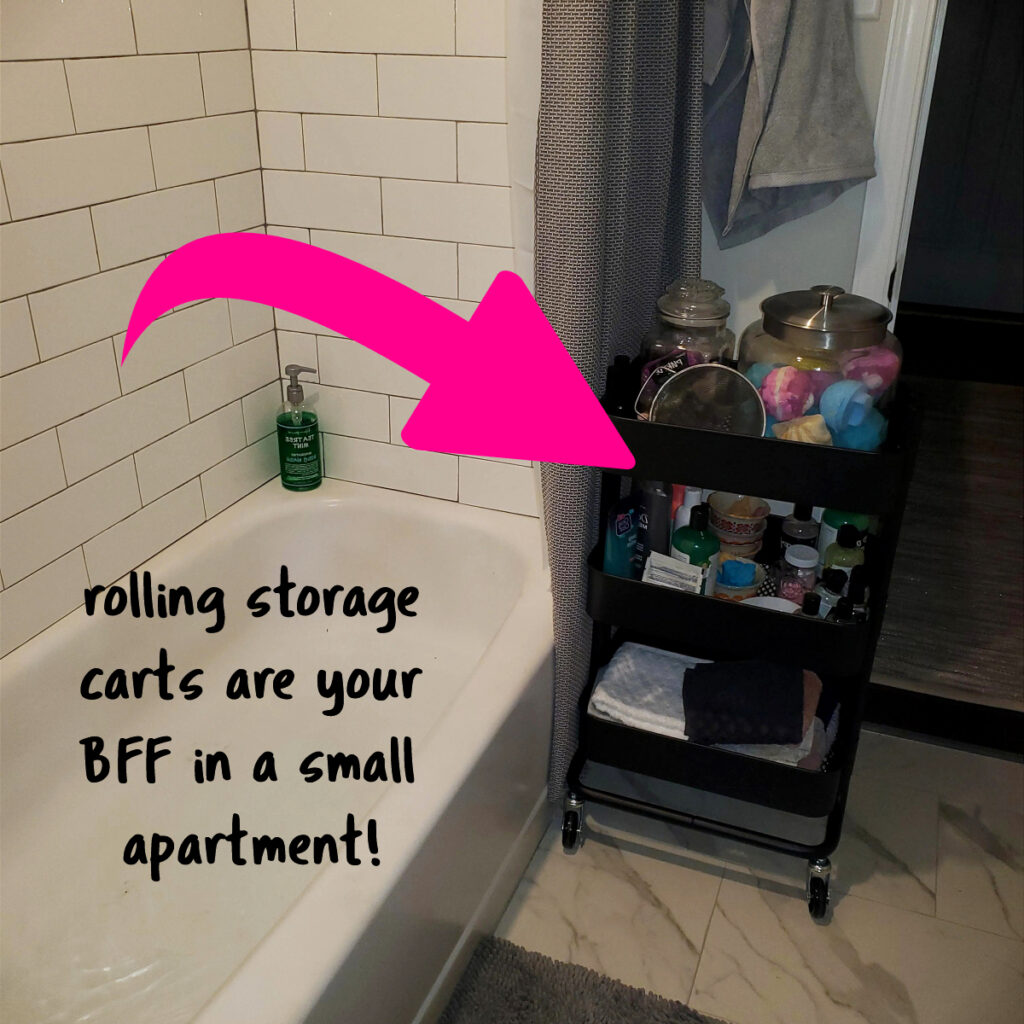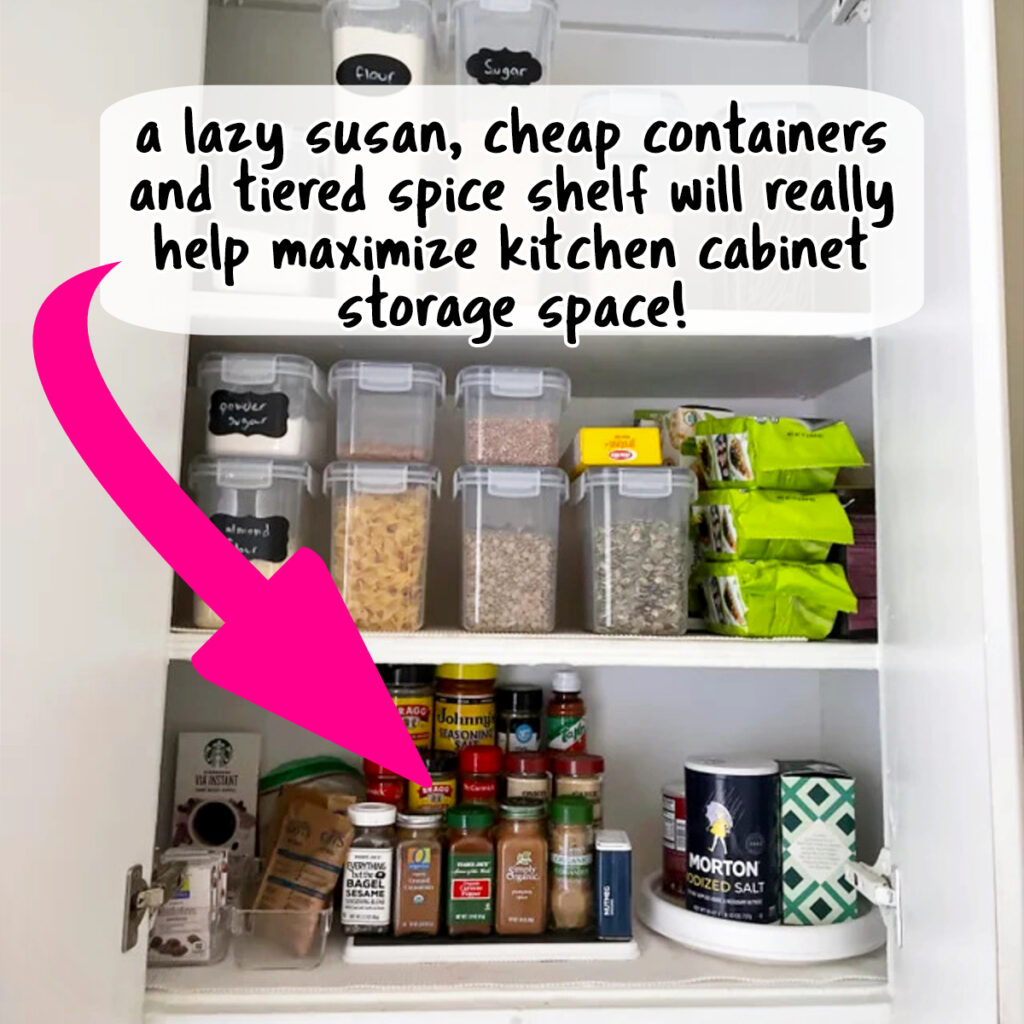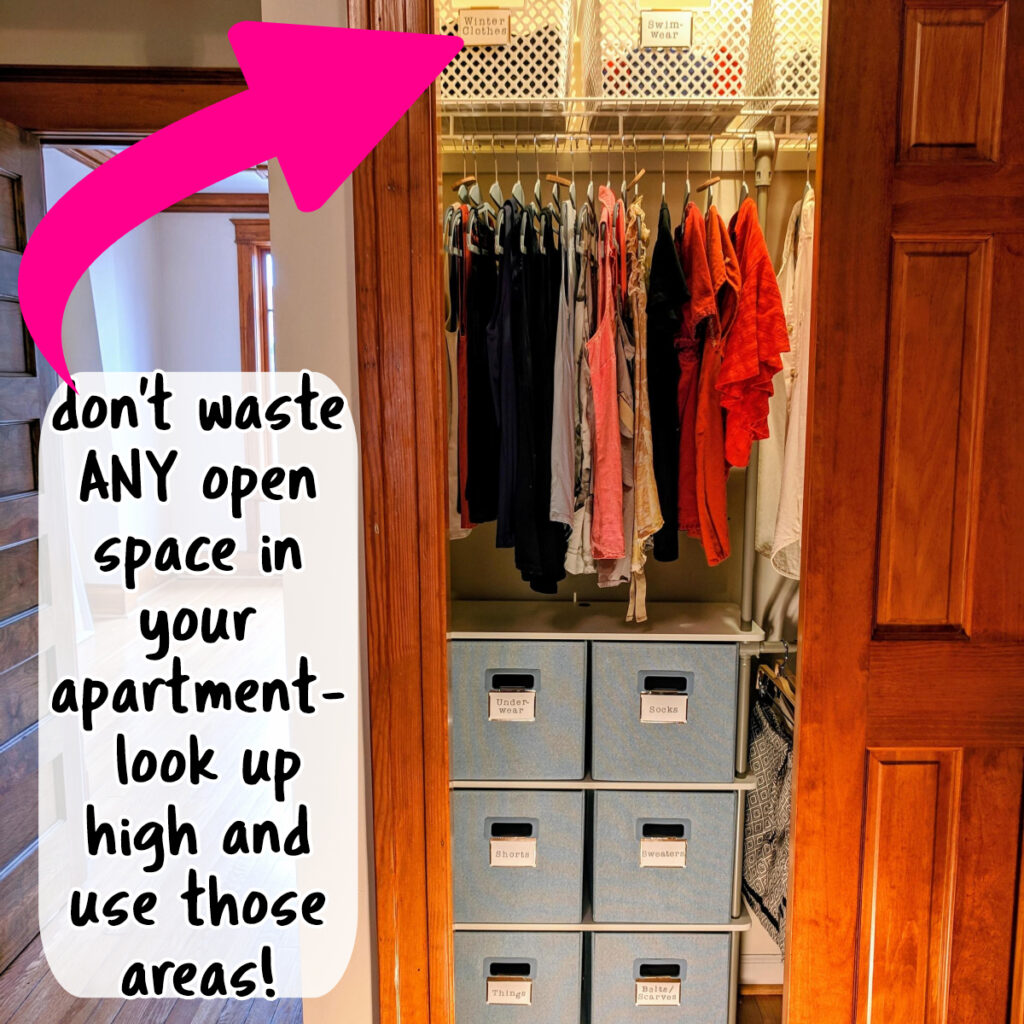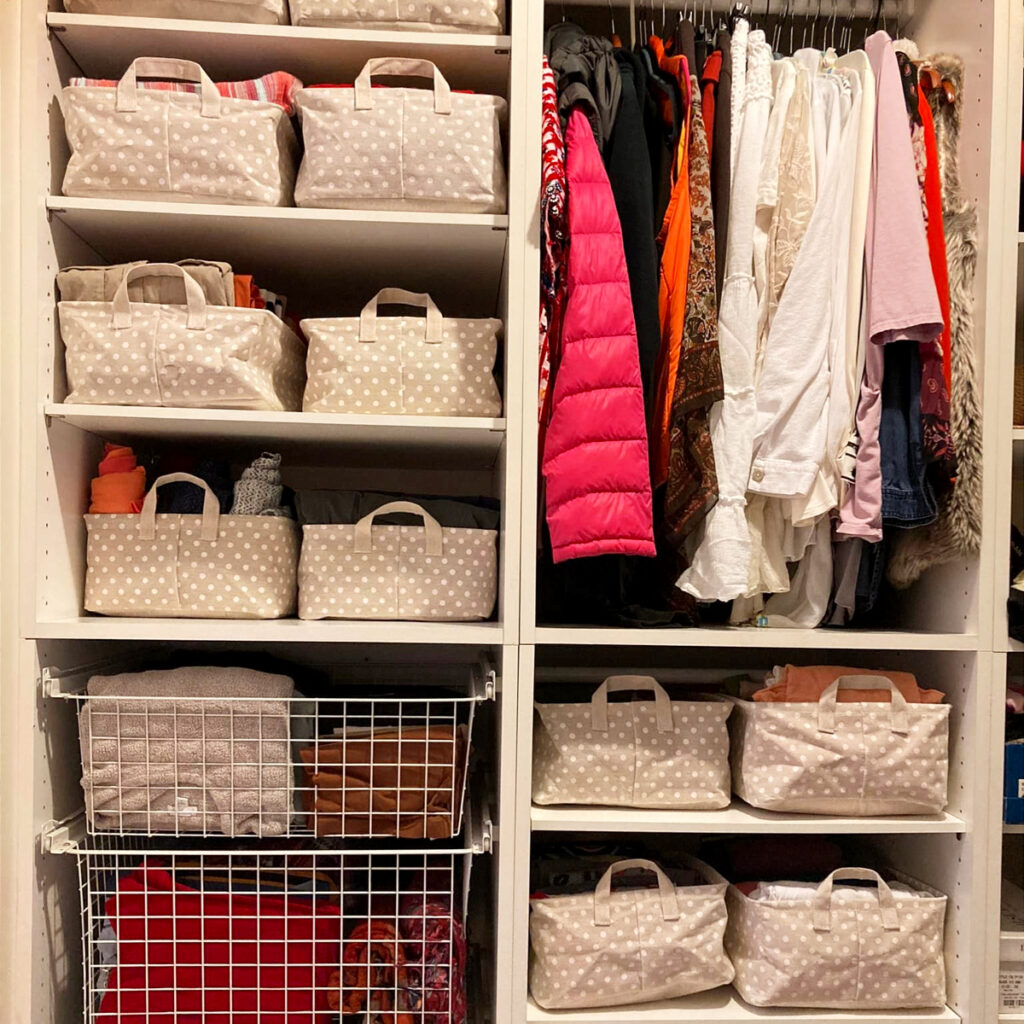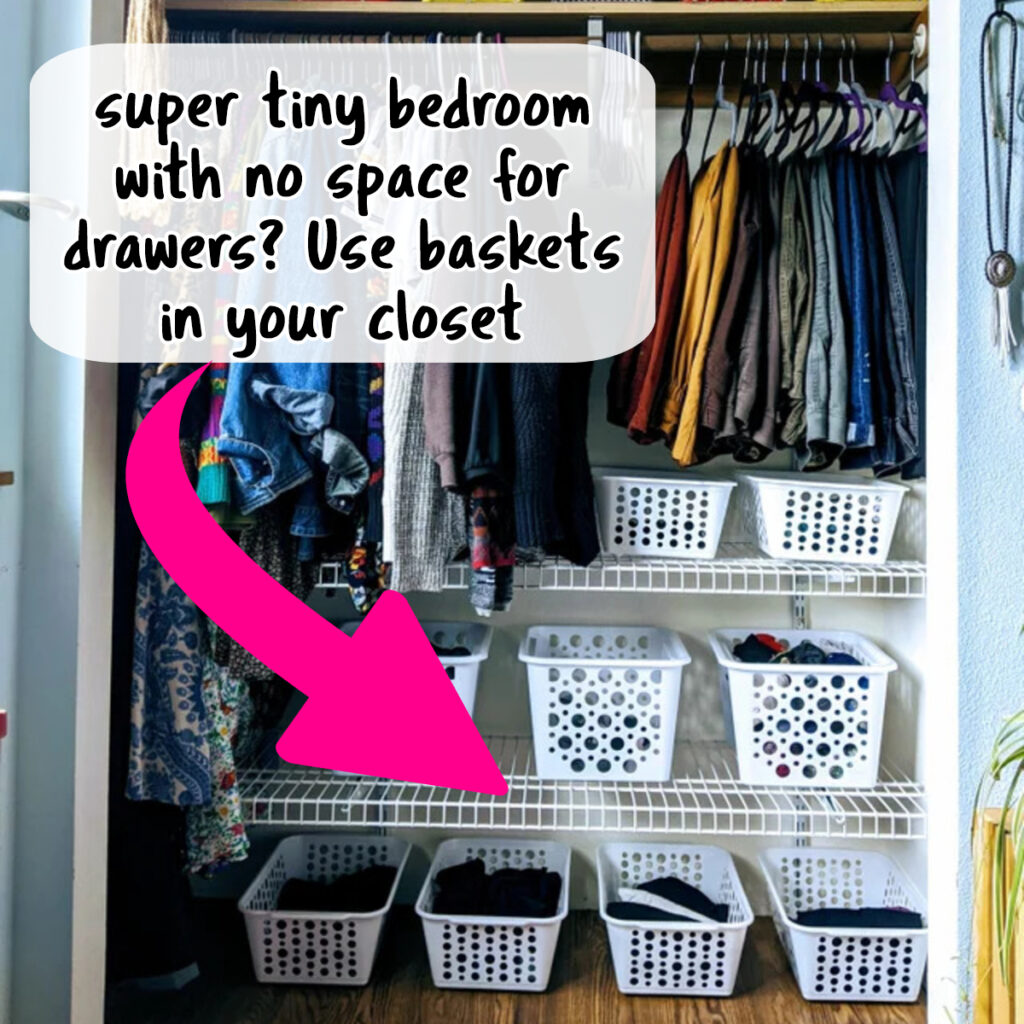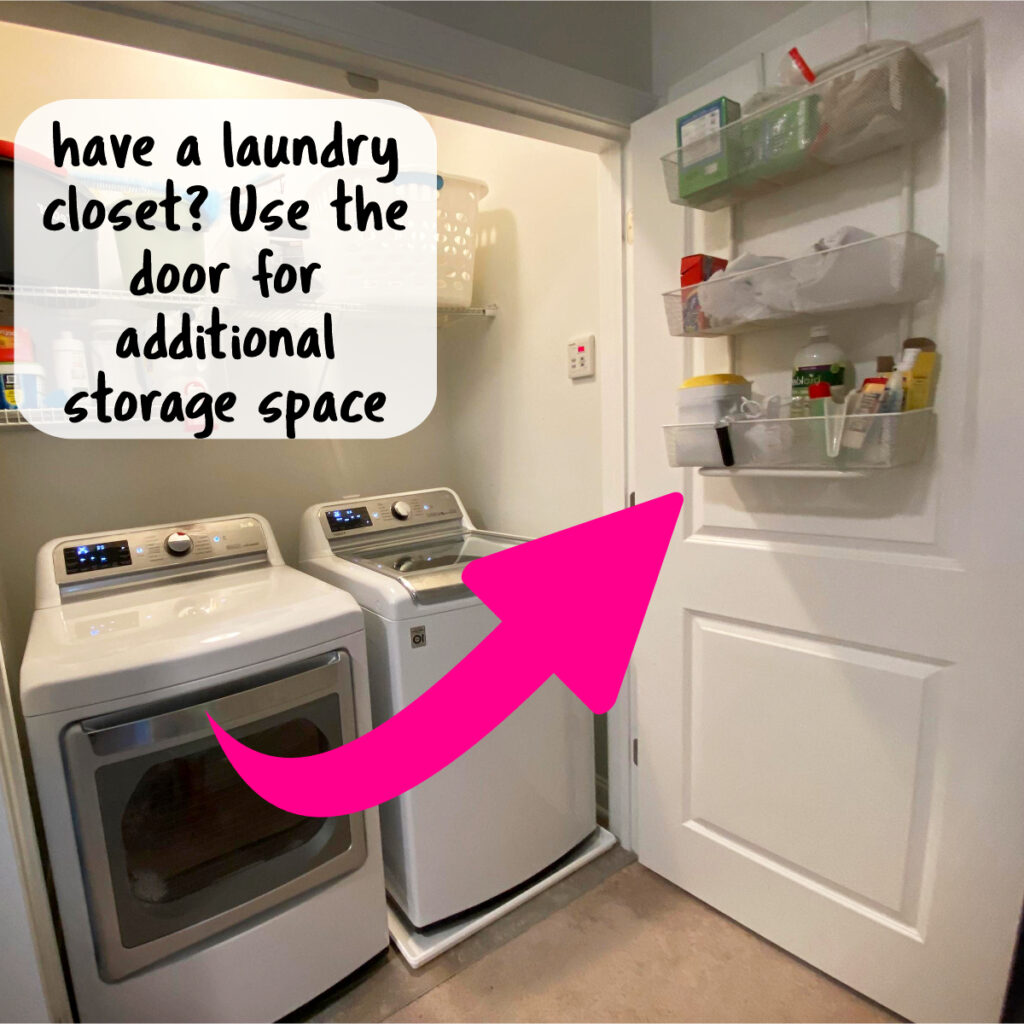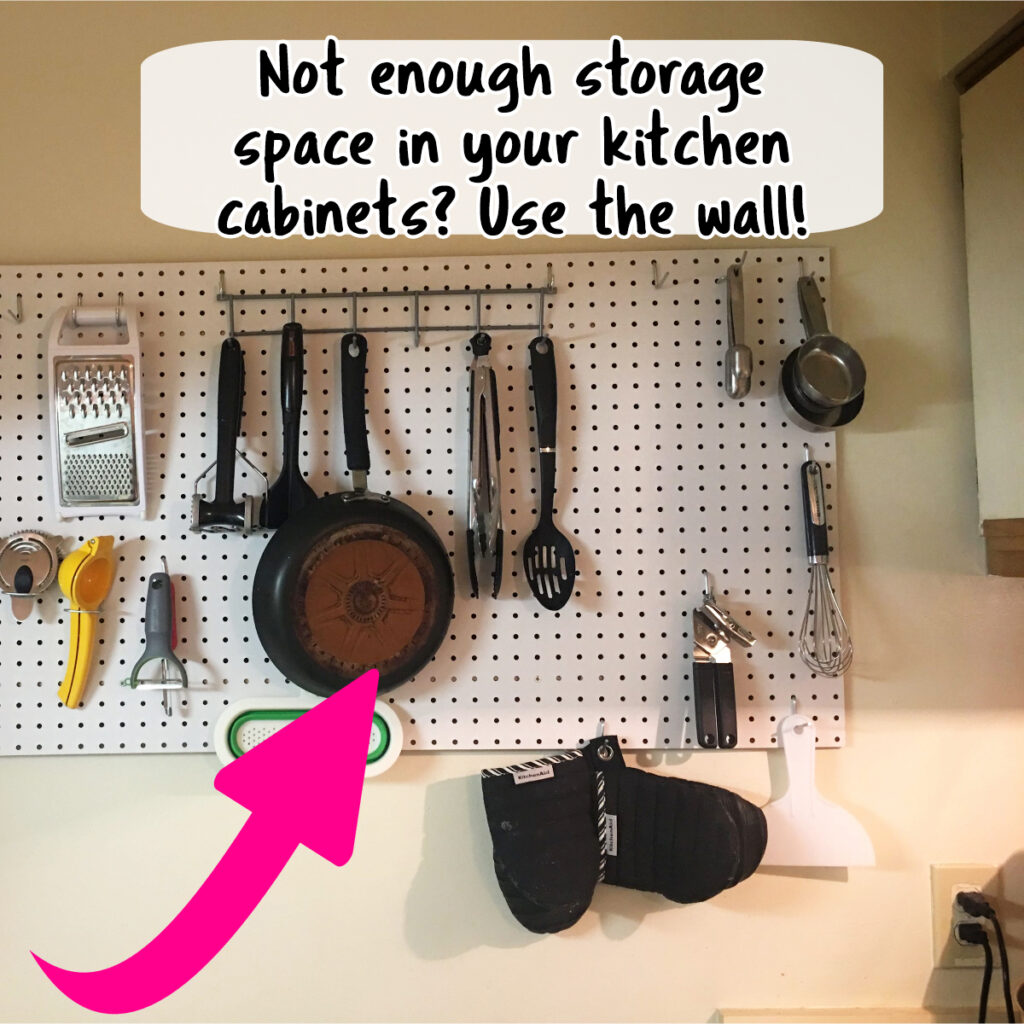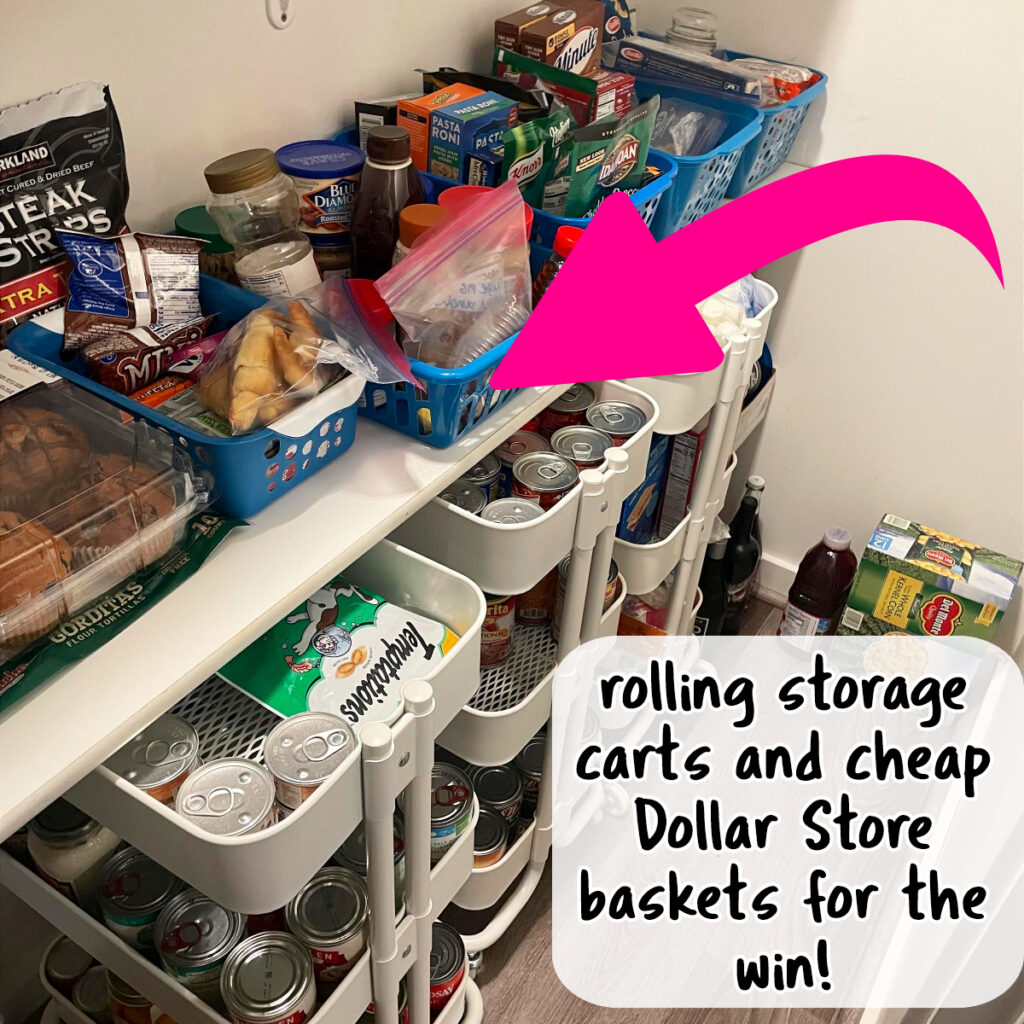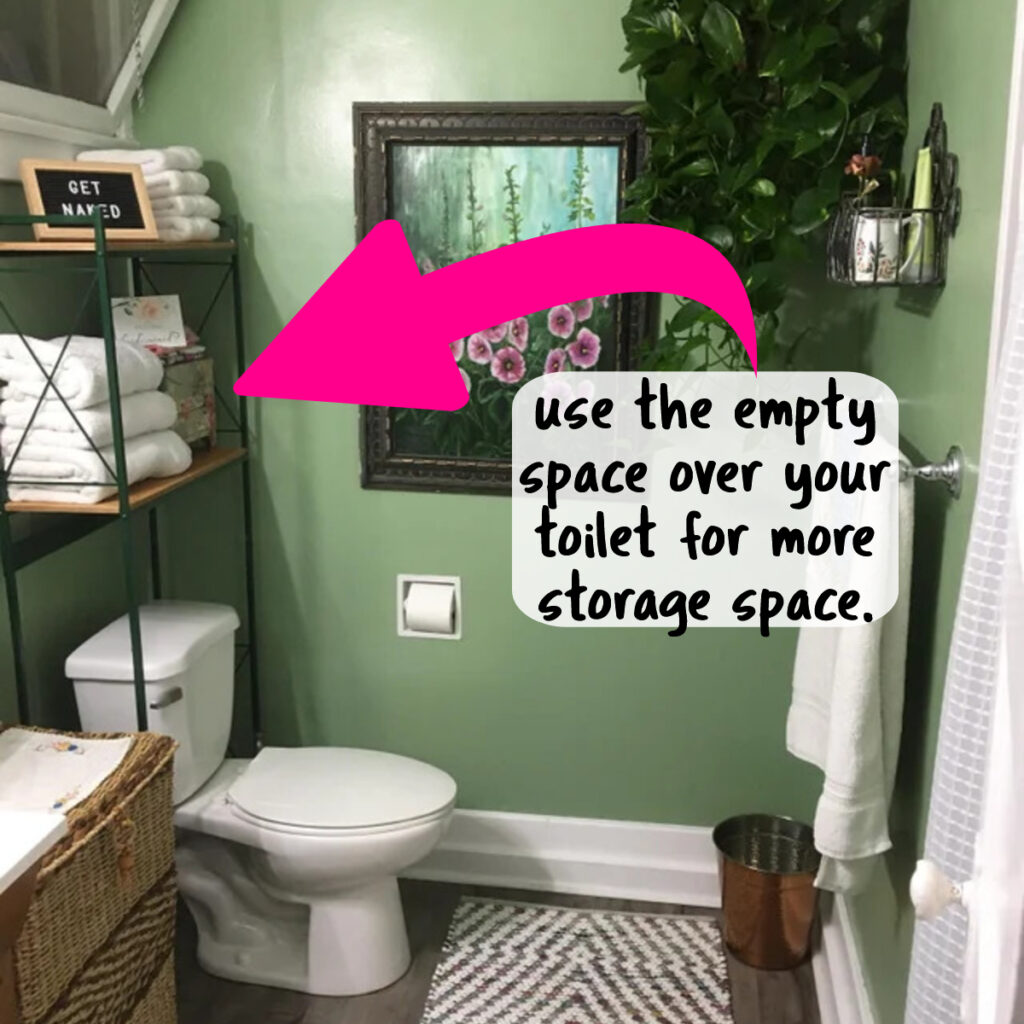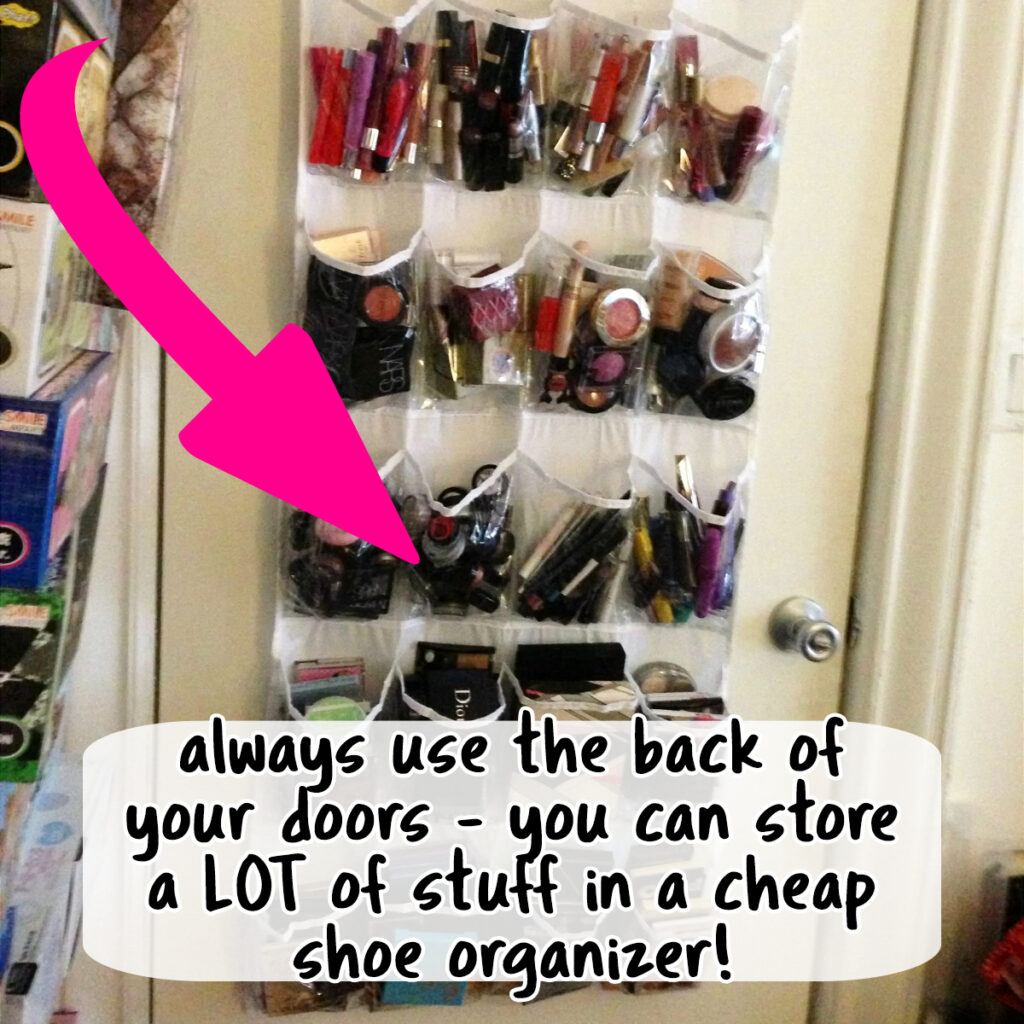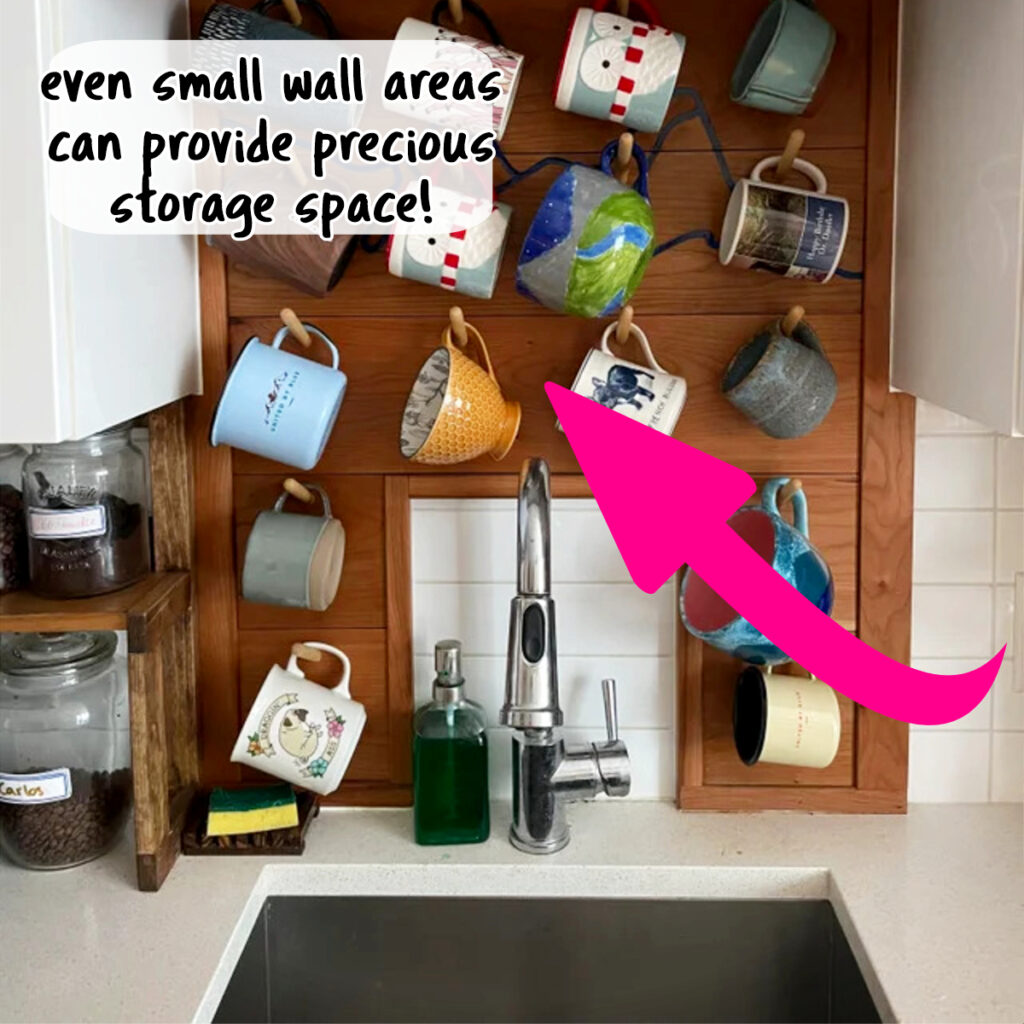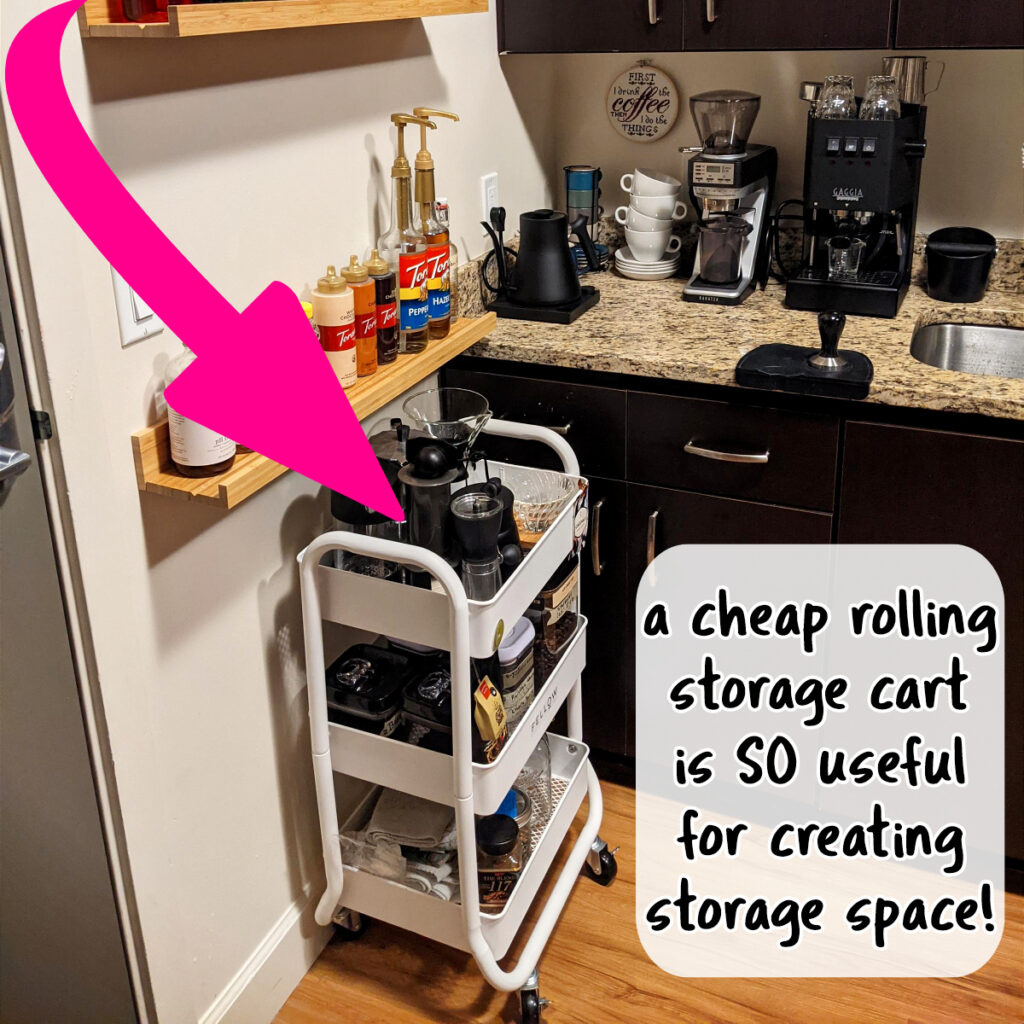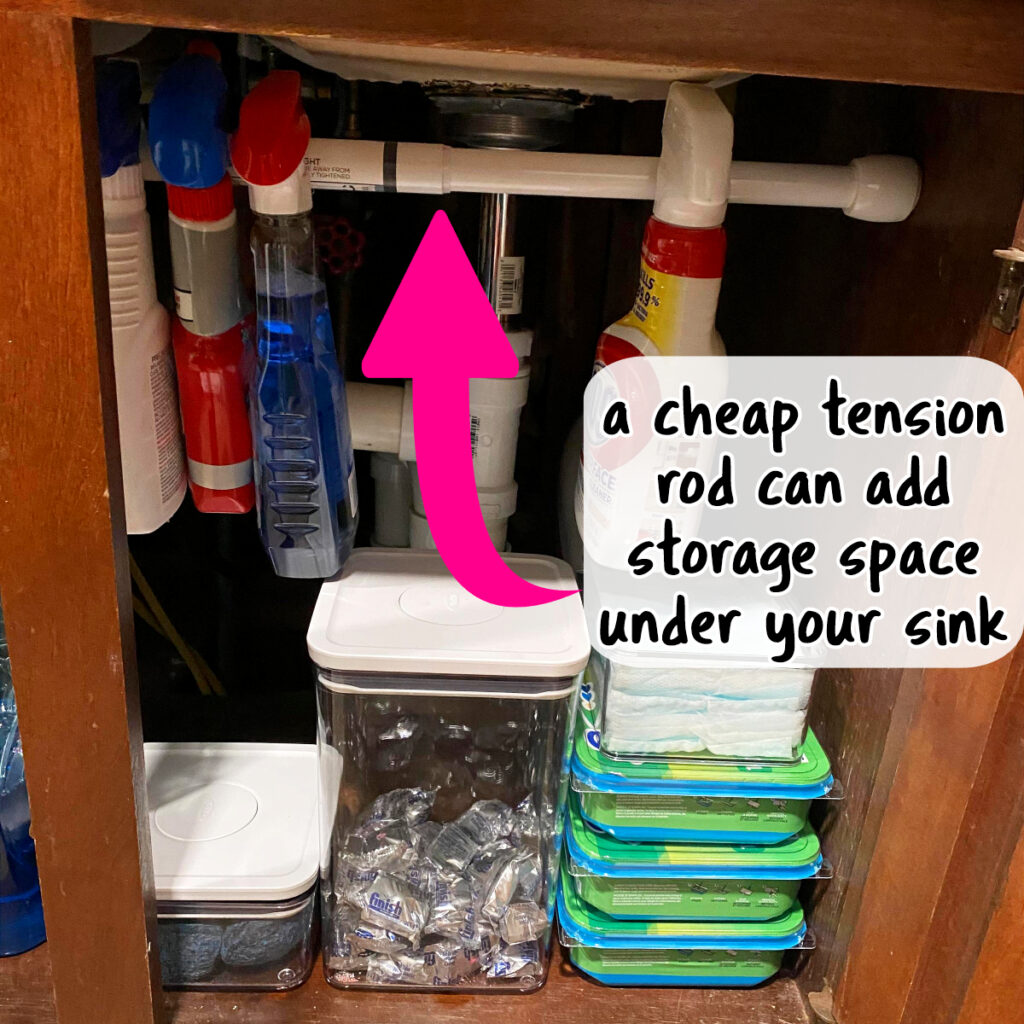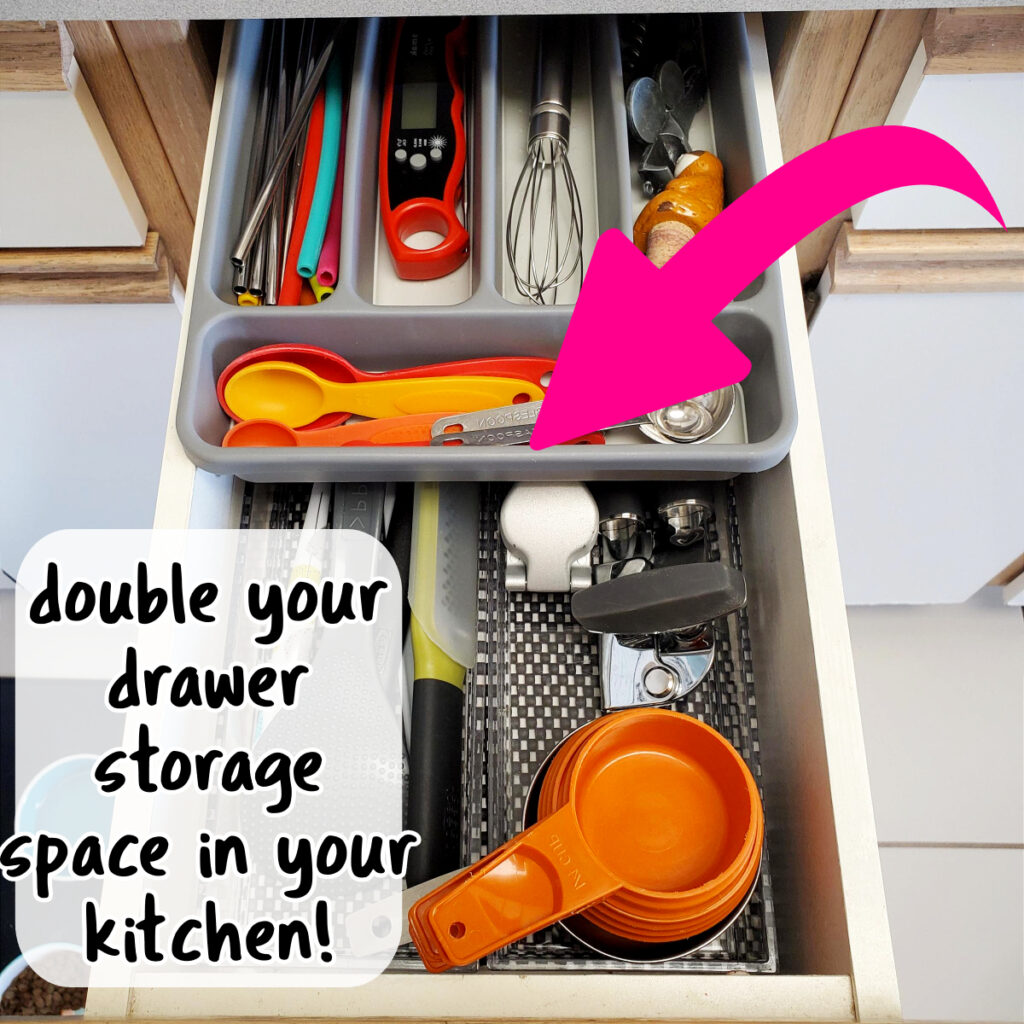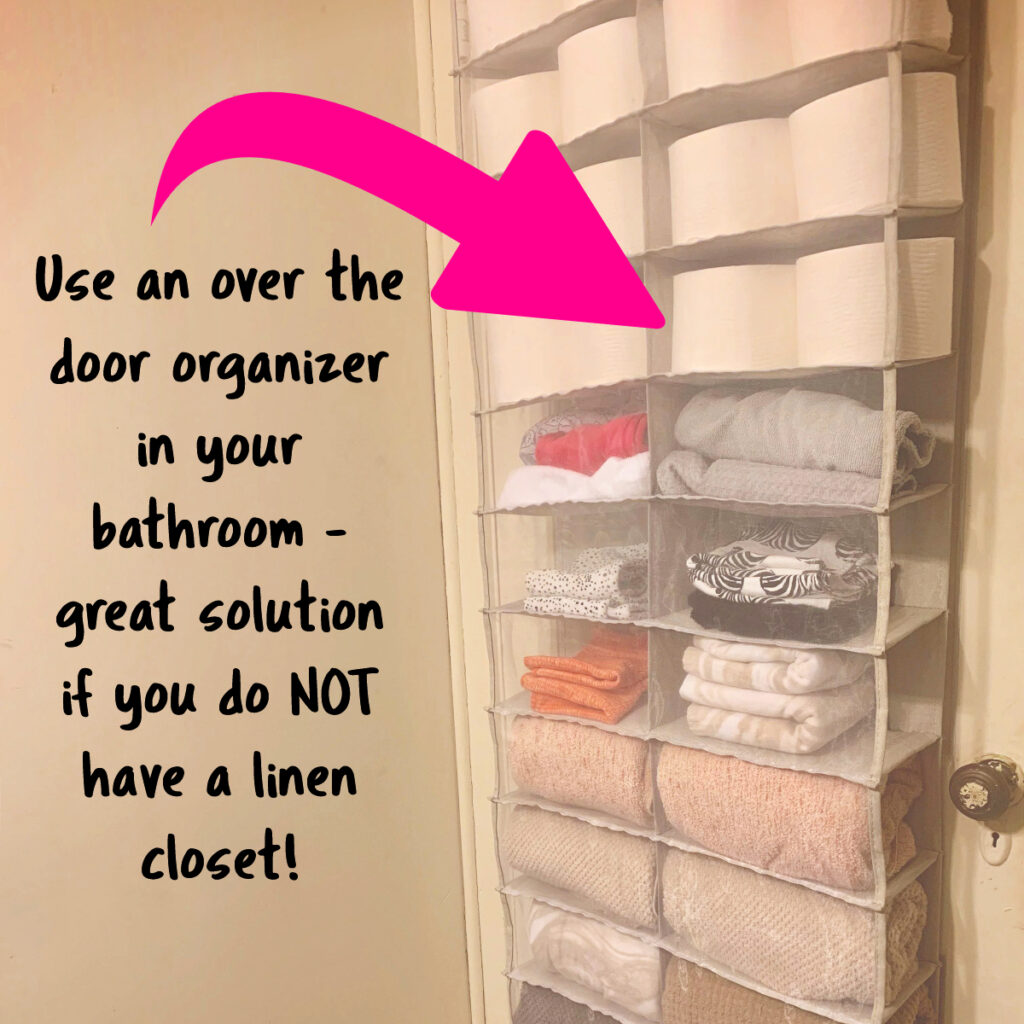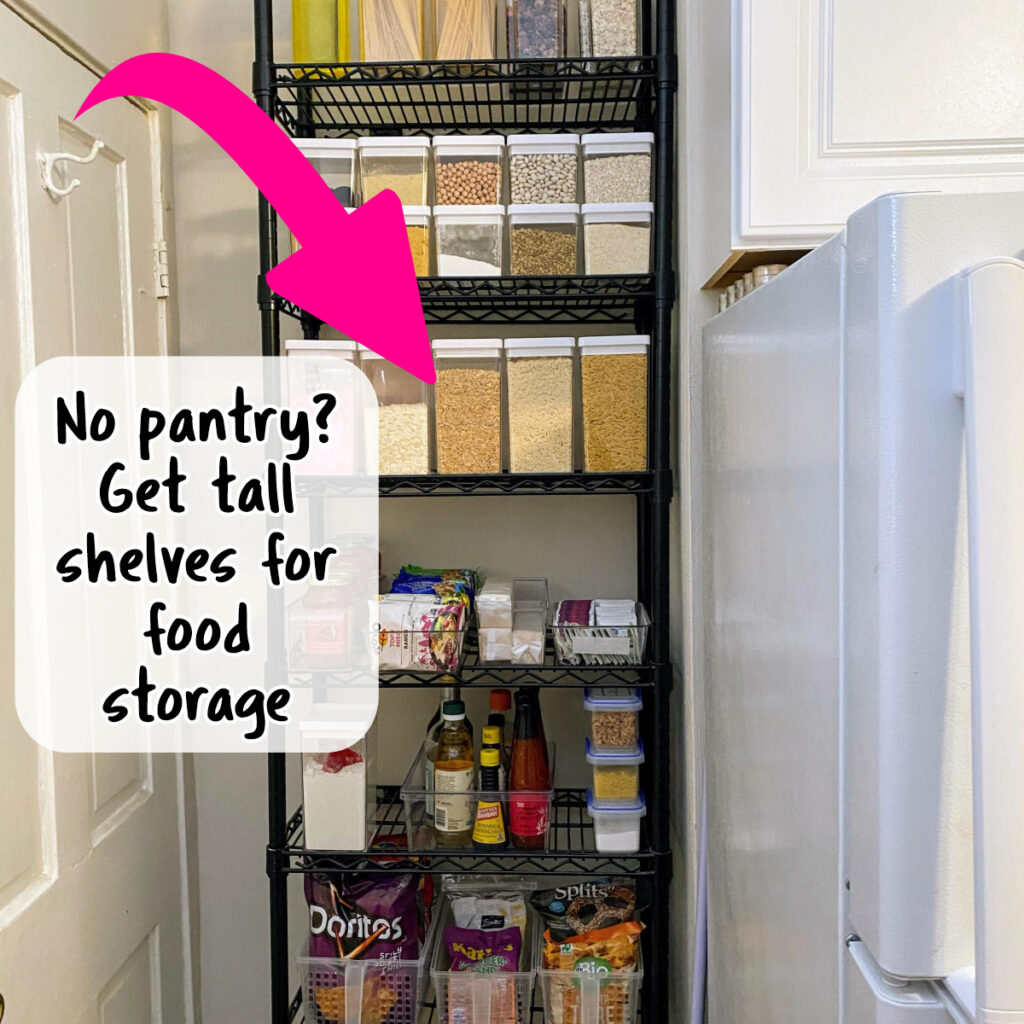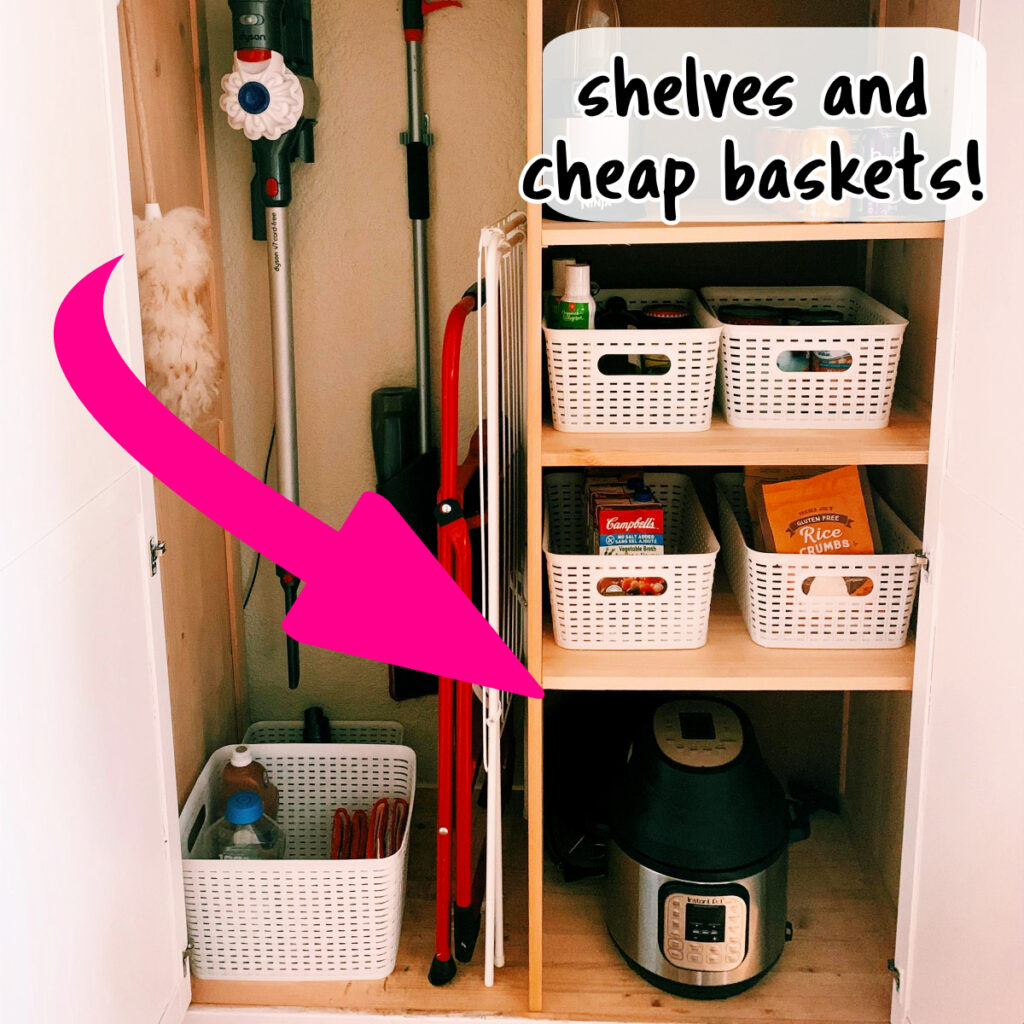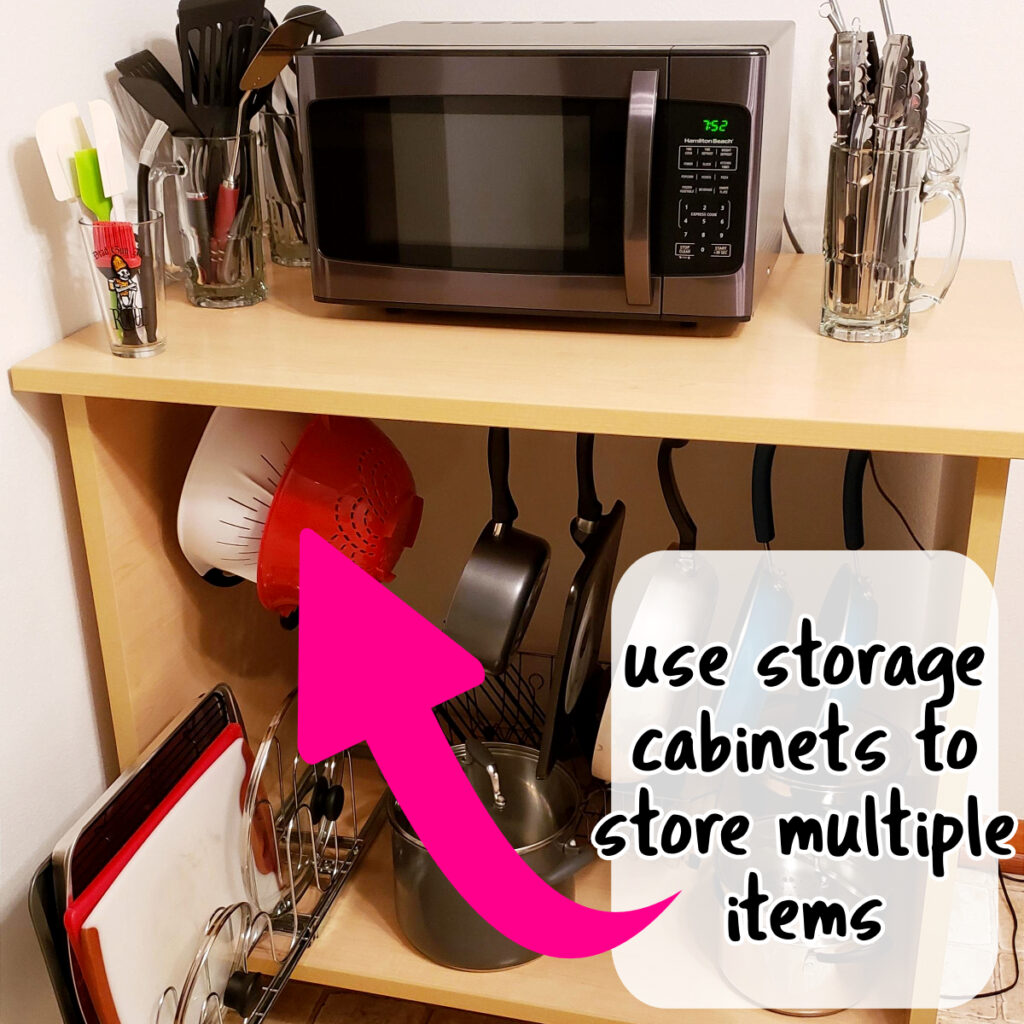 This cart is the BEST apartment storage solution EVERShow Me This DOUBLE the storage space in your tiny rental kitchen drawersShow Me This Cheap storage baskets for the win to organize a small apartmentShow Me This
---
---
Storage Ideas
As you can see in the pictures above, there are many clever storage ideas for small apartments YOU can do on a budget AND without risking your security deposit.
It's all about knowing what you can and can't do according to your rental agreement or lease – and then working within your budget to create function storage solutions in every nook and cranny.
The biggest problem is that we try to cram WAY too many things into our small space – and it becomes a cluttered MESS, right?
A small apartment bathroom can INSTANTLY look like a cluttered disaster when there's limited storage space to PUT stuff.
Here's some ideas that can help with that: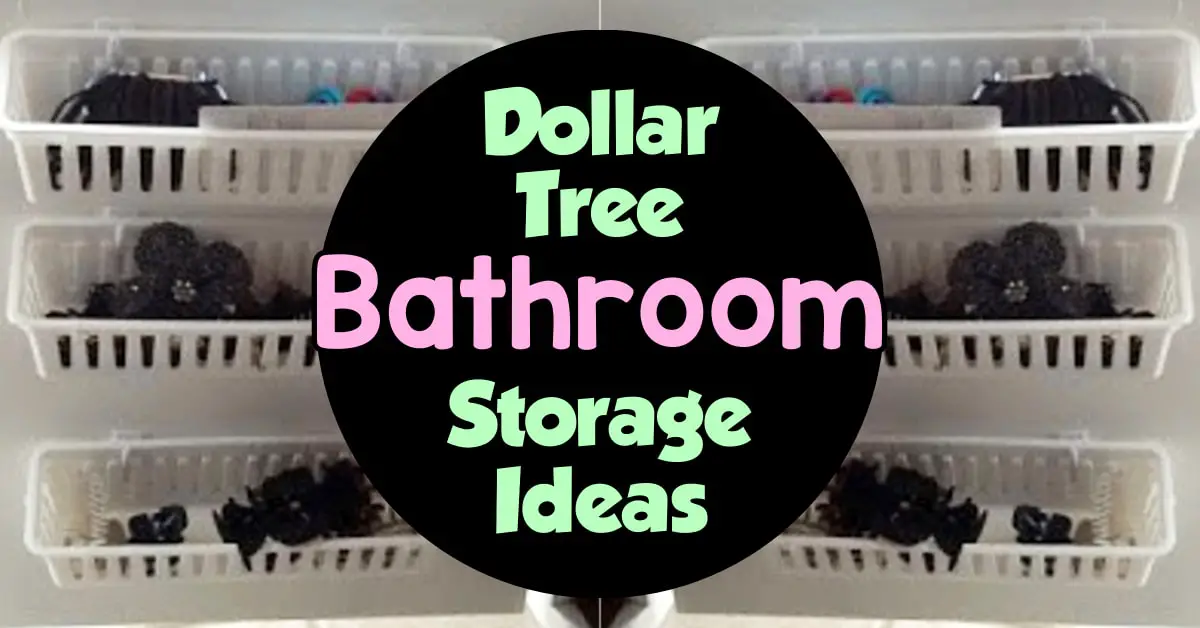 Dollar Tree Bathroom Organization and Storage SOLUTIONS - Small bathroom organization hacks using cheap Dollar Tree storage items and inexpensive ...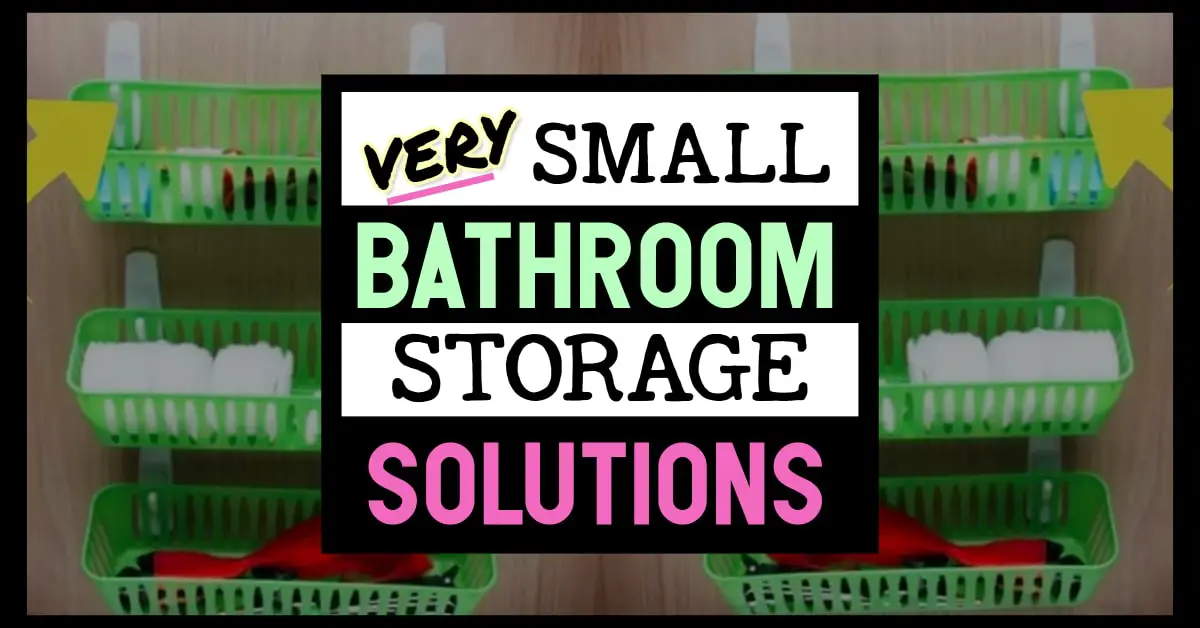 No Storage Space in Your Small Bathroom? I've found some simple solutions! Below are 7 VERY clever DIY storage and ...

Be sure to only keep what you truly need in your limited space.
When it comes to tiny apartment living, the best life hack is this:
Less is MORE.
Bottom Line:
Here's a checklist that can help: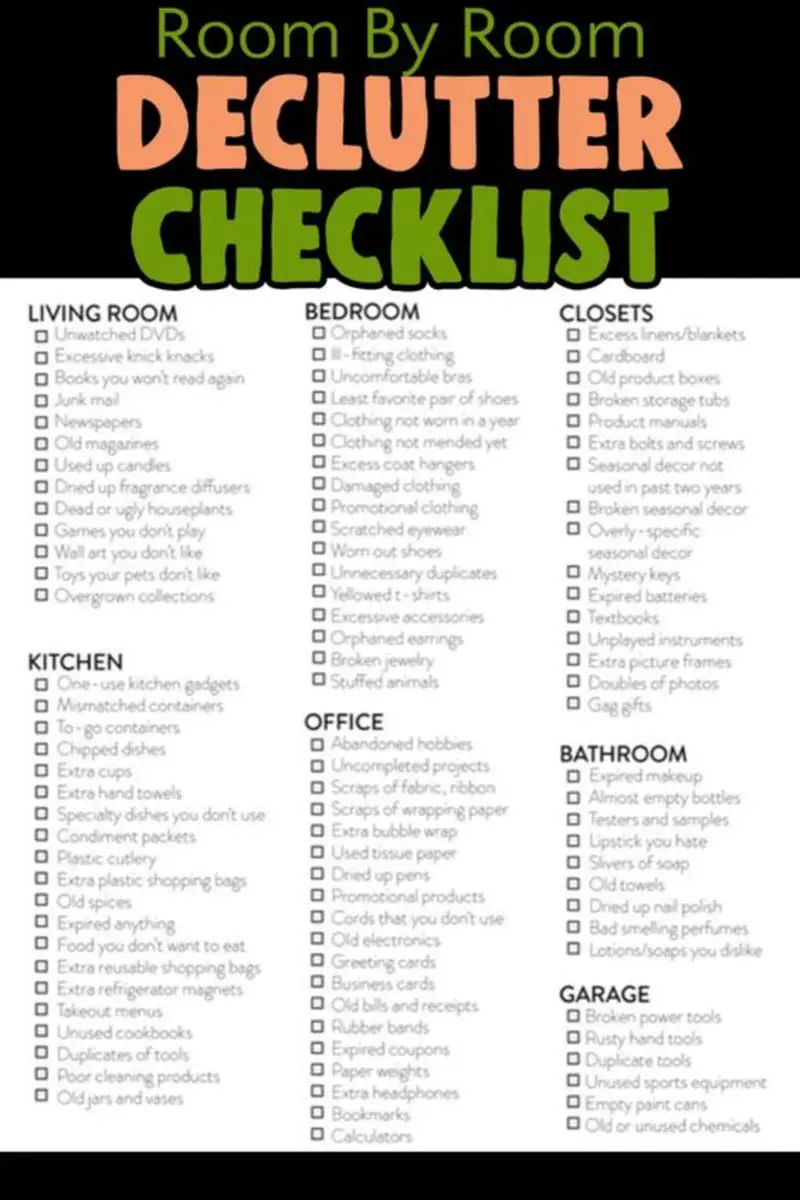 Let's look at some more pictures of creative storage solutions for your small space.
☑ you might also like: How To Declutter Your Apartment Room By Room
Apartment Kitchen Storage Ideas
Small apartments are notorious for having a shortage of storage space in the kitchen. The 'trick' is to maximize the available storage space you do have.
 Get More Space In Your ClosetsGet More Info Plastic Bag Storage SolutionGet More Info Apartment Kitchen MUST HaveGet More Info
☑ TIPS:
Inexpensive sliders in base cabinets will make sure that you can use all of the space in the cabinet.
Use command hooks to hang coffee cups or cooking utensils to get more storage AND keep your kitchen drawers neat and organized.
You can also use those sticky command hook things INSIDE your kitchen cabinet doors to create some more storage and keep things where you can easily find them.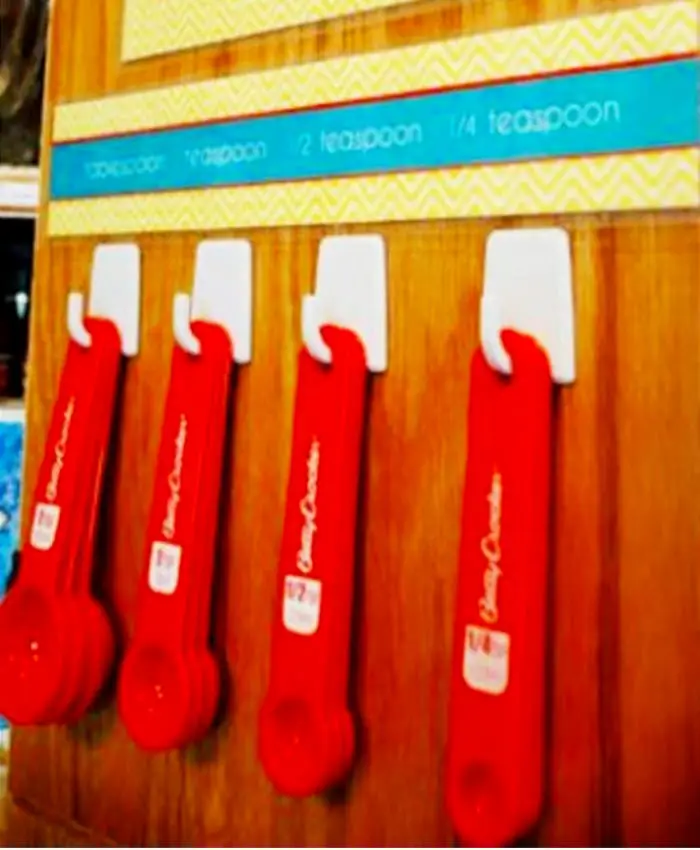 Best Storage Space MaximizerGet More Info Hang Your Mugs To Save Cabinet SpaceGet More Info I LOVE These Stroage Bags!Get More Info
To keep your apartment kitchen clutter-free, don't forget to use some cheap baskets and bins from your local Dollar Store to organize you pantry or kitchen cabinets.
Having a small kitchen can be one of the biggest challenges in small apartment living.
Again, organizing with baskets for the win!
Need more kitchen ideas?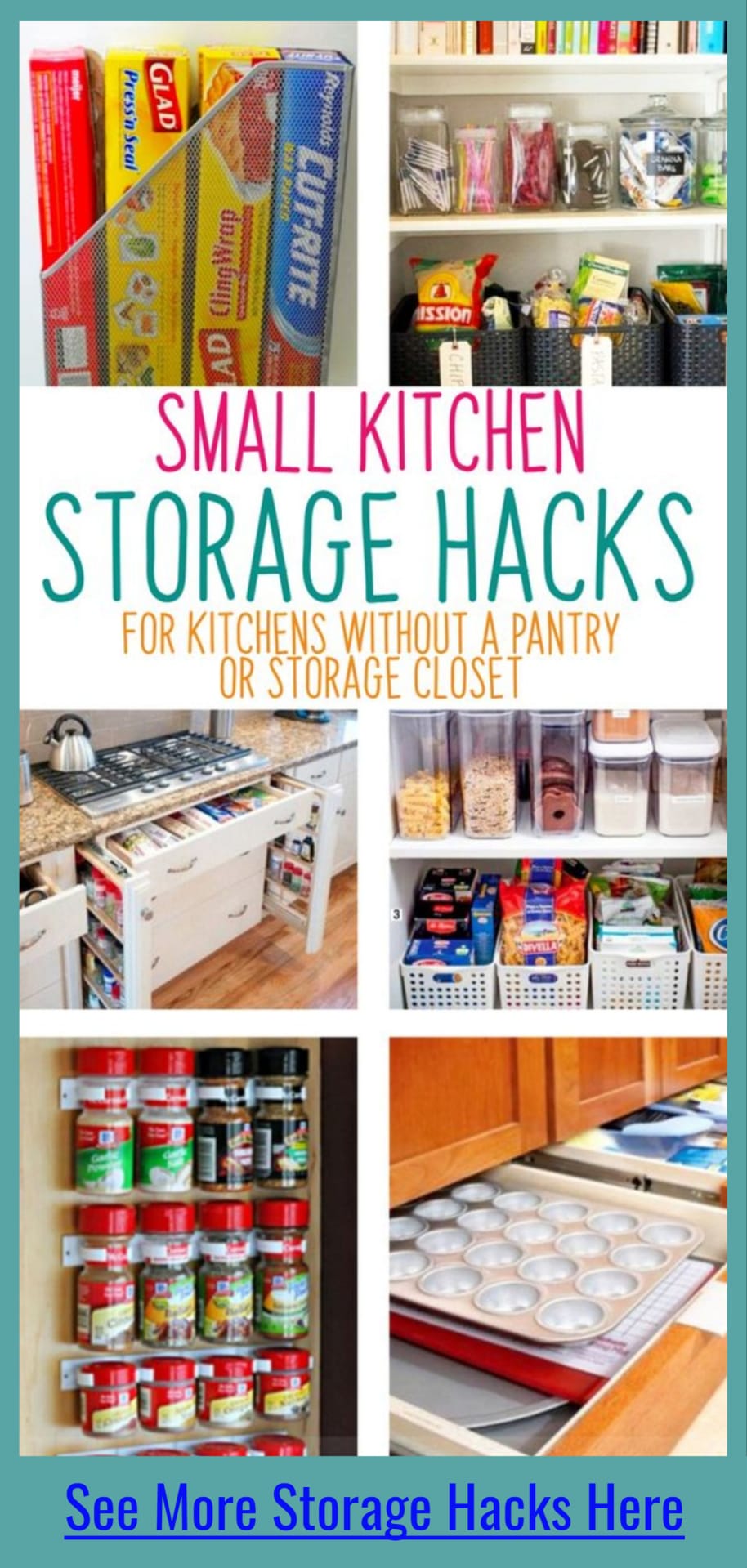 One of the hardest parts about small apartment living is no place to store your food.
Apartment kitchens tend to be very small spaces to work with…
and rarely have a pantry closet area for that precious storage space.
Is YOUR apartment like that?
If so, these ideas below can help you figure out what to DO to create more storage space: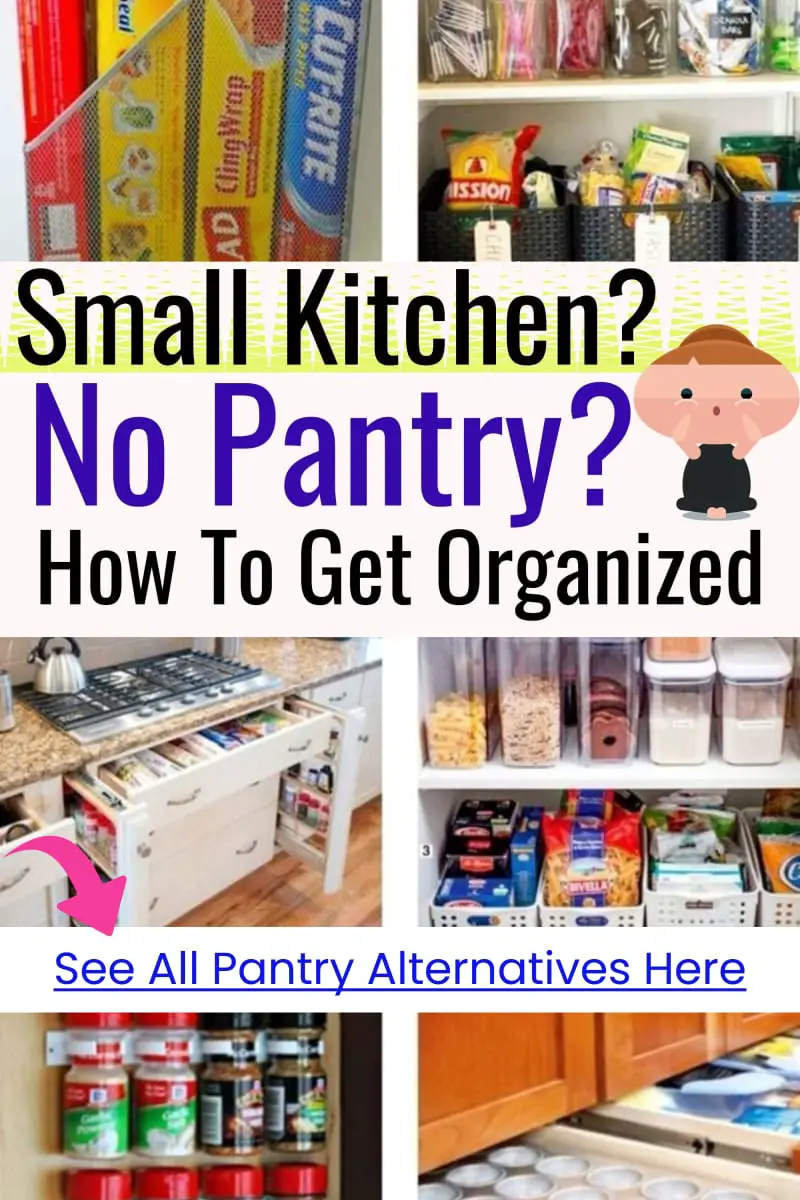 ☑ No Pantry?
 Use Your Cabinet DoorsGet More Info Best Investment Ever!Get More Info Use Pantry Doors TooGet More Info
Apartment Closet Storage Ideas
You can easily maximize the storage space in your small closets with a few simple tricks. Most closets have one single bar that you hang all lengths of clothes on. If you have a lot of shirts or slacks that are folded this means a lot of wasted space. You can double your hanging space by moving one rod towards the ceiling and then hanging another right below it.
Or, double up what's hung on your hanger!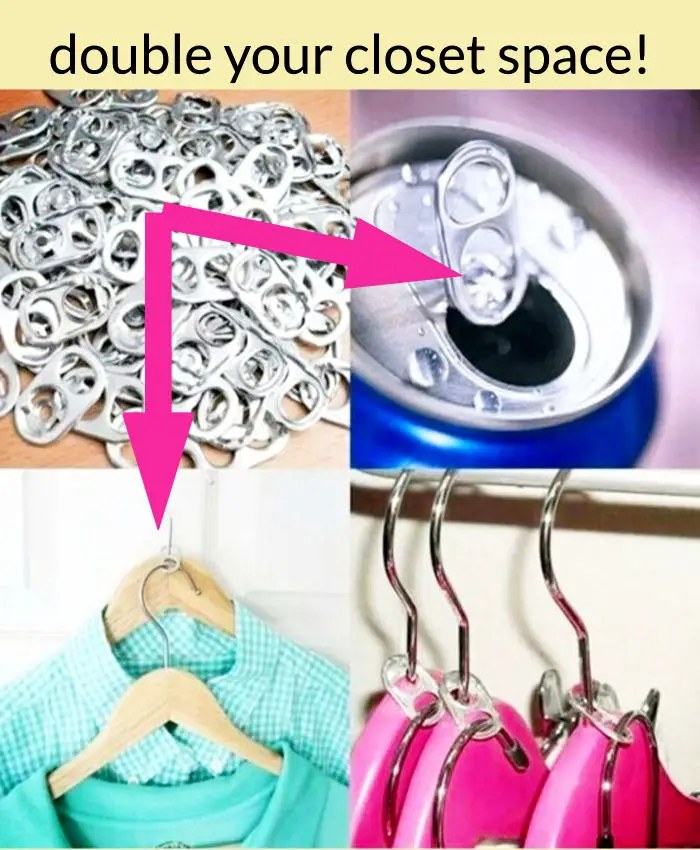 Brilliant For Small ClosetsGet More Info I LOVE These Hanging OrganizersGet More Info Closet Space Saver MiracleGet More Info
organizing the nursery closet?
try these baby closet organizing ideas
Apartment Bathroom Storage Hacks
When you're living in a small apartment, every square inch of available storage space is valuable – and needs to be used wisely.
Here's a clever storage ideas for under your bathroom sink: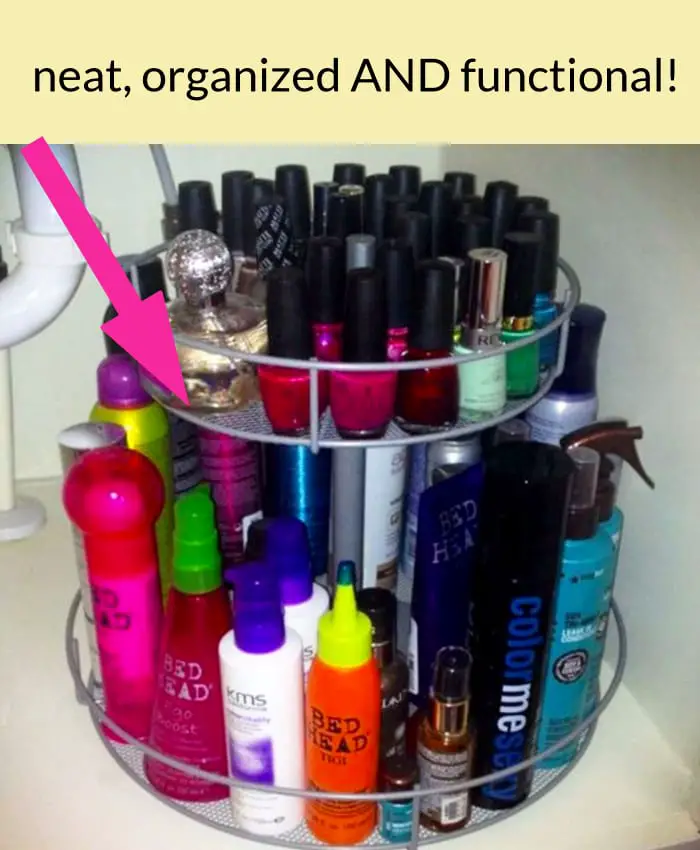 I Use These EVERYWHEREGet More Info SO Useful in Apartment BathroomGet More Info A Place For EVERYTHINGGet More Info
More Storage Ideas for Small Apartments
Use shelves on walls and over furniture to get more storage. Make sure that you use the area under your bed with either slide out drawers or plastic totes. A lot of small apartments have entry closets that become junk areas. Put some hooks on the wall for your coats and turn that closet into a kitchen pantry with a few inexpensive shelves.
You need to utilize ALL the small spaces you have!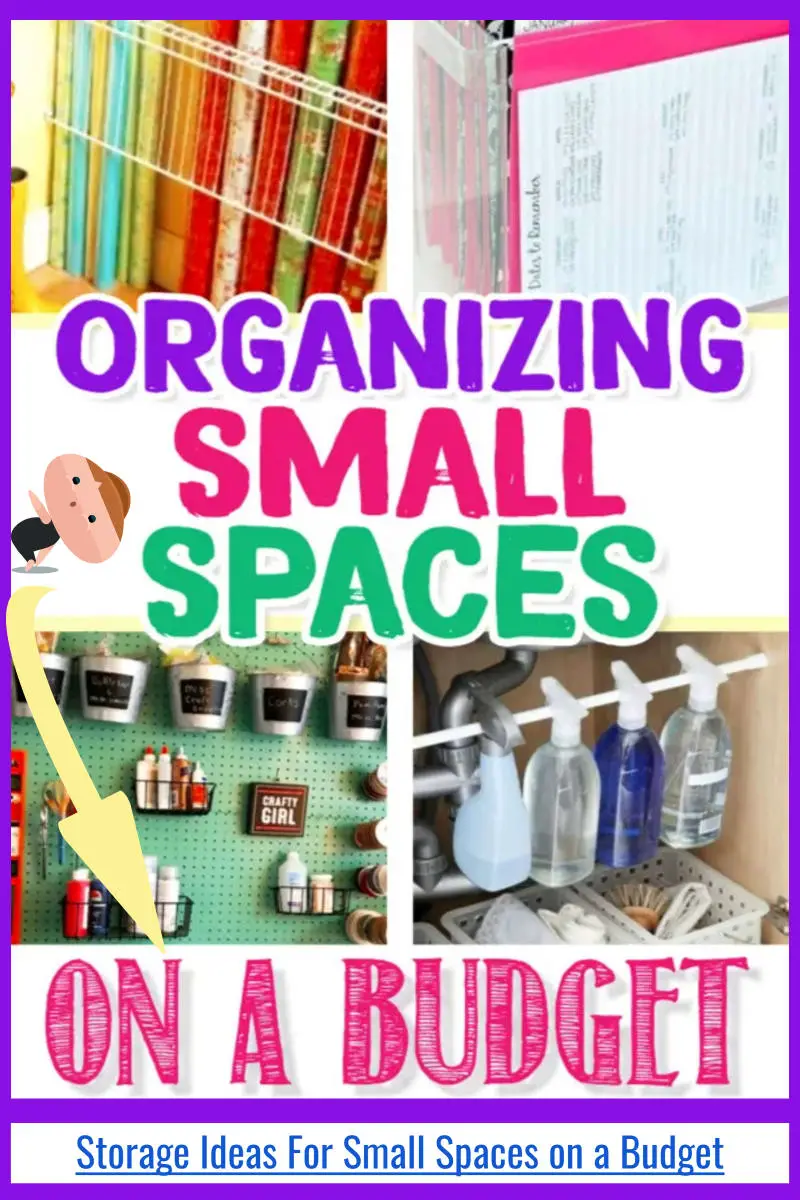 Have some free wall space?
A storage chest with baskets can work WONDERS to make it easy to declutter and organize in your small apartment.
We love this storage chest with wicker baskets!
It's not only sturdy and beautiful, it's multi-functional!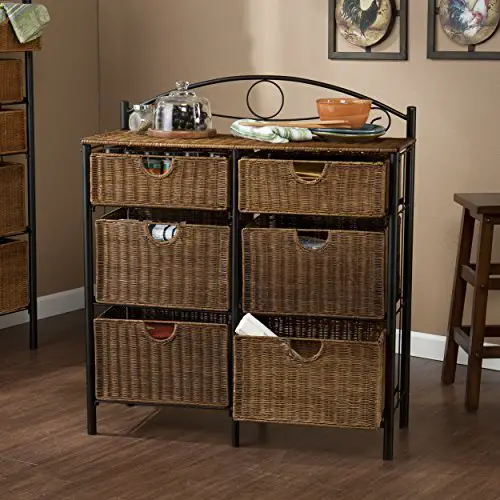 we found that storage chest here
Again, baskets are your friend when you need cheap storage ideas for your small apartment.
Using baskets and cheap plastic bins is one of our favorite Dollar Store Organizing Ideas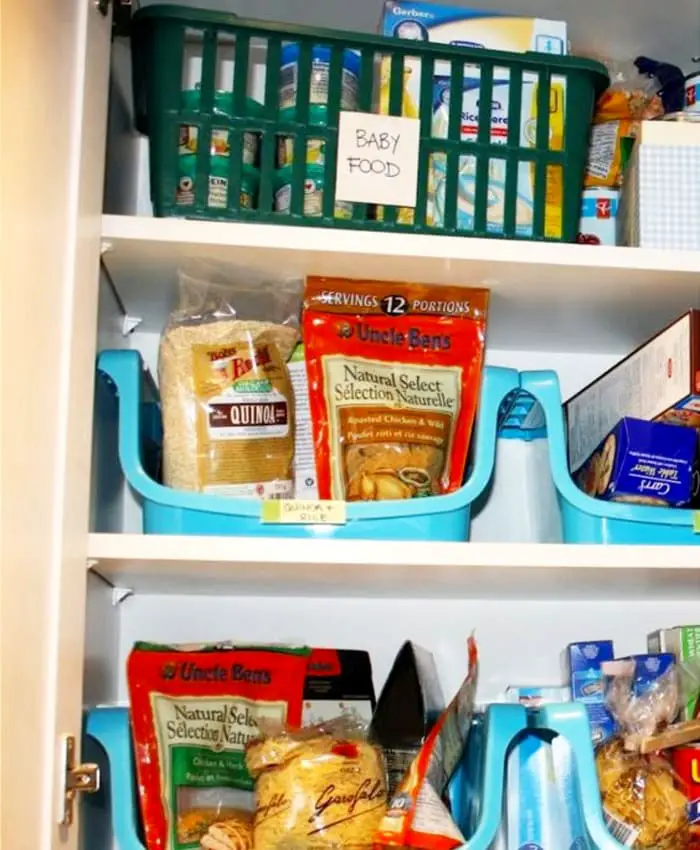 ☑ you might also like: Organizing with baskets – Ideas We Love
Don't let a small apartment make you feel cramped and crowded. There are all sorts of creative ways to maximize the storage in your small space.
 No More Clutter In The BathroomGet More Info Super Useful Drawer OrganizersGet More Info Dividers Maximize Storage SpaceGet More Info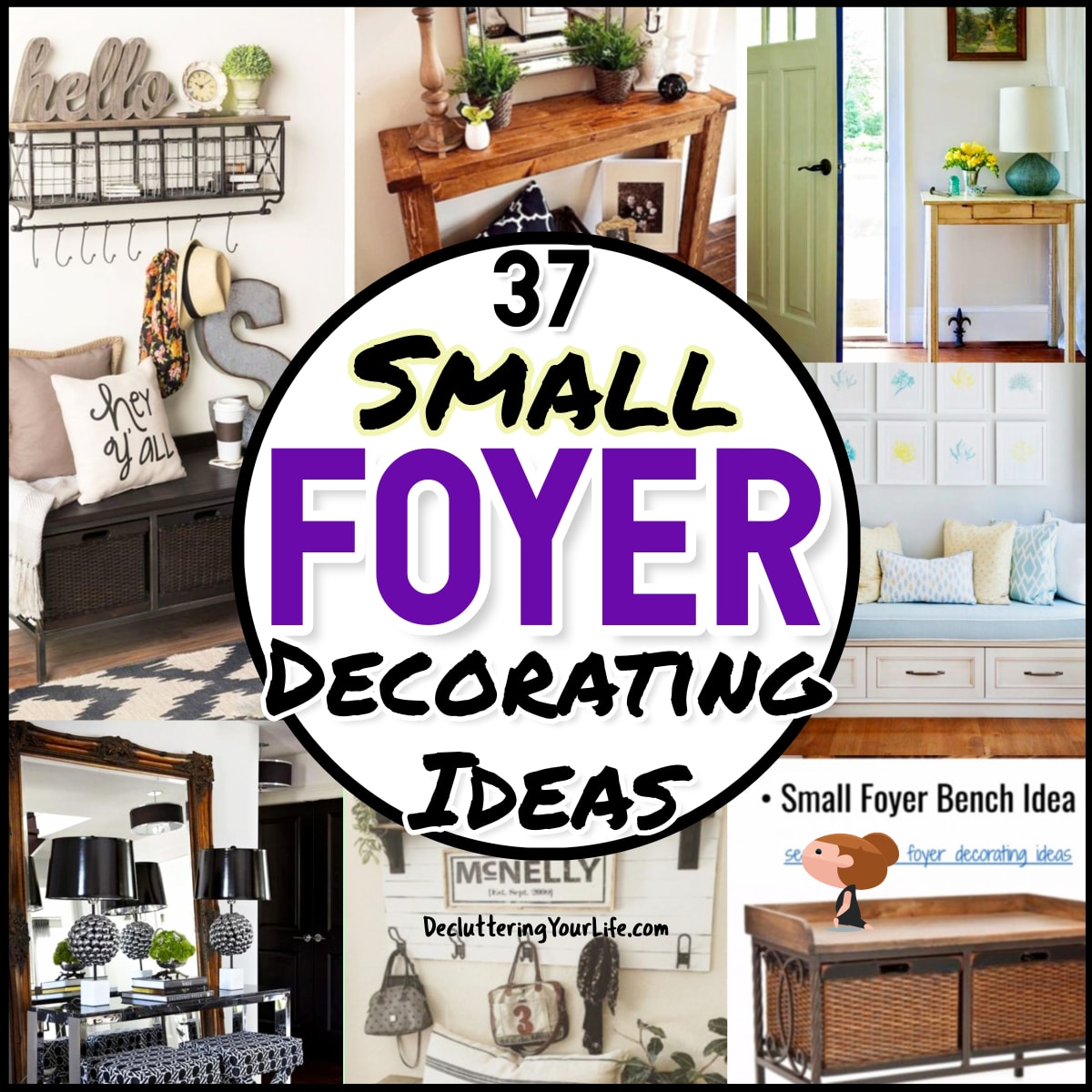 Miss Anything?
Go back to the top of:
==>> Small Apartment Storage Ideas
Go back to a specific section: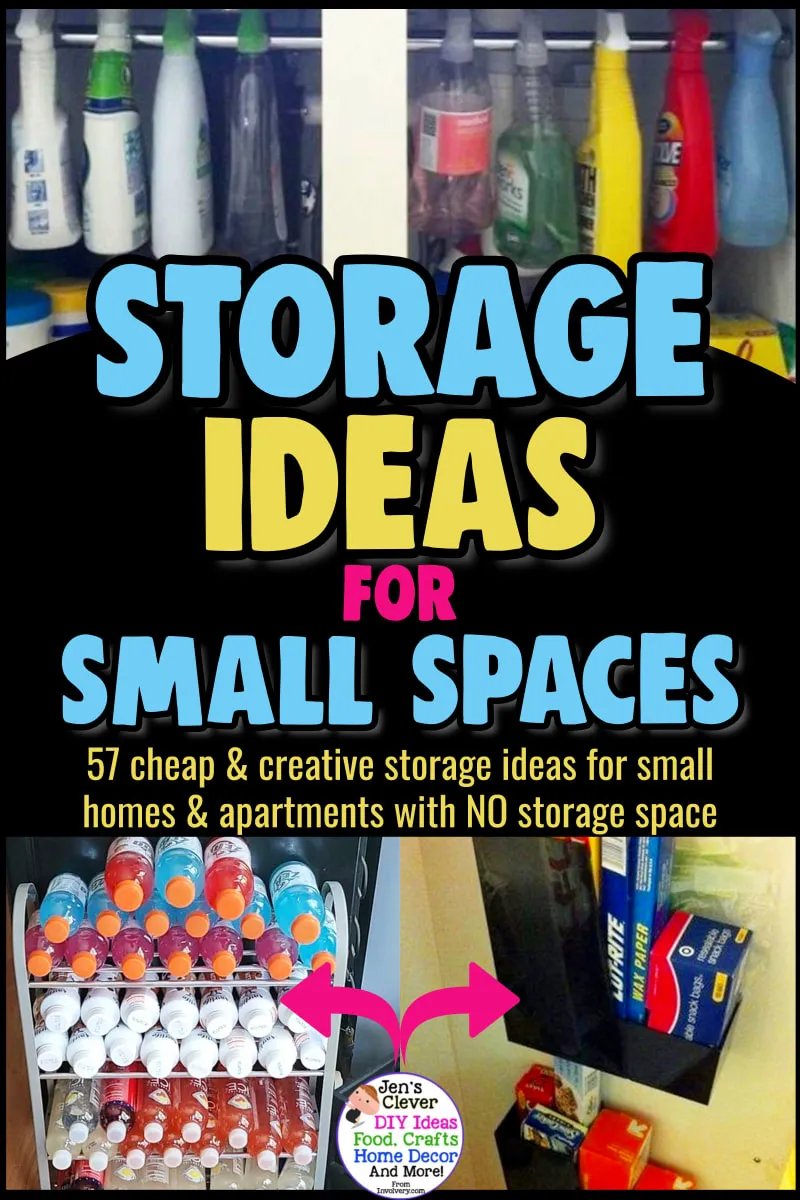 ---
More Ideas:
---
 This cart is the BEST apartment storage solution EVERShow Me This DOUBLE the storage space in your tiny rental kitchen drawersShow Me This Cheap storage baskets for the win to organize a small apartmentShow Me This
---
---
My House Was a MESS!
And my anxiety was through the roof!
I needed a plan to get it together - it was all pushing me over the edge.
Thing is - we
LIVE
here... I never had the fantasy that my home would ever look "Pinterest perfect".
I simply wanted more control, less clutter and much less anxiety.
I finally found something that worked for ME.
My house is now easier to clean - I can now clean it in minutes, instead of hours.
I can now actually FIND the things I'm looking for.
I learned some simple decluttering systems that make me much more efficient every day - and I'm more relaxed and less overwhelmed all the time (finally)
My house now looks pretty darn good almost all the time.
Best of all - I no longer stress about guests unexpectedly showing up.
Turns out, it was so much easier to do than I ever expected.
This is how I did it
.
---
$19.97
$20.87
in stock
1 new from $19.97
4 used from $18.37
$33.99
out of stock
3 new from $33.99
1 used from $32.29
$12.99
$16.99
in stock
1 new from $12.99
Last updated on November 30, 2023 7:56 pm