DIY Mudrooms: Gorgeous & Creative Mudroom Ideas For Your Home •
Every single day every member of this family drops all their STUFF right in the foyer hallway like it's a drop zone or something.
Book bags, jackets, shoes and boots – name it, all that CLUTTER is just left right there.
Turns out, a farmhouse style mudroom was NEEDED in our home… below are the pictures of mudroom ideas I saved.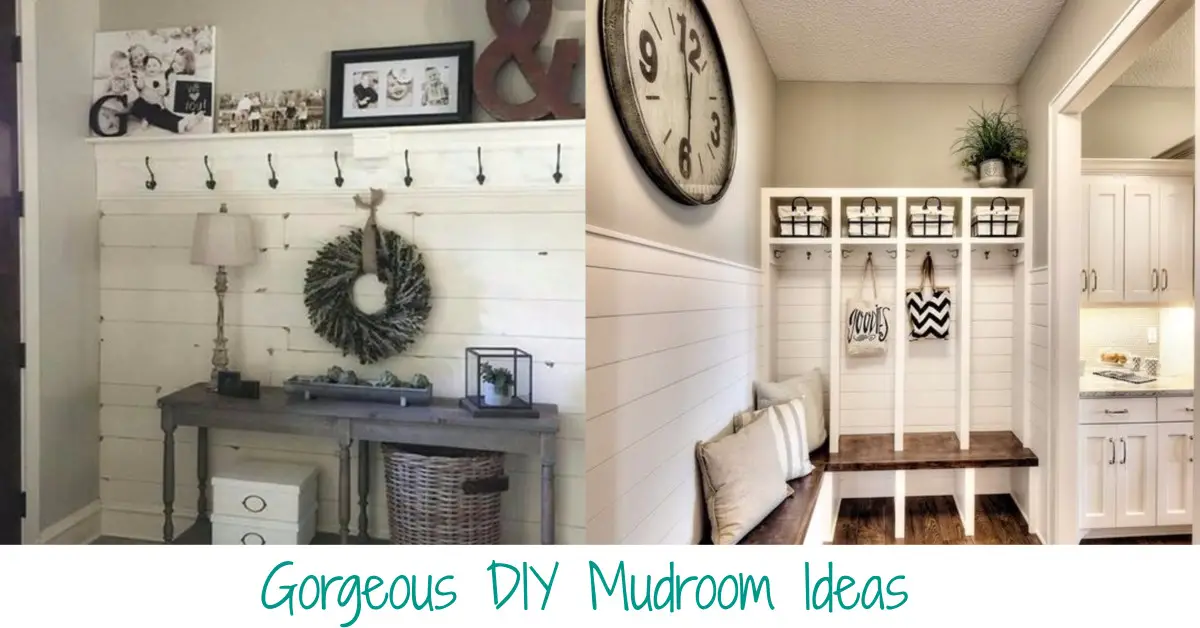 Welcome to Decluttering Your Life - we hope you enjoy our quick decluttering tips, organization ideas and simple DIY solutions for your home - posts may contain ads & affiliate links - that's how we keep the lights on =)
---
---
---
So I got an idea – I want a MUDROOM!
All the new houses in our area are being built with a mudroom — or at least a mudroom area in their foyer, laundry room, entryway, etc.
I just LOVE the way they look! Farmhouse decor is my favorite!
And boy are they GREAT for decluttering all the STUFF and getting organized in a beautiful way!
Now that we've decluttered the pantry, we organized the linen closet, considered these GORGEOUS kitchen shelves for more kitchen space, and FINALLY decluttered the toys – it's time to move forward!
Here are some of my favorite mud room ideas that I am considering for my house.
I'm not sure if I'm going to turn my foyer hallway into a mudroom concept or my laundry room – or BOTH.
If YOU'RE not a real "DIY" type of person…
You can get premade mudroom benches and set-ups here.
The prices are usually pretty great AND you'll have an "insta-mudroom"!
Mudroom Design Ideas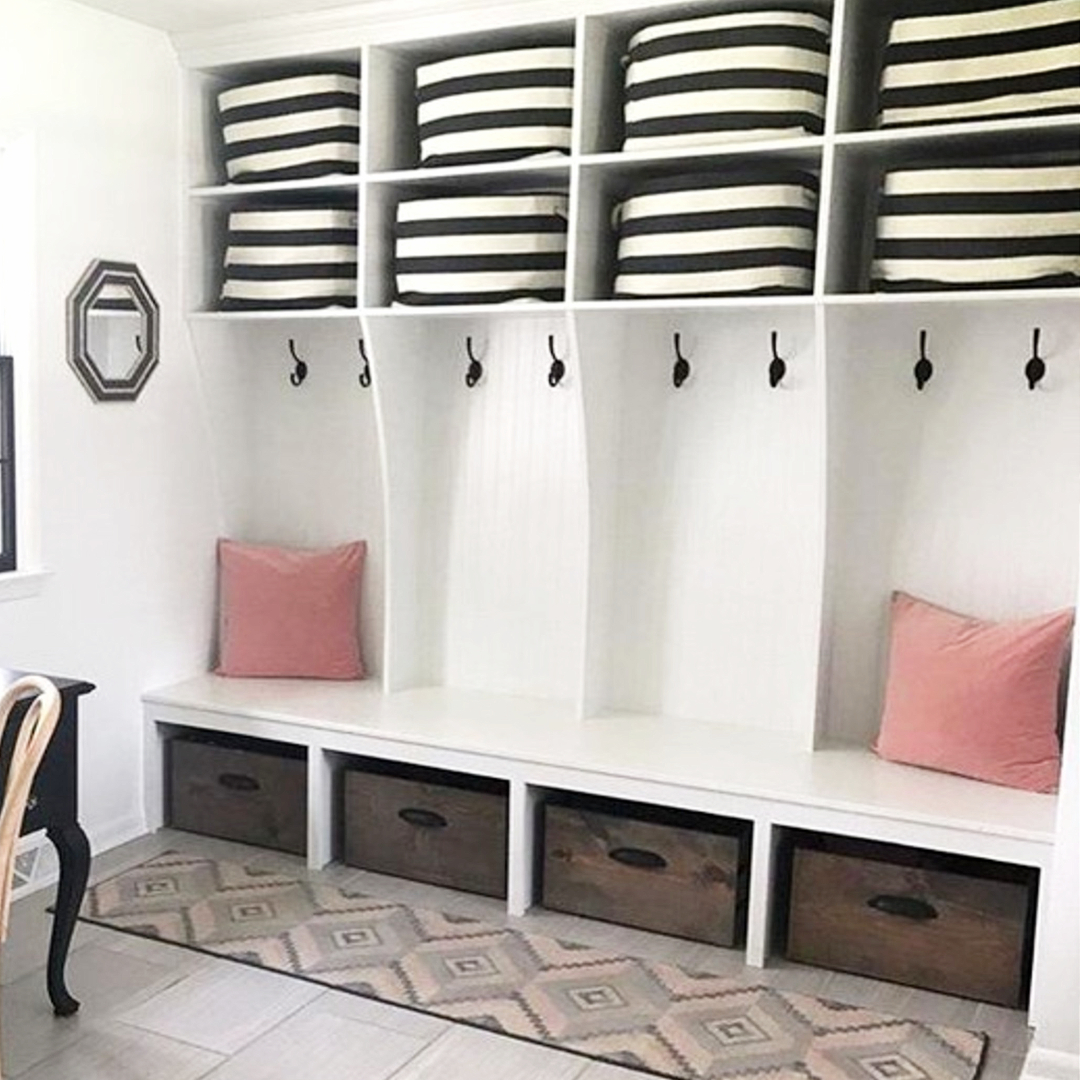 I love everything about this mudroom design – so neat and clean – and organized!
And oh MY at those baskets and bins she used for the mudroom cubbies! I love how she used the striped at the top and the wooden crates in the floor cubby area.
The striped baskets are found here.
---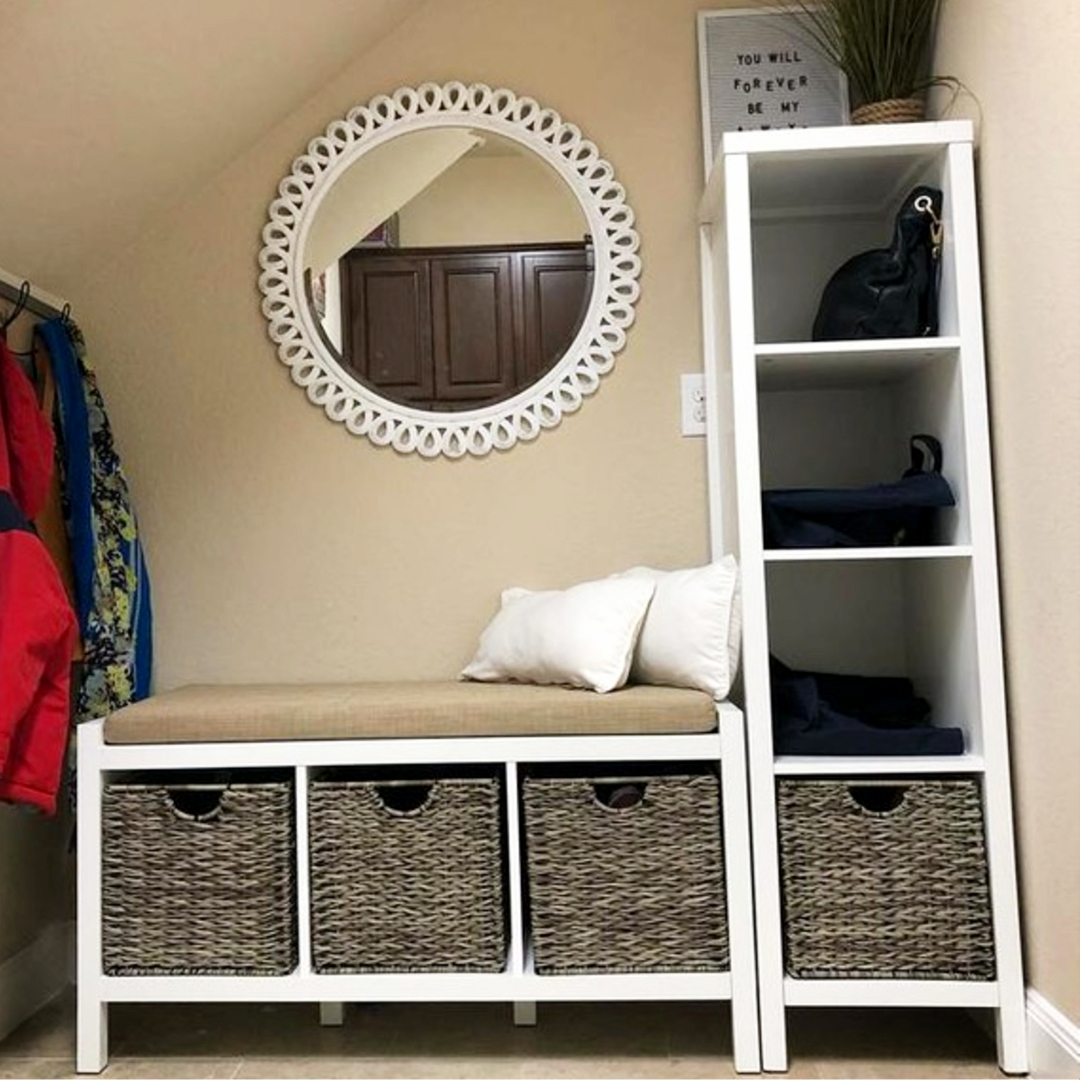 This is a beautiful home mudroom idea I love for organizing and decluttering all the STUFF – shouldn't be THAT hard of a DIY project.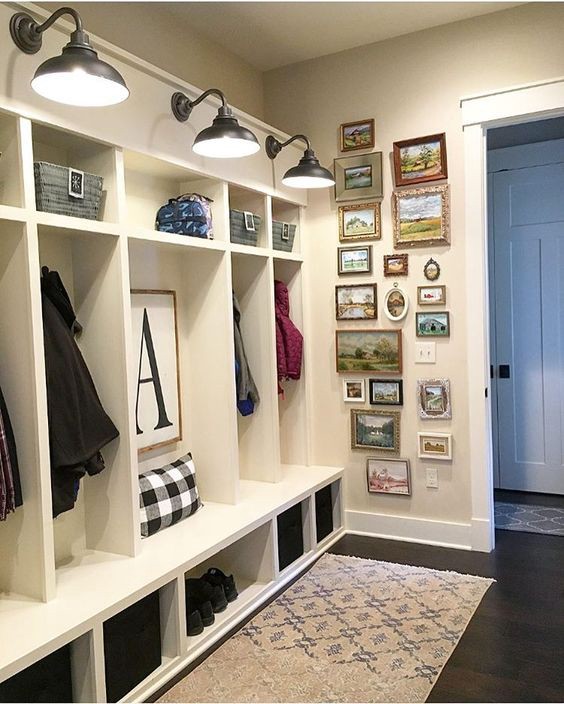 But I do believe I'd skip all the pictures on the wall like that… to me, it looks cluttered and that is what I'm trying to avoid!
I love all these family photo wall ideas, but not for here.
A wall like that would be PERFECT for one of these DIY family command centers, don't you think?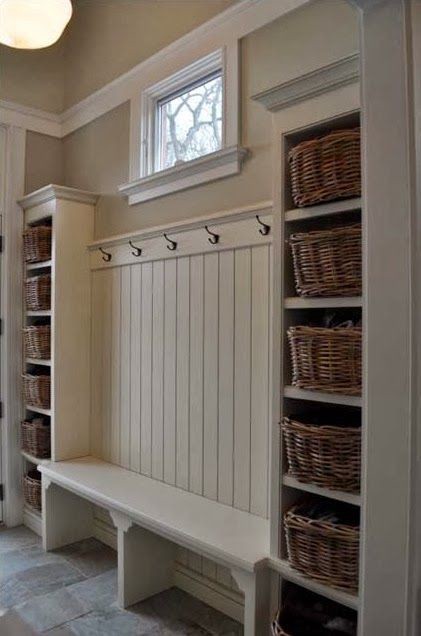 Love this mudroom foyer idea for keeping everything neat and decluttered – the white wall is gorgeous and the baskets make it easy to stay organized and neat.
I have my heart set on using storage baskets like these, tho – aren't they gorgeous!??!
This is a simple foyer mudroom idea – love the special touches for Holiday / Christmas decorations. Not sure this is enough to REALLY declutter all the stuff, but it sure is beautiful!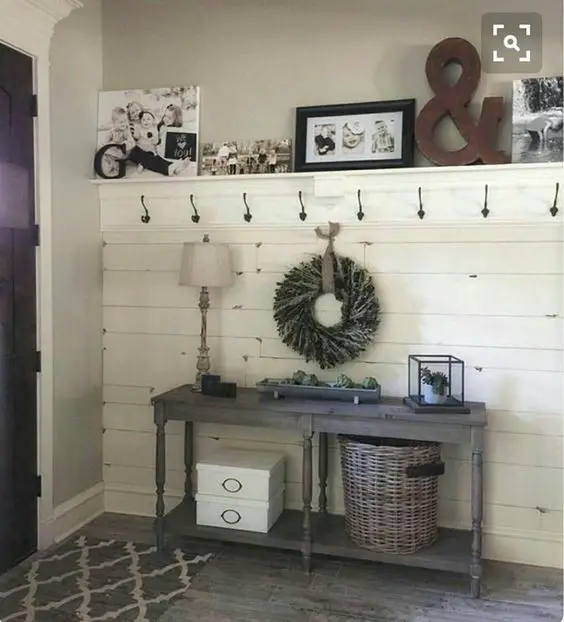 I am in LOVE with this mudroom idea! I need some more baskets to really organize and keep all the STUFF in our foyer organized but this is such a pretty DIY mud room idea!
I love the idea of hanging a wreath – I think I'd pick this wreath instead, it's GORGEOUS!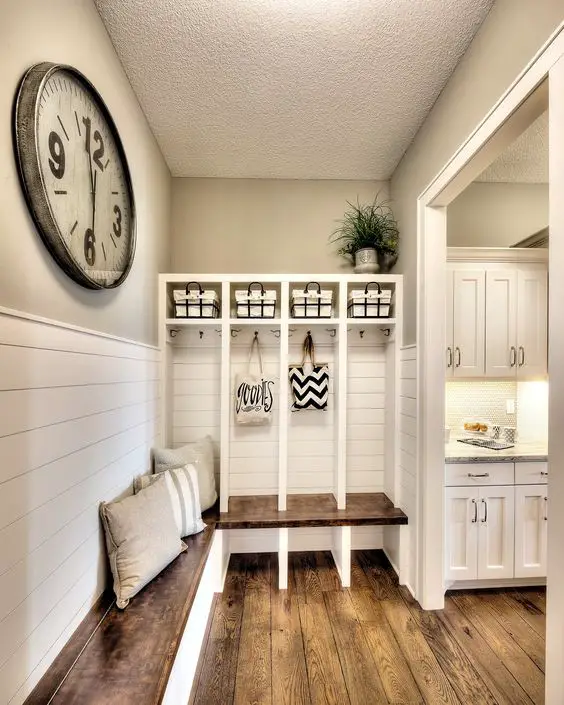 This DIY mudroom idea could be PERFECT for our house. The separate section/cubbies are perfect for the kids to put their stuff so the house appears clutter-free and organized.
LOVE that big wall clock too and the pallet bench.
I found some really pretty (and inexpensive) BIG wall clocks here.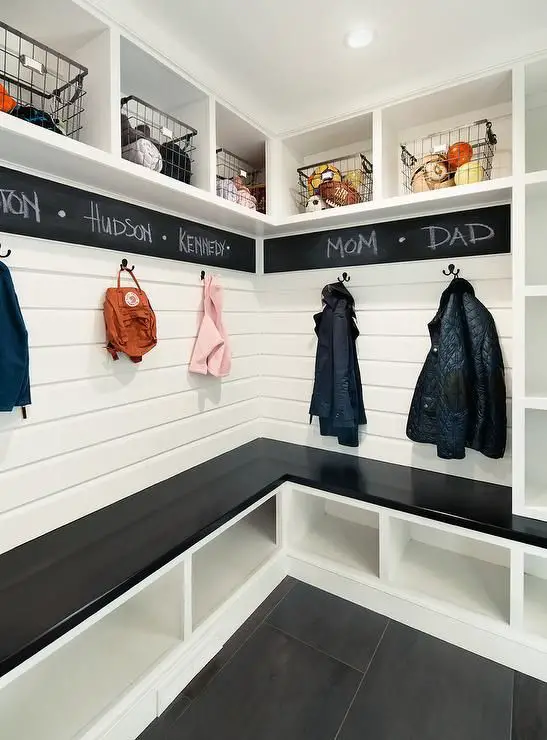 This is a gorgeous DIY mudroom (or foyer) idea – love the chalkboard wrapping around it (they used this cheap chalkboard wall sticker roll. We have it and it works great!)
The cubbies are great for keeping things organized – I'd throw some pretty baskets in the cubbies at the bottom to declutter and keep it looking neat and tidy.
& 
Ready to Tackle YOUR Clutter for GOOD?
Last updated on October 2, 2023 7:30 am