Scratch Off Lottery Ticket Gift Basket Ideas for ALL Occasions, Raffles, Birthdays, and Holidays – creative ways to gift scratch off tickets, DIY lottery basket ideas and PICTURES, lottery ticket trees, wreaths, bouquets, rakes and more…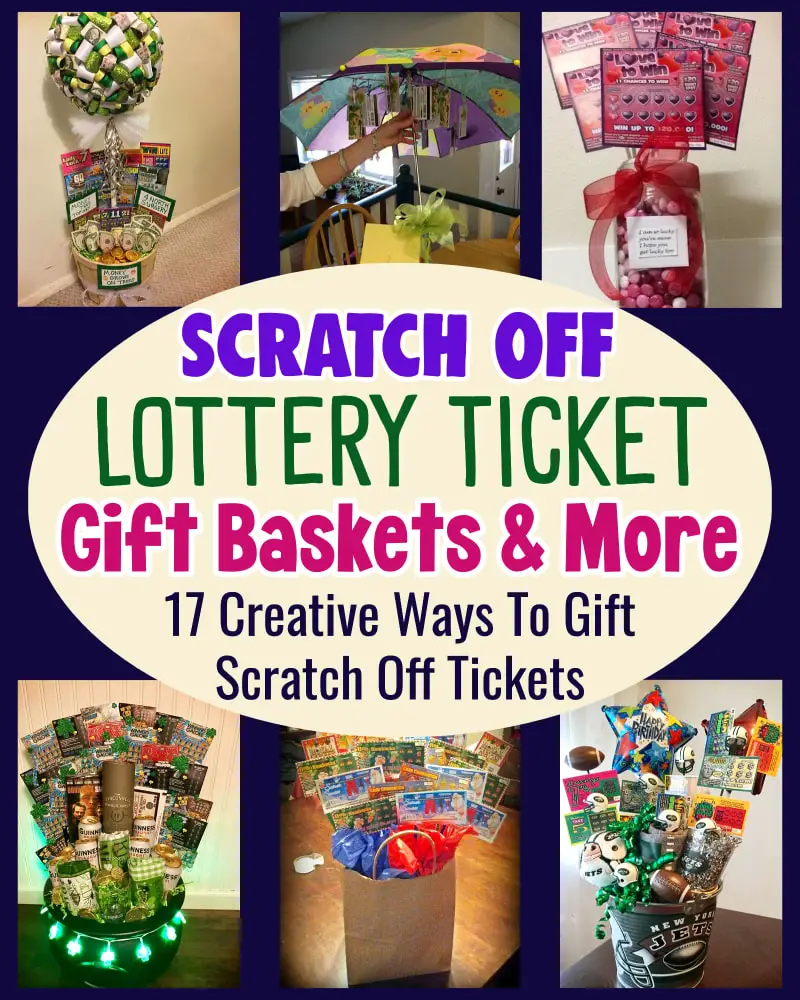 Welcome to Decluttering Your Life - we hope you enjoy our quick decluttering tips, organization ideas and simple DIY solutions for your home - posts may contain ads & affiliate links - that's how we keep the lights on =)
---
---
---
Lottery Basket Ideas
UNIQUE and easy scratch off lottery ticket gift ideas, auction gift basket ideas, raffle baskets, penny auction tricky tray basket ideas and more for fundraising, birthday gifts, DIY Christmas gifts, Fathers Day, teachers appreciation, boyfriend, Valentines, Jack and Jill raffle, 18th birthday, 40th birthday, retirement gifts, silent auction, Chinese auction, school graduation, money gifts and scratch off ticket gift baskets, lottery ticket tree, birthday cake, wreath and bouquet ideas.
Creative Ways To Give Scratch Off Lottery Tickets As a Gift You'll See in Pictures Below: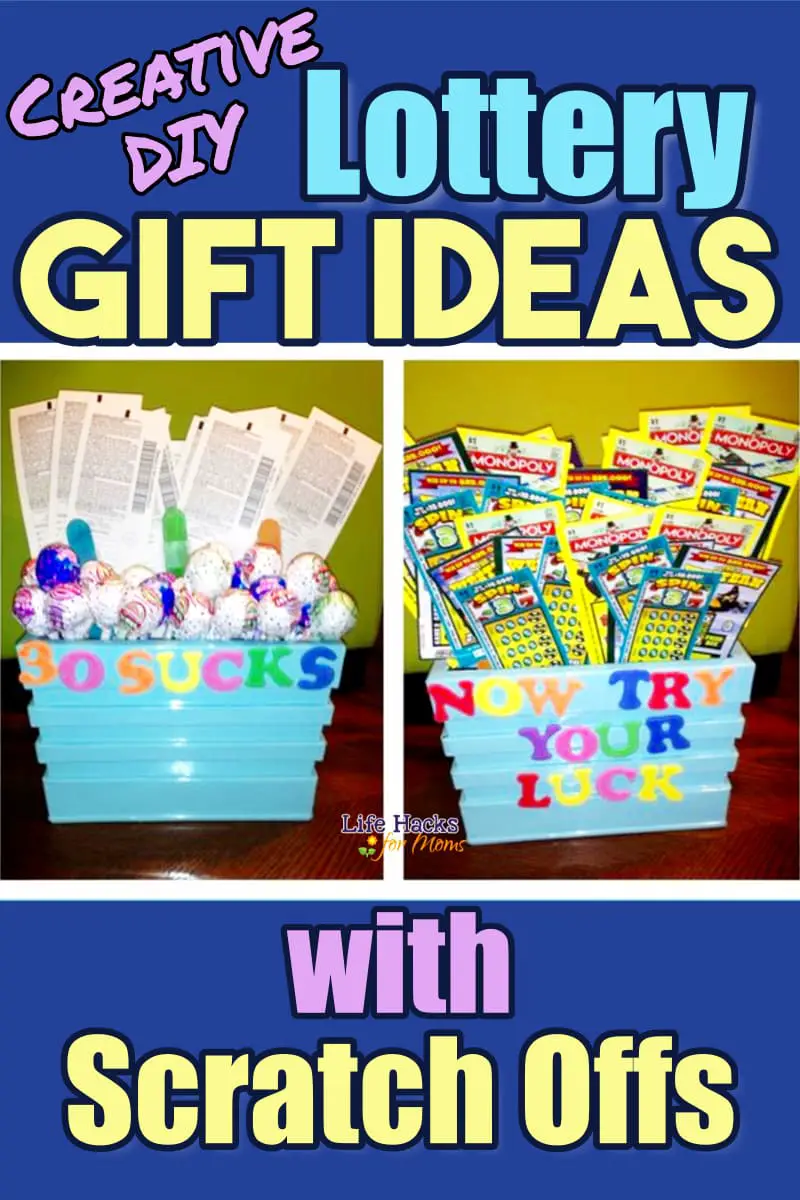 ✅  PICTURES
Lottery basket ideas in the pictures below:
Scratch Off Gift Basket Ideas-PICTURES BELOW
Easy Lottery TREE Ideas
Raking in the CASH
Raining Cash Lottery Basket Idea
Cheap & Romantic Scratch Off Gift
Lottery Ticket Raffle Basket Idea
Scratch Off Christmas Gift Bag
Jack and Jill Raffle Basket Alternative
Sports Theme Birthday Gift Basket
Teacher Appreciation Lottery Ticket Bouquet
Creative Retirement Gift Basket
Christmas Scratch Off Gift Idea
DIY Lottery Ticket Gift Basket
Jackpot Dad Gift Basket Idea
Scratch Off Ticket Cake-HOW TO Video Tutorial Below
 Funny Lottery Ticket Gift✅ Get More Info Winning Scratch Off Tickets✅ Get More Info
Lottery Tree Ideas
The lottery tree idea in the picture below is not only UNIQUE, it is super cheap and easy to make.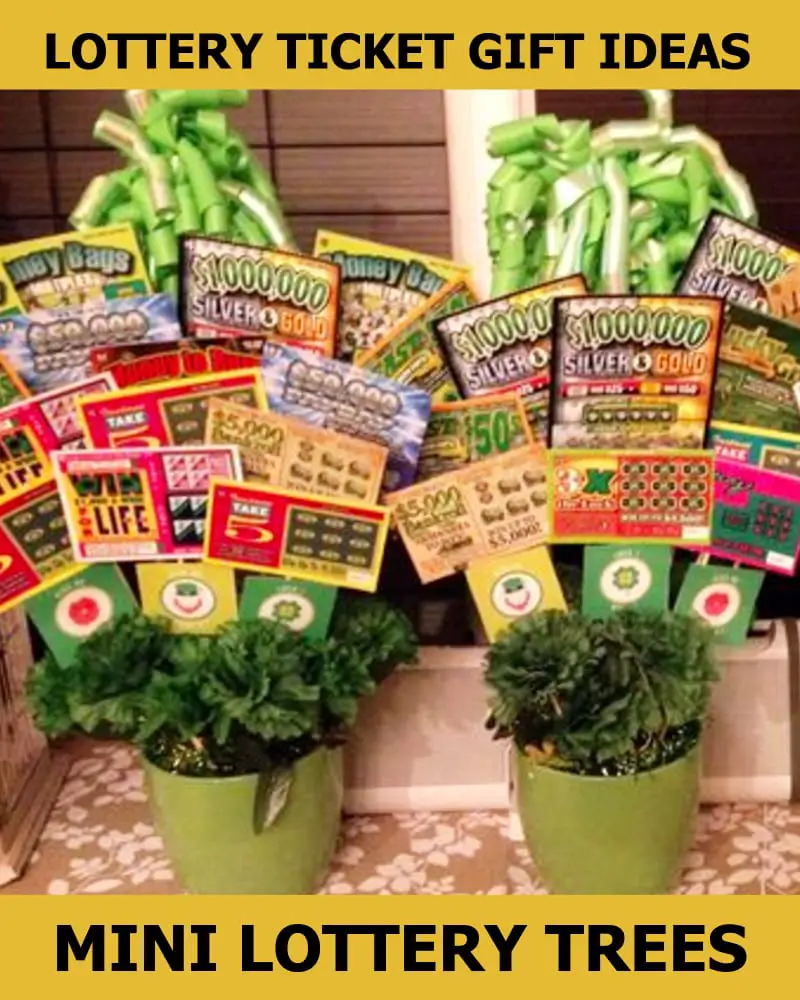 Just head to your local Dollar Tree or dollar discount store, get a cheap pot, a little thing of foam, some fake flowers, bamboo skewers and some tape.
Put the foam in the pot, arrange a few fake flowers at the base, tape a few scratch off lottery tickets to the skewers and poke the skewers into the foam.
Finish it off with some ribbon or a bow and you're done!
You can also use a REAL potted plant as a lottery tree and save even more money…
Just stick the lottery ticket sticks in the dirt – no need to buy a pot, or foam, or fake flowers… easy!
Those mini lottery trees in the picture above were made as class reunion door prizes.
Raking In The Cash
A very popular and creative idea for fundraisers, auctions and benefits are these Raking In The Cash gift basket ideas in the pictures below.
We raffled off one of these Rake in the Cash lottery ticket baskets at a recent Fall Festival and it was THE most popular raffle basket of all!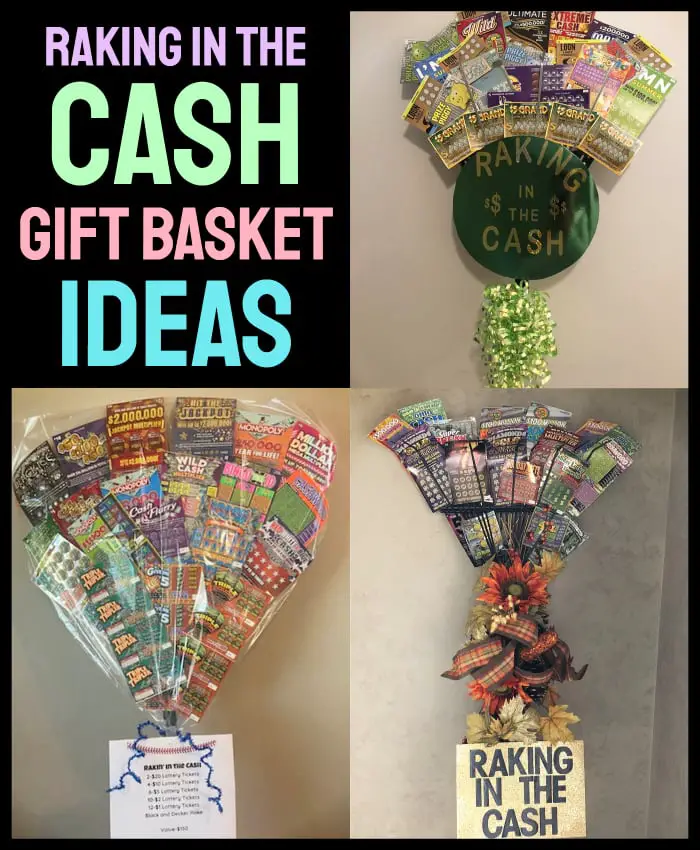 Cheap & Romantic Scratch Off Gift
If you need to make a simple last minute gift for your boyfriend, he will LOVE this scratch off ticket gift.
The note says:
"I'm so lucky you're mine – hope YOU get lucky too!"
Cute, simple and romantic!
AND, if you only use $1 scratch off tickets, and grab the candy and jar at a Dollar store near you, this can made VERY cheaply!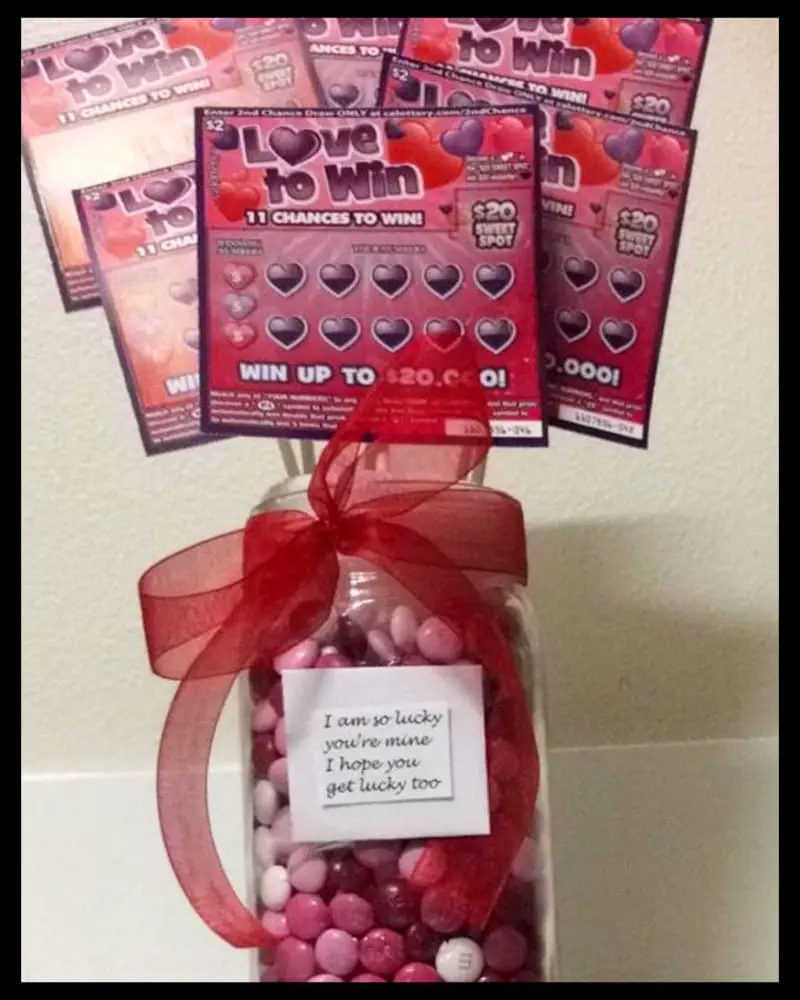 Raining Cash Scratch Off Gift Idea
I showed you all the baby shower gift baskets I've made, but this next idea is SO unique.
At the shower, someone gifted this umbrella with gift cards inside when you opened it.
Wouldn't it be a super creative way to gift scratch off tickets too? I'm thinking a Raining Cash lottery ticket gift theme!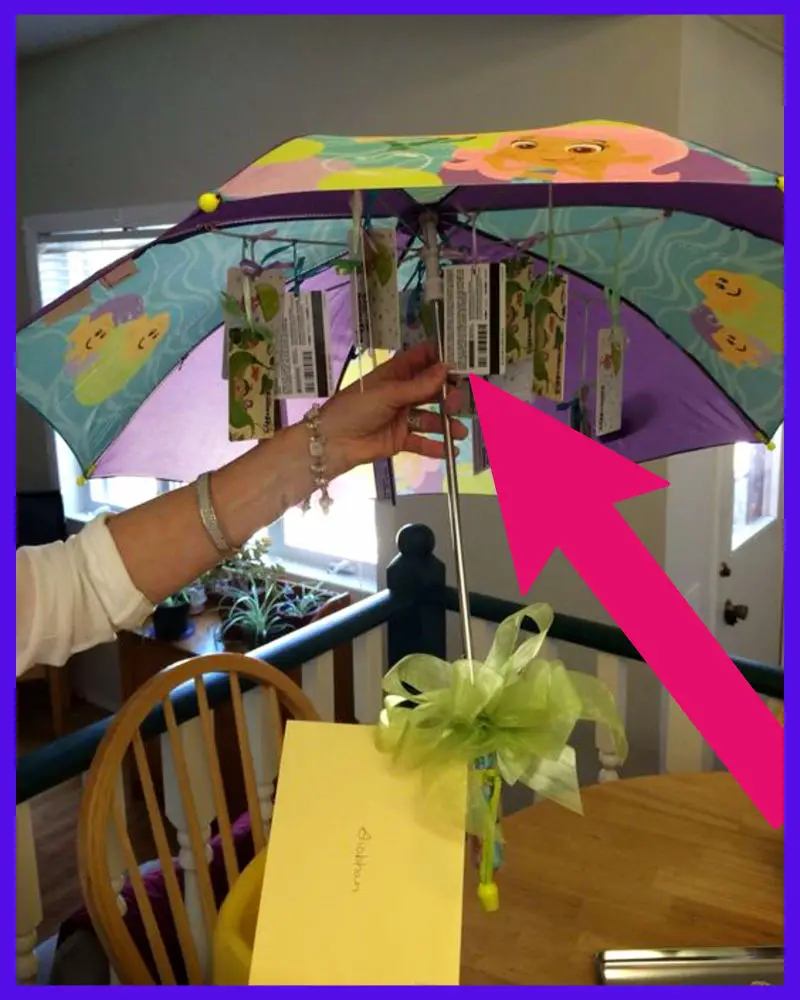 Scratch Off Raffle Basket Idea
I just love this unique raffle basket idea for adults that has lottery scratch off tickets in it.
This was an auction basket at a fundraiser and it made a TON of money – but I love this idea for a St Patrick's Day potluck raffle grand prize or as a 21st birthday lottery ticket gift, don't you?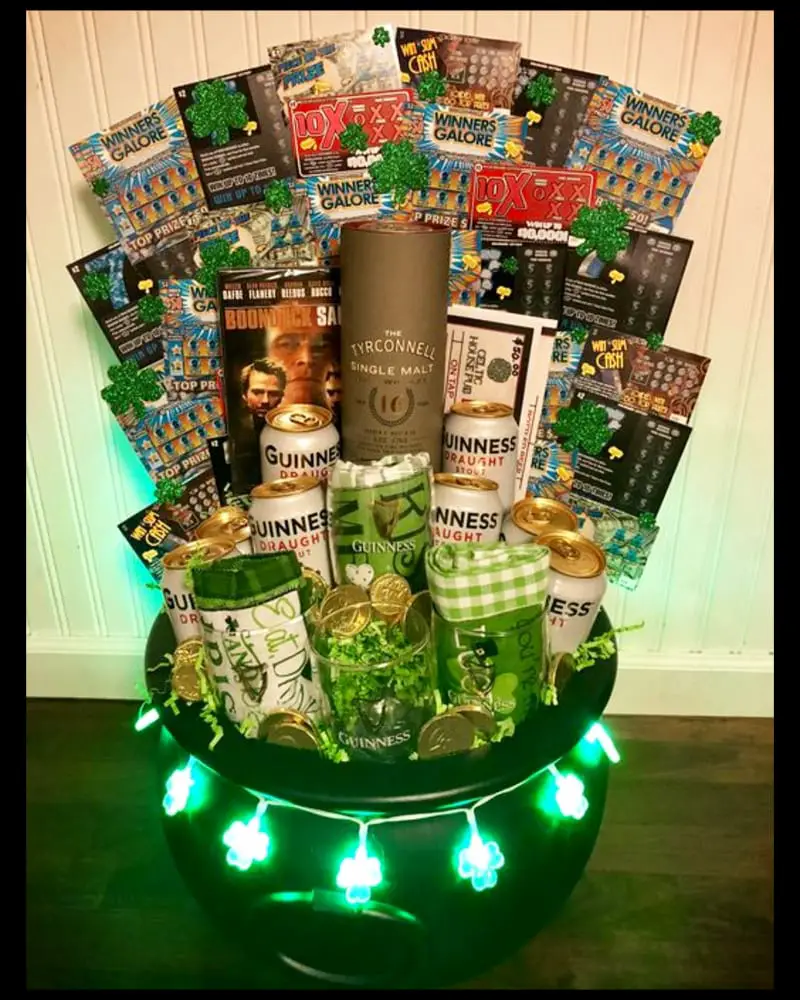 Scratch Off Gift Bag
I love this creative scratchie lottery ticket gift below – so simple, but everyone loves getting one.
Just get a cheap brown paper gift bag, pop a piece of styrofoam in the bottom, hook the scratch off tickets to cheap skewers and poke them down into the styrofoam.
Finish with some bright colored tissue paper – and done!
For a Christmas themed scratch off ticket gift, get all Holiday scratchers and use a Christmas gift bag with Holiday colored tissue paper.
This lotto ticket gift basket bag idea is perfect for a Secret Santa or White Elephant gift too.
We do a potluck at work each Christmas and have all the Secret Santa gifts under a grand prize Lottery Ticket Tree.
Last year, I got one of these lotto ticket gift bags from MY secret Santa and you guessed it… I LOVED it (and I won $125 from the scratch offs too!)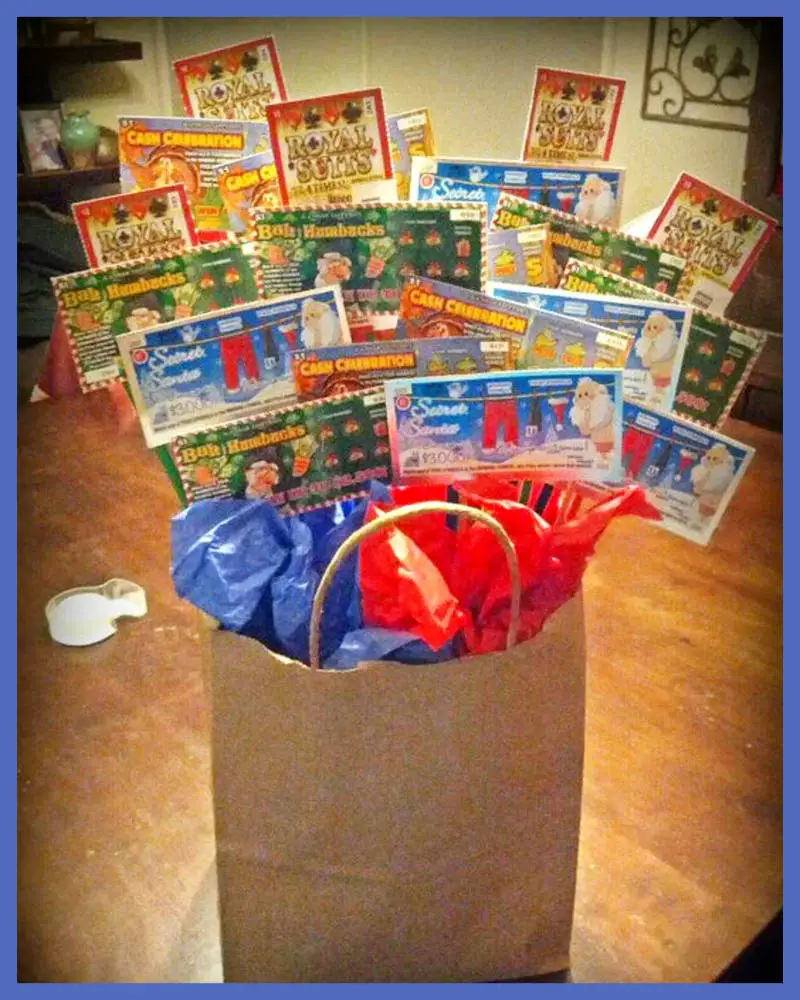 Sports Theme Scratch Off Birthday Gift Basket
Making a homemade birthday gift for a sports lover? This creative way to gift scratch offs is perfect if he/she has a favorite team.
I think it's a GREAT homemade Father's Day gift idea, don't you?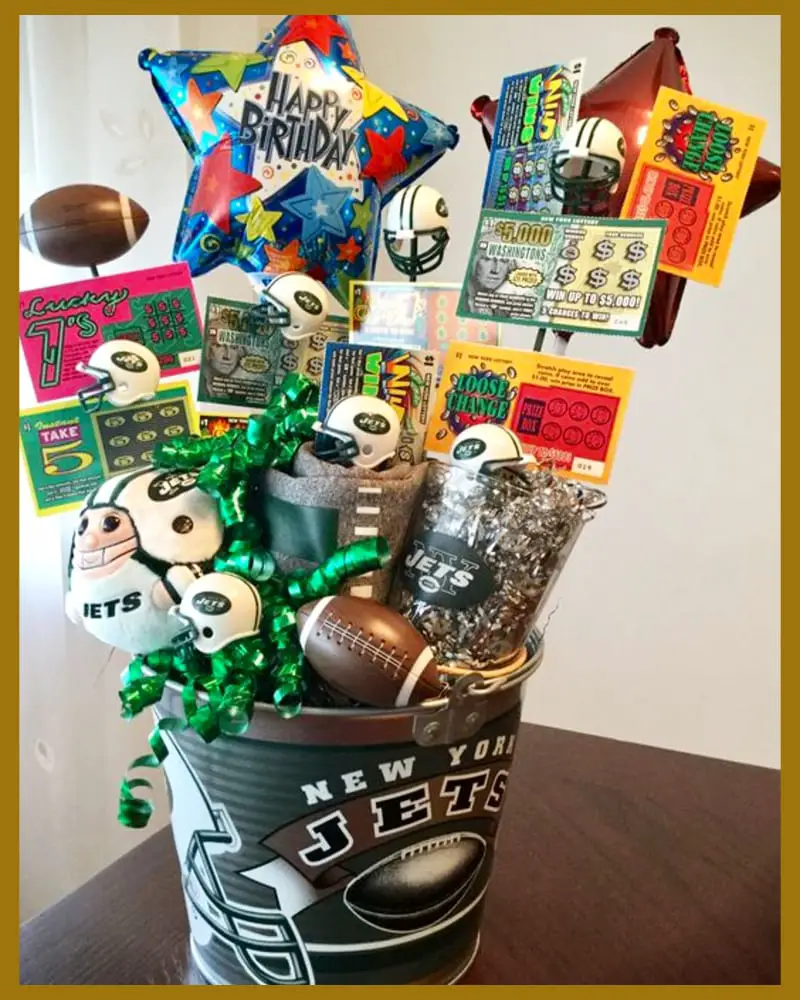 Teacher Appreciation Lottery Ticket Bouquet
Need a unique teachers appreciation gift idea that will be a BIG hit?
Make a cute lottery ticket bouquet like in the picture below.
Would be super cute for Mother's Day too!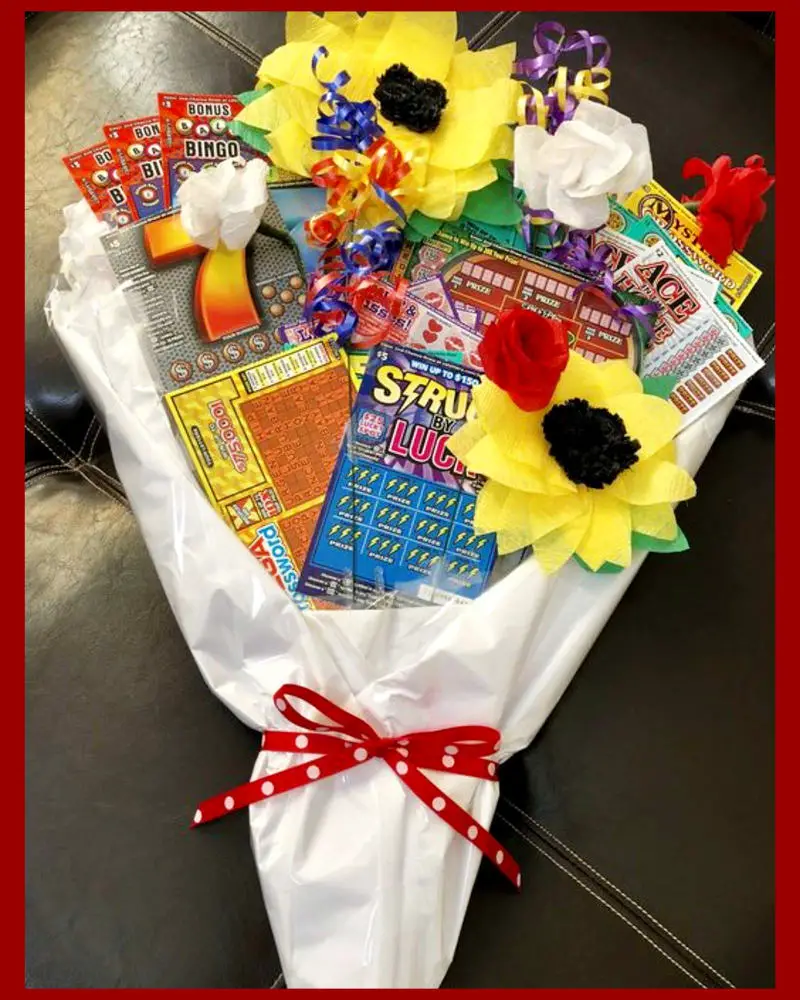 Creative Retirement Gift Basket
Goodbye Tension – Hello Pension!
Have a coworker that is retiring? Make him or her this creative retirement themed scratch off lottery ticket gift basket!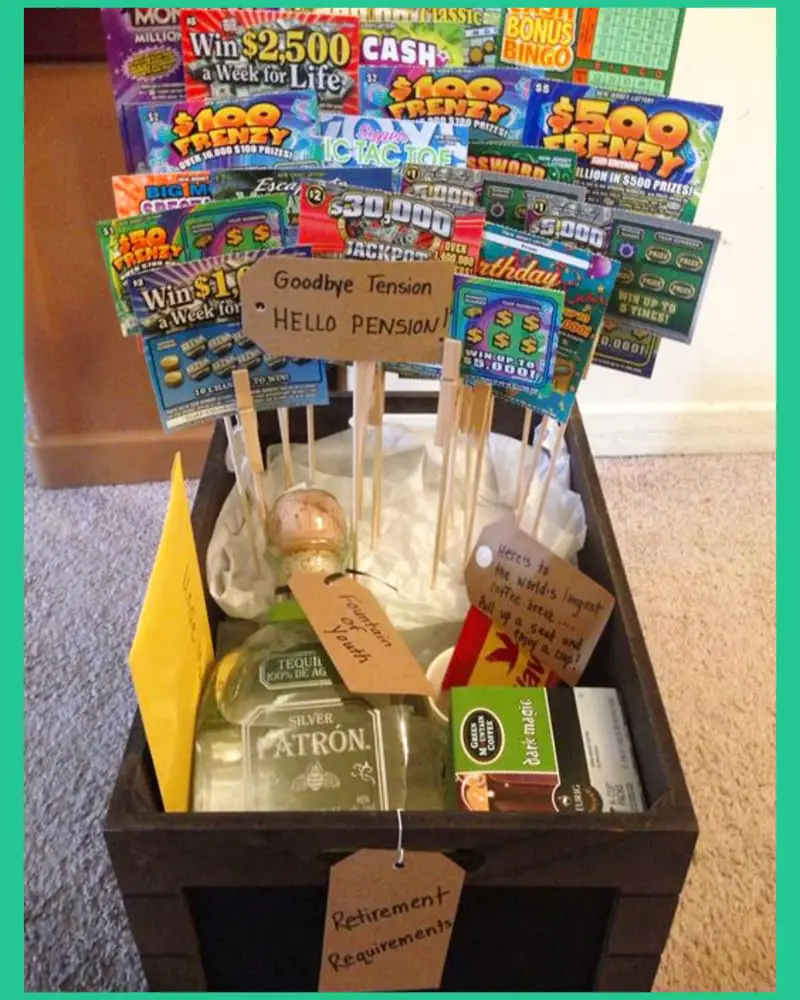 Christmas Scratch Off Gift Idea
What to get the guy or gal that has EVERYTHING without spending a ton?
If you're trying to figure out how to pull off Christmas with little money, this unique lottery ticket gift basket is perfect to give to ANYONE.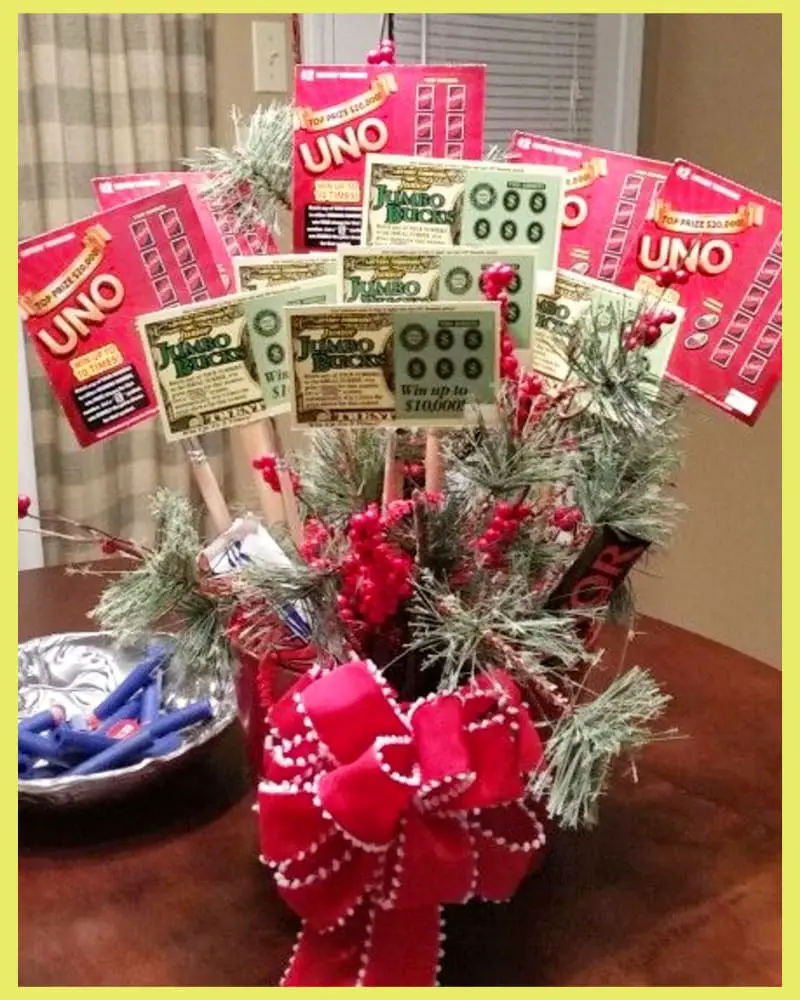 DIY Lottery Ticket Gift Basket
So far, we've seen a lot of scratch offs lottery ticket gift ideas, but this bouquet in a vase is probably my favorite way to gift someone lottery scratchers.
It's so pretty and simple – yet very impressive looking!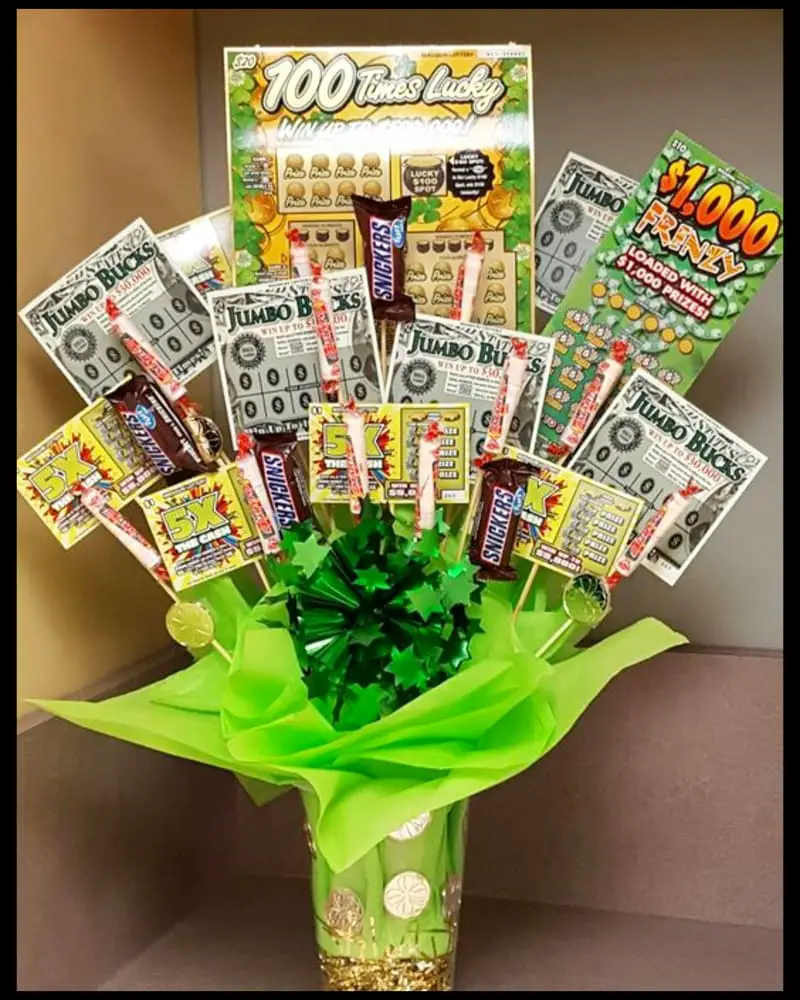 Jackpot Dad Gift Basket Idea
We hit the lottery with a Dad like you!
That's what the scratch off ticket gift basket below says and ALL dads love getting one for Fathers Day and/or their birthday.
Make a great last minute gift idea too!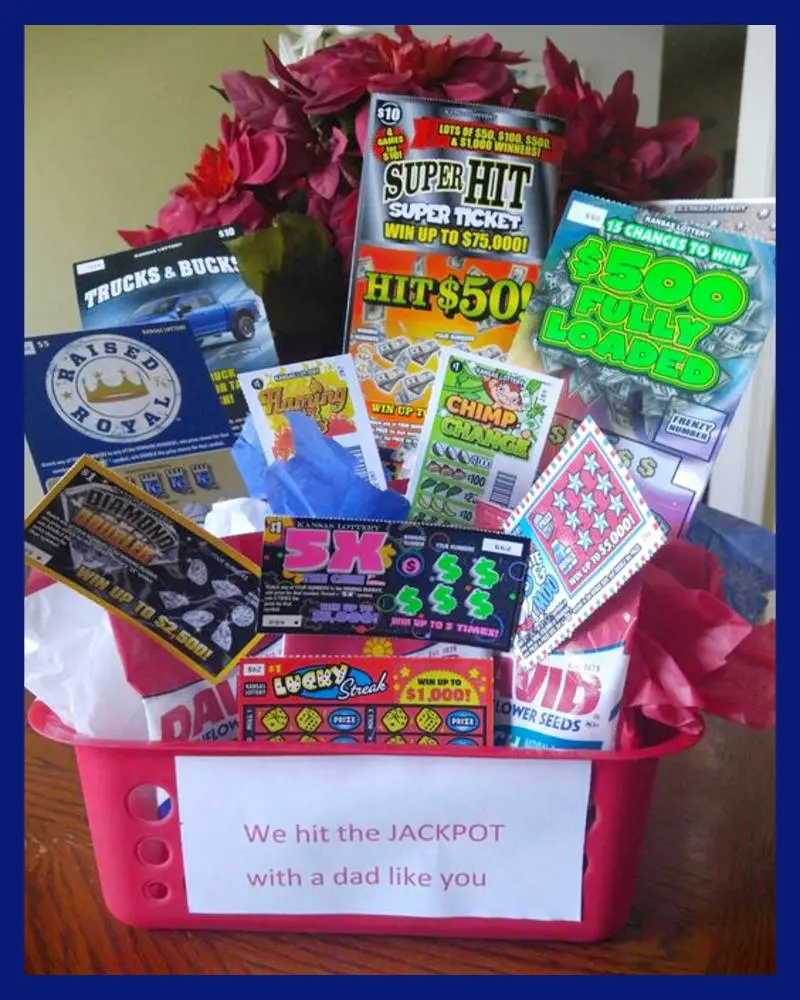 Jack and Jill Scratch Card Raffle Idea
We went to a wedding shower last month and instead of a BASKET, we made this Jack and Jill raffle basket alternative.
Let me tell you this – everyone went NUTS trying to outbid each other and win it!
We were TOTALLY the cool kids at THAT shower haha!
I also make these lottery ticket gift frames for all the kids that graduate among our friends and family (as long as their adults and over 18, of course).
It's become a tradition to the point where every single graduating kid I know can not WAIT to get their lottery ticket gift from us!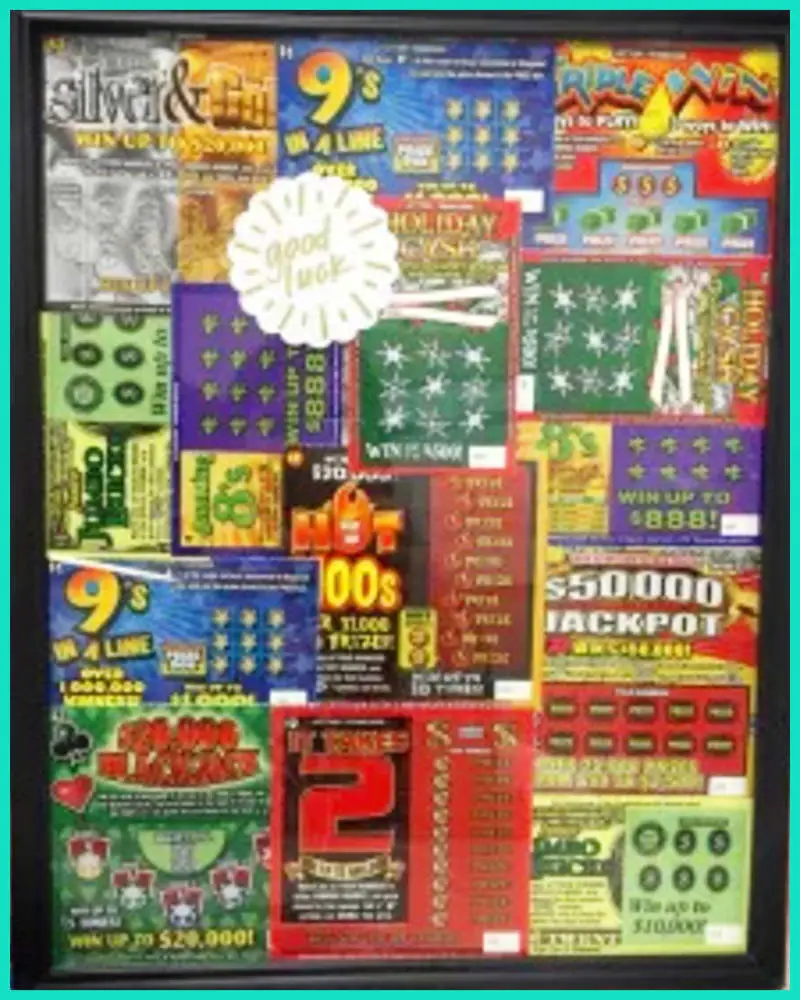 Lottery Ticket Cake
Here's how to make a scratch off lottery ticket cake as a very creative way to gift scratch offs for any occasion:
Miss Anything?
Go back to the top of:
==>> Scratch Off Lottery Ticket Gift Basket Ideas
More Ideas: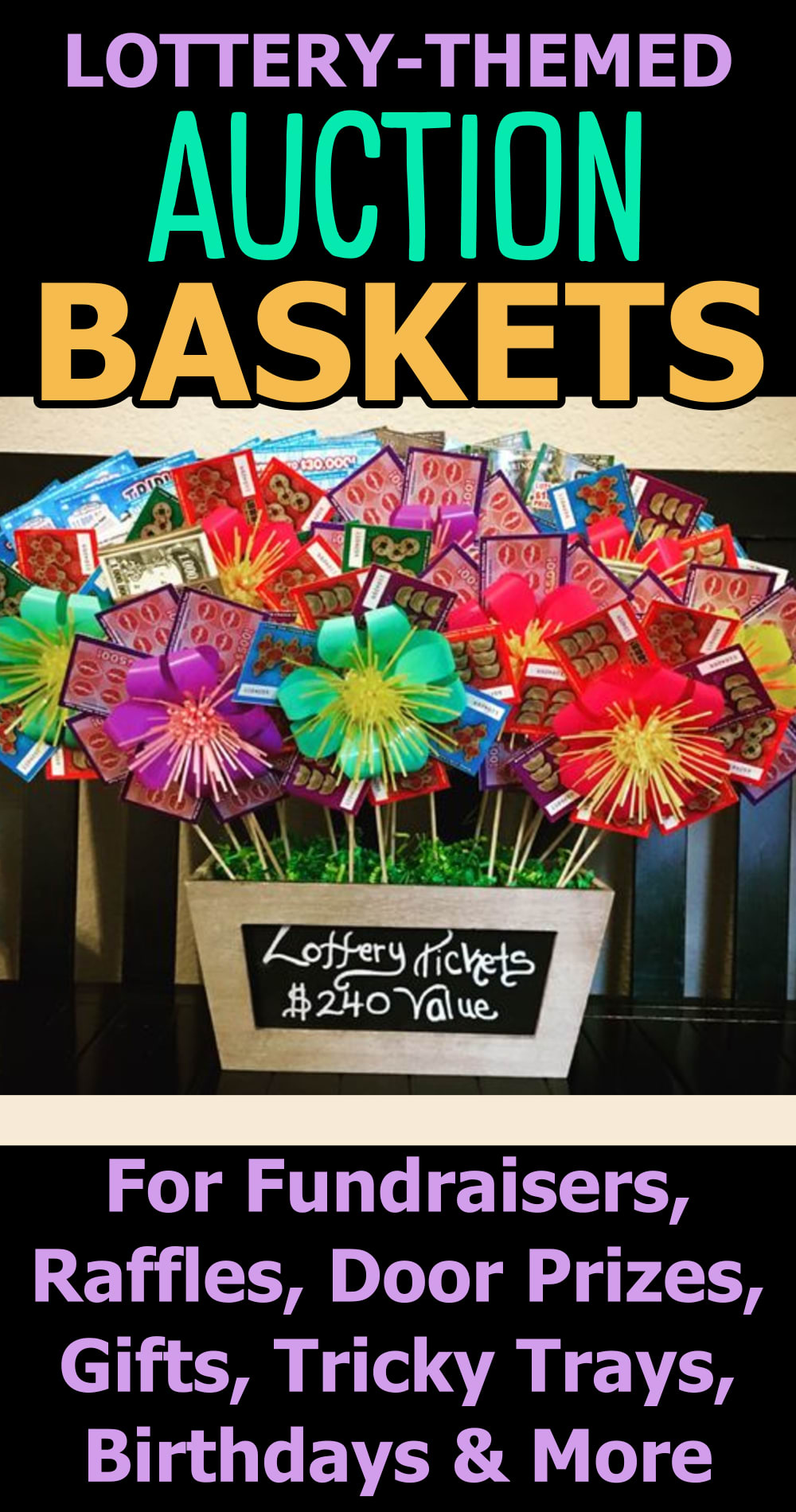 ---
---
DIY EASY GIFT BASKET IDEA USING LOTTERY TICKETS – Lottery Ticket Gift Basket Ideas using Dollar tree and 99 cents only store items! Simple Easy DIY Lottery Ticket Gift Idea… read more
Scratchie Ticket Gift Tree – Scratchie Ticket Gift Tree … tree for a fundraiser but it would make a wonderful gift for Christmas or other special occasions…read more
Christmas Lottery Ticket Gift Tags You Can Print At Home – What Do The Christmas Lotto Gift Tags Say? · I Appreciate You A Lotto · Thanks A Lotto For All You Do · Wishing You A Lotto Fun This Christmas · Your Friendship…read more
Lottery Ticket Christmas Ornaments – New Jersey Holiday Instant Games Tickets (I used two per ornament) · Clear Plastic Fillable Ornaments · Miniature Christmas Balls…read more