Useful Stocking Stuffer Ideas – 113 Useful Stocking Stuffers That Aren't Junk or Clutter with a FREE printable Stocking Stuffer Checklist and Gift Tracker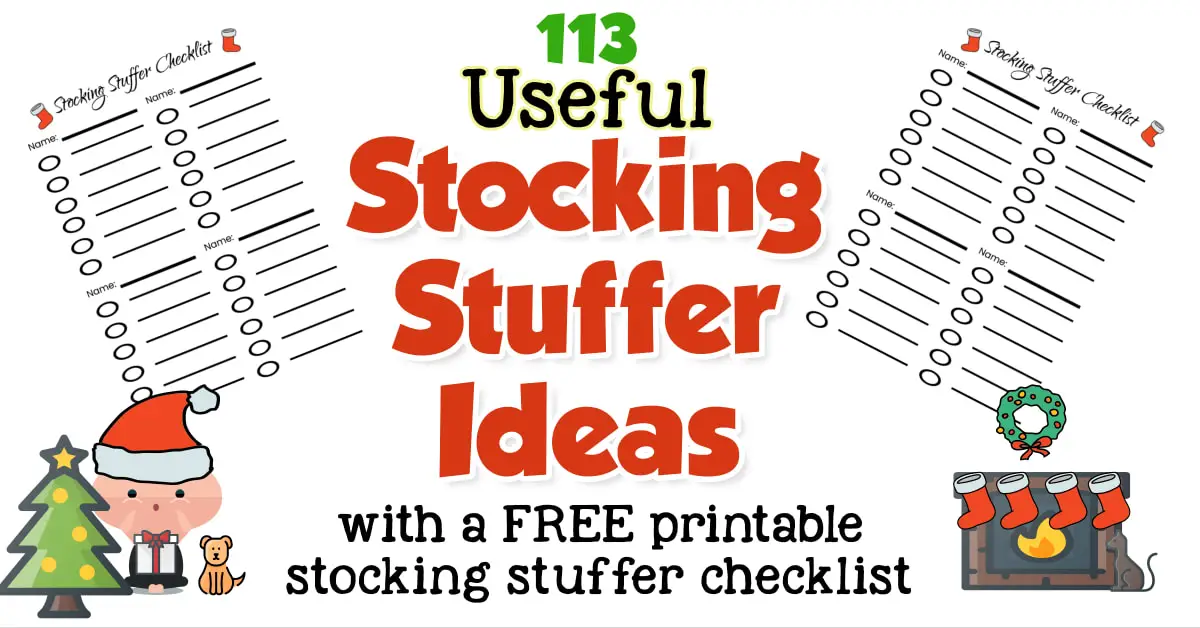 Since our family has grown SO much, we've had to minimize things just a bit or else the cost of Christmas just gets ridiculous.
But stocking are NOT something that has been minimized or downsized – everyone LOVES their stocking each year!
So, as a general rule…
Each kid / family member etc can plan on getting:
Something You Want
Something You Need
Something To Wear
Something To Read, and…
Their Stocking
Since I've been doing Christmas gifts this way for a few years now, the family is pretty much trained to tell me a few things they want, a few things they need, a few clothing ideas and a few books they'd like to read.
But when it comes to what to put in their stockings each Christmas, that is up to ME.
I got tired of just buying random stuff in order to fill their stockings so I started getting USEFUL stocking stuffers – and they LOVE it.
Especially the grown kids!
One year, I gave all the grown kids a big case of toilet paper, paper towels, laundry detergent, etc (think useful housewarming gifts and items they routinely need to buy)
To my complete surprise, they were SO stinkin' happy!
I certainly thought those stocking stuffers would be appreciated, but I did NOT think they would be over-the-moon EXCITED to get them!
From there on out, I decided USEFUL stocking stuffers were it.
I wanted to put items in their stockings that they needed, they used… or things that will save them money.
Oddly, it takes a LOT of stress out of the "what do I put in their Christmas stockings this year???" situation I used to find myself in every, single Christmas.
Stocking Stuffer Checklist
First off, I have a free stocking stuffer checklist for you.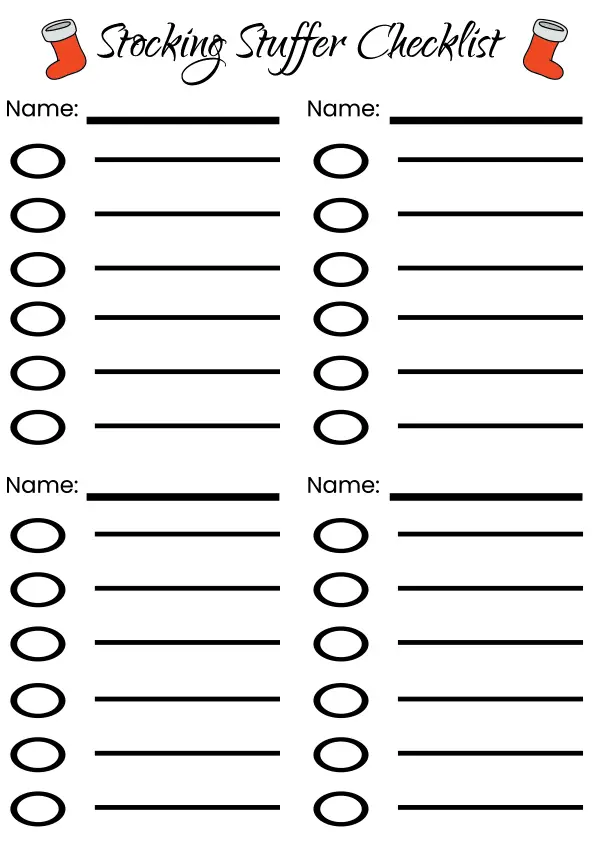 Once you've printed it out (enough copies to have space for all the stockings you have to fill this Christmas), start scrolling though ALL the useful stocking stuffer ideas below that aren't JUNK or clutter and jot down ideas that might work for your stocking stuffer plans this year.
Useful Stocking Stuffer Ideas
I wouldn't really call these minimalist stocking stuff ideas, but these stocking stuffer ideas are definitely useful and WILL be appreciated.
Best of all, these stocking stuffers are NOT junk and NOT clutter!
Phone Chargers
Bath Bombs
Pens/Pencils
Post-It Notes
Flavored Coffee
Bluetooth Speaker
Gift Cards
Toothbrush
Rolled Up Pajamas
Rolled Up Flannel Sleep Pants
Socks
Lotion
Candy
Card Games Holiday Socks
Hair Brush
Sunglasses
Hair Accessories
Earrings
Mini Lego Packs
Nail Polish
Underwear
Funny Job T-Shirt (ie, for electrician)
Car Air Fresheners
Mini Travel Games
Deodorant
Makeup
Flavored Lip Balms
Fuzzy Socks
Chips / Snacks
Coffee K Cups
Hand Sanitizer
Travel Sized Kleenex
Hot Cocoa
Magnetic Notepads
Earbuds
Lottery Tickets / Scratch Offs
Microwave Soups
Fruit
Airplane Sized Liquor Bottles
Bathtub Toys
Crayons
Mini Coloring Books
Flower / Vegetable Seeds
Bubble Bath
Kitchen Utensils
BandAids
Batteries
Small Picture Frames
Matchbox Cars
Small Stuffed Animals
Pokemon Cards
Christmas Ornaments
Razors / Shaving Needs
Beef Jerky
Travel Sized Shampoo / Toiletries
Chewing Gum
Trail Mix
Gloves
Small Craft Kits
Shower Poufs
Keychain
Magnets
Nail Clippers
Food Delivery Coupons
Insulated Mugs / Cups
Candles
Baseball Cards
Scissors
Sewing Kit
Gardening Gloves / Tools
Command Hooks
Oven Mitts
Scotch Tape
Nightlights
Plug In Air Fresheners
Golf Balls
Golf Tees
Essential Oils
OTC Meds (Tylenol, etc)
Candle Lighters
Fitness Watch
Apple Watch Bands
Makeup Remover
Thumb Drives
Flashlight
Wireless Mouse
Reading Glasses
Coozies
Grooming Kits
Cookie Cutters
Coffee Filters
Dish Scrubbers
Hand Soap
Dryer Sheets
Nail Files
PlayDough
Laptop Stickers
Hand Warmers
Q-Tips
Date Night Coupons
Binder Clips
Sharpies
Storage Container Labels
Puzzle Books
Phone Case
Ziploc Bags
Dollar Store Stocking Stuffer Ideas
If you're doing Christmas on a budget this year, here are some Dollar Store stocking stuffer ideas.
$1 stocking stuffers are the best!
Christmas Planner Printables
Miss Anything?
Go back to the top of: ==>> Useful Stocking Stuffer Ideas
Go back to a specific section: