Free Printable Christmas Planners, Checklists and Organizers for the Holidays –
The Holidays are flat out OVERWHELMING so today I'm going to share some FREE printables, checklists, planners and more PDFs to print that will help you organize this Christmas season WITHOUT losing your mind!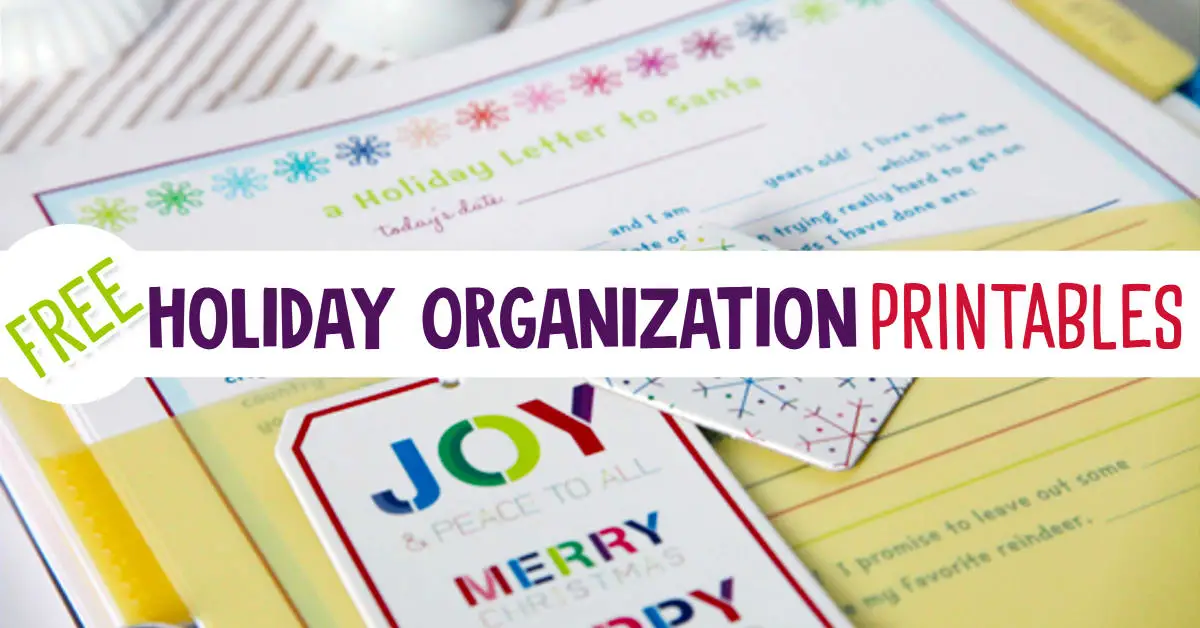 Welcome to Decluttering Your Life - we hope you enjoy our quick decluttering tips, organization ideas and simple DIY solutions for your home - posts may contain ads & affiliate links - that's how we keep the lights on =)
---
---
---
Christmas Organization Tips & Tricks
We all LOVE the idea of Christmas, but then we think about EVERYTHING we need to do – ugh!
Without some sort of Holiday organizing in place, the whole Christmas process feels like a cluttered MESS.
Here are 6 simple tips to organize your Holiday and then links to some really awesome FREE Christmas planner printables, organizers, gift trackers and tags, etc etc.
1. Prioritize

Make a list of the most important events, places, activities, and people that you absolutely cannot do without (or can't find a way to get out of haha!)

Put these items on your calendar FIRST, to avoid conflict.

Now you can schedule around them, but make sure not to overbook yourself! Try to find ways to consolidate if possible. If several of your friends in the same circle are all having Christmas parties, attend one instead of all of them if your Holiday schedule is already jam packed.

 Christmas Planner: The Ultimate Organizer – with Holiday Shopping List, Gift Planner, Online Order and Greeting Card Address Book TrackerShow Me This Christmas Planner: Plan Cards, Gifts, Budget, Meals, Shopping Lists – Recipes, Lists, Notes & More – Everything you Need to Plan your Perfect ChristmasShow Me This

 

2. Pre-Plan Decorations

When it comes to Christmas decorating, open your decorations at least a week before you start decorating and take a good inventory of what you have – and what you need.

For years, I would go Christmas decoration shopping without a clue as to what I already had – and what I actually needed – and I spend way too much unnecessary money (and still didn't have what I needed!)

Here's a bonus tip: when you're putting your Christmas decorations AWAY, leave yourself a list of what you'll need next year (ie, "don't forget batteries for the light up snowman", etc)

3. Gift Shopping Tips

Don't make gift shopping more overwhelming than it needs to be.

I tend to go nuts when planning what to buy everyone – there's SO many gifts to buy!

Here are some tips and tricks to make your Christmas gift buying much easier on YOU:

Use Promos Online –

If your credit card(s) offer double points, cash back, or some other Holiday shopping bonus for shopping online, do that. Online shopping is just plain easier AND when you get extra perks for doing it, that's just icing on the cake.

"Themed" gifts are amazing!

A gift "theme" pretty much just means that you give everyone on your list the same thing, or some variation of it. For example, one year my Aunt gave us all a "Movie" theme gift. Some of us got DVDs, some couples got Movie Theater coupons with her offer to babysit, some got a gift basket with popcorn, candy and other movie-watching snacks, etc. We all LOVED our gifts and the "theme" gift buying strategy really made things MUCH easier for my Aunt (and cheaper, too!)

Do NOT forget the spirit behind gift giving – it is NOT about how much money you spent.
If you have a large family, consider drawing names instead of buying for everyone. You'll probably be surprised how in favor your other family members are once you bring this up. Christmas gifts get EXPENSIVE – and that's not what the Holidays are about.

4. Make a budget

BEFORE you start buying any Christmas presents at all, determine what funds you have available. Then, as you buy those gifts, write down the price and subtract from your Christmas budget. Once you have a list of gifts that fits your allowance, THEN go shopping.

5. Party Food

If you are hosting a Christmas party or some sort of Holiday event, one of the most overwhelming parts is the always the FOOD!

If you are cooking, pick out what appetizers and finger foods you'll be making and then make a master list of all ingredients you will need.

Cross off the items you already have, then take the remaining list with you when you go grocery shopping. This will eliminate the crisis of missing ingredients when it's time to make all your party food.

6. Christmas Card Tips

Christmas cards are a tradition in my house, but lately I've been wondering if I REALLY need to do it the way I have been all these years – it takes SO much time!

I've narrowed down my Christmas card list to only those that I feel as if I will NOT see in person over the Holidays – that has helped me a ton.
Free Christmas Organizers and More!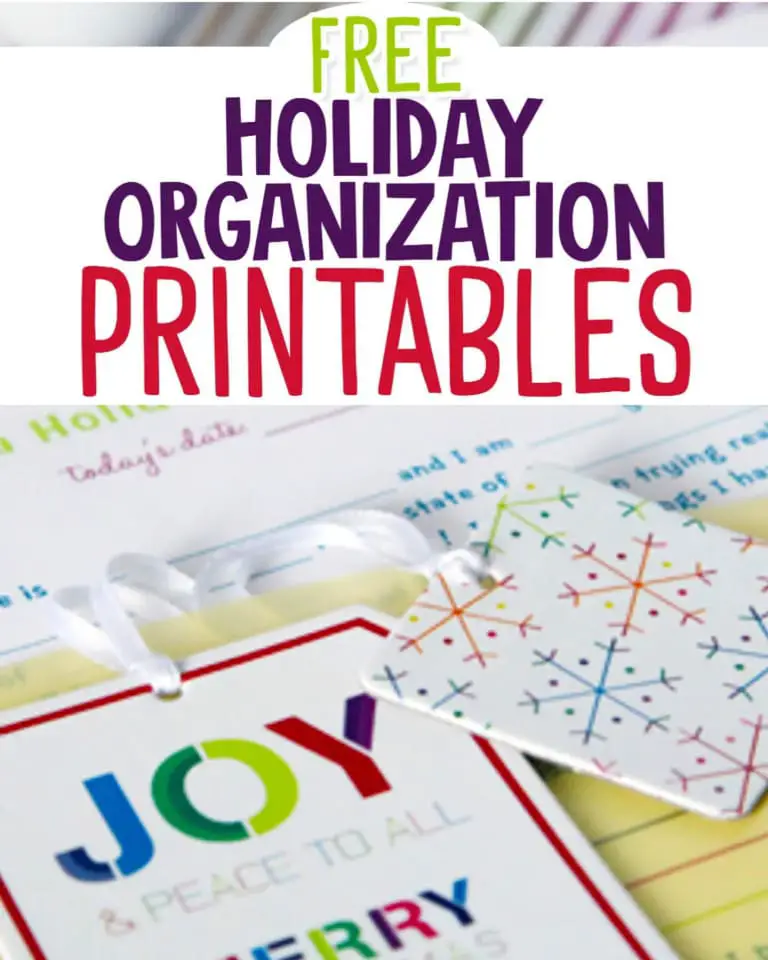 When you're trying to declutter your life, nothing can put a hitch in your plans and progress like… THE HOLIDAYS!
To help you make your holiday season MUCH less stressful and overwhelming, I have found some totally free printables, planners and organizers to declutter your holidays.
YAY!
To get any, and all, free printables below, just click the link to the resource page.
Enjoy!
Stocking Stuffers Checklist
Free Holiday Checklists and Printable Planners
Free Printable Christmas Planner
Free Christmas Gift List Organizer
Free Holiday Meal Planning Printables
'Tis The Season For LEFTOVERS!
Free Holiday Planning Printable Worksheets
Print it out here
Holiday Organization Challenge (free)
Free Holiday Planner Binder Sheets
Free Printable Gift Tags
Free Holiday Storage Labels
Elf on the Shelf Ideas
Free Printable Christmas Photo Booth Props
Miss Anything?