26 Ways To Sell Your STUFF For Cash To Declutter Your Home For Money –
Downsizing your home? Need extra cash? Feeling overwhelmed by CLUTTER? There are many reasons you'd want to turn your clutter into cash. First off, it's MONEY – and who doesn't want some extra cash? Whatever YOUR reason is, there are many ways – and places – to sell your clutter for cold, hard cash.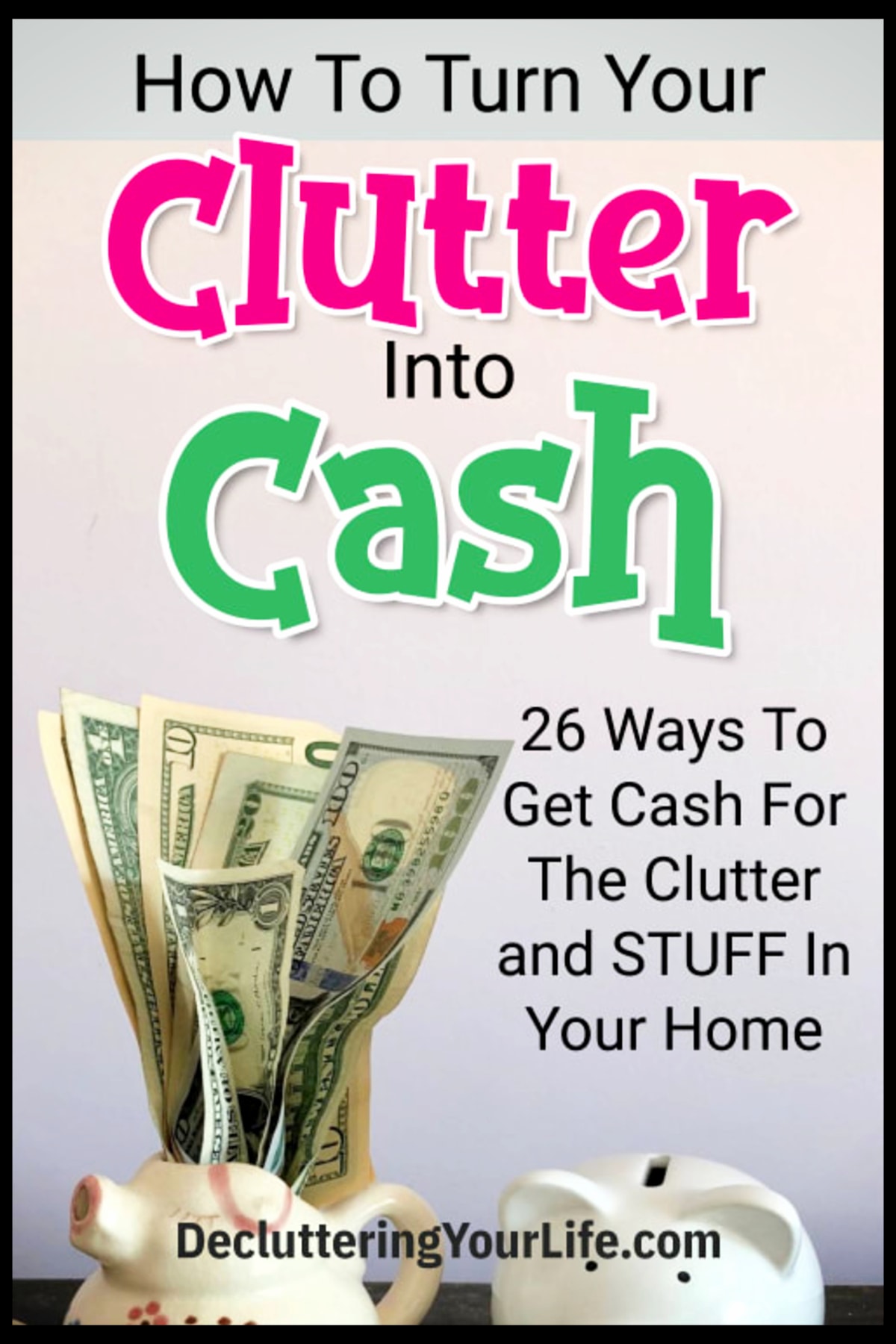 From old phones, to old cars, to books and clothing – you can sell just about anything YOU consider junk or clutter and put some extra money in your pocket. Below we'll talk about HOW to sell your old stuff and all the various places and ways to do it.
How To Sell Clutter
Before we jump into WHERE to sell your clutter, let's start with HOW to make money getting rid of stuff in a way that is quick, effective – and profitable.
Most people have enough clutter in their homes to make a good bit a good chunk of money by selling it.
From used books to extra furniture, it is not unusual for people to find that they have several hundred dollars (or more!) of STUFF sitting around their homes not being used. Just think what you could do with that extra money if you sold that old stuff!
Your first step before ANY selling can happen is to decide what you want to sell.
How Much Can You Make?
While everyone's clutter value will vary, I want to share some tips and tricks from someone that made over $15,000 selling her clutter.
Yes – fifteen THOUSAND dollars!
She says:
Would you believe that your unwanted clutter could start making you $1,000 per month in cash?

I made over $15,000 selling my clutter online after starting on a minimalist journey to extreme declutter our entire lives…
In the video below she shares her 10 best tips for making money selling your clutter for cash online and how she made $15k doing it.
How To Price Your Items
After deciding what it is that you want to sell, you need to develop an idea of the price that you want to sell it for –
Remember:

The idea is to get RID of clutter AND make some extra money.
While some of the places to sell your clutter below will tell YOU how much they'll pay you for it, other places will require you to come up with the selling price.
Rule #1 of pricing your clutter items to sell is:
Do not price your items too high or you will end up NOT selling it – and you'll STILL have that clutter.
Make life easy on yourself and price your items so that they sell fast – you will be happier in the end instead of holding out for the sale that might not happen with a higher price.
If you have trouble deciding what to charge for your item, look at the same places where you might sell to get an idea of what prices other people are charging.
TIP: this site is VERY helpful for getting a good idea of the value and price to charge – especially for hard to price items.
My rule of thumb is this:
If it's a clutter item that I would consider just donating if it does NOT sell, I price it super cheap.
I'd rather get a little something than nothing at all for an item I would end up donating or giving away anyway.
Selling your clutter is not the time to get greedy OR to overthink the process.
Price it cheap and get it gone… and enjoy some extra cash for your decluttering efforts.
It's a win/win/win –
You win by getting rid of some stuff AND getting some cash for it – and the buyer wins because they got something they want/need for a good price.
So, how can we turn the clutter into cash?
Below is a BIG list of WHERE to sell your stuff for cash.
WHERE To Sell Your Clutter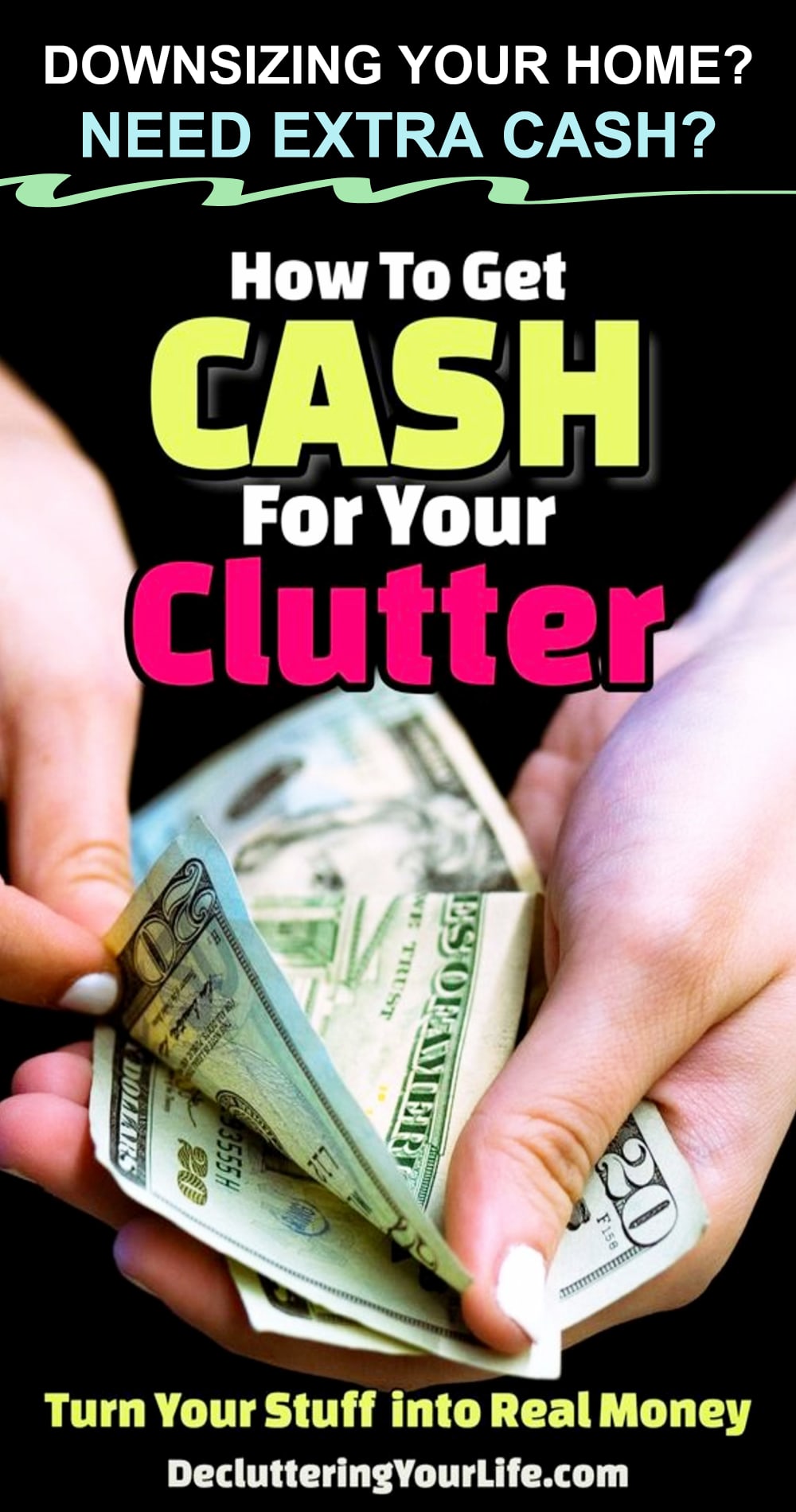 The list below is big, but it will give you great ideas and resources for selling your old stuff and unused items to get that clutter OUT of your home – and more cash in your hand.
The items in the list below include:
– How to turn your clutter into items to sell
– Sites that will BUY your stuff (they set the price)
– Sites where you can SELL your stuff (you set the price)
Amazon Trade In

The Amazon Trade-In program is pretty darn awesome – it's amazing how many people don't even know it exists!

This Amazon Trade-In program allows you to get Amazon gift cards in exchange for your stuff. To me, Amazon gift cards ARE like cash in the bank (yes, I have an "add to cart" issue haha!)

Best yet, they have a list of thousands of eligible items you can trade in.

See full list and details here.

Repurpose Old Furniture and Sell It

I have a neighbor that turns her old "junk" furniture into beautiful pieces – and sells them for really good money. Before you throw it away, look at these ideas and see if you can't turn that junk into cash.

Have a Yard Sale / Garage Sale

Yes, I know – having a yard sale or garage sale sounds like WORK – and it can be. I've found the best way to do this is with other neighbors or friends who are all trying to sell their clutter and not do it alone.

Trade For Best Buy Gift Cards

You can trade your old electronics for Best Buy gift cards here.

Sell it To Decluttr.com for Cash

Decluttr is one of those sites that buys your old stuff FROM you. You tell them what you have and they'll make you an offer. Once they get your item, they pay you (by direct deposit or by PayPal).

They buy phones, CDs, DVDs, books, LEGOs, games etc. Very cool – and sure takes the hassle and WORK out of selling your stuff on your own.

Sell Old Cell Phones to Gazelle for Cash

You know ALL those old, outdated cell phones you have lying around? Did you know you can get CASH for those old phones.

Gazelle.com will make you an offer on TONS of types of phones.

Sell Video Games To Game Stop

The Game Stop app has prices for tons of games, consoles, electronics and accessories already there. If the price works, you can sell it to Game Stop for trade credit – or even cash.

Sell Unusable Gift Cards to Raise

The Raise site is really neat – you can earn cash for your unwanted gift cards and store credits.

Sell to Eagle Saver

Eagle Saver will pay cash for old CDs, DVDs, books, Blu-Rays and games – AND they offer a one-day processing.

Get Store Credit For Electronics from Staples

The Staples program will let you trade your old electronics stuff for store credit.

You can do it online here or in any Staples store near you.

Sell Your Clothes at ThredUp.com

ThredUp has THE coolest program to get rid of your old clothes and sell them for you. They have what's called a Clean Up bag they send to you – and you fill it up and send it to them. In turn, they sell what they can and when it sells, you get cash.

Trade Electronics for Target Cash

The Target Trade In program is another way to get money for your old electronic items.

Note: I've heard that if you use the promo code "STAY SAFE" you can get an extra 10%.

Sell It On eBay

Take a scroll through the Ebay site and look for items that are similar to what you want to sell. You might be amazed how much your old stuff is worth!

Get Cash For Your Books

You can go to Sell Back Your Book and get cash for your old books.

Tip: they have an app for your phone that makes it MUCH easier – just scan the code on your book and see your cash offer.

Sell it on Facebook Marketplace

Facebook has this marketplace option where you can sell just about ANYTHING – very handy and works really well.

Trade or Sell Old Golf Clubs

We are pretty serious golfers in this house and always have old clubs just lying around collecting dust.

I recently found out I can trade old clubs for credit here – or sell them for cash here.

Get WalMart Cash For Used Electronics

Walmart has a program called Gadgets For Gift cards that you can trade in your old gadgets for Walmart gift cards.

note: I've heard you can use promo code "STAY SAFE" to get an extra 10% with this program too.

Sell it on Local Buy/Sell/Trade Facebook Pages

This is probably THE most popular ways to sell your stuff for cash – here's how to use Facebook Buy and Sell Groups.

Sell Clothing on Poshmark

My friends and I have the BEST time selling our clothing items to Poshmark – and the money is pretty nice too.

Sell Junk Vehicles To Peddle

Have a car, van or truck you want to sell quickly for cash? Peddle will buy your car in any condition, they come get it and give you a check. Easy!

And yes, you read that right – they buy vehicles in ANY condition – doesn't matter if it runs or not, if it's a junk car or damaged.

Sell Your Stuff on Etsy

If you have things that YOU would like to buy, Etsy could be a good place for you to sell them. I haven't done much with Etsy but here's more info on how it works.

Sell You Stuff Locally on 5Miles.com

You can sell just about ANYTHING on 5Miles.com!

I've seen used baby stuff, home decor items, luggage, appliances, gadget, clothings, shoes, furniture, etc etc.

It's a really neat site to use.

Sell it on OfferUp

The OfferUp site and app is an SUPER easy way to sell just about anything you don't want or need anymore.

It takes about 30 seconds to snap a picture of the item with your phone and have it listed for sale.

note: OfferUp was previously called LetGo.

Sell Wedding Dresses and Bridesmaid Dresses

Perhaps you have an old wedding dress you want to sell or multiple bridesmaids dresses in your closet that you will never, ever wear again?

You can get cash for them!

This site has a calculator to let you know what they're worth.

Sell Musical Instruments For Cash

This site, Reverb, is a marketplace specifically for buying/selling used musical instruments that works very well for getting a good price.

Sell Your Antiques For Cash

Selling your antiques and vintage items for cash can be a bit of challenge to be sure you are getting a fair price for them.

Ebid has an antique section you can sell on – it's also helpful to gain some insight into how much your antiques are worth when selling them elsewhere.
Bonus Tip
Here's a bonus way to get quick cash for your stuff…
Now, I am not a fan of Pawn Shops, but they do serve their purpose in certain situations.
That said, there is a site called PawnGuru that will let you make a quick listing of your item(s) and then you'll get CASH offers from multiple pawn shops in your area.
In some situations, I can see this being helpful for turning your stuff into cash when you need it.
Ok, there you have it – the how and WHERE to get cash for your clutter and unused items.
Have fun with it – and let me know how much you make!
What To Read Next:
Miss Anything?
Click a link below to go BACK to a specific section