Coffee Bar Ideas – 30+ Ways To Set Up a Small Coffee Area, Cocoa Bar or Hot Chocolate Station On Your Counter Or in Your Kitchen –
Even in a small kitchen, you can still set up the cutest coffee area/coffee bar on your kitchen counter.
The kitchen coffee bar pictures on this page are so cute AND so easy to recreate in YOUR kitchen.
Let me show you some of my favorite ideas (the pictures are GORGEOUS!)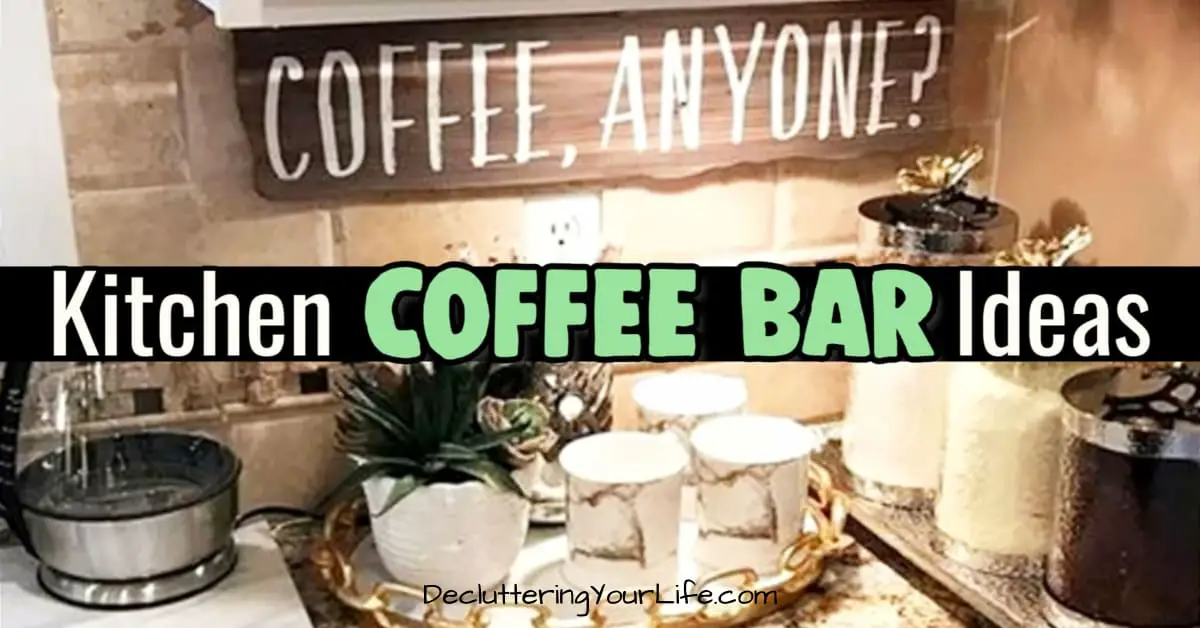 Welcome to Decluttering Your Life - we hope you enjoy our quick decluttering tips, organization ideas and simple DIY solutions for your home - posts may contain ads & affiliate links - that's how we keep the lights on =)
---
---
---
Let's take a look at some unique and beautiful kitchen coffee bar ideas you can copy in YOUR kitchen!
Whether you want a coffee bar for your kitchen counter, a coffee NOOK idea, or any type of small coffee bar area in your kitchen, there is sure to be at LEAST 3 ideas on this page you'll love!
 Coffee Bar CartsGet More Info Coffee Bar DecorGet More Info Coffee Bar Wall RacksGet More Info
☑ Kitchen Coffee Bar Ideas
Coffee Bar PICTURES! Below are 30+ of our favorite small kitchen coffee bar ideas that are sure to give you inspiration and clever DIY ideas for organizing your own kitchen coffee area.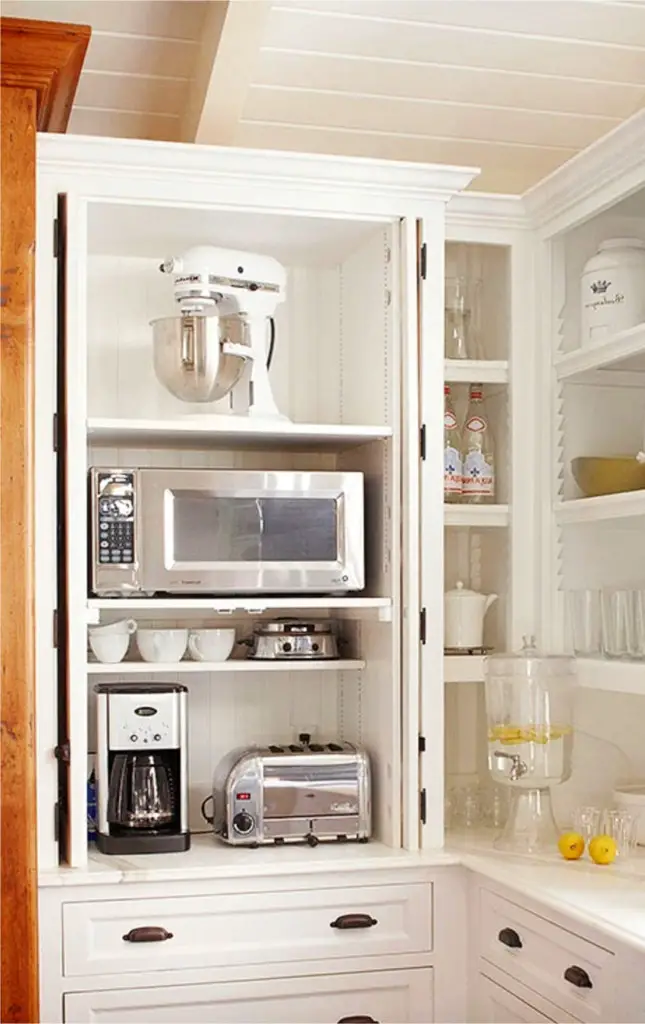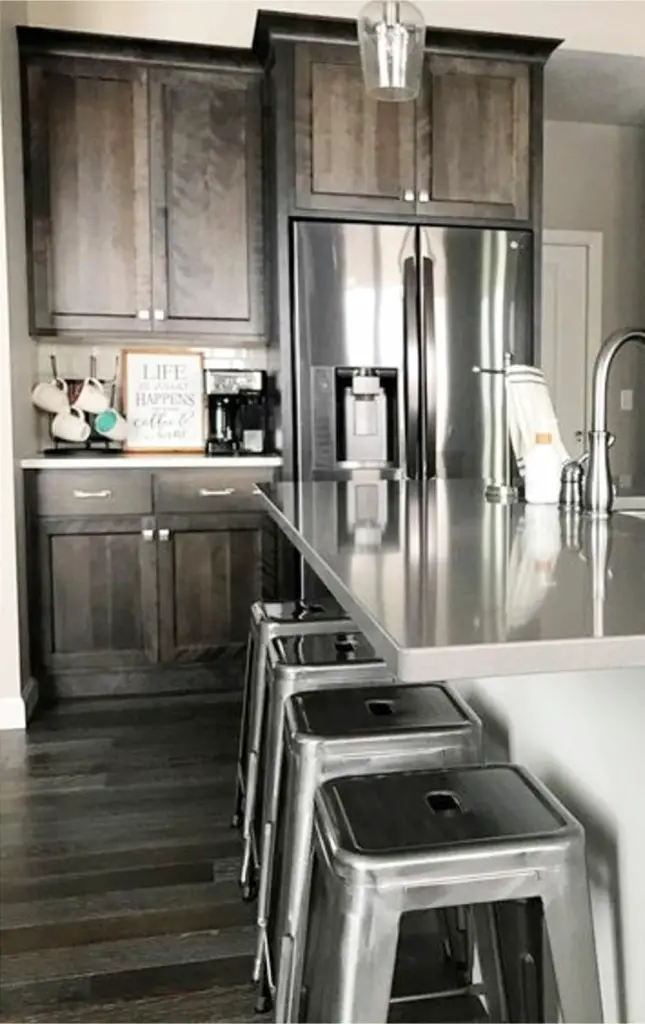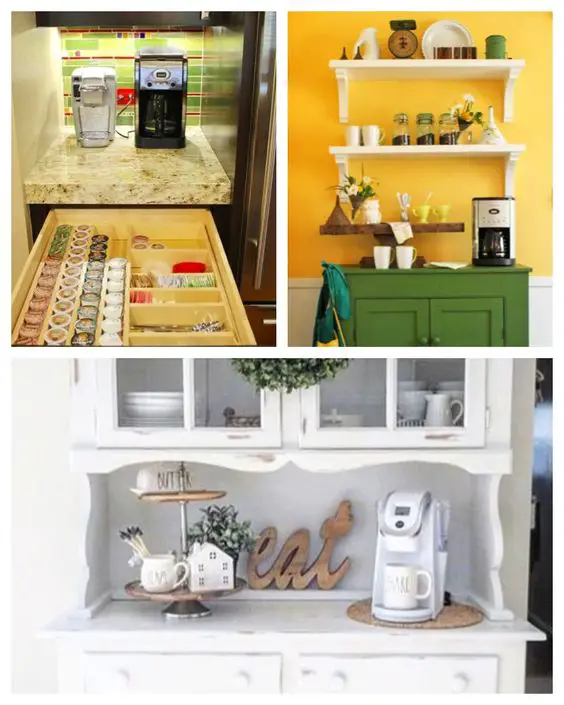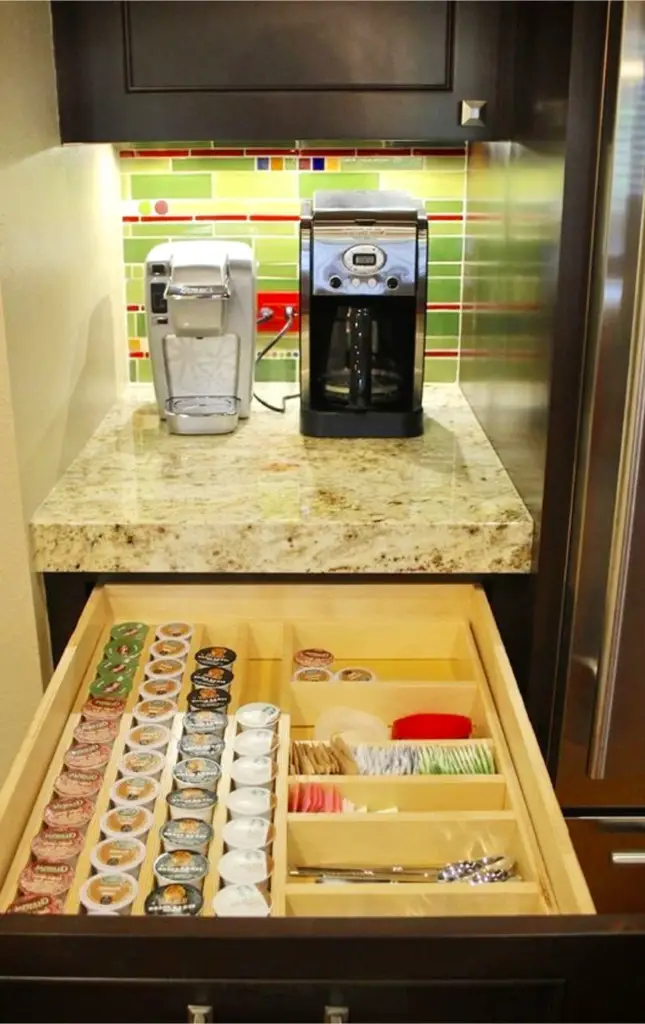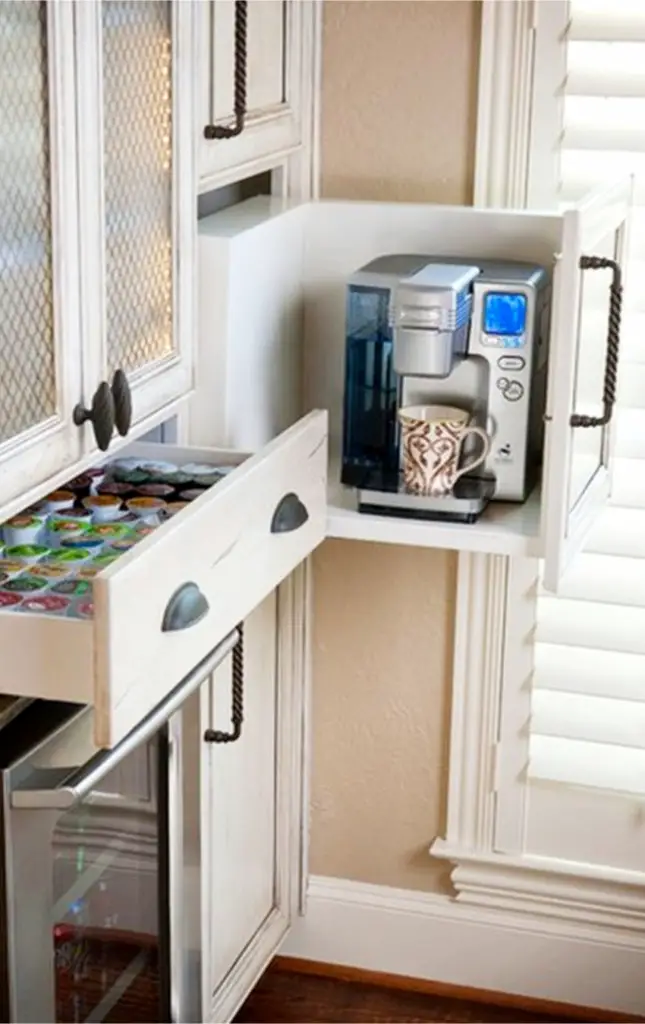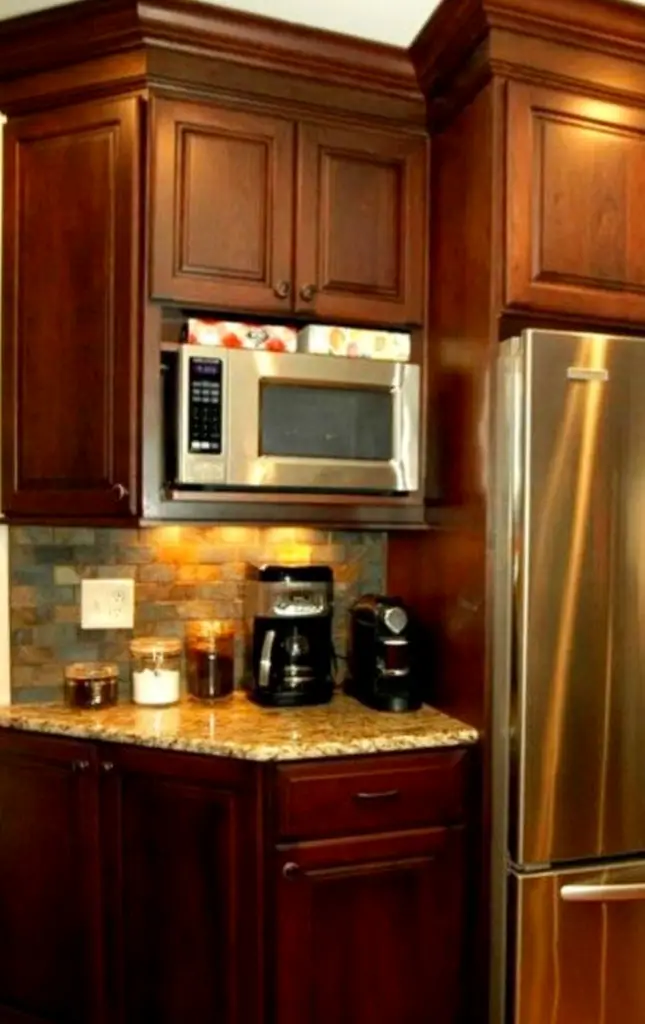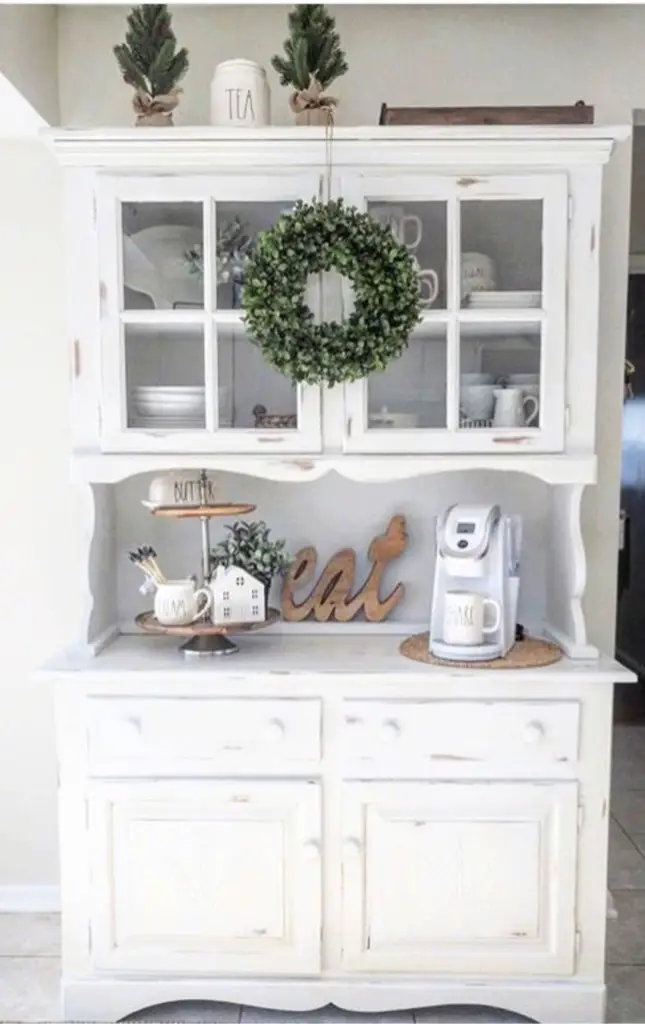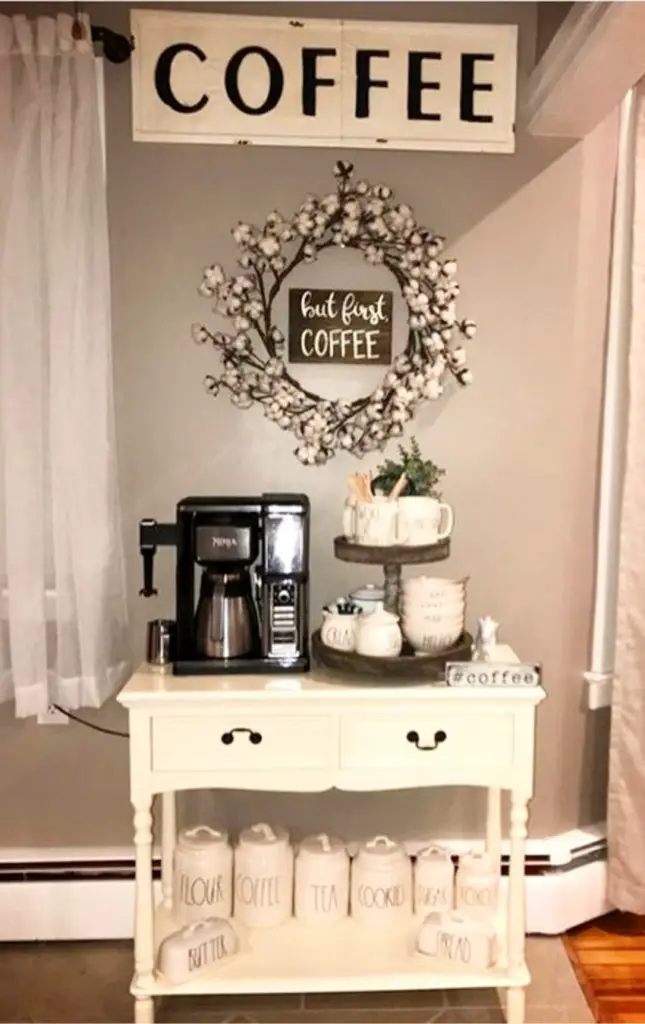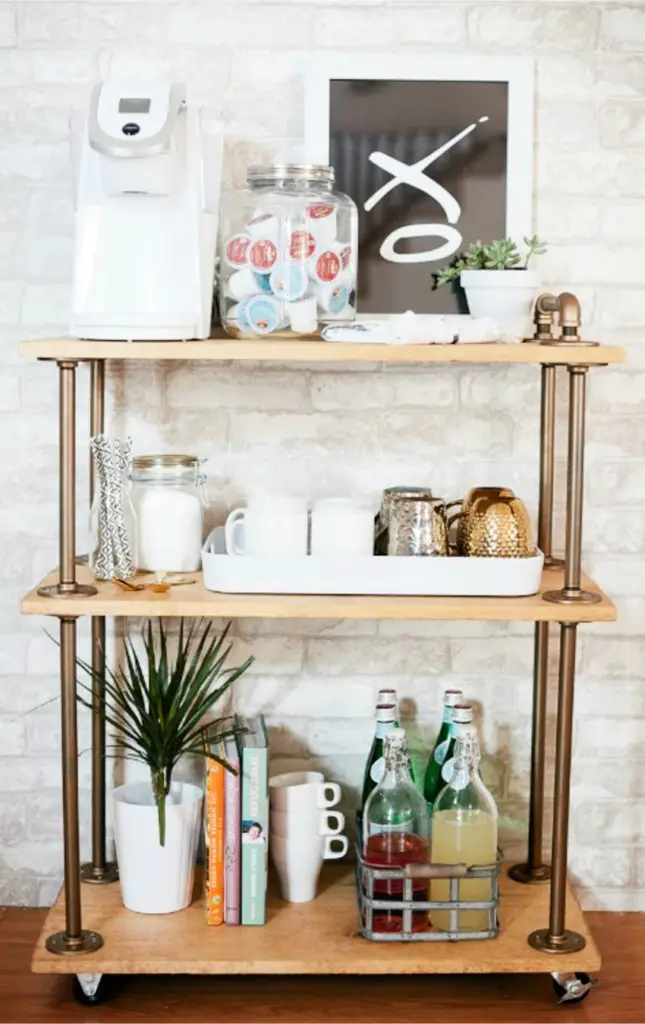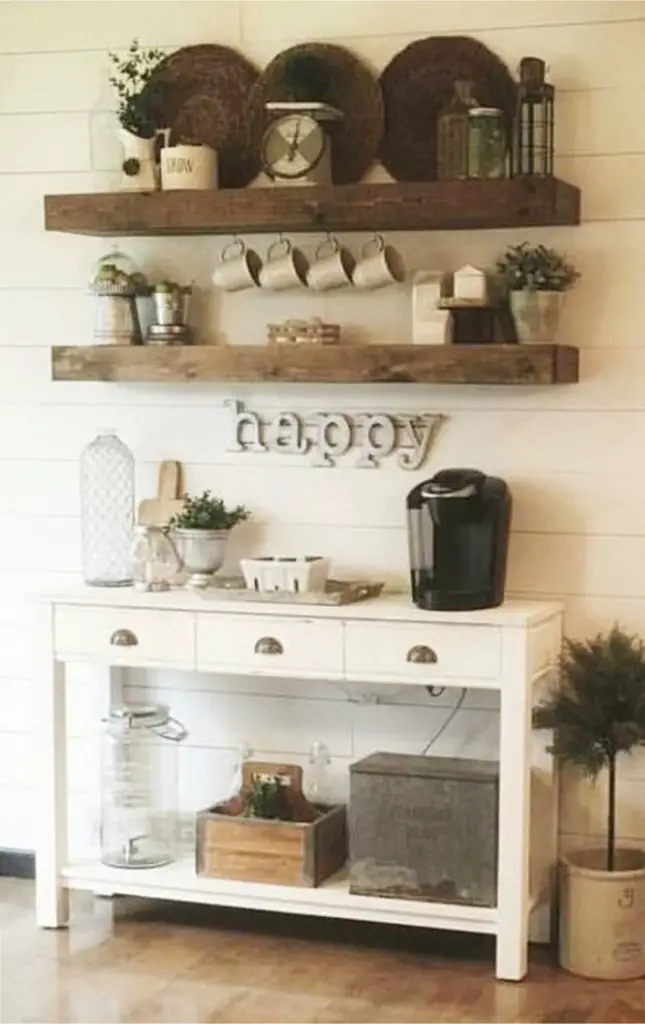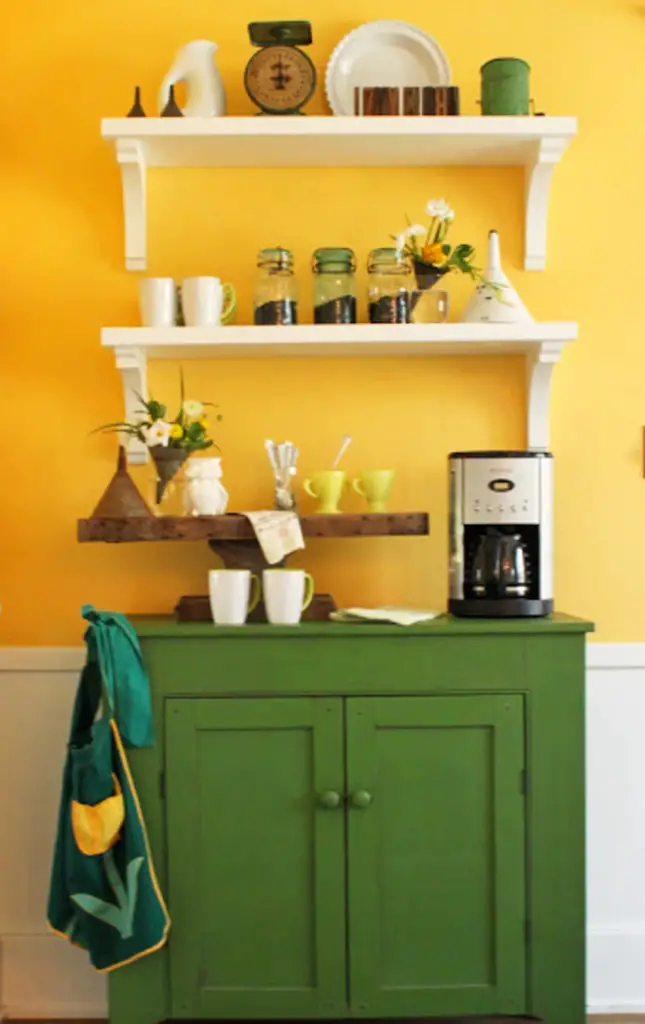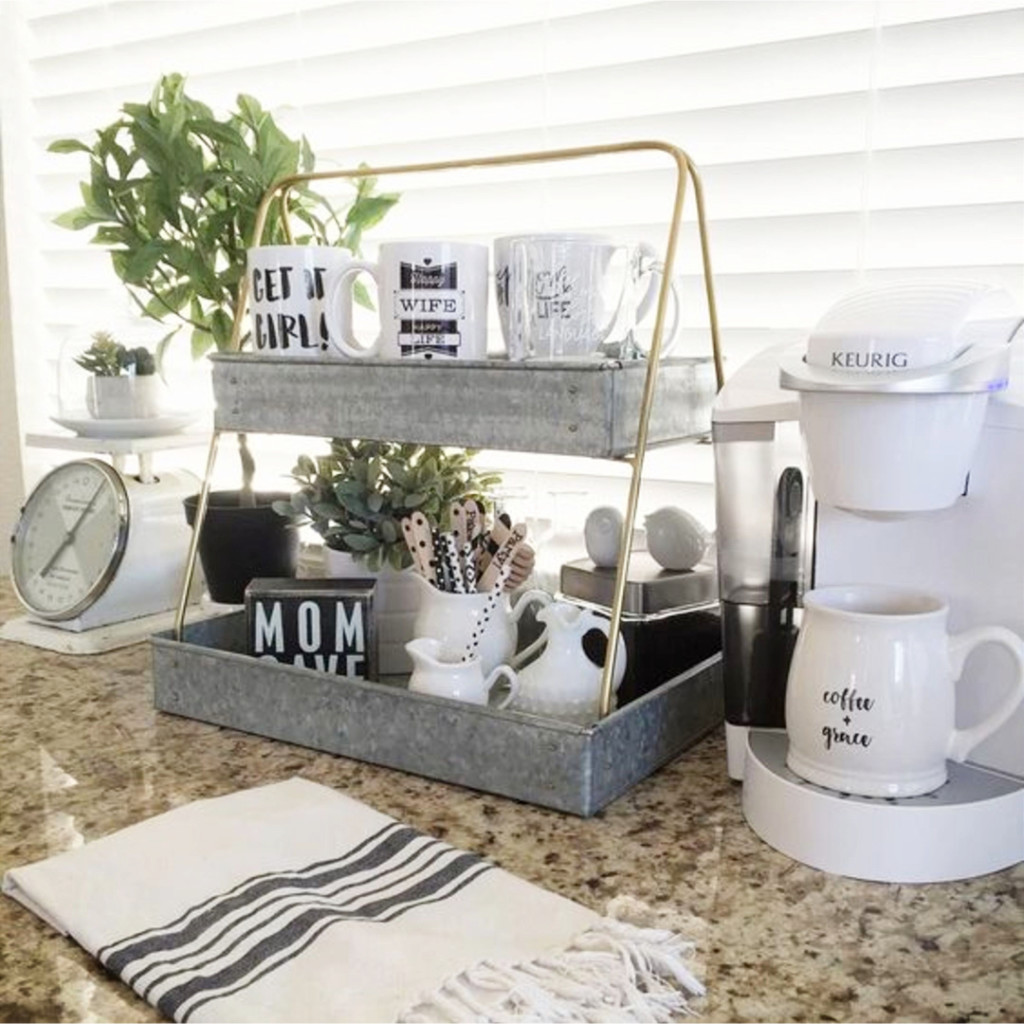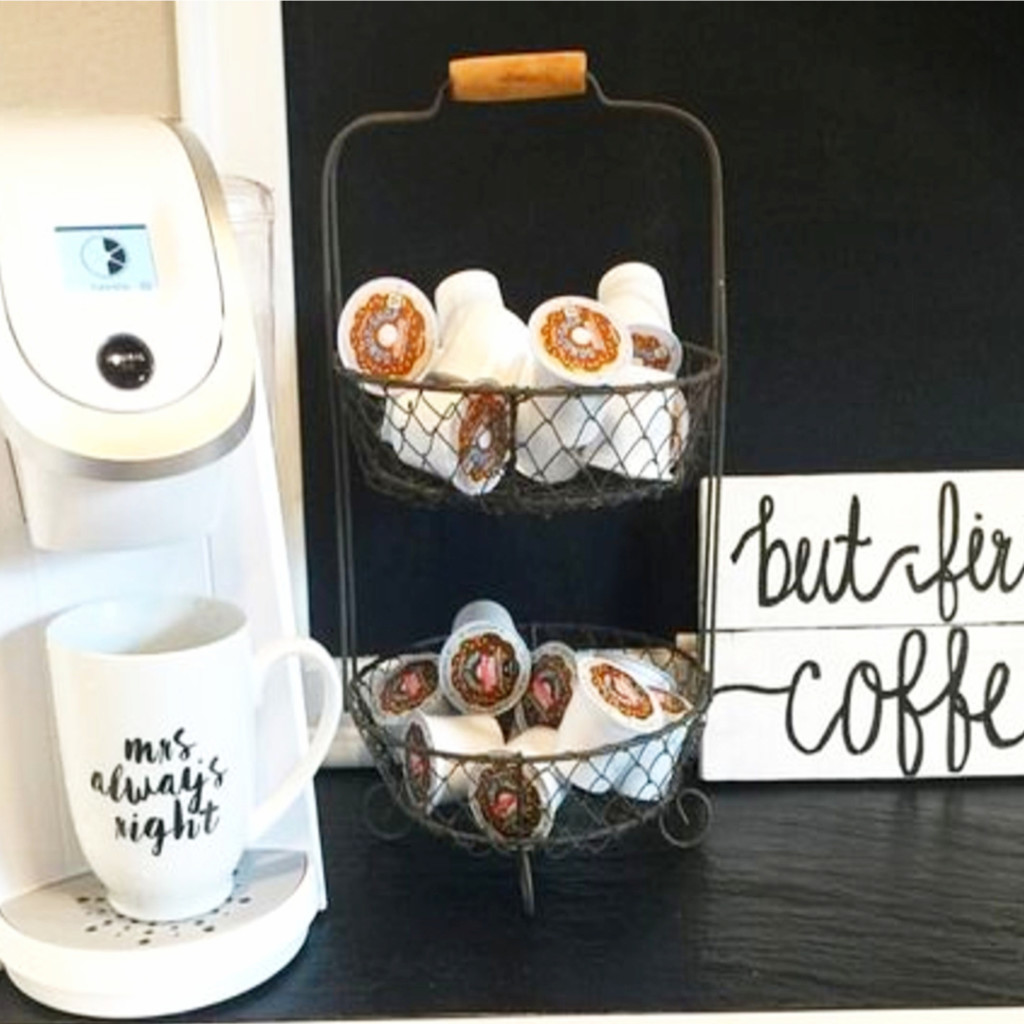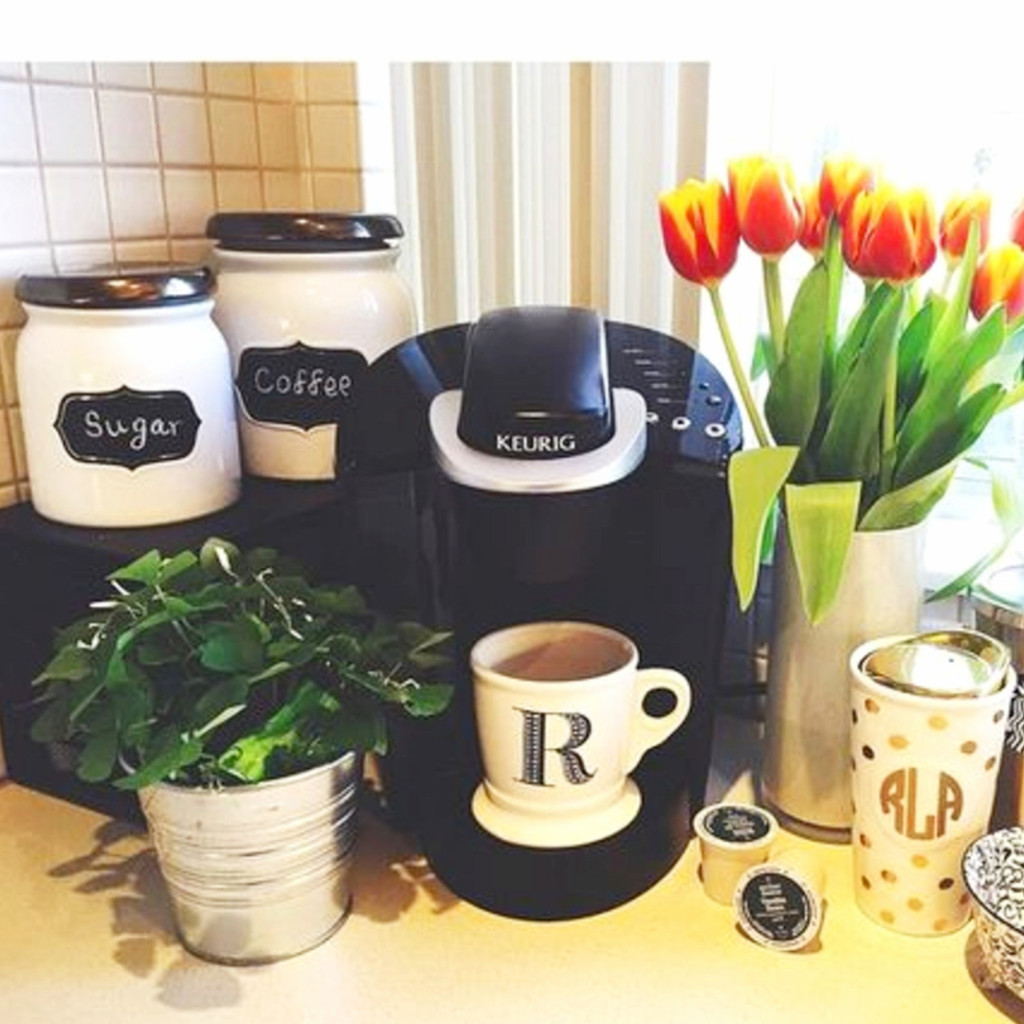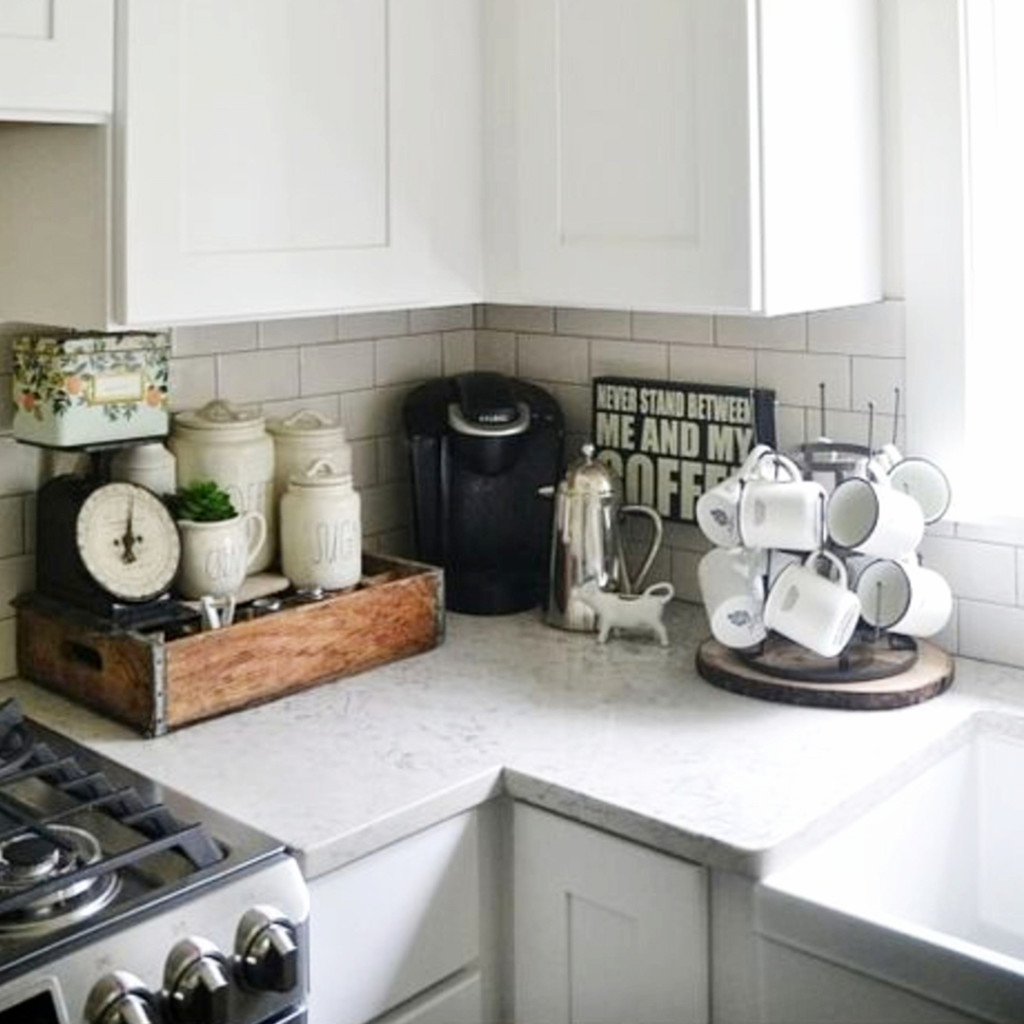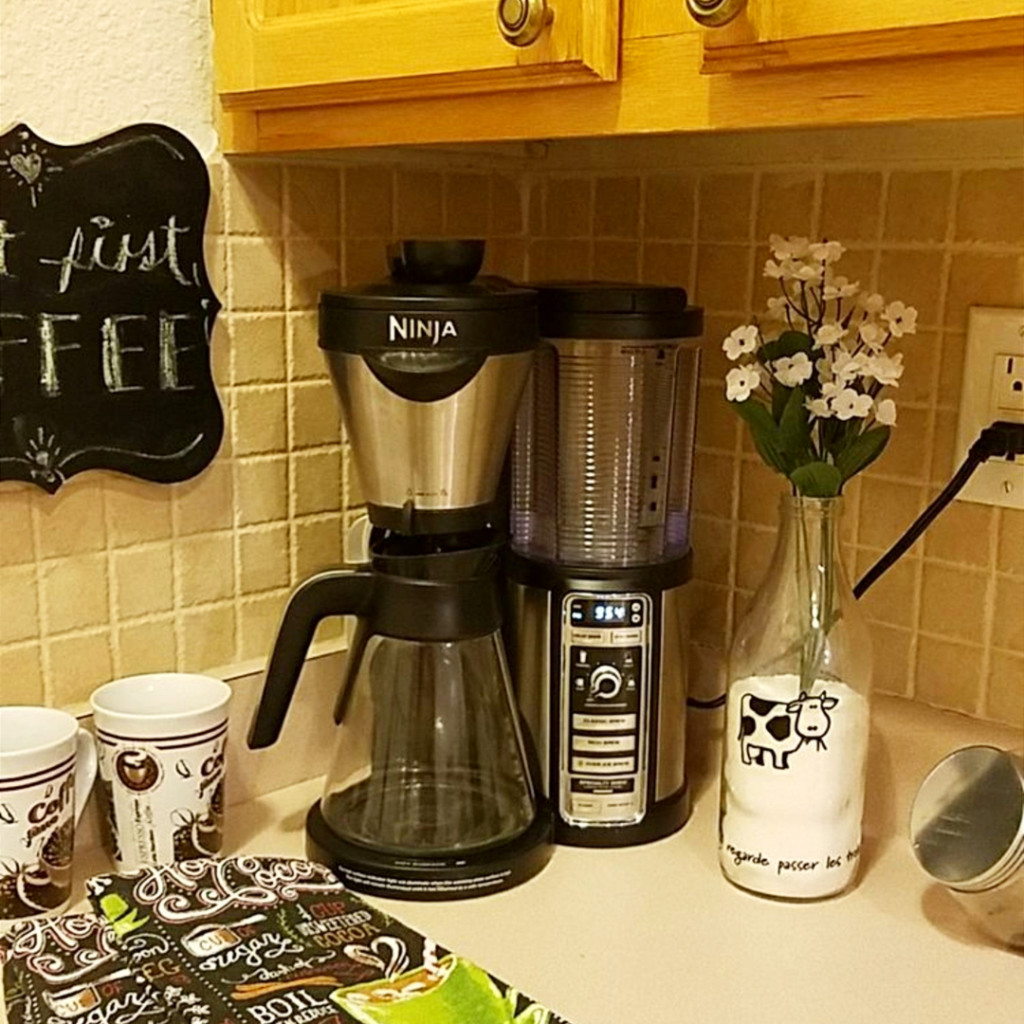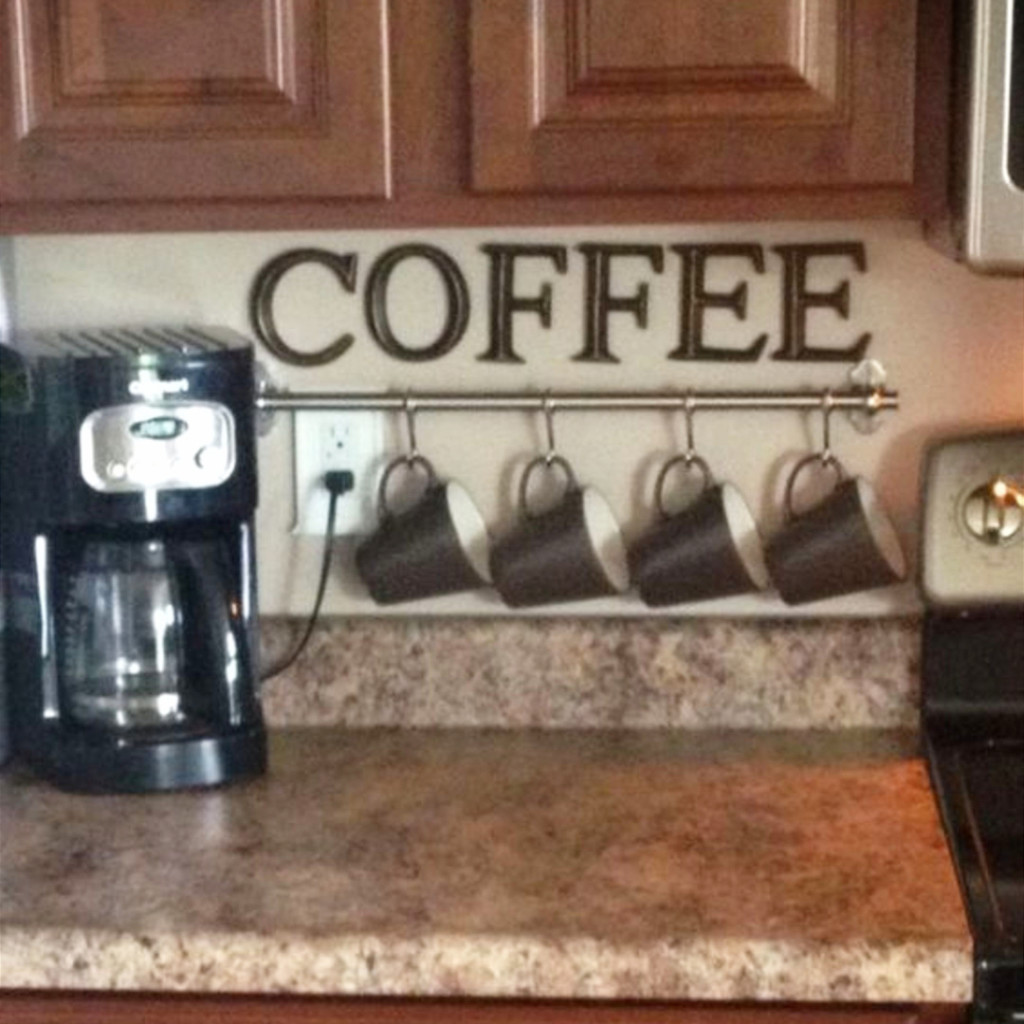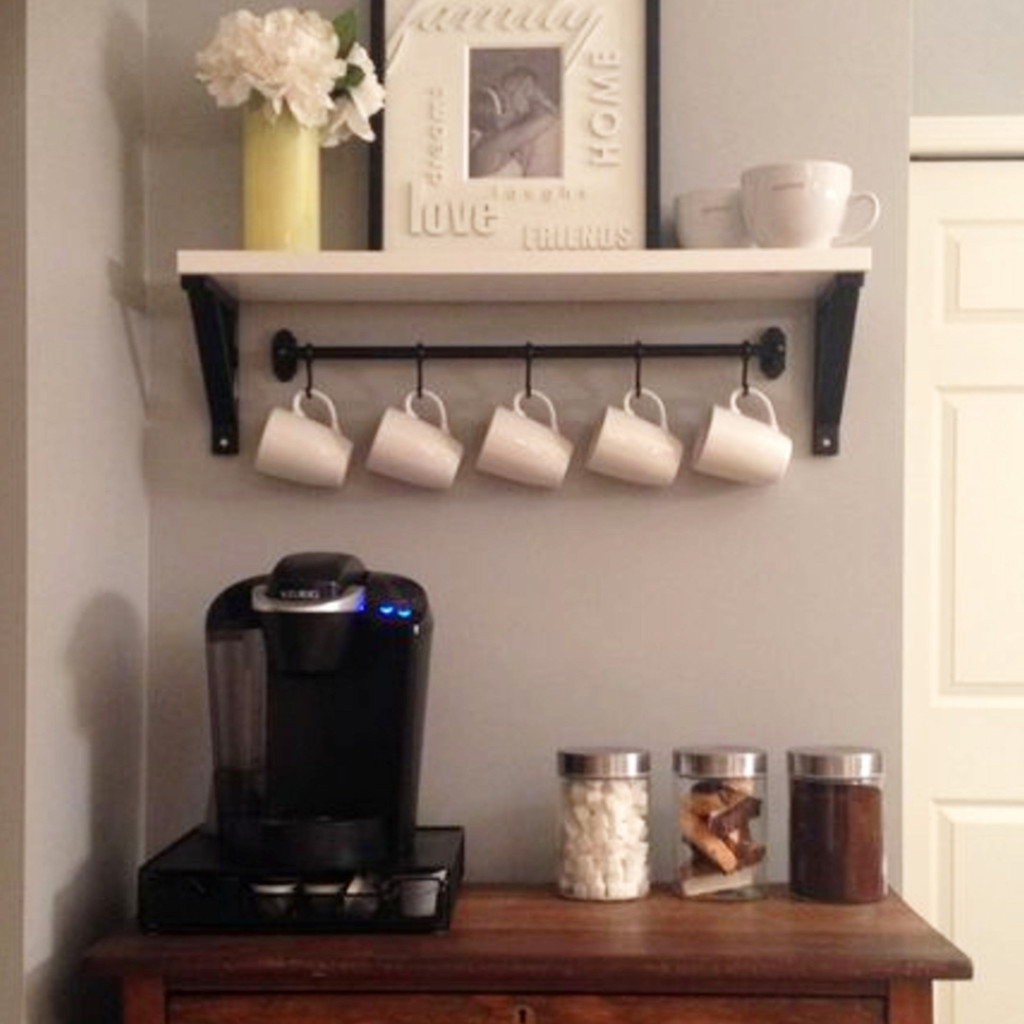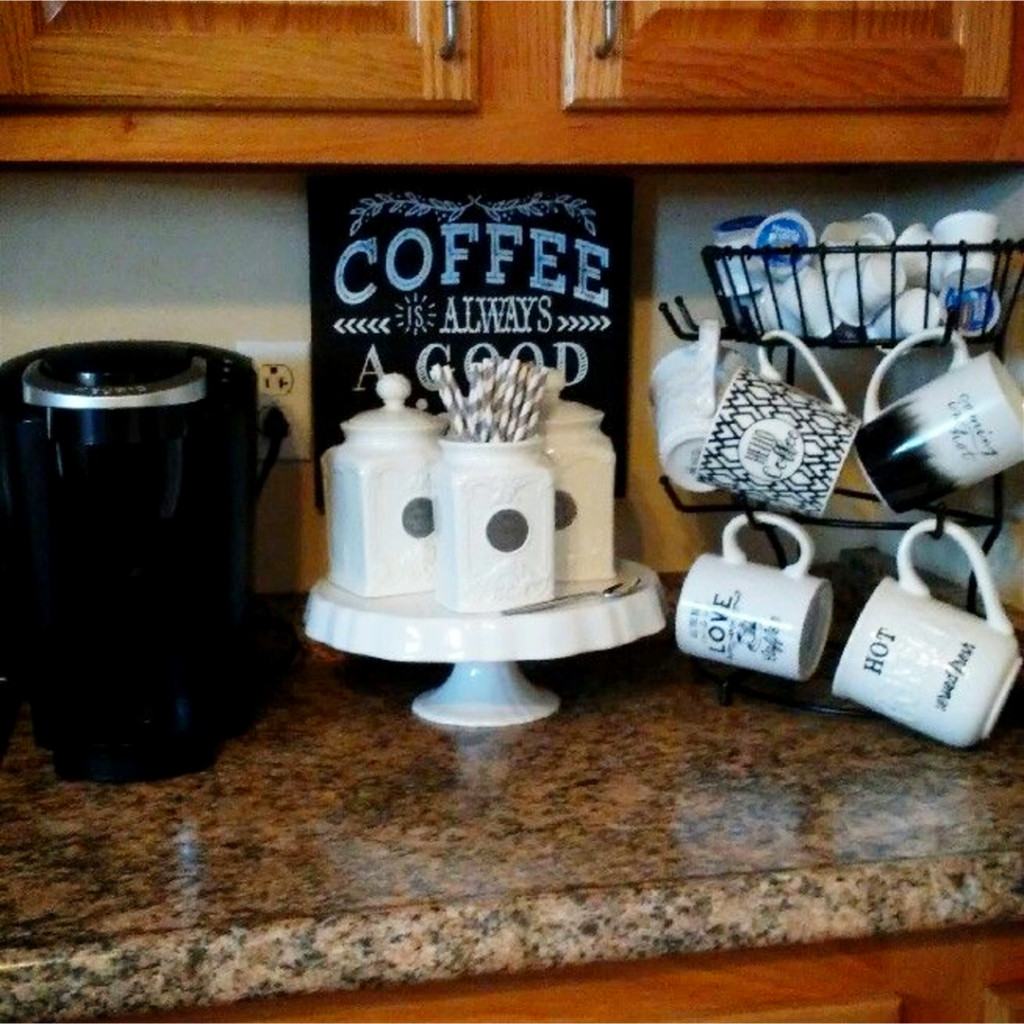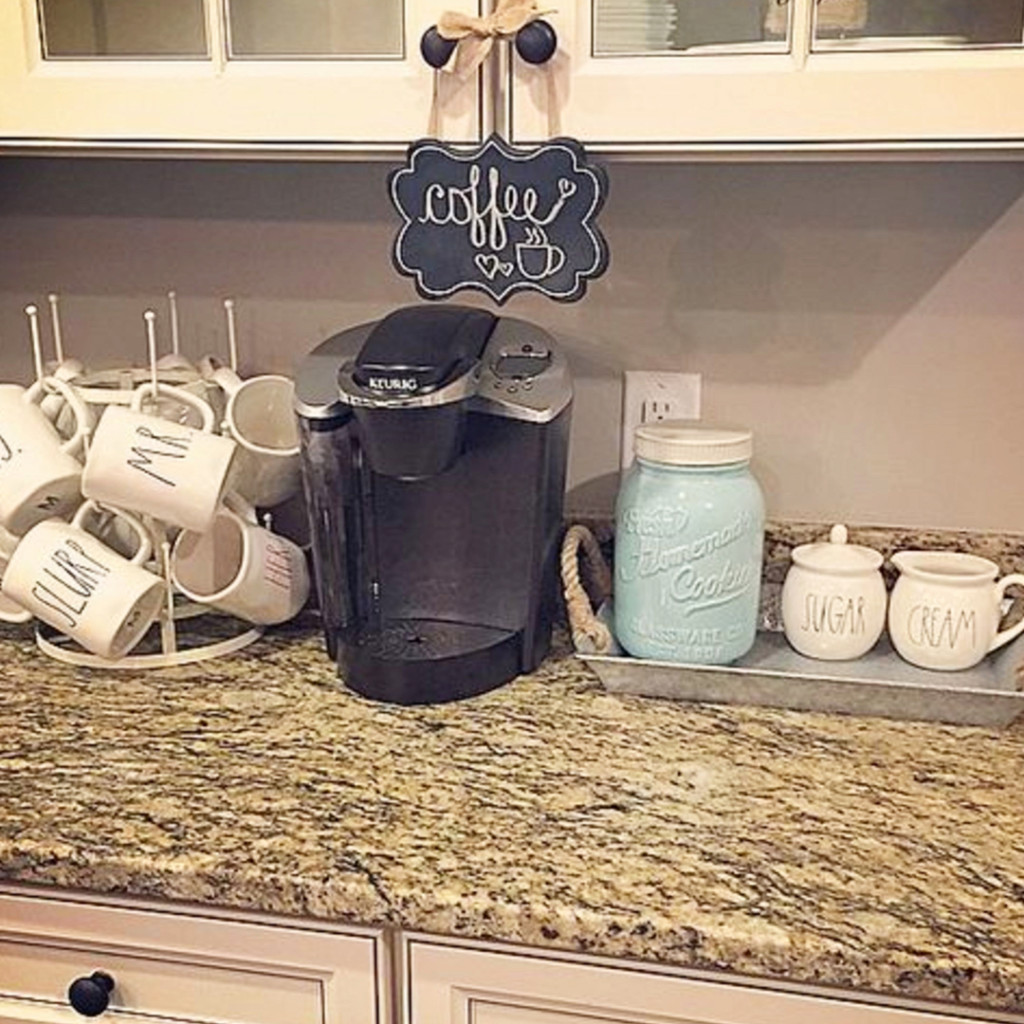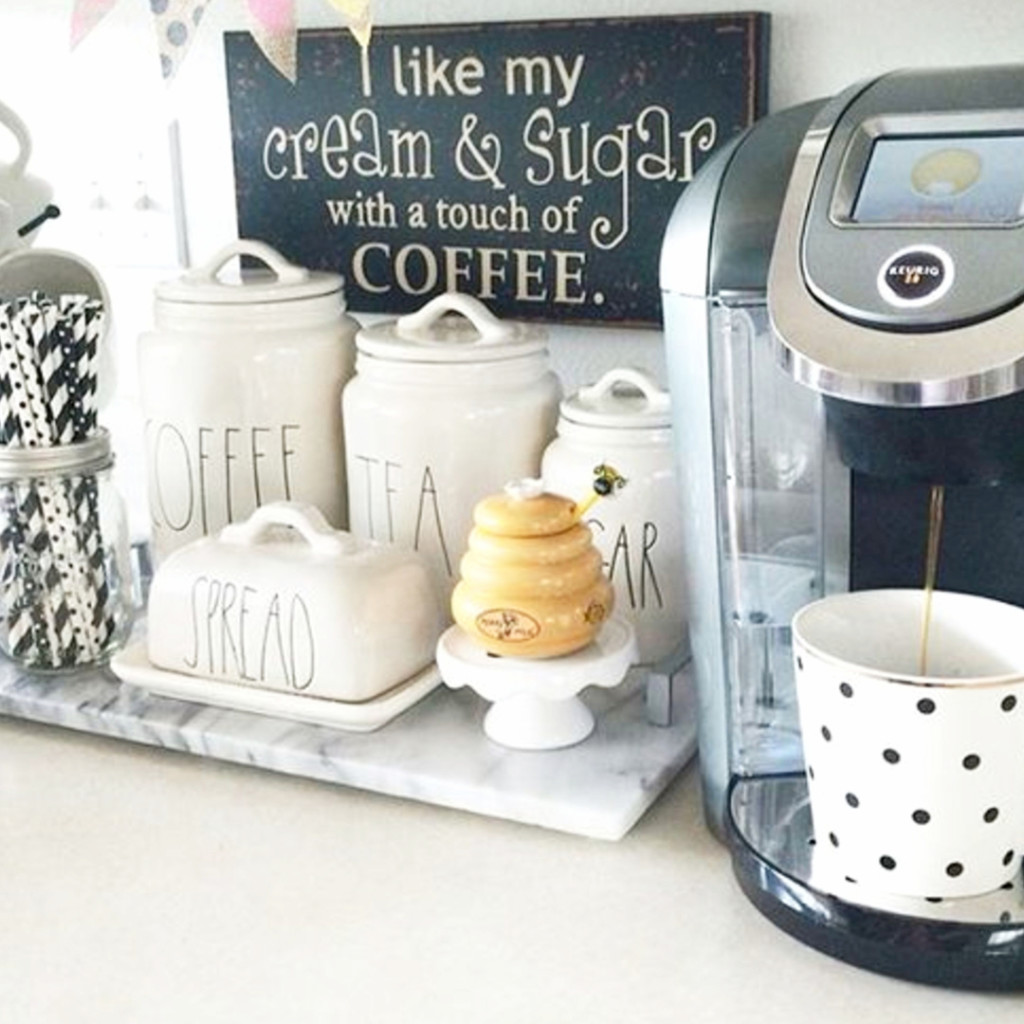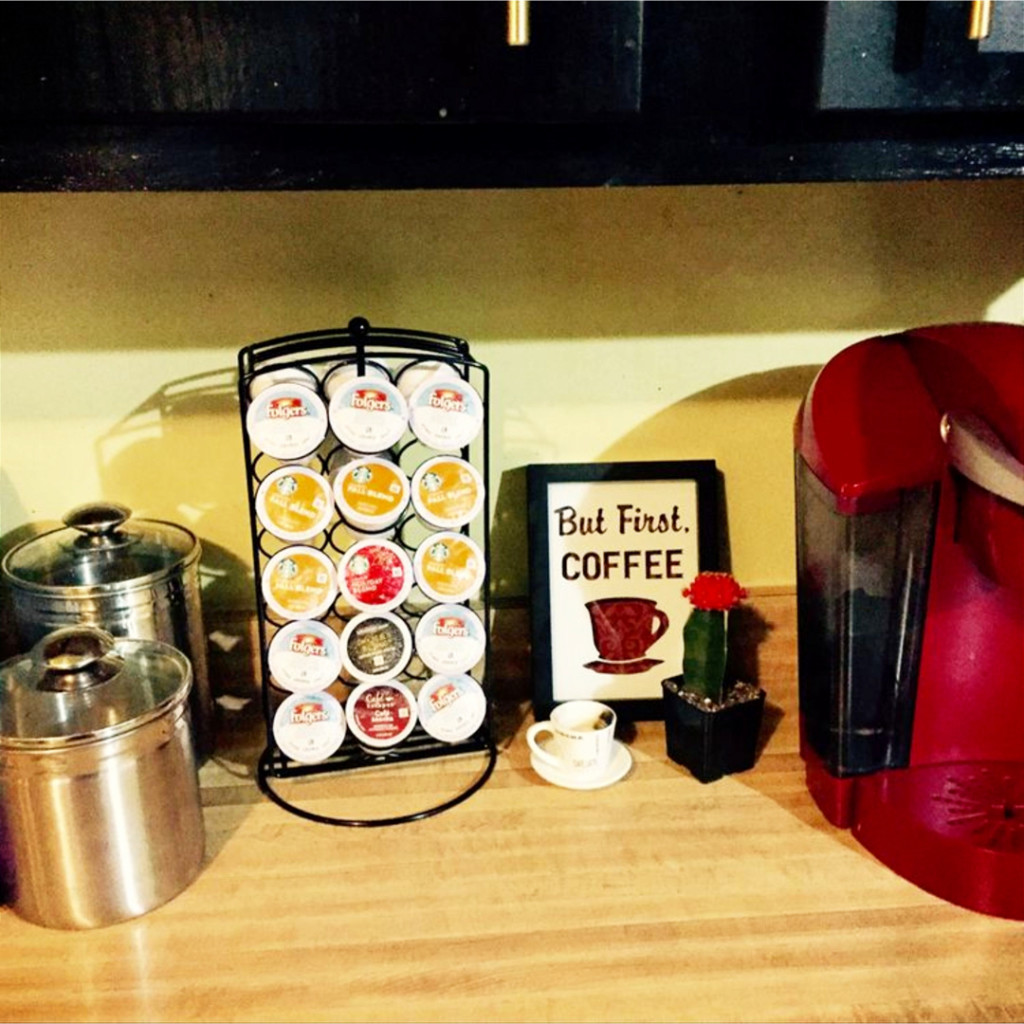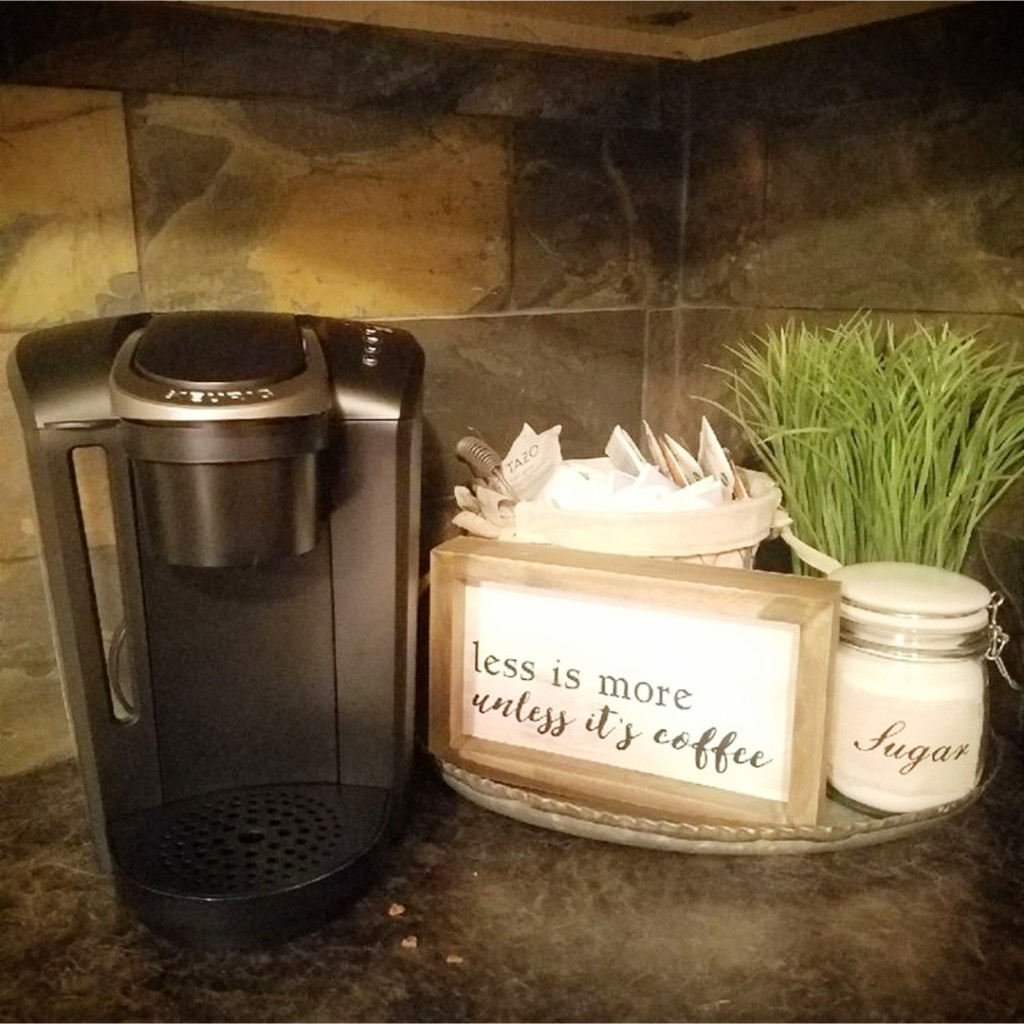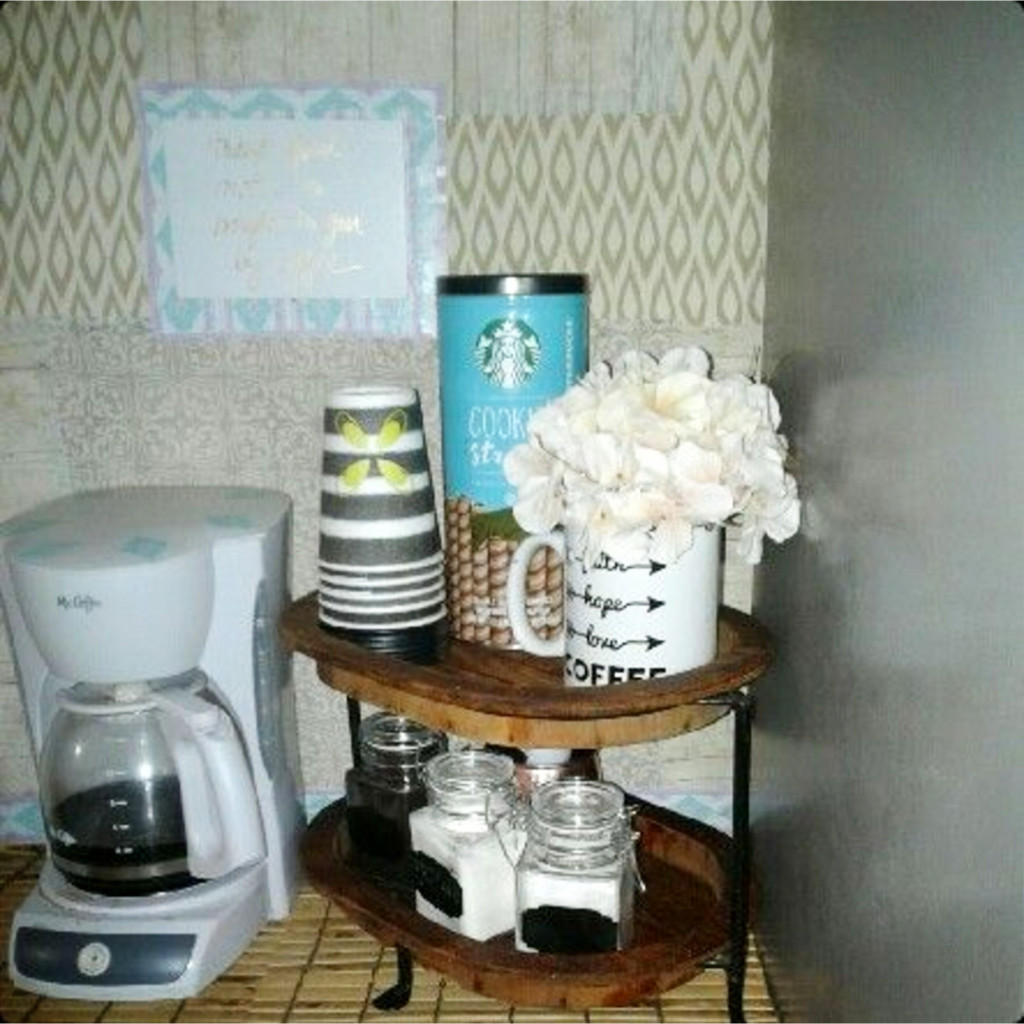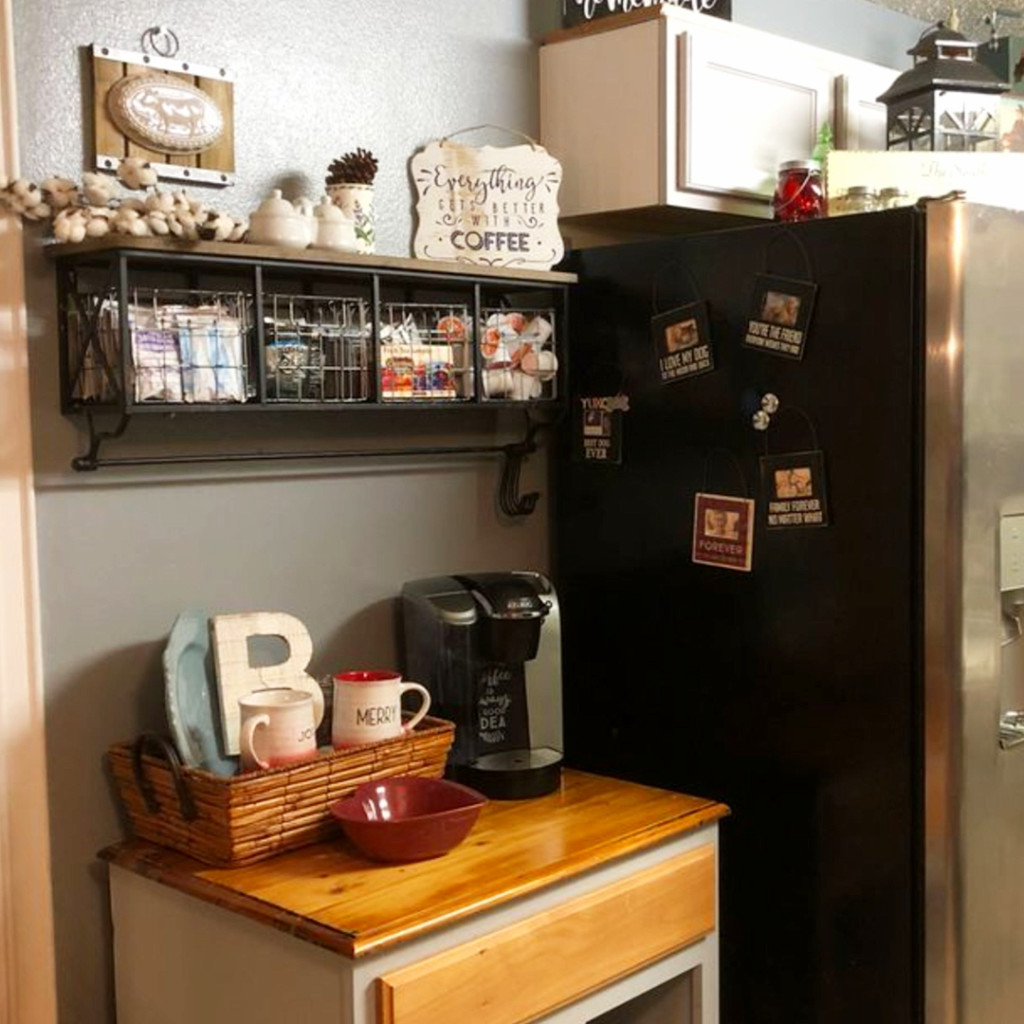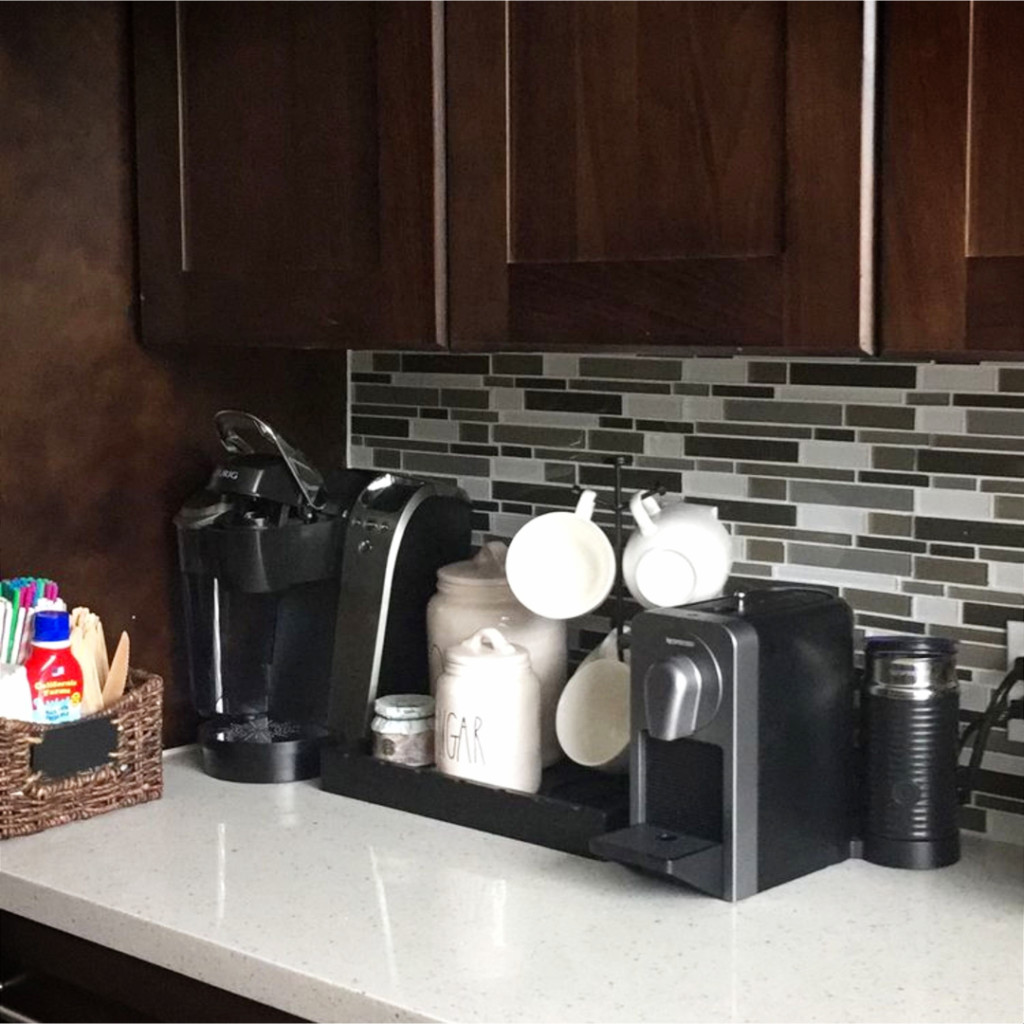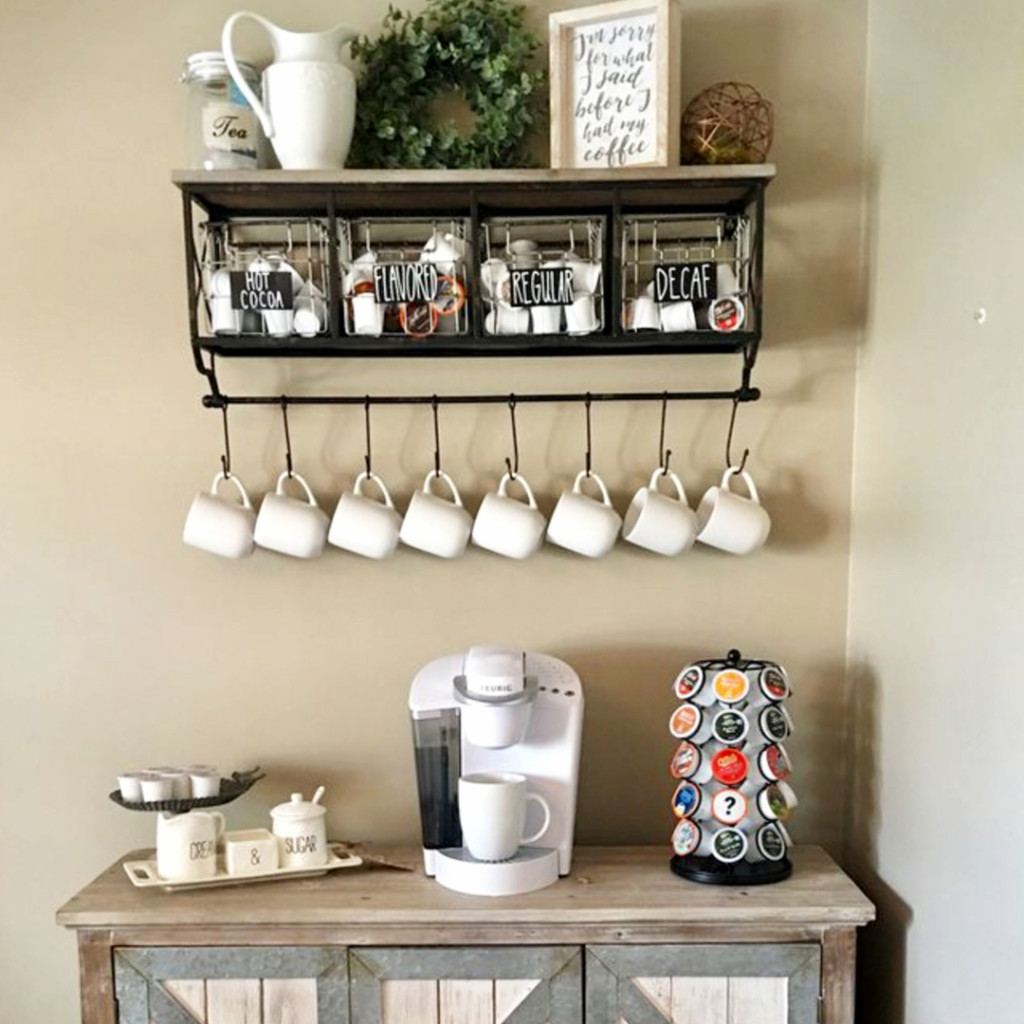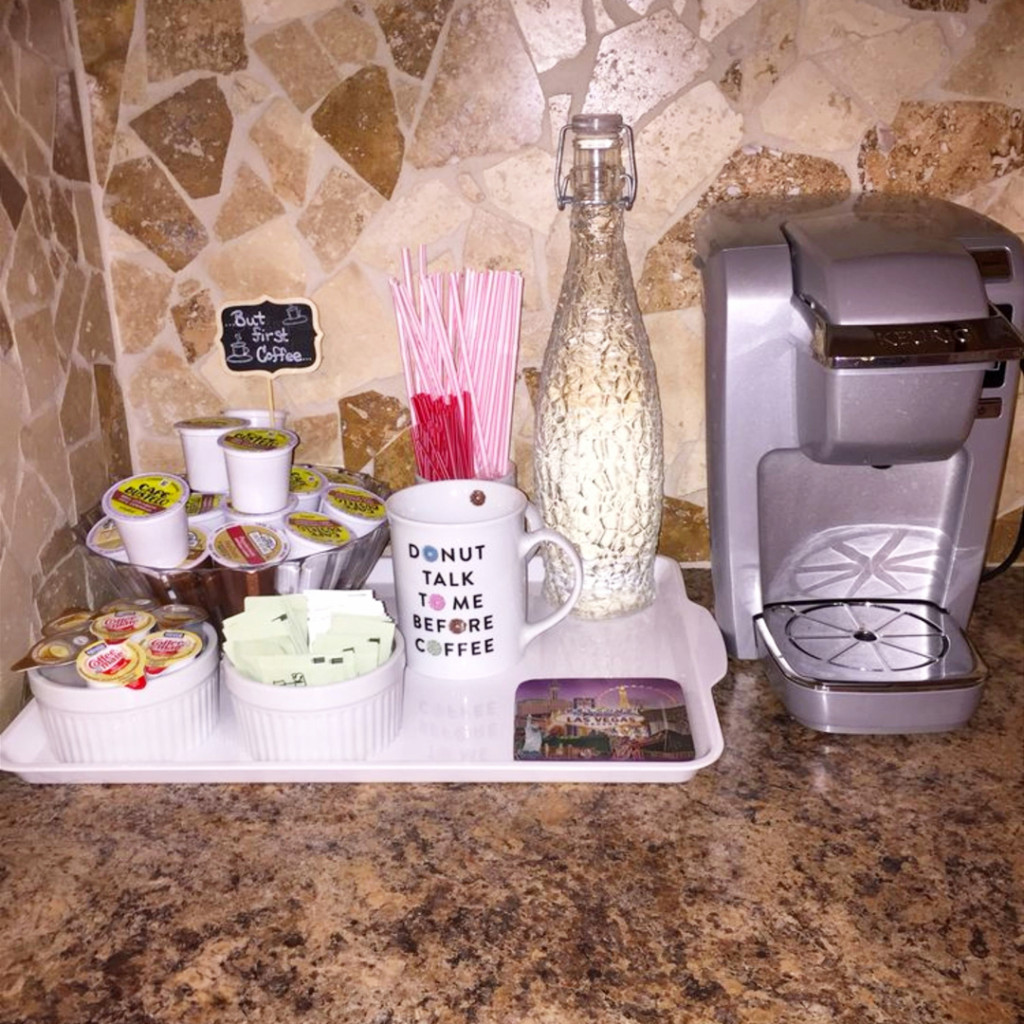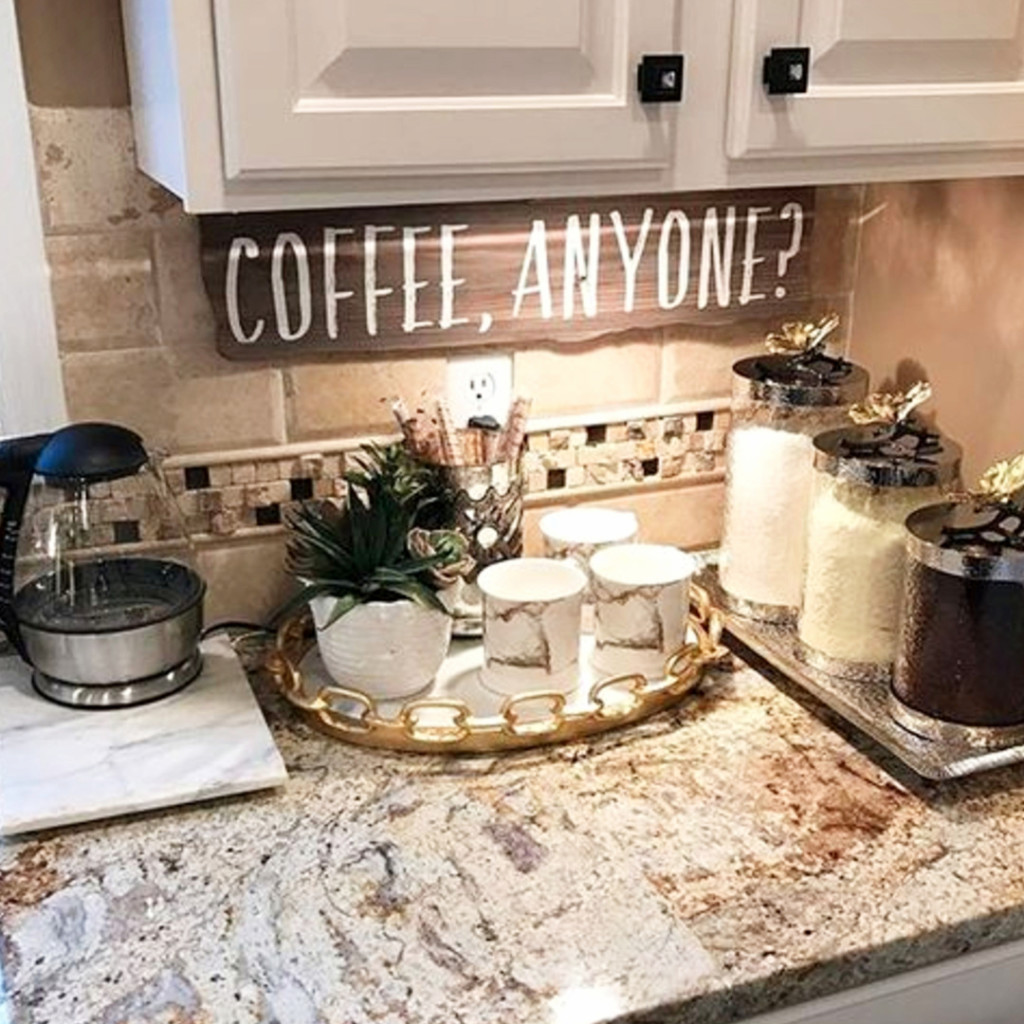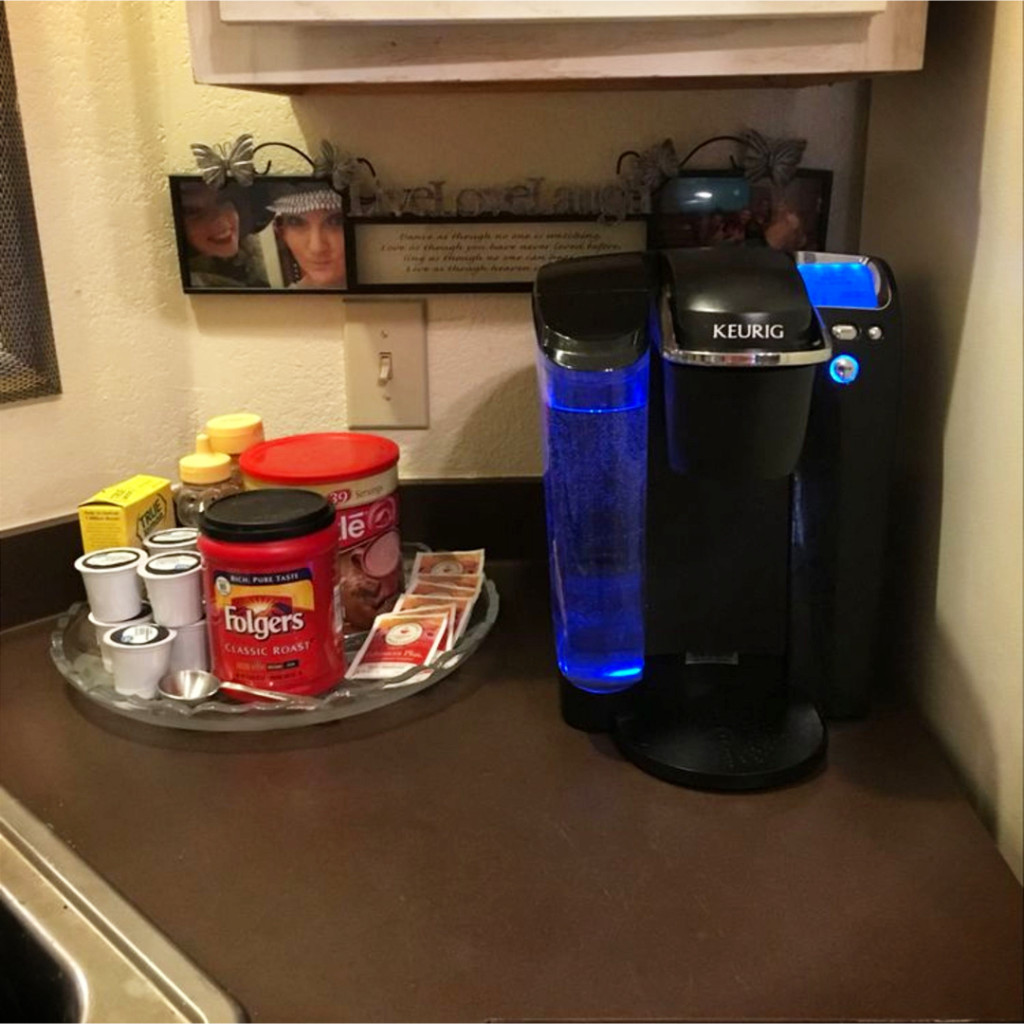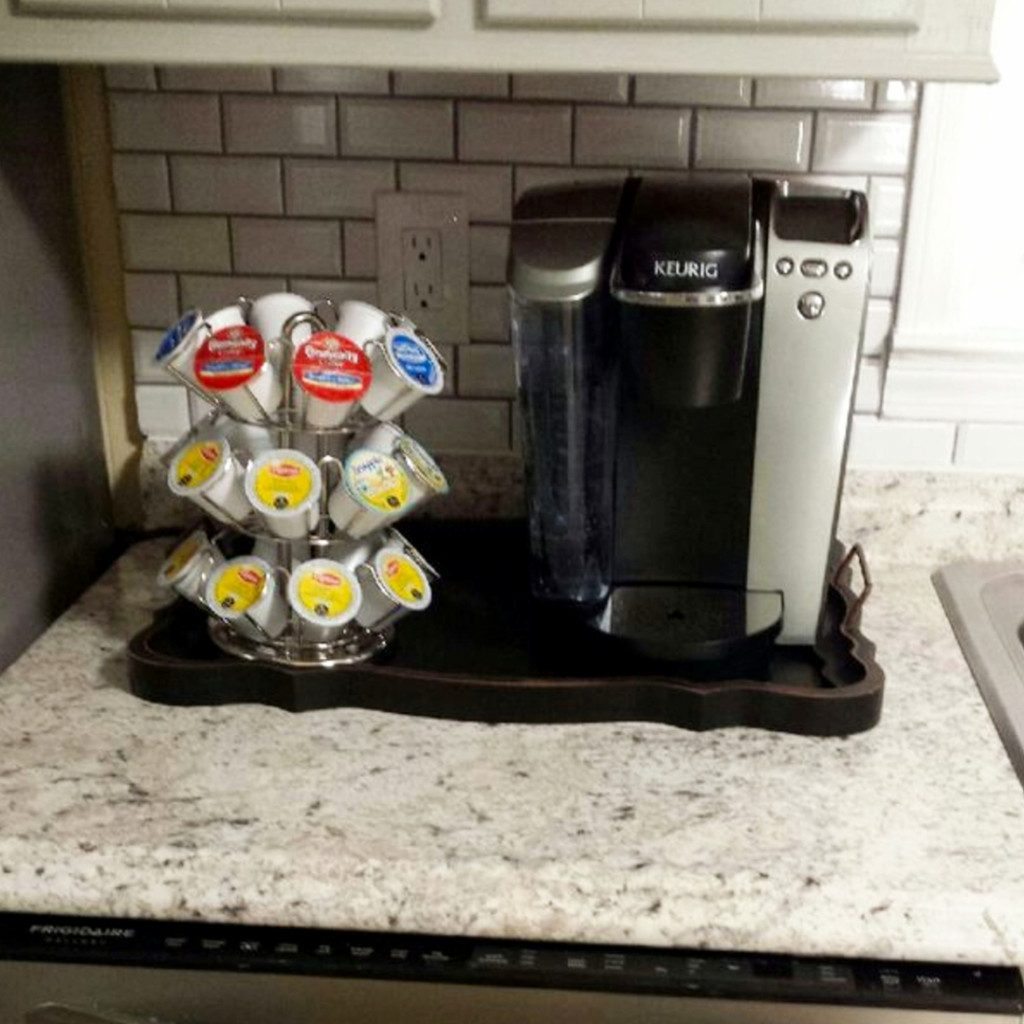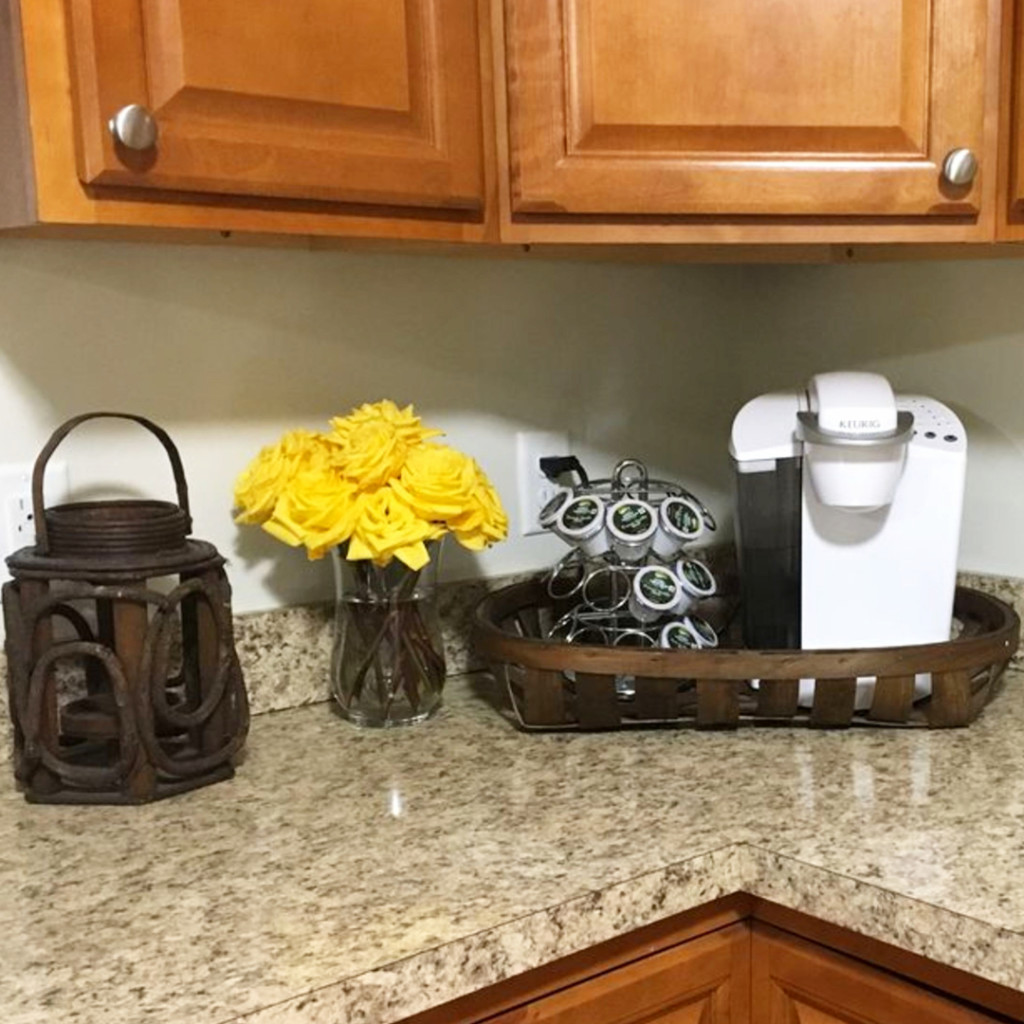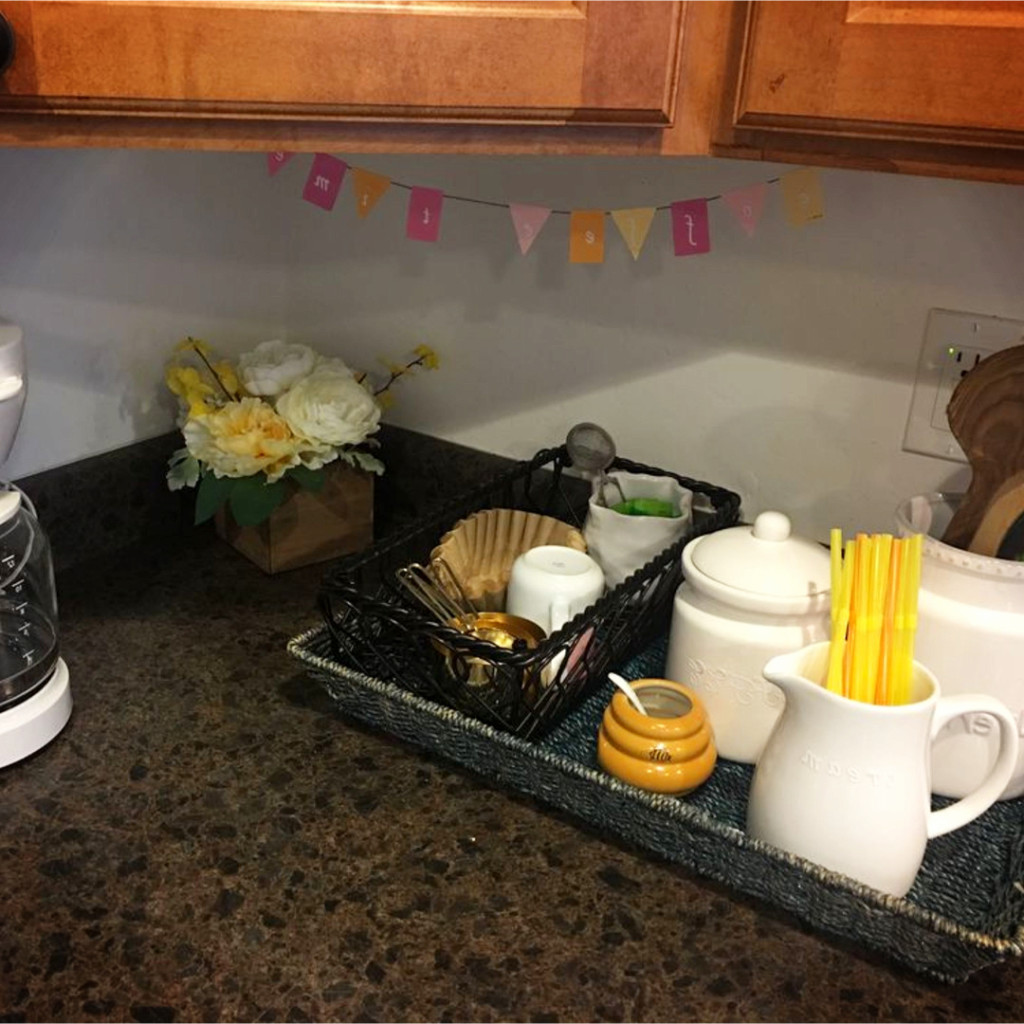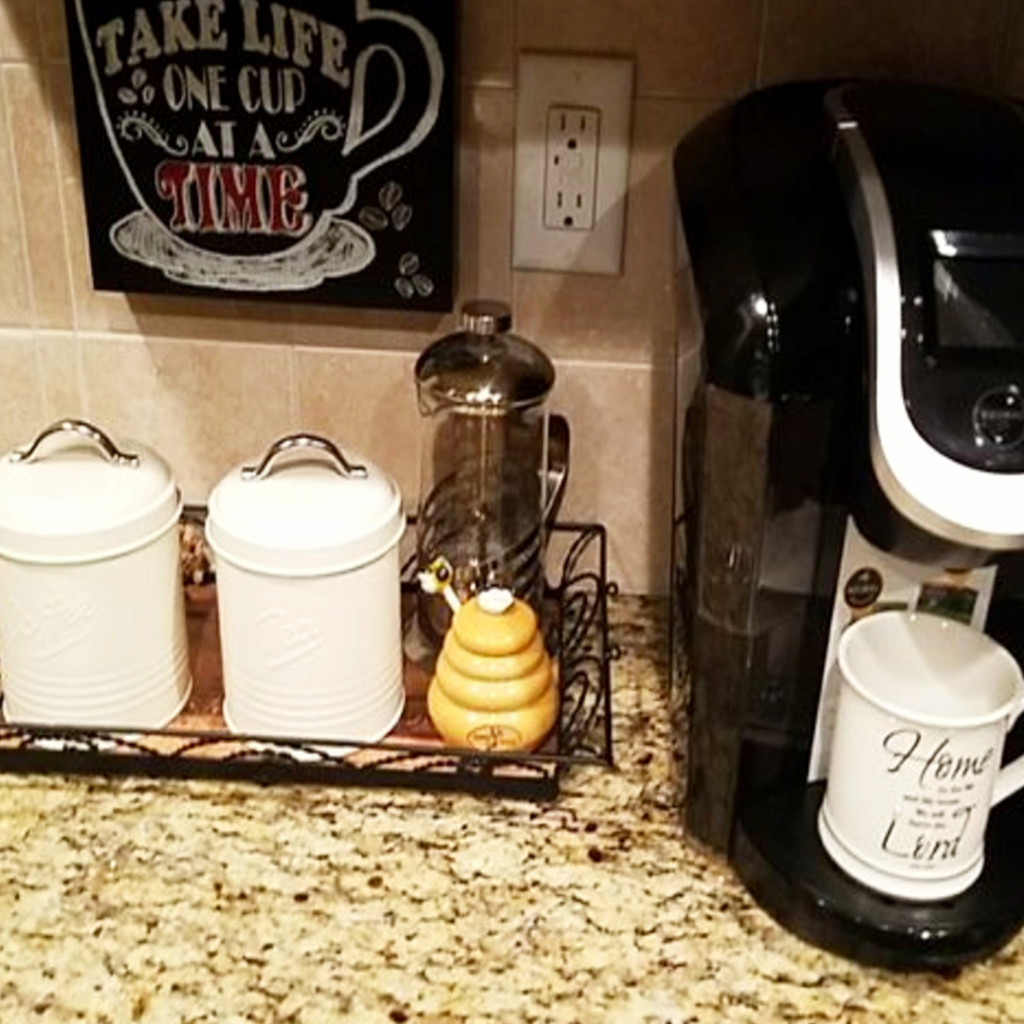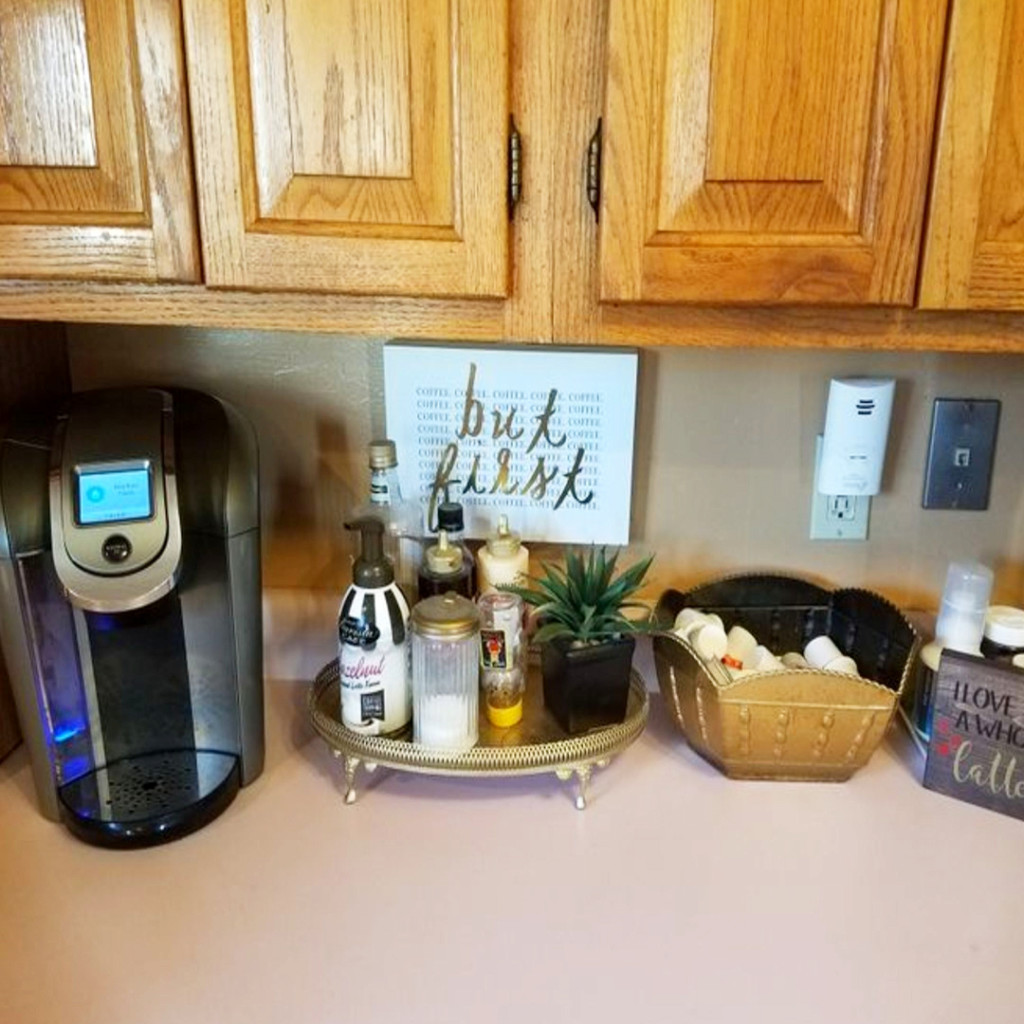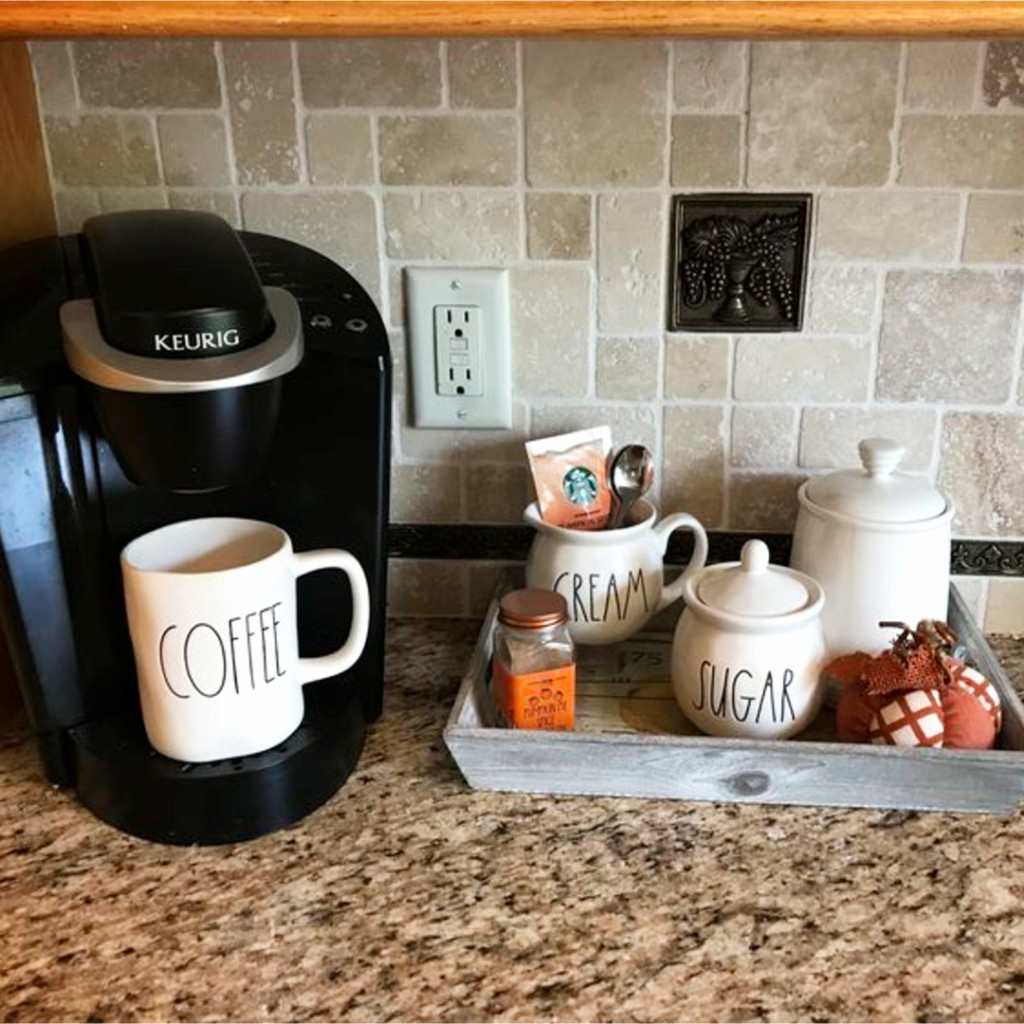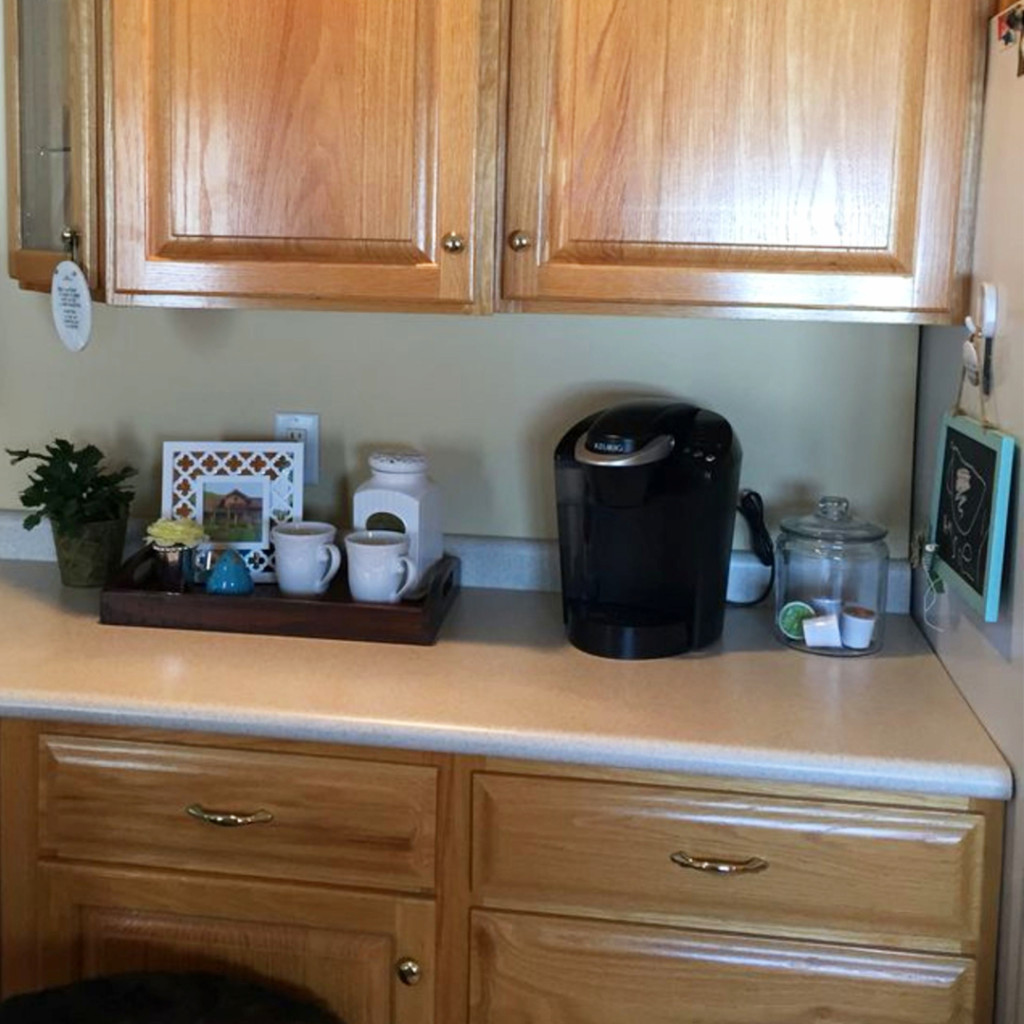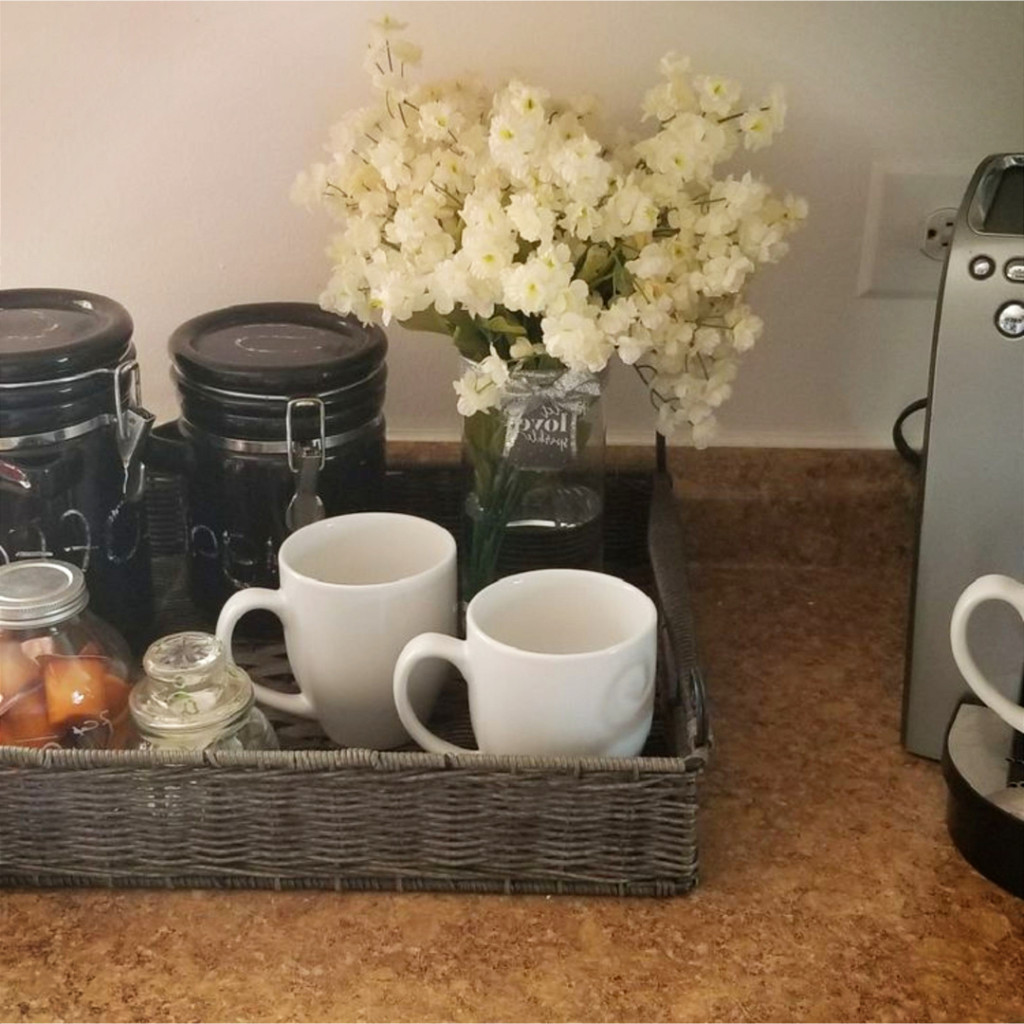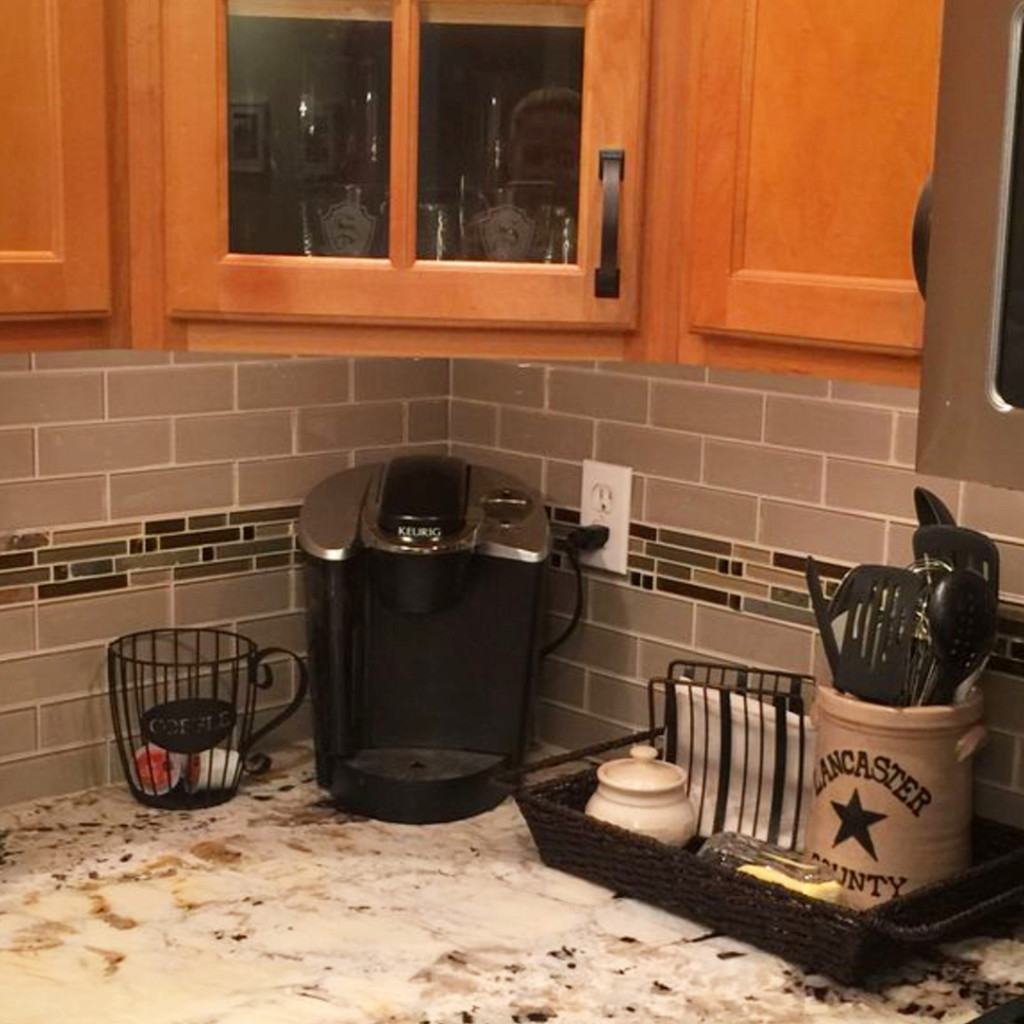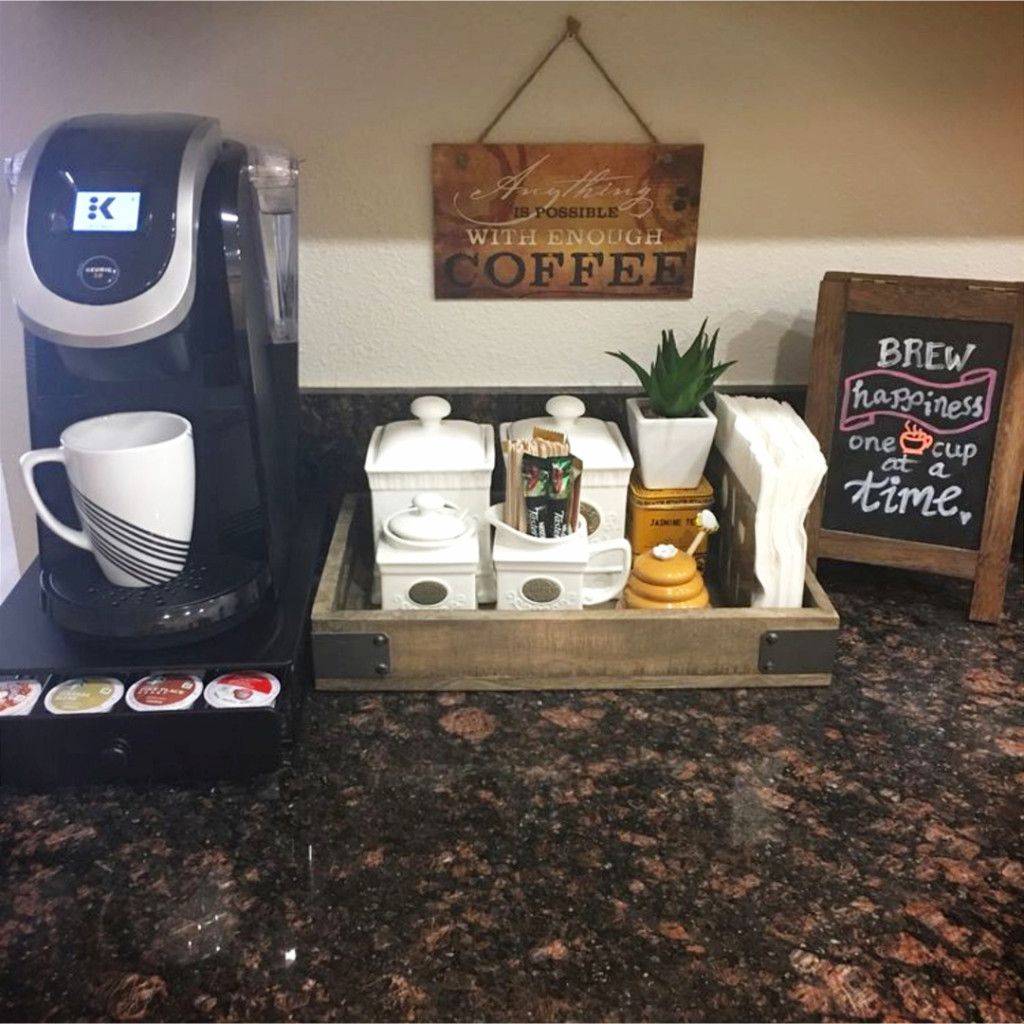 As you can see in the coffee area pictures in the slideshow above, there are MANY unique ways to set up a coffee area – even in the smallest of kitchen!
Christmas Coffee Bar Ideas
If you're thinking about setting up a Christmas coffee bar / hot cocoa bar in your kitchen this Holiday, you have got to take a look at this adorable GRINCH coffee bar set up.
So cute!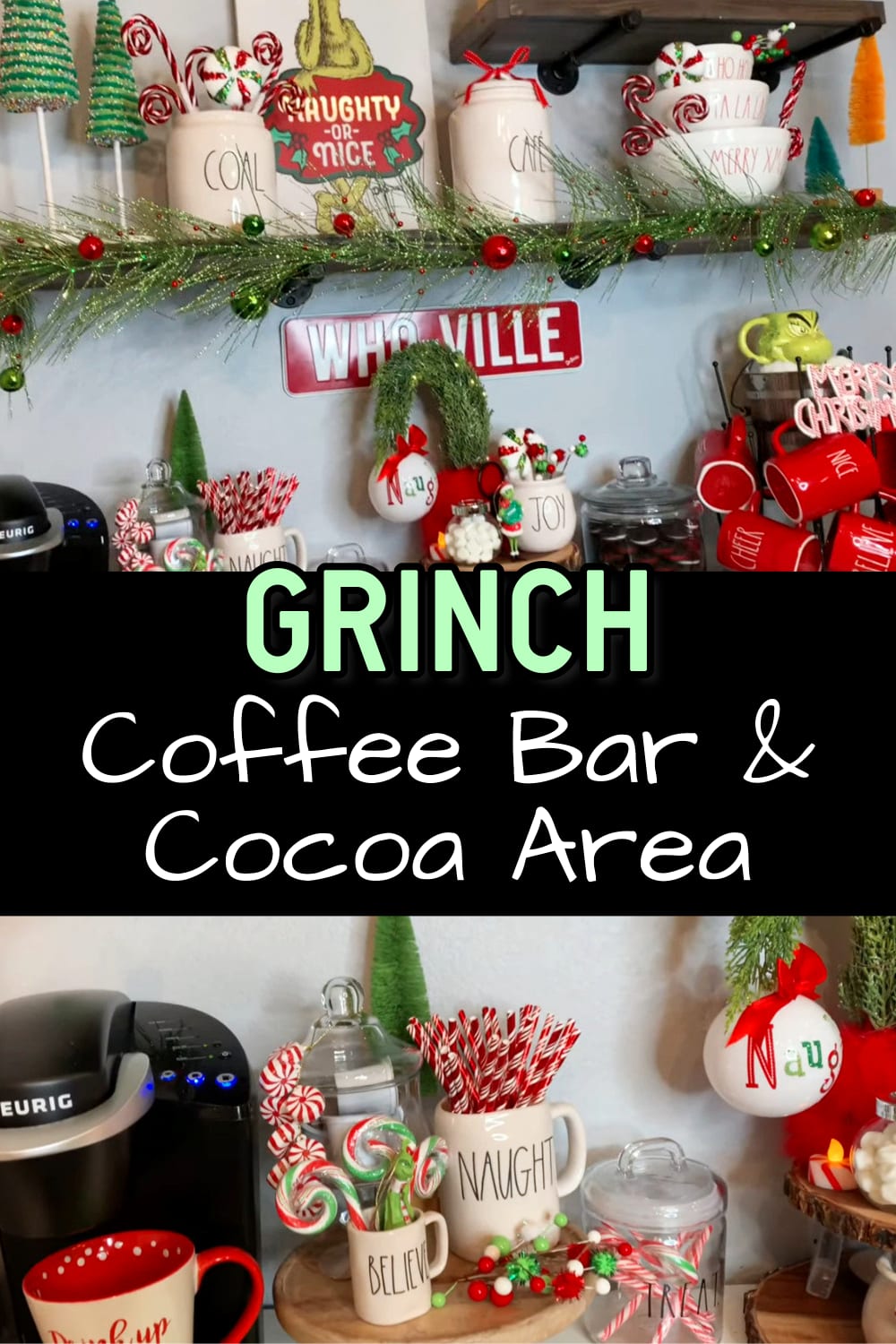 Here's a full video tour of her Whoville Coffee Bar:
DIY Coffee Area Ideas
Below are some fantastic coffee area pictures and design ideas that really helped me set up my own small coffee area in my kitchen.
As you can probably tell, I LOVE farmhouse decor ideas – to me, it's the perfect aesthetic for a warm and cozy home.
That's also why many of these pictures are farmhouse style coffee stations.
If you like that rustic country farmhouse look in your decor, you will love my favorite ideas below.
Farmhouse Coffee Area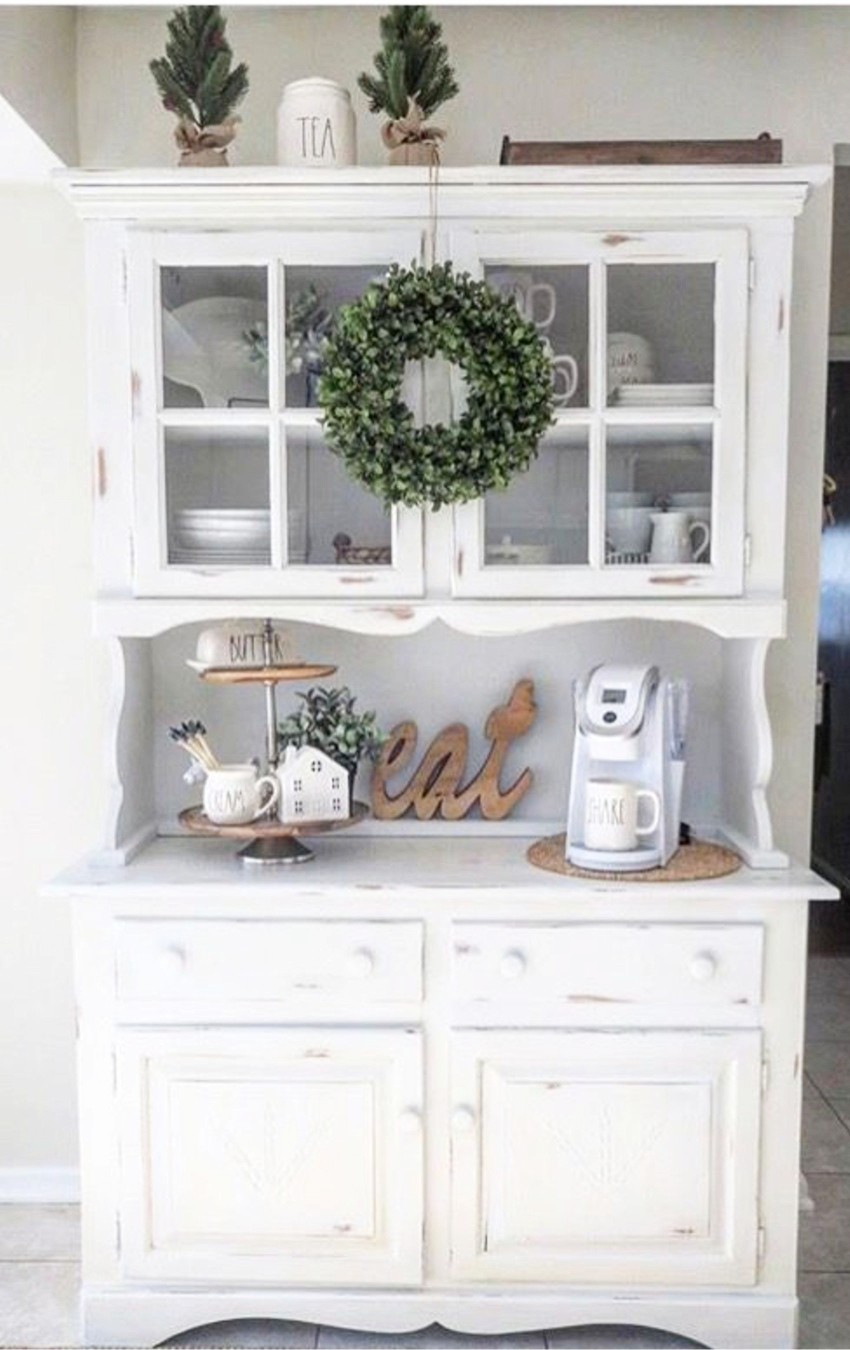 Small Coffee Counter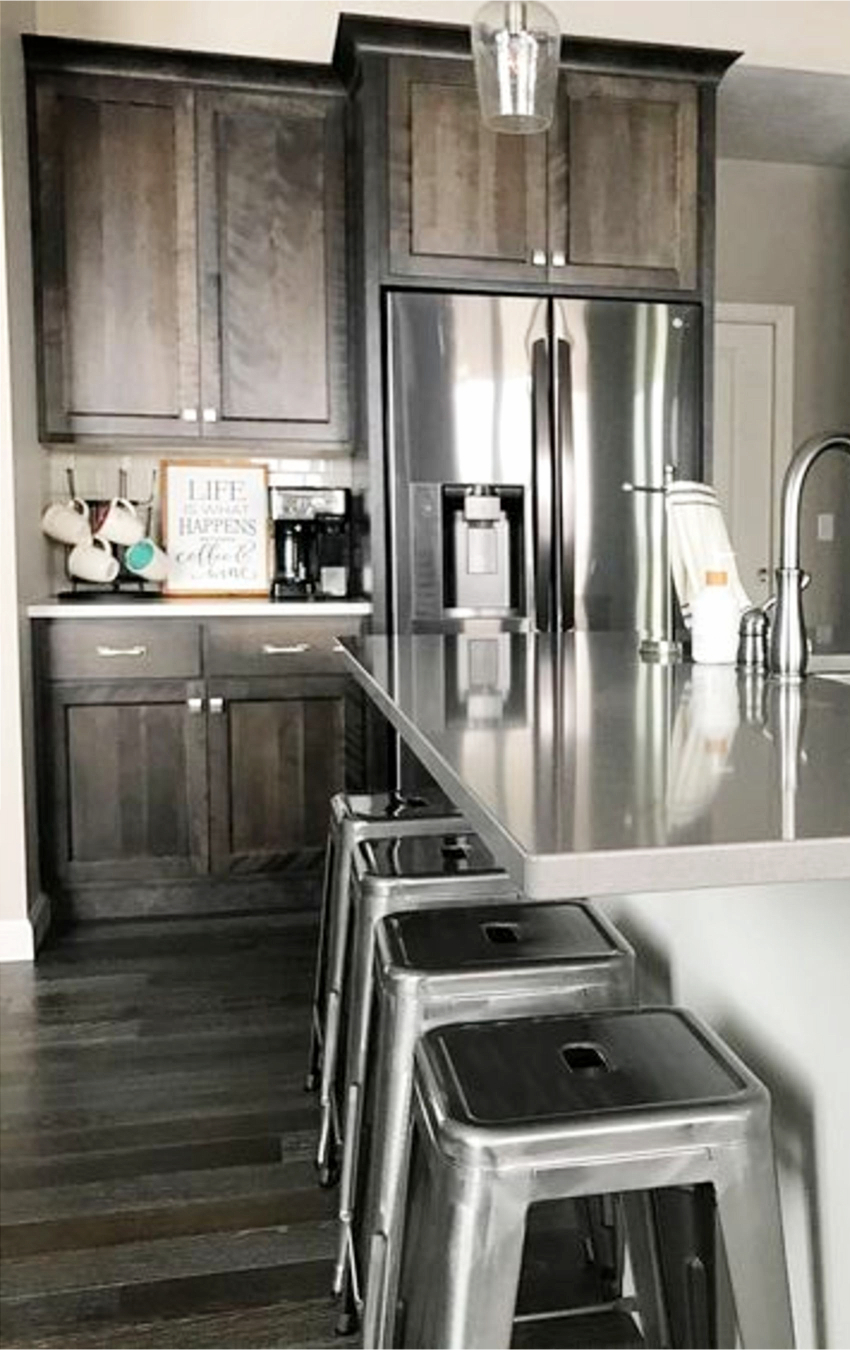 While we LOVE the white farmhouse-style cabinet and that coffee area set-up, your kitchen may not have the room for a big piece of furniture.
That's why I also love that small counter coffee area idea – with even a little counter space you can have a pretty and useful coffee area in your kitchen.
Coffee Bar Storage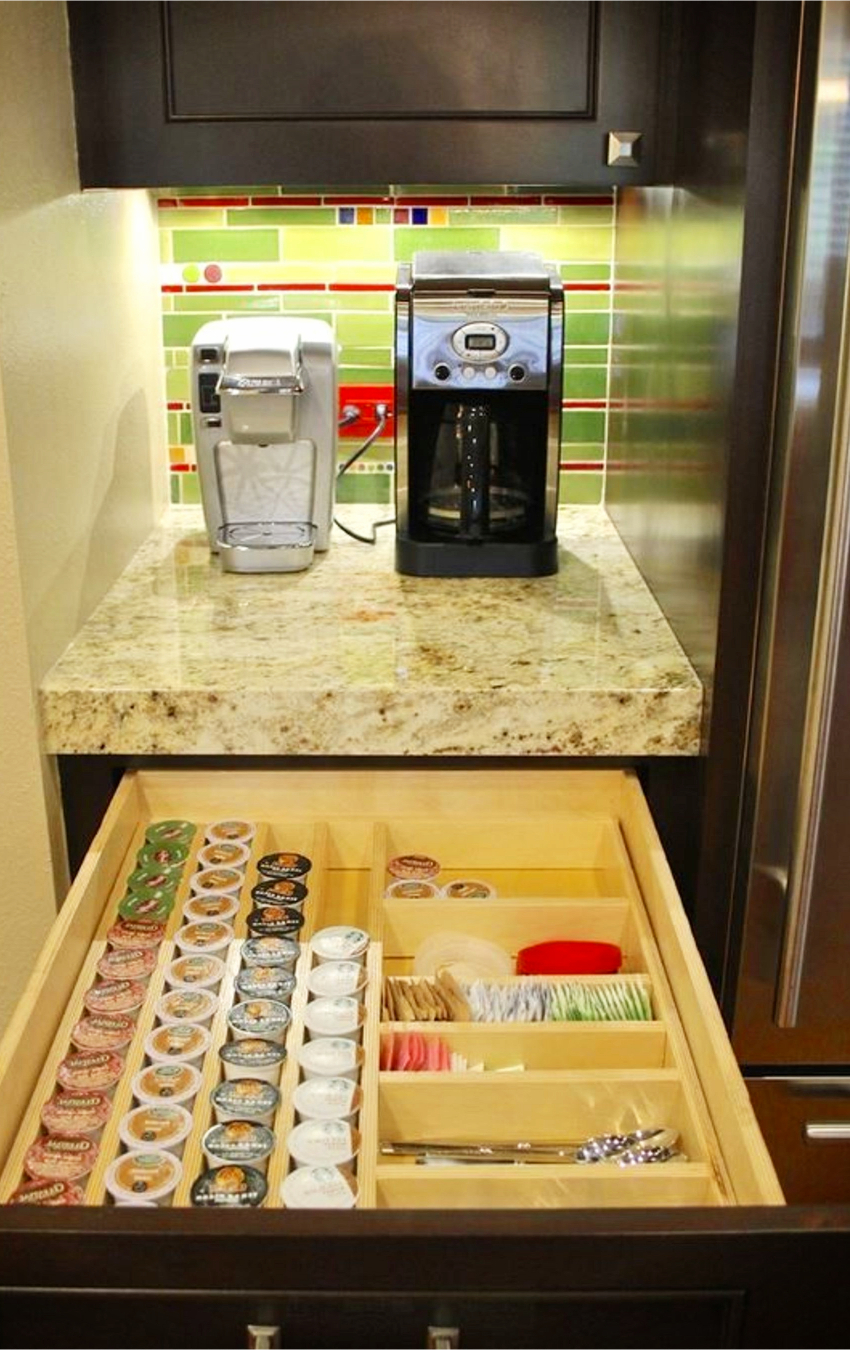 Cabinet Coffee Area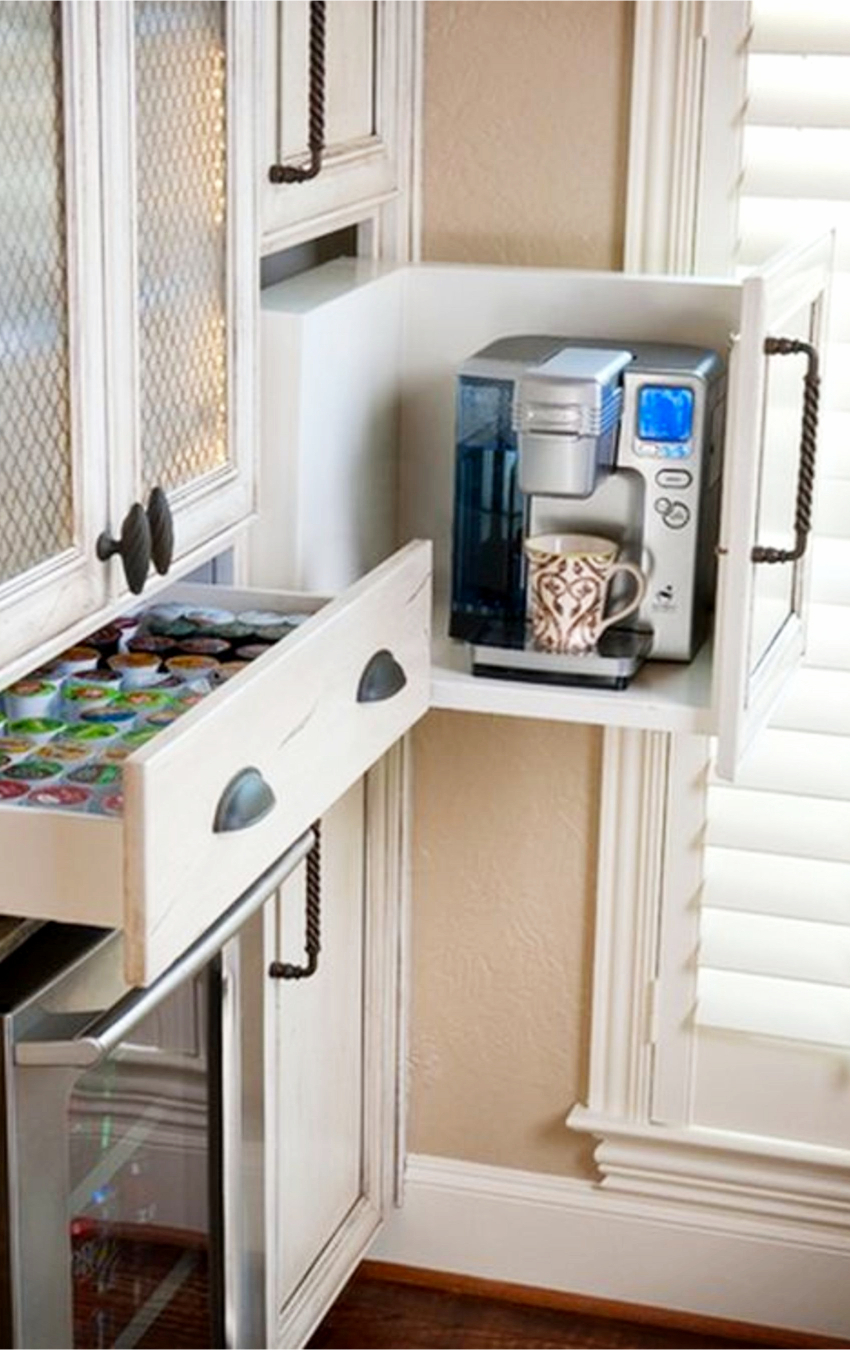 Those are 2 BRILLIANT ideas for a kitchen coffee area – I love things neat, organized, tidy and really love my counters clutter-free!
Using the drawer underneath your coffee area to put your coffee k-cups and other coffee-making stuff is a genius way to keep the clutter OFF your kitchen counter!
We also think the idea of putting your coffee area IN a kitchen cabinet is super smart!
Rustic Coffee Bar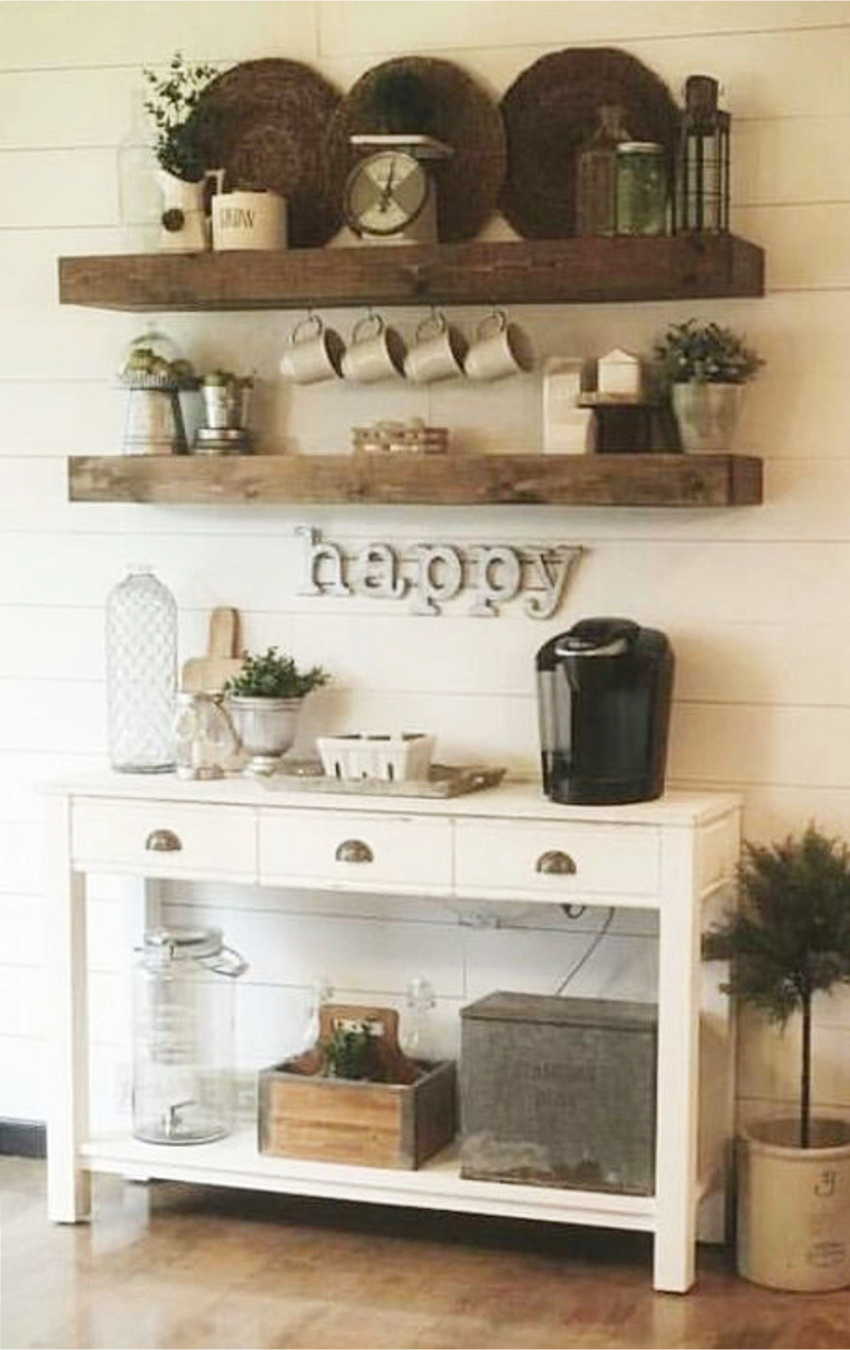 Coffee Bar Cart
Love BOTH the coffee areas about, but that industrial-pipe style coffee cart is FANTASTIC!
Now, the cart in the picture above is really expensive…. but if you like the idea of having a unique rolling cart shelf for your coffee area…
Which Coffee Maker?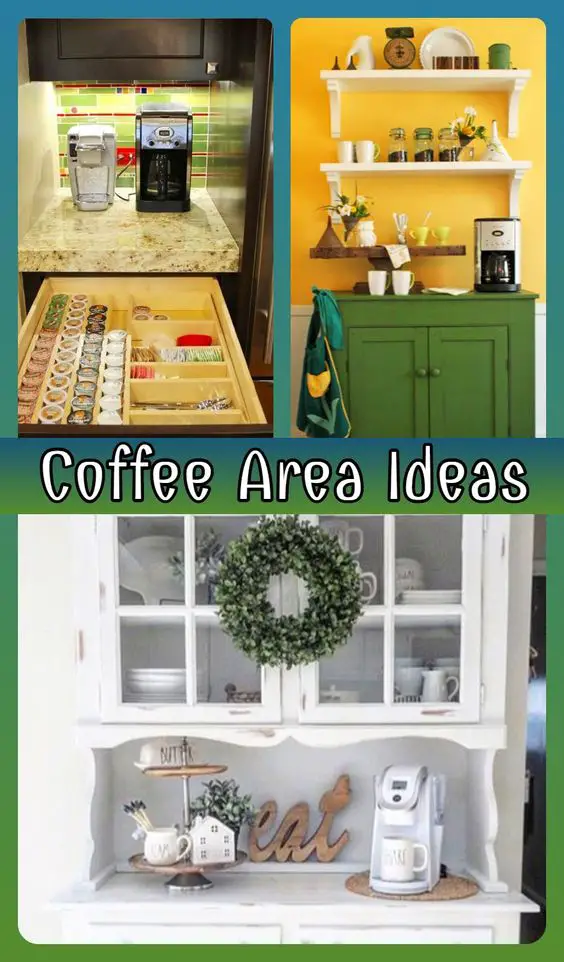 You'll notice most of the beautiful kitchen coffee area pictures in the slideshow above have a Keurig coffee maker.
Why? Simple – Keurig's are the best coffee maker for so many homes.
Thinking of buying a Keurig, but not sure which one to get? Here are some buying tips:
Keurig Buying Tips:
The Keurig Mini Brewing System works great for the coffee lover in a small kitchen that is short on counter space, but loves a good tasting gourmet blend. The compact Mini is also a good choice for the RV, cabin, college dorm, or vacation home.
The Mini, like all the Kuerig coffee makers, makes a great cup of coffee despite its small size. Fitting just about anywhere you can find a place to plug it in, this coffee maker brews an 8 ounce cup in about 3 minutes.
You can also make a great tasting cup of tea, cocoa, or soup quickly and easily.
The Keurig Mini also comes in a lot of great colors.
See all Keurig Mini Colors Here
If you have room for a bigger and fancy Keurig in your kitchen then this Keurig model is what you want.
It's still small enough to not take up much counter space, but it's SO much better than the mini.
It looks really cool too with it's chrome accents and a blue back-lit LCD display – and it makes coffee FAST!
How Much Coffee Does It Make?
This Keurig coffee maker has three brewing size options and a 48 ounce removable water reservoir; it can brew up to eight cups before needing a refill. The larger size also allows a larger cup or travel mug to be filled easily.
It also comes in many fun colors.
you might also like:
✅  Farmhouse style coffee bar ideas
Coffee Area Decor Ideas
Dressing up your kitchen coffee area is the best part of making your coffee area truly YOURS and unique to YOU!
Here are some unique, fun, and really cute coffee area decor ideas we love:
Last updated on October 2, 2023 2:59 am
Coffee Bar Cabinet Idea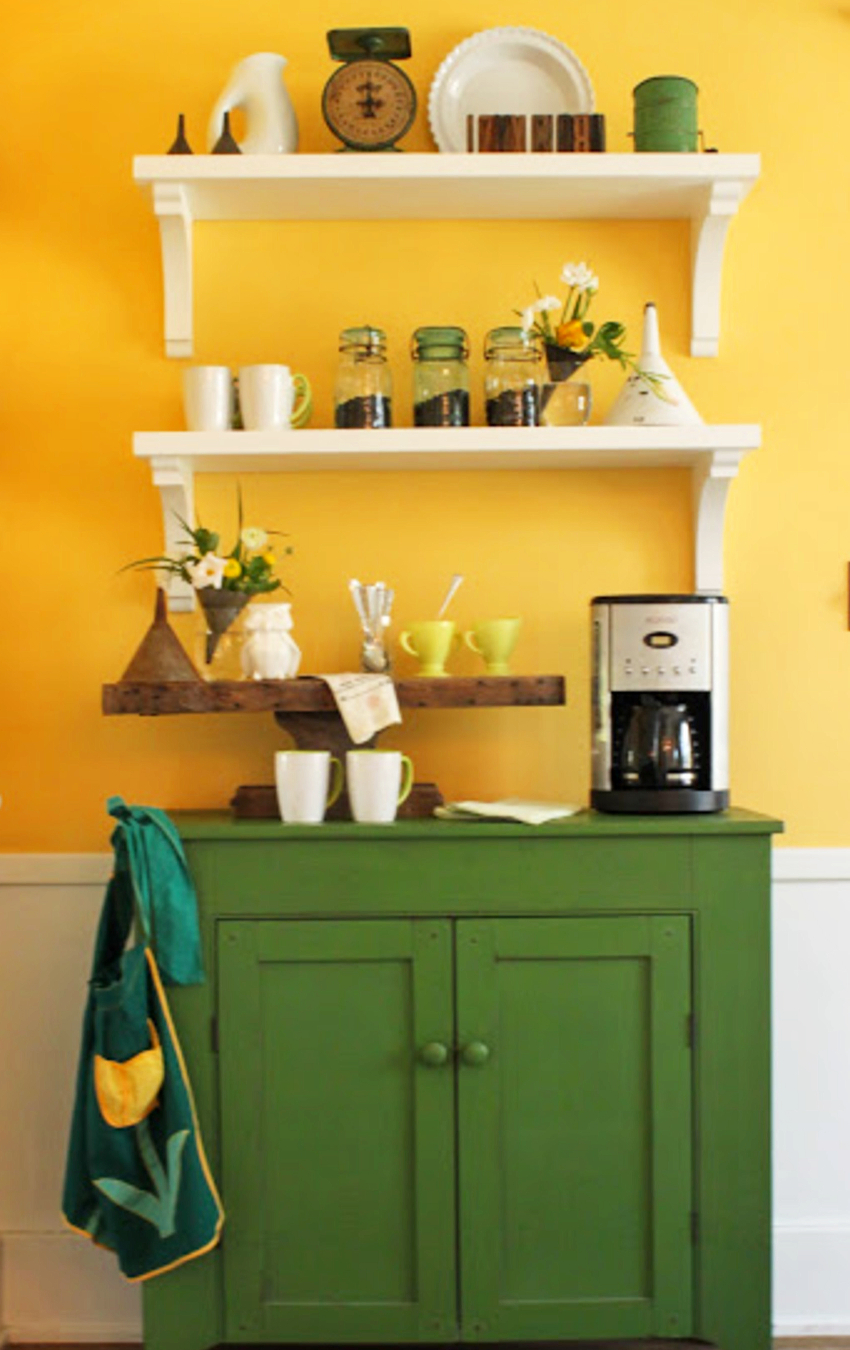 Small Counter Coffee Bar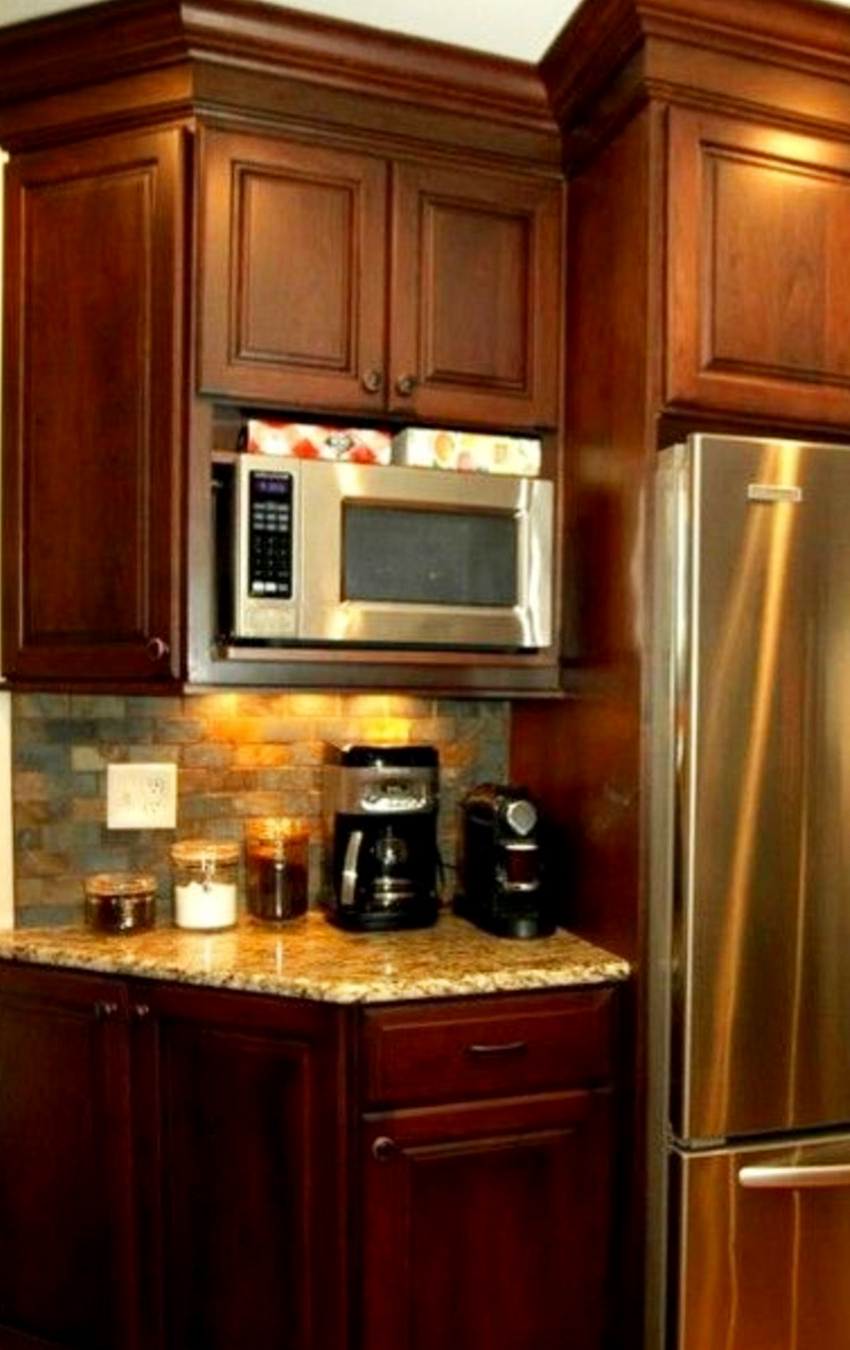 More Kitchen Coffee Area Ideas
Miss Anything?
Go back to the top of:
==>> Coffee Bar Ideas
Go back to a specific section:
 Coffee Bar CartsGet More Info Coffee Bar DecorGet More Info Coffee Bar Wall RacksGet More Info
What To Read Next: