Do you KNOW you MUST declutter your home but you're feeling overwhelmed by CLUTTER – and flat-out paralyzed by the mess? You are NOT alone!
We all know clutter is overwhelming, but have you ever wonder WHY clutter overwhelms YOU and why YOU can't seem to deCRAPify your STUFF?
If you're like me, I bet I can narrow it down to ONE BIG mental ROADBLOCK that keeps clutter an on-going source of stress, anxiety and overwhelm.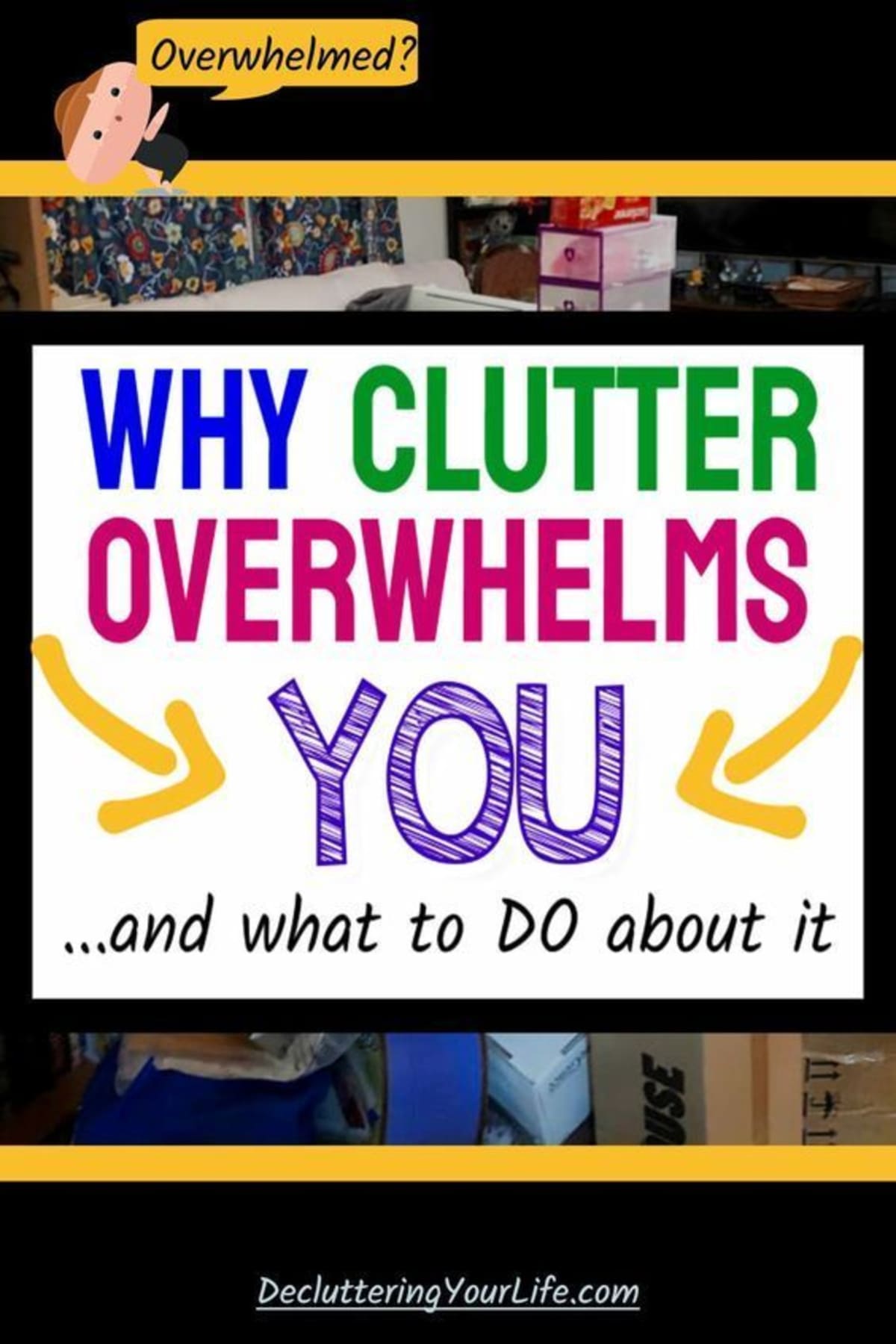 A lot of the decluttering process starts inside YOU.
For example, the reason why we NEVER use BOXES to declutter is a simple mindset change that can make or break your decluttering efforts.
But let's jump all the way to the beginning of our issues with clutter.
WHY is clutter everywhere?
WHY is clutter overwhelming ME?
This might surprise you, but if you stop and really think about it, you'll probably realize that one simple thought process is holding you back too.
It all comes down to this one thought process:
All. Or NOTHING.
And that thought process happens without you even realizing what just happened.
Let me explain how it works for me…
I walk into the kitchen.
It's a DISASTER.
I KNOW I need to clean it up, BUT…
I start looking around… and then…
BAM!
I am instantly SUPER overwhelmed with ALL that needs to be done.
So then…
I end up doing NOTHING.
My brain has two modes…
Do it ALL.
Or do NOTHING at all.
There is no in-between when a task is overwhelming for me.
It took me a LONG TIME to re-train my brain to see a BIG project as a bunch of smaller, DO-ABLE projects.
Clutter is overwhelming because you see it ALL – you can't decide where to start, or HOW to start…
and then NOTHING gets done.
Rinse and repeat this scenario for days, weeks… months…. YEARS…
and that's when things get really bad – and not just the state of your home, but how YOU feel about YOU.
If this resonates with you…
Please read:
Decluttering Tips for those that Feel like a FAILURE.
Bottom line:
That All or NOTHING roadblock is one of the 13 major barriers to decluttering – if not THE biggest barrier.
Next time you walk in a cluttered room and feel that All or NOTHING "devil on your shoulder" start talking…
Check yourself.
ASK yourself why you're not doing ANYTHING at ALL.
It's totally OK to do one little thing…
throw 10 things away…
put 5 dishes in the dishwasher…
put 2 shirts away…
make your bed…
any little action taken is one step CLOSER to removing overwhelming clutter from your life…
AND feeling better about yourself in the process.
It's not ALL.
It's not NOTHING.
It IS…
Do SOMETHING.
You got this!

PS – love craft projects?
Me too (tho I'm not very good at it haha!)
My list of homemade Father's Day craft gifts are all super fun ideas!
Or, if like DIY home decorating for the Holidays…
Look at these CUTE handmade Christmas decorations…
and these Easter Tier Tray Decorating Ideas I found.
What To Read Next: