2 simple, yet SERIOUS, decluttering tips to STOP feeling ashamed, overwhelmed and like a failure that really helped ME.
Life happens… and our homes show the stress we've been under.
If you were raised like I was, a messy house was a sign of a BAD MOM.
Yes, I felt like a failure if ANYONE ever saw the mess I used to live in.
Heck, I felt like a failure anytime *I* saw it.
All that CLUTTER and MESS – How… HOW did I let it get this way?
What is WRONG with me?!?!
Here's what I figured out and HOW I finally figured it out… and it was life-changing.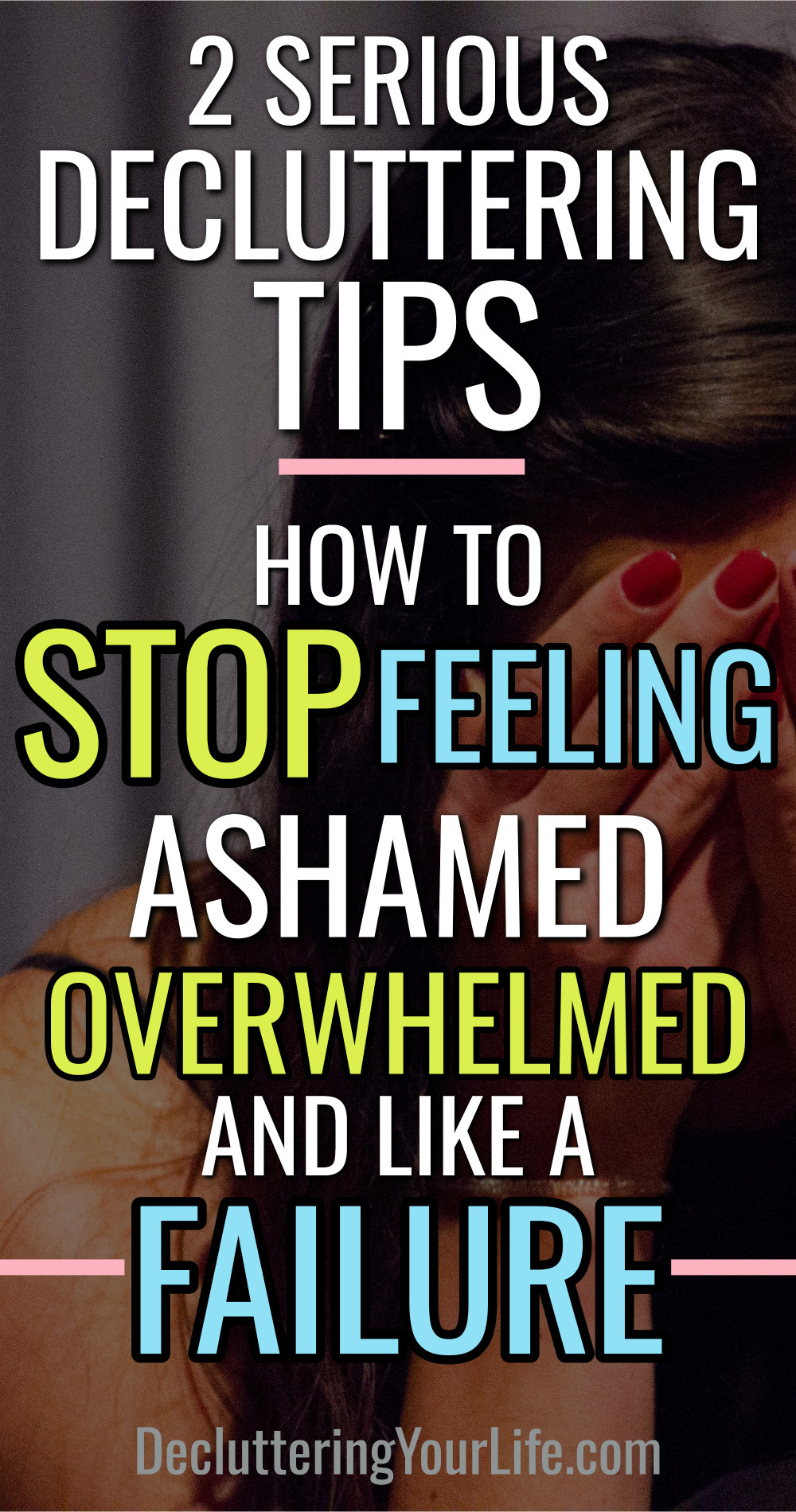 Clutter and mess are flat out OVERWHELMING – and when real life gets in the way… we literally feel like we're drowning.
And it certainly gets serious, doesn't it?
I've talked about cleaning with depression before.
After my 2nd child, my daughter, was born, I fell into a DEEP bout of post-partum something… it was horrible.
It was a snowball type of thing too… I felt horrible and couldn't manage to do anything – which made me FEEL even MORE horrible… and then I'd be so mean to myself about not doing anything…and I felt even MORE horrible.
I felt like a horrible failure.
Bad Mom. Bad Wife. Failure As a Human.
…and I was DROWNING in all those emotions and personal judgements of myself… and yes, DROWNING in all my CLUTTER.
I've also talked about decluttering after someone dies… and that's a whole 'nother mess of emotions that snowball and paralyze us.
And, to top it all off, I've also talked a bit about cleaning with ADHD (and isn't that the cherry on top! ugh!!!)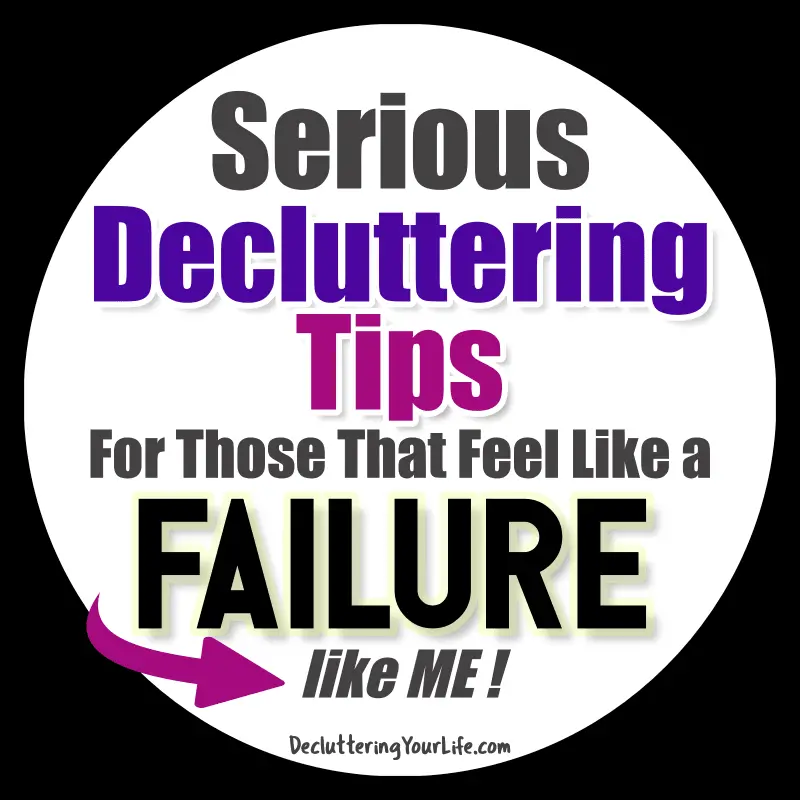 I've shared a LOT of extreme decluttering tips here on Decluttering Your Life, but today, I want to share 2 very simple, yet SERIOUS decluttering tips for when you just CAN NOT get it together.
If you're there, you KNOW what I'm talking about – and it is SO hard.
No matter what your decluttering roadblock is… these 2 tips WILL help.
I promise.
Tip 1 – Read This:
 How to Keep House While Drowning: A Gentle Approach to Cleaning and OrganizingRead The Preview
This is gonna sound super "hype-y", but I'm going to say it anyway…
The author's experiences and emotions resonated with me on a level that I've never experienced.
Best of all –
Her SOLUTIONS really WORKED for me.
She helped me reframe my entire thinking about my home… about cleaning… about my own internal expectations of myself.
It's almost as if she gave me "permission" to NOT be able to do it all.
Made it ok to feel NOT ok.
And still be able to get things done.
I don't feel like a failure anymore, instead, I'm ok being HUMAN – a real person who goes through REAL LIFE stuff… just like YOU.
I don't care if you buy the book, get it on your Kindle, listen to the audio book, get it from the library or borrow it from a friend.
READ IT.
To get an idea of what the book is about, read the free preview here.
Tip 2 – Get This:
 Cleaning Sucks: A Guided Journal for Less Mess, Less Stress, and a Home You Don't HateRead The Preview
This is going to sound odd to some (maybe not?), BUT… I was never really taught how to clean.
I guess for naturally clean people, knowing HOW to clean is common sense?
But not for me.
My grandmother was a neat FREAK, but she HAD to do everything herself (yep, a bit of a control thing there, haha!)
My mother, on the other hand, well… I didn't learn there either.
Learning HOW to clean is a real life skill that NEEDS to be taught.
But I truly did not know how.
And it sure as he** did NOT come natural to me!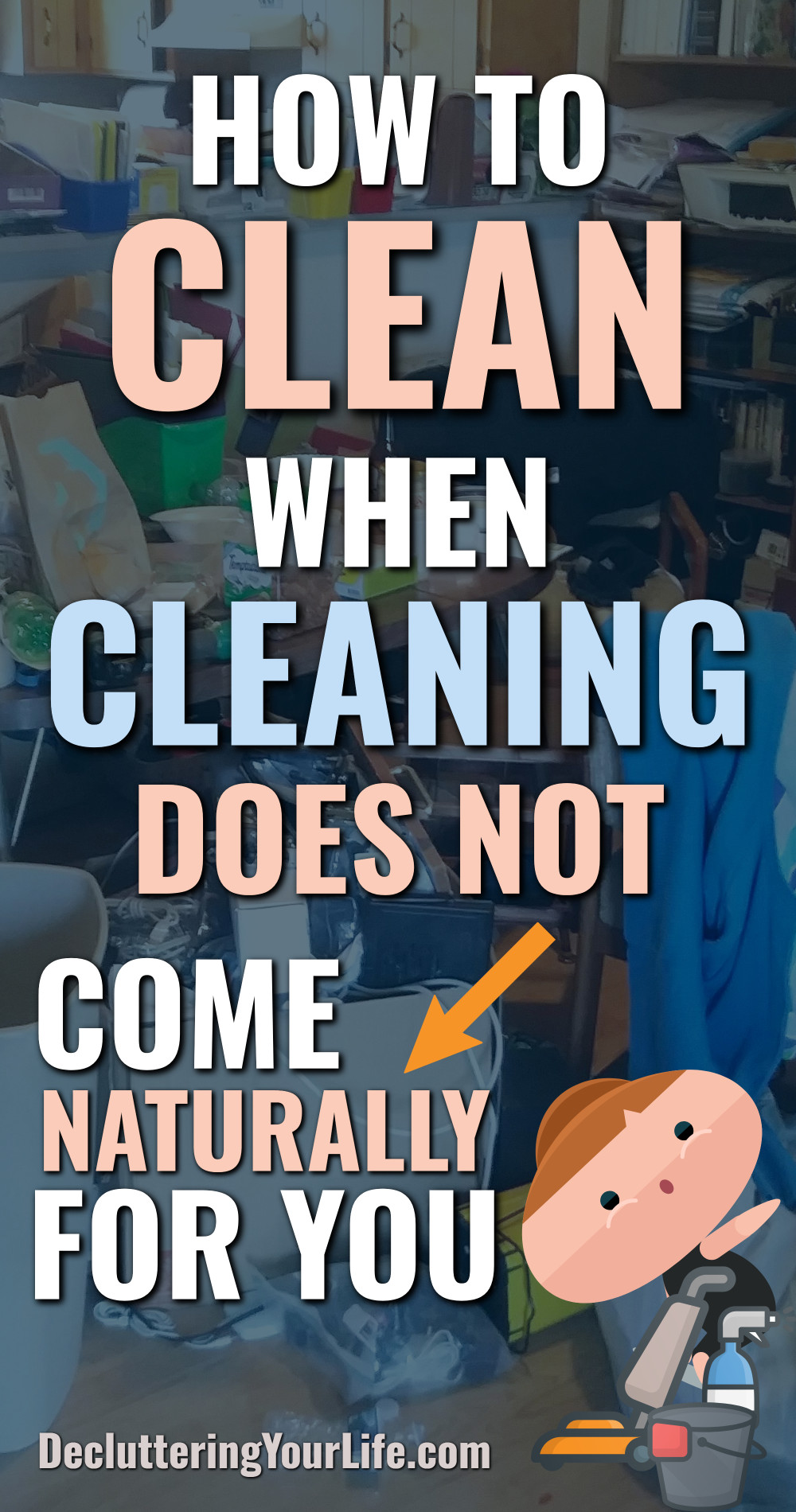 So once I figured out how to get rid of some clutter to make SPACE to clean, I got this "guided" journal that helped me learn how to KEEP it clean even though I was NOT in a good place mentally.
When you're in a bad place in your life, it's common to look around your messy house and wonder…
"WHY BOTHER?"
"What does it really matter if my house is clean or not?"
"I suck at cleaning so why even bother trying??"
This book helped me teach myself WHY it DOES matter…
and best of all –
Why *I* am WORTH it.
And YOU, my friend, ARE worth it, too!
Check out the free preview here.
(side note: some readers have told me they are offended by her title and/or brand name – I'm so sorry if it offends you as well. I didn't write it, nor did I title it… I just STRONGLY recommend it.)
Ok, that's it… no long, drawn out post from me today.
Just 2 VERY important things I wanted to share with you because they were each SO helpful for me.
Other Ideas You Might Like:
Here are some DIY ideas from the "secret" area of my blog here:
More Decluttering Tips: