So much STUFF – and it's EVERYWHERE! How can you minimalize and declutter your home when you are flat-out OVERWHELMED with CLUTTER?
That's the topic today here at Decluttering Your Life – and it all comes down to 5 simple steps to get get rid of stuff and get your clutter under control. Which in turn will help you get your LIFE under control (funny how that works, huh?)
5 Steps To DeCRAPify Your Home
Let's talk about the 5 most important things about decrapifying your home. I call them Steps, but the reality is – they are decluttering ROADBLOCKS. These are the things that are STOPPING your progress when trying to declutter your home.
The true first step is acknowledgment of your situation. However, since you're here reading this, I feel safe to assume you've already acknowledged that you have Too Much STUFF – and you need to DO something about it.
You've probably already read about WHY your house is ALWAYS a CLUTTERED mess and made some peace with what led you to the situation you're in now.
The other first step is getting past your GUILT – yes, guilt can be a HUGE roadblock to decluttering!
So now, let's stop talking about the situation and how you GOT here – and START talking about the SOLUTION to getting you OUT of your current clutter situation.
Ready? Let's go!
Step One: Stop Looking – Start DOING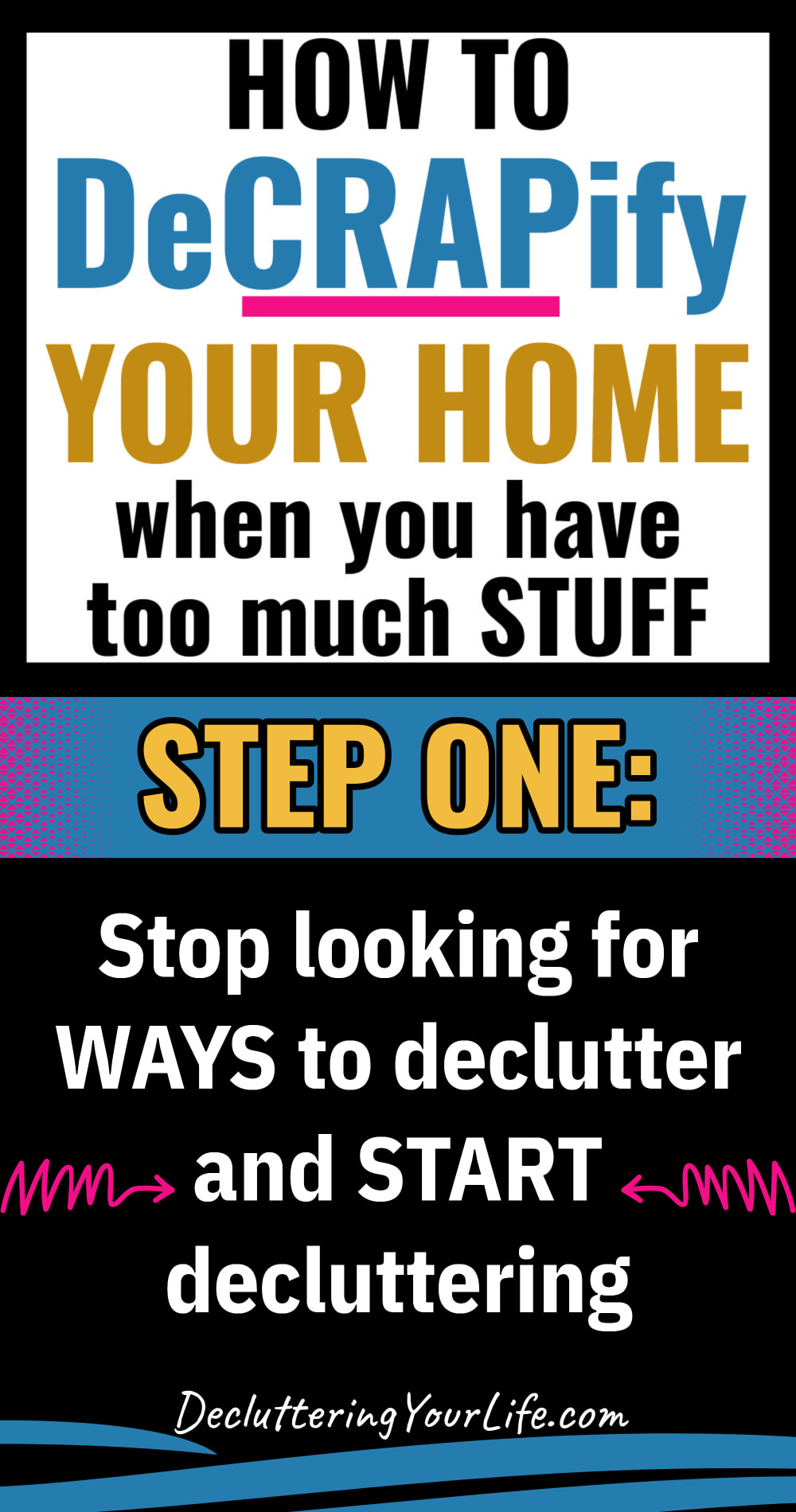 If you're here reading this, you are most likely looking for one simple thing:
HOW to declutter your home.
I understand this… in fact, I TOTALLY get it.
Looking for WAYS to do something is MUCH easier than DOING something, right?
But looking for ways to declutter is NOT doing anything about your situation.
You need to actually, physically, literally get up and DECLUTTER something.
There is simply no shortcut or way around it – you have to go THROUGH it and DO it.
Step Two: Throw Stuff AWAY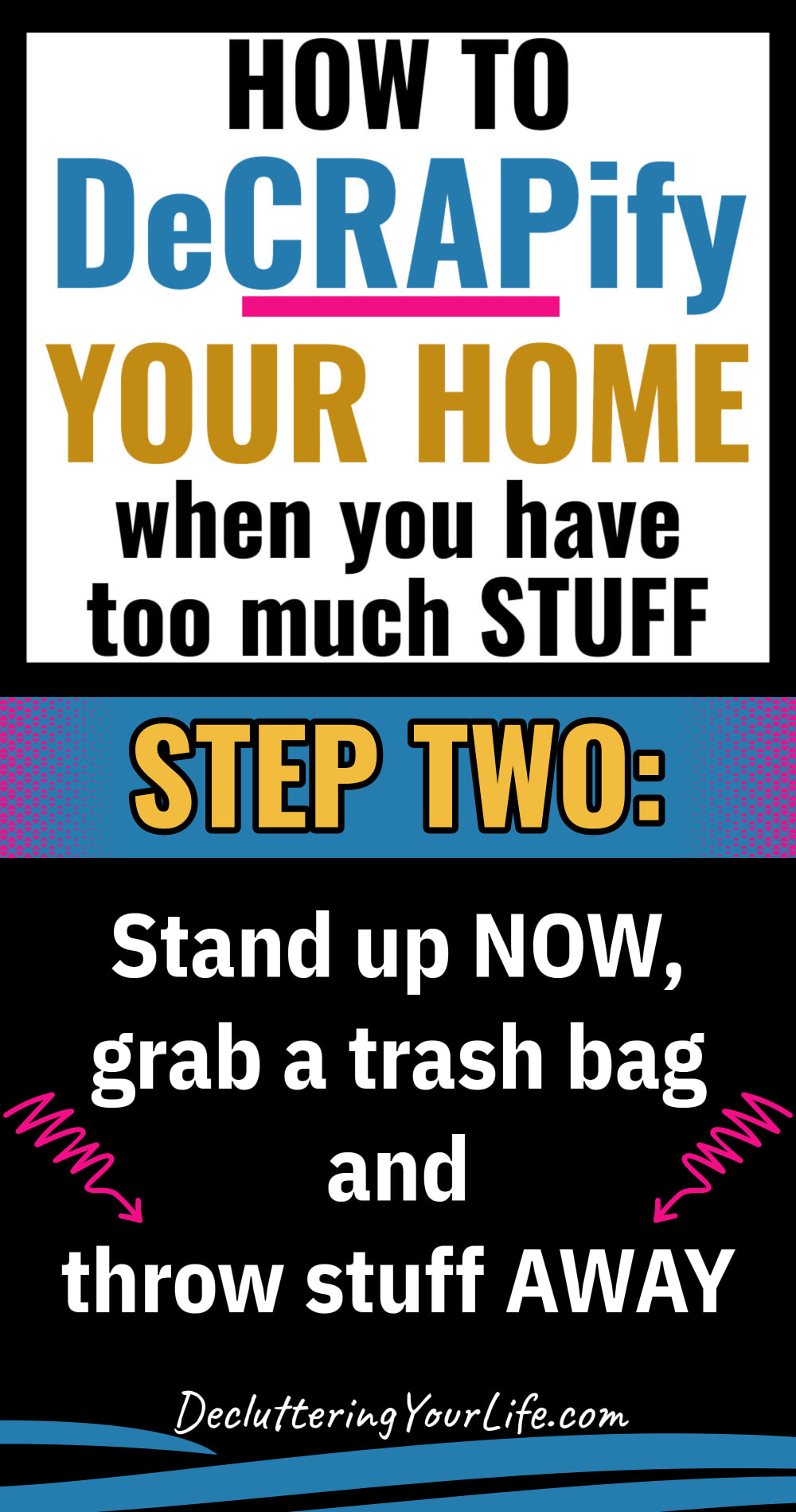 Based on Step One to Decrapify Your Home, it's now time to DO something.
So stand up, grab and trash bag (or even a small grocery bag) and throw stuff AWAY.
Yes, right NOW.
Tip – do NOT uses boxes…. here's why
If you're someone who needs 'instant gratification' (like ME), the simple ACTION of throwing some stuff AWAY will instantly make you feel better about your situation.
Why? Because you DID something about it AND you can SEE the result.
Step Three: Get Motivated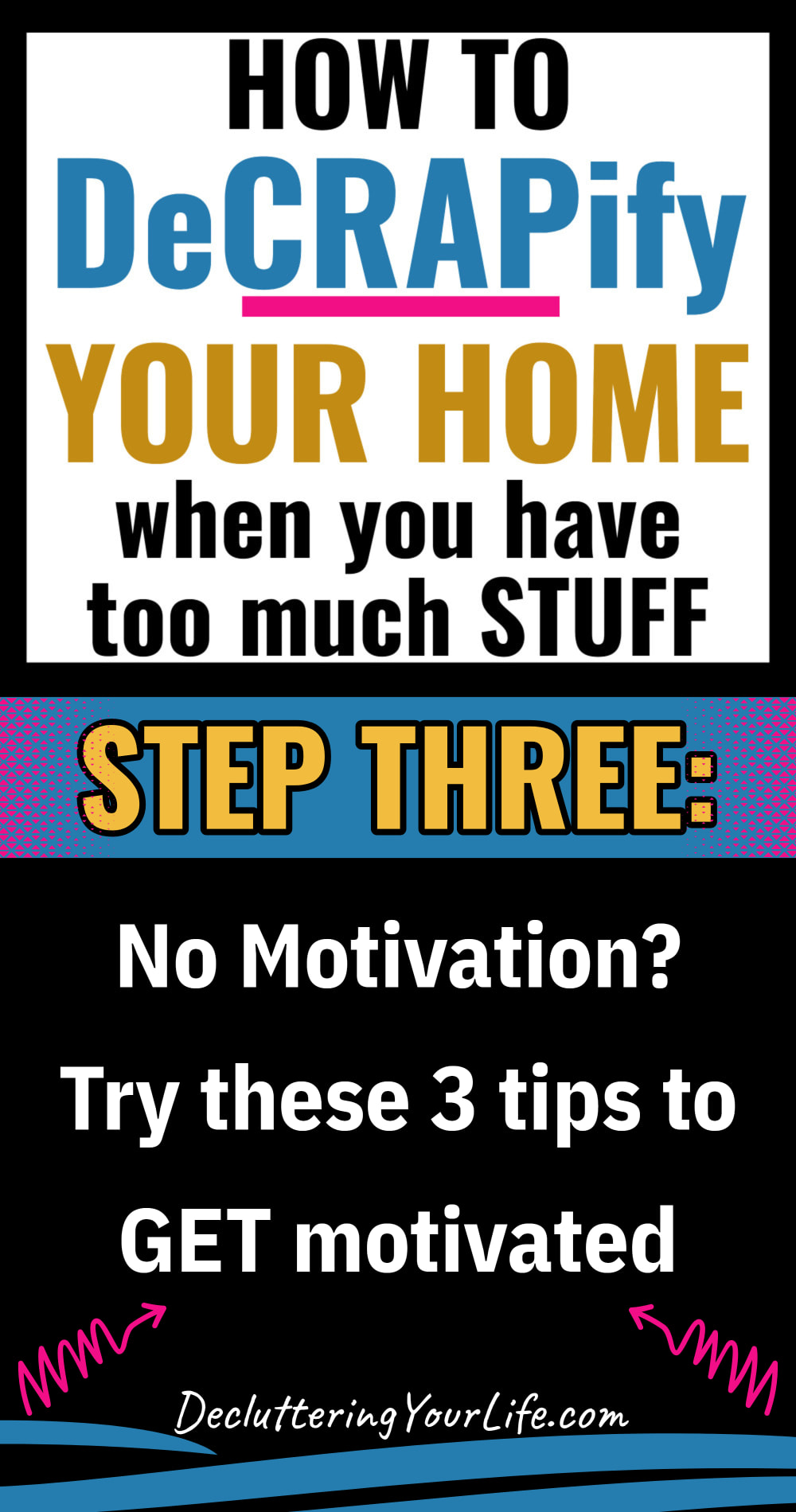 Sadly, many of us – heck, MOST of us get stuck right here.
We threw some stuff away, feel pretty good about it – but then lack the motivation to do anything else.
Because, let's face it – even with some obvious garbage out of our way, there is still a LOT of clutter to deal with.
And that leaves us feeling overwhelmed… and motivation goes right out the window.
(been there, done THAT – so many times!)
If you need help with the motivation to declutter, here's some help:
How to get motivated to declutter when you're depressed.
---
How to motivate yourself when decluttering feels TOO HARD.
---
Why YOU can't get rid of clutter
---
Step Four: Declutter FAST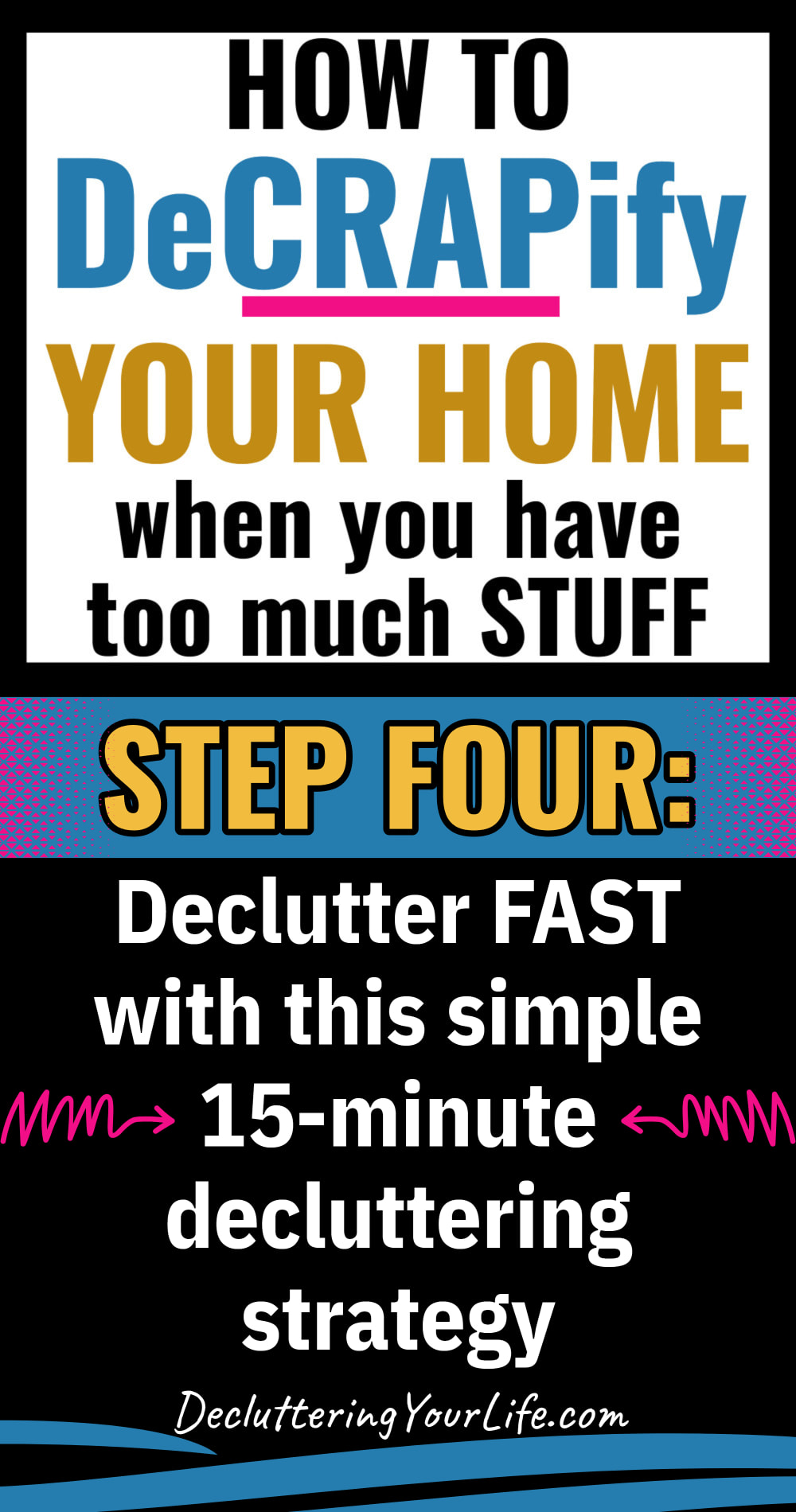 Aside from motivation to declutter, the next step (or roadblock) is MOMENTUM – you've got to declutter with purpose and drive… and KEEP MOVING.
In short, it's important to declutter FAST.
By moving quickly, you don't give your sentimental brain time to interrupt you.
That moment you come across some picture or sentimental item is usually a momentum buster.
For me, I'd come across something a kid made or a box of pictures – next thing you know, I'm sitting on the floor going through ALL the stuff and reliving the memories.
IF I'd manage to get BACK to decluttering, my whole mindset would be different from that point on – all the STUFF suddenly had meaning and I lost my drive to get RID of stuff.
Hard to explain, but if you've "been there, done that", you know exactly what I'm talking about.
The whole point – declutter FAST and keep your emotions OUT of it.
If it helps YOU, have someone help you… someone who has NO EMOTIONAL attachment to YOUR stuff.
Learn how to declutter any room in 15 minutes.
Step Five: Mistakes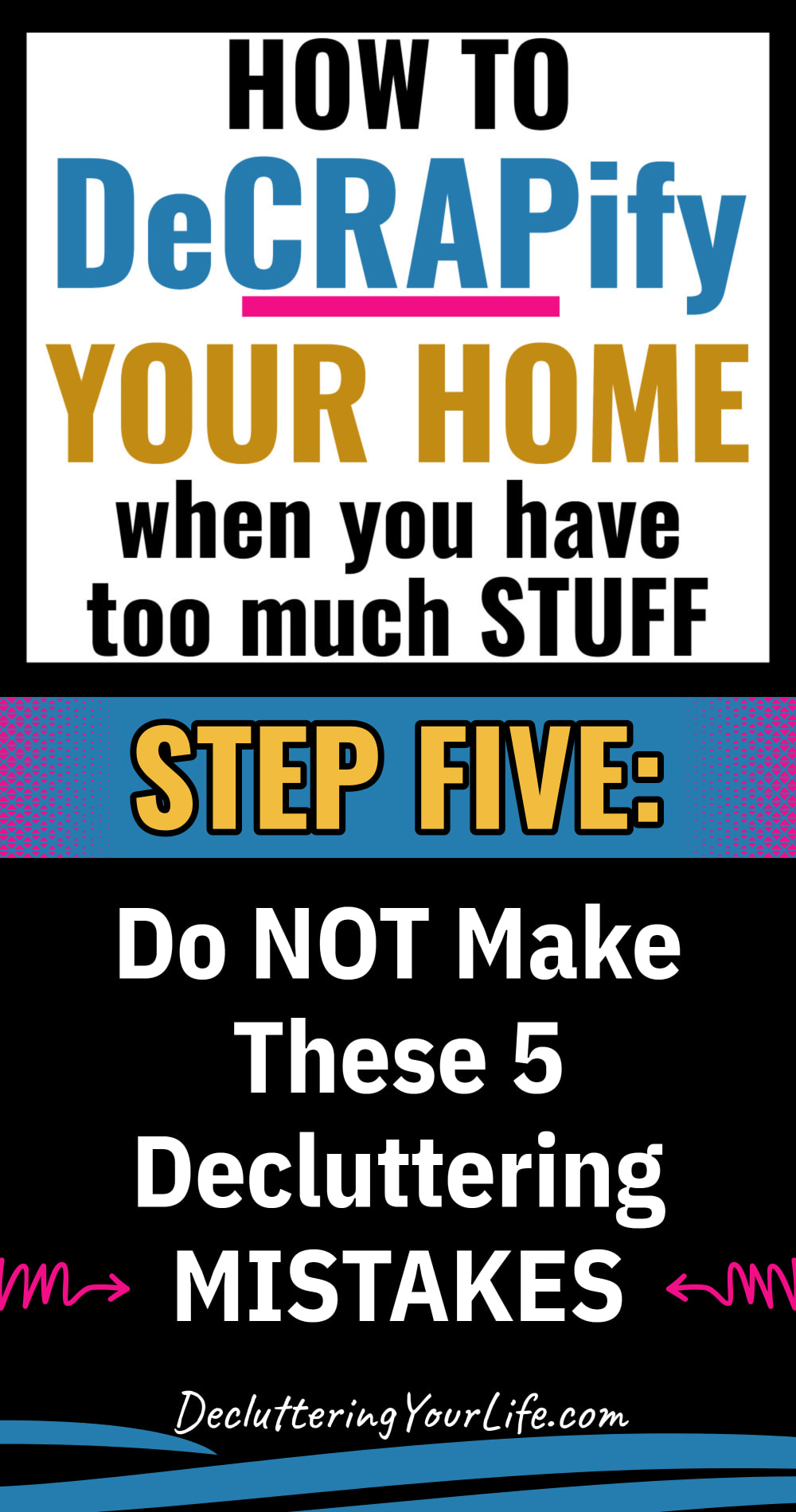 I really don't like using the word "mistakes" in relation to decluttering. In my opinion, ANY time someone gets even ONE item of clutter OUT of their life is a WIN… not matter HOW they managed to do it.
However, if you want to making decluttering easier, less overwhelming AND set yourself up for success, there are decluttering mistakes to AVOID.
✅  Read: 5 Decluttering Mistakes I Learned The HARD Way
More Decluttering Help:
Pin For Later?