Clearing Clutter=Change Your LIFE! Here's How To START –
Have you ever thought, "My house is a disgusting mess!" or "My house is OUT of CONTROL!"?? Me too! I also used to find myself saying "I can't get motivated to CLEAN my house, let alone worry about reducing clutter piles! Who has TIME for all that?!?!"

---
Where To START
When you're overwhelmed with clutter, where to START clearing the clutter is the #1 question we get.
Here's the reality – you need to MAKE time: Cluttered Mind=Cluttered House – a cluttered house IS a sign of a problem in all aspects of your life (there ARE psychological reasons for clutter and also MANY benefits of a CLEAN house).
So today, let's talk about clearing clutter and where to START.
---
---
Reducing Clutter Piles
Clutter just seems to pile up, doesn't it? Reducing the sheer volume of your clutter piles and amount of clutter IN your clutter piles can be a simple way to start clearing the clutter. We'll talk about that down below.
Psychological Reasons for Clutter
Cluttered house-sign of a problem? Or am I just a slob? A cluttered house could be a sign on an underlying psychological problem such as clutter addiction.
OR, are you a hoarder or packrat?
Clutter Control Tips and Help for Hoarders & PackRats * The process of decluttering for hoarders and pack rats is VERY overwhelming. Let's face it – clutter causes ANXIETY for almost everyone but it's so much worse for people with a hoarding disorder and definitely causes them to feel overwhelmed …
Or maybe it's these reasons you're a cluttered mess.
Are You a Cluttered Mess – Borderline Hoarder? It's Ok… Here's Help * Truth is, clutter happens to even the best of us – BUT some of us are just designed by nature to have a cluttered mess lifestyle. The good news is, we don't HAVE to be messy people …
What Does a Cluttered House Mean?
The clutter in your home DOES spill over into your mind and everything about your day-to-day life.
Cleaning your cluttered house WILL change your life in so many WONDERFUL and FREEING ways!
From Cluttered Mess To Organized Success The Fast and Easy Way – Ready to finally transform your home from cluttered mess to organized success? Great! Below are tips and tricks for cleaning your cluttered home the fast and easy way. Your cluttered house IS a sign of a problem. Whether …
When you declutter your life, you have less anxiety, more simple enjoyment and you don't feel so darn overwhelmed ALL. THE. TIME.
Getting your clutter under control will be…
well, it will be life-changing.
Overwhelmed?
- you're NOT alone -
How To Keep Your Home Organized With Kids, Pets, a Job...
and STILL have a LIFE.
Learn Hilary's secret here
My drawers will forever be grateful for these tips! "Taking this course really inspired me to get my house organized. Hilary offers some great tips and insight on how to practically store and arrange all parts of your house!! I love her down-to- earth attitude and real life examples of what her house looks like.
How To Start Clearing Clutter
Life today means we have a LOT of STUFF; magazines and other paper clutter, gadgets, clothes and even cleaning products that we often never even use.
As a result, our homes are crammed full of clutter and we become flat-out OVERWHELMED by all our STUFF.
Decluttering For Company When You Don't Have Time – We've all been there, the clutter in your house is overwhelming, your house is a MESS – and… SURPRISE! Company is coming to your house SOON. NOW WHAT?!?!? NOW it's time for some fast and furious clutter organization! You obviously don't …
---
---
Seriously, spend a few minutes walking around your house and look at all the STUFF and CLUTTER taking up space that you never use – and probably never WILL use.
You'll be amazed at how much clutter organization you need to do and how much STUFF you do NOT need.
Like many in this situation, we are overwhelmed.
Or, we say:
"Enough! I am going to clear ALL this clutter and clean this house from top to bottom right now, TODAY!"
Guess what?
Neither of these two reactions will go very far to help you clear ALL the clutter in your home.
Please listen to me
:
(and trust me when I say – I've learned the HARD way)
Anyone who tries to reduce ALL the clutter throughout their home in a single day is setting themselves up for failure.
On the other hand, people who become so overwhelmed by the just the idea of clearing their clutter that they resign themselves to doing nothing are no better off, either.
This isn't an "All Or Nothing" thing like speed cleaning is – it's a process, ok?
C'mon Moms! Let's SPEED CLEAN and Get It DONE! * For many overwhelmed moms, there's hardly any time left for cleaning the house. But WOW – clutter sure is OVERWHELMING, isn't it? Cleaning a messy house is just something we have to do (and there are SO many benefits …
If you really want to know how to clear the clutter in your home, you have to think in terms of baby steps; one day at a time.
The best way to reduce clutter permanently is to do so slowly – but surely.
Slow and Steady Wins the Race.
---
---
To get started clearing ALL the clutter in your house, simply resolve to devote fifteen minutes of your time, every day, to clutter control and reducing your piles of clutter.
Pick the time of day when you tend to be more active, you have free time, and/or you usually feel motivated to clean.
Cleaning Motivation To Get Motivated To Clean – Even If Depressed & UN-Motivated * It is HARD to get motivated to clean your house when you feel depressed, sad and very UNmotivated to do anything at all. Plus feeling overwhelmed by your messy house doesn't help anything at all! So …
Use a Room by Room decluttering system and focusing on a single room at a time – or even a single AREA of a room if a whole room is TOO overwhelming to deal with.
Think of ways to make the task as pleasant as possible.
For example, work to upbeat cleaning music or treat yourself to some "you time" at the end of your fifteen minutes of clutter organization.
On 'declutter day', go into the room, equipped with a trash can or garbage bag and a clean, empty box.
Start clearing the clutter at one end of the room.
---
Pick up each item and decide whether it is useless (that goes into the trash), may be useful in the future but is not used regularly (that goes into the box), or is something you need to keep in the room. Make a list of all items stored in the box so you'll know where everything is.
Now, many people have a hard time using boxes when decluttering.
It's a crazy little trick your brain plays on you.
This really helps with re-training your brain so you get down to decluttering quickly and with less stress:
Overwhelmed by clutter and can't seem to get motivated to declutter ALL your clutter piles? Here's a Decluttering Club Tip: Always use BAGS when you are decluttering your home… NOT boxes. There's a very simple reason why bags work SO much better when decluttering any room in your home.
Try to organize the room by placing items that you do need somewhere that is within reach but away from the part of the room you use most.
It is essential when learning how to declutter any room quickly that you stop working once the fifteen minutes are up.
The Simple Way I Declutter My Home Room By Room * Decluttering Ideas That WORK! Ready to learn how to declutter a room full of STUFF (even if your house is a disgusting mess)? Feel like you need to PURGE your ENTIRE home? You're NOT alone! Let's talk about …
Don't tire yourself out; you're going to be repeating this clutter clearing process every day.
Want Some REALLY Helpful Tips & Tricks?
☑ Read ==> Unf*ck Your Habitat
It's fantastic!
"You deserve better than to live in filth, and with just a little bit of effort and practice, you can easily master the skills and habits you need in order to get and keep your home livable…"
Storage boxes are excellent tools to conquer that clutter.
For example, when you declutter clothes, store out-of-season clothing in boxes and shove them under the bed or on a high shelf in your closet.
How To Organize and Declutter Clothes (the easy way) * Smart space-saving closet ideas for ALL your clothes! Today's topic is a BIG decluttering challenge: How To Sort Clothes in Your Closet so YOU can finally accomplish Mission: Declutter Clothes! Sorting and organizing clothes in your closet sure can be …
If you are working on a living room, arrange unread magazines and newspapers in boxes to clean the clutter off coffee tables.
Personally, I prefer organizing with baskets like this rather than boxes, but it's up to you.
You'll also be using boxes (or baskets) for all the objects that you did not throw away, but that you are not sure you need.
Keep these boxes out of sight. At the end of twelve months, go through them and determine if you need to keep any of this stuff.
Consider selling that stuff you have not used in the past year on EBay, Facebook Sell groups, in a garage sale or at a thrift store – there are even apps for your phone that can help you sell your stuff.
Selling your unused stuff that is cluttering your life is an excellent way for you to make extra money to pay bills or to treat yourself to something nice.
It should also give you a sense of satisfaction to know that someone is finally using your clutter.
---
If you are wondering how to clear the clutter in difficult areas of your home like the garage or the basement, the answer is that clutter organization methods are the same, regardless of which room you are cleaning.
Follow the same system. Work steadily for a set amount of time every day.
Think of all the sellable stuff that has probably been lying unused in your garage, basement or attic that could help you make some extra money!
That should encourage you to commit and continue with your clutter clearing efforts!
Remember to bring cleaning equipment with you so that you can clean each corner of the room as you reduce clutter.
Standing back when you are done and viewing a clean, neat and CLUTTER-FREE home will encourage you to go on.
It feels GREAT!
Overwhelmed With Clutter? Where To Start? * How to declutter and organize your home when you're feeling OVERWHELMED with CLUTTER. These 4 tips from Professional Organizers WILL show you how to start getting organized when you are OVERWHELMED. When you want to declutter and organize your home, the first …
---
---
Once you finally clear all the clutter in your home, give yourself a BIG hug and "high five" – but remember: clutter can (and WILL) come back.
Clutter has a funny way of sneaking back in and reproducing haha!
Be sure to stay on top of it – Don't put things off.
If you get new "stuff", deal with it immediately and put it where it belongs.
A good rule of thumb to keep clutter at a minimum is:

One NEW thing IN means one OLD thing OUT
Also make sure that everyone else living in your home understands the importance of keeping your HOME clutter-free.
Strive to be an ORGANIZED Mom?
Organization Hacks For Moms With NORMAL Families (whether you work OR stay at home) * We moms are BUSY and sure need all the help and home organization hacks we can get. Below are some organization tips that are sure to help whether you're looking to learn how to be …
Miss Anything?

---
---
---
---
---
Need Help Getting Organized?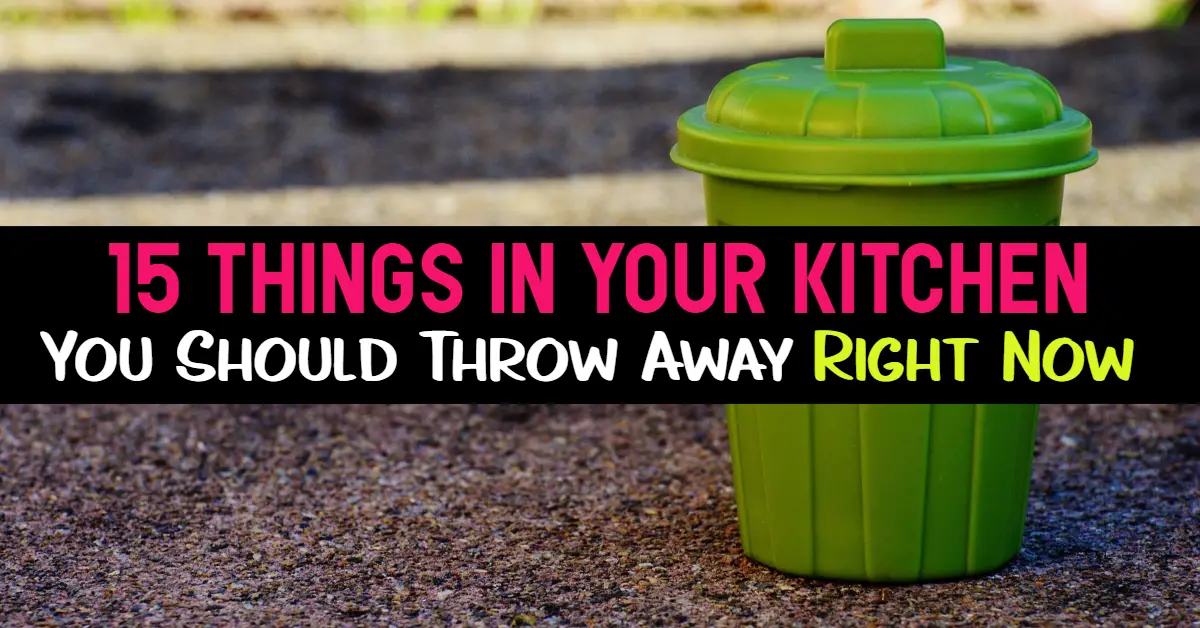 Declutter Your Kitchen Clutter FAST By Purging These 15 Items Kitchen Clutter SOLUTIONS! Let's talk about how to get rid ...
Read More
---
---