No Storage Space in Your Small Bathroom? I've found some simple solutions!
Below are 7 VERY clever DIY storage and organization ideas to organize your VERY small bathroom…on a budget!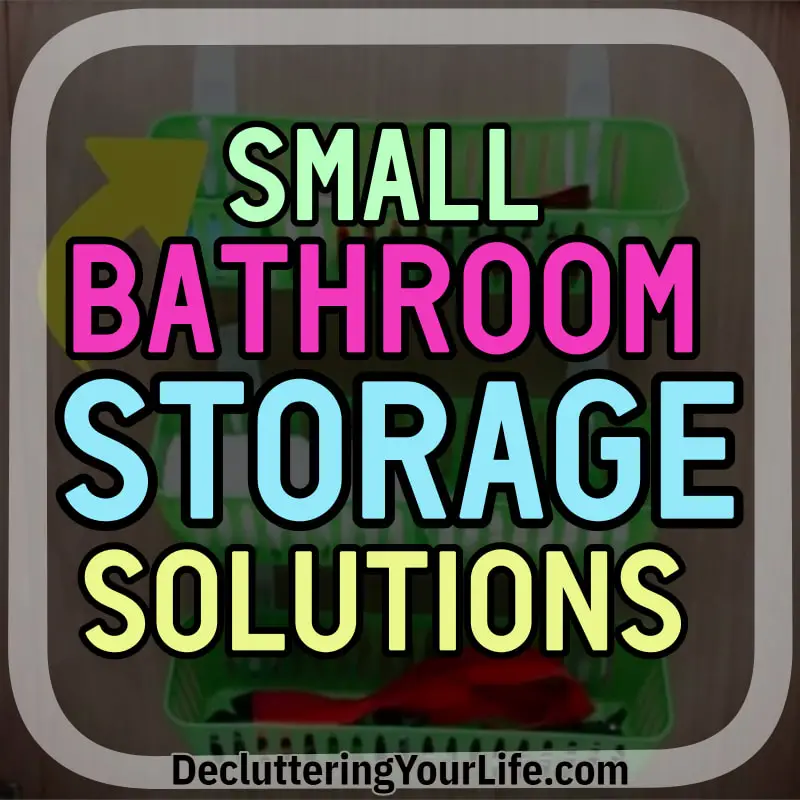 Welcome to Decluttering Your Life - we hope you enjoy our quick decluttering tips, organization ideas and simple DIY solutions for your home - posts may contain ads & affiliate links - that's how we keep the lights on =)
---
---
---
I don't know about YOUR bathroom, but the drawers, cabinets and COUNTER in my small bathroom tend to become a cluttered MESS!
I was in desperate need of renter-friendly bathroom storage ideas – and YES, I was on a budget!
Let's look at some clever apartment storage ideas for your small bathroom to get all your stuff organized.
Bathroom Storage Solutions
When it comes to storage space, living in a rental property or apartment can be an overwhelming challenge.
That's why I put together this list of rental-friendly bathroom storage ideas for tenants who want to make their small bathroom more organized and functional.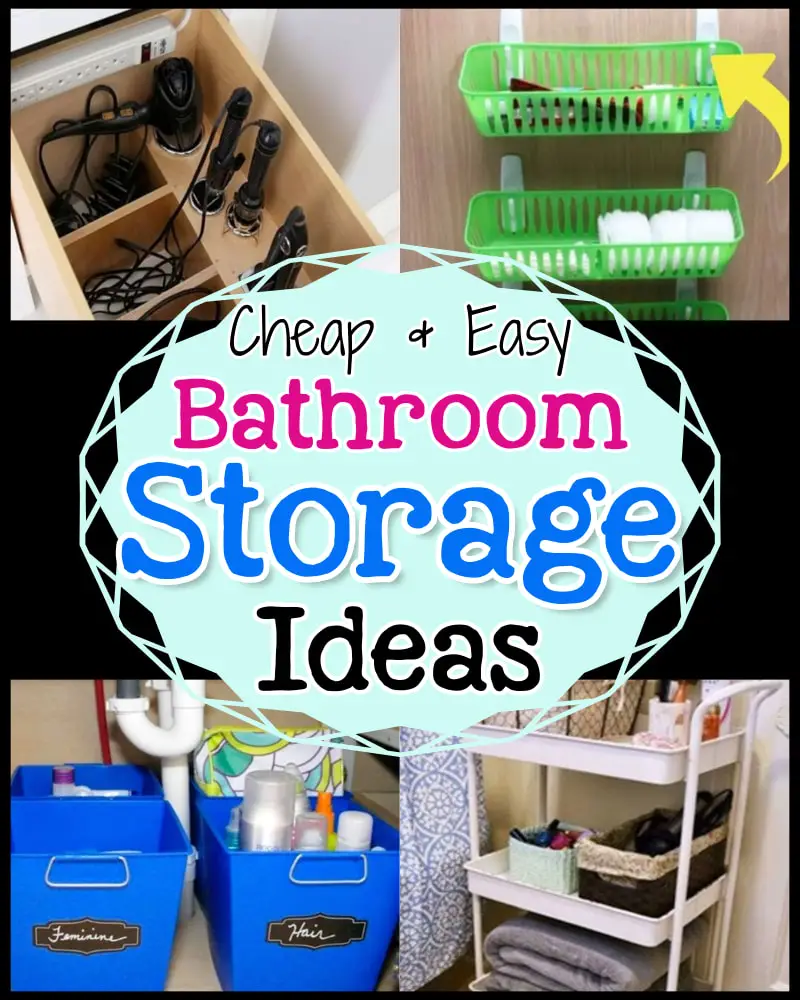 The renter-friendly bathroom storage ideas below are practical yet affordable and perfect for creating storage space in ANY small bathroom on a budget.
You can also take most of these space-saving solutions with you when you move.
Above all, these space-saving storage ideas for your rental bathroom will not risk your security deposit.
Struggle With Storage in YOUR Small Space?
1. Maximize Under Sink Storage
Pull out drawers under your bathroom sink can REALLY help keep things neat and tidy.
 2-Tier Under Sink BasketsGet More Info Wood Slide Out OrganizersGet More Info Chrome Slide Out OrganizersGet More Info
2. Use Cheap Space-Saving Drawer Dividers
By simply using some cheap drawer dividers you can keep all your make-up sorted and organized.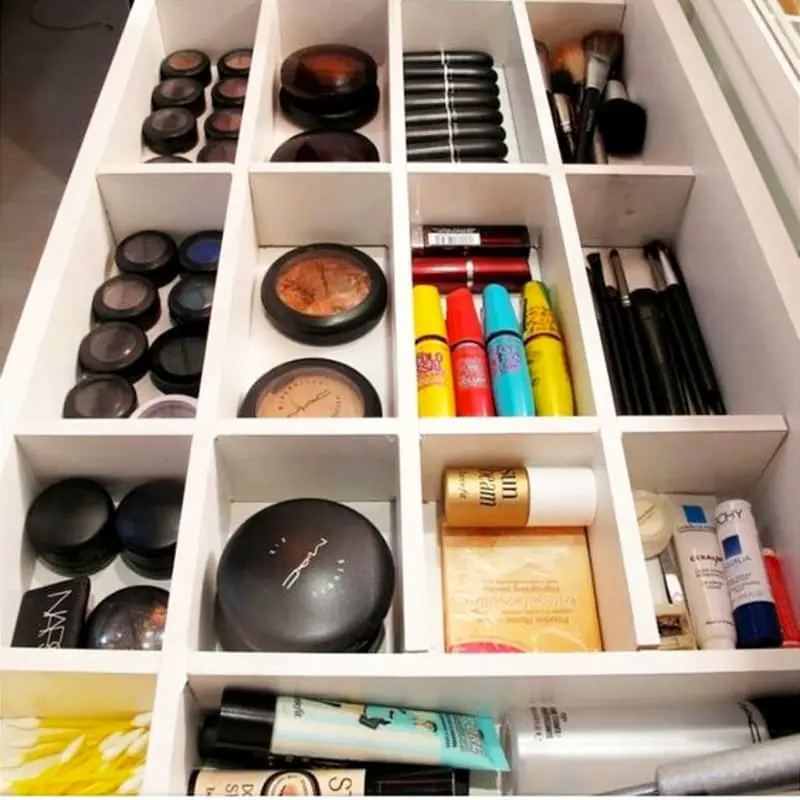 Makeup Drawer OrganizersGet More Info Adjustable Drawer DividersGet More Info Adjustable Drawer OrganizersGet More Info
3. Use This 'Dead Space' Storage Hack
Know that fake front in the cabinets under your bathroom sink? Why not do a simple handyman project and put it to good use for extra storage space.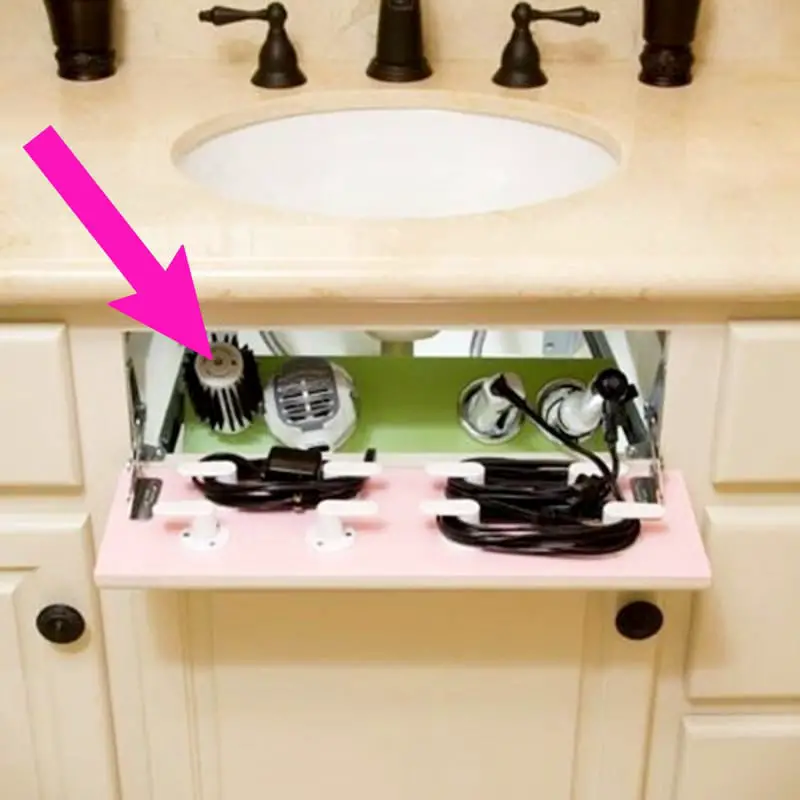 Countertop Appliance OrganizersGet More Info Cabinet Door OrganizersGet More Info Wall Mounter OrganizersGet More Info
---
---
4. Make a Hair Appliance Drawer
I think this is BRILLIANT! Create a special drawer just for hair dryer and curling irons, etc – and run a plug /surge protector INTO the drawer! Genius!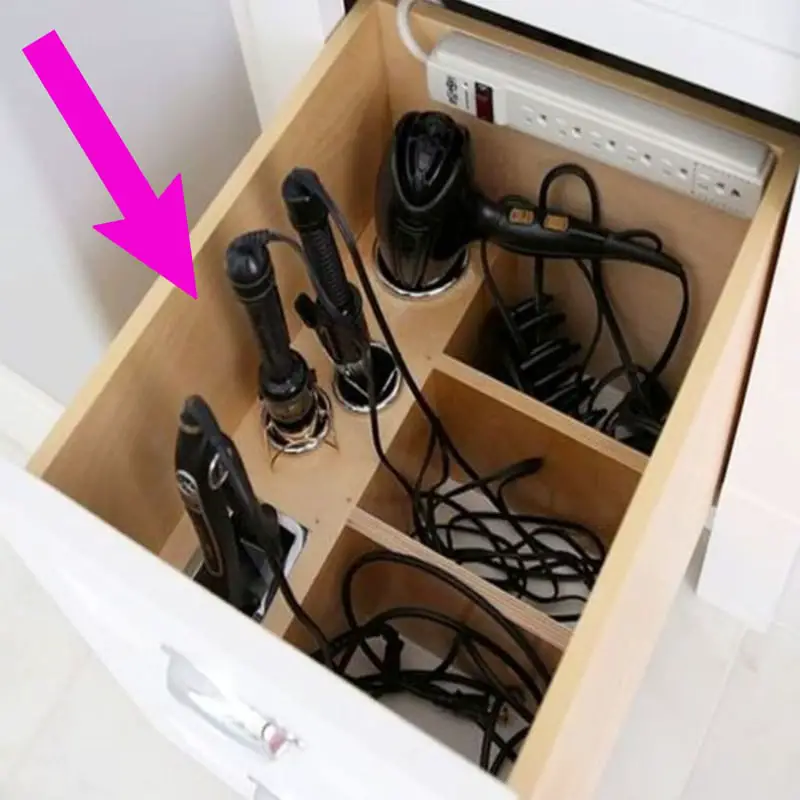 Slide Out In Cabinet Hair Appliance OrganizersGet More Info Hair Appliance Organizers with Power StripGet More Info Hair Supplies Rolling Storage CartsGet More Info
5. Use a Rolling Storage Cart
If your bathroom is small with very limited cabinet space, consider using a 3-shelf rolling cart to help keep your bathroom organized.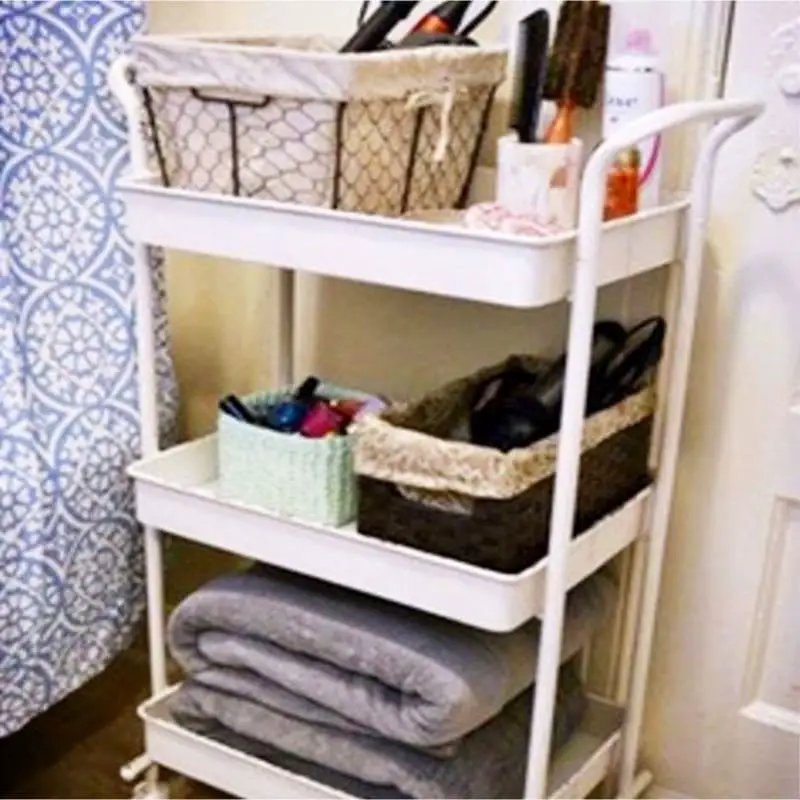 Wooden Rolling Storage CartsGet More Info Bathroom Storage BasketsGet More Info Metal Rolling Storage CartsGet More Info
6. Try Cheap Dollar Store Items
My favorite budget-friendly way to organize my bathroom is to take a quick trip to my local Dollar Store or Dollar Tree and get some cheap organization baskets and bins.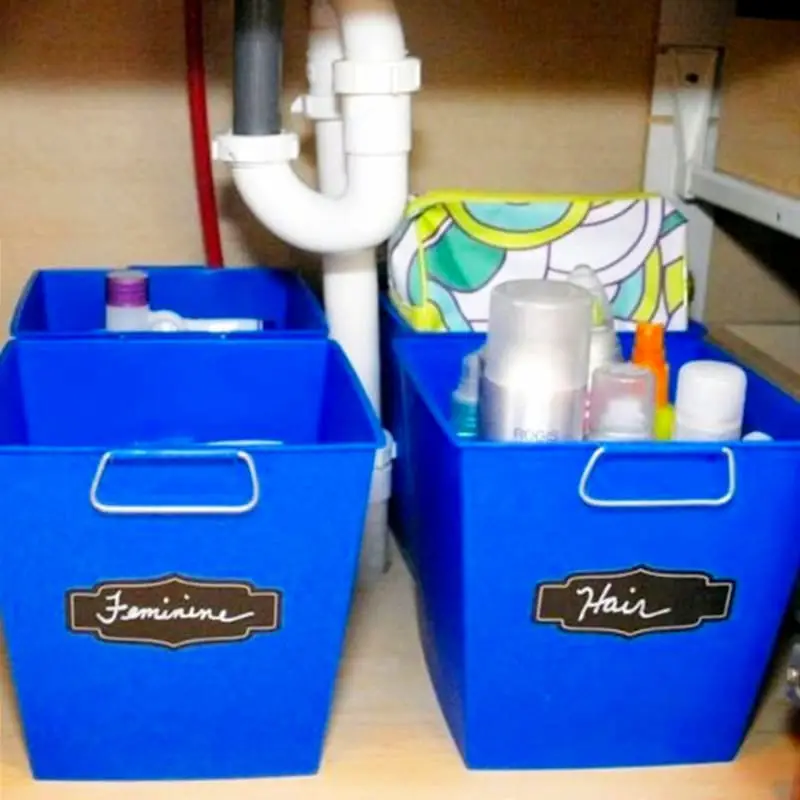 Under Sink Organizer BasketsGet More Info Chalkboard Labels for OrganizersGet More Info Clear Bathroom OrganizersGet More Info
7. Use Command Hooks
This is such a clever (and cheap!) DIY organization hack to create more storage space for getting organized in your bathroom cabinets.
Use Command Hooks to hang cheap baskets inside your cabinet doors!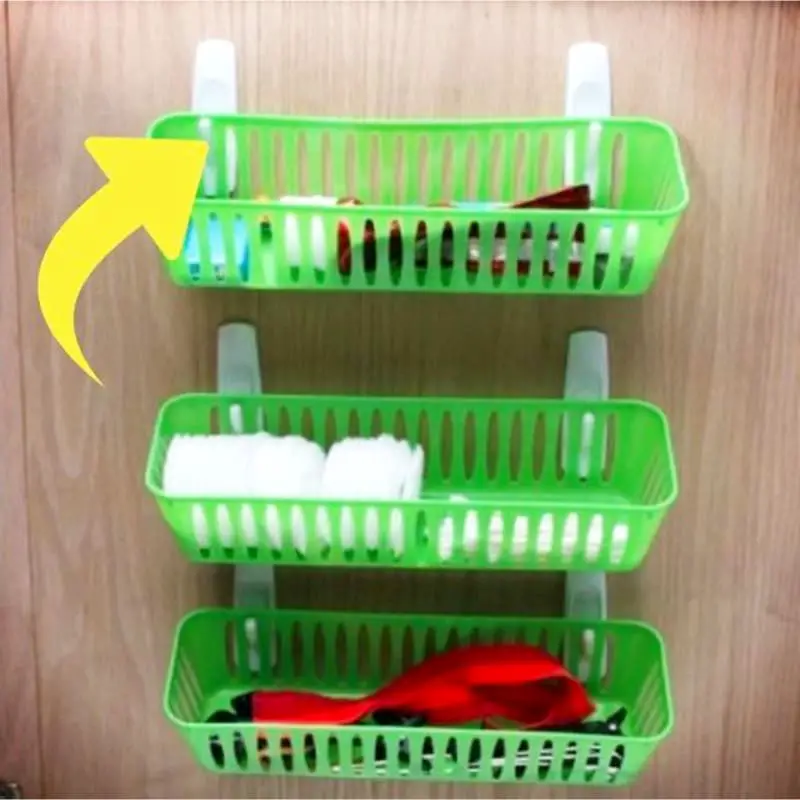 Command Bathroom OrganizersGet More Info Command Wall ShelvesGet More Info Command Towel RacksGet More Info
Miss Anything?
 Bathroom Makeup OrganizersGet More Info Bathroom Wall OrganizersGet More Info Bathroom Storage OrganizersGet More Info