Cheap Garage Organization Solutions & GENIUS Garage Storage Ideas To Organize a Messy Garage on a Budget… with photos…
Let's declutter and organize your garage with these 5 Quick and CHEAP garage organizing ideas including clever garage storage organization HACKS, budget garage storage solutions and small garage organization ideas which we consider to be the cheapest way to organize a garage when you have little money to spend on getting it organized and clutter-free.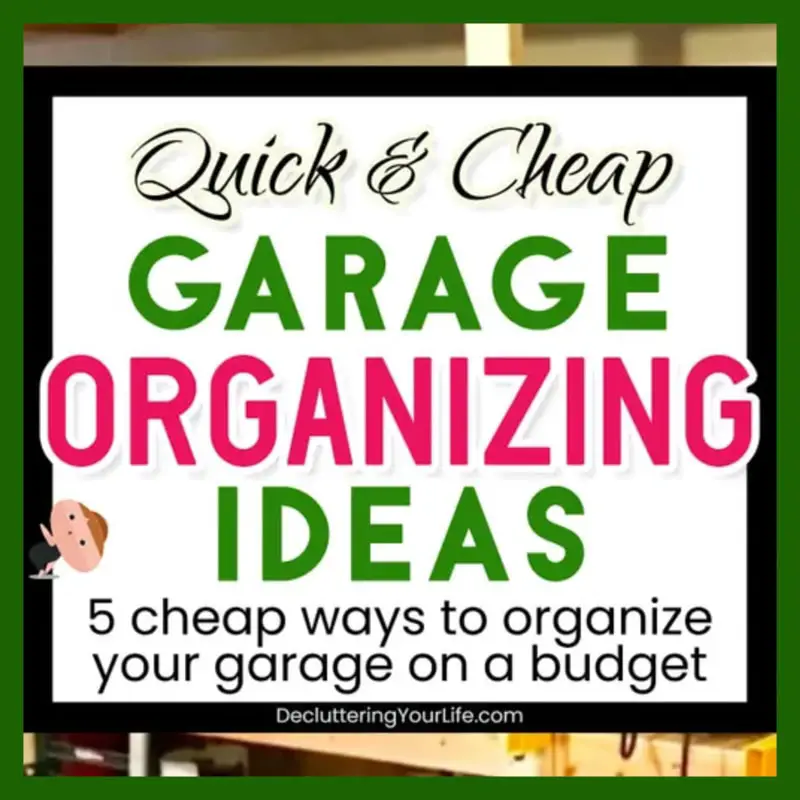 These simple garage organization ideas WILL help with organizing ALL the clutter in your garage.
Below are some of my favorite cheap DIY garage storage ideas and more cheap organizing ideas to declutter your garage on a tight budget.
On a Budget?
Let's look at 5 quick and cheap garage organizing ideas plus lots of pictures of GENIUS garage storage ideas, before and after photos, garage organization tips, hacks and ideas to help YOU get your messy garage organized quickly and cheaply.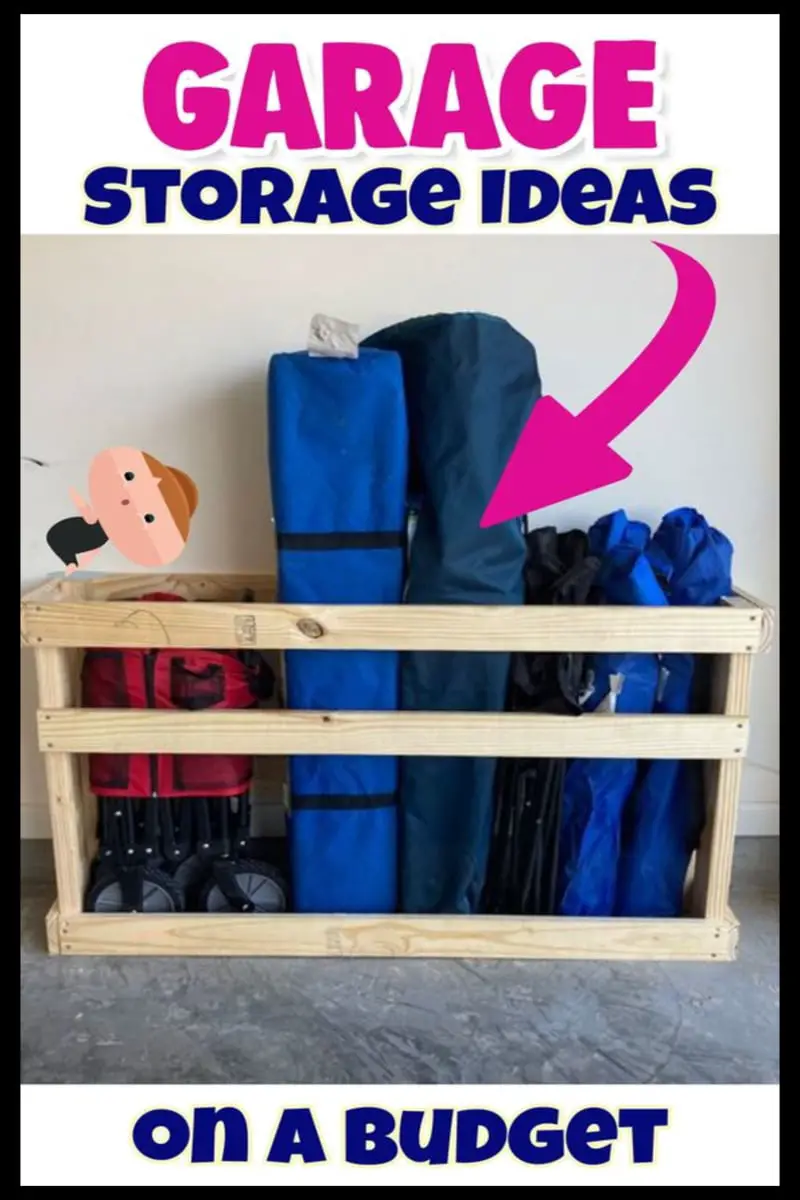 As you'll see below, I LOVE cheap ways to organize ALL the things (like these VERY clever Dollar Tree organizing hacks here) – there's no need to spend a ton of money when you can do it MUCH cheaper.
✅  5 Quick & Cheap Ideas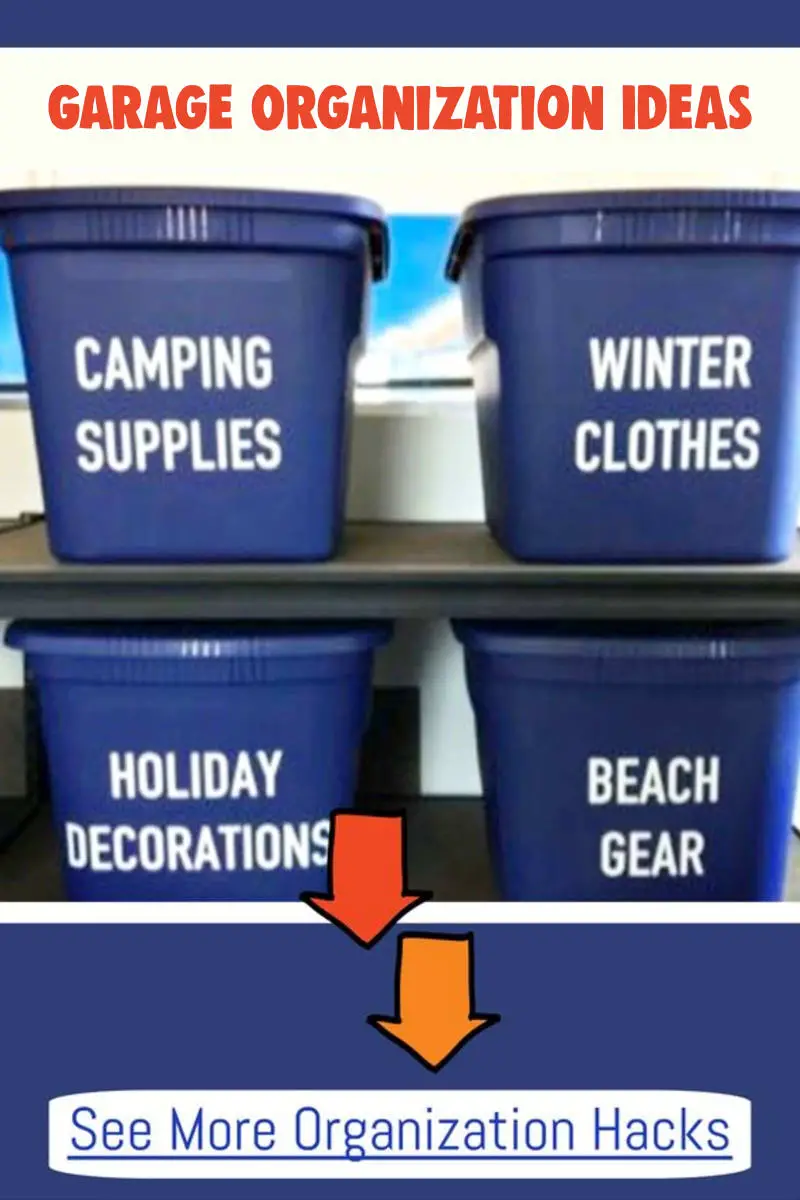 Here are 5 quick and cheap ways to organize your garage on a budget – you'll see pictures of these solutions down below the list.
Use Cheap Dollar Tree Garage Storage Bins (pictures below)
Try this quick and cheap organizing solution for ALL the kids' toys and sports stuff
Don't forget a VERY valuable storage area in your garage
Inexpensive wall organizers are a cheap solution
Try this idea below to HIDE your garage clutter
 1. Best quick and cheap garage organizing idea-see picture above-Hang Cheap DIY Shelves and Use $1 Garage Storage Bins From Dollar StoresShow Me This 2. Try This Quick SetUp and Cheap Garage Organizer Rack For ALL The Toys and Sports StuffShow Me This 3. Create More Space By Using The Area OVER Your Garage DoorShow Me This 4. Use Cheap Garage Wall OrganizersShow Me This 5. Hide Your Organized Garage Clutter Inside a Storage CabinetShow Me This
When it comes to organizing your home, the garage has got to be the one place in our homes we dread organizing.
For some reason, the garage seems to attract ALL the clutter we don't know what to do with.
When I was going through this process of getting rid of stuff to simplify my life, the garage was REALLY tough for me.
If you have a small garage, the task of trying to organize all that stuff can feel even more overwhelming and you REALLY need creative storage solutions for small spaces like these for your cluttered garage.
If you're looking for ideas for organizing a garage on a budget, take a look below for MORE organization hacks and budget-friendly DIY garage storage ideas.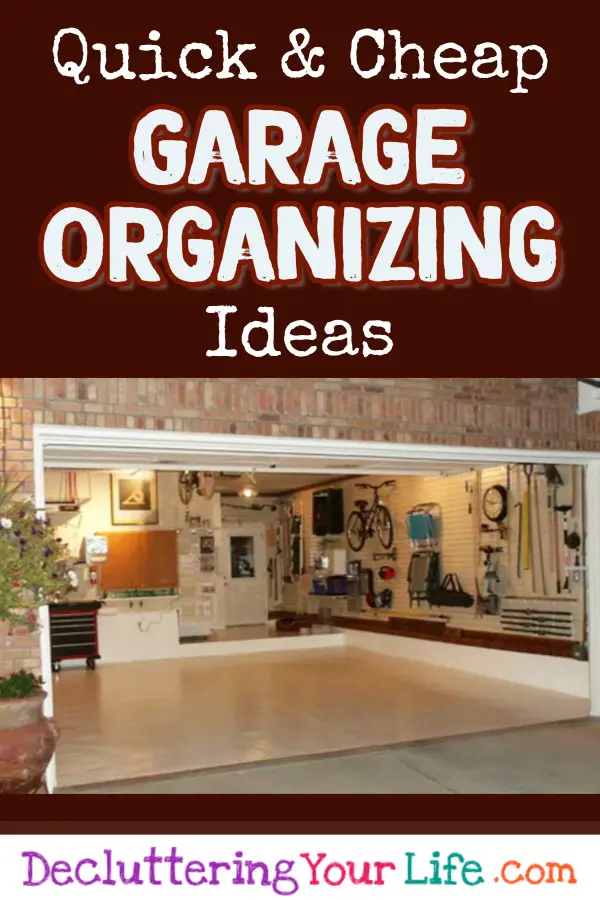 ---
Pictures
In the slideshow below we will share some affordable garage storage ideas, quick and easy garage organization tips and what we consider the best garage organization ideas we've seen.
If you need cheap garage ideas, these ideas below will really help.
You might think that it's going to be really expensive to organize your garage – but that doesn't have to be true. There are many garage organization ideas that will help you clear the clutter in your garage without breaking the bank.
Heck, some simple Dollar Tree organization hacks might be all you need!
In many homes, the garage is one of the most disorganized places. To many homeowners, organizing their garage is a most tiresome task which they choose to avoid.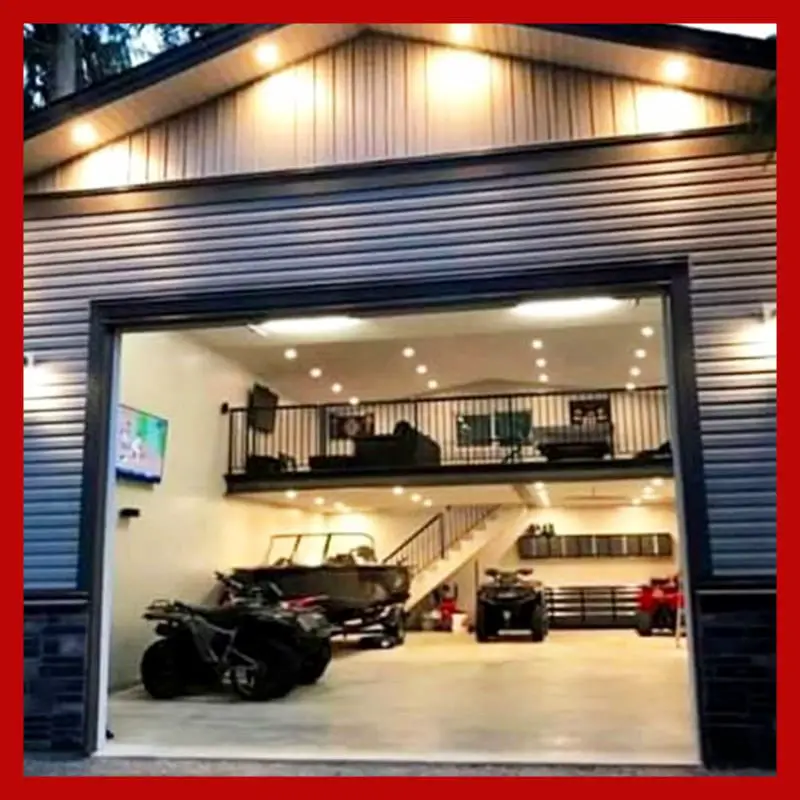 But just think of it this way, the more organized your garage is, the easier it is for you to have more space for your stuff and it takes less time to find those things you use everyday.
✅  Take a look at these garage before and after pictures
What a GREAT job they did organizing their garage – it's like the ultimate garage 'Man Cave', isn't it?!
Here's a sneak peek at the "after"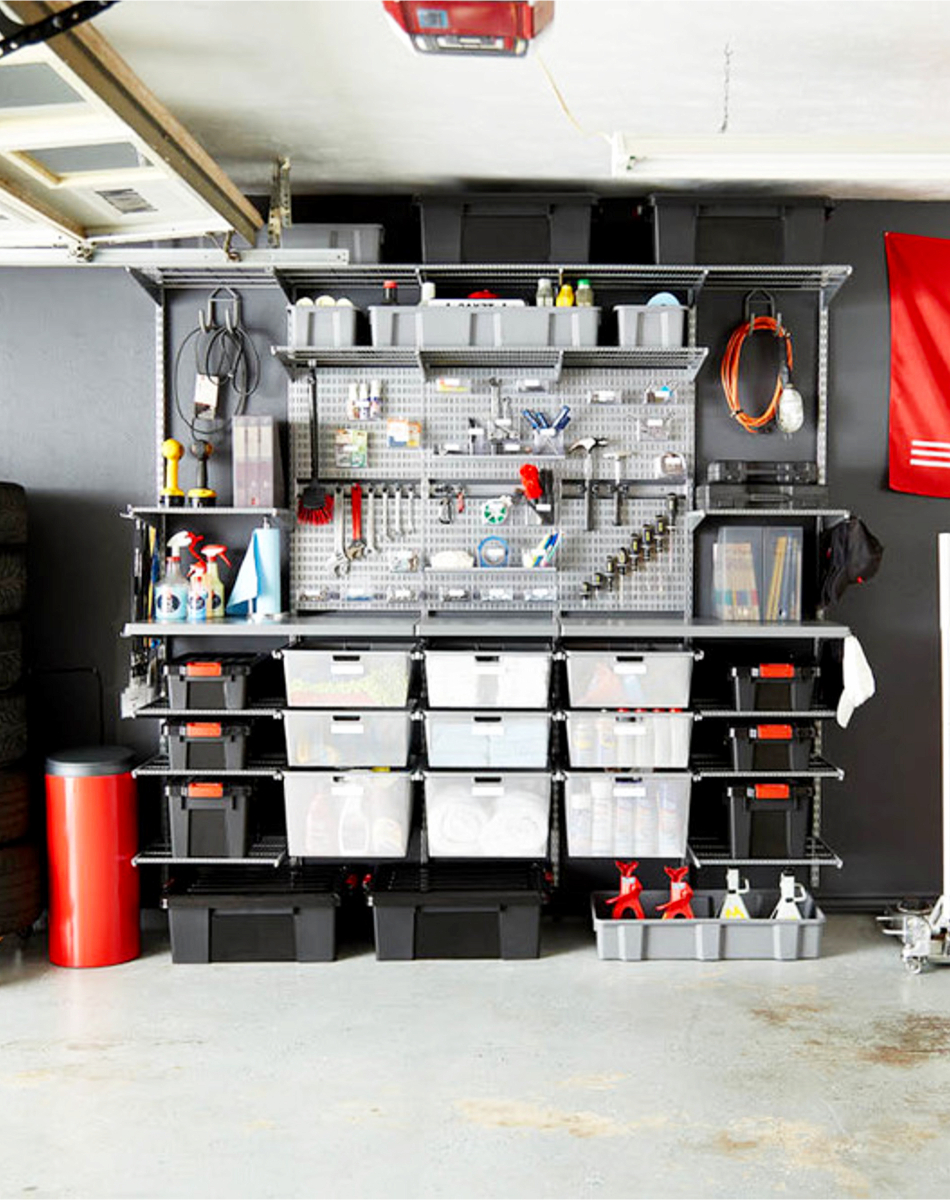 ---
---
Now you don't have to get THAT involved when organizing your garage – but it sure looks good, doesn't it?
Here are 5 simple steps which you can use to create your own garage organizing system.
Simple Garage Organization Ideas
How To Clean and Organize Your Garage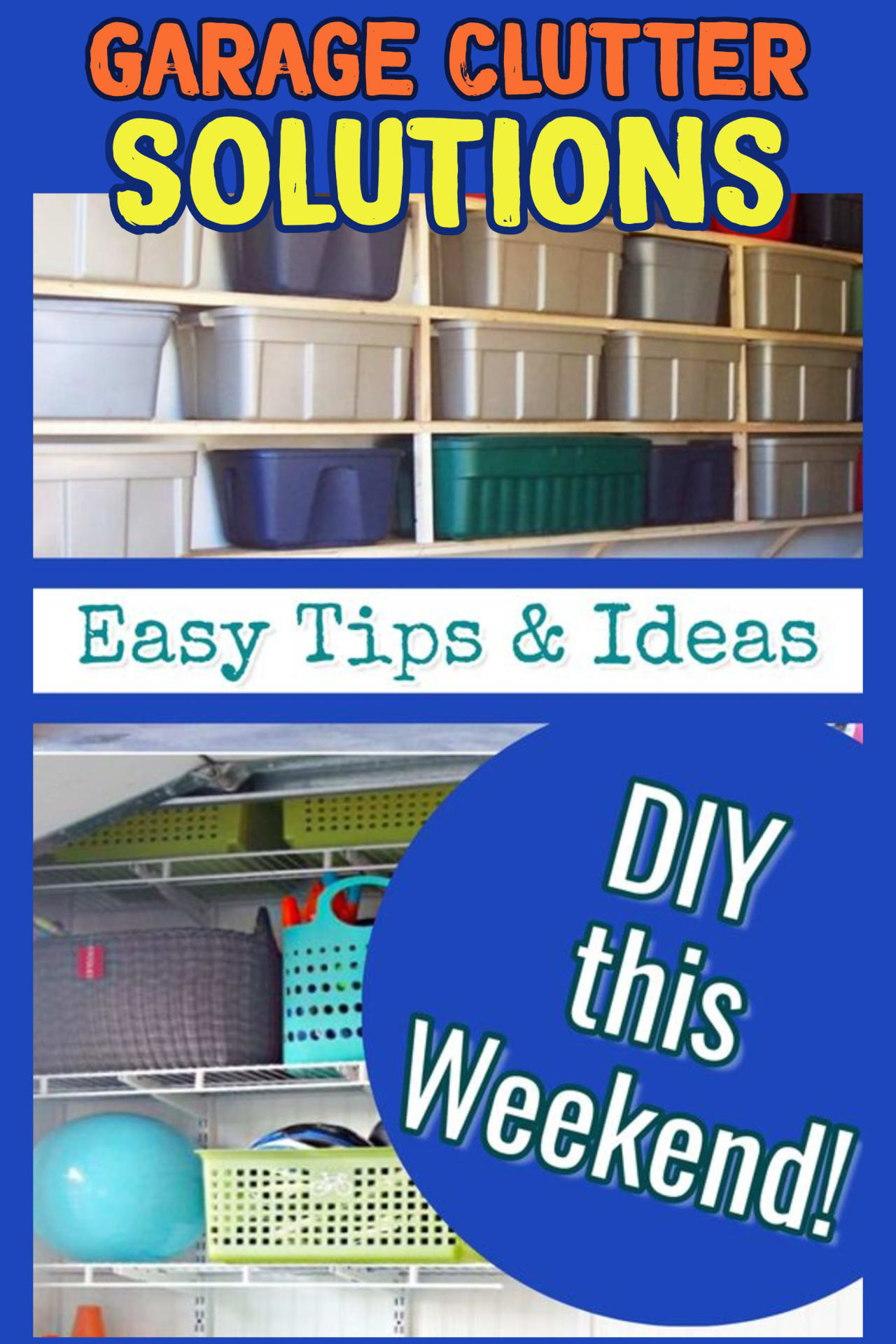 – Always sort your garage items. Start with sorting and categorizing all the items in garage. It is a good idea to get your family to help you out. After emptying the garage, you will be able to see how much stuff you have and this will help you to determine how to organize your things in the garage. You can separate all the different kinds of tools from sporting equipment to electric tools into correct categories. You should also sort out things that should be put in the garage from the items that should be put in basement or attic. Remember that it is a good habit to recycle everything that you decide to throw away. You can organize a garage sale for items you do not want, or you can donate them to the Red Cross.
 Heavy Duty Garage Storage BinsGet More Info Garage Storage Bin KitsGet More Info Garage Storage Bins with WheelsGet More Info
– Sort out the seasonal items and equipment. For your lawn maintenance tools, you should install a special rack for them and keep them accessible as you use them often. Equipment for winter season like snow blowers, ice scrapers, snow shovels and also skis, snowboards and sleds should be stored together. As for summer season items, you should store in another cabinet different from your winter items. Shelves and drawers should be installed to store other sporting equipment.
– Add more shelves and cabinets if required. While organizing the items in the garage, you should consider adding more garage storage space if it helps you to keep your garage tidy. Basically, you need to store those items which you use regularly so that they are easily accessible to you every time you require them. It is advisable to mount the shelves and cabinets on the walls to create more space in the garage.
– Create a working area. Some of us will like to have a small workshop in the garage. Having a bench or a table is good enough for your work area. Use a sturdy tool chest and a pegboard to store your tools. Keep them accessible at your work area.
– Place your trash and recycling bins near your garage. This is an excellent idea as you can easily throw away unwanted things that are chalking up the limited storage space in the garage.
When you first start to organize your garage, you will find it tough. Once it is over, you will love it because you can easily find your things in your garage. Start now. Invest in good storage units, cabinets and shelves and start organizing and sorting. You will not regret it.
Garage Organization Hacks
Feel like your garage is too small for all the STUFF you need to fit in it? Here's a clever and useful garage organization hack that can instantly create more storage space in your garage.
For those homeowners in need of more storage but who don't want the hassle of a major remodel, the perfect solution is the existing ceiling in your garage. Almost every homeowner has wasted space in the garage that is not being utilized, their garage ceiling. Garage overhead storage racks take advantage of this wasted space and can provide and abundance of storage space.
---
---
These racks are perfect to store seasonal items, holiday decorations, legal boxes, suitcases and bulky items that won't fit in cabinets. Made of high-quality industrial steel, the racks are depth adjustable to maximize ceiling space and come in a variety of sizes and colors to meet your needs. The largest units measure 8′ x 4′ and can hold upwards of over 100 cubic feet storage and upto 600 lbs of weight.
The better racks are framed units with 12 points of attachment to the ceiling to prevent the units from falling or sagging in the middle. Most units are powder-coated to protect against rust and corrosion and have lifetime warranty. They even have wire-grid decks to help see your items from below. Some even have add-on accessories to hang items from underneath; e.g., a ladder, folding tables, bikes and skis. And make sure your overhead racks come with safety/cargo netting to wrap the racks and keep your precious items from falling out.
So the next time you need of more storage, just walk out into the garage, look up, and think " I need overhead storage racks!"
Miss Anything?
---
---
5-Star garage organizing tips for those looking for:
garage organization ideas, garage organization systems, garage organization ideas pinterest, garage organization cheap, garage organization tips and tricks, garage organization tips and container ideas, brilliant garage organization tips, organization tips for garage, tips on garage organization, garage organization ideas diy, garage organization ideas pictures, garage organization ideas cheap, garage organization ideas hacks, cheap garage organizing, cheap garage organization ideas, cheap garage organizing ideas, garage organization for cheap, organize garage cheap.