No linen closet SOLUTIONS for linen and towel storage without a closet… even in a tiny bathroom…
Most homes and apartments have some sort of linen closet in one of the bathrooms, a hallway, the master bathroom or even in the laundry room.
But, what if YOUR house does not have a linen closet at all?
How do you store your bedding, towels, linens etc without all that precious storage space and shelving that a linen closet offers?
Below are some clever, creative and affordable linen storage ideas and linen closet alternatives to help you figure out WHERE to put your towels and linens.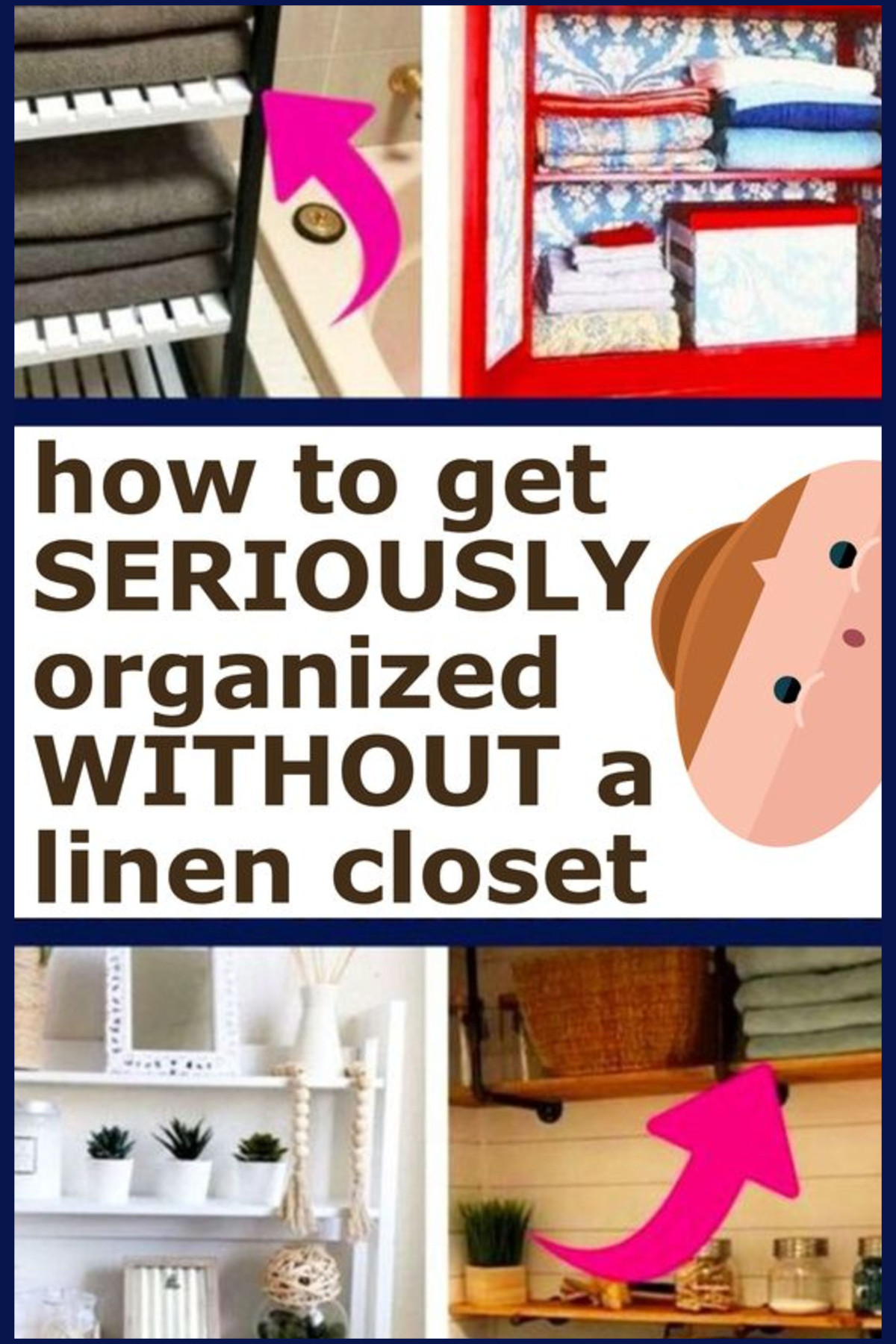 Welcome to Decluttering Your Life - we hope you enjoy our quick decluttering tips, organization ideas and simple DIY solutions for your home - posts may contain ads & affiliate links - that's how we keep the lights on =)
---
---
---
No Linen Closet?
Below are some common questions, answers, solutions and ideas for coming up with a linen closet alternative in your home.
It's amazing to me how many homes do NOT have a linen closet.
While it kinda makes sense for older houses, but a NEW house with no linen closet? Crazy!
I figured out how to deal with a NO PANTRY kitchen, but not having a linen closet forced me to get SUPER creative.
Let's look at some pictures of solutions and linen storage ideas you can try.
✅  Storage Ideas
Repurpose an Old Cabinet Into a 'Fake' Linen Closet-see picture below

Super small bathroom? Put a shelf over the bathroom door

Get a Narrow Space Saver Storage Shelf

Use the area over your washer and dryer

Create Wall Storage

Get Rustic With It

Get a linen storage chest

Get Creative With Baskets

Make Storage Pretty

Upcycle An Old Dresser Without Drawers

Make Use of Unused Space
FAQ
✅  What Can I Use If I Don't Have a Linen Closet?

Not having a linen closet sure can make linen storage a challenge – especially in a small house with a small bathroom.

Here are some linen and towel storage ideas to use if you don't have a linen closet…

No linen closet? Repurpose an old cabinet-see pictures above for ideas.
Super small space? Put a shelf over bathroom door for more storage.
Get a 4 cubbie organizer and turn vertically.
Store towels under the sink.
Use the area over your washer and dryer.
Get linen storage bags.
Get a linen storage chest.
Use a basket organizer.
Get an over the toilet cabinet with shelves.
Put storage containers under your bed
Get an over the door organizer

Here are some really good options for linen storage when you don't have a linen closet:

 Linen Storage BagsShow Me This Underbed Linen StorageShow Me This Linen Storage OttomanShow Me This Linen Storage CabinetShow Me This

 
✅  Where Do You Put Towels If You Don't Have a Linen Closet?

If your bathroom does NOT have a linen closet, there are many other options for storing your towels. This video below shares some great ideas for where to put towels if you do NOT have a linen closet:
✅  My house is REALLY small – where to put towels?

To store linens in a small house without a linen closet consider these types of solutions: over the door organizers, repurposed cabinets, hanging wall storage with baskets, shelving in laundry room, under bed storage containers and fake linen closets.
✅  Can you store linens in the attic?

Linens, including sheets, towels, blankets, comforters, table cloths and place mats, should not be stored in an attic that is not climate controlled.
✅  How Do You Make a FAKE Linen Closet?

You can easily make a FAKE linen closet with these linen storage ideas:

Create DIY linen storage from cheap plastic shelves
Get a space-saving corner linen cabinet (see below)
Get stackable plastic drawers
Put cabinets over your washer and dryer
Hang shelves over your bathtub area
Use wooden crates
Hang wicker baskets
Get a cabinet for over your toilet
Alternatives
I've seen many creative linen closet alternatives. Not all are cheap ideas and not all will work with ALL homes and apartments that currently do not have a closet specifically for linen storage.
I do not have a linen closet in my master bathroom so here's what I did:
I had unused wall space in my master walk-in closet. It was a small area, but it wasn't being used for anything.
So, I installed about 4 wire shelves on that wall.
Presto! Instant linen closet!
Here are some other linen closet alternatives to consider:
Build in a storage cabinet at the end of your hallway
Create a "fake" linen closet area in your laundry room
Put a small chest of drawers in your bedroom closet
Put adjustable shelves between your washer and dryer
Use a glass-doored cabinet to store your bedding and display your quilts
Use cubbies and/or cabinets in your mudroom storage area
Use the storage space under your bed your under the bed in your guestroom
Towel Storage Ideas
Here are some pictures of brilliant DIY towel storage solutions you can try. Most of these are cheap ideas so they're perfect if your trying to maximize storage space on a budget.
This over the toilet idea is borderline genius – it's just 3 deep wire baskets hung over the wall behind the toilet. Perfect for a small bathroom!
I just love this next idea – and super cheap to do, too!
Just get some old wood crates/boxes, paint them in colors that complement your bathroom decor – then stack them up to store your towels in.
Another linen storage solution is to get a small bathroom storage cart, like this:
I think the rolling storage cart is a brilliant solution for storing towels and other bathroom stuff.
Here are my 4 favorite bathroom storage carts you can use as a linen closet alternative:
 Space Saving Storage CartShow Me This 4 Tier Sorage CartShow Me This Bathroom Storage CartShow Me This Rolling Bathroom Storage CartShow Me This
Bathroom Linen Cabinets
Here's another great idea for those in the no linen closet situation –
Getting an inexpensive bathroom linen cabinet can be the perfect solution if you don't have a linen closet.
Here are 4 of my favorite linen cabinets – some are space-saving cabinets that are perfect for small bathrooms or any nook you have to work with.
 Linen Cabinet with Open ShelvesShow Me This Linen Cabinet With DoorsShow Me This Deluxe Linen CabinetShow Me This Space-Saving Linen CabinetShow Me This
Corner Linen Cabinet Ideas
If you have a really small bathroom, getting a CORNER linen CABINET can be a great solution to store your towels without a linen closet.
Here are some corner linen cabinet ideas I love:
 Tall Corner Linen CabinetsShow Me This Corner Towels CabinetsShow Me This Bathroom Corner Linen CabinetsShow Me This Small Corner Bathroom CabinetsShow Me This
More Storage Ideas: