It's no surprise that many of us are doing Christmas on a budget this year – those dollar bills sure doesn't go as far as it used to, right? Ugh!
Last Christmas I made these Dollar Tree Christmas gifts – and everyone loved them – but this year, I'm feeling a little less crafty yet I still want to get everyone something unique and fun.
I'm still making Christmas decorations for my house, but I don't think I'll be doing as many homemade gifts this year –
other than my famous lottery ticket gift baskets for the older kids and adults, of course!
After brainstorming WHAT to get them all, I came up with the idea of gifting them all MATCHING shirts!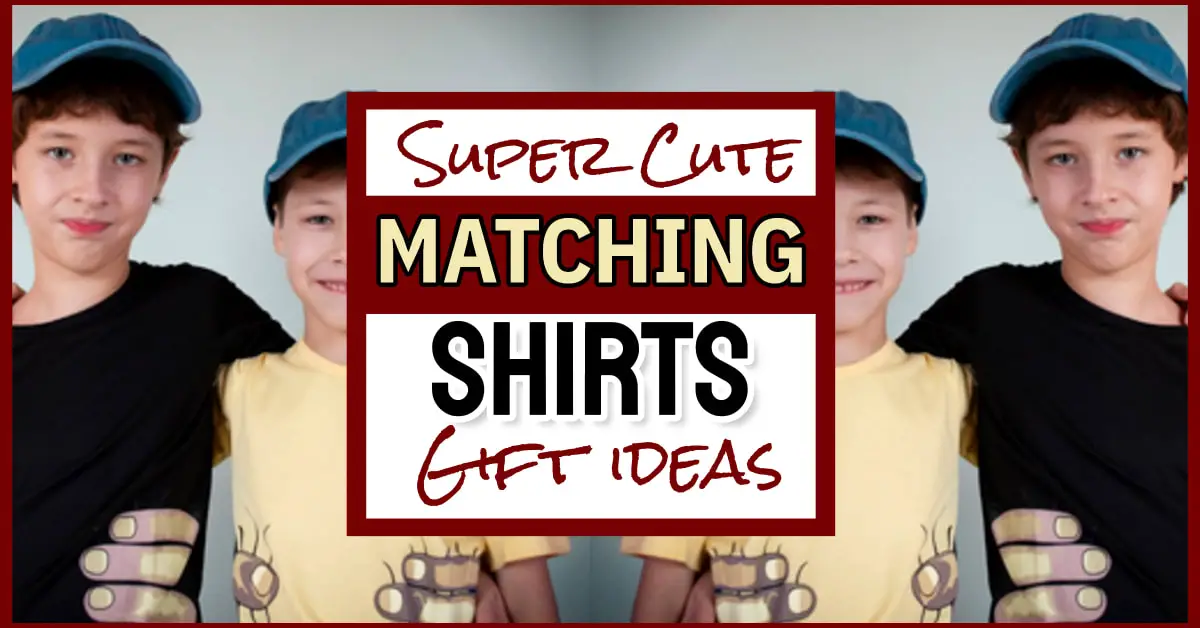 Welcome to Decluttering Your Life - we hope you enjoy our quick decluttering tips, organization ideas and simple DIY solutions for your home - posts may contain ads & affiliate links - that's how we keep the lights on =)
---
---
---
We have done TONS of matching shirts over the years in this family.
Like for a Bluey first birthday….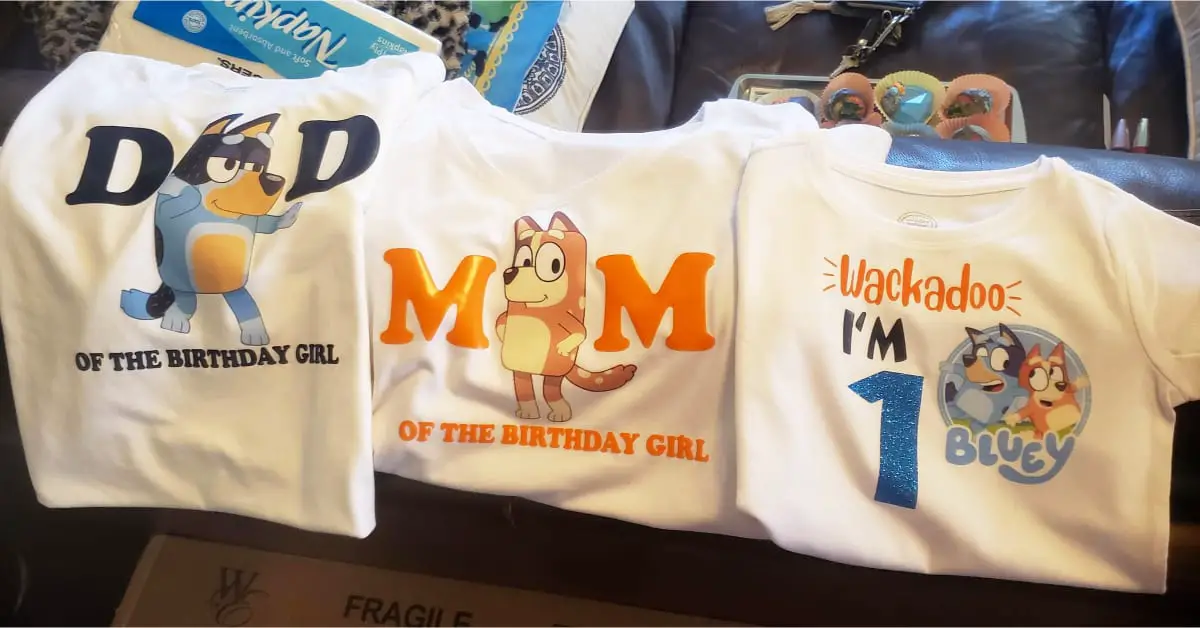 And matching "Cousin Crew" shirts for ALL the cousins in this big family…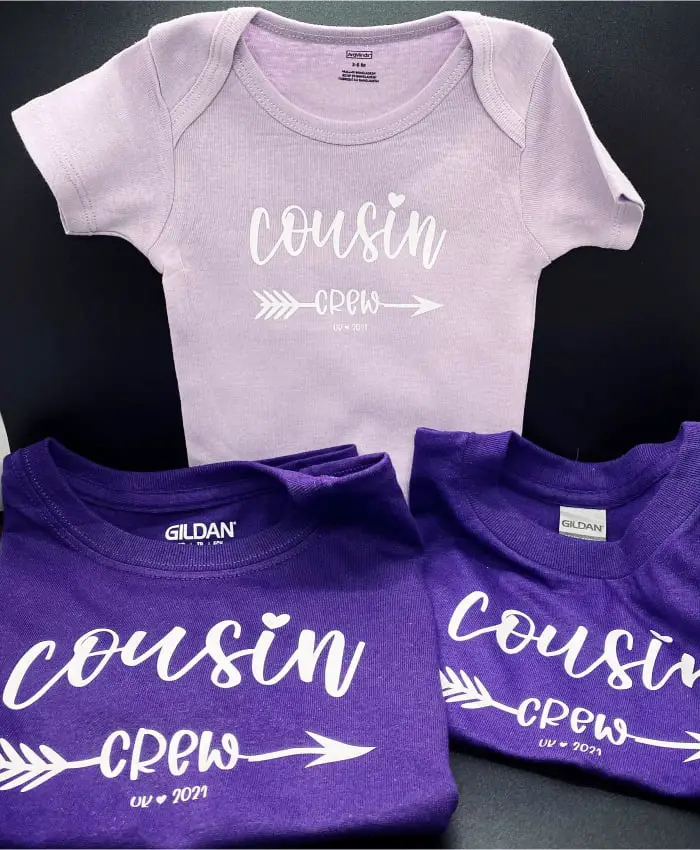 One year, I got a shirt as a Mother's Day gift that said "Blessed GiGi" on it (picture below).
Everyone in the family calls me GiGi so I just LOVE it!
Another year, when the whole Baby Shark stuff was going on, we ALL had Baby Shark themed matching t-shirts.
Not just Baby Shark, but Daddy Shark, Mama Shark, Grandma Shark, etc etc etc. It was fun!
 My Favorite GiGi Shirt – LOVED This Gift!See This We Did Matching 'Baby Shark' Shirts Like TheseSee This
As I remember all the fun we've had wearing matching shirts for ALL the occasions, vacations and holidays, I decided to whip out my Christmas gift planning printable organizers and start brainstorming matching shirt ideas for everyone.
I'm also going to keep a list of ideas for birthdays and vacations too.
Which makes me remember, we have a Family Reunion coming up – I should start designing shirts for that as well.
Matching Shirts are not only a fun and unique CHRISTMAS gift idea, they're perfect for all those special life occasions!
Whether you are going on vacation, hosting a party, having a family reunion, a girl's night out or getting ready to take family pictures at home or on the beach, custom shirts are a unique and creative way to stand out.
Cute Matching Shirts Ideas
If you want to take your gift giving cred to the next level try these fun and unique ideas below for creating matching shirts to give as gifts this year.
Team Family
Jersey-style family shirts make any occasion more enjoyable. These T-shirts are casual and express your spirit. Once you have decided on a team jersey-style custom shirt, you need to decide on colors and sizes. You can brainstorm as a family to choose the colors that best represent you. You can use grey or white as your t-shirt color with one ink color for printing, or you can choose two colors for your shirt. Though there's nothing wrong with choosing more colors if you have an idea in mind, two is perfectly fine.
From your kids to the grandparents, you will need a design that works for different sizes of shirts. You can use your last name on your jersey and number each of the children's jerseys according to their birth order. Mom and dad can be "00" or "01." A team jersey-style T-shirt builds strong feelings of solidarity among everyone.
Finish The Phrase
Create a design around a phrase, words, or by completing a phrase. These shirts go together as a set and make for eye-catching photos. Consider phrases like:
"It's a [family name] thing"
"[Last name] squad"
T-shirts for Mom and Dad that say "The Original" and kids' shirts that say "The Remix"
Go with an animal theme and try "Queen Bee/Daddy Bee/Baby Bee" or "Mama Bear/Papa Bear/Baby Bear"
Show off each unique person in your family with shirts that say "I'm the [adjective] one," e.g., a kids' shirt that says "I'm the sassy one" and a parent's shirt that says "I'm the tired one."
 Nacho Average Big BrotherSee This Baby Bear Family ShirtsSee This
Get Punny
Puns coupled with a fun graphic are always funny and in style. Couples that have children from previous relationships can choose a blender graphic or mixed drink graphic with the tagline "We're a blended family." You can go with food puns like "Nacho Average Family Reunion."
If you are a more creative family that loves a TV series or movie series, then brainstorming together to come up with puns for each family member can be a lot of fun!
Seasonal Themes
If everyone is getting together for a holiday, then consider printing their names on a shirt with a holiday graphic.
From turkeys to Santa hats to sunglasses for an end-of-the-school year theme, you can mark a special holiday by getting personalized matching shirts for the whole family.
 Matching Family Christmas ShirtsSee This Matching Santa Shark ShirtsSee This
For A Special Occasion
Birthday parties are always more special with a T-shirt with the birthday boy or birthday girl's favorite graphic in their favorite color on their shirt.
A family T-shirt is a great way to welcome a new member to the family during a wedding or to recognize a "bonus mom" or "bonus dad" when a new step-parent is brought into the mix. All families are different, and yours means a lot to you, so matching customized shirts is a great way to celebrate your unique family.
 Bonus Mom ShirtsSee This Bonus Dad ShirtsSee This
Those are all the ideas I'm brainstorming and keeping on a printable checklist so I have fresh gift ideas all year long!
What To Read Next: