I've read many experts share tips for conquering your decluttering goals. Better Homes & Gardens has some that are pretty good, but pretty much what everyone says.
I prefer REALISTIC decluttering tips to conquer that clutter in my home.
I'm all about the WEIRD, off-the-wall types of decluttering tips that I KNOW work for me… and will probably work for you, too.
If you're ready to minimize clutter and simplify your life… let's jump into these weird tips that really help with clutter and organization in your home.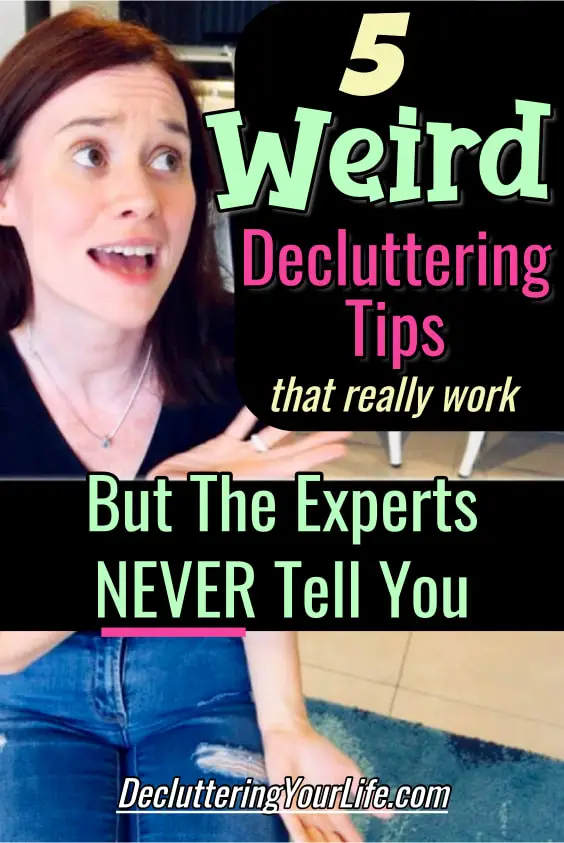 Tips for Conquering Your Clutter
Before I jump into the 5 weird decluttering tips in the quick video below, I want to say this.
The woman in the video is a minimalist.
I. Am. NOT a minimalist – at all.
In fact, the totally empty, bare, minimal space behind her as she's talking really bothers me.
Like… where's her STUFF?!?!
If YOU are a minimalist, or striving to be one, her home and background will probably inspire you.
Me? Not so much…
BUT – her decluttering tips are spot-on… they work.
Weird Decluttering Tips Video
Here's is the video where the minimalist decluttering expert shares her tips for conquering the clutter in your home.
If you prefer to not watch the video, I have a typed out a short "cheatsheet" of her decluttering tips below.
Decluttering Tips CheatSheet
If you decided to skip the video, here are the basics of her 5 weird decluttering tips:
1. Bring a Friend
Having someone with you while you attempt to declutter your home is SO helpful. Heck, most times, just know where to START is hard enough, right?
Having a friend with you will help keep you moving and help you keep yourself accountable for the things you keep… as well as encourage you to get rid of stuff.
If you just can't seem to get motivated to clean and declutter, have someone help you.
Why is that weird?
Many, MANY people I know and talk with that feel their home is a cluttered mess, are too embarrassed to ask for help or have someone there as they dig through all their crap.
Been there/done that…. Trust me, bring a friend.
2. SPEED
If you want to declutter your home FAST, you have GOT to keep the momentum going – that's all there is to it.
Why is that weird?
Many people who are attempting to declutter their home go so slowly because every little thing they touch requires a long drawn out decision making process of whether to keep said thing or get rid of it.
Honestly, I think a lot of it is due to some sort of underlying guilt about getting rid of things.
Skip the guilt and keep that momentum going.
Speed Cleaning Your Home – Housekeeping Shortcuts To Make Cleaning FAST and PAINLESS
3. Set a timer
Many decluttering experts recommend this strategy for reducing clutter WITHOUT feeling overwhelmed, but let me tell you WHY it really works:
When you begin a difficult project of any nature, knowing when it ENDS is so helpful.
Just saying to yourself, "I'll set this timer for 5 minutes and that's ALL the decluttering I HAVE to do today" is a HUGE motivator to just do SOMETHING as opposed to feeling overwhelmed at the WHOLE project.
In fact, you should read these 3 simple decluttering hacks that prevent feeling overwhelmed that I use ALL the time.
Why is this weird?
Well, it's really not weird as much as it's just not explained properly.
4. Declutter With Purpose
I personally would have worded this decluttering tip as "Declutter With a Plan" – but… whatever works lol!
In short, know before you START decluttering what you will do with various types of items. Have a plan for where to put things that are trash, are to be donated, go to another room, etc.
As the saying goes, Fail to plan, plan to fail (or something like that).
Why is this weird?
The number one reason most people give up on their attempts to conquer the clutter in their home is simple because… they get OVERWHELMED and do NOT have a plan of action.
Now, don't "dilly dally" when making your plan, just get some trash bags and boxes and have it in your mind what goes where in various situations.
That will make it SO much easier for you to rock your decluttering project and NOT feel so overwhelmed that you want to quit.
5. Short and Sweet
If decluttering makes you feel overwhelmed (as it does for all of us), this tip is the most helpful decluttering tip of all.
Keep it short and sweet.
Pick ONE spot… yes, SPOT – as in, itty, bitty, tiny area in your home.
How about the counter spot next to your sink?
Now, declutter that area and ONLY that area.
Then, STOP decluttering.
Stand back and look… just LOOK how beautiful and clutter-free that one area is now.
Isn't it GORGEOUS?
Don't you want ANOTHER area in your home to look just like that?
Why is that weird?
Many decluttering experts forget how much those that are overwhelmed need self-motivation AND sense of accomplishment.
The clutter already makes us FEEL defeated and is such a huge project that many feel like a failure without even giving this one tip a try.
TRY it…. SEE the results YOU accomplished… FEEL the pride.
Nothing will motivate you more to do another area… and another.
Cluttered Kitchen? 15 Kitchen Clutter Items To Throw Away NOW
Remember this:
At the end of the day, you can fake a clean house…. or get in there and do something about it.
You got this!
More Decluttering Tips:
4 Simple Words That Will KEEP You Decluttering
Turn Your Clutter Into CASH – How (and WHERE) To Get Cash For The Clutter In Your Home