Photo Wall Ideas – DIY Gallery Wall and Aesthetic Picture Wall Ideas and Layout Tips –
When it comes to accent wall ideas for your home, nothing is more personal and beautiful than a family photo wall or a "gallery wall".
If you're considering creating a photo wall, you'll love all these aesthetic gallery wall ideas, layout design tips and photo wall arrangements to create the perfect family picture wall in your home.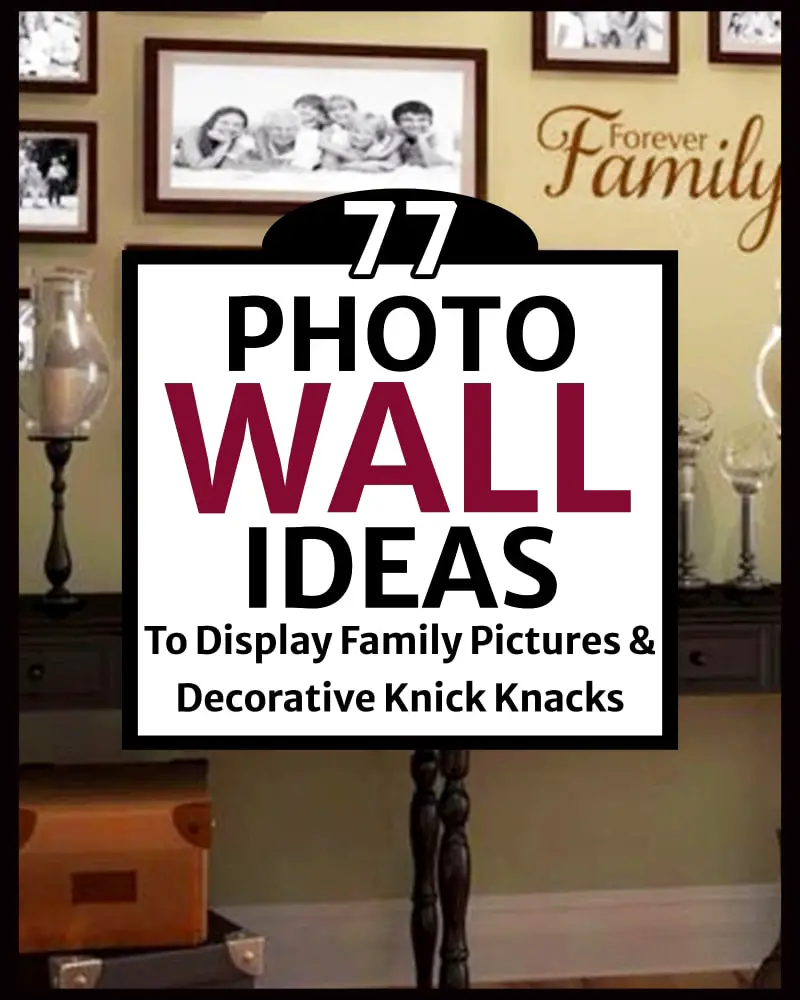 Welcome to Decluttering Your Life - we hope you enjoy our quick decluttering tips, organization ideas and simple DIY solutions for your home - posts may contain ads & affiliate links - that's how we keep the lights on =)
---
---
---
The biggest part of decluttering your life is getting rid of stuff – BUT, for most of us, there is stuff that we simply cannot throw away.
For me, that is family pictures and various decorative knick-knacks that I simply love and don't want to ever get rid of.
Family photos are not "clutter" to me – they're sentimental items that I love – and I want to display them instead of having them stashed away.
That brought me to looking for gallery "accent" wall ideas for displaying my photos.
Photo Wall Ideas
As you'll see in the gallery wall pictures and ideas below, a photo wall can be ANYTHING you want it to be.
These are decorative accent walls that are the focal point of a room – and you can create them in ANY room.
 7 Piece Gallery Wall SetsGet More Info 9 Piece Gallery Wall SetsGet More Info 12 Piece Gallery Wall SetsGet More Info
You can create an accent gallery wall in any room in your home… the living room is the most common, as is the foyer/entryway and the area around your stairs, but I've also seen beautiful gallery accent walls in kitchens and in the baby nursery and in bedrooms.
I LOVE my beautiful gallery wall in my home office too!
I printed out some favorite family pictures at Walgreens (like my daughter's preschool picture – that HAD to go on the family wall – I just love it!) – and grabbed some cheap cute frames on sale at Lowes and at Kohls and got to work designing my photo wall.
And trust me, I made a LOT of mistakes along the way!
Below are some tips for designing your gallery wall and a lot of gallery wall layout ideas and pictures to inspire you.
☑  If you only want to arrange FAMILY pictures on your wall,
this page
below has a TON of great layout ideas and design tips: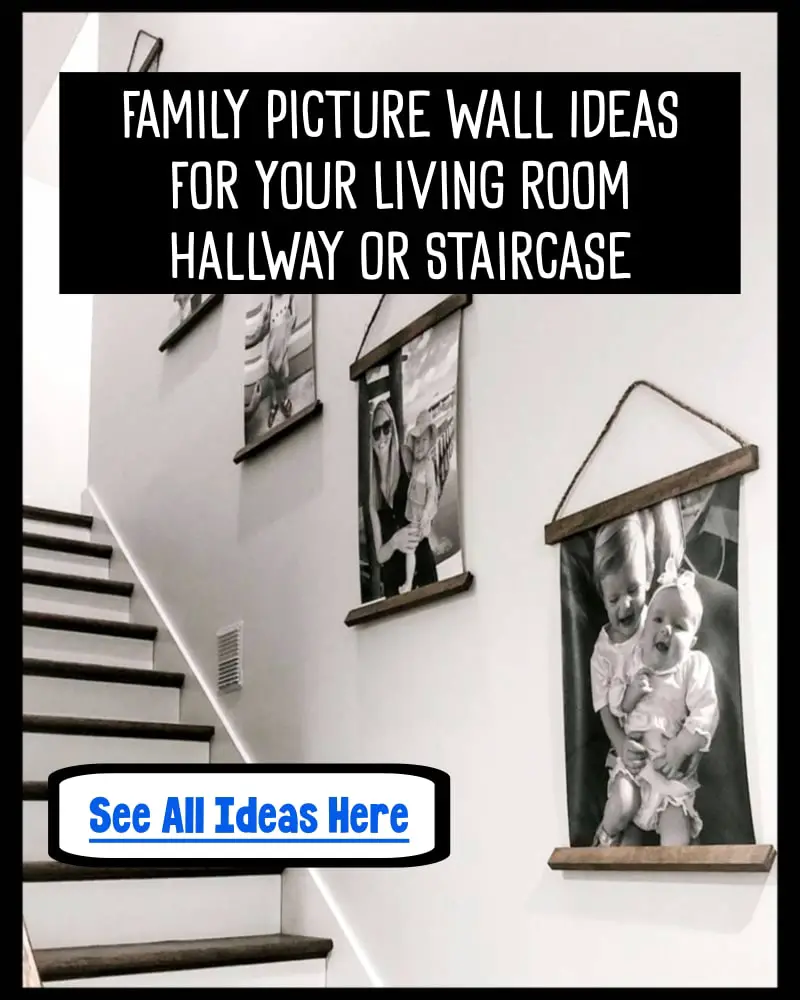 ✅  Pictures
Below are tons of photo wall ideas, pictures and inspiration that suit all home decor styles to help you get some ideas for YOUR accent wall layout.
There are photo wall ideas with frames and without frames that can be used to decorate a wall in your living room, bedroom, dining room, foyer, hallway or any wall in your home where you'd like to create a beautiful and aesthetic photo wall.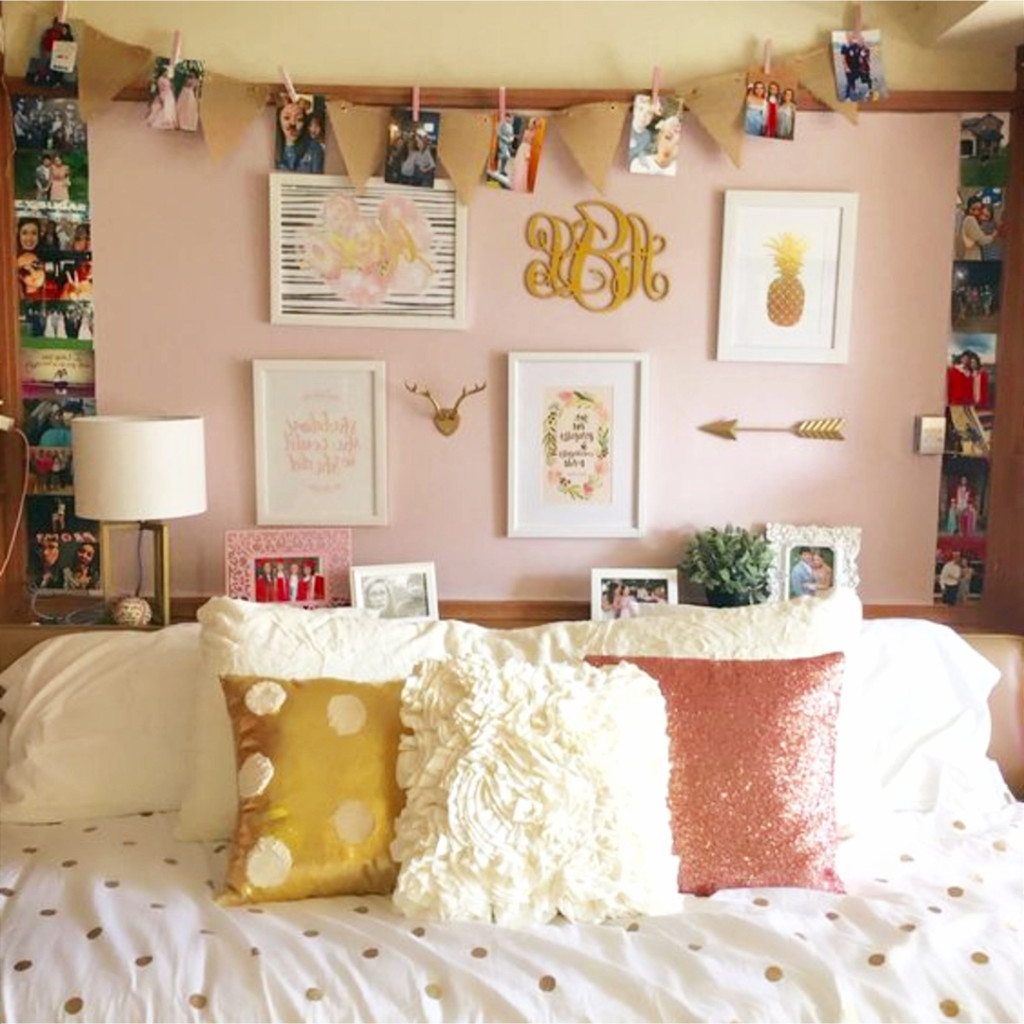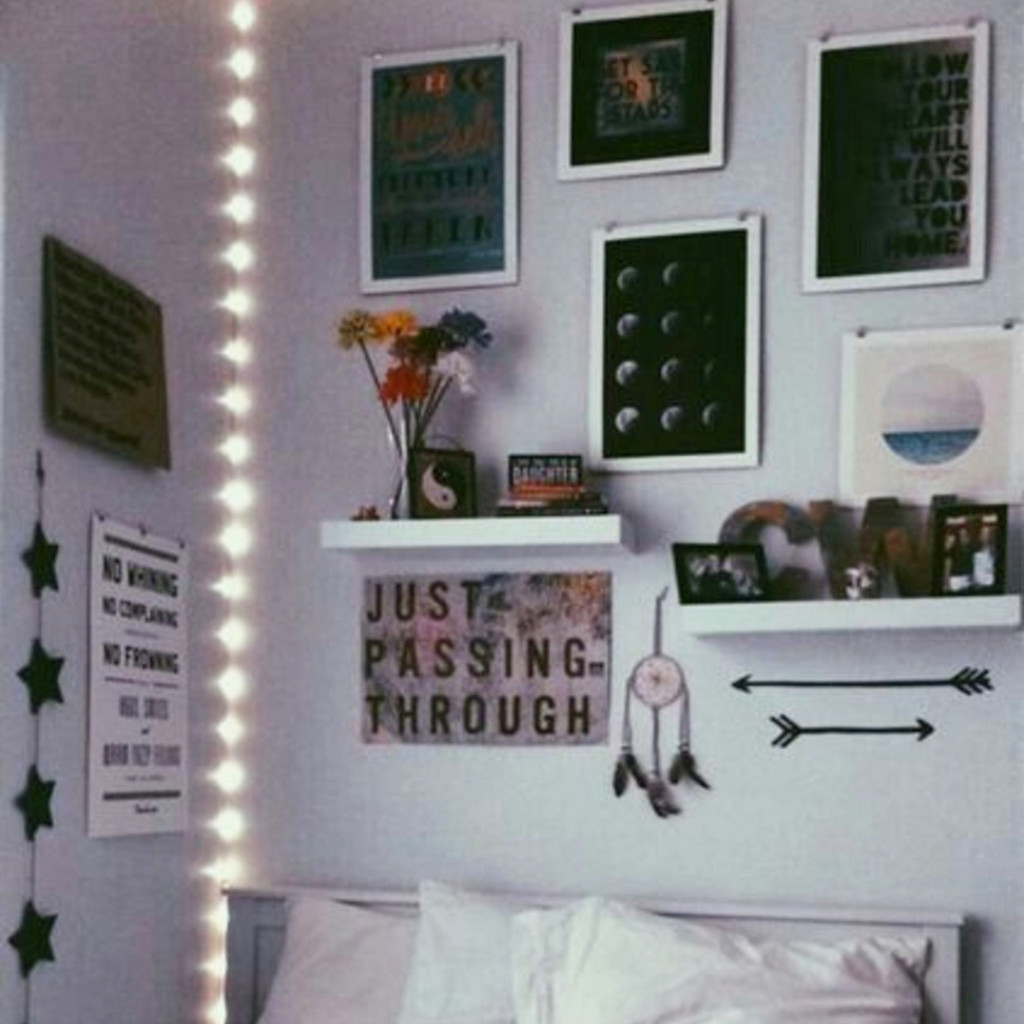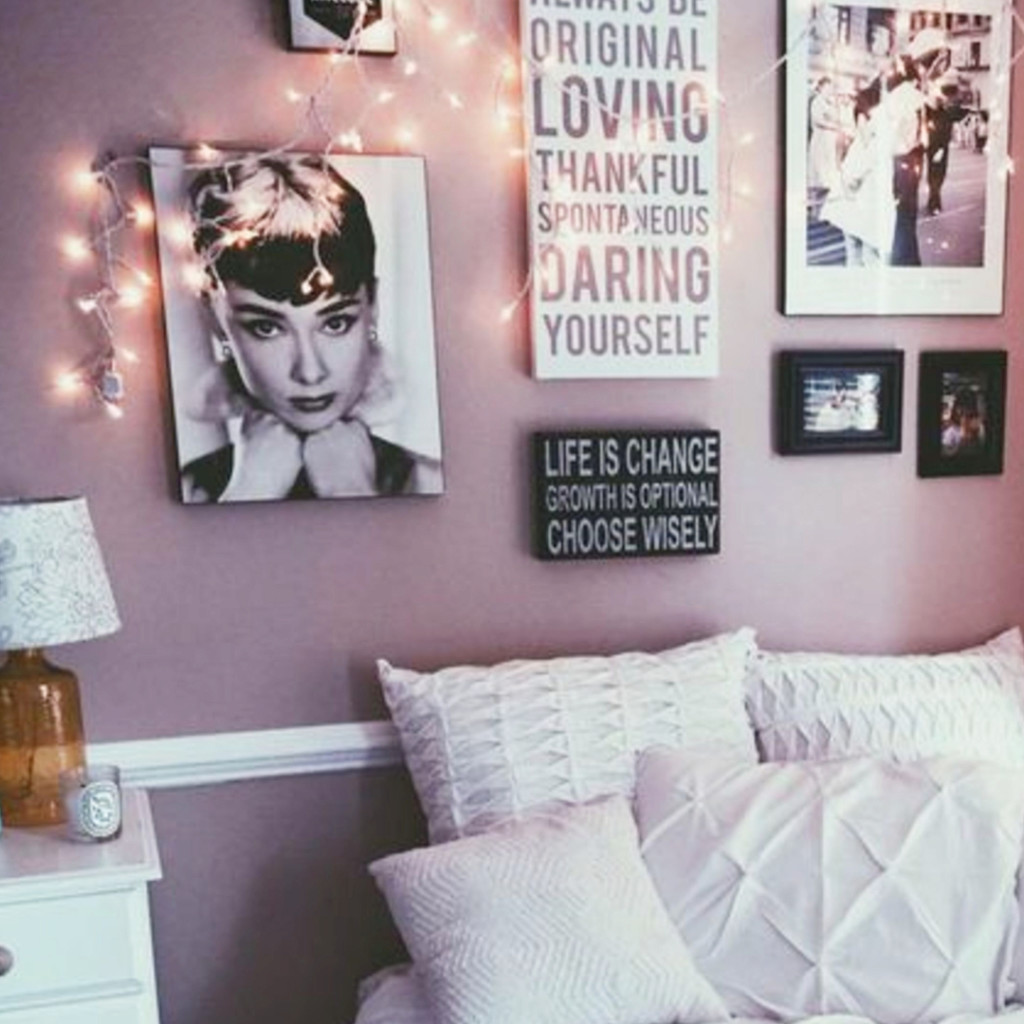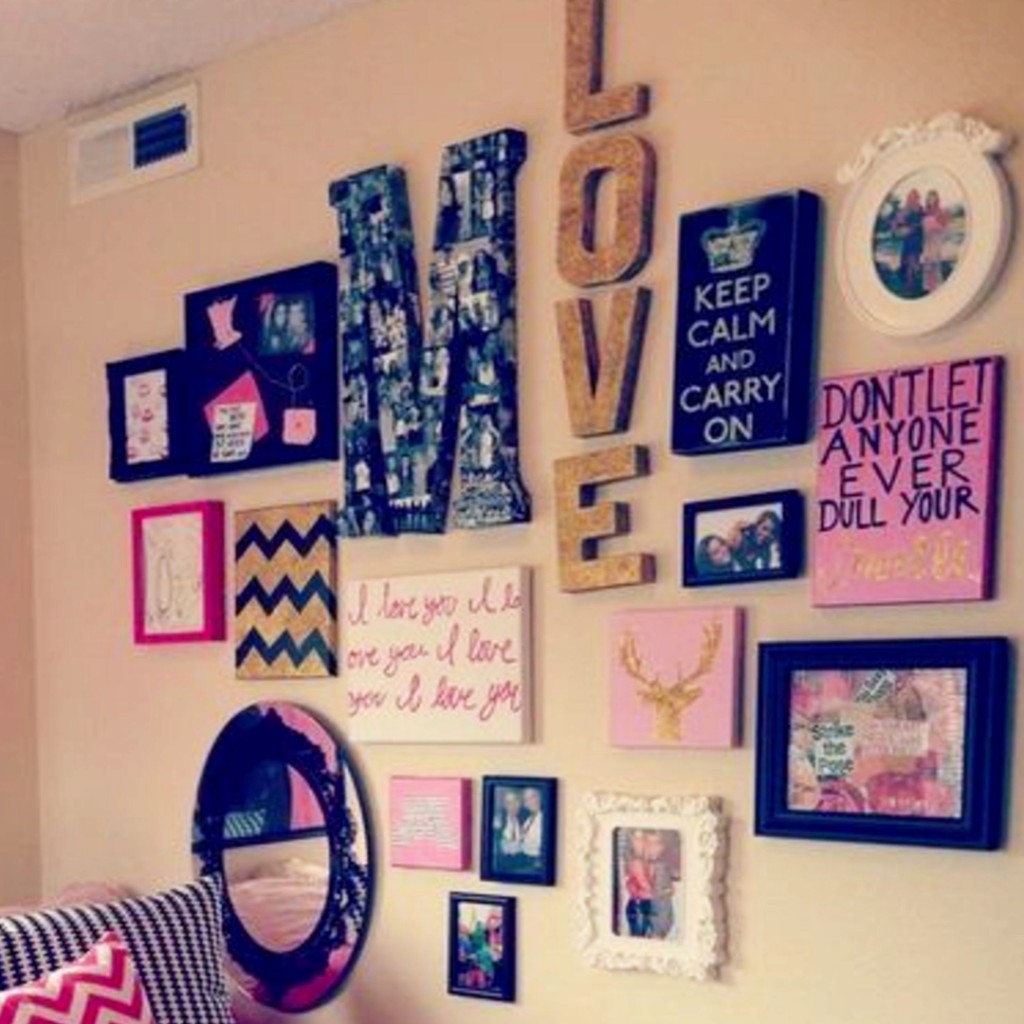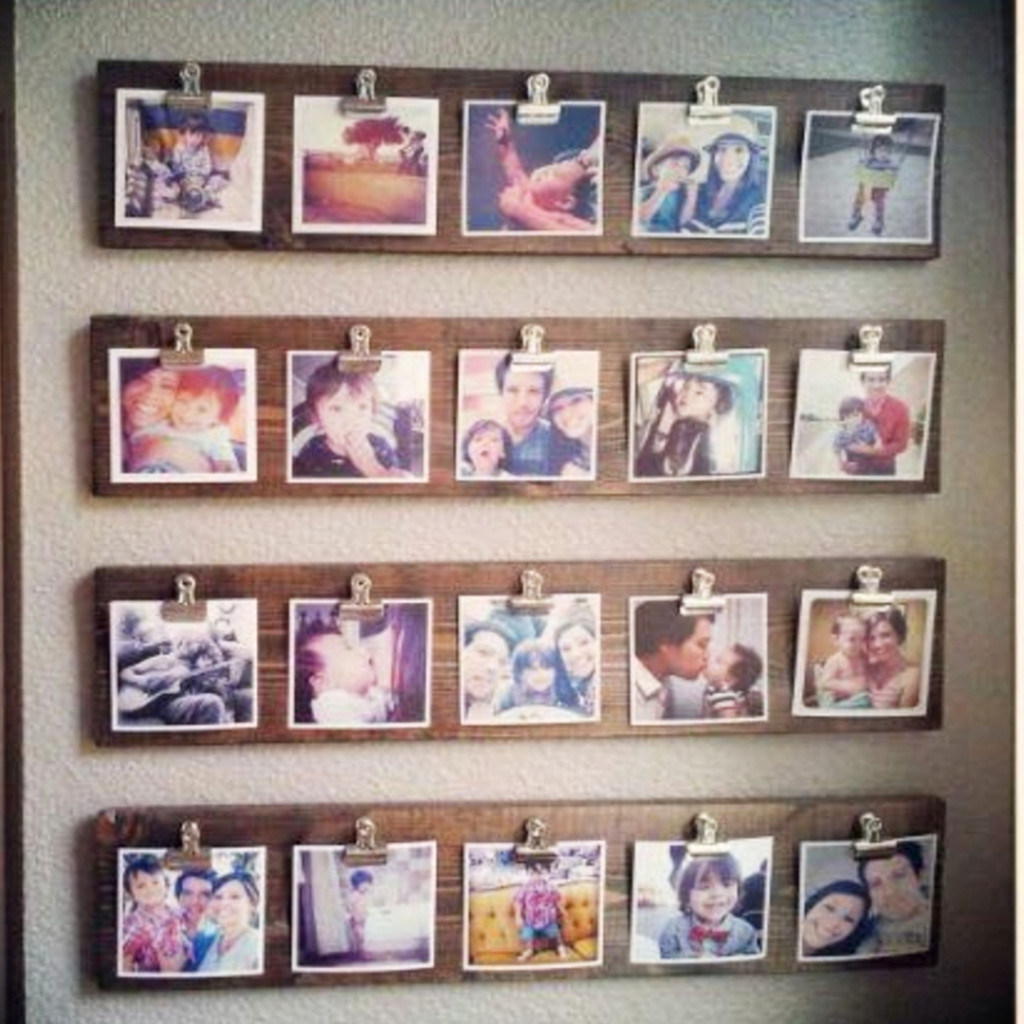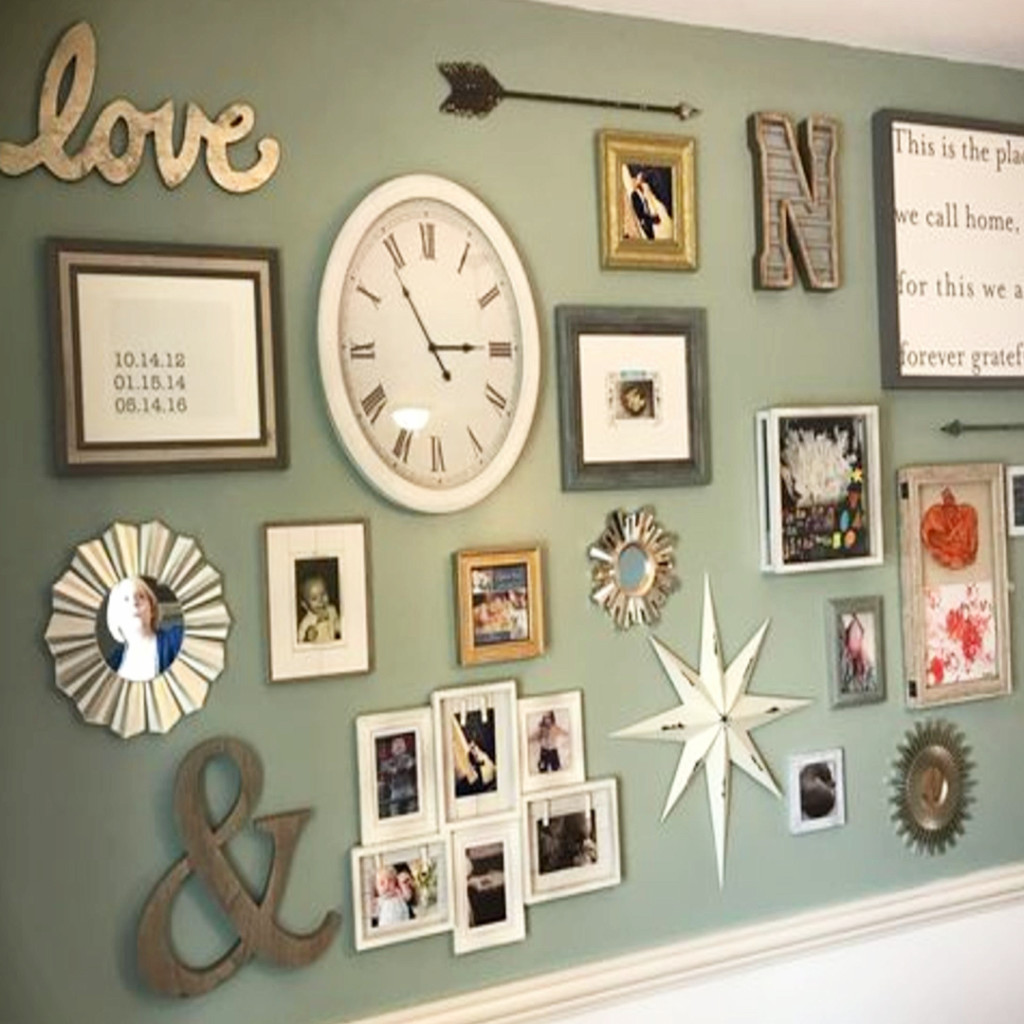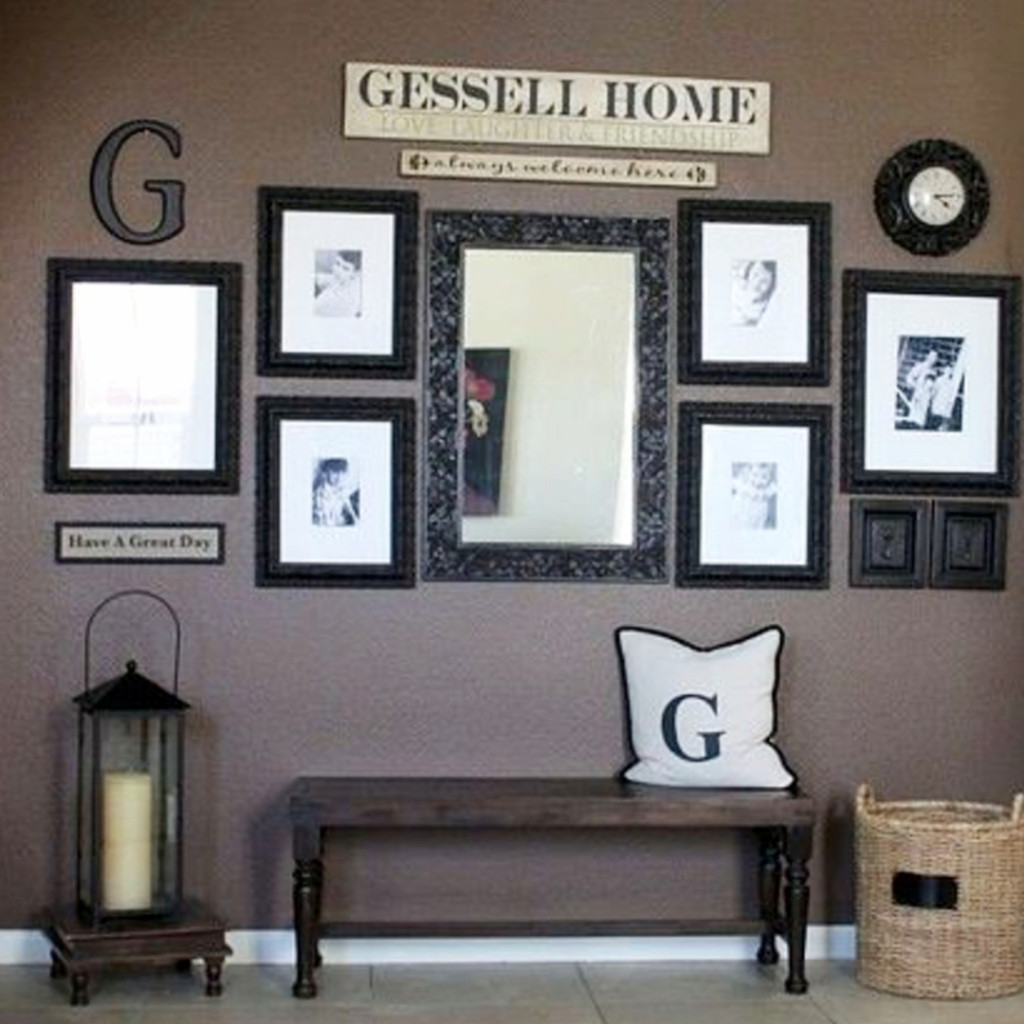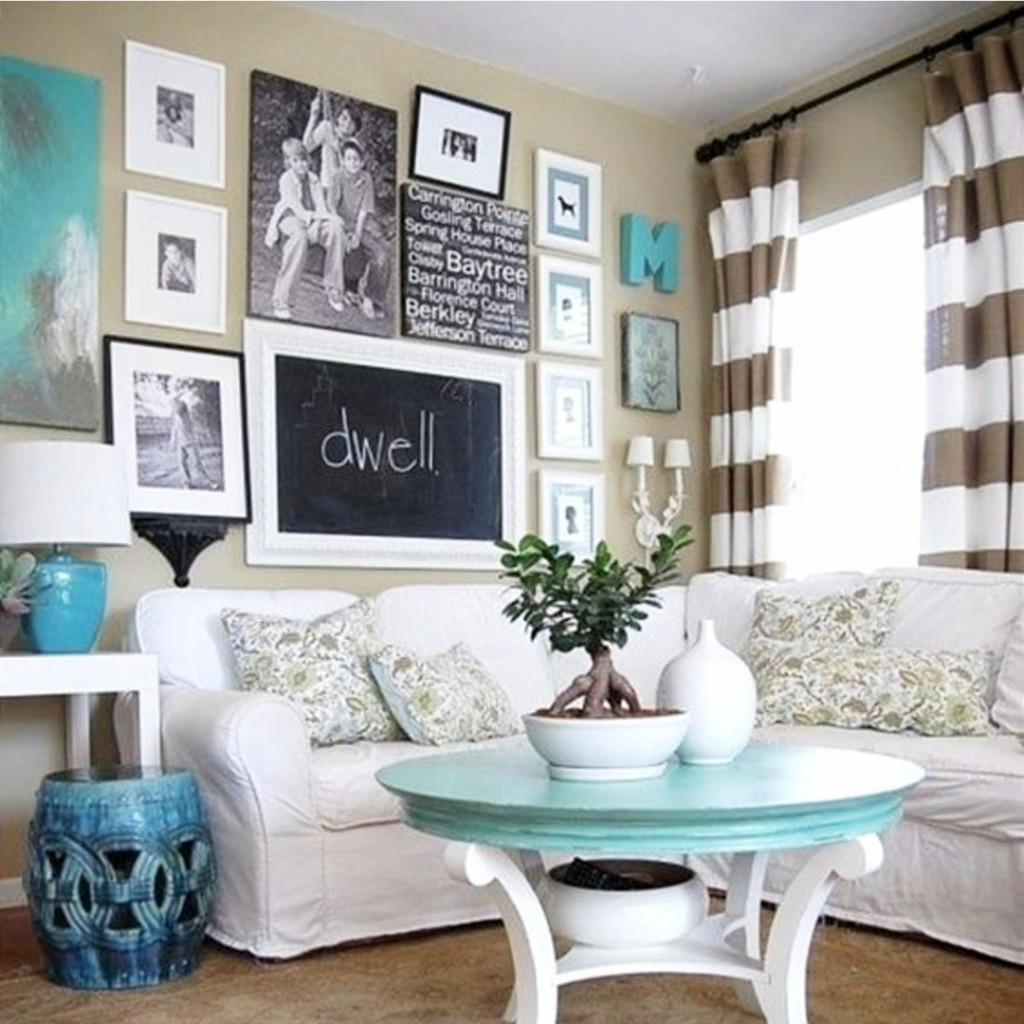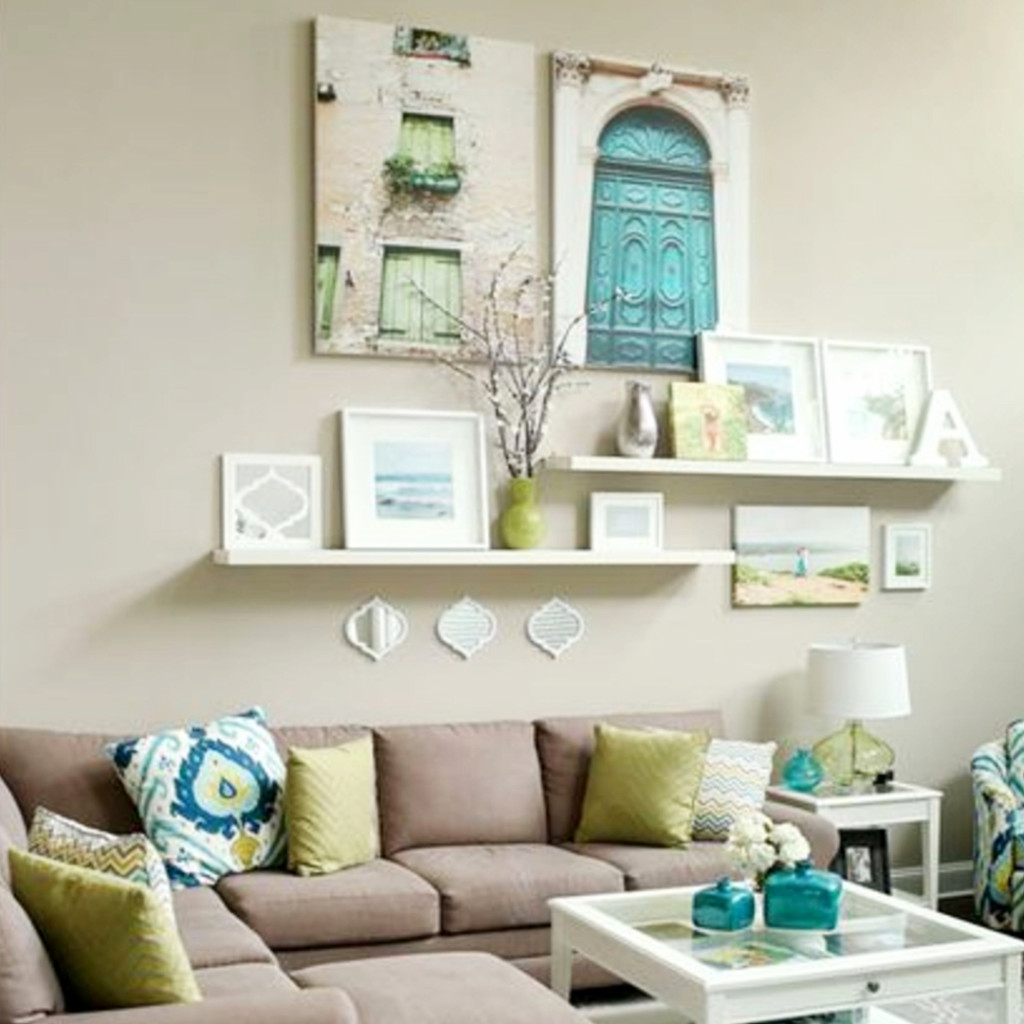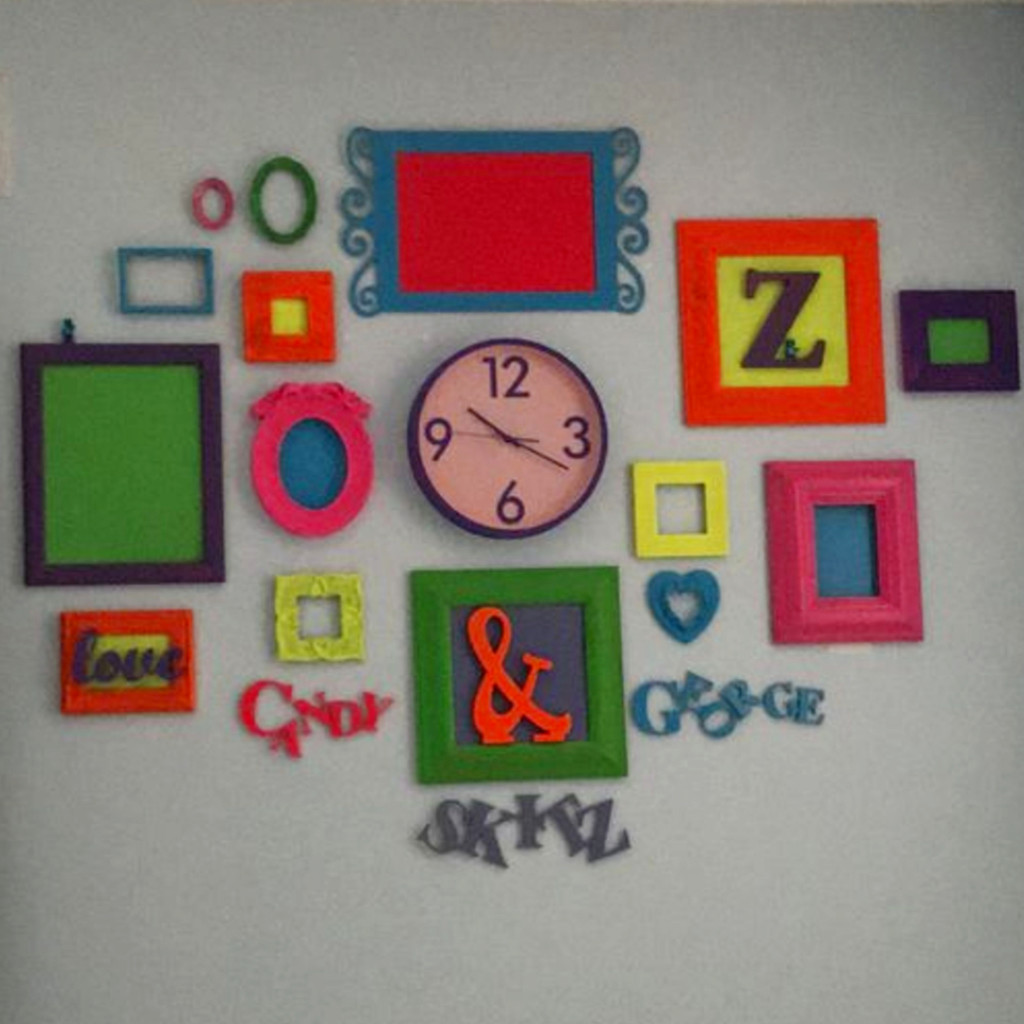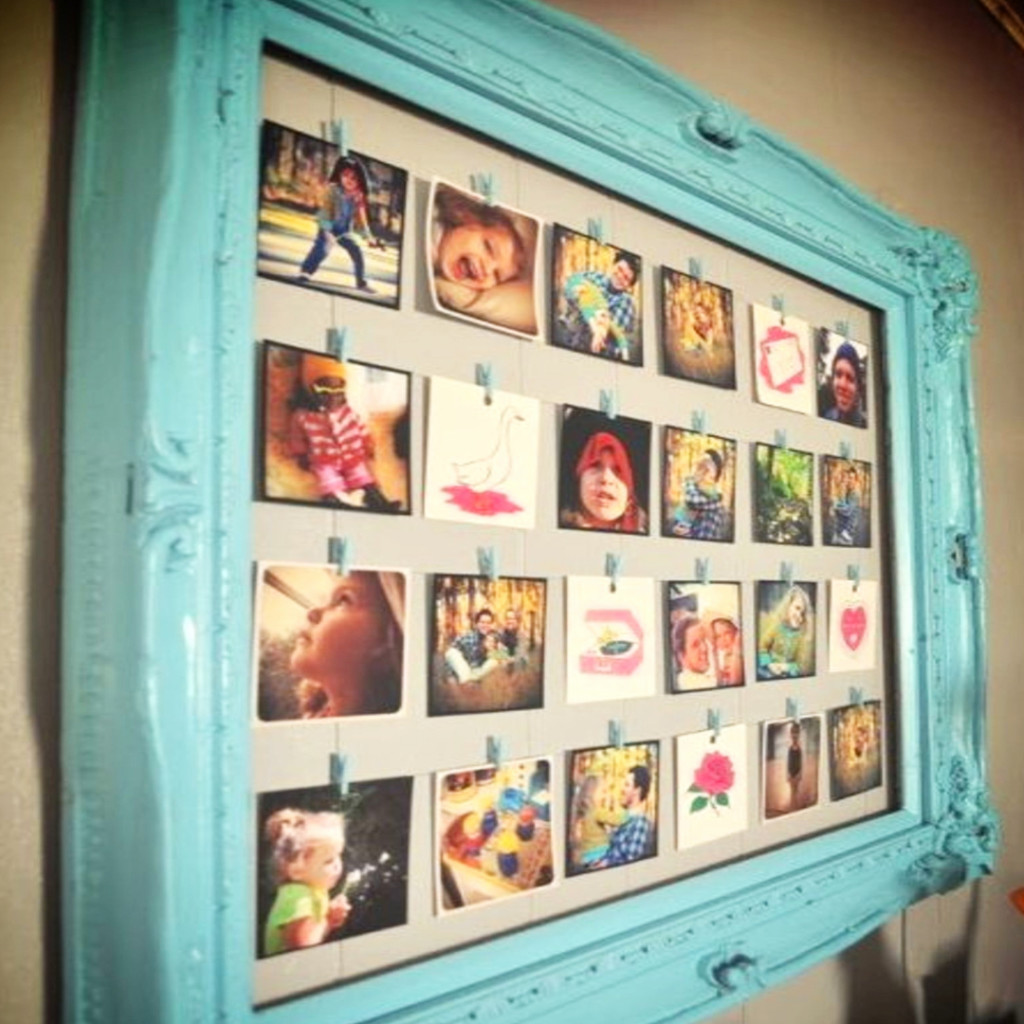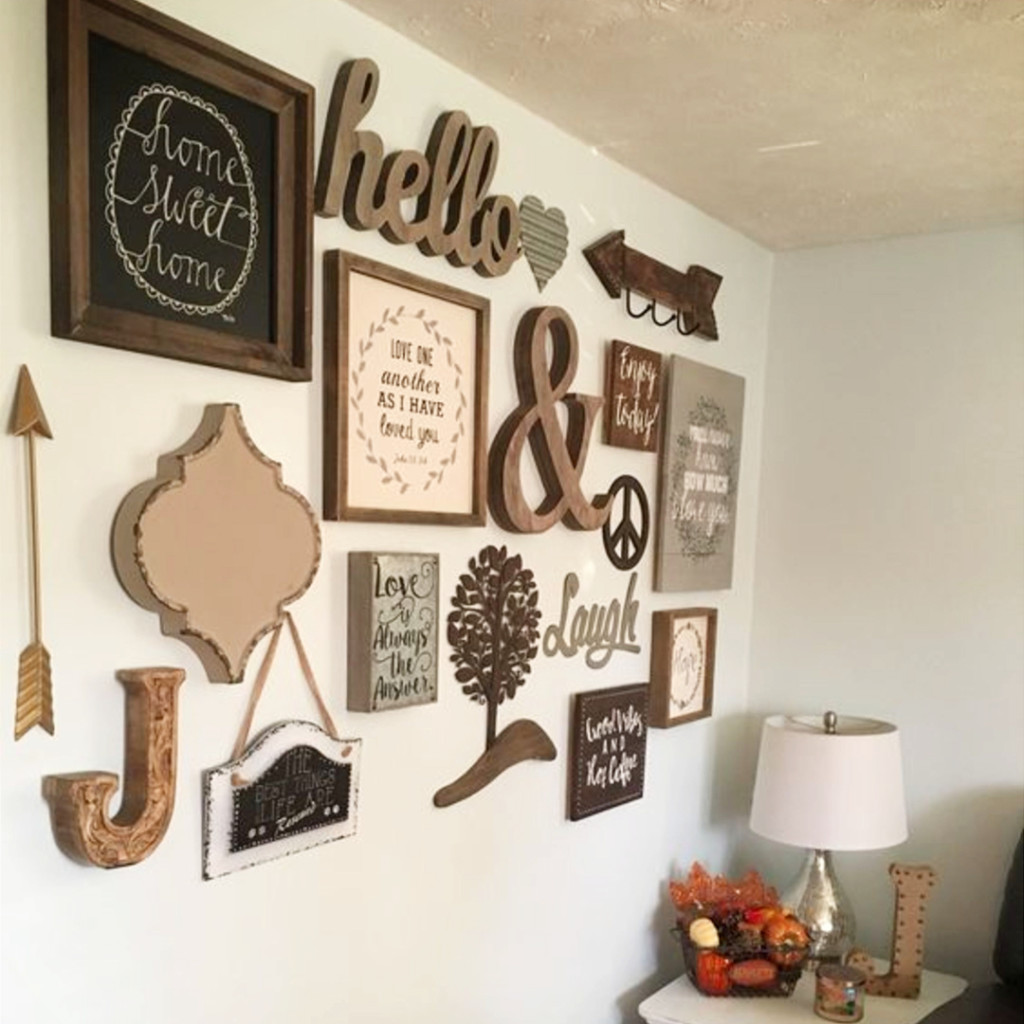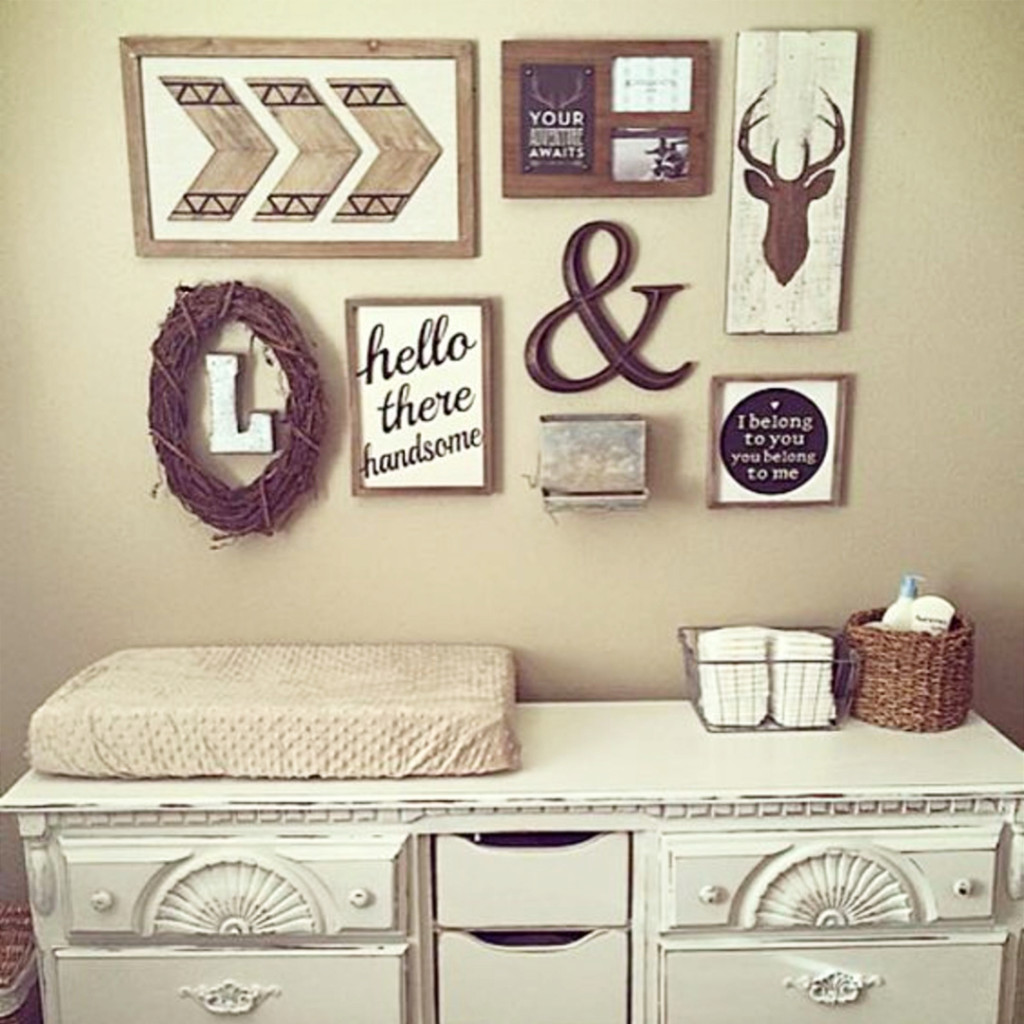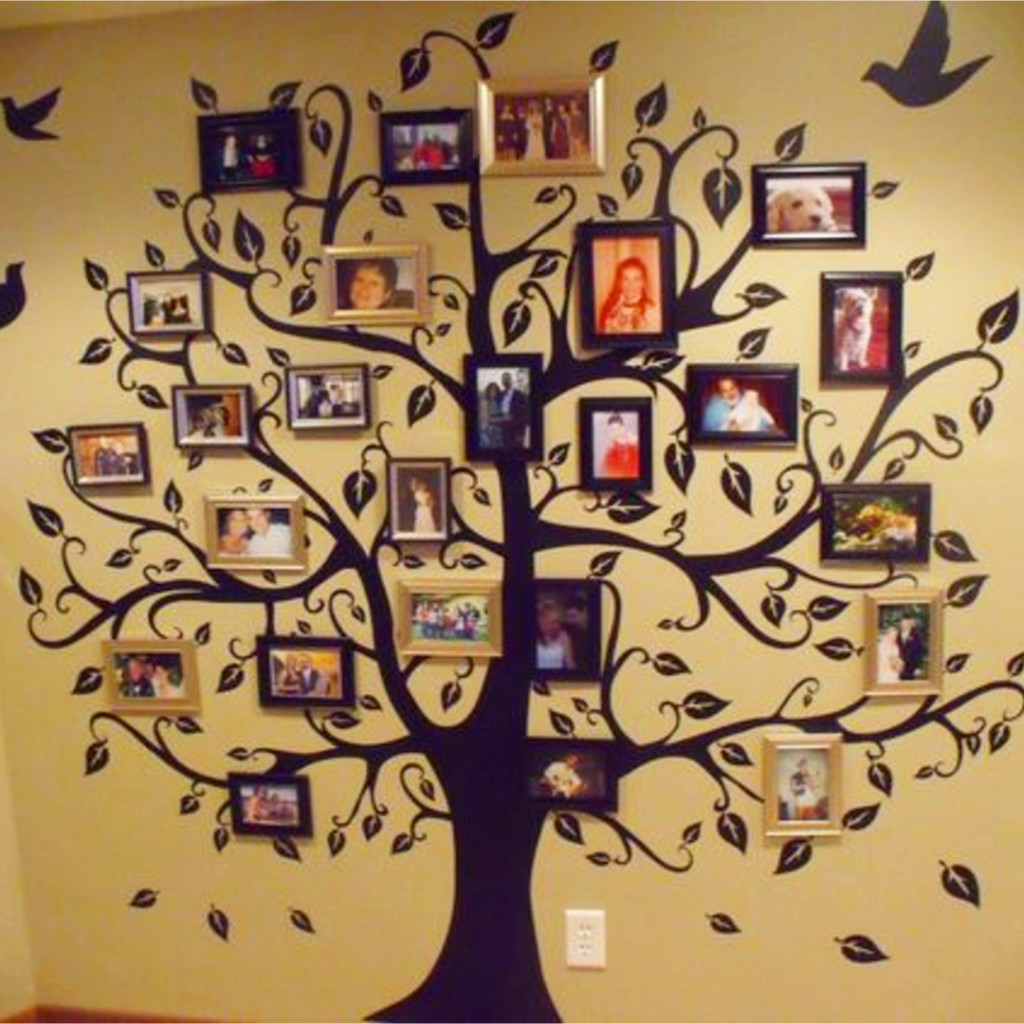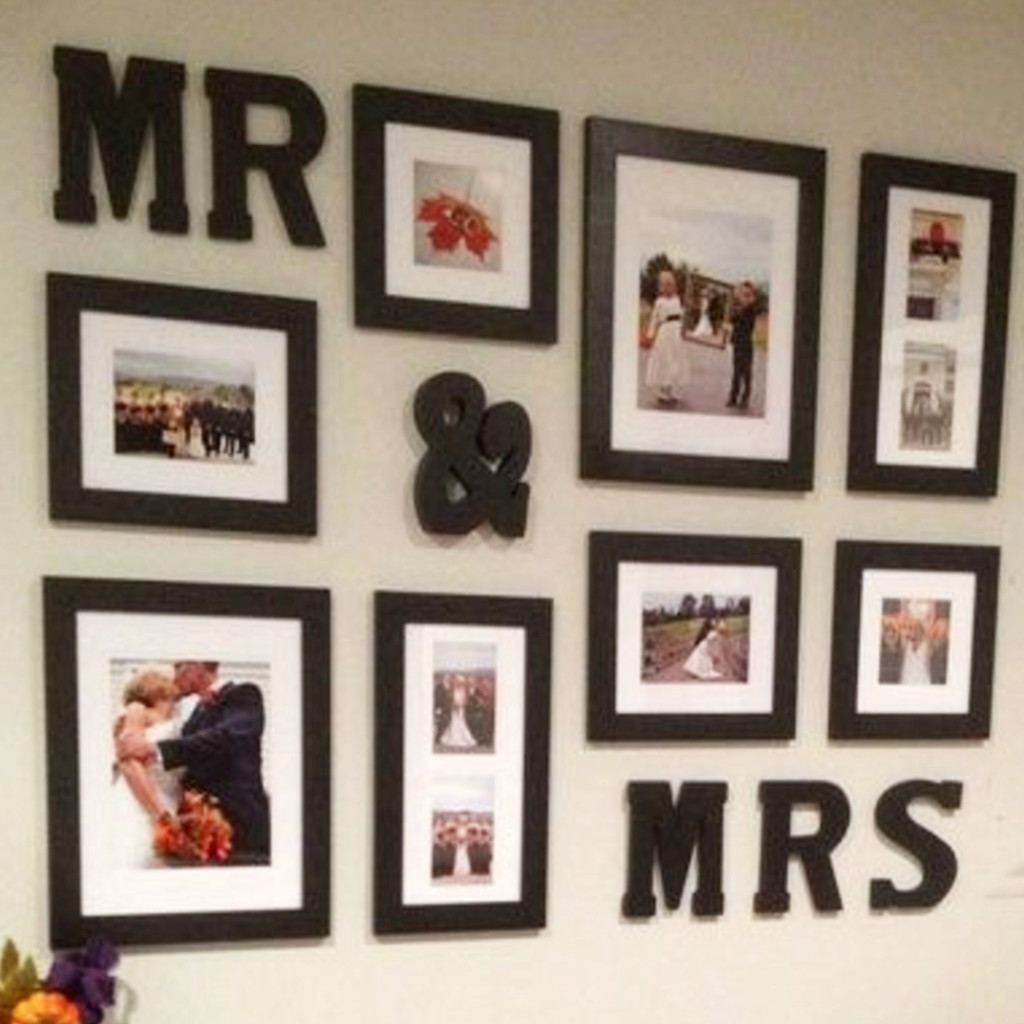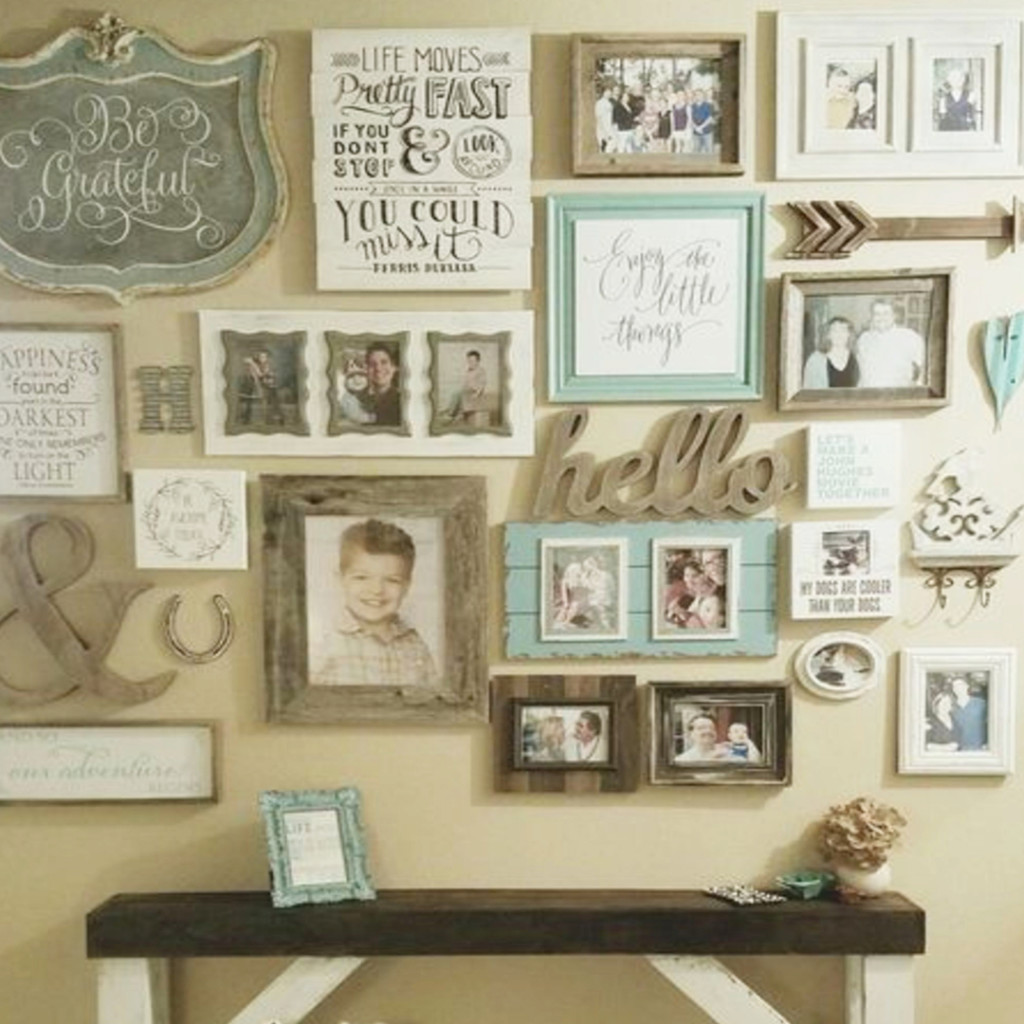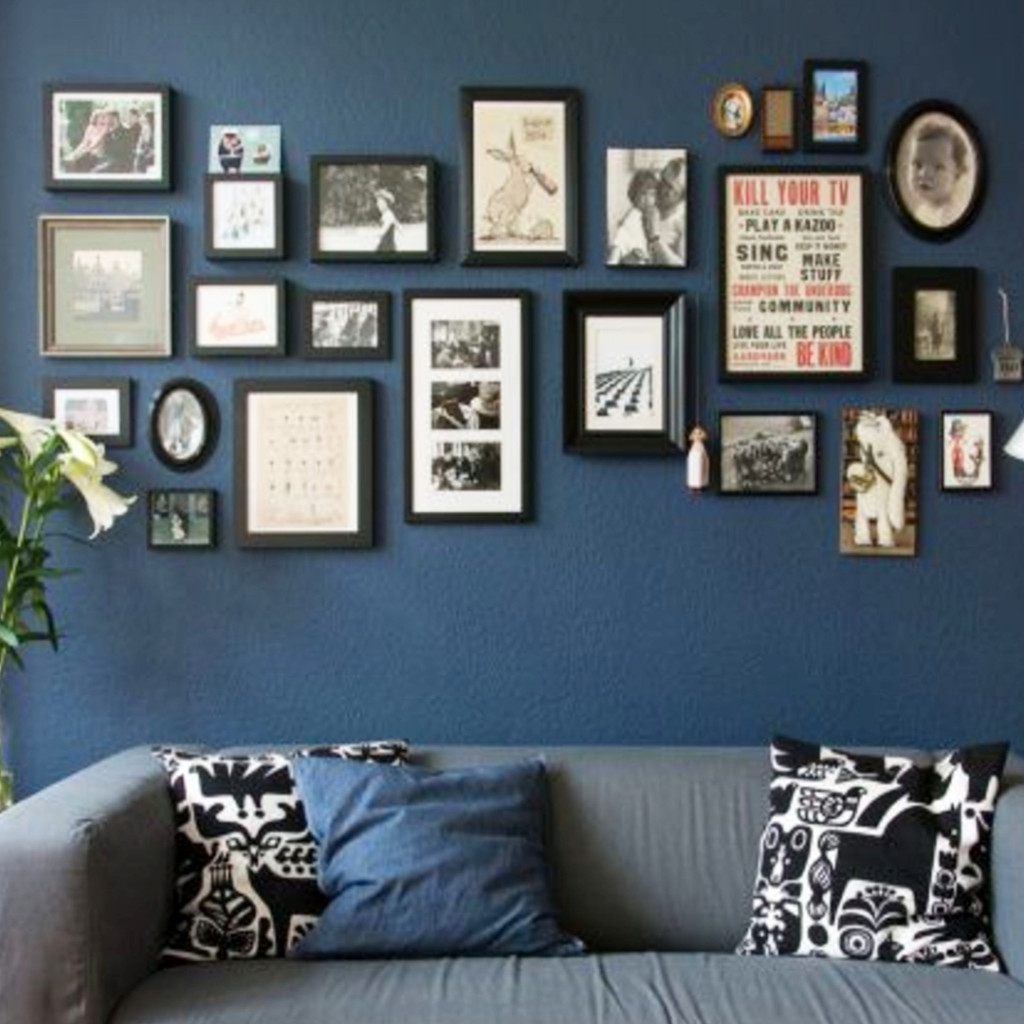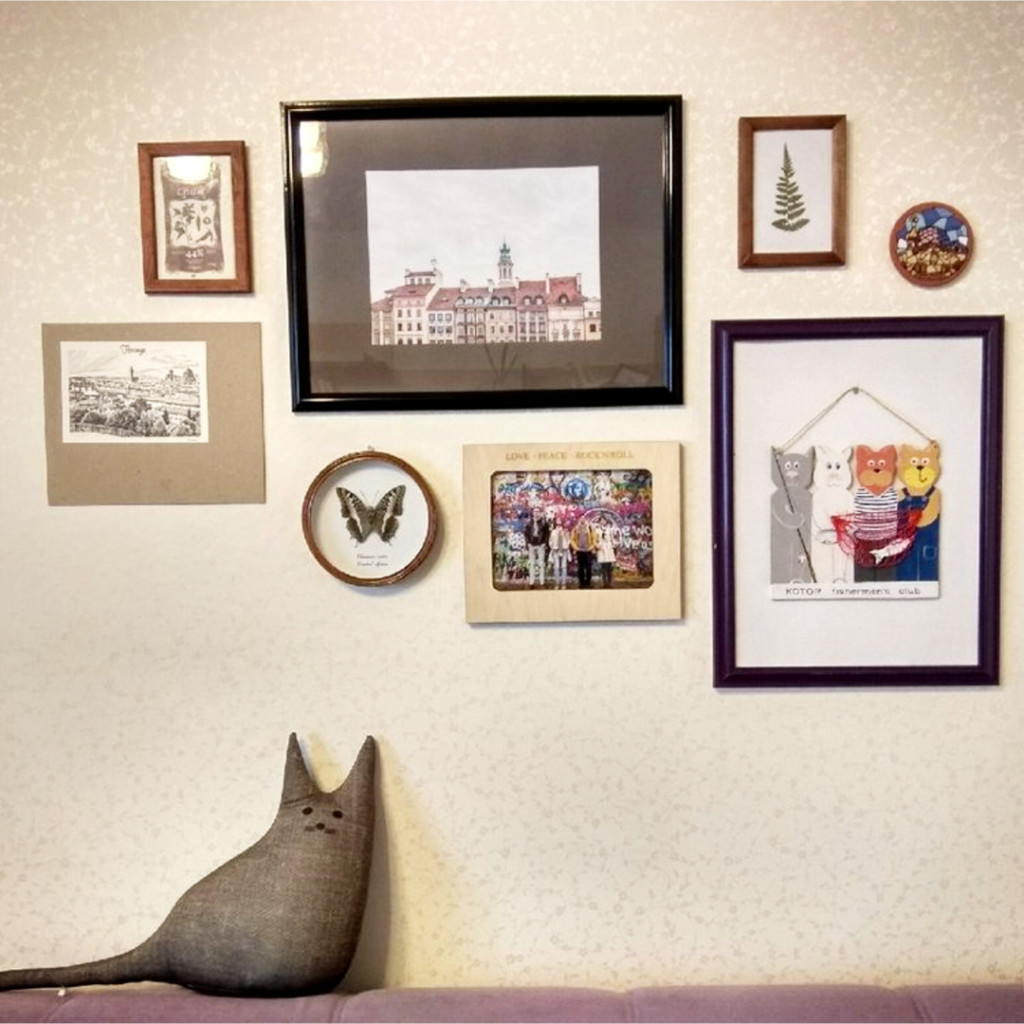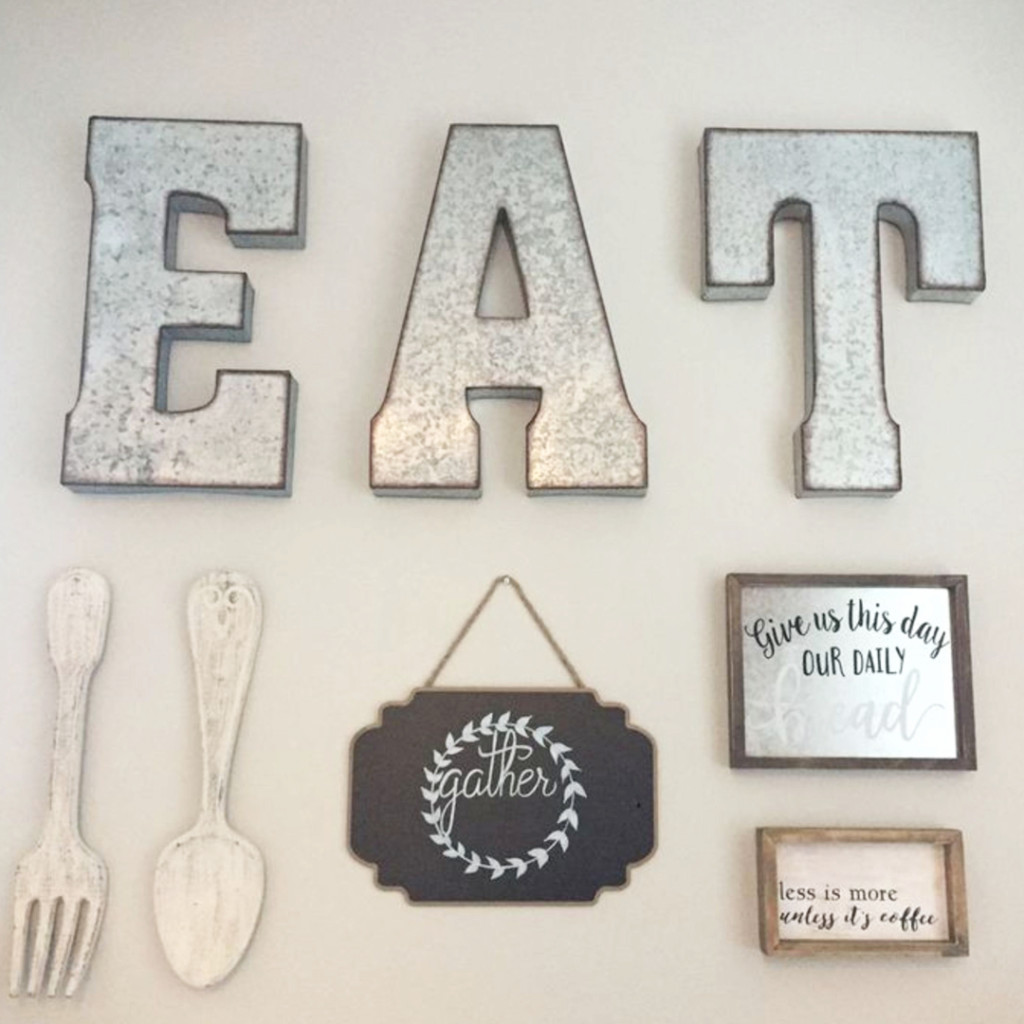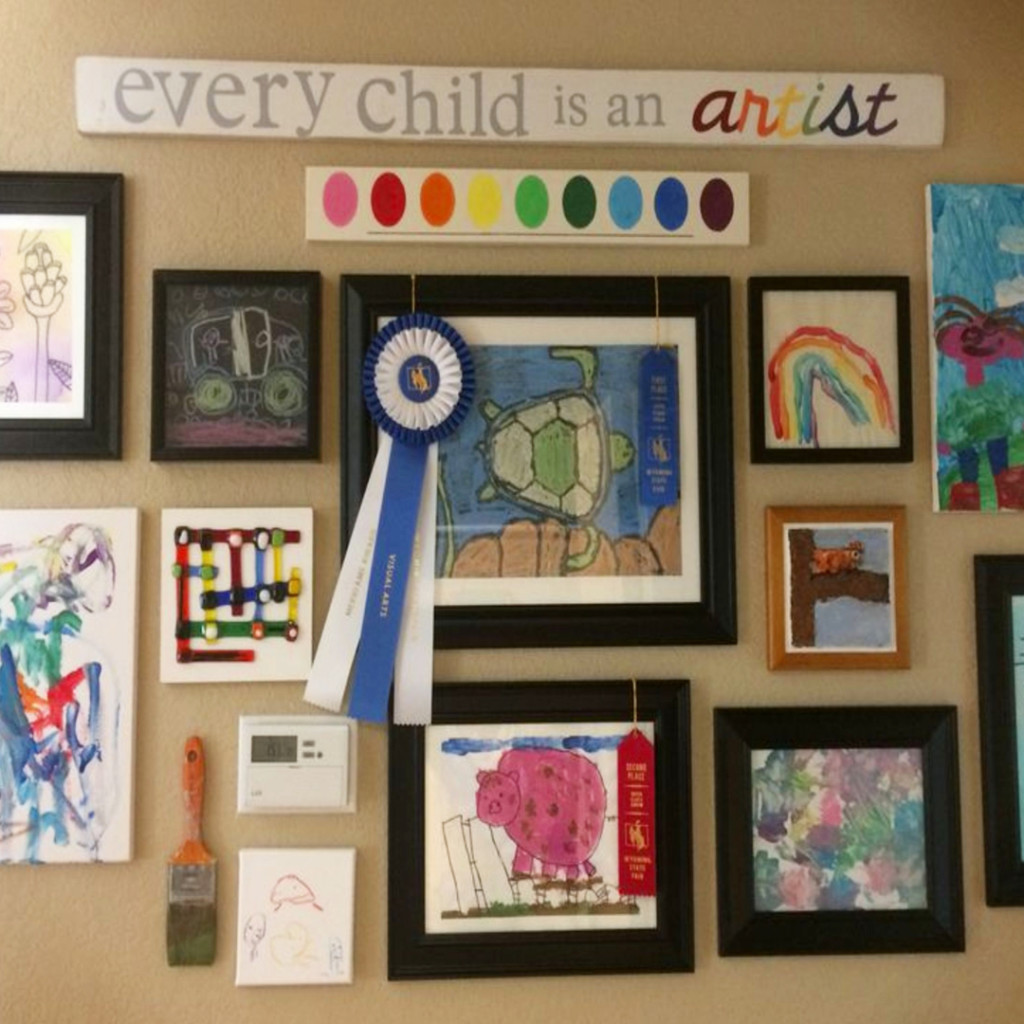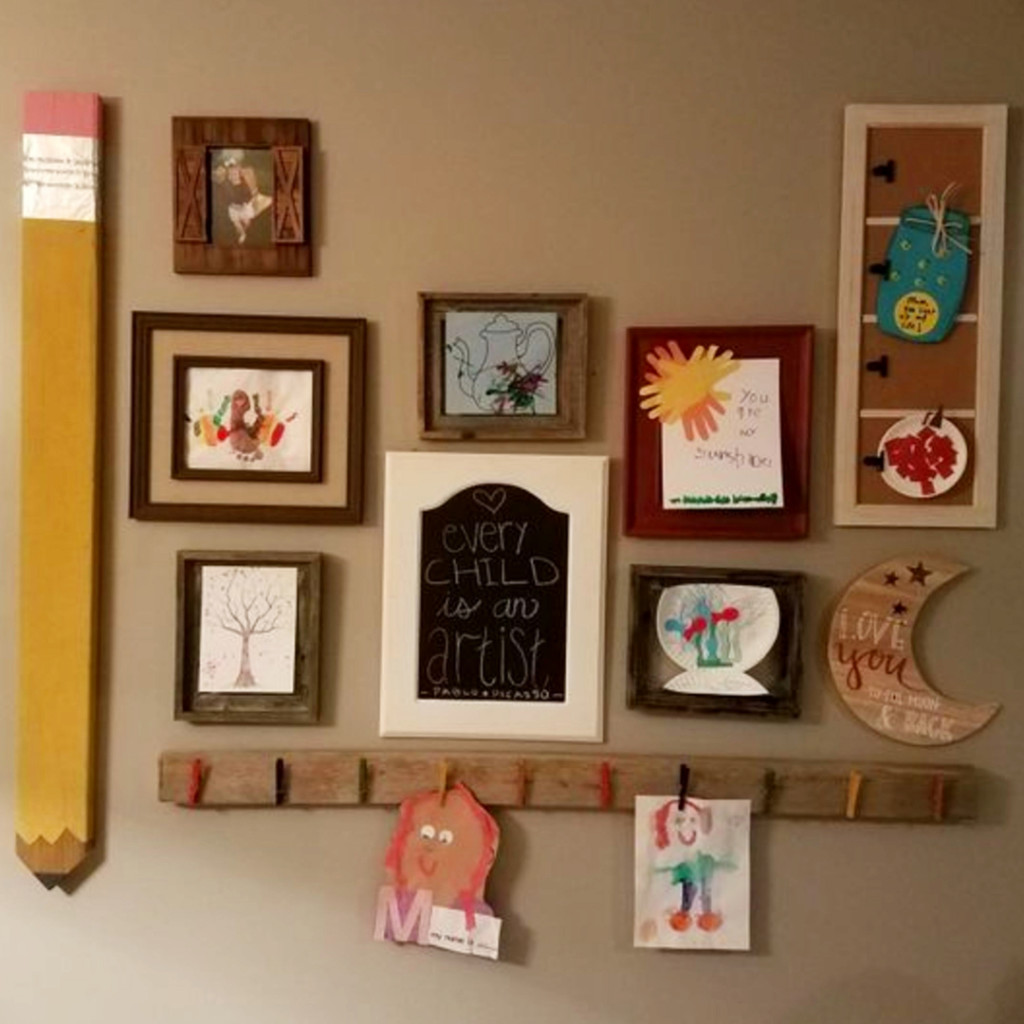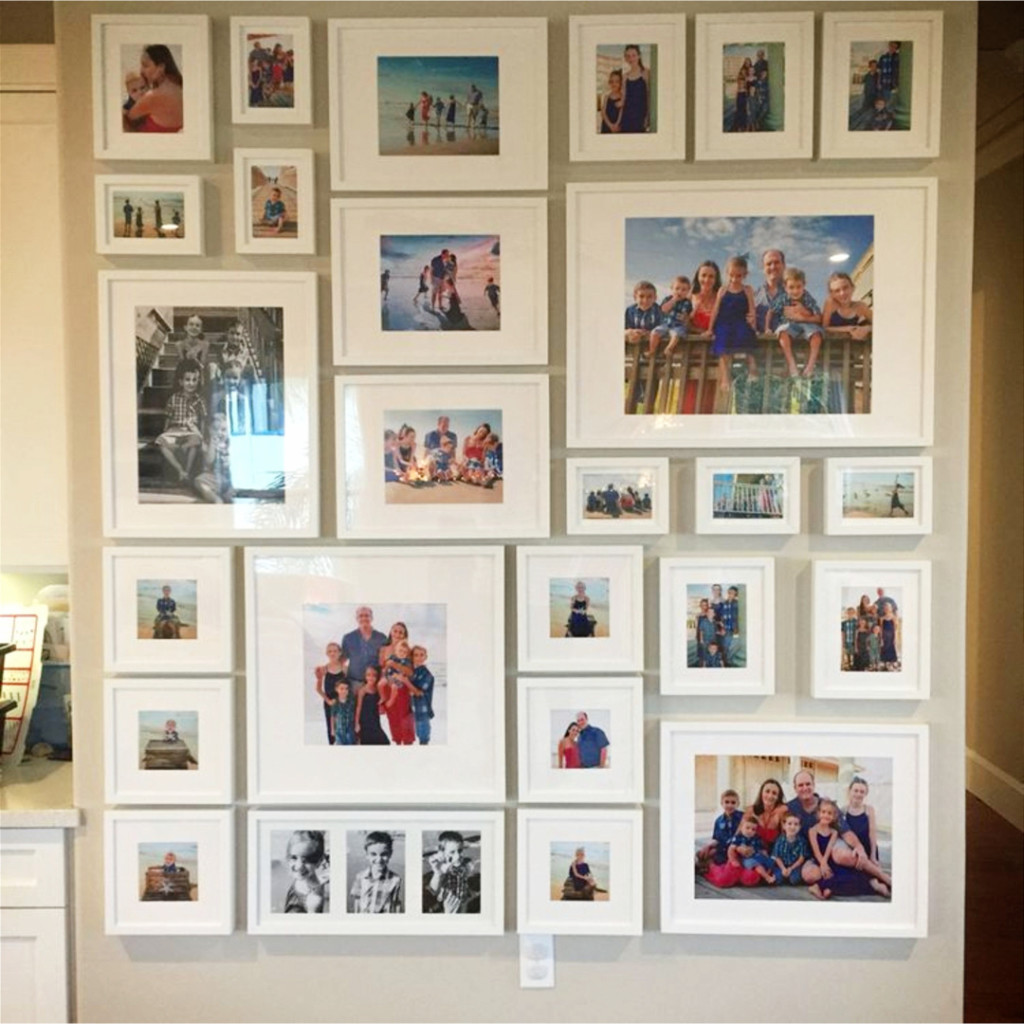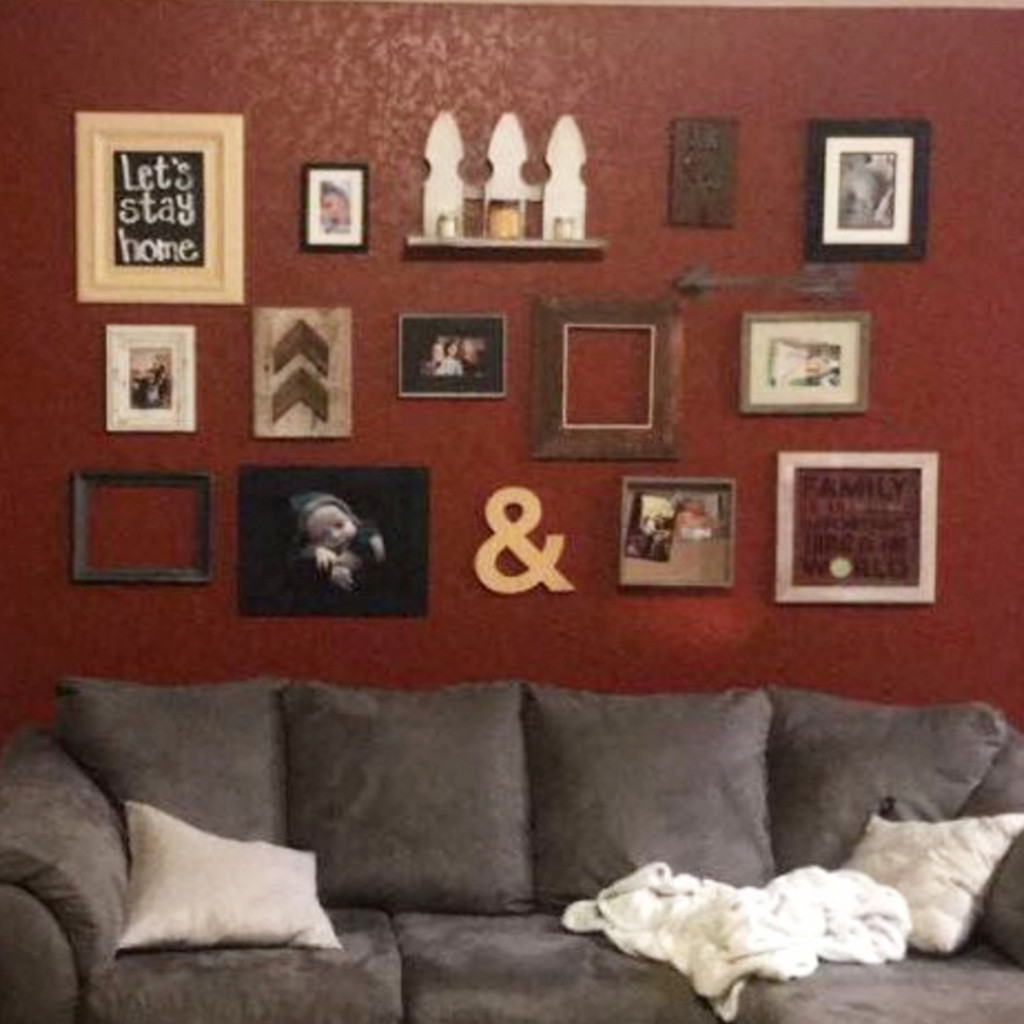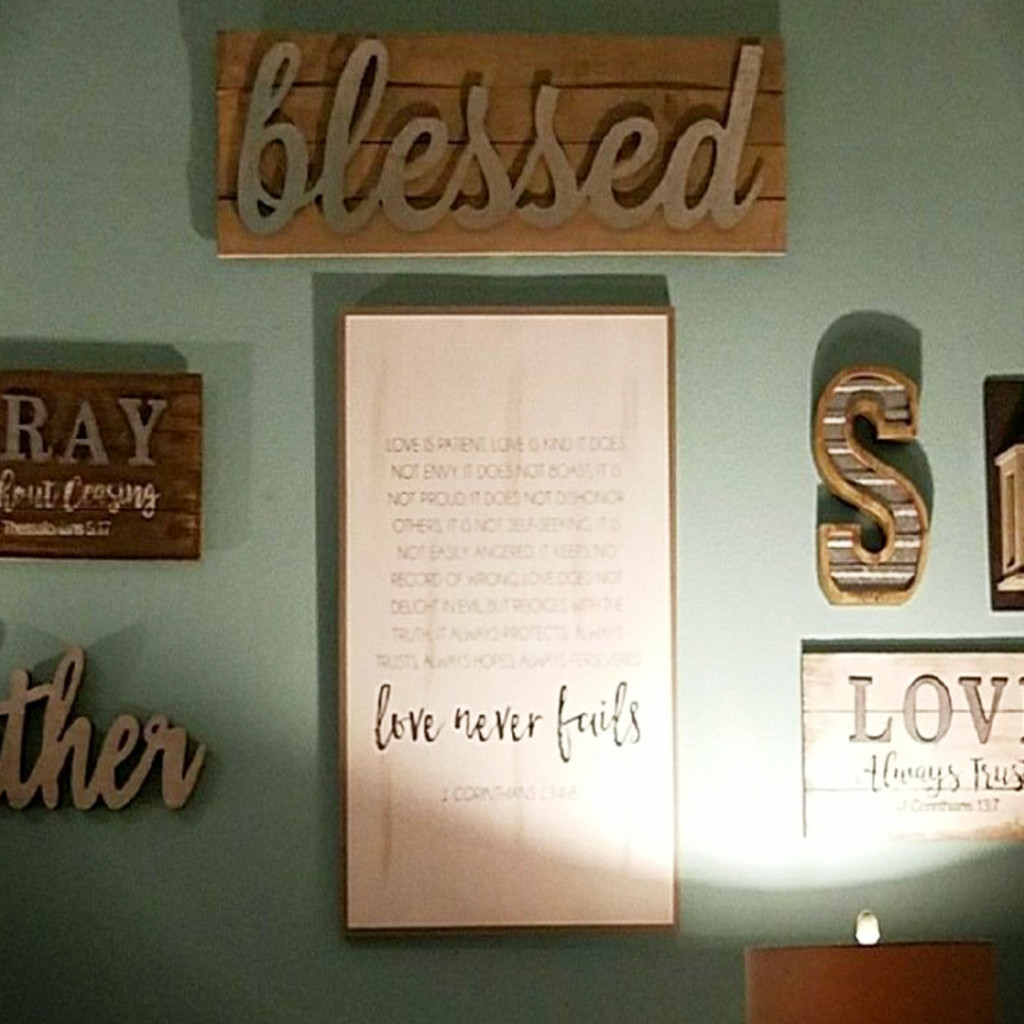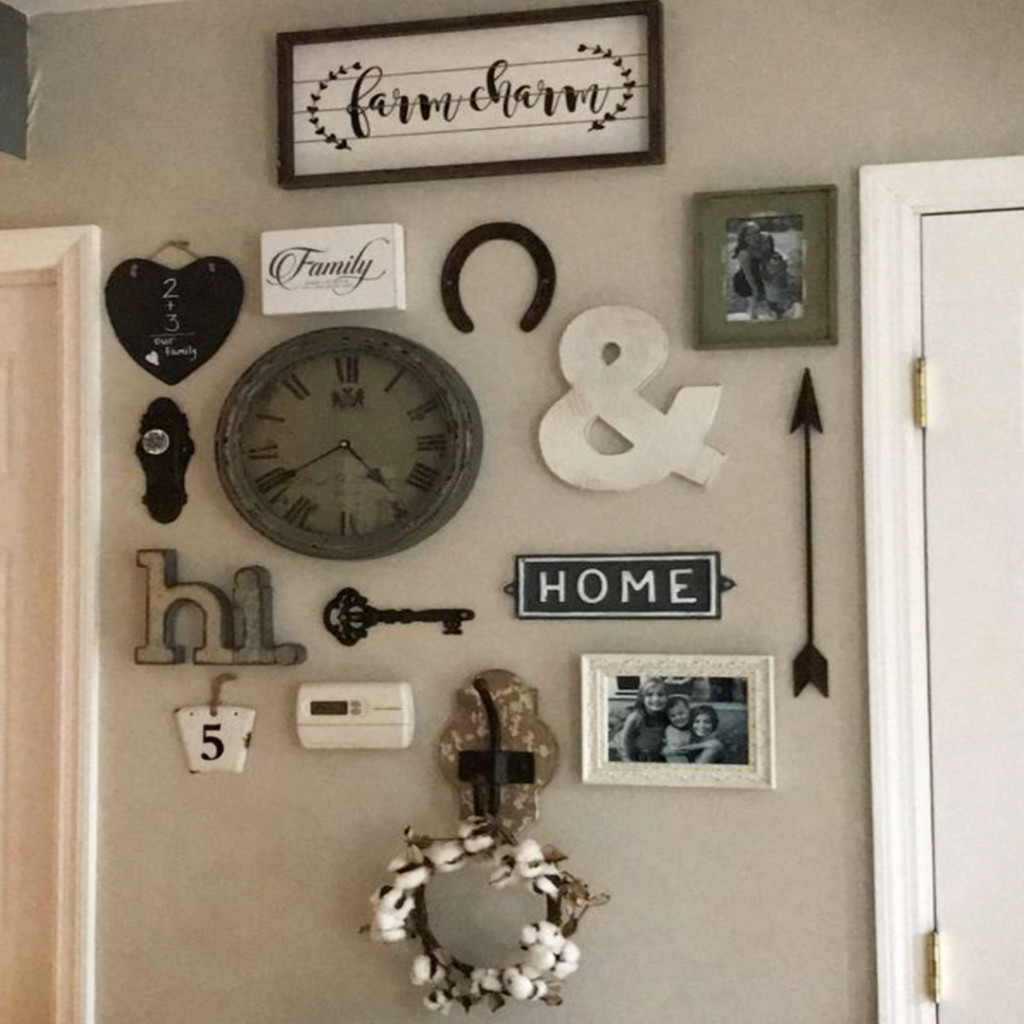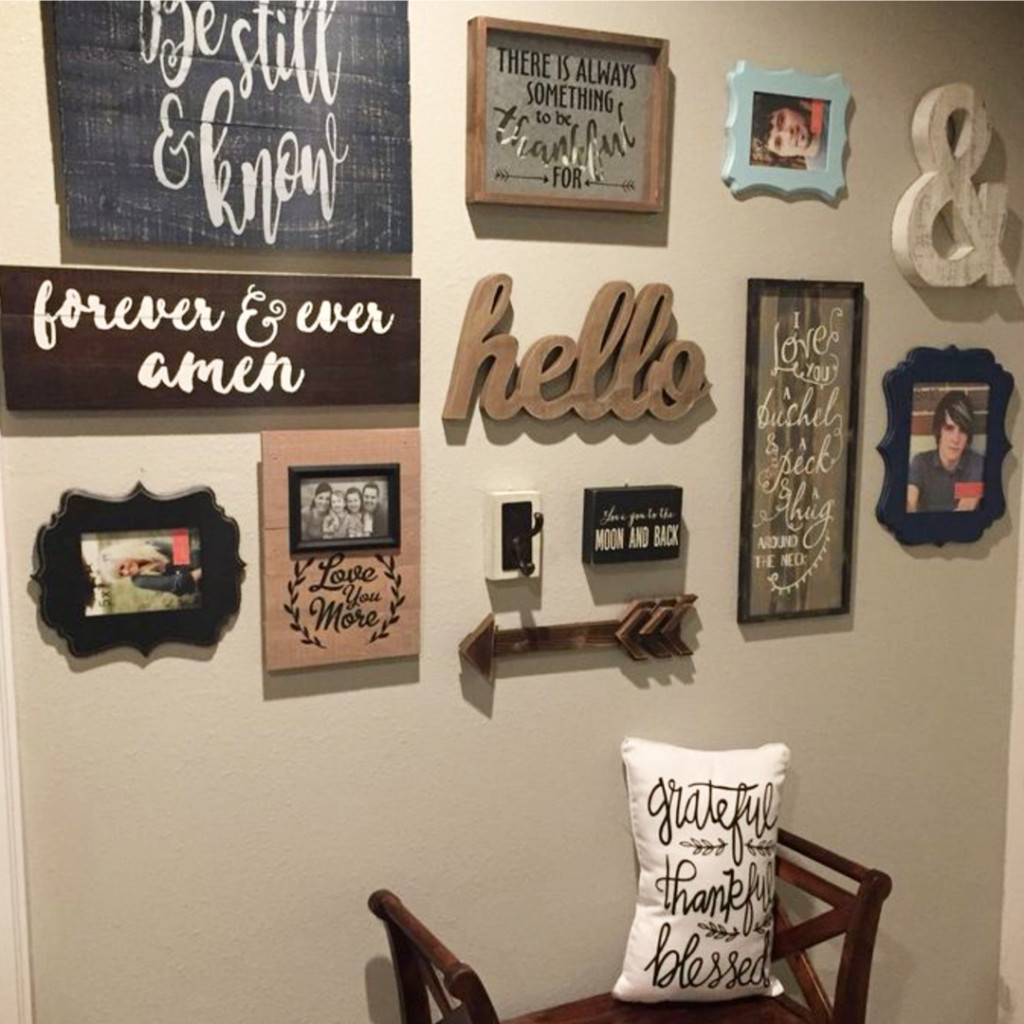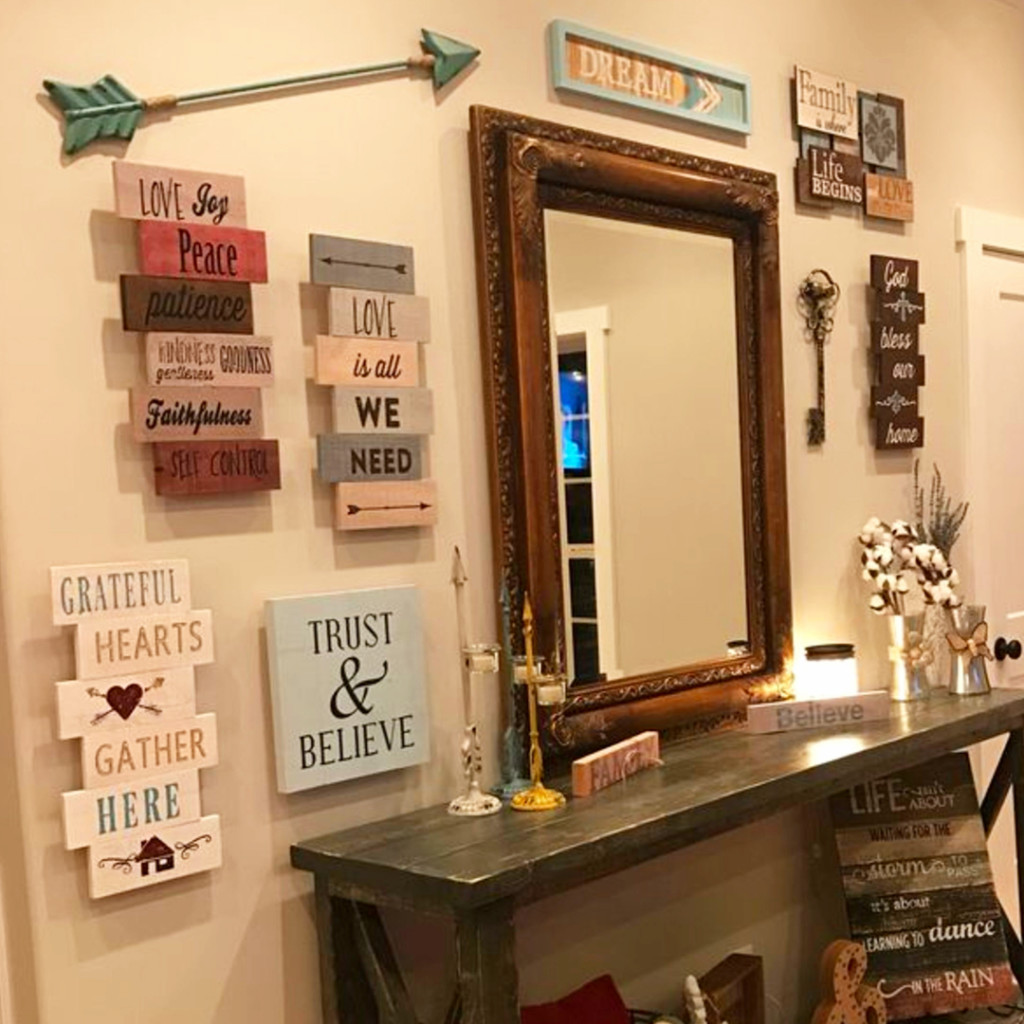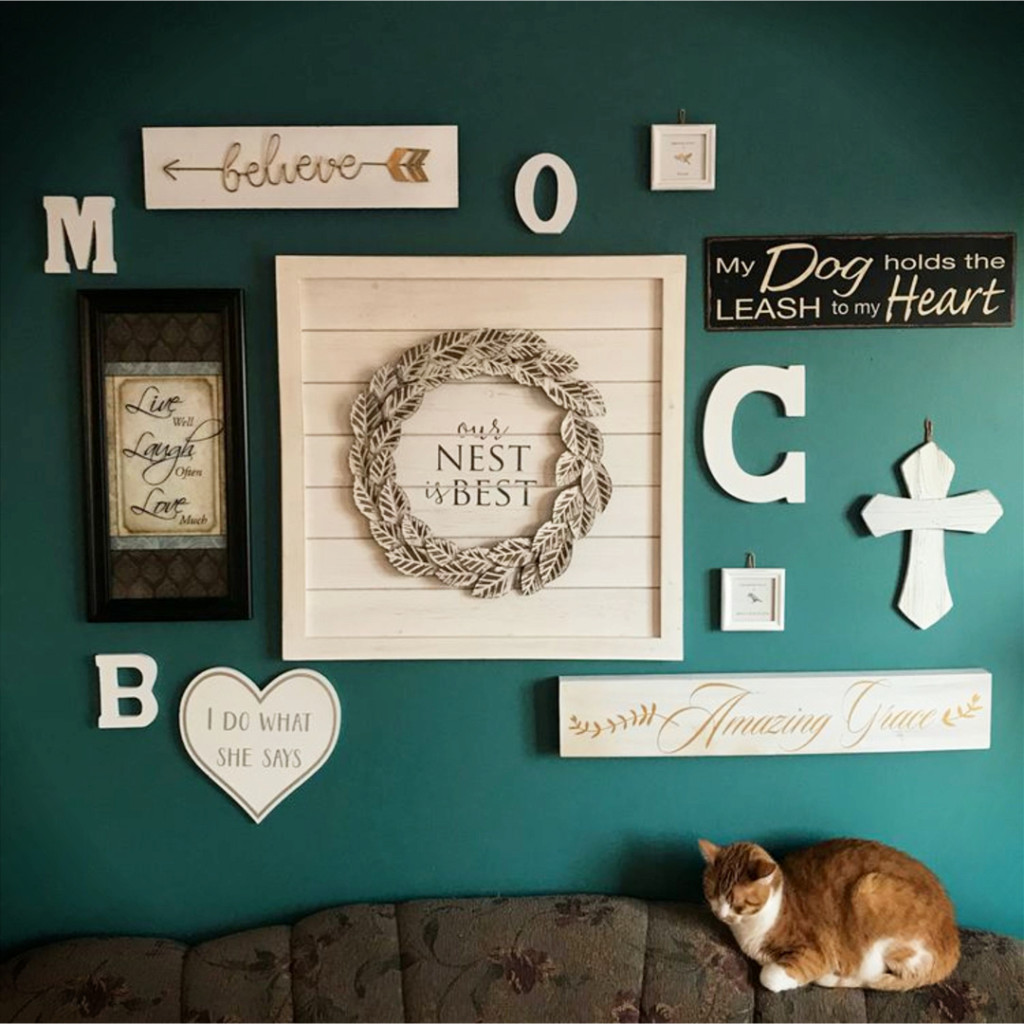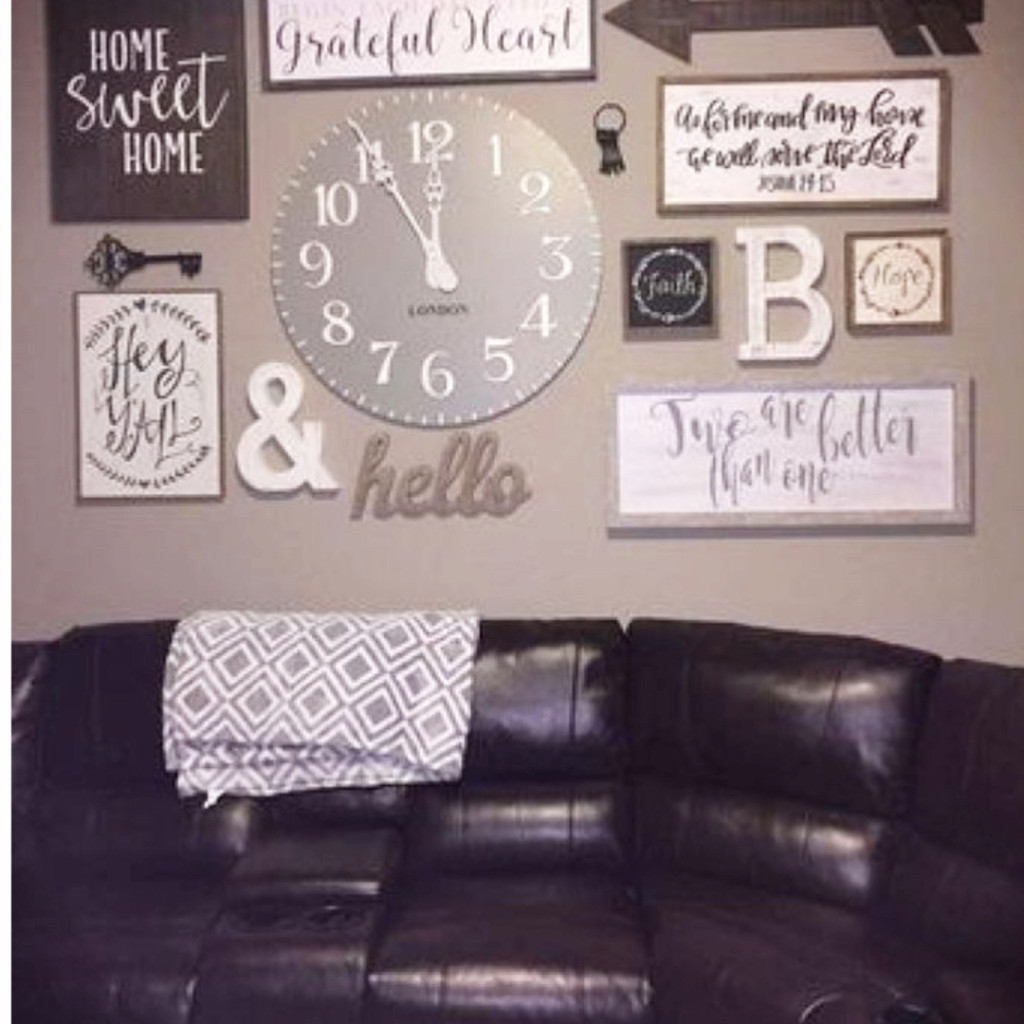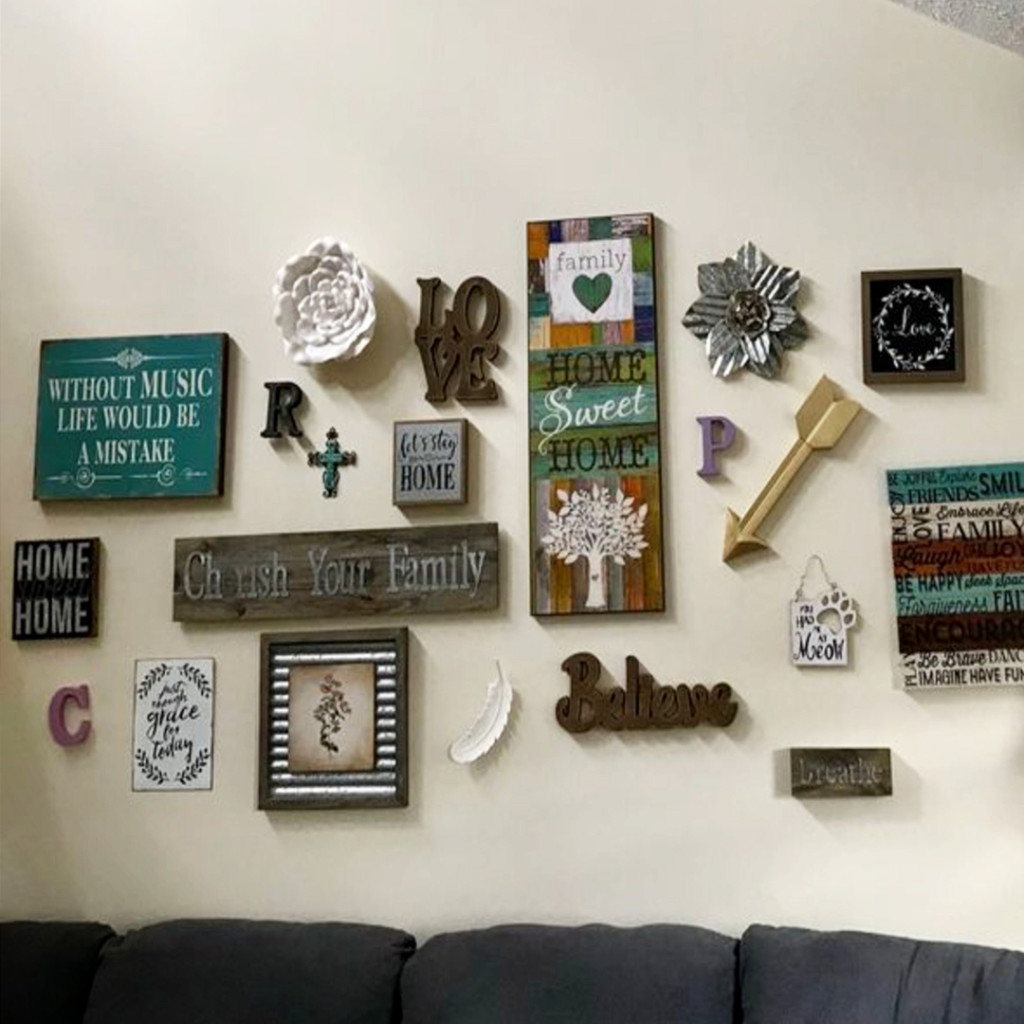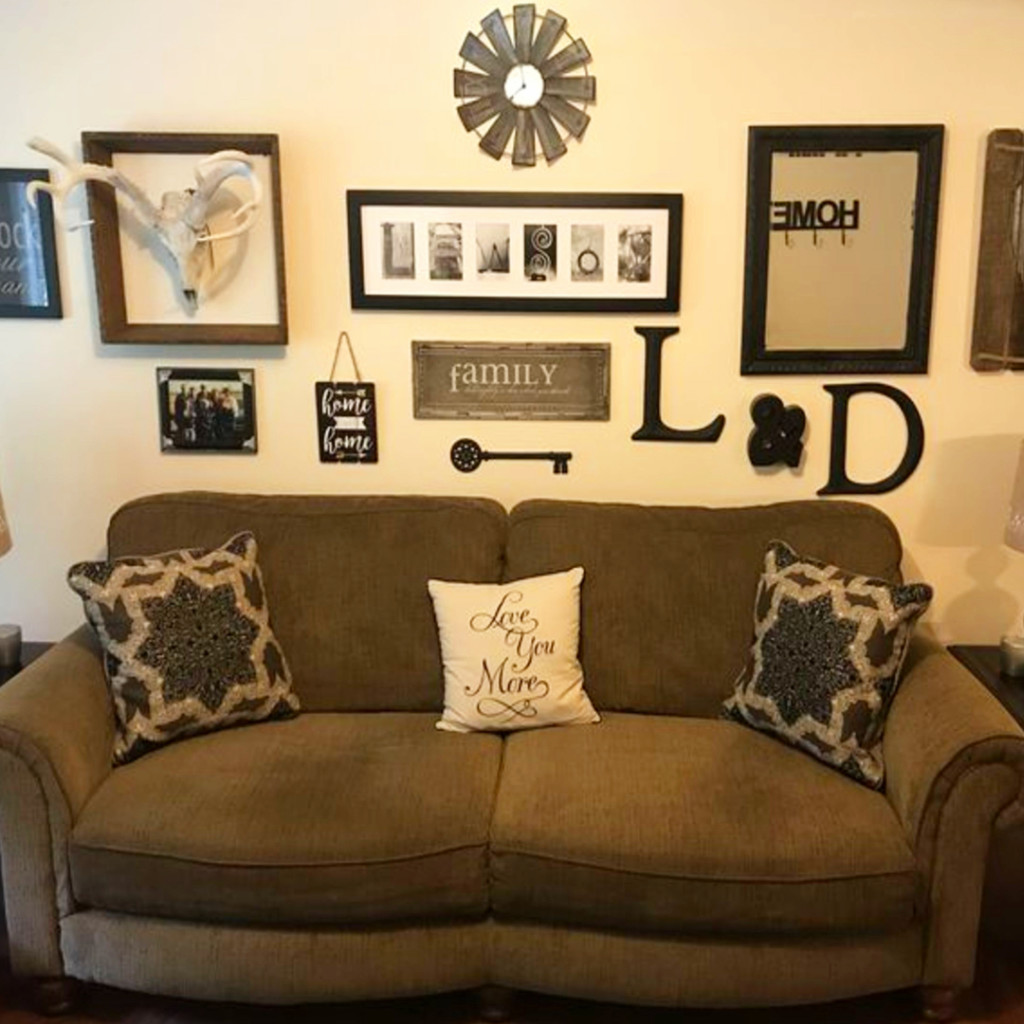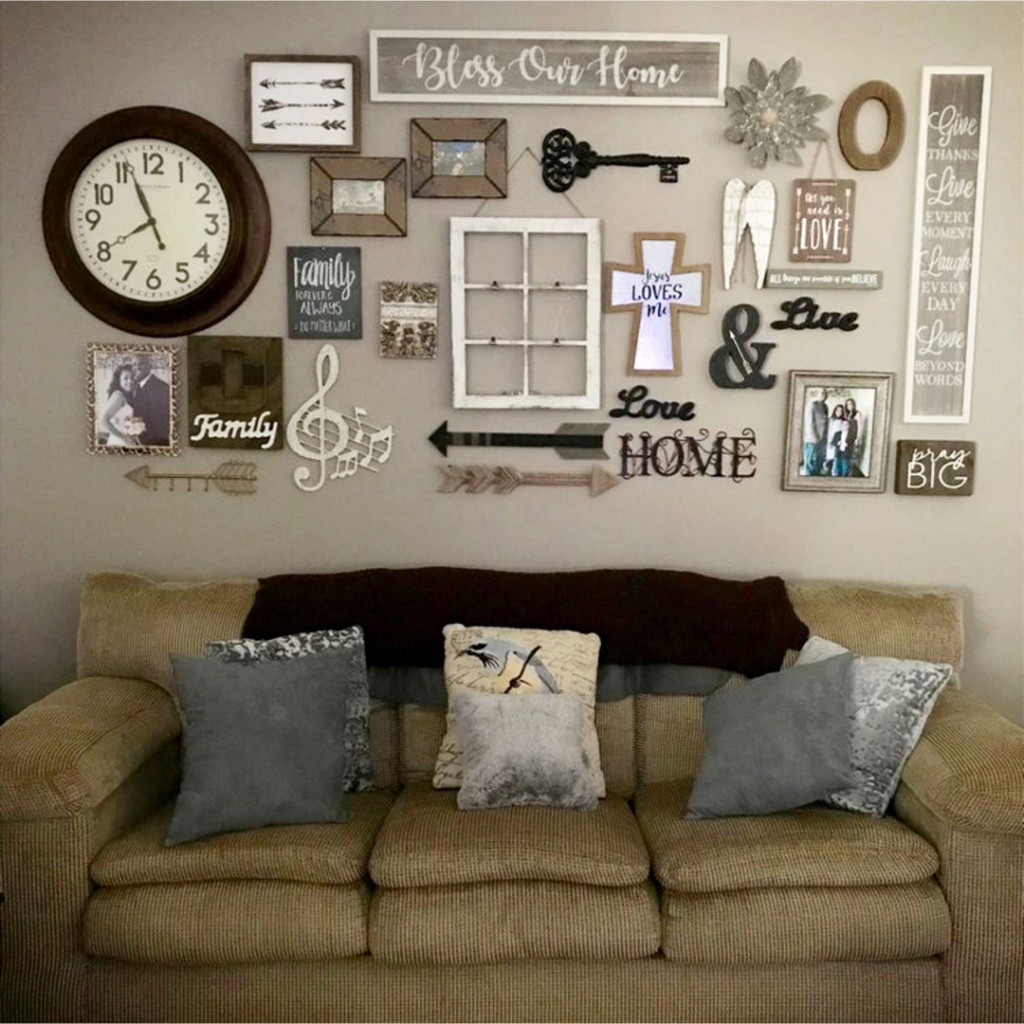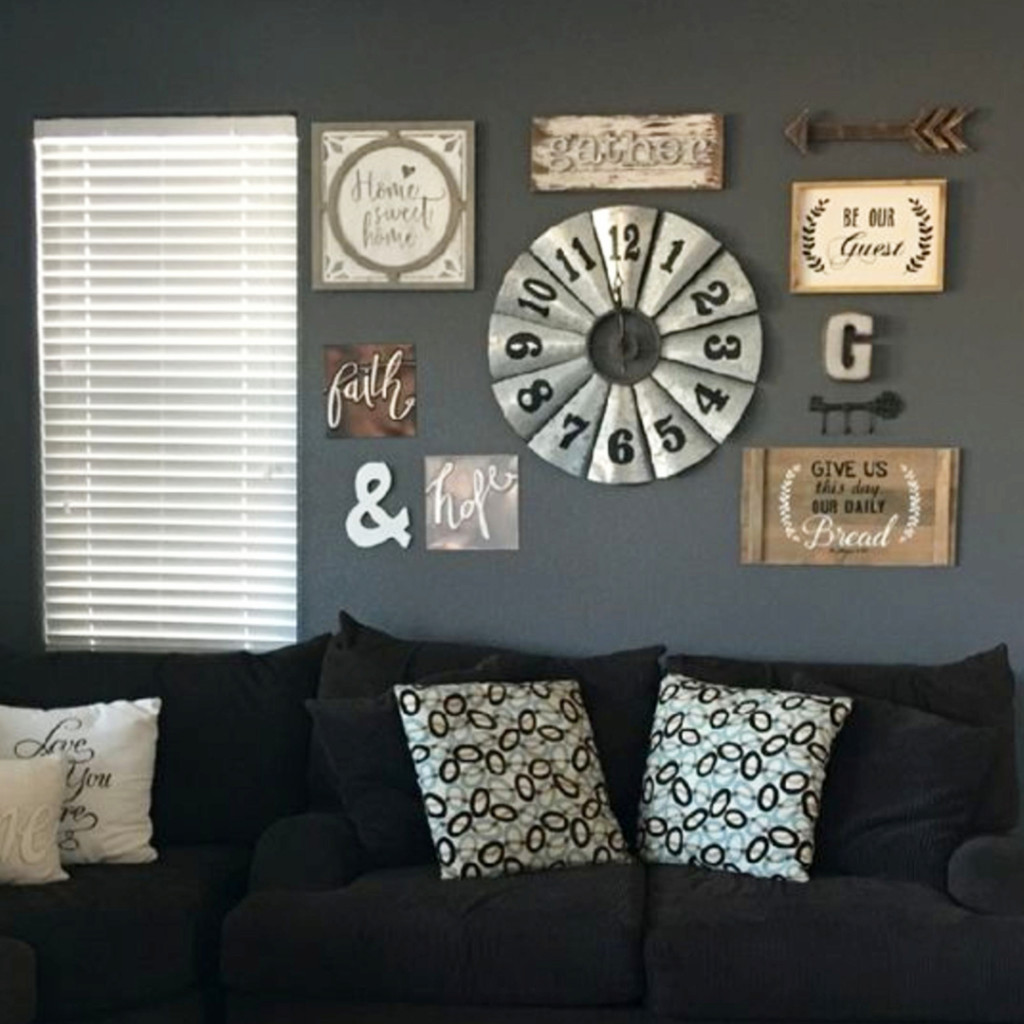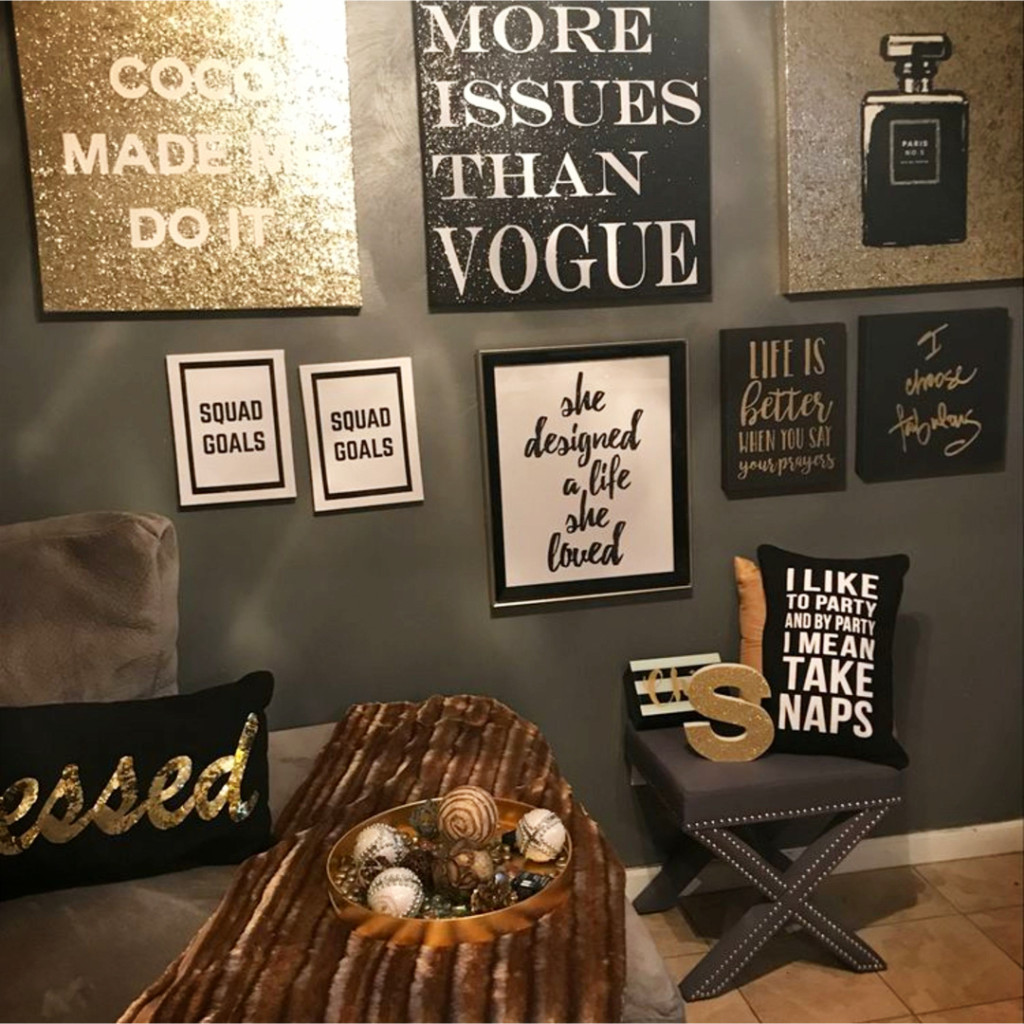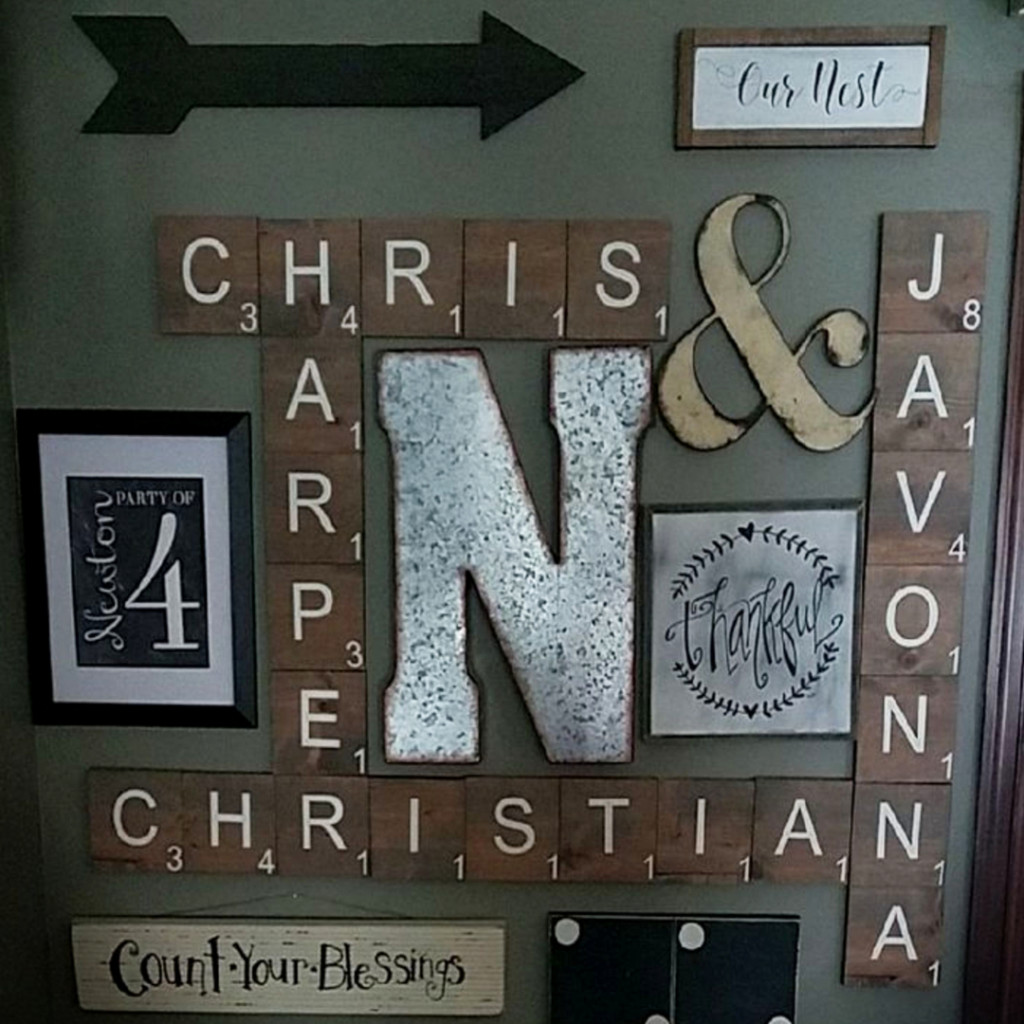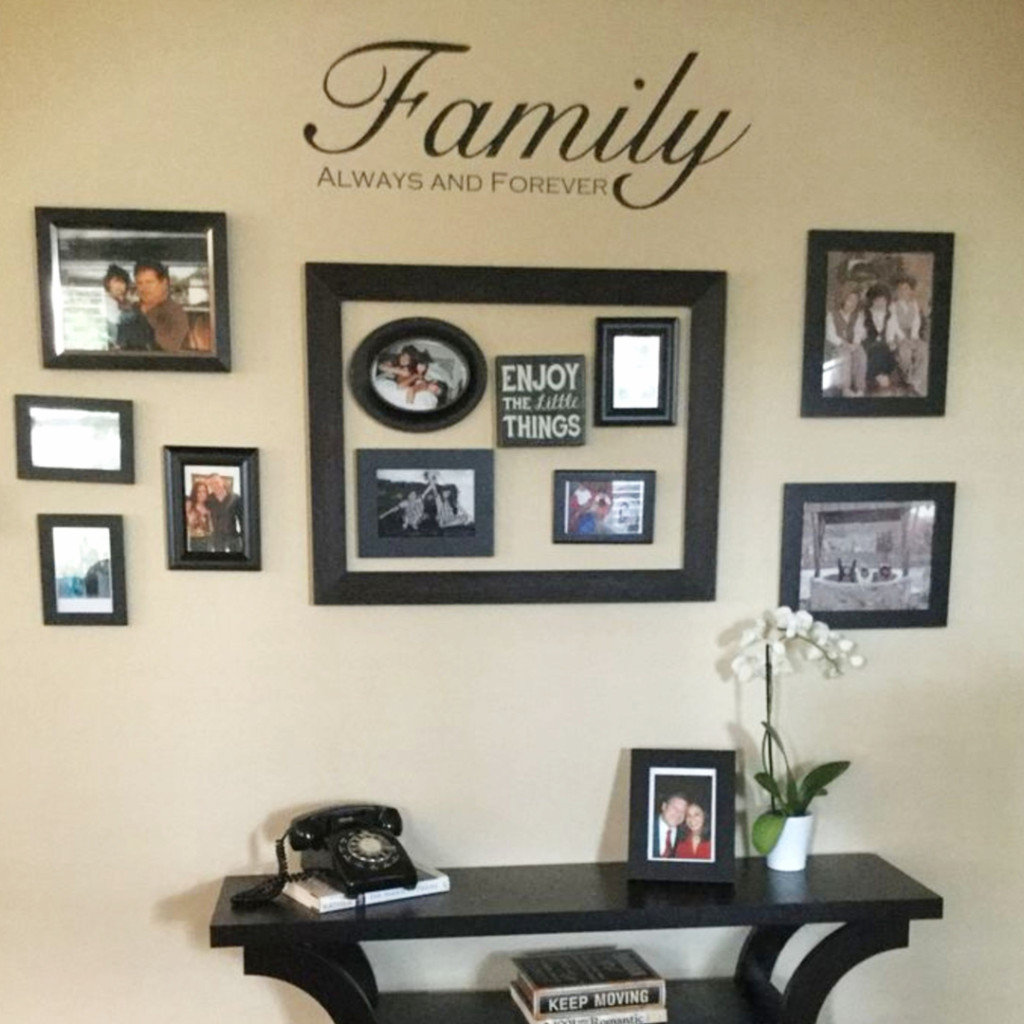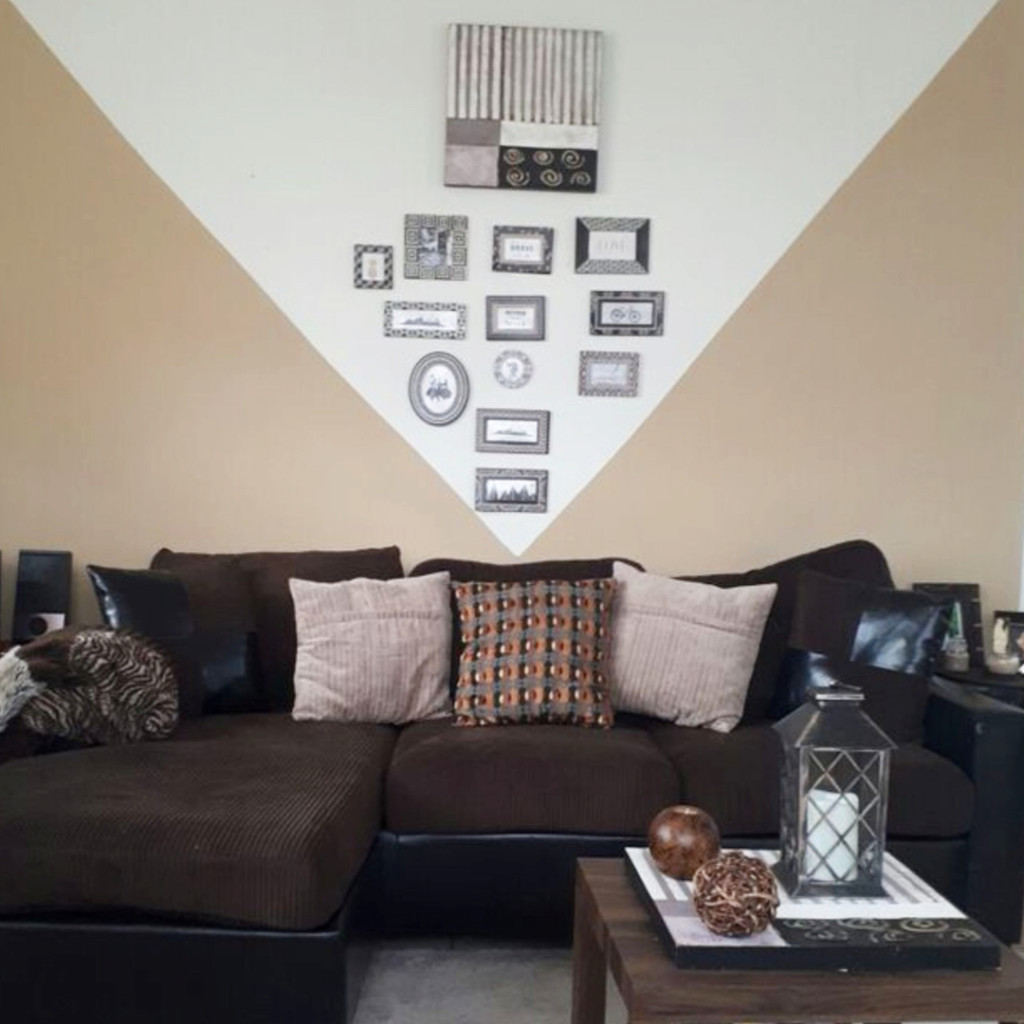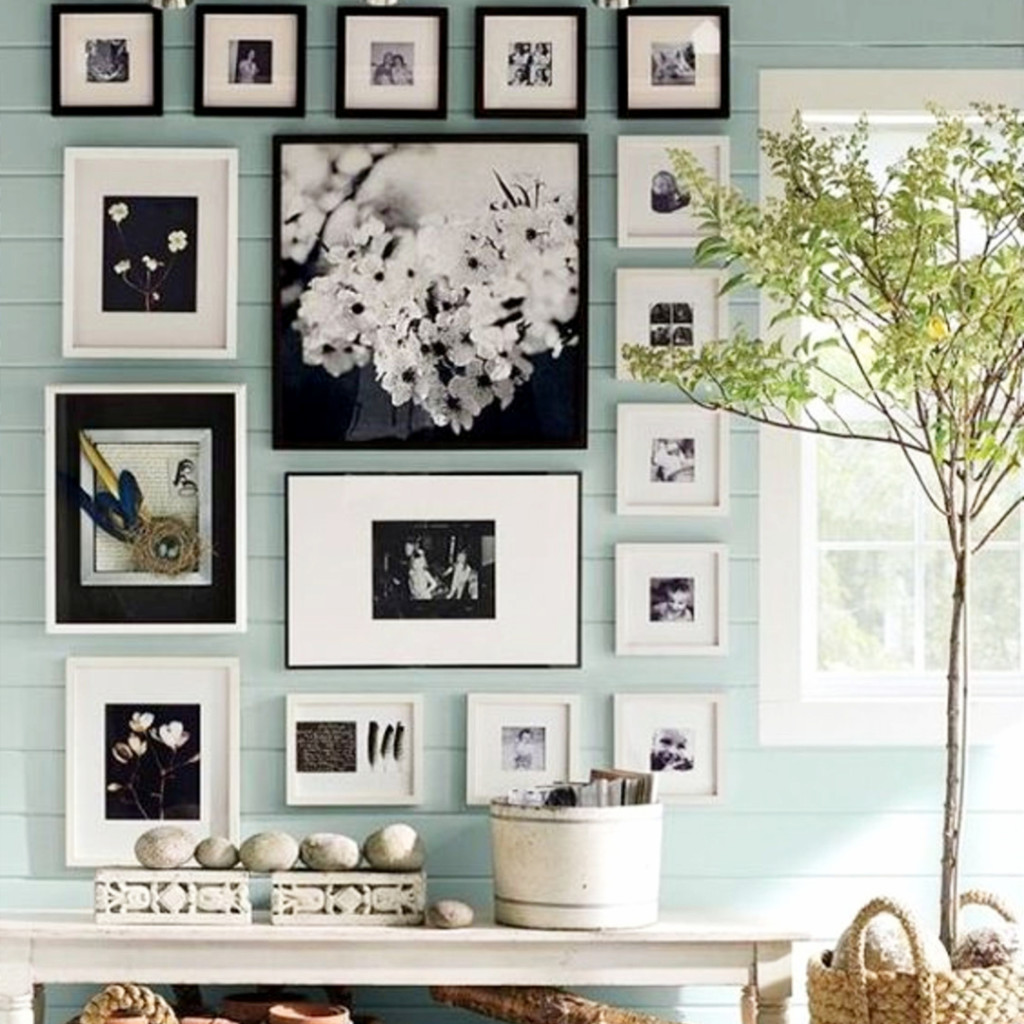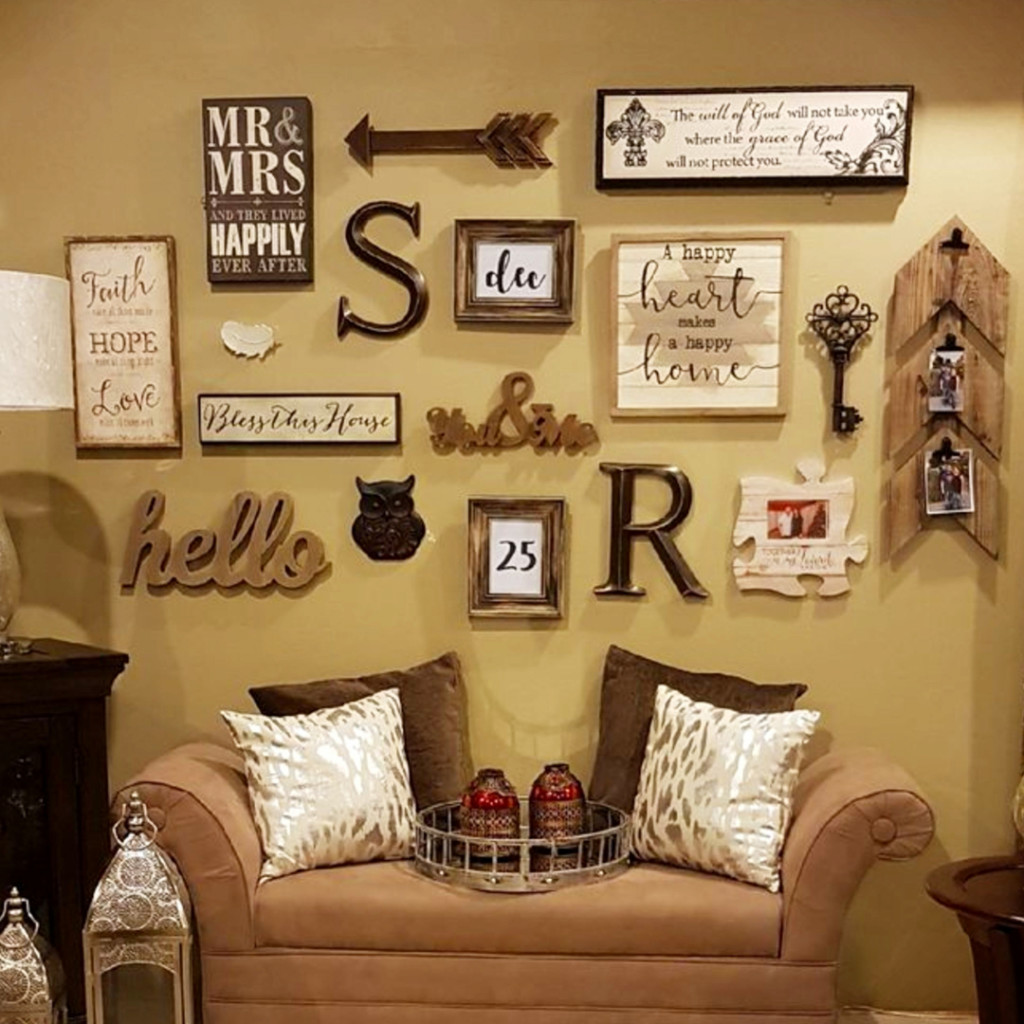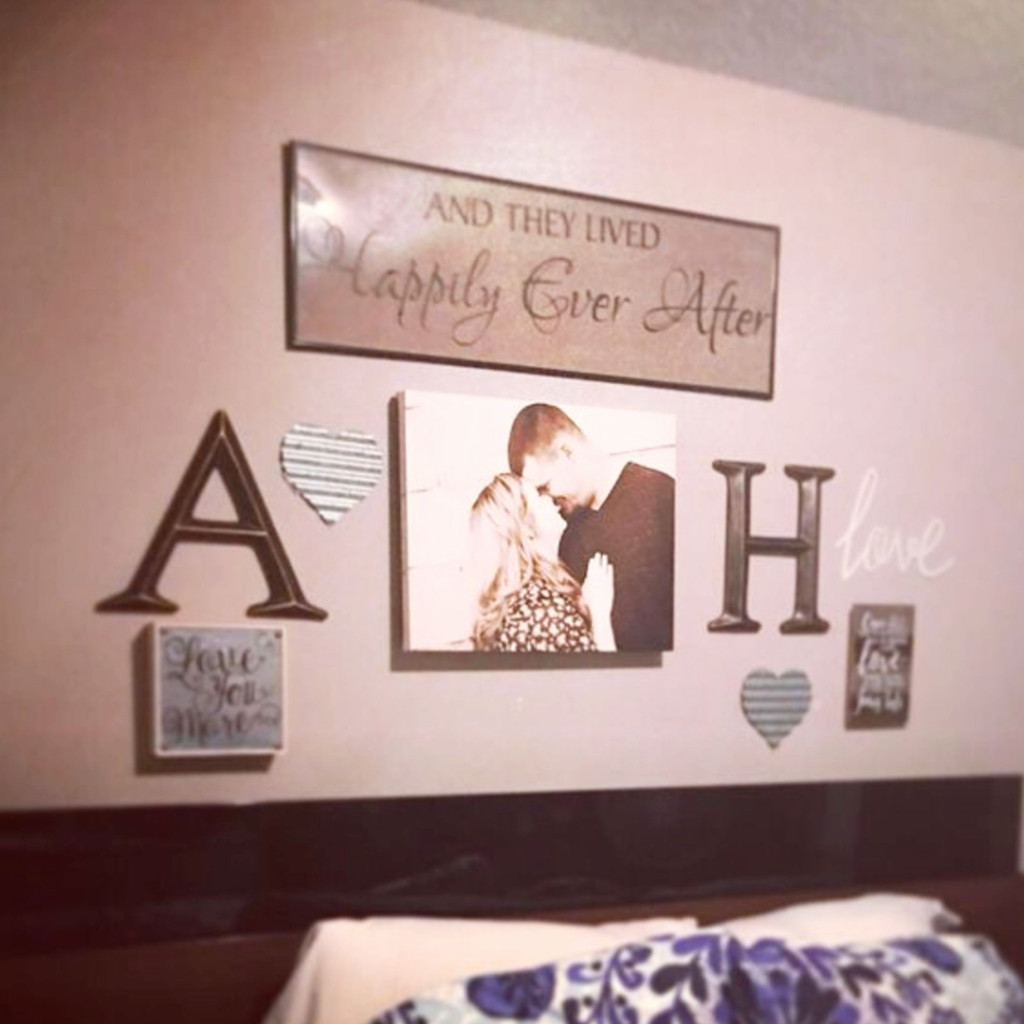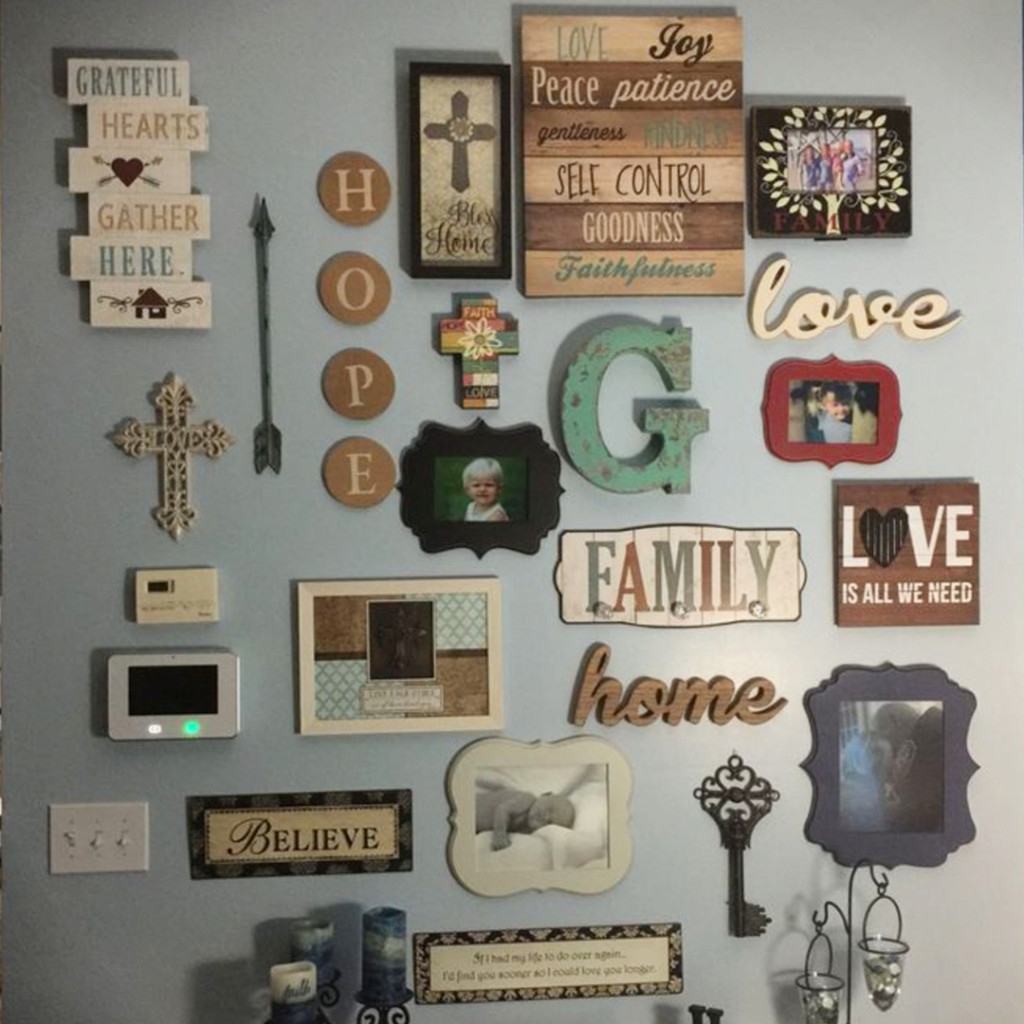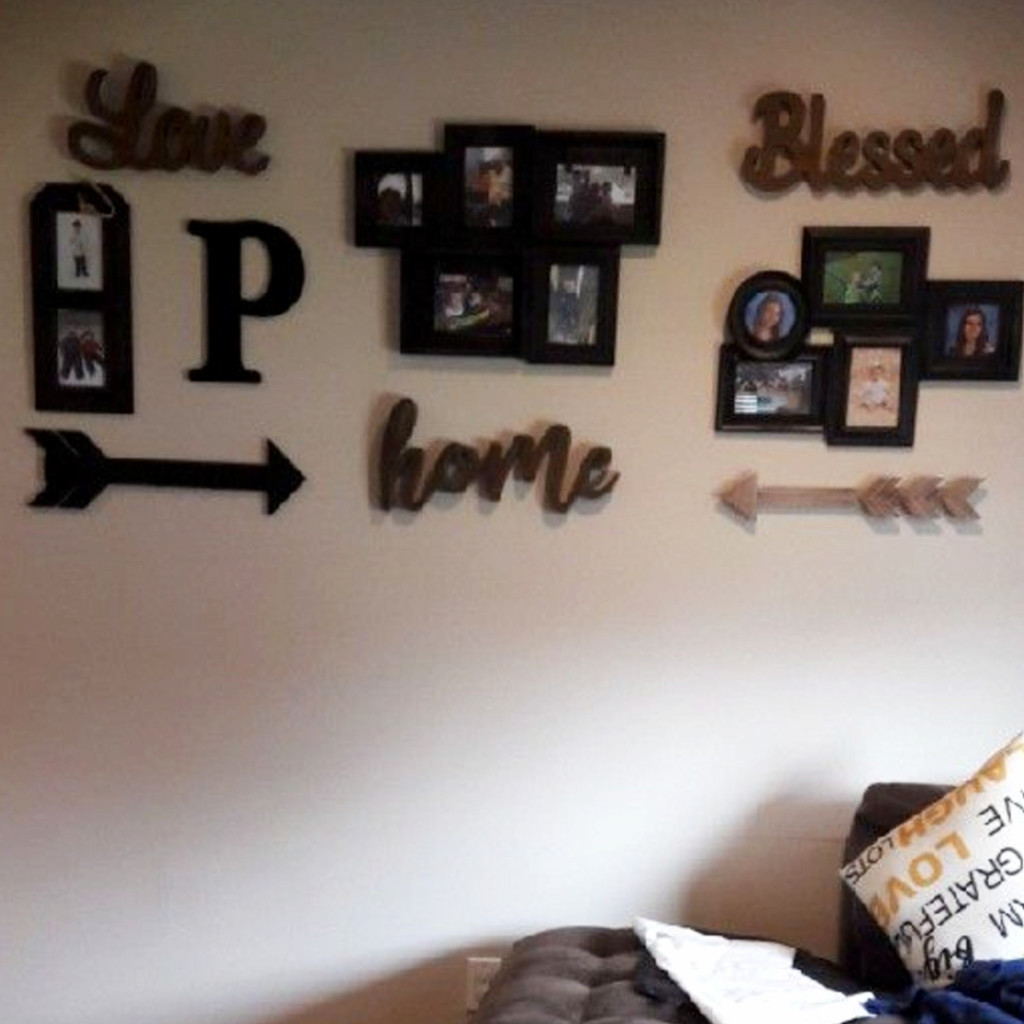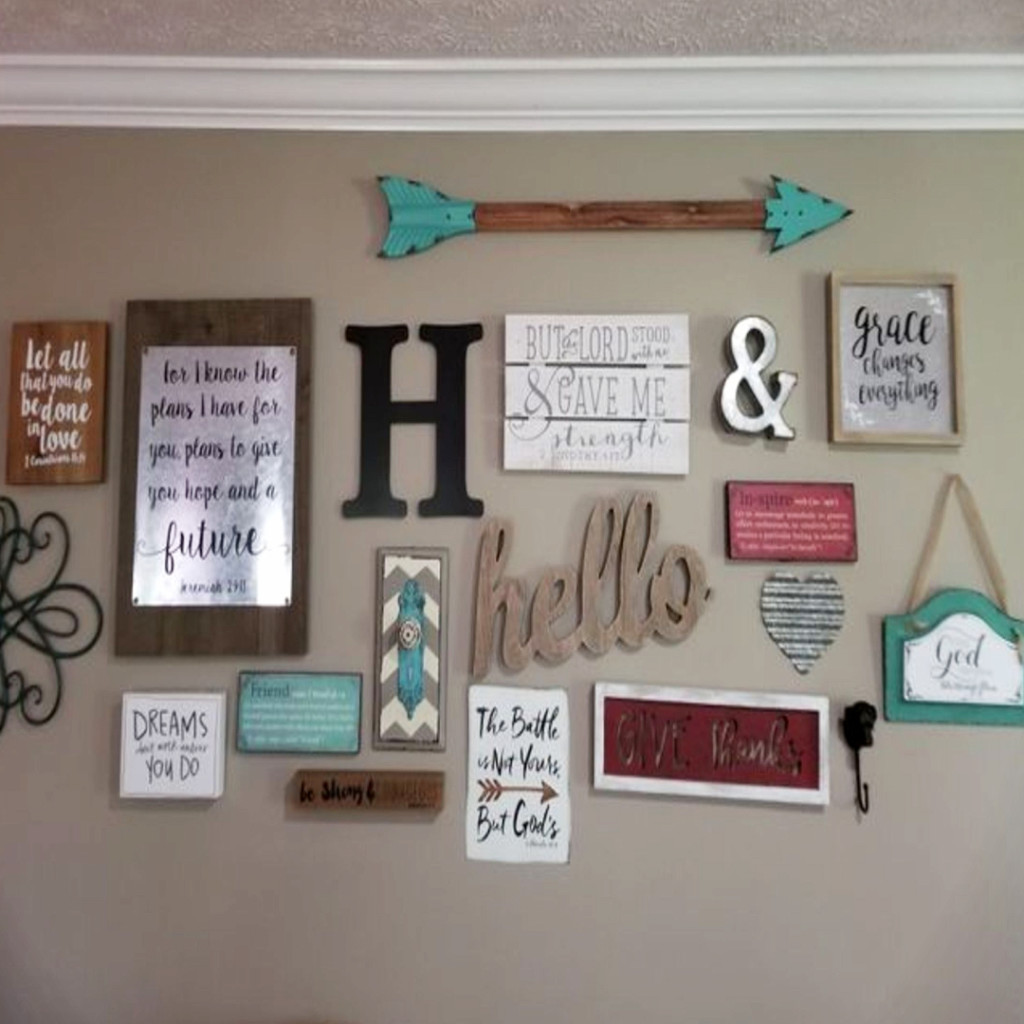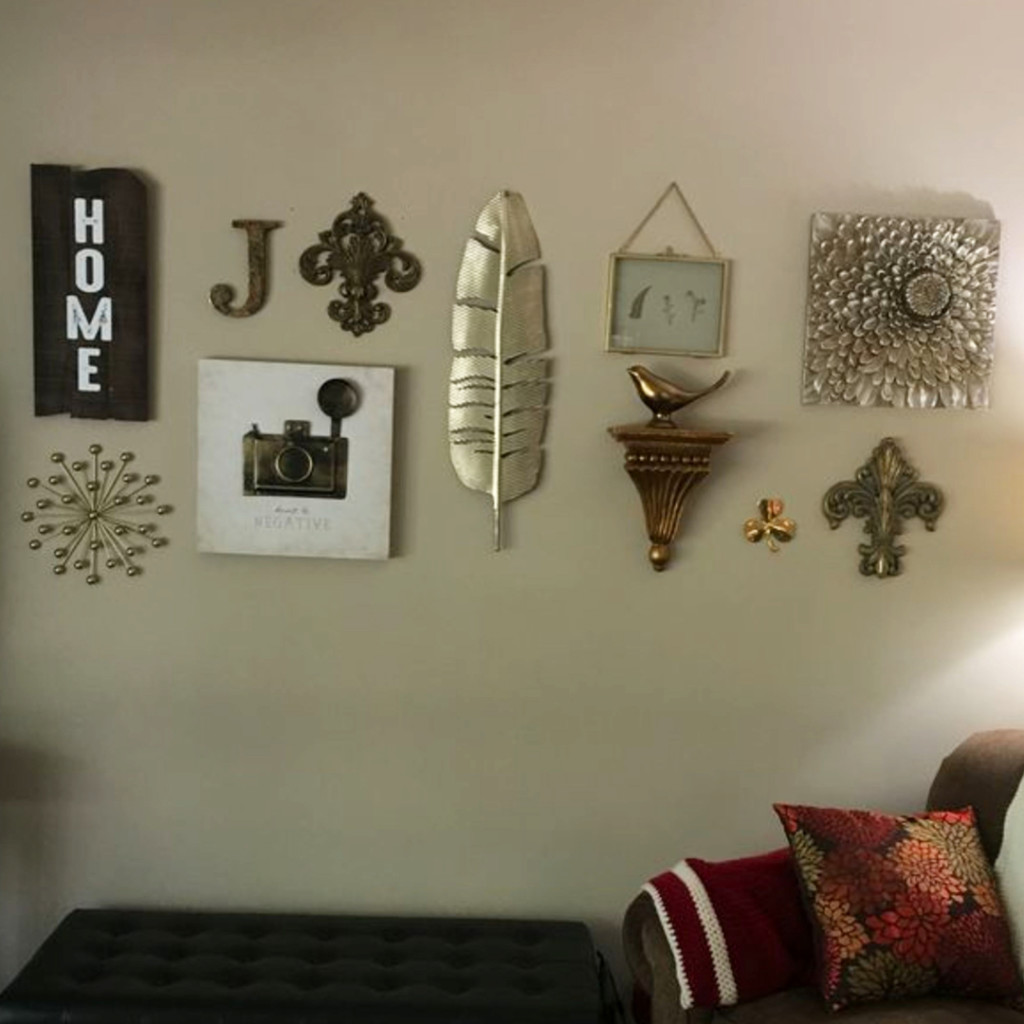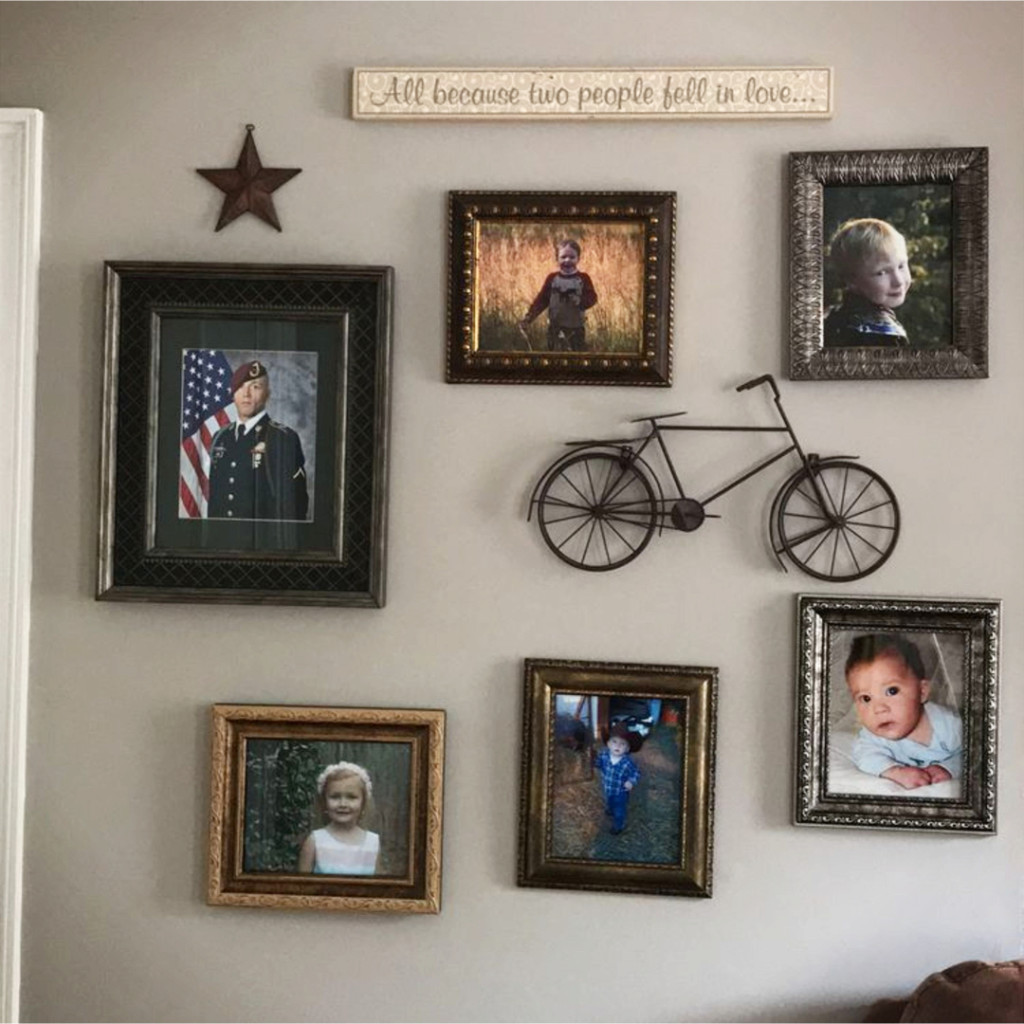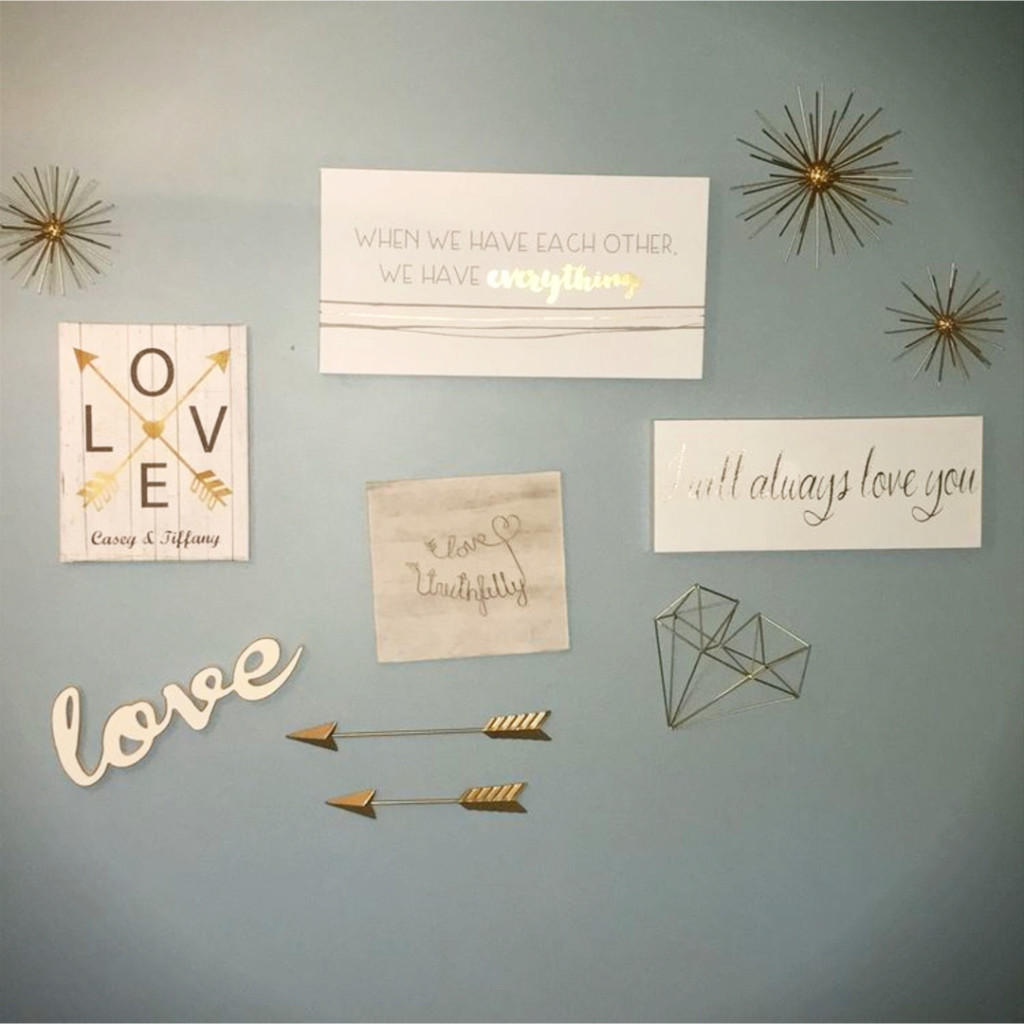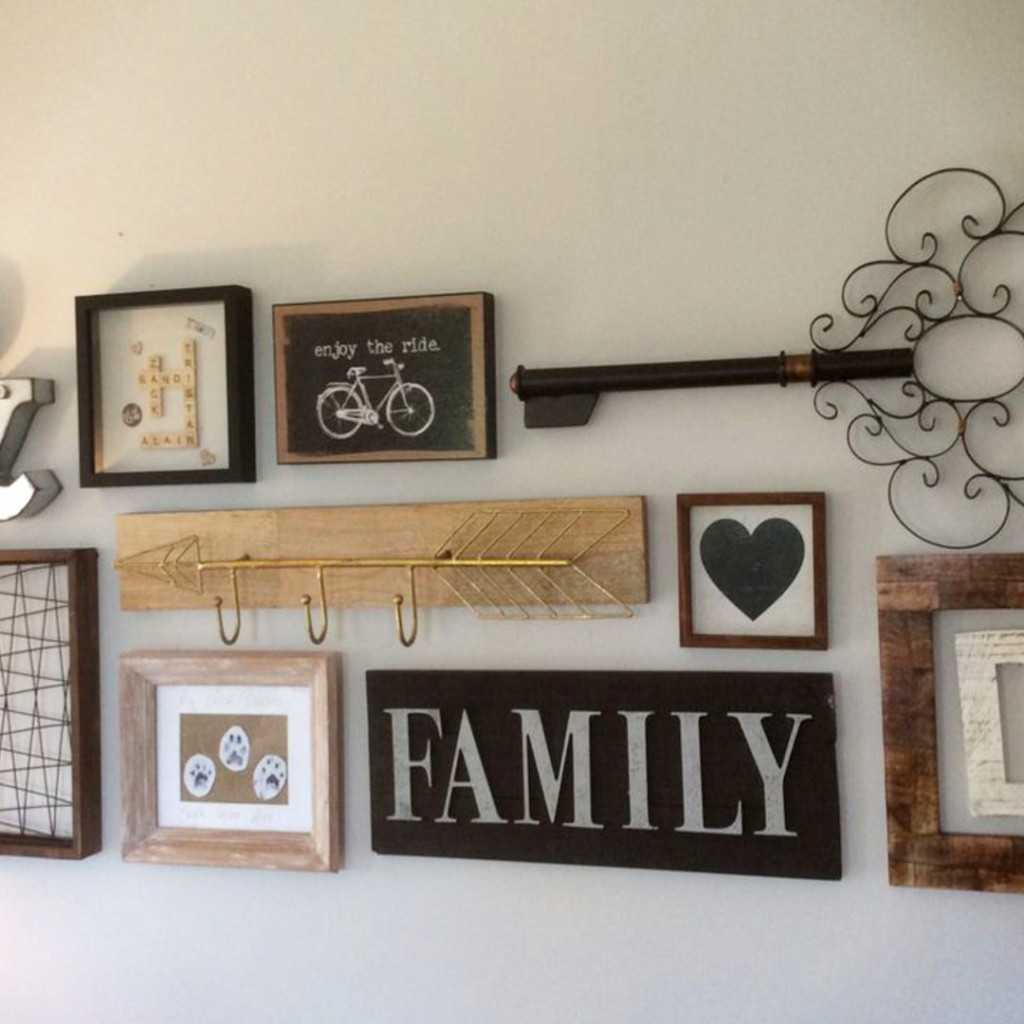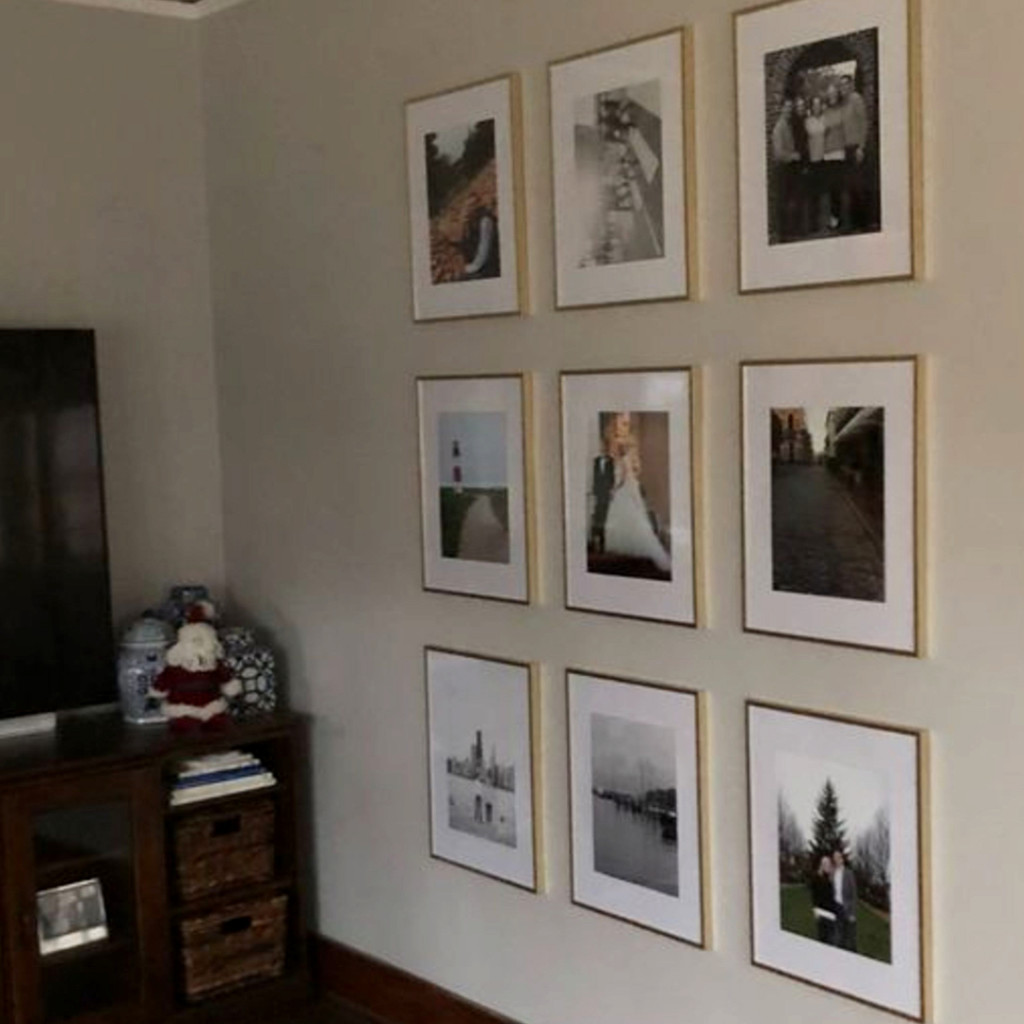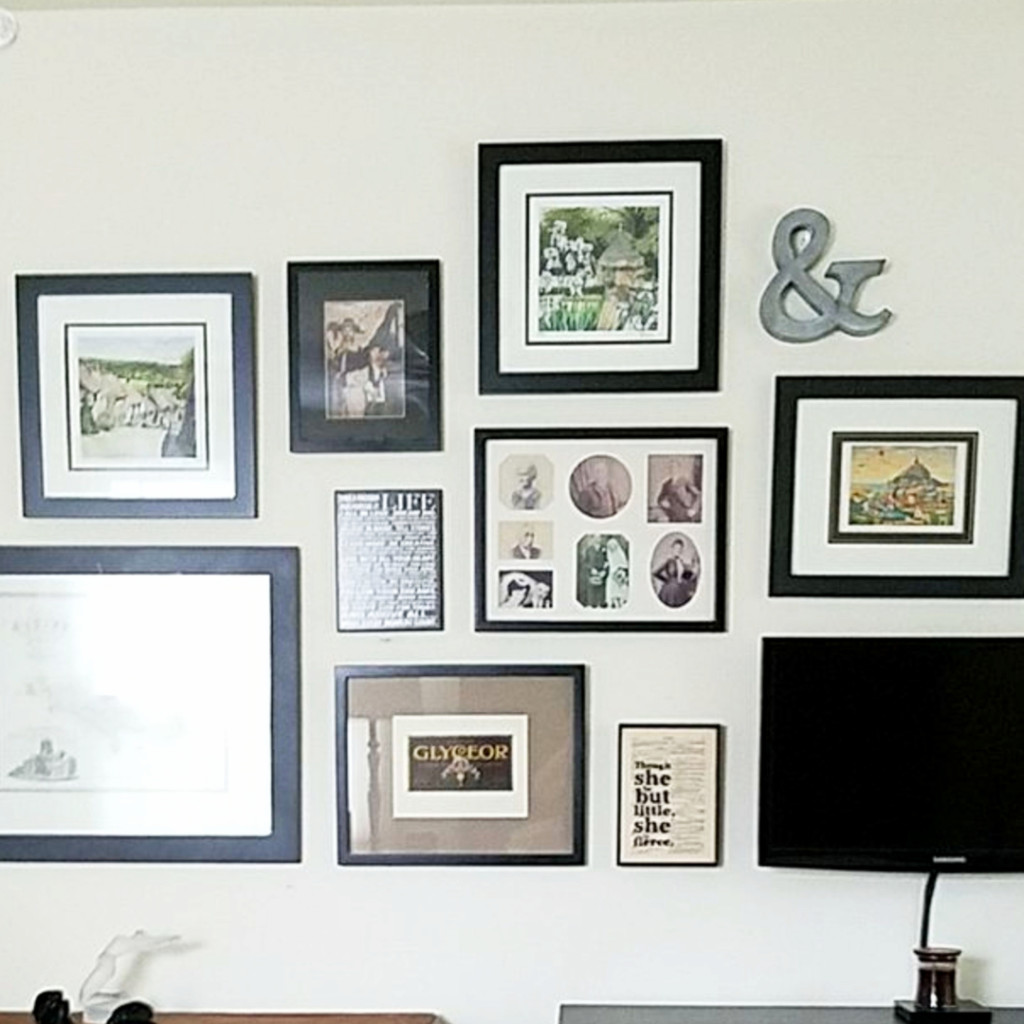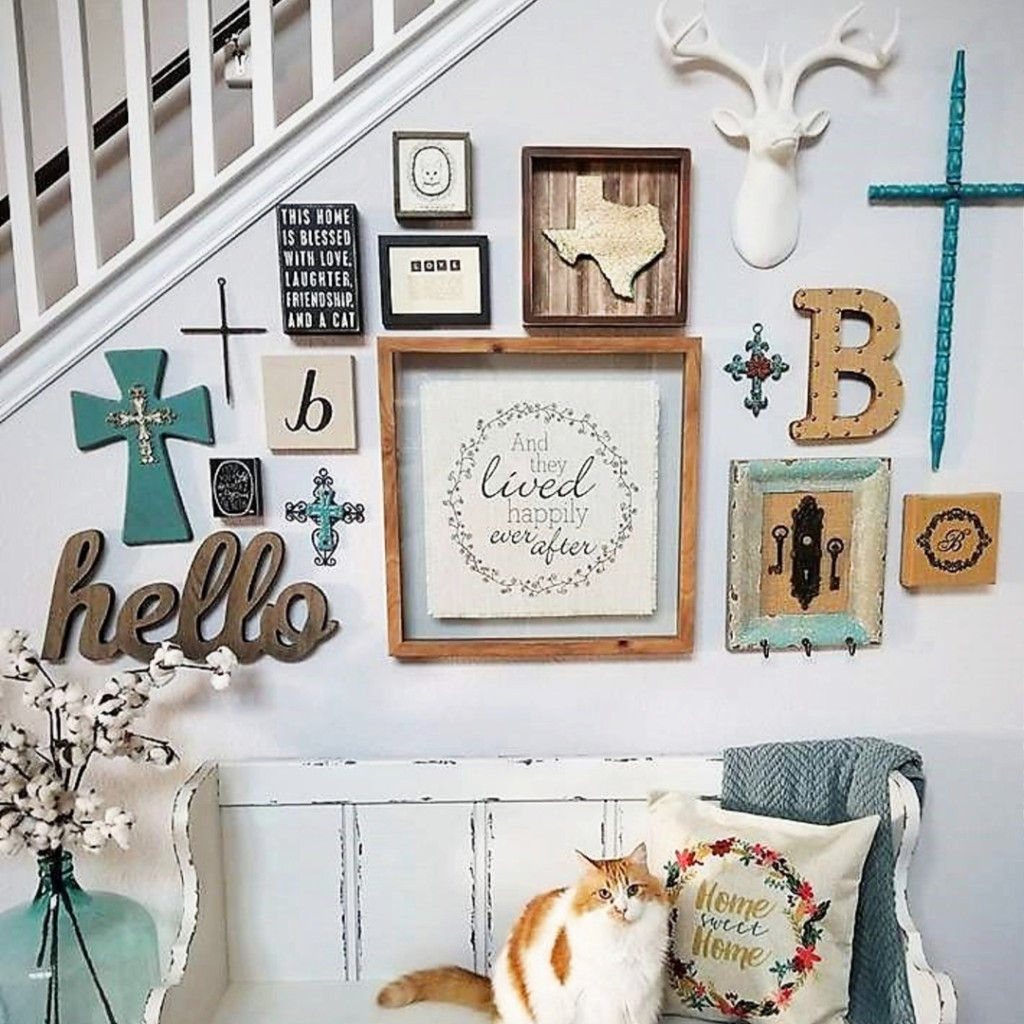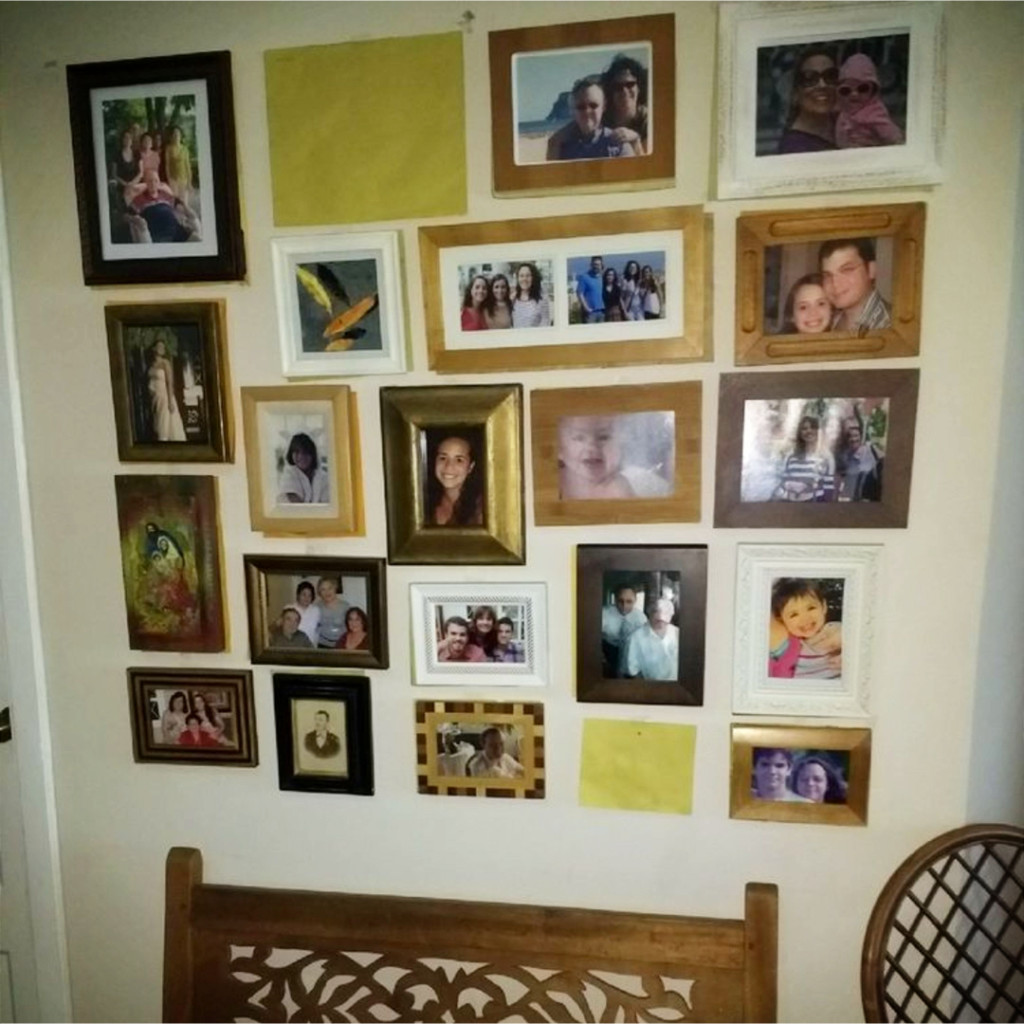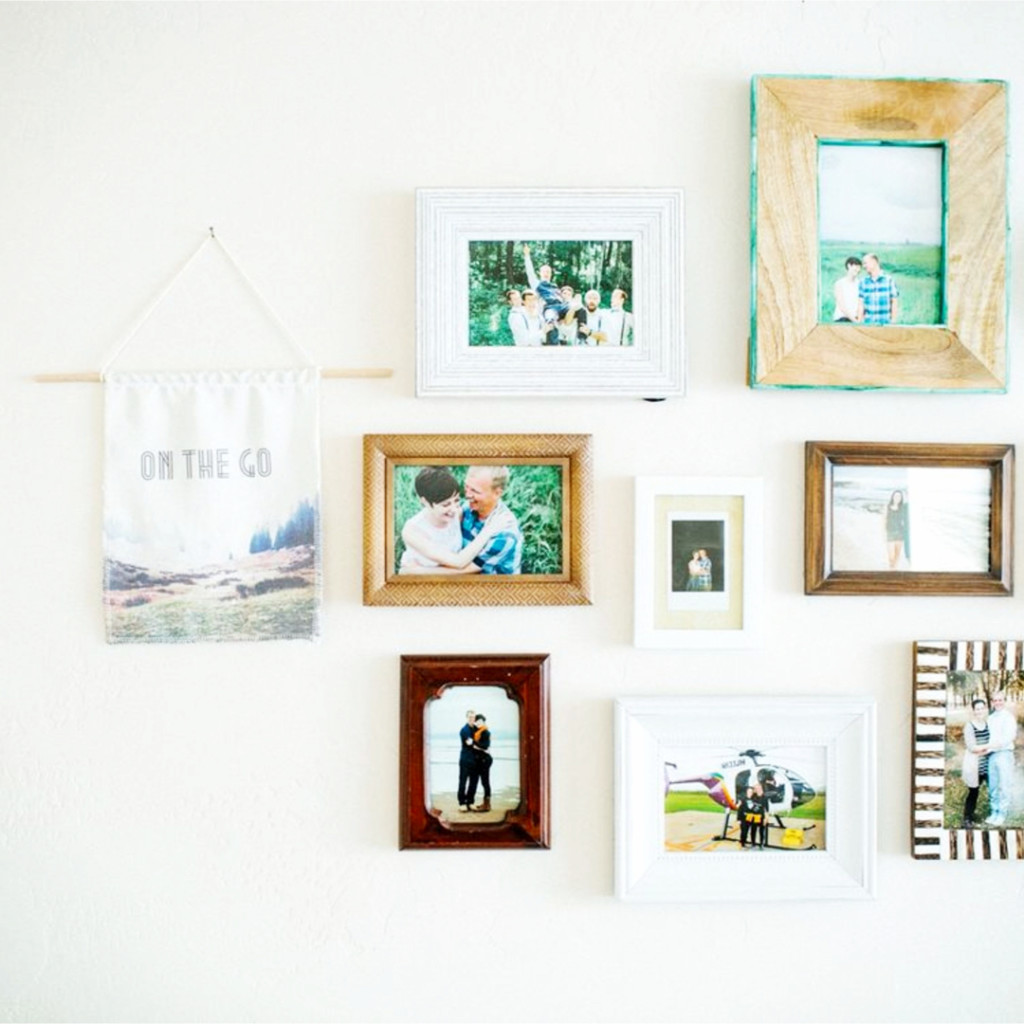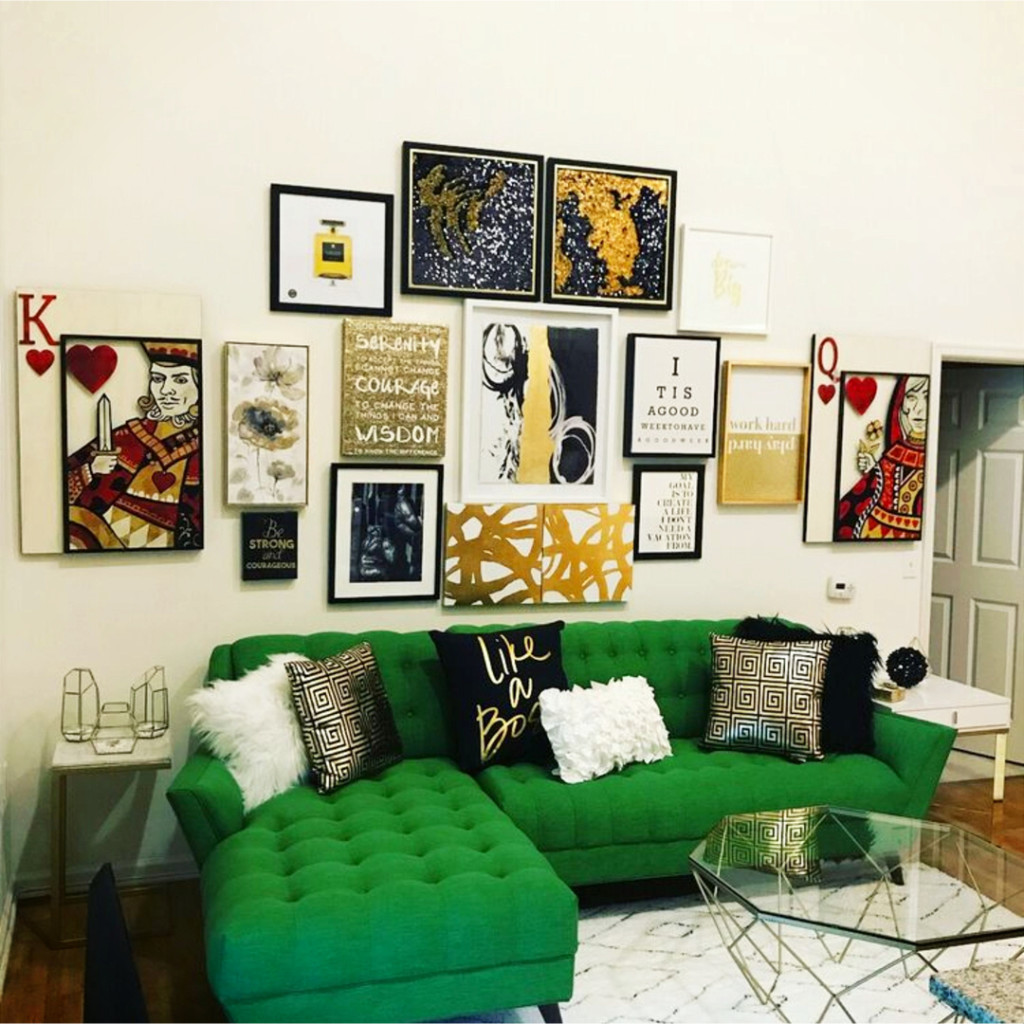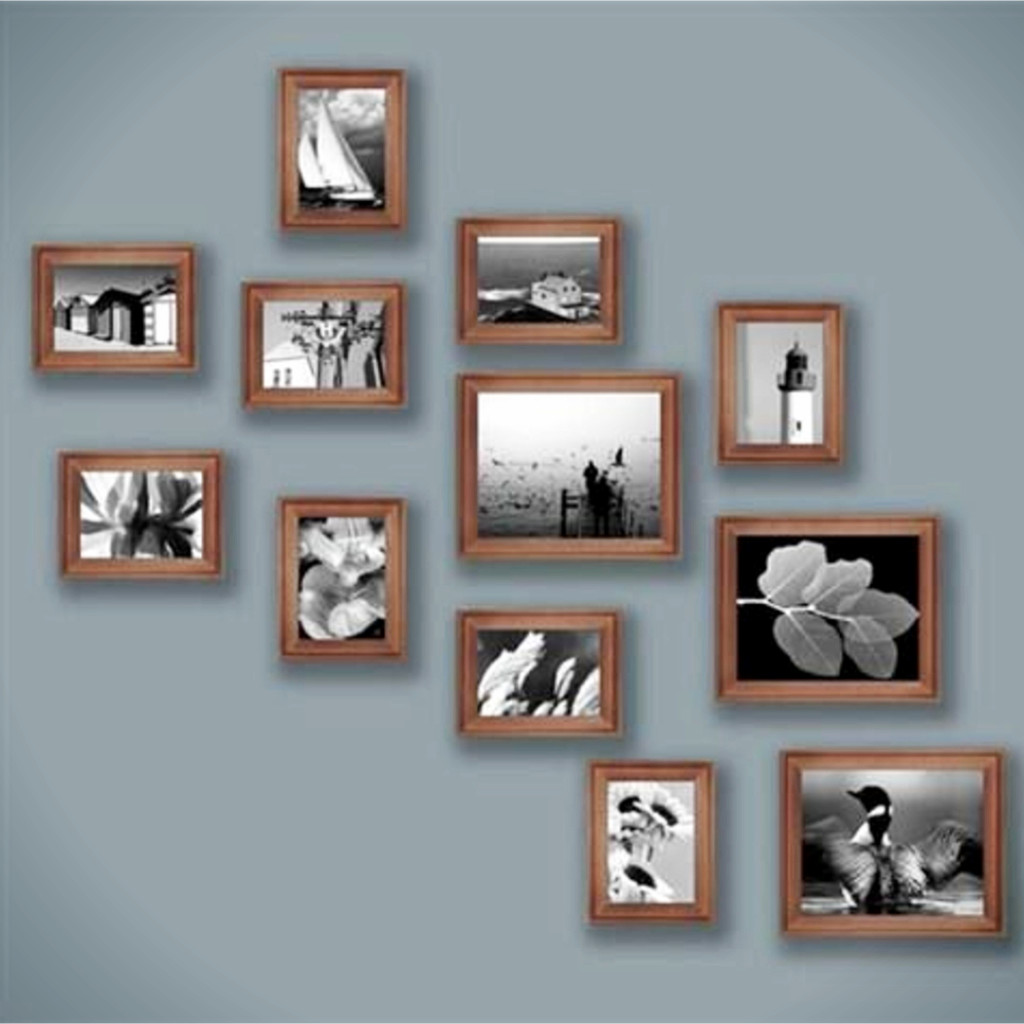 Gallery Wall Ideas
Let's take a look at some gallery wall layout ideas. There are simple gallery ideas for your living room, bedroom, stairway or foyer and also some modern gallery wall ideas.
A gallery wall can instantly elevate the style of any space in any room in your home. Gallery walls vary greatly, depending on the décor and taste of the people doing the arranging. They can be the full length of the wall, over a couch or other piece of furniture, going up a staircase, or just about anyplace else.
You can even arrange pictures on a wall shelf or two – below are great arrangements to try.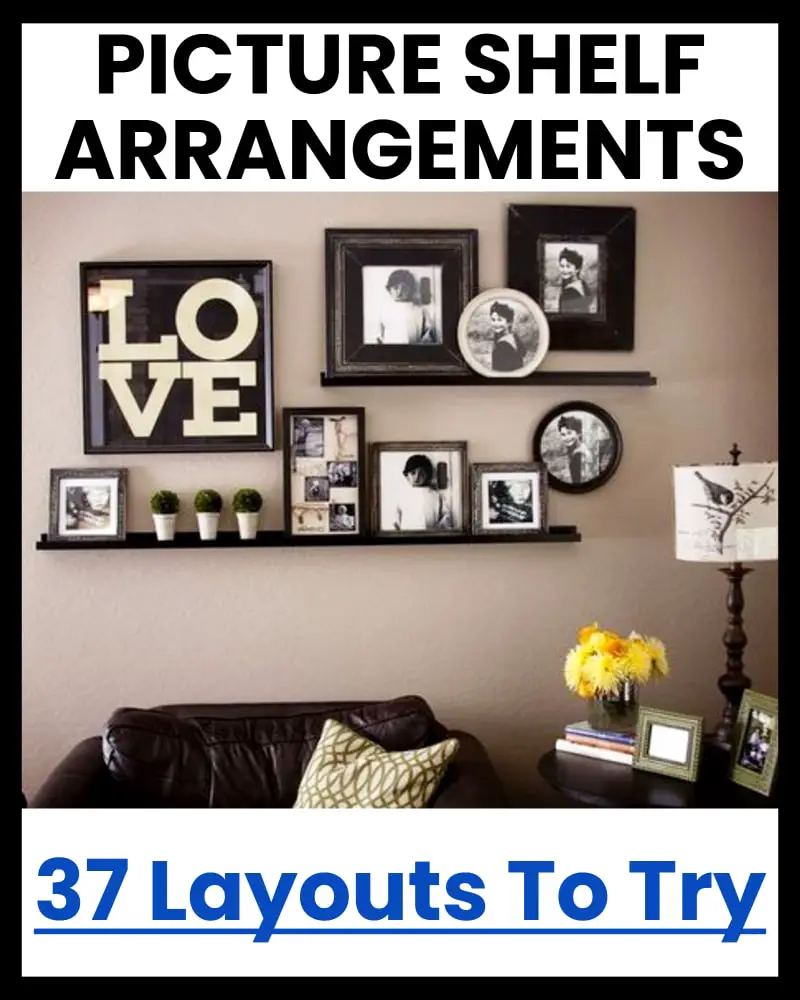 That what I love about these wall decorating ideas – gallery walls are so flexible – you can decorate your living room or bedroom with a gallery wall, decorate over your desk or around your tv – it's totally up to you.
This is a very simple family photo gallery wall over the couch in the living room – such an aesthetic arrangement and layout.
 Family Wall KitsGet More Info Accent Wall KitsGet More Info Photo Wall KitsGet More Info
I'm more of a farmhouse decor type of person (I just love the look and feel of rustic decor), but a gallery wall is more of an eclectic layout type of decorating idea that appears "random", but there really should be a lot of thought put into your gallery wall design BEFORE you hang everything up.
A gallery wall gives you a chance to make a statement about who you are and what you like. Your gallery is a wonderful way to document and tell a story of your travels and experiences, show photos of family members through the years, display art you've collected, display hand-drawn (framed) illustrations, incorporate metal or wooden objects you've collected, and much more.
Farmhouse Wall Decor Ideas
I really love farmhouse style decorating so I naturally tend to gravitate towards these farmhouse wall decor ideas when designing my own gallery accent wall.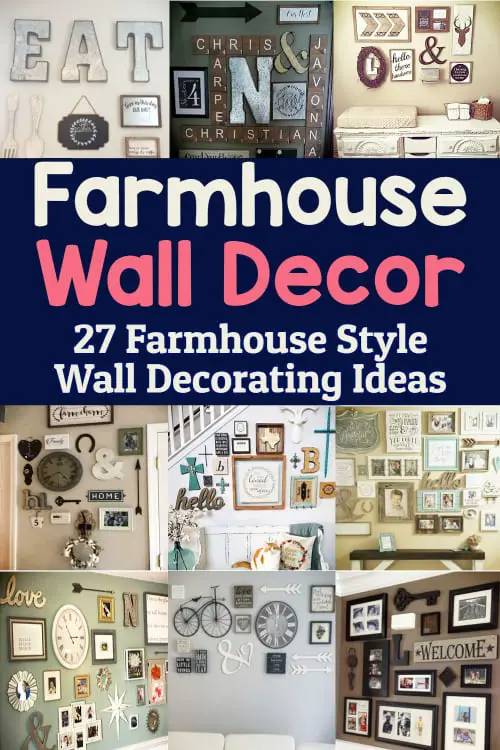 When designing your gallery wall or photo wall, first choose the photos and art decor items you want and then decide on the layout you'd like to use.
Just put all your items on the floor and rearrange them in different ways to give you an idea of how it's going to look on your wall.
Don't be afraid to try several different frames and wall hangings – the varying textures and colors will give your gallery photo wall a more aesthetic look.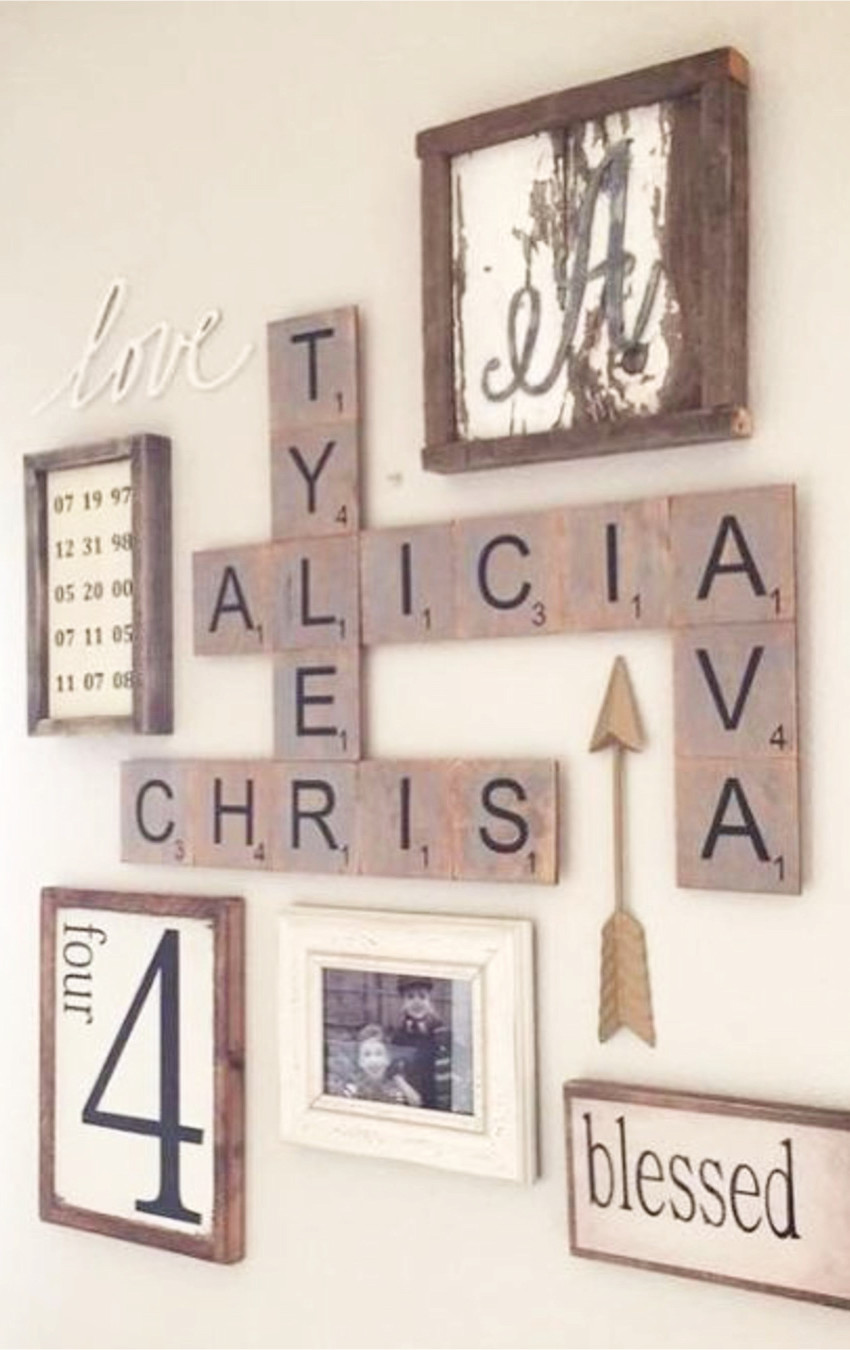 Break up framed art with wooden art, metal signs and even natural elements such as feathers, branches, found objects, etc.
Have fun using your imagination.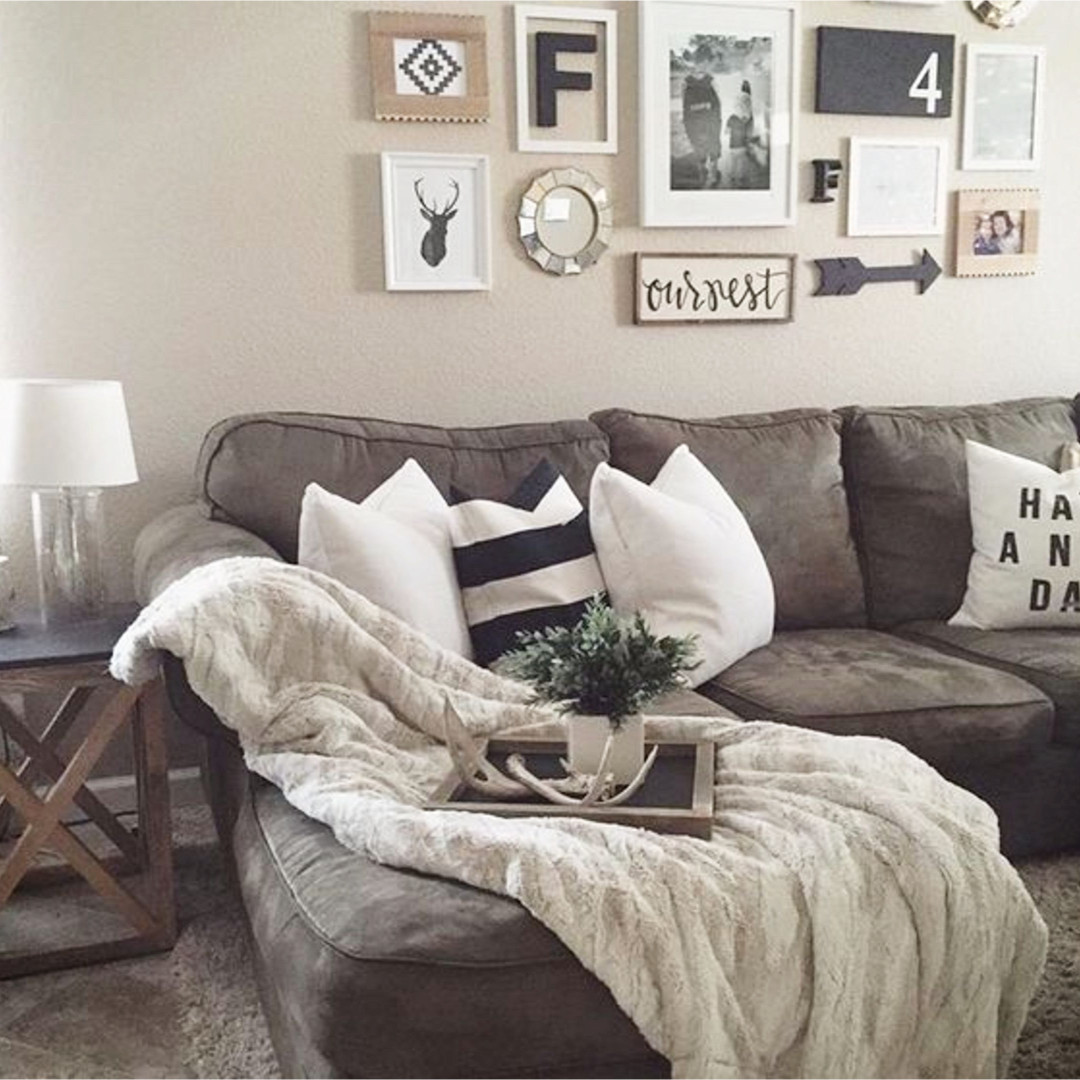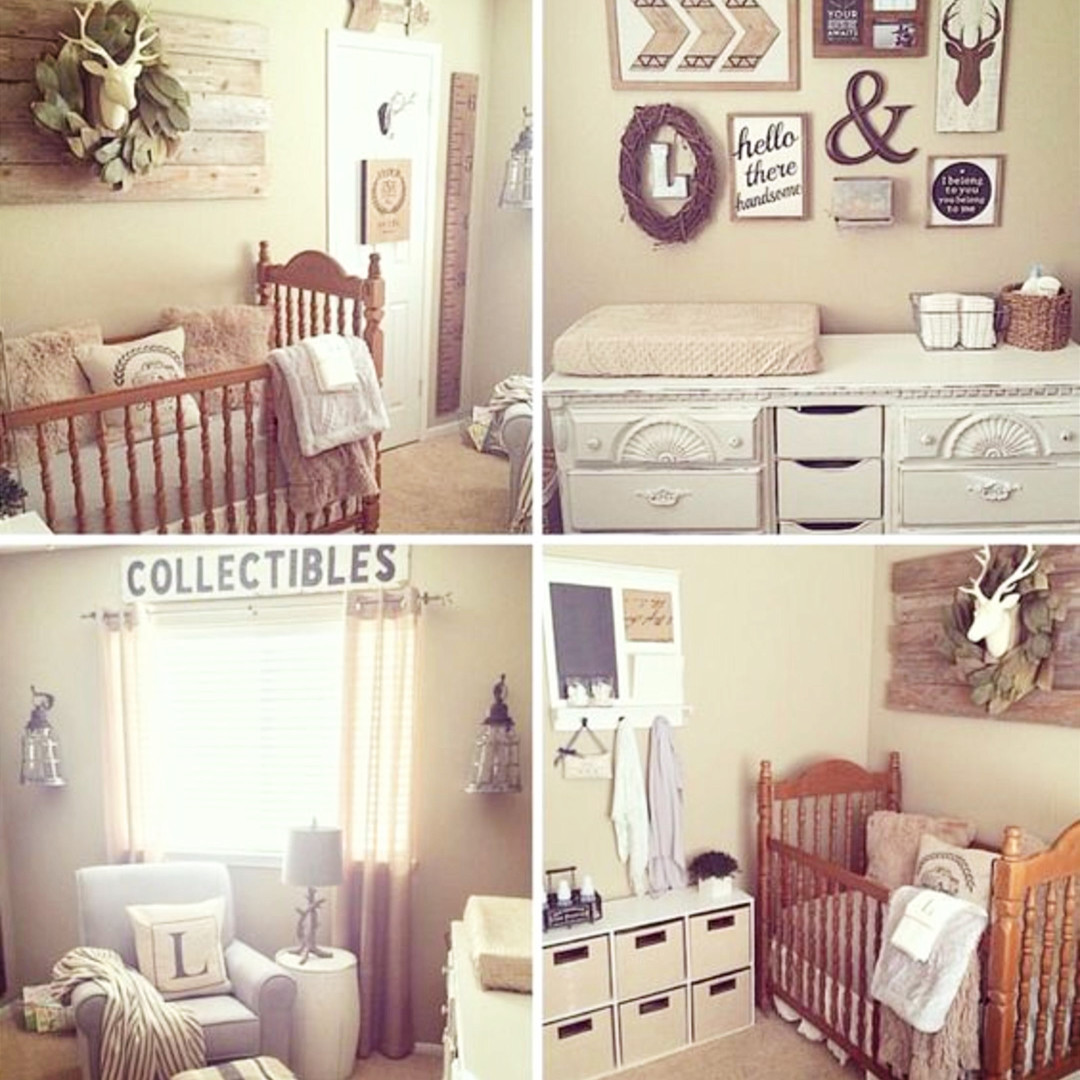 The best aesthetic photo wall arrangements have a nice balance like you see in the pictures here – don't be afraid to mix artwork of YOUR favorite pictures and items. Get creative & mix other items on your photo wall – see pictures for design inspiration – have high and low pieces – see our cheat sheet for do's and don'ts, combine black and white with color, etc. Gallery walls can consist of your favorite pieces of art, paintings, family photographs, trinkets from trips, metal or wooden objects, and much more. If you're looking for items to fill your gallery, go to flea markets, garage sales, thrift stores, Etsy, consignment shops, your grandmother's house, antique stores, and other places of interest. Enjoy the hunt.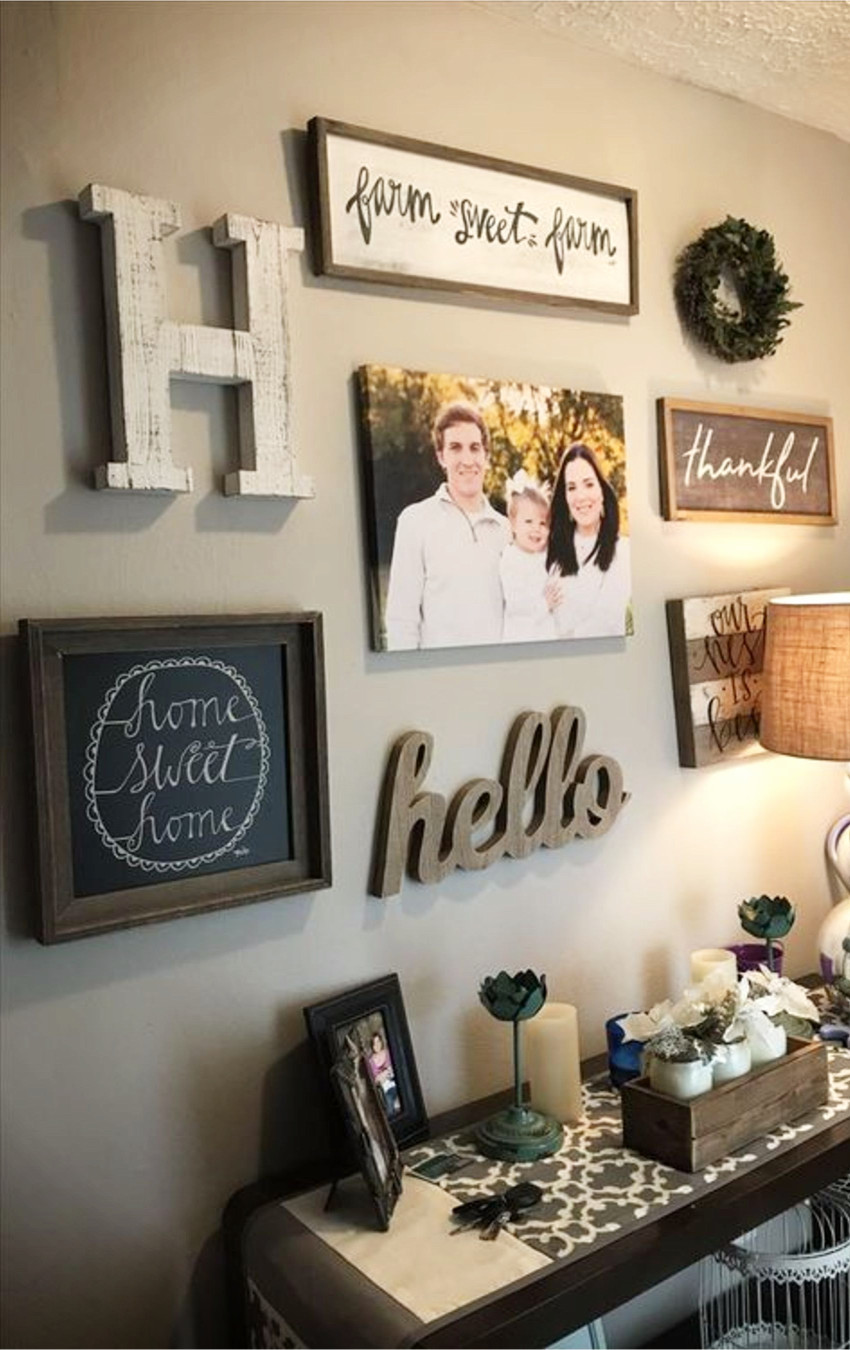 In addition to the art you select, be mindful of the frames that highlight the art. For a clean, formal, and minimalist look, select frames in the same size and color.
This is a great example of a gallery wall that uses all the same types of picture frames for a neat and organized look: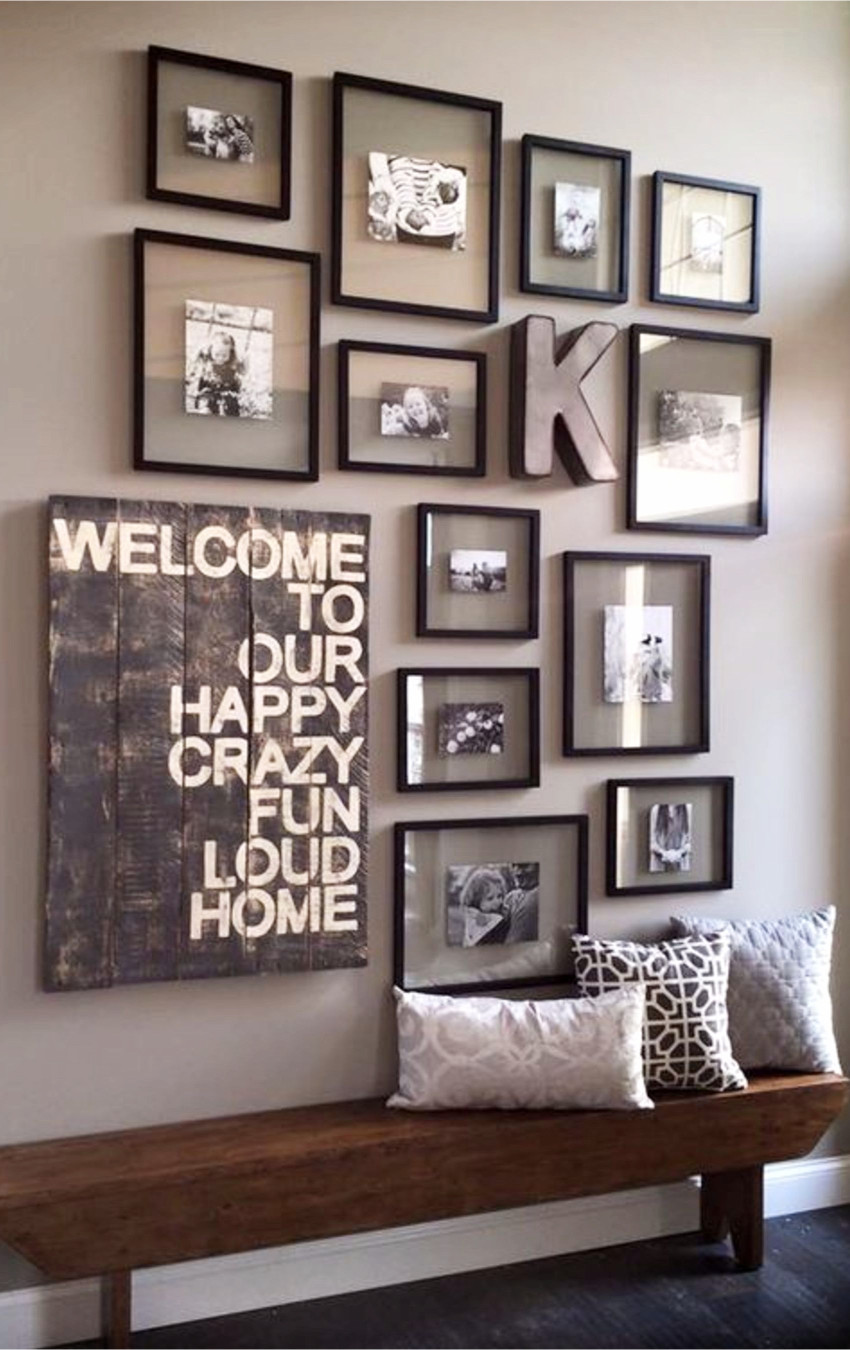 Welcome to Our Happy Crazy Fun Home Plank Wall Sign – By GanzGet More Info Welcome to our happy crazy fun loud home sign for family rustic family sign Welcome to our home welcome sign family sign farmhouseGet More Info Wood Sign Welcome to Our Happy Loud Crazy Fun Loving HomeGet More Info
For a more eclectic look, mix and match picture frames so it appears that you've collected the art over time. If you go online you will find many framing opportunities that are far less expensive than going to and framing shop. You can find interesting vintage frames at flea markets, antique stores, and yard sales.
Tip: If you have an unsightly object on the wall (such as the box for door chimes, why not put a frame around it to incorporate it into the gallery.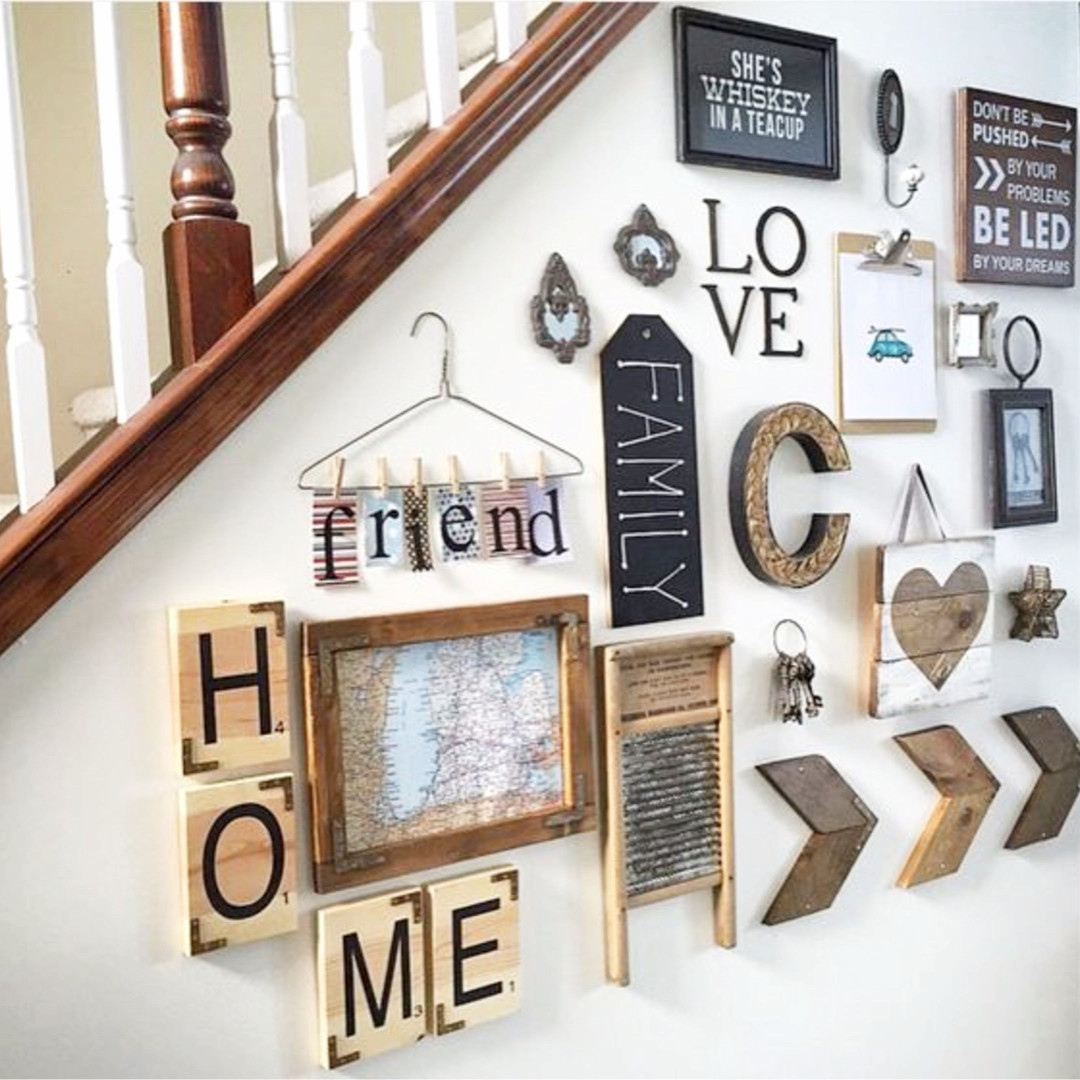 Family Tree Photo WallShow Me This Staircase Photo WallShow Me This Family Photo WallShow Me This
Family Photo Wall Layouts
Once you have picked your pictures for your family photo wall from the ideas here, it's time to decide on your family photo wall layout.
When it comes to your photo wall layout, remember that placement is everything. Don't just start hanging without a plan for the finished look.
Here are a few suggestions for coming up with a gorgeous family photo wall.
Measure the amount of wall space you want to fill. Then tape off a section that size on the floor. Arrange, re-arrange, and rearrange again everything you want to hang until you come up with the gallery wall that you feel looks best. Once you're happy with the arrangement, take a few photos for reference. Or cut out paper the exact sizes of your art and tape the cutouts to the wall. Then hang your art one object at a time.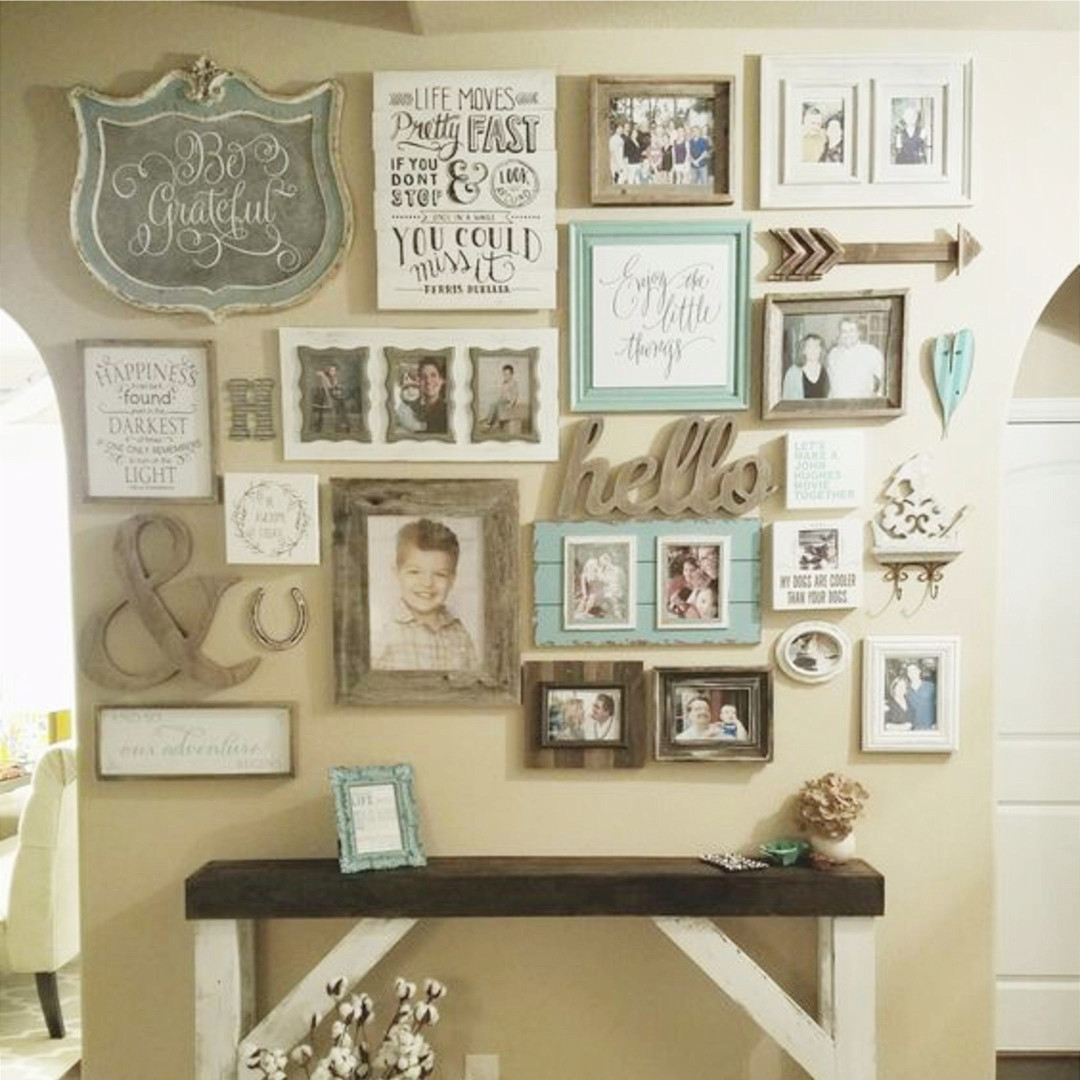 ---
The most important thing to remember is that there is no magic formula for creating an interesting gallery wall.
Don't let the process intimidate you. Just jump in and enjoy the creativity.
However, if you're feeling intimidated, I came across these helpful gallery wall layout charts on my Pinterest account.
As you will see, there are many ways a gallery wall or arrange family photos on your wall or stairway.
There is no "right way" or "wrong way" to create a nice family photo gallery wall.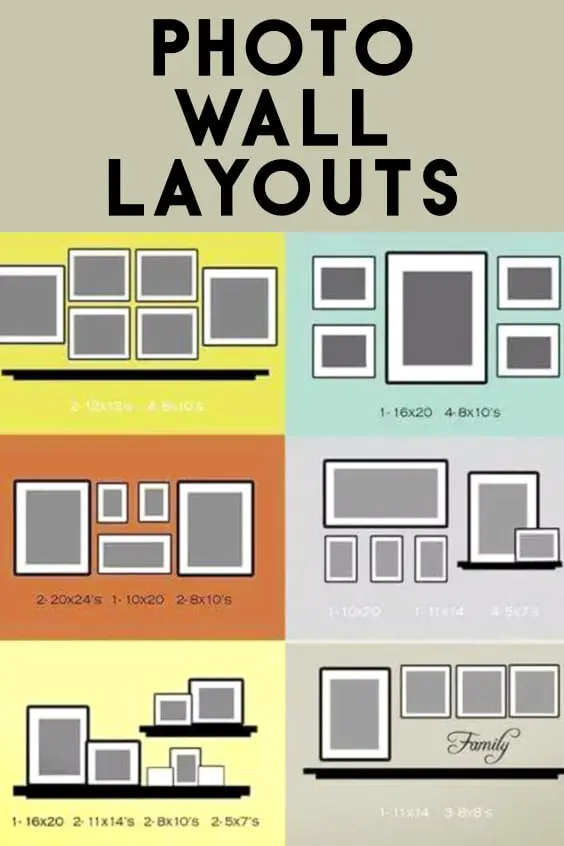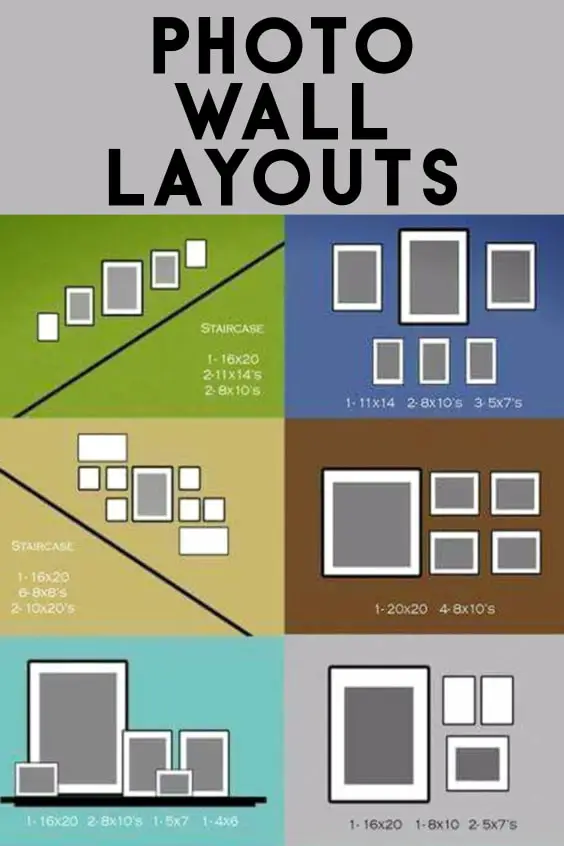 You can use a large variety of wall frames: that are the same shape and size, you can mix in objects, use mirrors and lights, mix paintings and photography, black-and-white and color or you can be eclectic and use a variety of sizes and shapes and combine high and low pieces or you can use any combination that stimulates your imagination.
Here is a great method that can help you create a simple and beautiful gallery wall: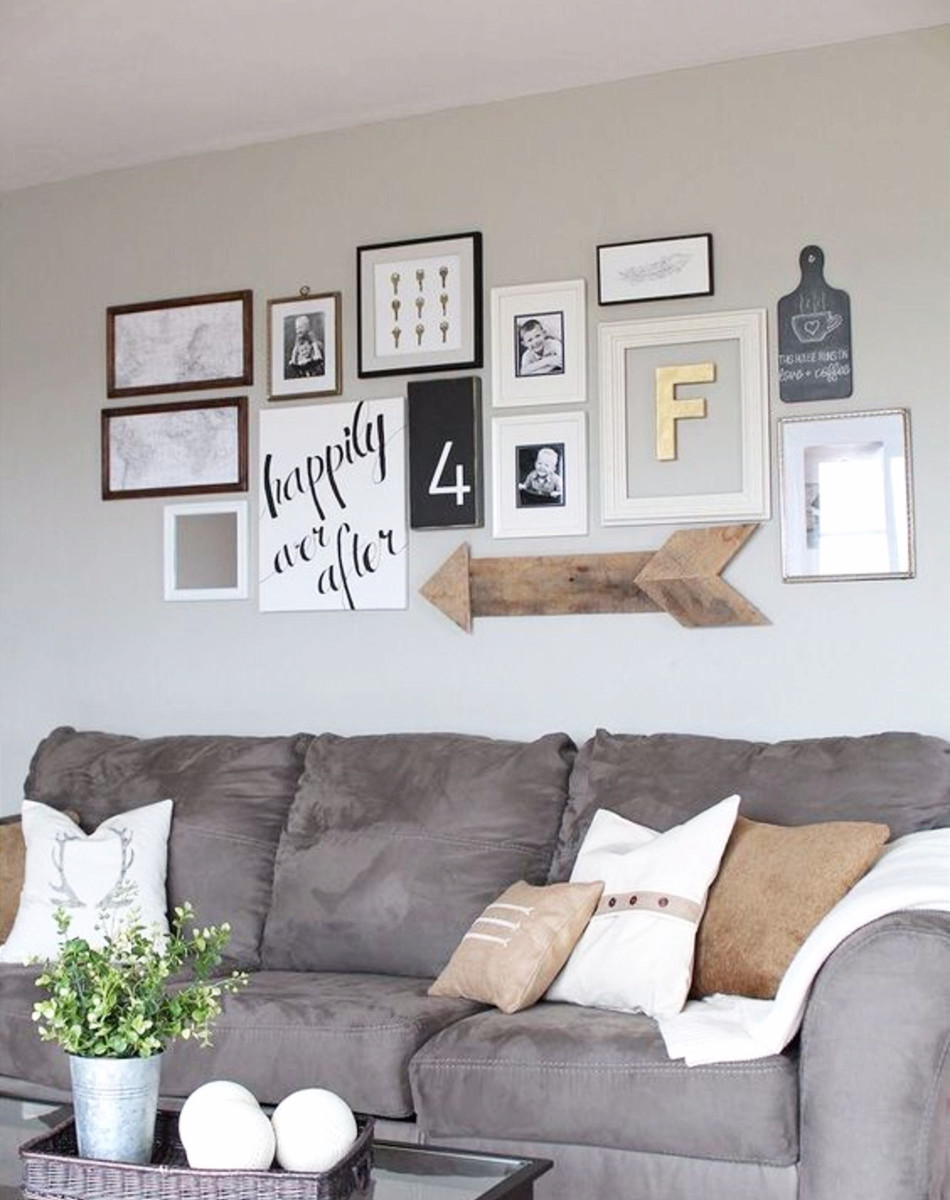 P. GRAHAM DUNN Happily Ever After Watercolor Floral Grey 5.5 x 5.5 Solid Wood Barnhouse Block SignGet More Info P. Graham Dunn This is Our Happily Ever After 12 x 12 inch Wood Puzzle Piece Wall Sign PlaqueGet More Info P. GRAHAM DUNN I Love Our Happily Ever After Distressed 12 x 12 Wood Lath Wall Art Sign PlaqueGet More Info
The most important thing to remember when creating your gallery wall is that there is not a specific method for displaying wall frames. You just have to enjoy the unique and creative process and your gallery wall will be a success!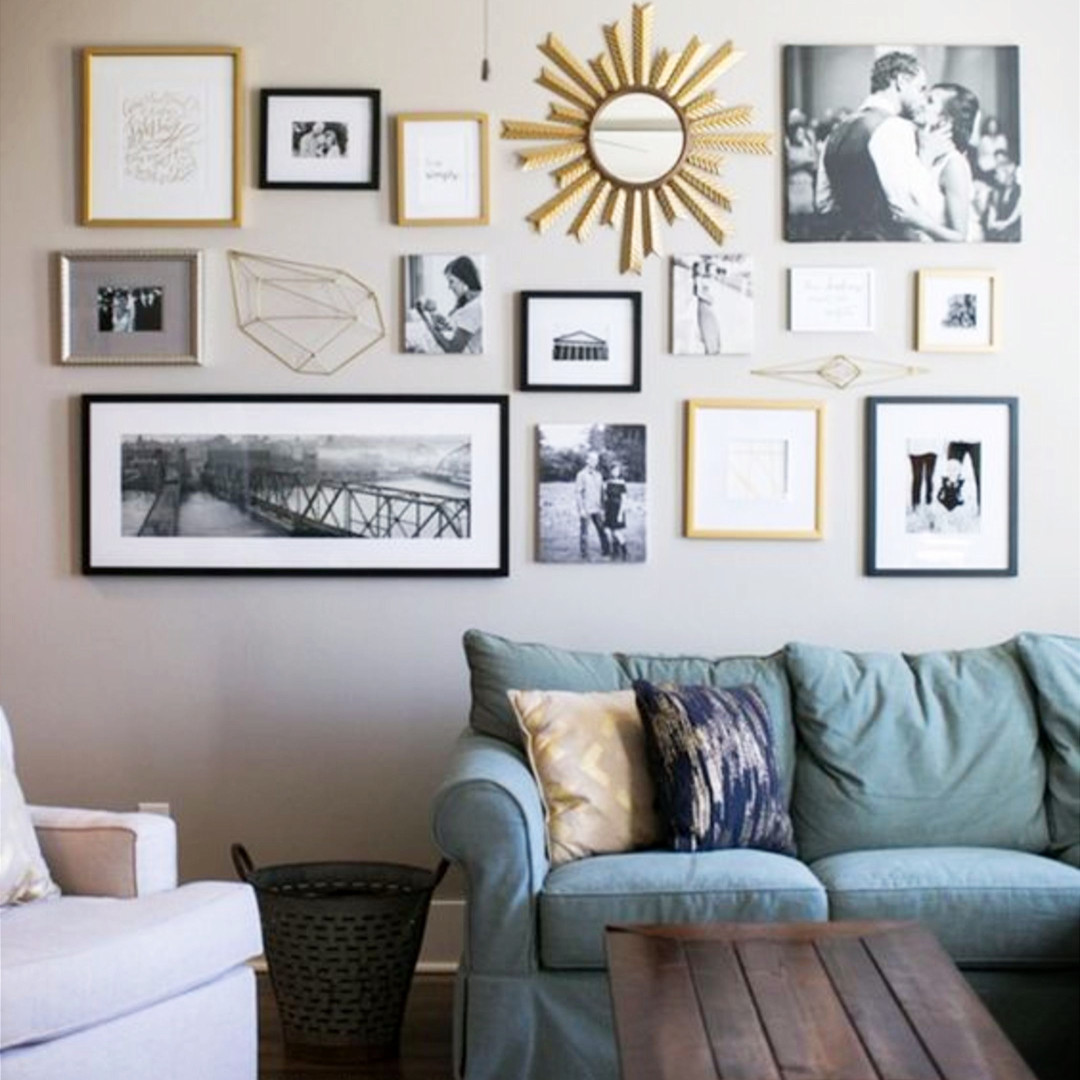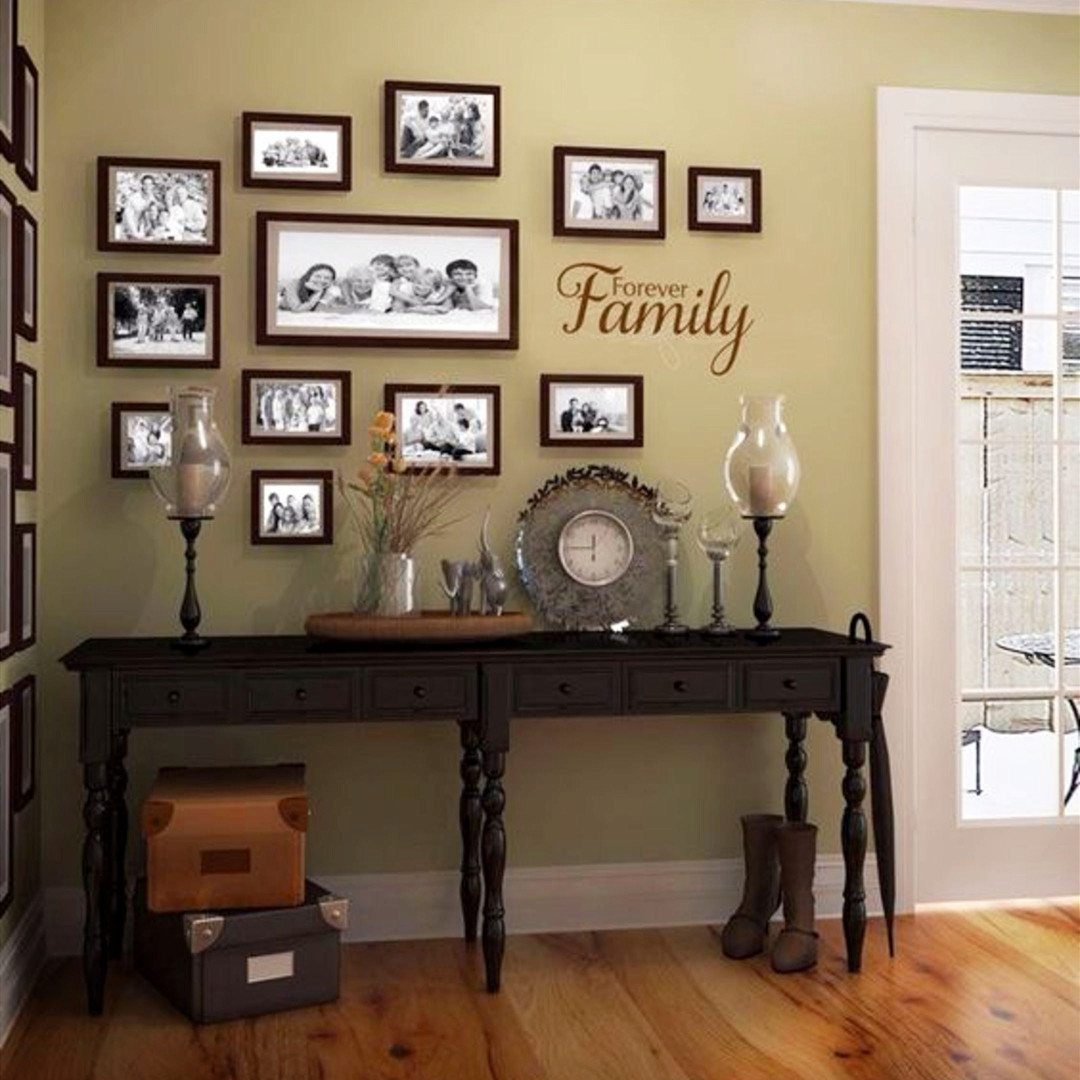 Picture Wall Layout Tips
Choose aesthetic picture frames that accent your photos-see pictures above for ideas.
Use the design charts above to try different layouts.
Start with the biggest pieces first
Then add in the smaller items
Photo wall frames should hang at eye level or around 5 feet.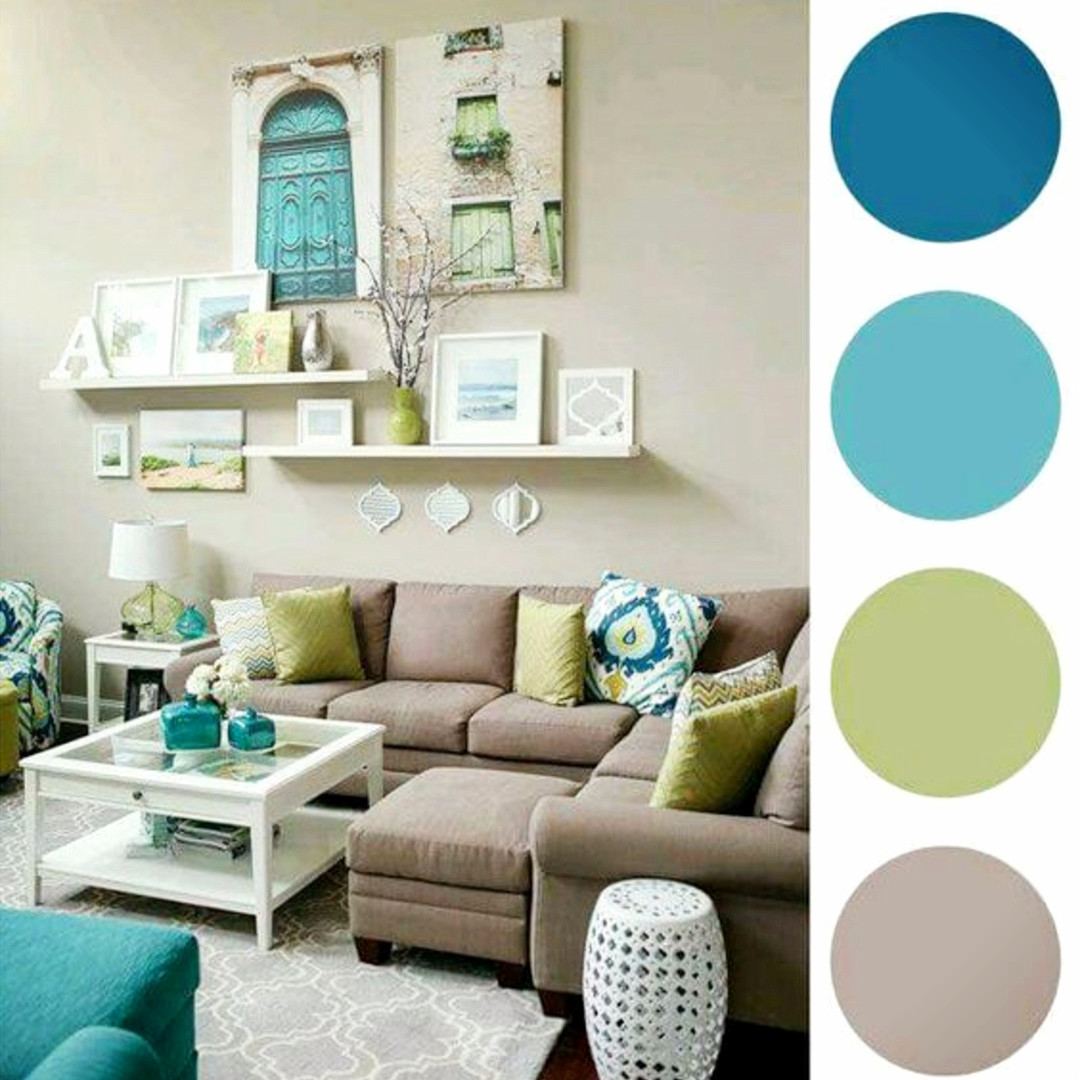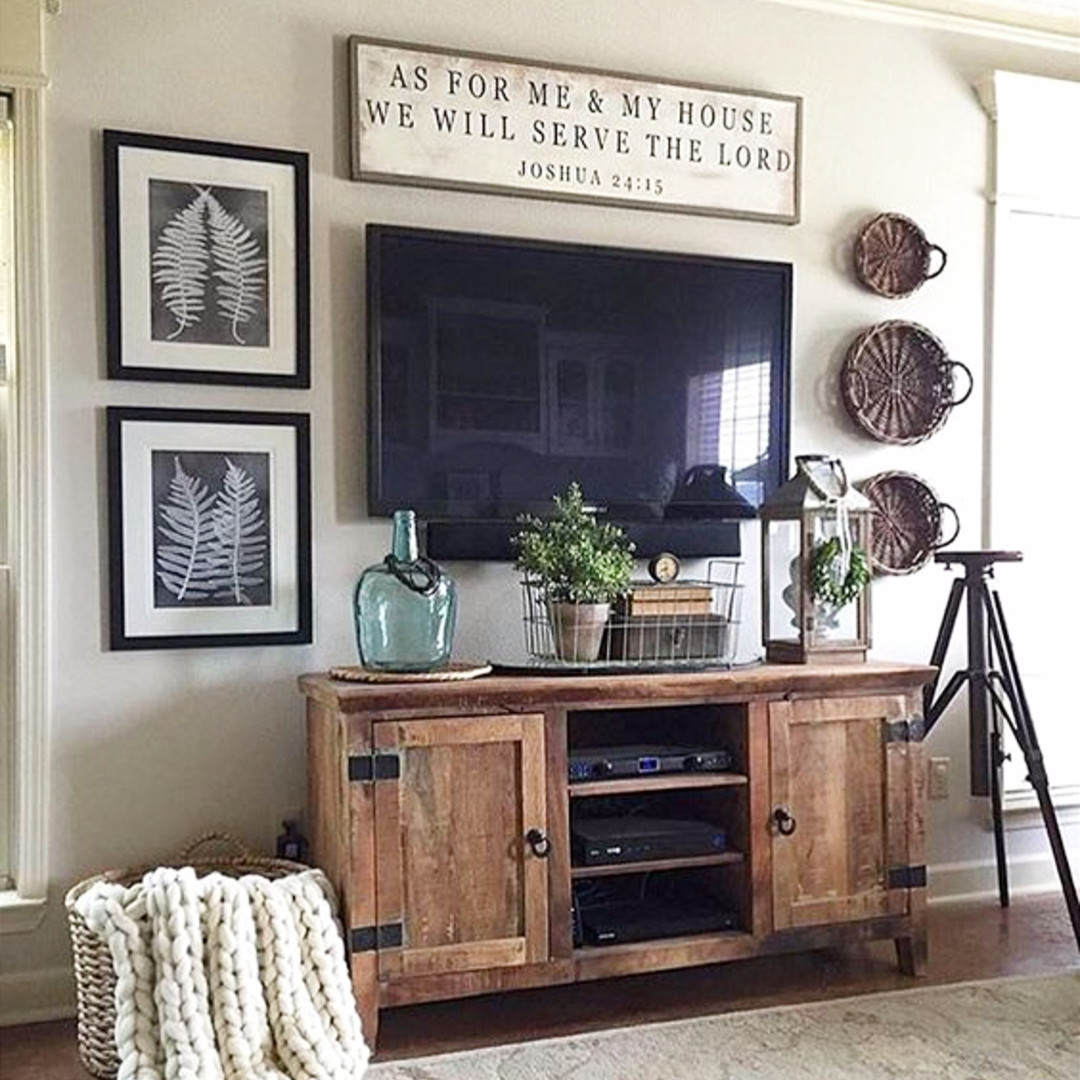 As for me and my house Wooden Sign Distressed wood sign Joshua 24:15 fixer upper style wall art 48Get More Info As For Me and My House We Will Serve the Lord – Wooden 3D Wallhanging – Joshua 24:15 – Bible Verse Wall Art Home DecorGet More Info LifeSong Milestones Sign for livingroom entryway Kitchen Bedroom Wall Art Decor Print (As for Me and My House)Get More Info
We take lots of pictures over time, but how often do we take the time to get those photos off our computers and up on our walls? If your walls are empty, I hope these accent gallery wall ideas can help you create unique photo displays, so be prepared to be inspired by the arrangement ideas described here.
One of the most common display methods is to fill a large wall space with a collection of pictures or art work framed identically or framing similar photos in the same size frame. But be a little more ingenious and try to create your own wall frames out of cardboard tubes… clever, isn't it? Or if you own an empty corner, than corner picture frames are just right for you.
Do you own pictures of different members of your family? Then you can create a wonderful family tree wall. Or you inherited your grandma's handbags? Don't throw them away just because they're old… use them to manufacture some special and unusual wall frames.
Ledges mounted to a wall provide a flat surface for arranging framed or mounted photos, unique art, prints, canvases and other products. An ingenious idea is to cut some old suitcases in half and use them as shelves mounted to a wall. Nice isn't it?
Another great idea of arranging photo is using a metal wall frame with clips. You can arrange the clips and photos into any design you want! Such a photo display is super cute. It is modern, high quality and adds to any room. It's an inexpensive way of decorating a wall and making a difference in the room. Pictures or art don't always have to be framed. An unconventional display could be to hang unframed prints or pictures from a length of wire with clips.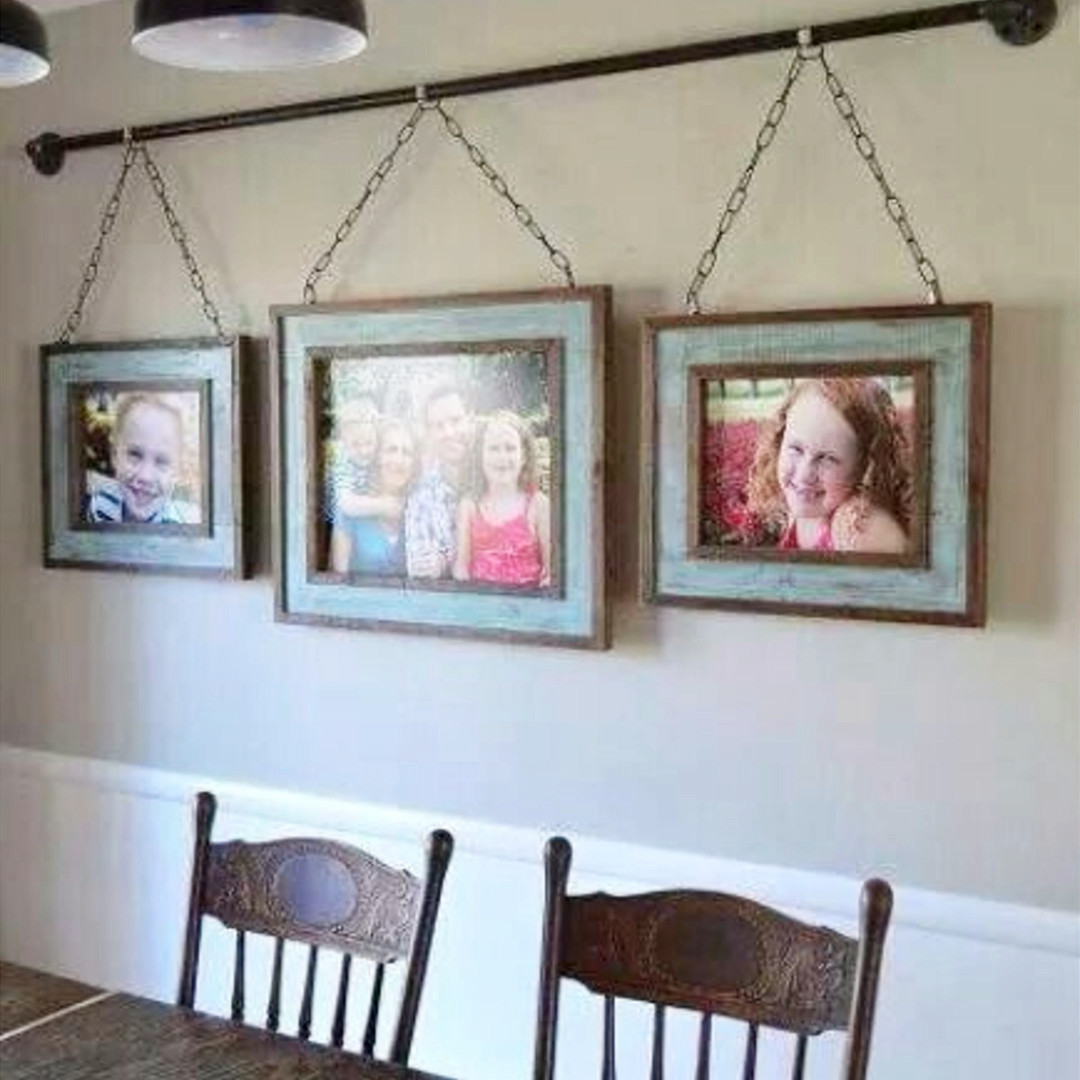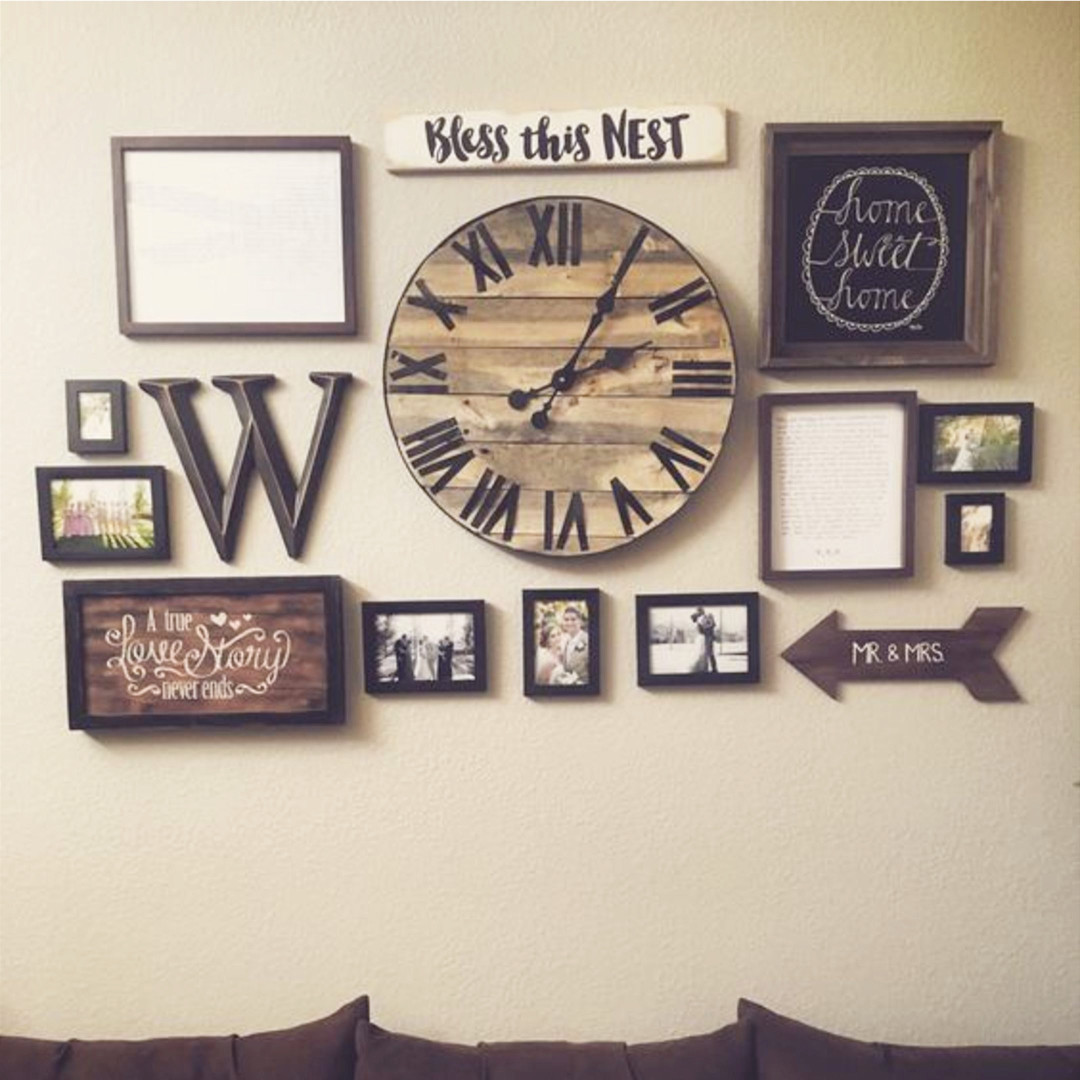 Last updated on September 30, 2023 7:28 pm
---
More DIY Decor Ideas
 7 Piece Gallery Wall SetsGet More Info 9 Piece Gallery Wall SetsGet More Info 12 Piece Gallery Wall SetsGet More Info
More Wall Decor Ideas:
Miss Anything?
Go back to the top of:
==>> Aesthetic Photo Wall Ideas
Go back to a specific section:
More Ideas: