Are you ready to take your house back and enjoy the clutter-free home you deserve? I know, decluttering is hard and it's so EASY to give up.
Let me help you keep decluttering without feeling defeated with such a simple decluttering inspiration phrase that helps ME so much.
This is the BEST Decluttering Tip I Have – and it really, REALLY helps when you're trying so hard to take your house back and declutter your home but SO want to give up!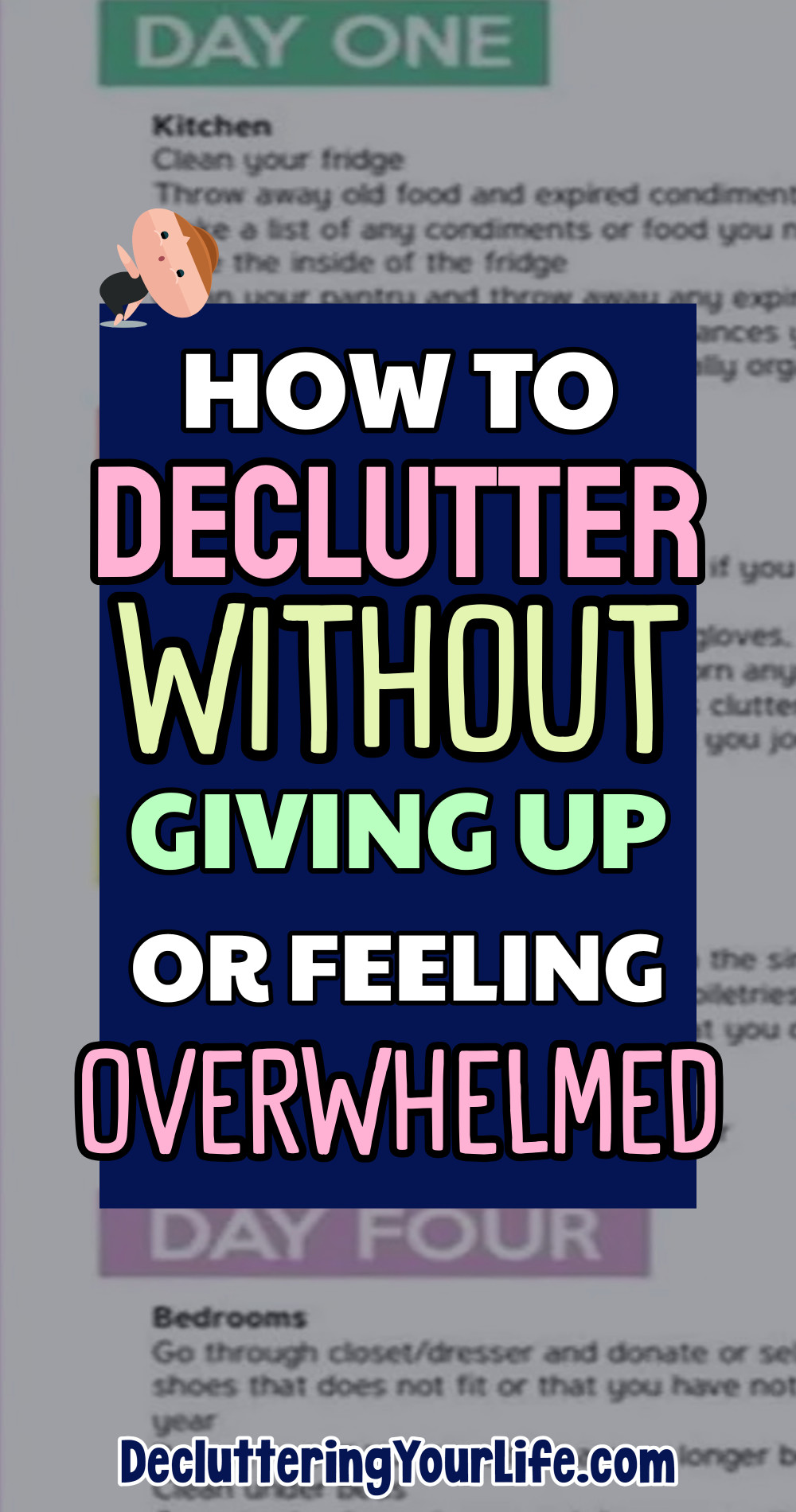 Welcome to Decluttering Your Life - we hope you enjoy our quick decluttering tips, organization ideas and simple DIY solutions for your home - posts may contain ads & affiliate links - that's how we keep the lights on =)
---
---
---
When you're working SO hard to declutter your home and feel like you're not getting anywhere, there are 4 simple words I want you to repeat to yourself over and over…and over.
These 4 words WILL help you feel better about decluttering your life and, best of all, recognize and APPRECIATE your accomplishments along the way.
Look, I get it… heck, we've ALL been there –
You spend HOURS decluttering your kitchen cabinets or organizing your pantry and you can't really SEE the progress you've made.
Many times, it feels as if you've made a BIGGER mess than you had before.
Yes, decluttering is messy at first and THAT is a VERY defeating feeling.
What's the point of doing all this if things don't LOOK perfect?
What's the point if no one else can SEE all the work you've done?
That's a cruddy feeling, isn't it?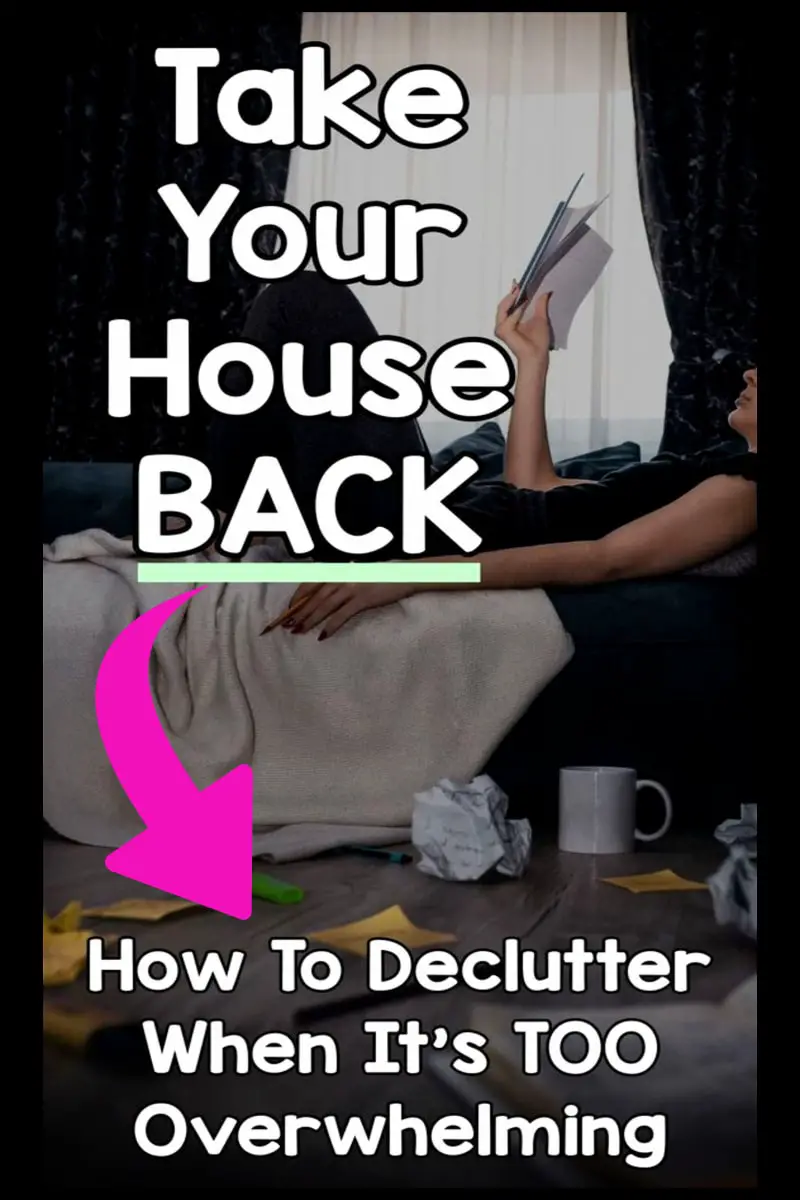 When you start to feel defeated and feel overwhelmed – and wondering WHY you're doing this if no one else notices all your hard work…
I want you to repeat these 4 words to yourself over and over… and over again as many times as it takes to remind yourself that all your hard work IS paying off:
Better Than It Was.
✅  Feeling Stuck?
I literally spent 4 HOURS going through 2… yes, TWO drawers in my bedroom the other night.
Know what I ended up with when I finally got tired and quit decluttering for the day?
A BIGGER mess than anyone saw BEFORE I started.
That was SO frustrating!
And the rest of the family was like, "What the heck have you been DOING?!?!?!"
Ugh!
In a sad way, it was easier when my clutter was hidden away in those drawers.
I've become pretty good at faking a clean house =)
All my decluttering efforts sure didn't make my bedroom LOOK "better than it was"!
So I had to sit myself down and have a talk with myself…
"Self", I said…
"Your hard work WILL pay off… and your drawers ARE better than they were. Good job!"
I keep reminding myself to stick to my list and keep at it – even if I only declutter one hour a day, like this: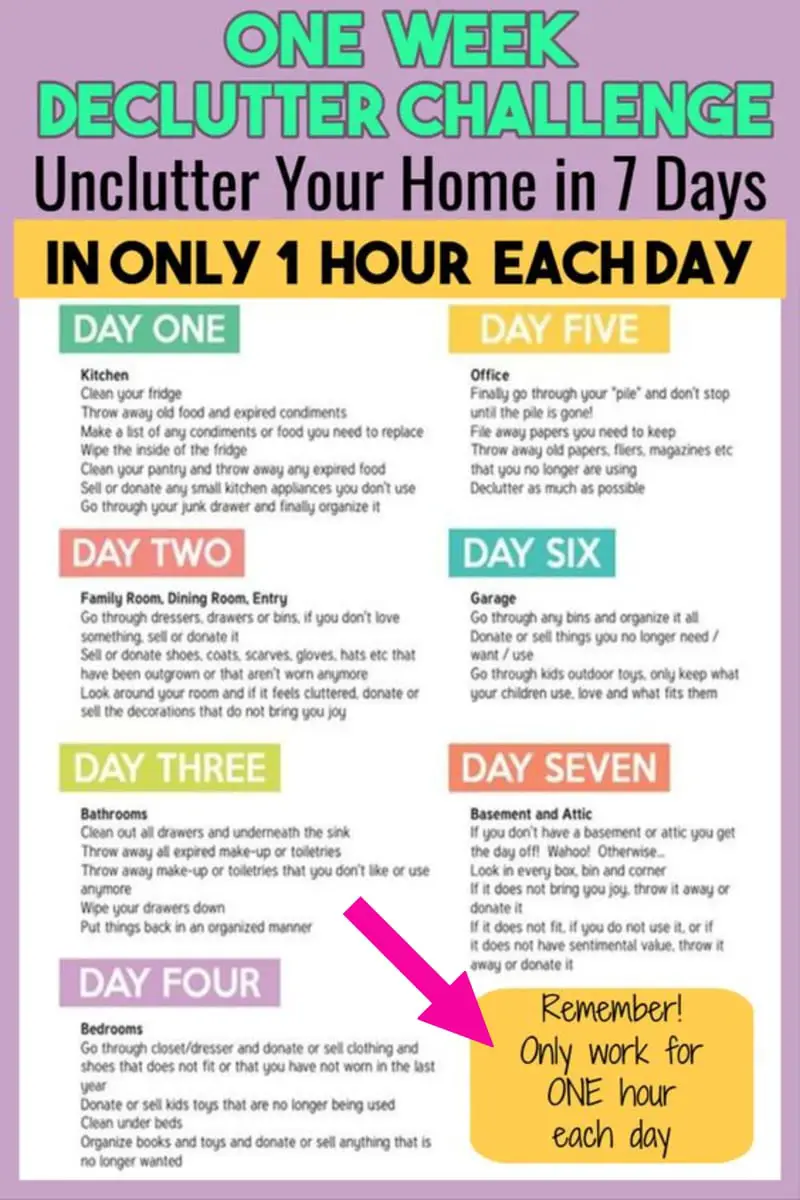 When clutter is overwhelming, it is really hard to make things LOOK better even after hours and hours of hard work.
But once you understand how clutter is affecting you and how it builds up, you KNOW deep in your soul that things are probably going to LOOK worse before you, or anyone else, sees things getting better.
And that's ok!
My 2 bedroom drawers ARE better than they were BEFORE I started.
And that's a WIN!
When you work on clearing the clutter from ANY area in your home, make sure you leave it…
Better Than It Was.
And be damn proud of yourself!
Slowly decluttering is better than NOT decluttering your home at all.
Decluttering and taking your house back is a SKILL – for most, like ME, it's not something we learned growing up or by the homes we lived in.
Before you can really start decluttering your house, you really need to understand WHY it's so cluttered to begin with.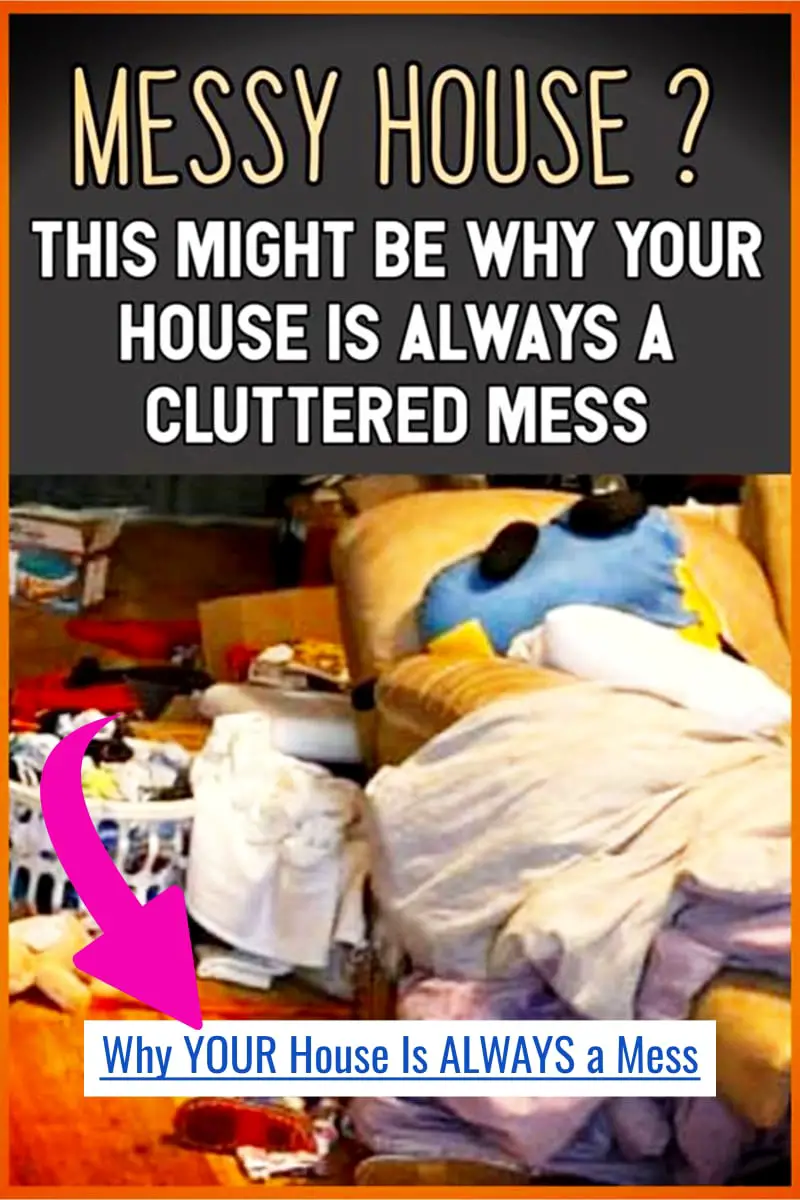 As an example:
My grandfather had hoarding tendencies and, as a kid, living like that was almost normal.
Until I grew up….and looked around my own home.
I can't count the days I've wanted to declutter EVERYTHING only to find I couldn't get rid of ANYTHING.
I'd actually feel BAD getting rid of things.
✅   Turns out I have Decluttering Guilt… (do you?)
It's actually pretty common…
BUT, it still made me feel like a FAILURE!
I have a hard time getting rid of stuff (truth be told), but I've slowly learned how to be ruthless when decluttering and cutting myself some slack.
As with all hard things – finding motivation to clean and declutter is SO challenging!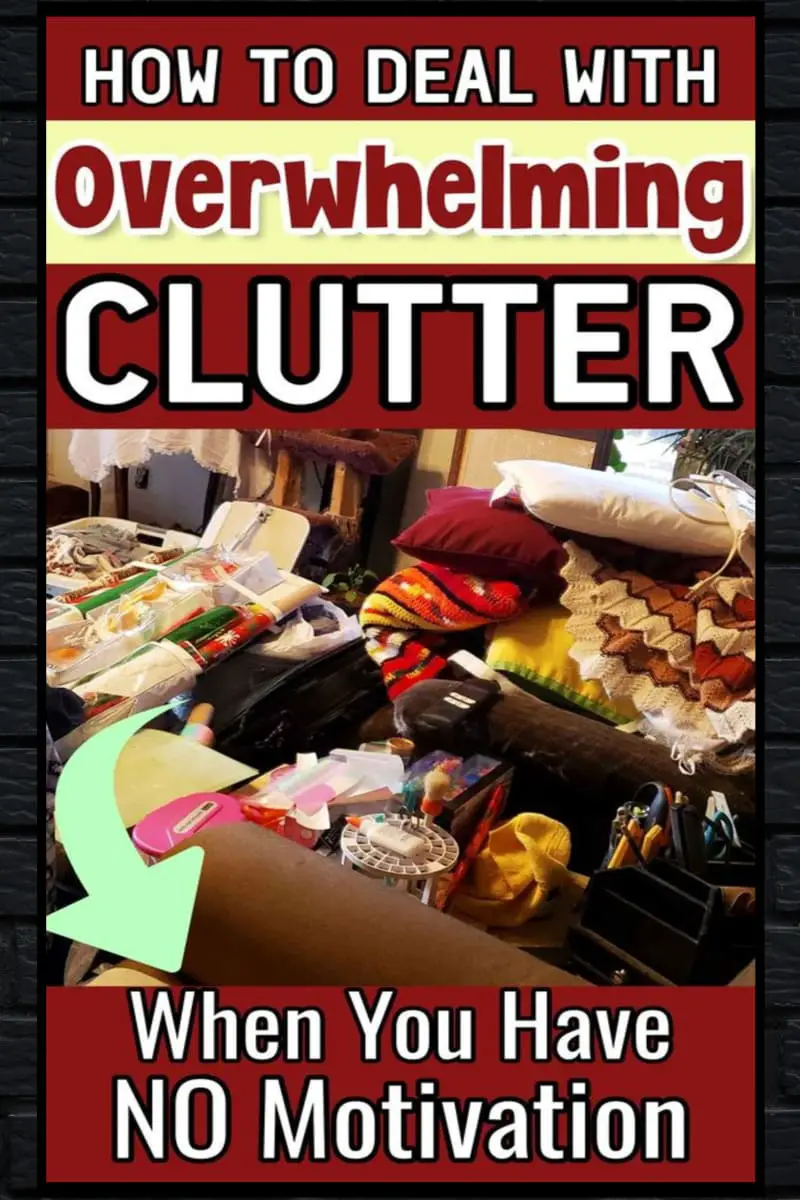 When I start to feel defeated and like I'm not getting anywhere, I wonder what I'd say to a dear friend who was trying so hard to declutter and take HER home back…
What would I say??
I surely wouldn't be mean and heartless… I would NEVER want my friend to feel defeated!
So, why… WHY don't I treat myself the same way?!?!
Know what I would say to my friend?
"OMG! This Looks SO much better than it was! Great job!"
And that, my friends, is how we need to treat ourselves when WE are decluttering our own homes.
Just declutter room by room like this… and keep at it.
If it's WAY too overwhelming…
By the way…
YOU are doing a GREAT job!
Keep up the great work!
---
---
More Tips To Help YOU Take YOUR House Back:
---
My House Was a MESS!
And my anxiety was through the roof!
I needed a plan to get it together - it was all pushing me over the edge.
Thing is - we
LIVE
here... I never had the fantasy that my home would ever look "Pinterest perfect".
I simply wanted more control, less clutter and much less anxiety.
I finally found something that worked for ME.
My house is now easier to clean - I can now clean it in minutes, instead of hours.
I can now actually FIND the things I'm looking for.
I learned some simple decluttering systems that make me much more efficient every day - and I'm more relaxed and less overwhelmed all the time (finally)
My house now looks pretty darn good almost all the time.
Best of all - I no longer stress about guests unexpectedly showing up.
Turns out, it was so much easier to do than I ever expected.
This is how I did it
.
---
---
✅
Insiders Tip:
These are my FAVORITE storage containers
They are airtight and they look GREAT sitting on my kitchen counters, in my cabinets and other storage spaces around my house!
I even use them for my desk and craft stuff - LOVE them!
 5-Piece POP Container SetsShow Me This POP Container Value SetsShow Me This
---