Closet Organization Tips To Declutter and Organize Your Clothes and KEEP It That Way – Feeling OVERWHELMED by too many clothes? Let Me Show You How To Be RUTHLESS When Decluttering Clothes In Your Closet Even If You Like Them ALL – 'cause girl, you have too many clothes!
If you're ready to get your closet SERIOUSLY organized, keep scrolling and get ready to clean out YOUR closets in 5 minutes flat… AND I'll tell you the SECRET to KEEPING it that way!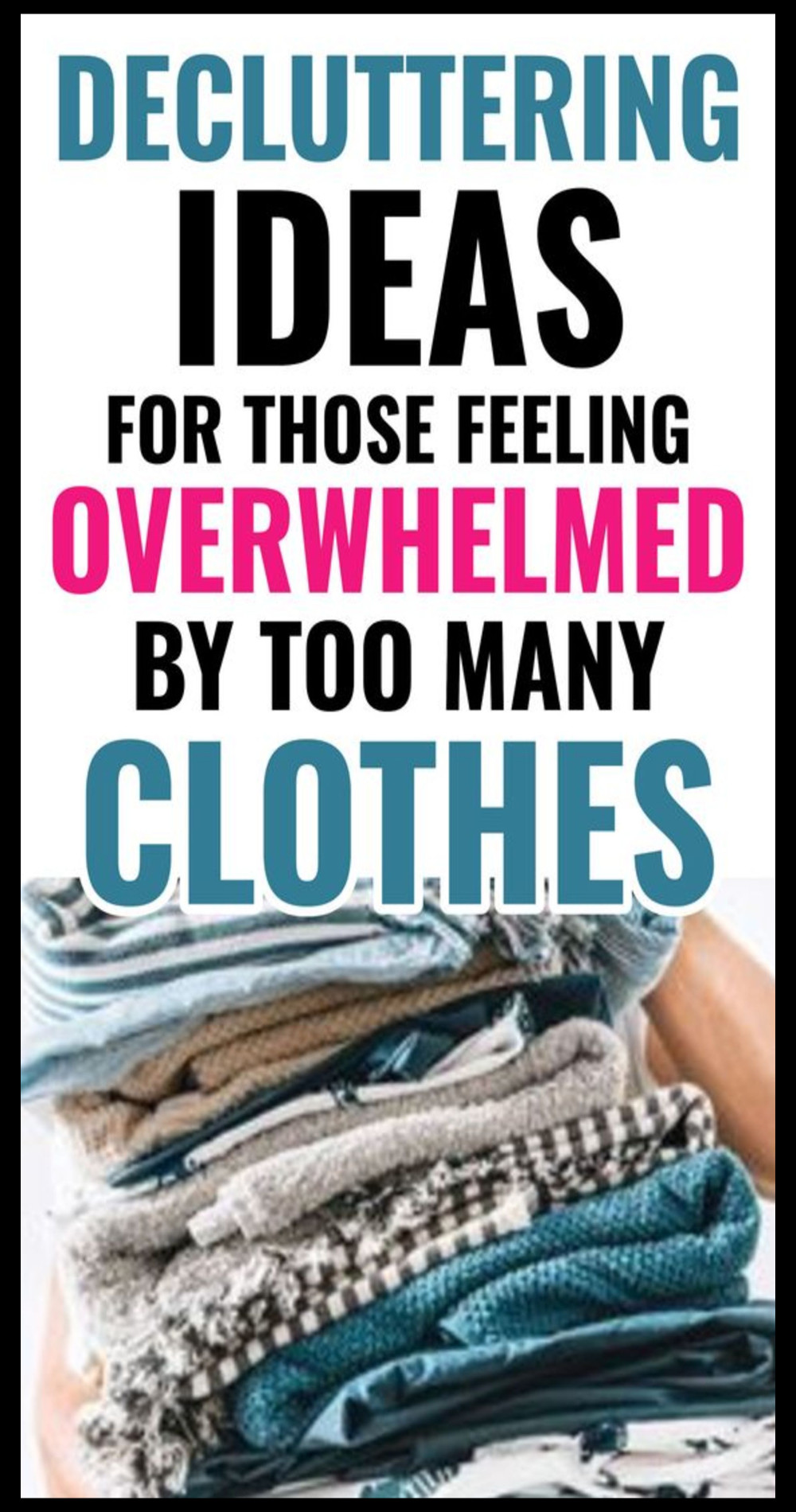 Ok, let's declutter CLOTHES and see some creative space-saving closet storage and organization ideas for ALL your clothes! Today's topic is a BIG decluttering challenge: How To Sort Clothes in Your Closet so YOU can finally accomplish Mission: Declutter Clothes!
 Easy Way To Hang More ClothesGet More Info How To Sort Clothes IdeasGet More Info Get More Closet Space IdeasGet More Info
Sorting and organizing clothes in your closet sure can be overwhelming at first, but with these simple little tips and tricks below you will have your clothes decluttered and your closet organized in no time!
We all KNOW what happens when we have TOO MUCH STUFF in our closet –
You can't find anything – you're overwhelmed and frustrated – you tend to spend MORE money on new clothes because you can't remember what you already own…
AND… THIS disaster – has this ever happened to YOU?
That has happened in THIS house more times that I care to admit – and what a DISASTER. The last time it happened, I swore my hubby was on the verge of throwing EVERYTHING away – he was SO tired of fixing it!
So, let's declutter those clothes!
Start With The End
When it's time for a MAJOR closet clean out, I like to START with the END in mind. I find that having a "visual" of what I want my closet to look like and how I want things organized and arranged really helps to get motivated to clean (even when I do NOT feel like it!)
What I WANT to achieve after all my work is done is…
The PERFECTLY organized closet!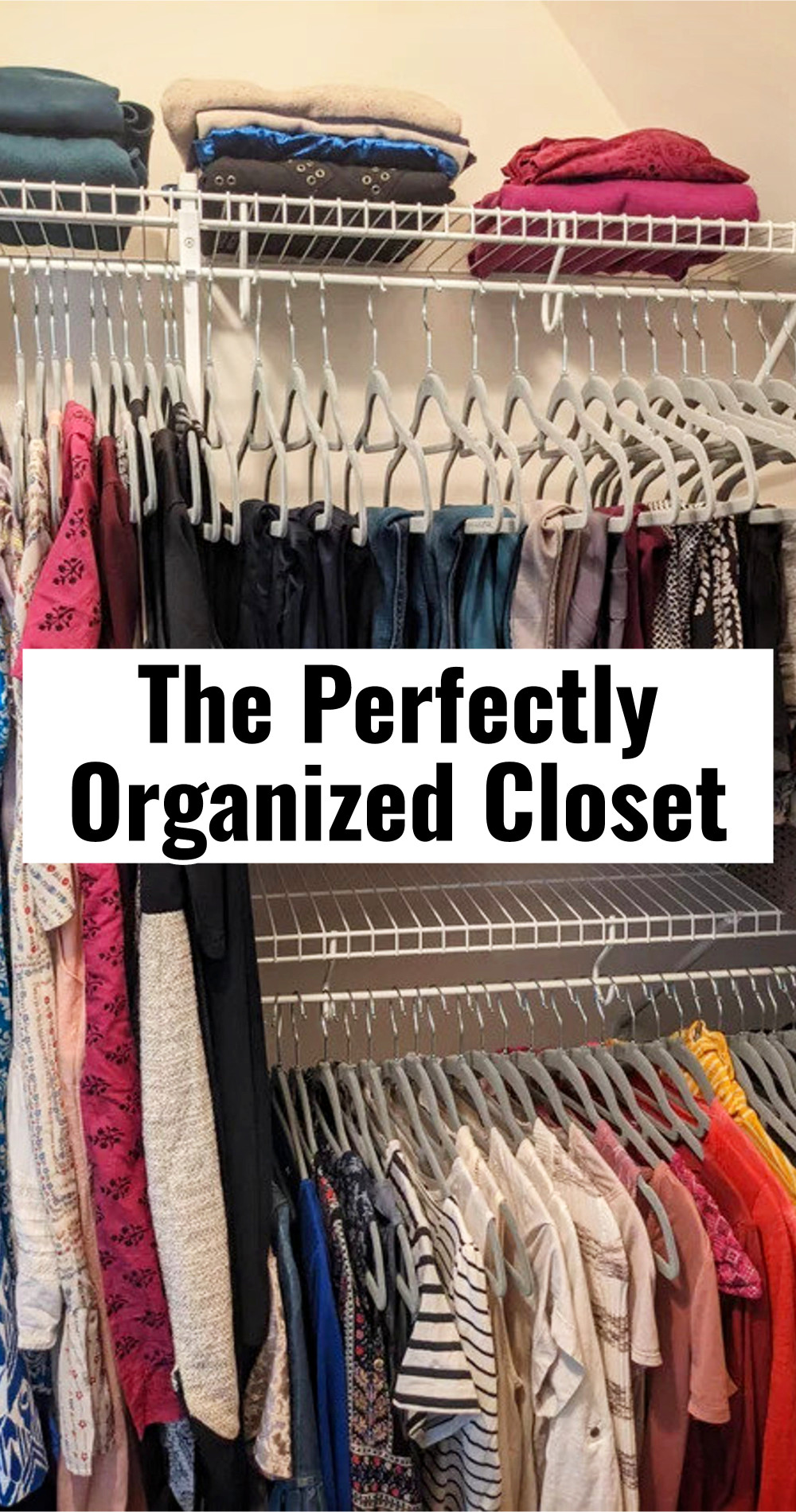 I want to feel calm when I look in my closet – NOT overwhelmed and claustrophobic (c'mon, you know what I'm talking about haha!)
In MY closet, I had to decide a few things first based on the size of my closet AND my other available space for clothes.
I knew I wanted a closet with 2 hanging levels with my clothes hung and organized by color (I'll tell ya how to do that in a minute).
Like this: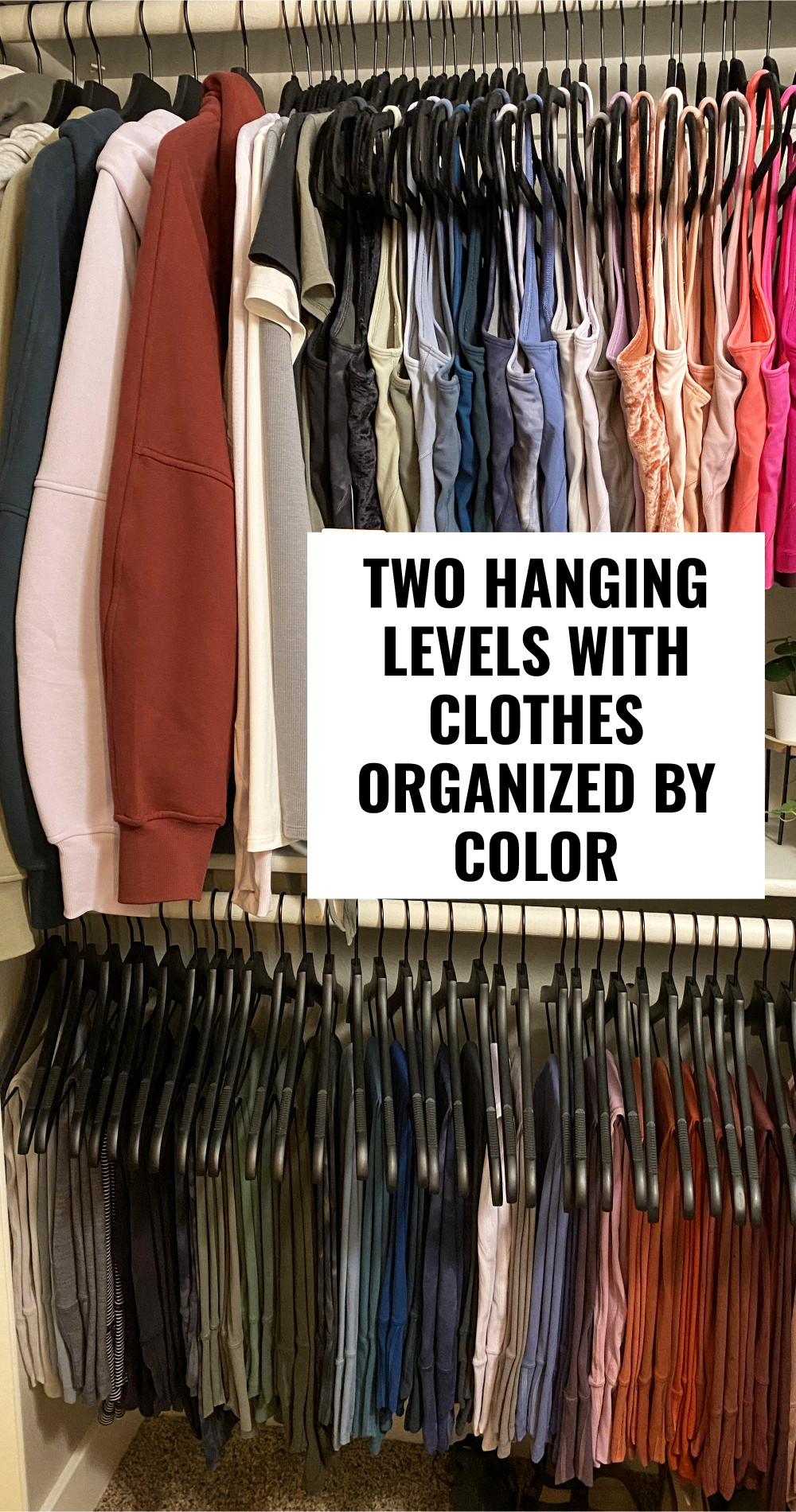 Just looking at a neat, organized (and yes, perfectly spaced) closet makes my heart happy!
Decluttering clothes is not JUST about downsizing the amount of clothes you have – it's also about how you plan to organize and arrange the clothes you KEEP.
For example, do you prefer to HANG or FOLD the majority of your clothes?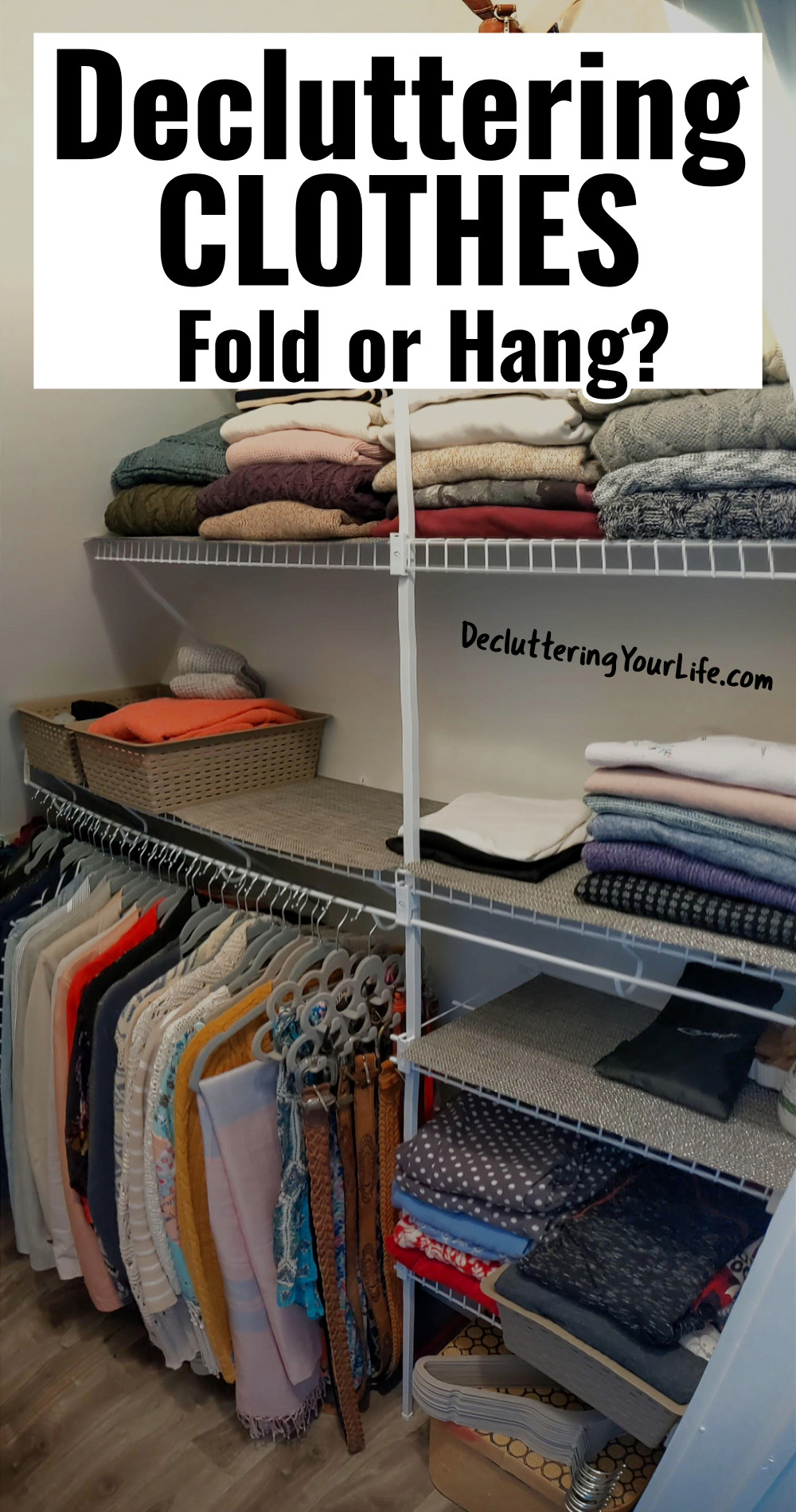 Many wonder which is BEST – hanging or folding your clothes.
In all honesty, it doesn't really matter from an organization perspective. What DOES matter is what you will keep up with.
Hanging clothes is easier – just grab them out of the dryer and hang them up. Plus, it's easy to SEE what you have.
While folding is a tougher habit to maintain, your closet may be too small to hang everything so you HAVE to fold the majority of your clothes.
If you have room to do whatever YOU want – then DO what YOU want (but set yourself up for failure by choosing a method that you will NOT keep up with!)
All that said – if YOU want to FOLD the majority of your recently declutter clothing items, then you have to ask yourself…
Do you have enough DRAWER space to PUT your folded clothes?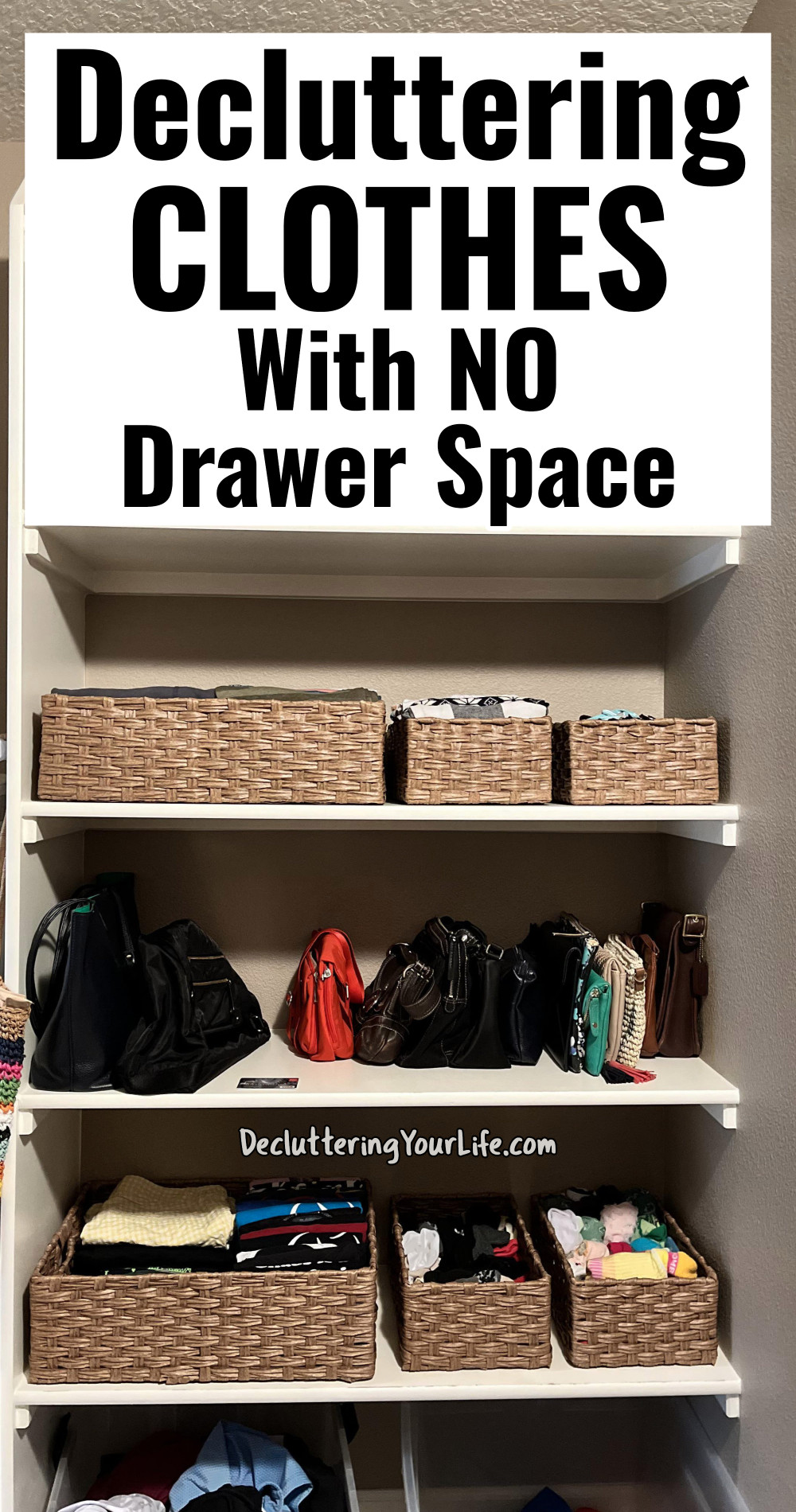 If you live in a smaller house, or in a small apartment with NO storage space, you may not have the space in your room for furniture with drawers.
Which will make FOLDED clothes a real challenge – where will you PUT them?
Really brainstorm some ideas to be able to creatively organize your folded clothes in your closet.
I've found that organizing with cheap baskets is the perfect solution for no drawer space so see if you can use some baskets on the shelves in your closet.
Once you have made a mental plan of how things will look and work AFTER your clothes are decluttered, then it's time to get work getting RID of your unworn and unwanted articles of clothing that are cluttering up your closet, your drawers and you BRAIN.
How To Sort and Organize Clothes
Many people like to sort and organize their clothes in the closet by season (that's what I do), but I have many friends who prefer to sort and organize their clothes by color.
For those with a more 'minimalist wardrobe', I think the best way to organize clothes in your closet is to sort by color – otherwise, I would recommend sorting your clothes by season.
If you don't have room in your closet for ALL your clothes, put your out-of-season clothes in storage containers like these until you're ready to switch out your clothes in your closet for next season.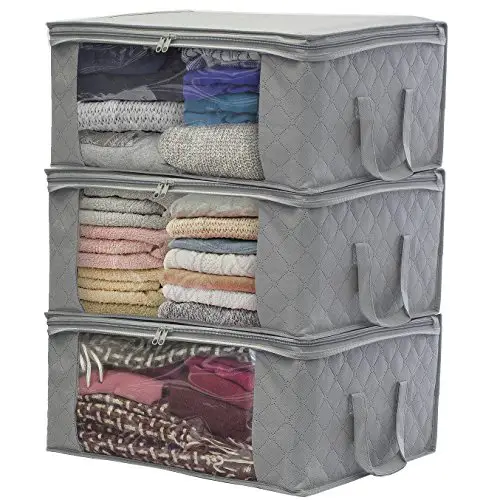 see these organizers here
How To Organize Clothes In Your Closet By Color
Many THINK they want to organize their clothes in their closet by color and then get stuck wondering HOW to color coordinate all those clothes in your closet.
Like I said, if you don't have a minimalist wardrobe, you might have a LOT of colors of clothing – and it won't be simple to coordinate them.
Coordinating my clothes by color has never worked for me – I have too many colors and it just overwhelms me.
That's why I stick to organizing my closet by season and then sort my clothes by type – all short-sleeved shirts together, all long-sleeved shirts together, all jeans together, etc etc.
 Space-Saving Shirt Hangers✅ I Found It Here Space Saving Pants Hangers✅ I Found It Here
How To Declutter Clothes Fast
Below is my little trick for how to declutter clothes fast (and with MUCH less anxiety and overwhelm)!
When you get good at this, you'll know how to declutter your closet in 5 minutes flat!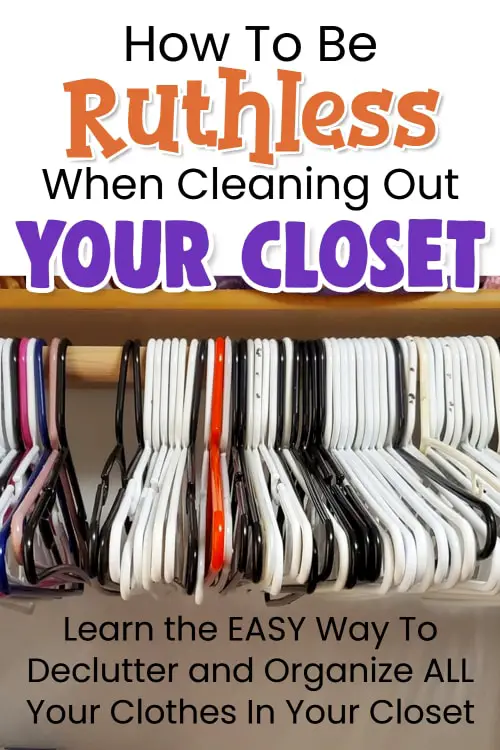 1. Sort What Clothes To Keep
When you want to purge and declutter the clothes in your closet, it's common to wonder what to KEEP.
In fact, I tend to get STUCK on that one simple part of this process!
Here's a little trick I've figured out
(and this might make the 'neat freaks' a bit nuts…lol!)
For about 2 weeks, everything I've worn gets washed, folded and then put in a laundry basket.
After those 2 weeks or so, my laundry baskets contain what I actually WEAR on a regular basis.
At that point I can go into full DECLUTTER CLOTHES mode because my closet now has many, MANY things I just don't wear.
2. Sort Clothes To Get Rid Of
Now, let's talk about how to sort the clothes you want to get rid of.
Since you already did the "2 Week Test" and your closet now has many things you don't wear, it's time to figure out what you WON'T wear again.
Sort those clothes that you don't wear and want to get rid of into 2 piles:
• One pile for clothes you will donate and
• The other pile for clothes that might need to be trashed.
Ideally, you'll want to donate as many items of clothing as possible. There are plenty of people out there that would LOVE to have your discards – so don't be wasteful. Be sure to declutter clothes you don't wear and CAN'T wear.
Yes, I know we all go up and down a few pounds, but if you're holding on to an item of clothing just because you "might" wear it again… well, that's silly and unnecessary clutter in your life.
The whole point of this is to GET RID OF clothes – NOT to hold on them for "some day, maybe, IF".
What If I Like EVERYTHING?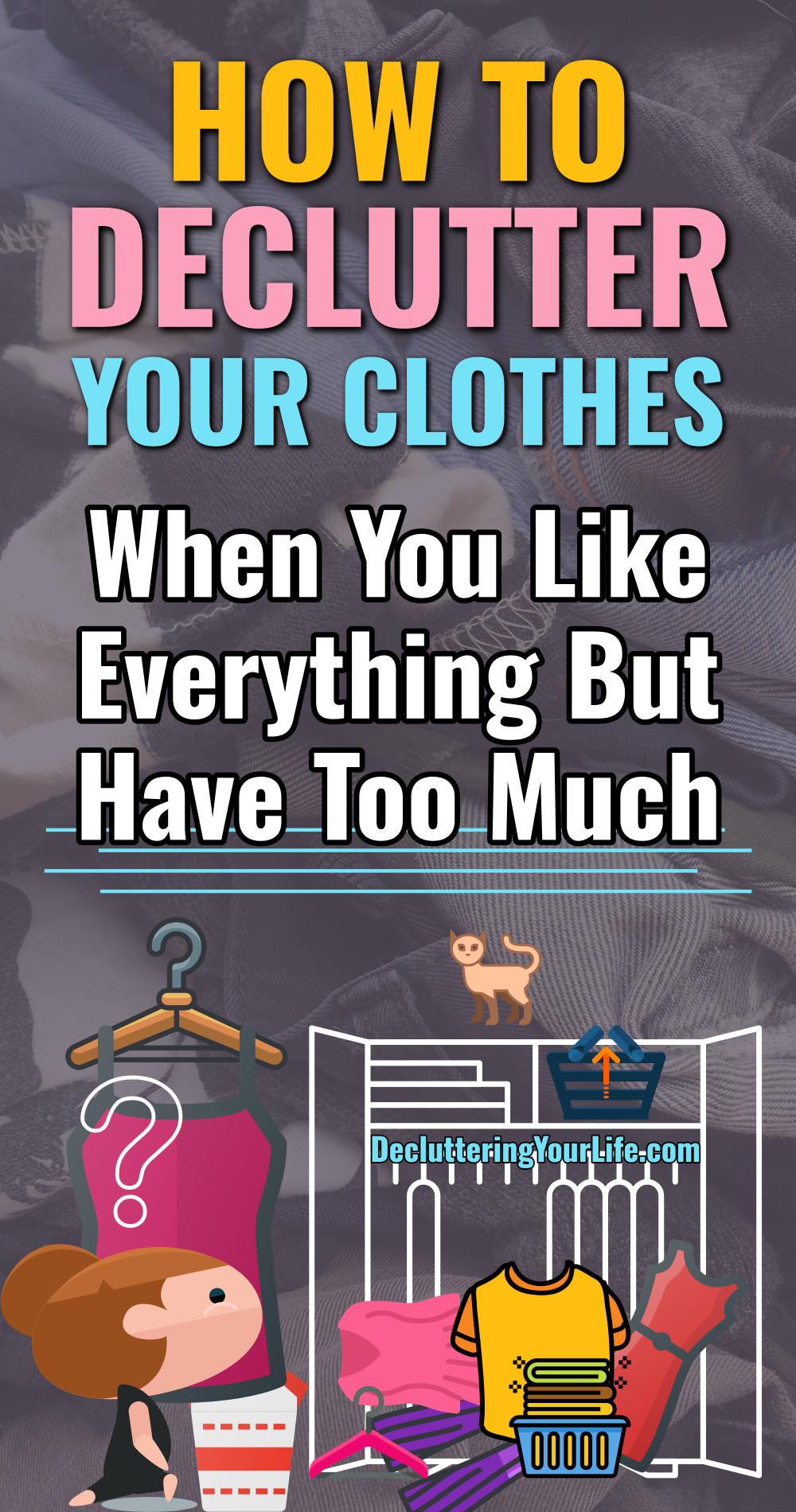 Common problem I hear at this point is: "I have too many clothes but I like them ALL! Now WHAT?!?!?"
If you're trying to declutter your wardrobe or closet space, but like ALL your clothes… well, you're gonna have to get creative, ok?
The best solution is to have a "seasonal" closet or wardrobe setup – meaning, only clothing items for the current season are IN your closet.
All your out-of-season clothing items will have to be stored somewhere else.
Having EVERYTHING you own jammed into your closet makes life SO complicated – AND it makes it more EXPENSIVE too!
If you closet is jam packed, you can find anything so you… BUY MORE CLOTHES.
That is totally defeating the purpose AND defeating your bank balance lol!
If you have space to keep everything – then keep everything.
If you don't have space… CREATE space =)
 Under Bed Storage Ideas For Clothes✅ I Found It Here Additional Clothing Rack Ideas For Clothes✅ I Found It Here
How To Declutter Kids Clothes
If your kid's closet is flowing over with clothes, it's time to declutter their clothes too!
First, sort and declutter the clothes they don't wear or can't wear because they outgrew them.
Make your two piles again… one for clothes to give away and the other for the few items of clothing that need to be trashed.
(note: if you plan on having more kids, keep the outgrown clothes if you have room)
Once you have decluttered all the clothes, it's time to organize them.
Sure, you can organize the clothes in a kids closet by color or by season, but personally, we LOVE using a weekly clothes organizer for kids like this – it sure helps with all the stress and mass-confusion on school mornings!
see this organizer here
Congrats on finally accomplishing Mission: Declutter Clothes!
Now… The Secret!
How To KEEP Your Closet Organized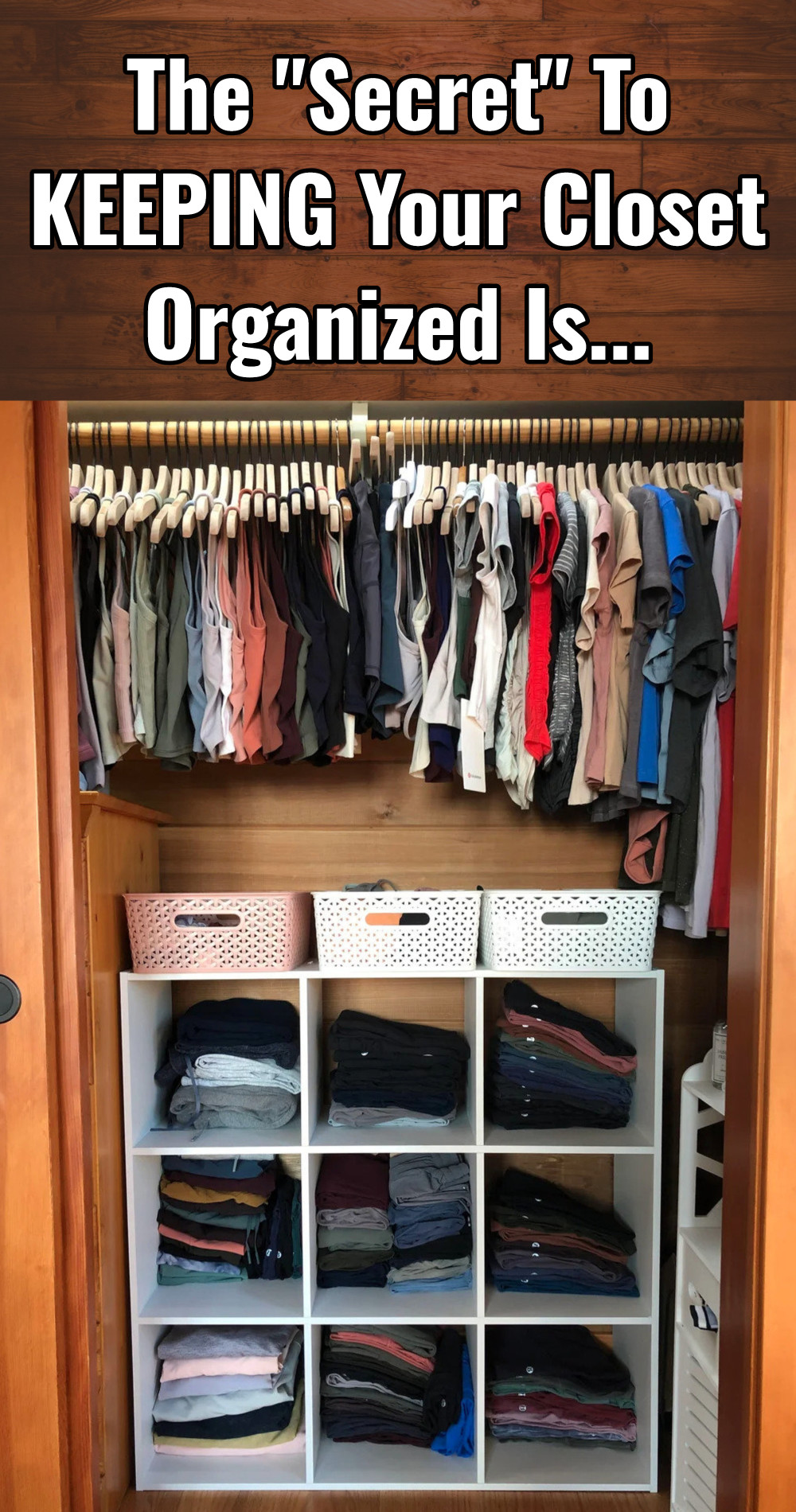 There is a simple little secret that really helps me KEEP my closet neat and organized AND to consistently declutter small amounts of clothing all the time.
Yes, I do the "one thing in / one thing OUT" decluttering strategy – that works really well but it's FAR from a secret haha!
The SECRET is to organize and arrange the items in your closet like a store does it.
You know how really nice stores have everything super neat, clean, spaced out, etc?
Do the same thing in your closet!
Yep, that mindset shift really helps.
When you're ready to finally STOP being a cluttered mess and really ORGANIZE your home…
Such simply BRILLIANT organizers for every little space in your home!
And OMG, I am in LOVE with these IKEA storage bags!
Have you seen them or used them before?
They are AWESOME!
Seriously, I could spend ALL DAY browsing through all these home organization products and planning out what I need.
I know that having a 'place for EVERYTHING' is key for ME to keep my home neat, organized and clutter-free.
If I need to spend a few bucks to make that happen, I'm ALL for it!
Being organized is MUCH cheaper than being a cluttered mess.
More Closet Organization Help
Below are some of the best closet organization tips and tricks to help you get YOUR closet seriously organized: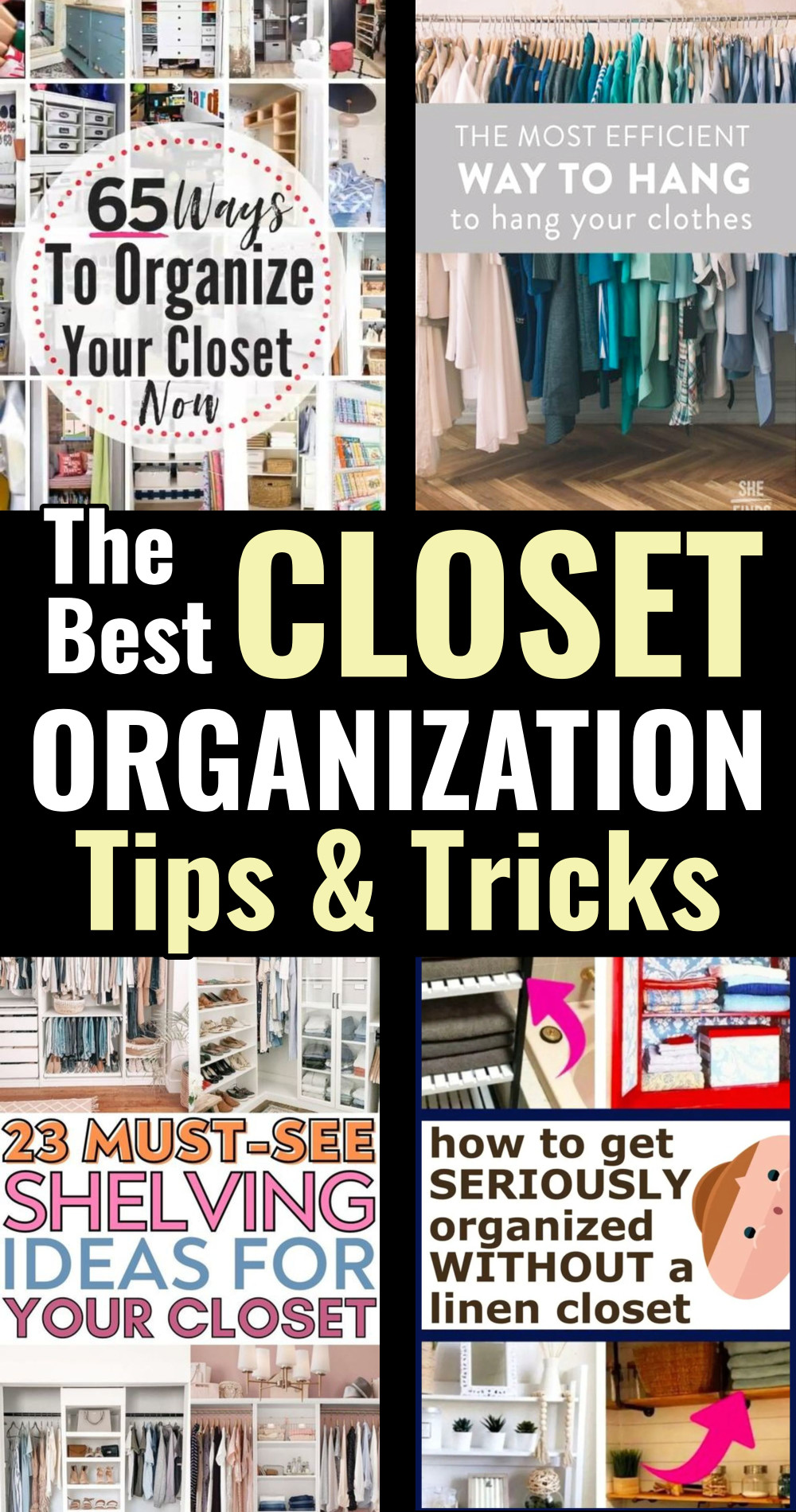 Resources Found In Picture Above:
(1) – 65 Ways To Organize Your Closet –
65 brilliant closet organization ideas to make the most of your closet space, whether big or small – see these ideas.
---
(2) – The Most Efficient Way To Hang Your Clothes –
Find out the most efficient way to hang clothes in your closet – read this.
---
(3) – Must See Shelving Ideas For Your Closet –
Having more creative ways to organize closets like these amazing closet shelving ideas can help you get more usable storage for your clothes – see these ideas.
---
(4) ✅  How To Get SERIOUSLY Organized WITHOUT A Linen Closet –
No linen closet SOLUTIONS for linen and towel storage without a closet… even in a tiny bathroom… see all linen closet alternatives.
---
More Ways To Declutter and Organize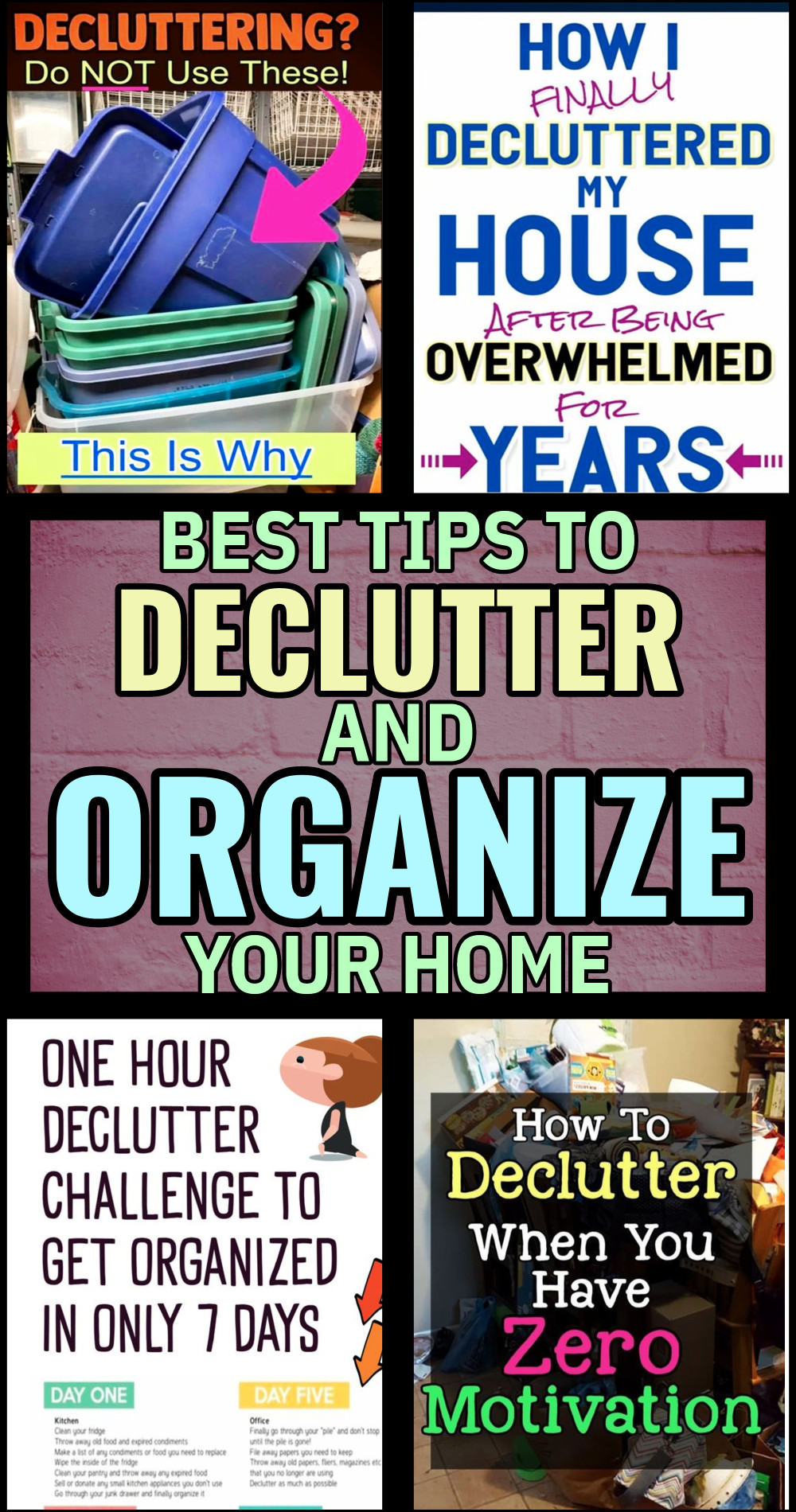 1 – Decluttering? Do NOT Use These – Where To START When Your House is a Disaster – If you're tired of thinking: "My House Is SO CLUTTERED… and I Don't Know Where To START!" You NEED to read these tips and tricks to FINALLY get started and NOT make mistakes.
---
2 – How I FINALLY Decluttered My House After Being Overwhelmed For YEARS – Tips and tricks to help you get rid of the clutter even if you're feeling overwhelmed and ASHAMED of your messy house.
---
3 – One Hour Declutter Challenge To Get Organized In Only 7 Days – This simple this decluttering challenge is perfect for those OVERWHELMED with all their clutter and their messy home.
---
4 – How To Declutter When You Have ZERO Motivation – Feeling Overwhelmed? Need cleaning motivation? How to declutter and organize when feeling overwhelmed and with NO motivation to do anything around the house.
Miss Anything?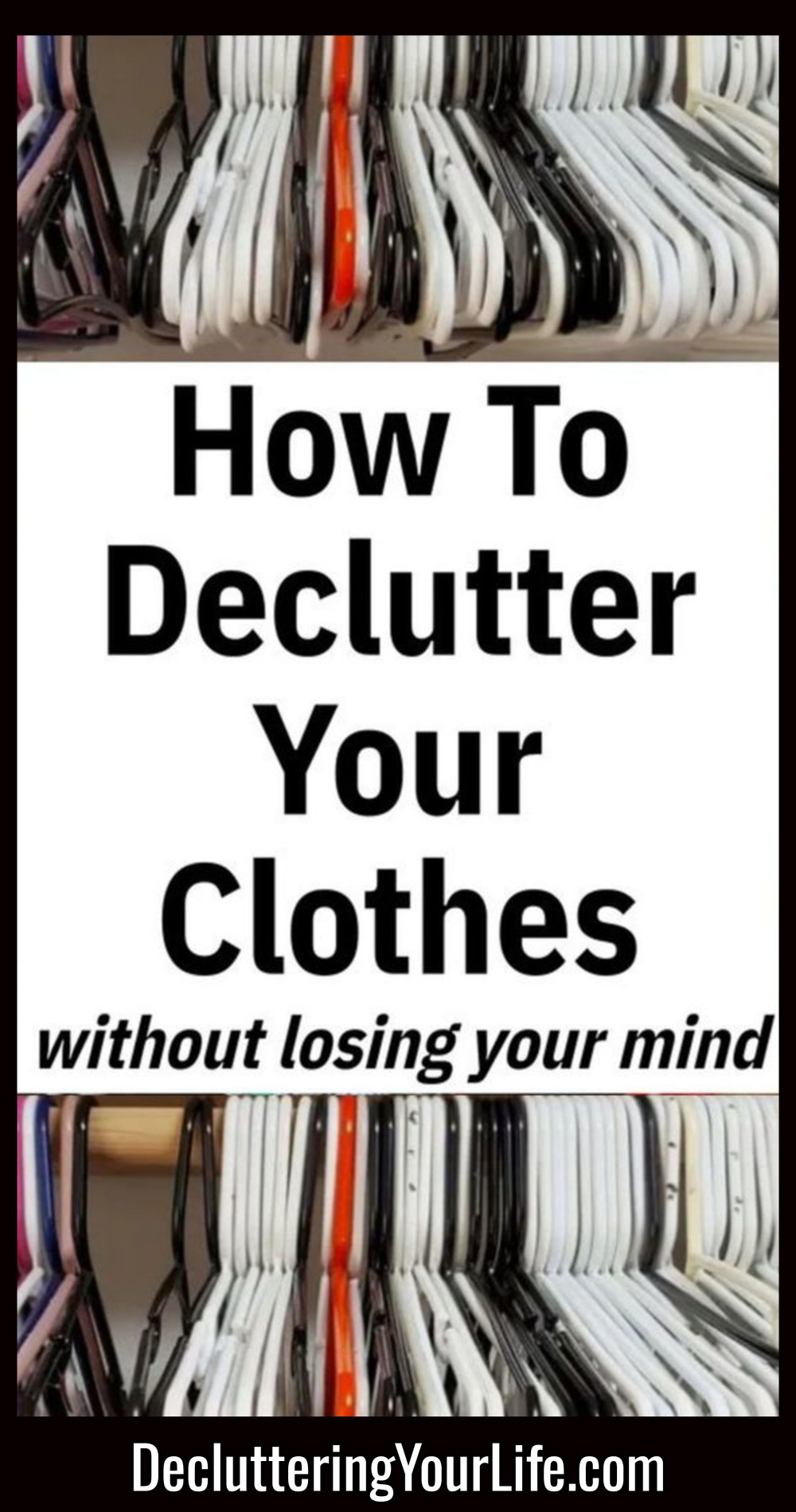 Space Saving Shoe Storage Ideas✅ I Found It Here Space Saving Shirt Hangers✅ I Found It Here Space Saving Ball Hat Organizers✅ I Found It Here Space Saving Hangers For Pants✅ I Found It Here