Let Me Show You How To Be RUTHLESS When Decluttering Clothes In Your Closet – 'cause girl, ya GOTTA be ruthless!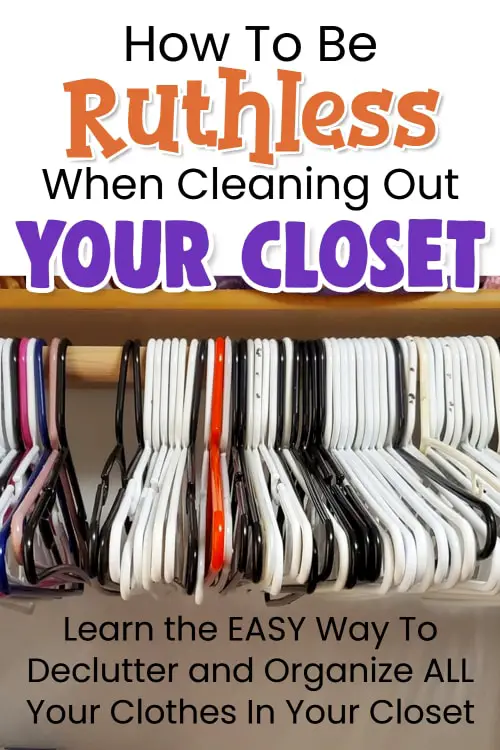 Welcome to Decluttering Your Life - we hope you enjoy our quick decluttering tips, organization ideas and simple DIY solutions for your home - posts may contain ads & affiliate links - that's how we keep the lights on =)
---
---
---
Ok, let's declutter CLOTHES and see some creative space-saving closet storage and organization ideas for ALL your clothes! Today's topic is a BIG decluttering challenge: How To Sort Clothes in Your Closet so YOU can finally accomplish Mission: Declutter Clothes!
 Easy Way To Hang More ClothesGet More Info How To Sort Clothes IdeasGet More Info Get More Closet Space IdeasGet More Info
Sorting and organizing clothes in your closet sure can be overwhelming at first, but with these simple little tips and tricks below you will have your clothes decluttered and your closet organized in no time!
How To Sort and Organize Clothes
Many people like to sort and organize their clothes in the closet by season (that's what I do), but I have many friends who prefer to sort and organize their clothes by color.
For those with a more 'minimalist wardrobe', I think the best way to organize clothes in your closet is to sort by color – otherwise, I would recommend sorting your clothes by season.
If you don't have room in your closet for ALL your clothes, put your out-of-season clothes in storage containers like these until you're ready to switch out your clothes in your closet for next season.
see these organizers here
How To Organize Clothes In Your Closet By Color
Many THINK they want to organize their clothes in their closet by color and then get stuck wondering HOW to color coordinate all those clothes in your closet.
Like I said, if you don't have a minimalist wardrobe, you might have a LOT of colors of clothing – and it won't be simple to coordinate them.
Coordinating my clothes by color has never worked for me – I have too many colors and it just overwhelms me.
That's why I stick to organizing my closet by season and then sort my clothes by type – all short-sleeved shirts together, all long-sleeved shirts together, all jeans together, etc etc.
How To Declutter Clothes Fast
Below is my little trick for how to declutter clothes fast (and with MUCH less anxiety and overwhelm)!
When you get good at this, you'll know how to declutter your closet in 5 minutes flat!
1. Sort What Clothes To Keep
When you want to purge and declutter the clothes in your closet, it's common to wonder what to KEEP.
In fact, I tend to get STUCK on that one simple part of this process!
Here's a little trick I've figured out
(and this might make the 'neat freaks' a bit nuts…lol!)
For about 2 weeks, everything I've worn gets washed, folded and then put in a laundry basket.
After those 2 weeks or so, my laundry baskets contain what I actually WEAR on a regular basis.
At that point I can go into full DECLUTTER CLOTHES mode because my closet now has many, MANY things I just don't wear.
2. Sort Clothes To Get Rid Of
Now, let's talk about how to sort the clothes you want to get rid of.
Since you already did the "2 Week Test" and your closet now has many things you don't wear, it's time to figure out what you WON'T wear again.
Sort those clothes that you don't wear and want to get rid of into 2 piles:
• One pile for clothes you will donate and
• The other pile for clothes that might need to be trashed.
Ideally, you'll want to donate as many items of clothing as possible. There are plenty of people out there that would LOVE to have your discards – so don't be wasteful. Be sure to declutter clothes you don't wear and CAN'T wear.
Yes, I know we all go up and down a few pounds, but if you're holding on to an item of clothing just because you "might" wear it again… well, that's silly and unnecessary clutter in your life.
How To Declutter Kids Clothes
If your kid's closet is flowing over with clothes, it's time to declutter their clothes too!
First, sort and declutter the clothes they don't wear or can't wear because they outgrew them.
Make your two piles again… one for clothes to give away and the other for the few items of clothing that need to be trashed.
(note: if you plan on having more kids, keep the outgrown clothes if you have room)
Once you have decluttered all the clothes, it's time to organize them.
Sure, you can organize the clothes in a kids closet by color or by season, but personally, we LOVE using a weekly clothes organizer for kids like this – it sure helps with all the stress and mass-confusion on school mornings!
see this organizer here
Congrats on finally accomplishing Mission: Declutter Clothes!
When you're ready to finally STOP being a cluttered mess and really ORGANIZE your home…
Such simply BRILLIANT organizers for every little space in your home!
And OMG, I am in LOVE with these IKEA storage bags!
Have you seen them or used them before?
They are AWESOME!
Seriously, I could spend ALL DAY browsing through all these home organization products and planning out what I need.
I know that having a 'place for EVERYTHING' is key for ME to keep my home neat, organized and clutter-free.
If I need to spend a few bucks to make that happen, I'm ALL for it!
Being organized is MUCH cheaper than being a cluttered mess.