Organization Hacks For Moms With NORMAL Families (whether you work OR stay at home) –
Have you ever wanted to be an organized mom? I sure have! We moms are BUSY and sure need all the help and home organization hacks we can get. Below are some organization tips that are sure to help whether you're looking to learn how to be an organized working mom or how to be an organized stay at home mom. These are the 13 effective habits that all super organized moms have that we ALL should try to make part of our own daily routines.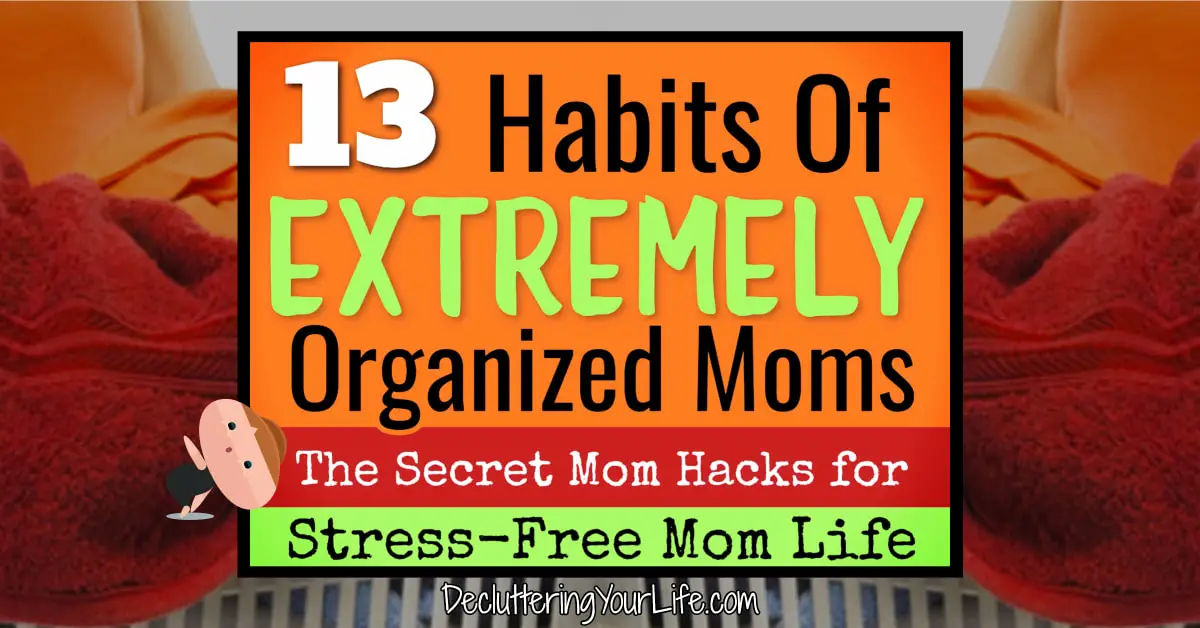 Welcome to Decluttering Your Life - we hope you enjoy our quick decluttering tips, organization ideas and simple DIY solutions for your home - posts may contain ads & affiliate links - that's how we keep the lights on =)
---
---
Reader Favorites This Week:
---
---
13 Habits of Organized Moms
All organized moms I know have daily habits that help KEEP them organized.
For example, they have a cleaning routine that keeps them from getting overwhelmed and so they do NOT have to clean a cluttered mess – Do you have a daily cleaning routine of chores to do each day?
This is a good one:
Let's take a look at some more habits of super organized moms…
My goodness, some moms are SO clever with their organization ideas.
Like this simple, yet BRILLIANT, back to school organization idea that keeps mom (and KIDS) organized and ready for their school day morning routine.
Pretty darn genius, isn't it?
I found it here:
Let's look at some more borderline genius ways to be an organized mom.
Below are the 13 "secrets" and highly effective habits all organized moms have in common. I'll explain each organization hack in-depth down below so YOU can learn how to be an organized mom, too.
---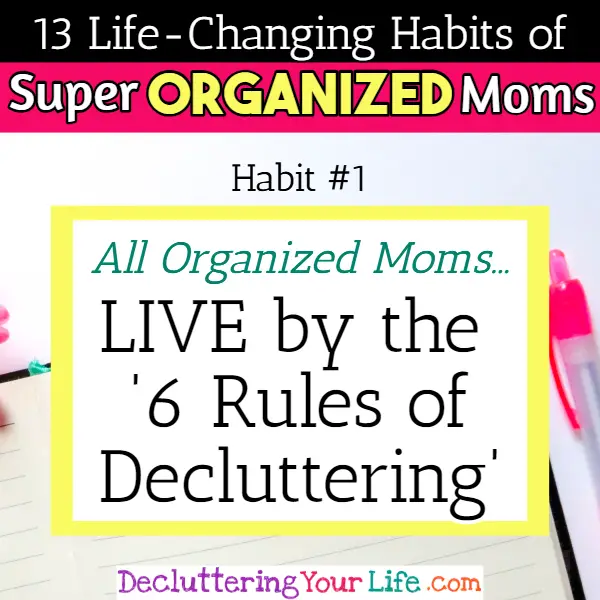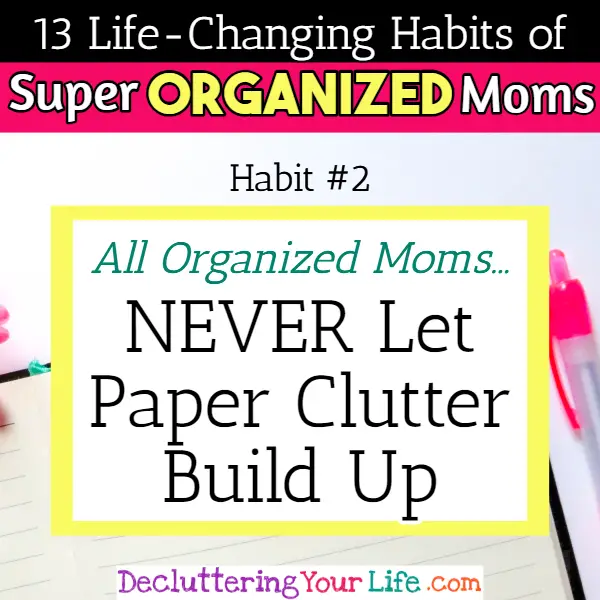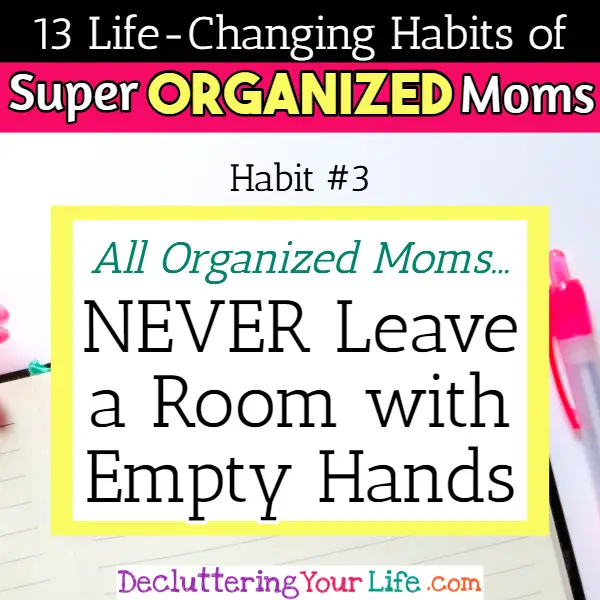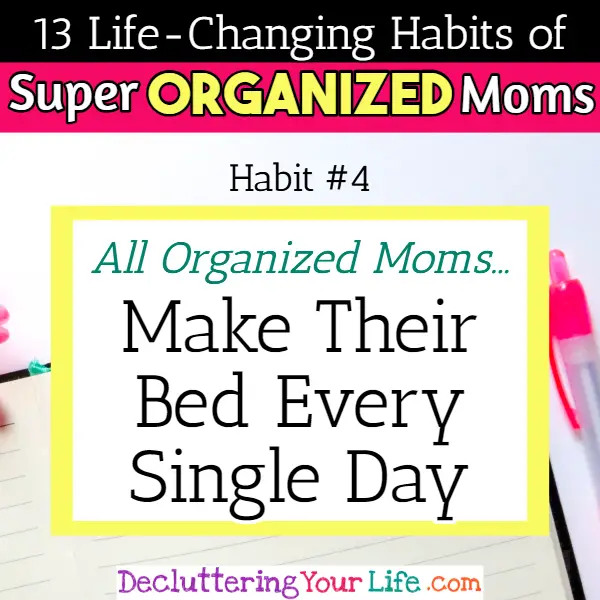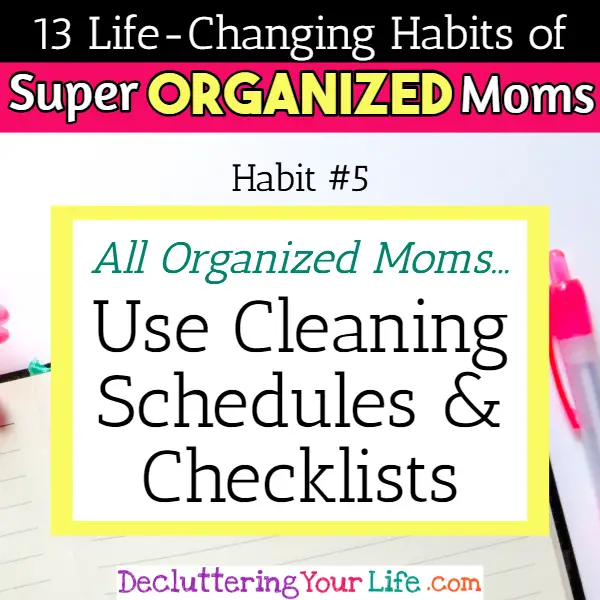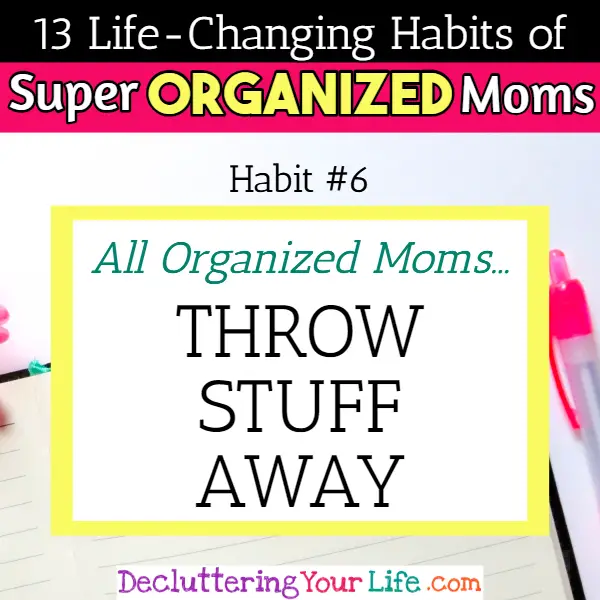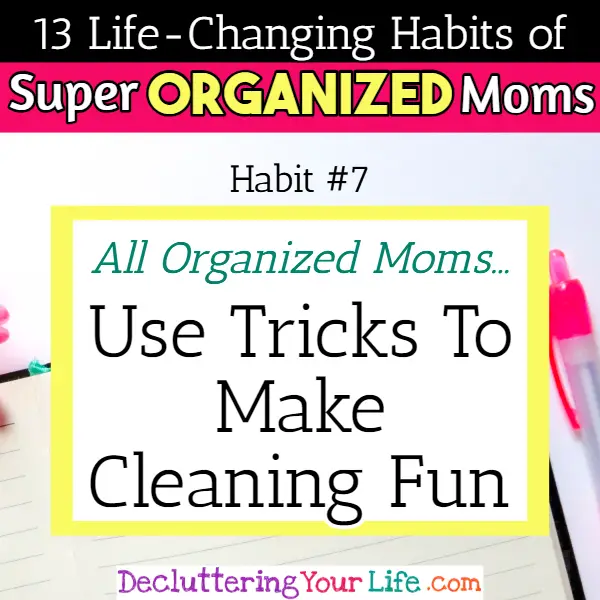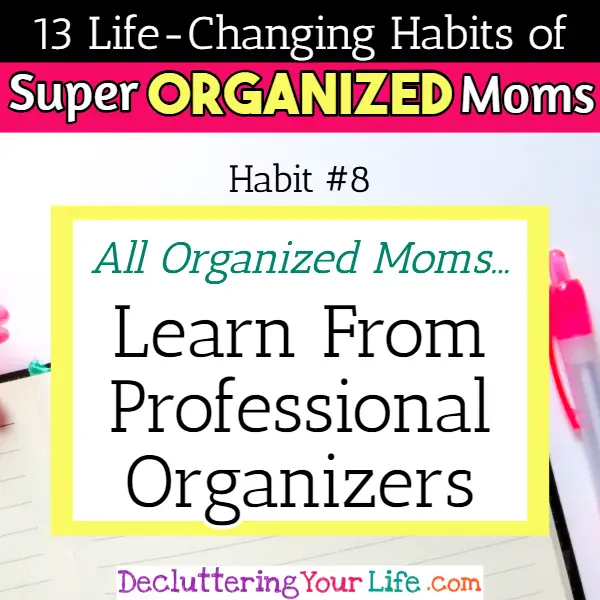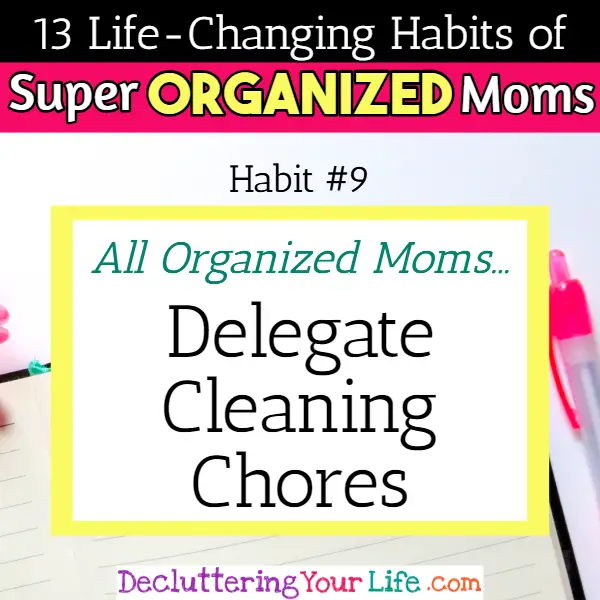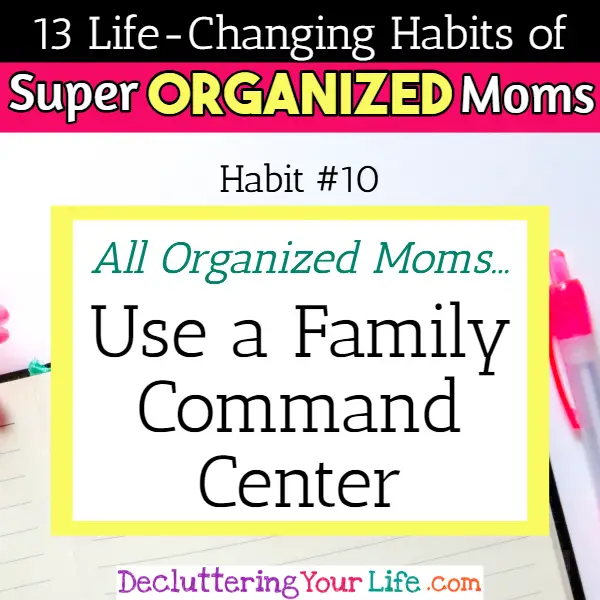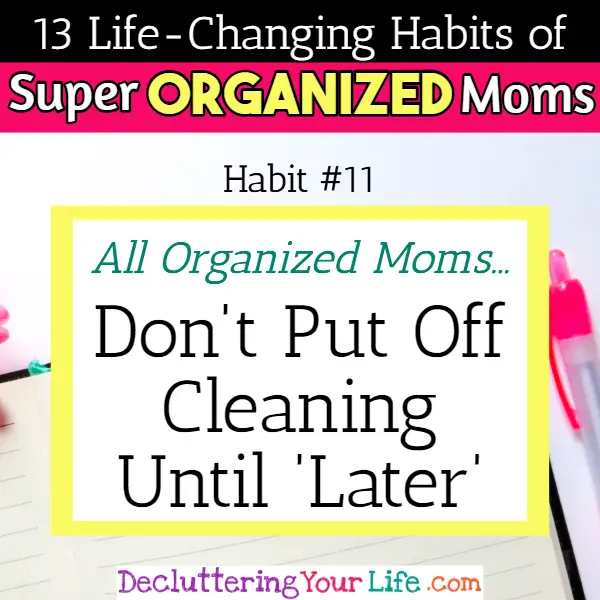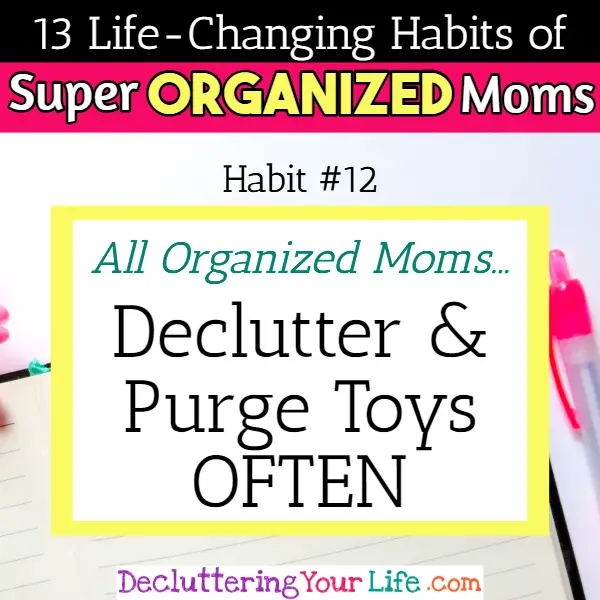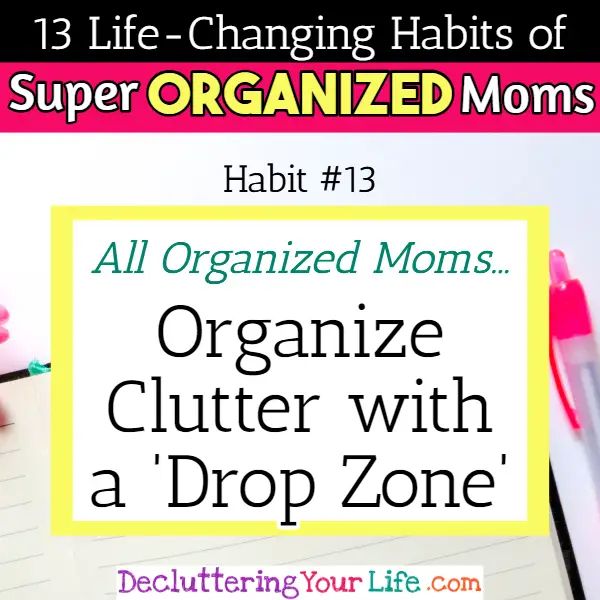 ---
---
I don't know about you, but I always try and learn more ways how to be an organized mom and wife. I take pride in running my home – but wow, sometimes it becomes so hard to keep it all together.
Below are 13 very effective (yet simple) habits and mom hacks to help YOU be more organized at home.
It's SO hard to get organized and have it all together whether you're a working mom or a stay at home mom.
We all know, being MOM is THE hardest job there is.
Cut yourself some slack and see if any of the 13 organization tips below will help YOU get your mom life, and your family, organized.
1. They Live By the 6 Rules of Decluttering
Super organized moms LIVE by these 6 rules of decluttering.
If YOU want to become a more organized mom, take the time to read and truly learn these 6 decluttering rules and follow them.
2. They Can Organize Paperwork in 30 Minutes or Less
Extremely organized people know how to deal with paper clutter – they can quickly organize their bills, mail and paperwork in 30 minutes or less.
The trick is: they stay on top of it and don't let paper clutter build up.
3. They Never Leave a Room with Empty Hands
This is a big part of my Emergency Clean for Company strategy, but very organized moms never leave a room without taking something with them.
4. Their Bed is Always Made
This habit of super organized moms is one of my top useful life hacks that suits so many purposes – always make your bed every morning after you get out of it.
There are so many benefits of a clean house – and making your bed starts your day, and your BRAIN, in an organized and clean perspective.
5. They Use Cleaning Schedules and Checklists
You know what all those super organized moms have that really keeps their house clean and clutter-free?
They keep their house clean with a Daily Cleaning Schedule like this.
They also use a Chore Board for their kids (brilliant!)
It doesn't matter if you need a daily, weekly or monthly schedule for cleaning your house, a cleaning checklist HELPS a TON.
6. They Throw Things AWAY
Super organized moms know what to throw away to avoid their house becoming a clutter magnet.
Need help with that?
☑ Read: Here's why YOU are a cluttered mess (and how to STOP)
7. They Make Cleaning Fun
When you dread cleaning, and put it off like a needed dentist appointment, the mess in your home just build and builds.
Super organized moms find ways to make cleaning fun and enjoyable (or at least tolerable)
Try these Lazy Girl Cleaning Hacks for some simple ways to clean AND have fun while doing it.
8. They Learn from Professional Organizers
Super organized moms take the time to learn HOW to be more organized from those that organize professionally.
Need help?
☑ Read: 4 Tips from Professional Organizers That REALLY Help
9. They Get Their Kids Involved
Cleaning should be a FAMILY chore – not just mom's job.
Super organized moms have their kids do chores to learn responsibility AND to make keeping their home clean a true team effort.
Need Ideas?
☑ See: DIY Chore Chart Ideas for Kids
10. Their Family Schedule is VERY Organized
Super organized moms know they need some sort of help to keep the entire family's schedule running smoothly.
Many super organized moms have a kitchen command center like these.
Overwhelmed?
- you're NOT alone -
How To Keep Your Home Organized With Kids, Pets, a Job...
and STILL have a LIFE.
Learn Hilary's secret here
11. They Just DO It
Super organized moms don't worry about how to GET motivated to clean, they just do what needs to be done.
They do it to where it becomes habit.
It's been said that it takes at least 7 days to create a new habit, so try pretending you're a super organized mom and act that way for a full week.
You'll probably be surprised to find that YOU are becoming a super organized mom, too!
12. They Declutter Toys
Super organized moms stay on top of the toy situation and regularly take the time to purge old, broken and no longer played with toys.
13. They Have a Clutter 'Drop Zone'
Super organized moms know that clutter happens (especially if you have children).
That's why they set up a clutter drop zone like this to be a 'catch all' area for all the STUFF.
That way, it's all in ONE place.
More Organized Mom Hacks
Want more tips to become an organized mom?
---
---
 Spice Rack Kitchen Cabinet Organizer- 3 Tier Bamboo Expandable Display ShelfShow Me This Seville Classics Sturdy Freestanding Storage Shelf for Bedroom, Closet, Entryway, Dorm Room Organizer Stackable Durable Metal Shoe Rack, 3-Tier, Espresso SlatShow Me This Copco 2555-0187 Non-Skid 2-Tier Pantry Cabinet Lazy Susan Turntable, 12-Inch, White/GrayShow Me This DEVAISE 7-Drawer Chest, Wood Storage Dresser Cabinet with Wheels, WhiteShow Me This Onlycube Foldable Fabric Storage Bins 13x13x13 inch for Cube Organizer with Cotton Rope Handles, Collapsible Basket Box Organizer for Shelves and Closet, Black/Grey, 4PackShow Me This ClosetMaid 1110 9-Cube Storage Organizer, WhiteShow Me This
---
Miss Anything?
---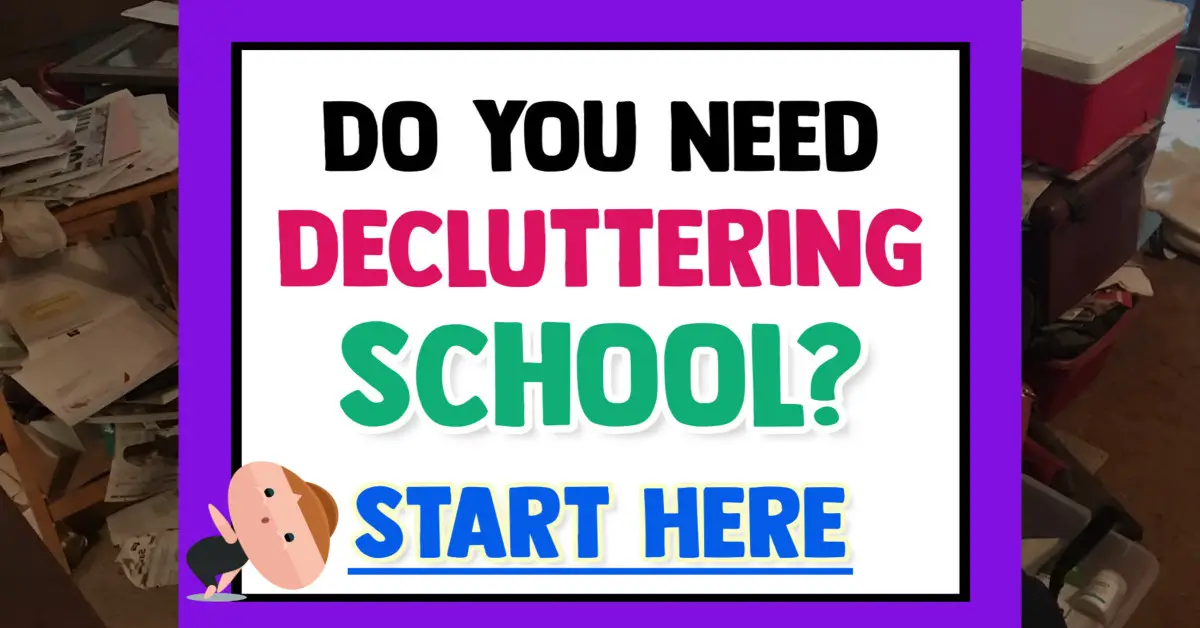 ---
---
Here's What New:
---