No Pantry Storage Solutions for Small Kitchens Without a Pantry –
No Pantry? No Problem! Here's how to organize a small kitchen WITHOUT a pantry.
Let's take a look at some simple and clever pantry alternative ideas for creating a pantry in a small kitchen or apartment kitchen with NO pantry storage.
These are GENIUS ideas for what to DO if your house doesn't have a pantry.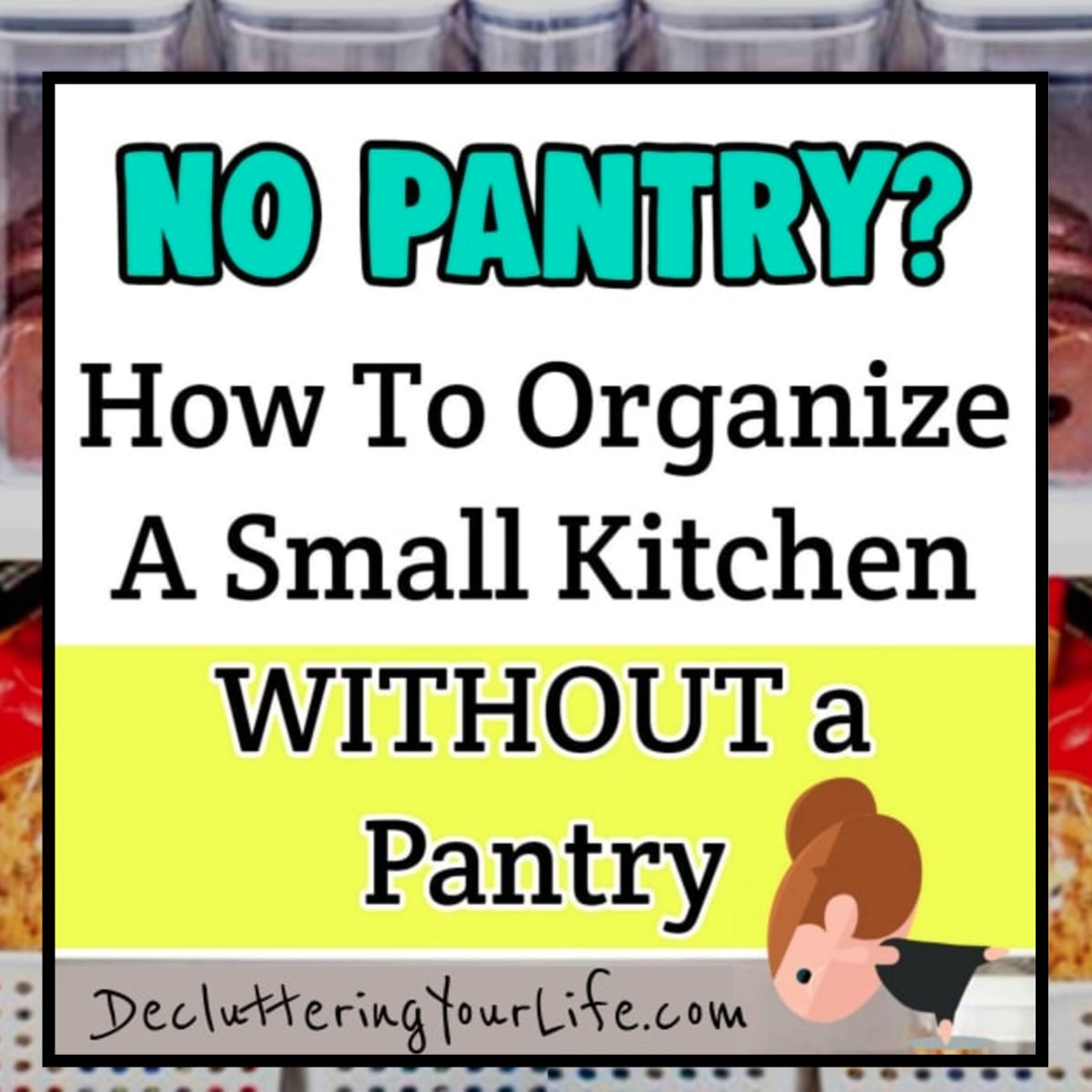 Welcome to Decluttering Your Life - we hope you enjoy our quick decluttering tips, organization ideas and simple DIY solutions for your home - posts may contain ads & affiliate links - that's how we keep the lights on =)
---
---
---
Best Pantry Alternatives
If you are trying to figure what to do when you have NO PANTRY in your apartment kitchen or small kitchen – here's what to do.
Use these creative pantry alternatives below to create a pantry storage space. Most of these solutions are simple DIY projects and inexpensive home organization ideas for your No Pantry situation.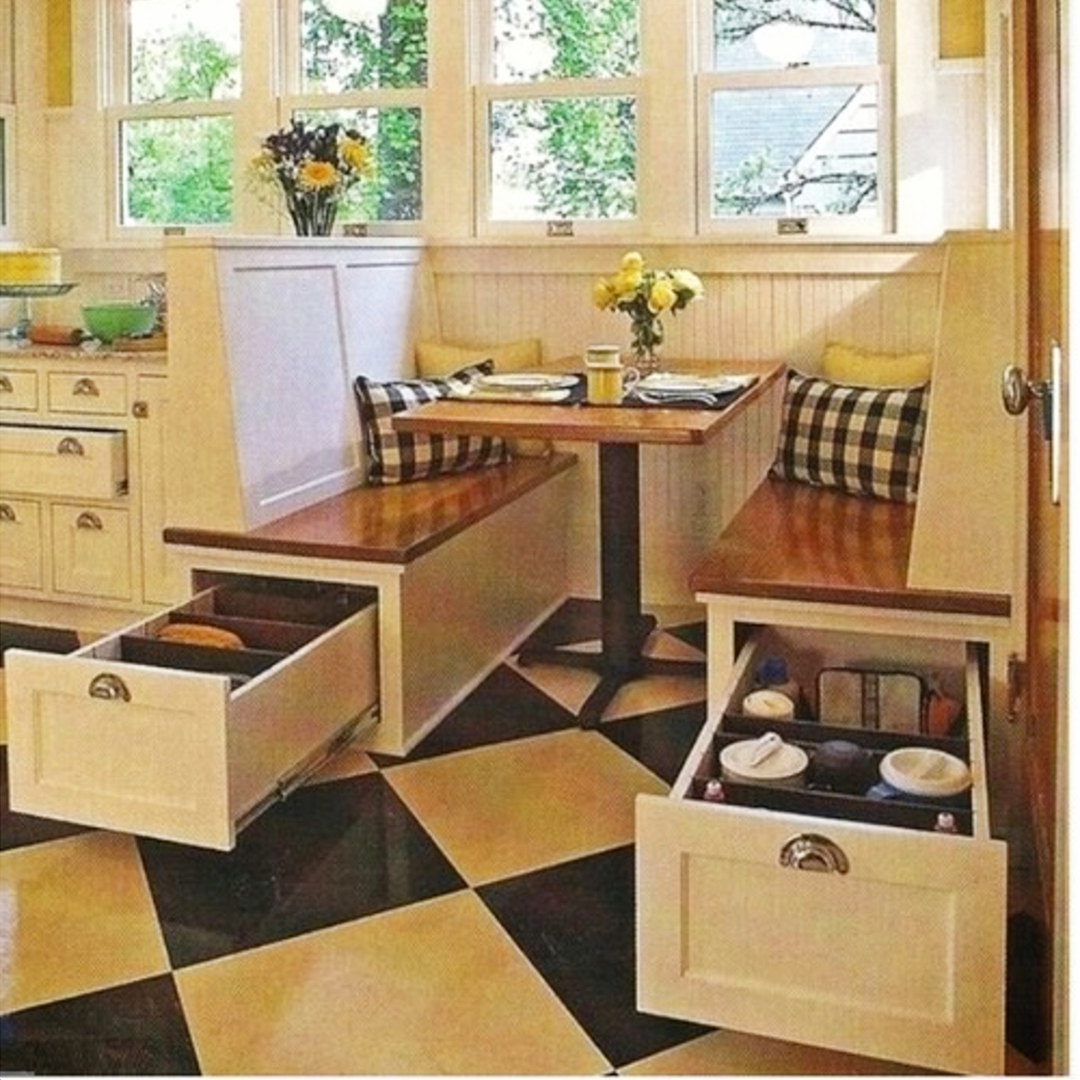 If want to see a brilliant storage hack for a small kitchen without a pantry, you really should take a look at this slide out pantry:
What a great use of "dead space" next to your refrigerator!
I found that slide out pantry here.
 #1 – Space-Saver No Pantry Solution-see pictureGet More Info #2 – Pantry Alternative Rolling Storage CartGet More Info #3 – Small Kitchen No Pantry OrganizerGet More Info
✅  No Pantry Solutions (pictures)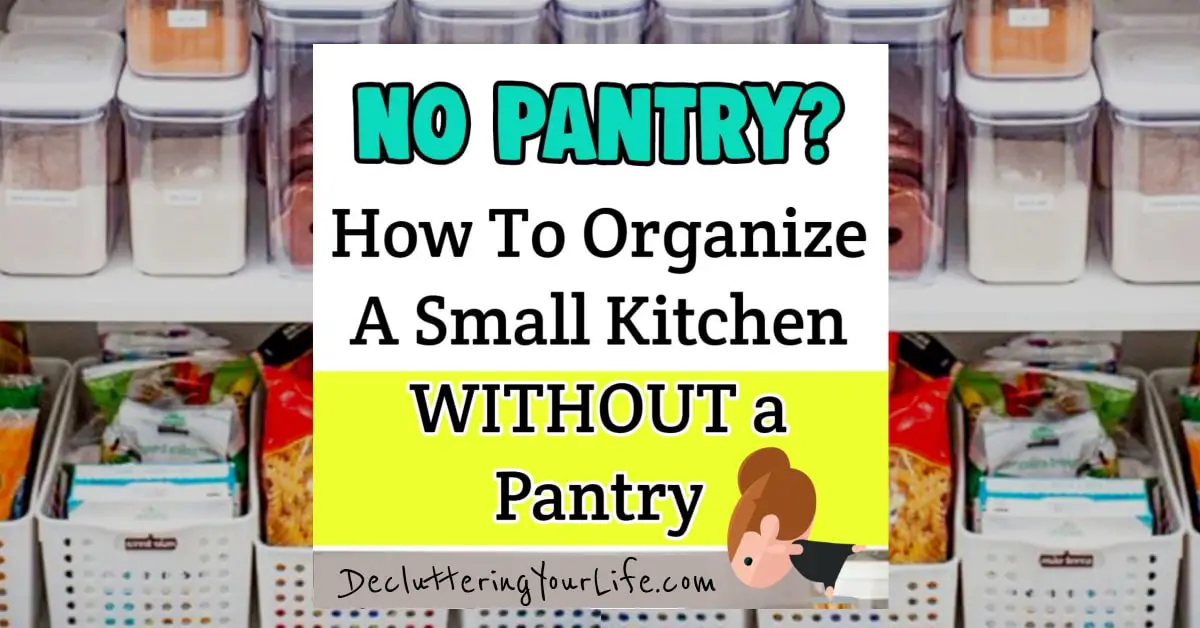 Organizing kitchen cabinets WITHOUT a pantry to work with can be a BIG challenge – but it CAN be done!
You just have to make the most out of the limited storage space you DO have.
✅
Insiders Tip:
These are my FAVORITE storage containers
They are airtight and they look GREAT sitting on my kitchen counters, in my cabinets and other storage spaces around my house!
I even use them for my desk and craft stuff - LOVE them!
 5-Piece POP Container SetsShow Me This POP Container Value SetsShow Me This
Below are many pictures of clever ideas that you can easily do in your kitchen – even ways for how to FAKE a pantry when there's no pantry space in your kitchen.
Watch the slideshow of ideas below (and feel free to pin any ideas you like to Pinterest)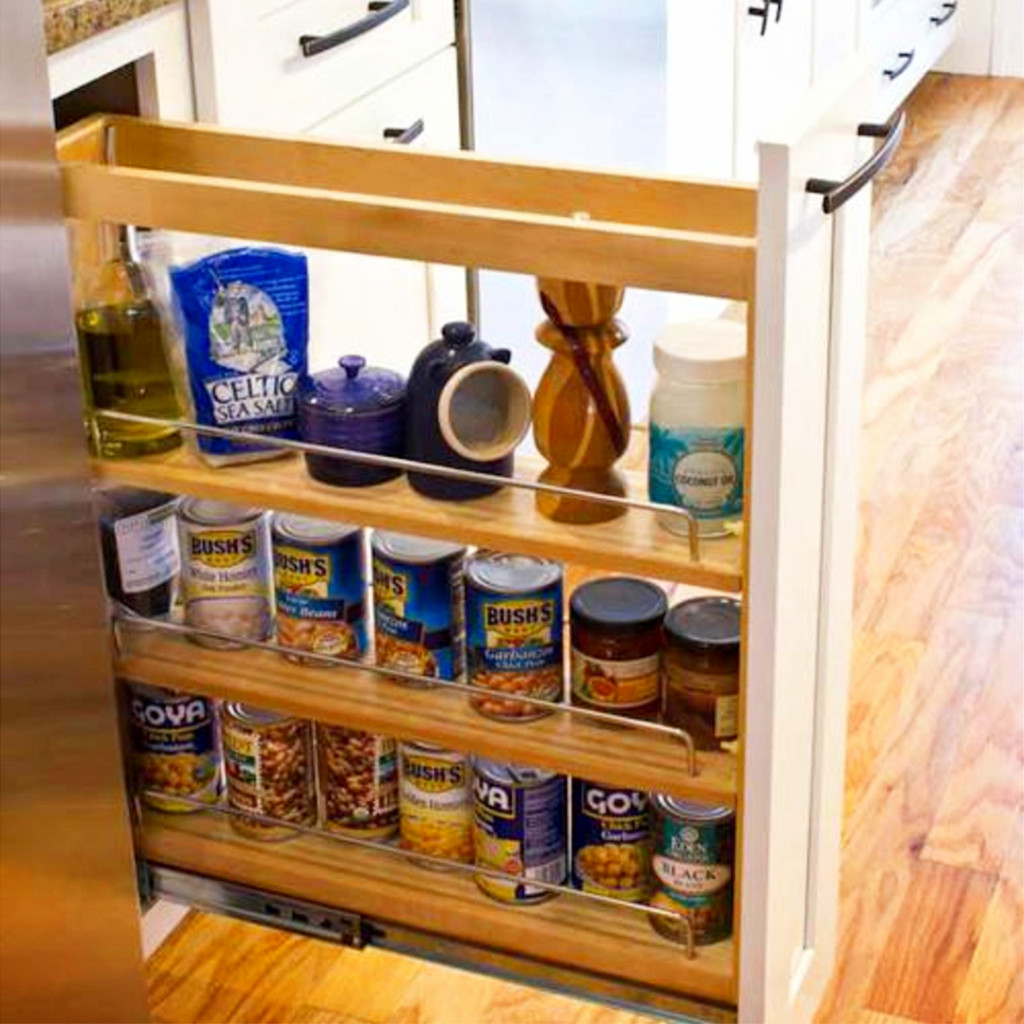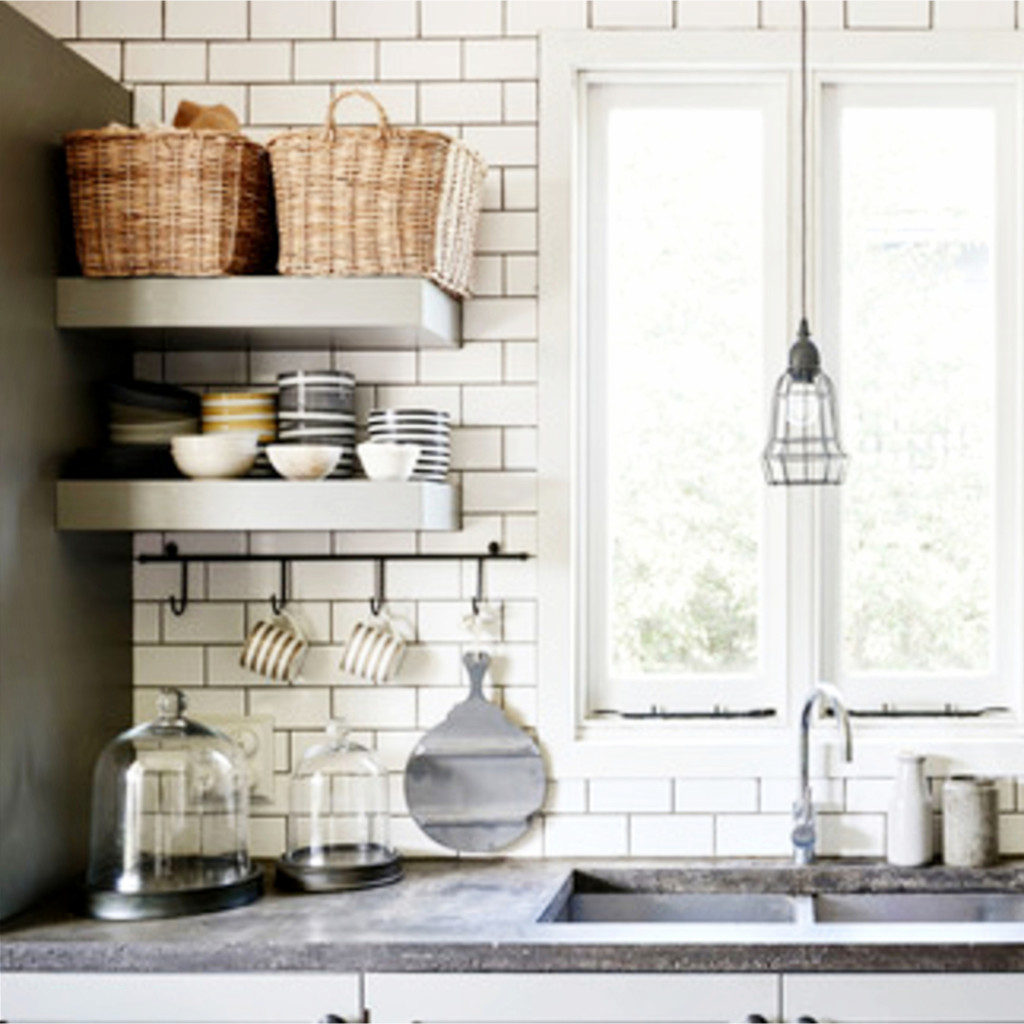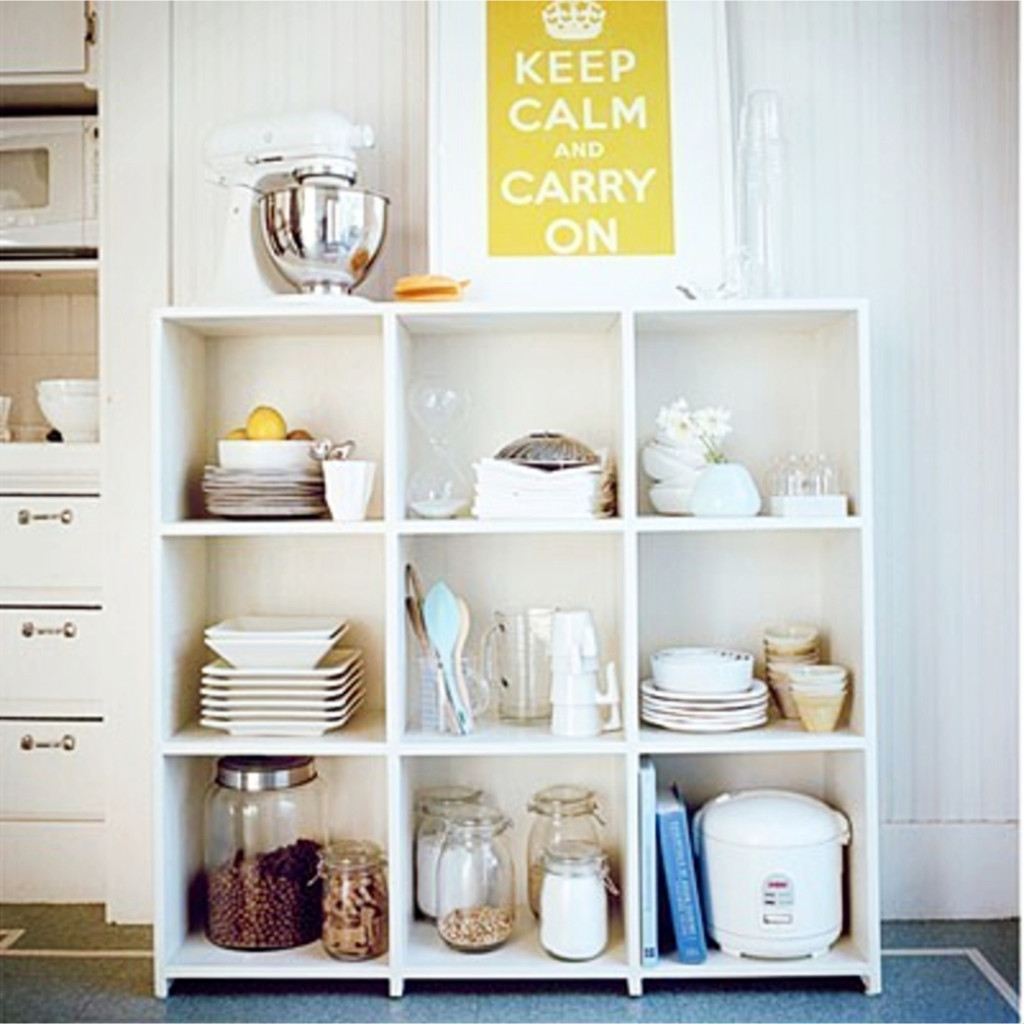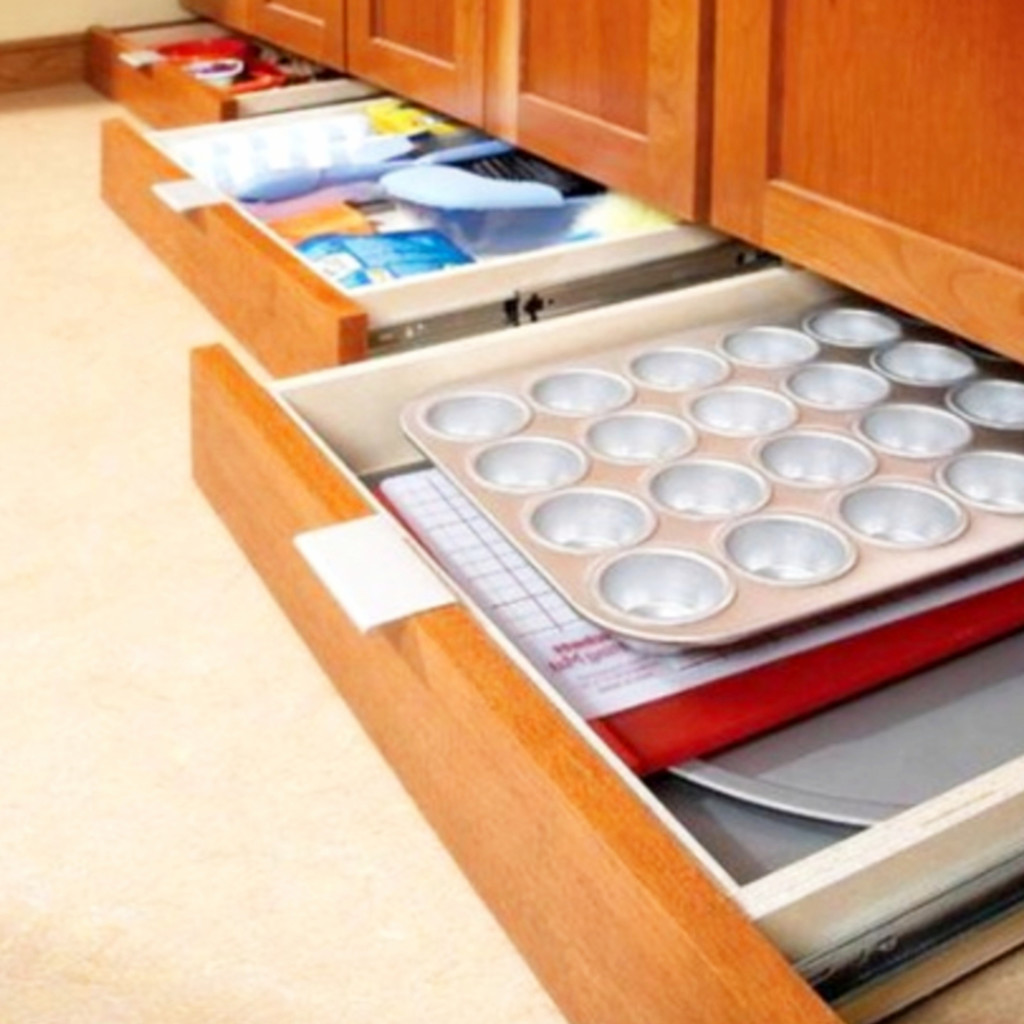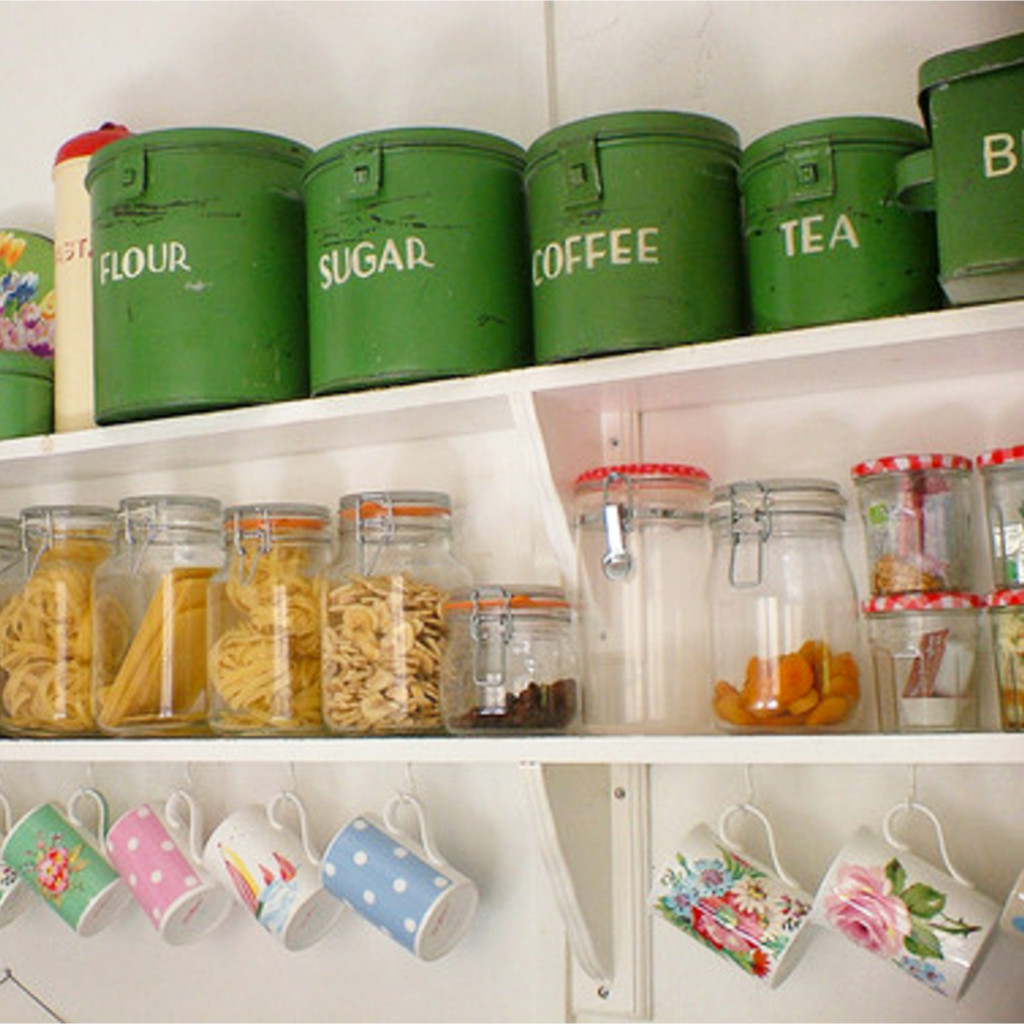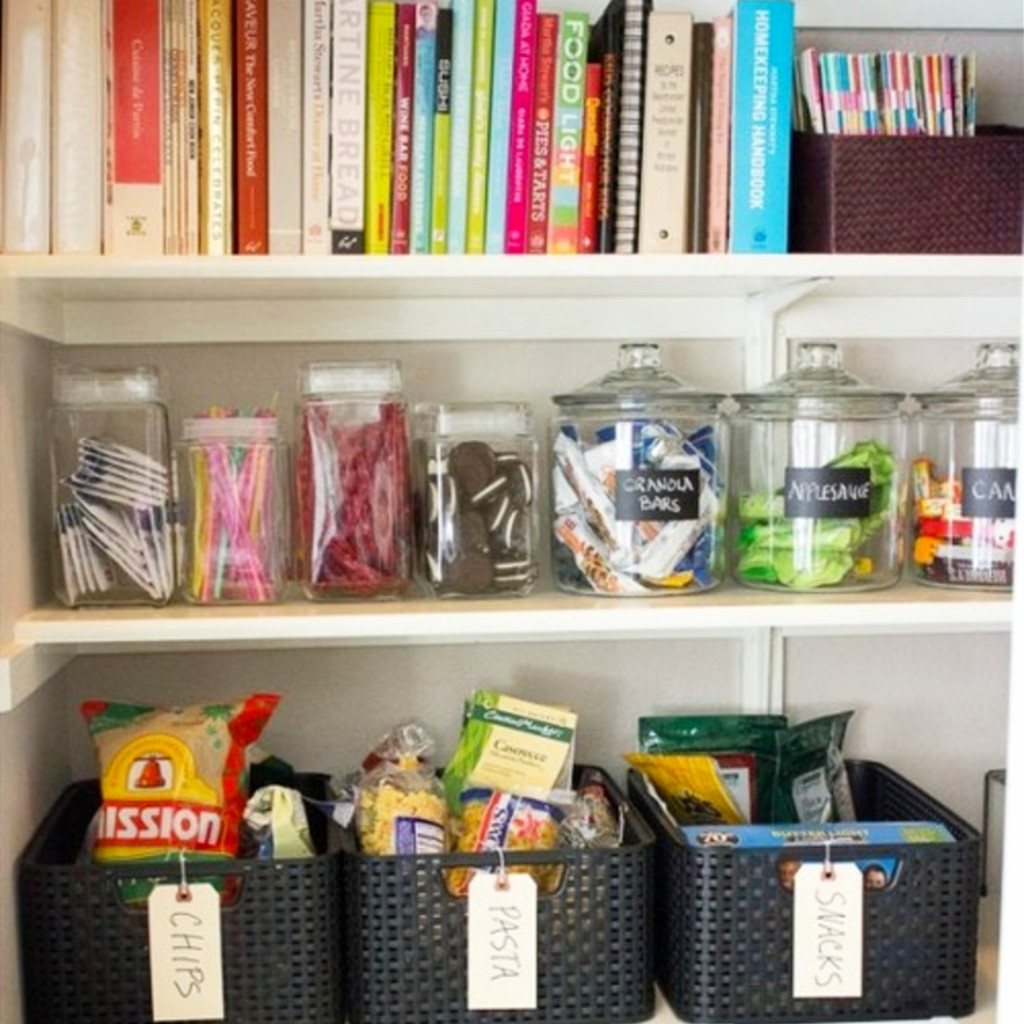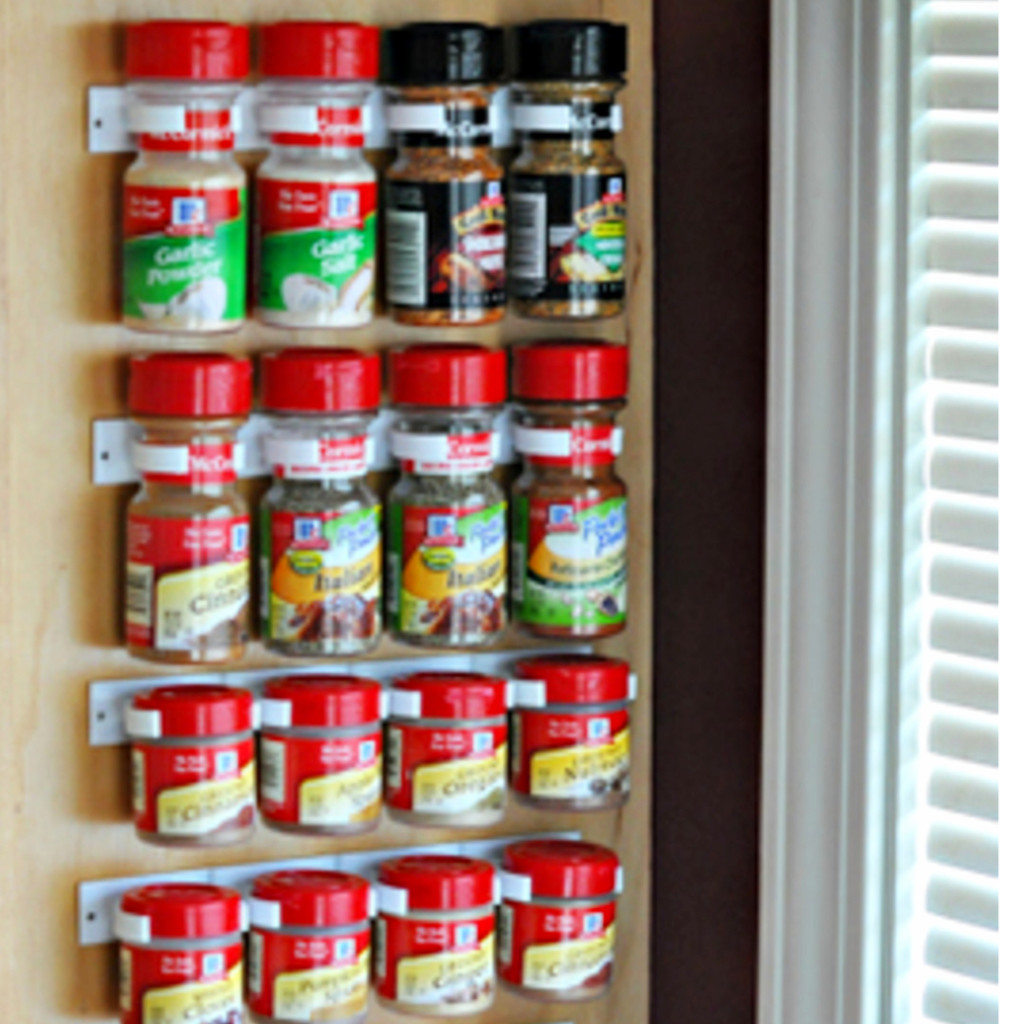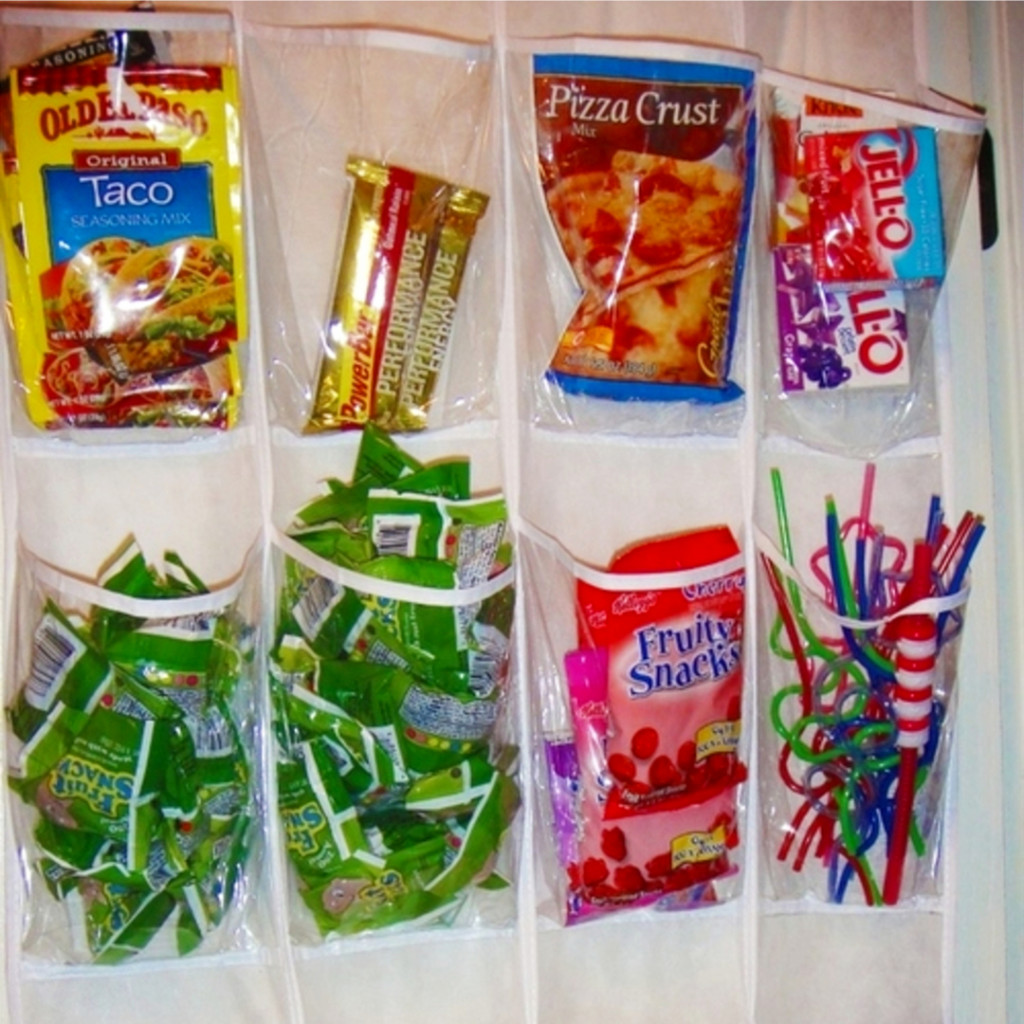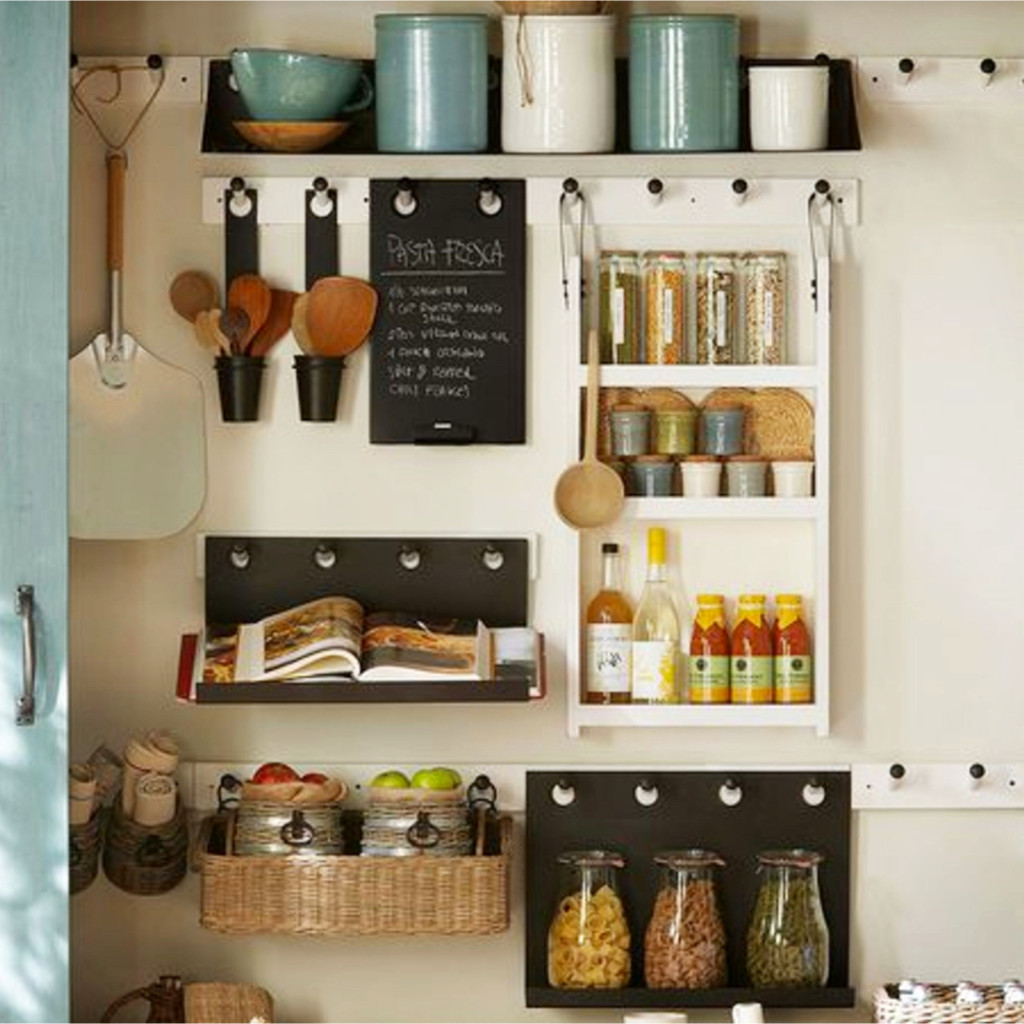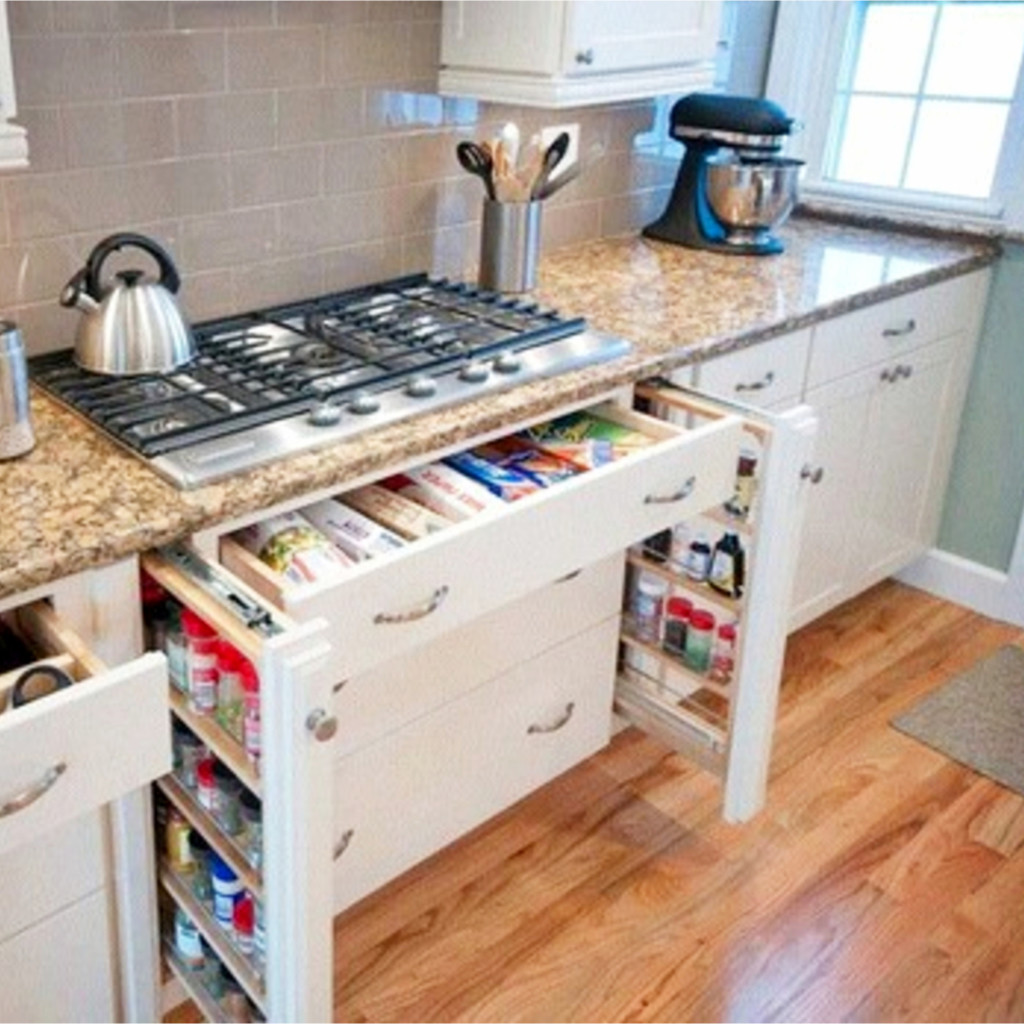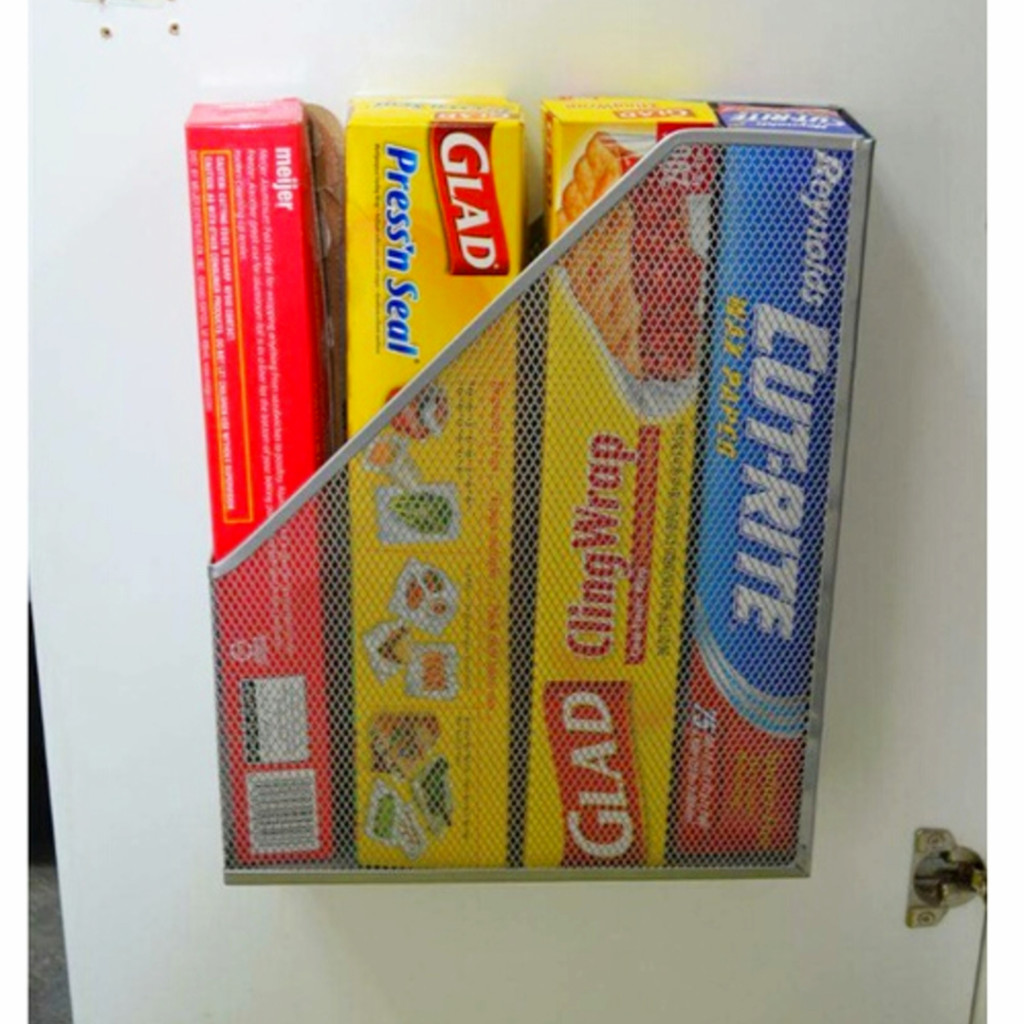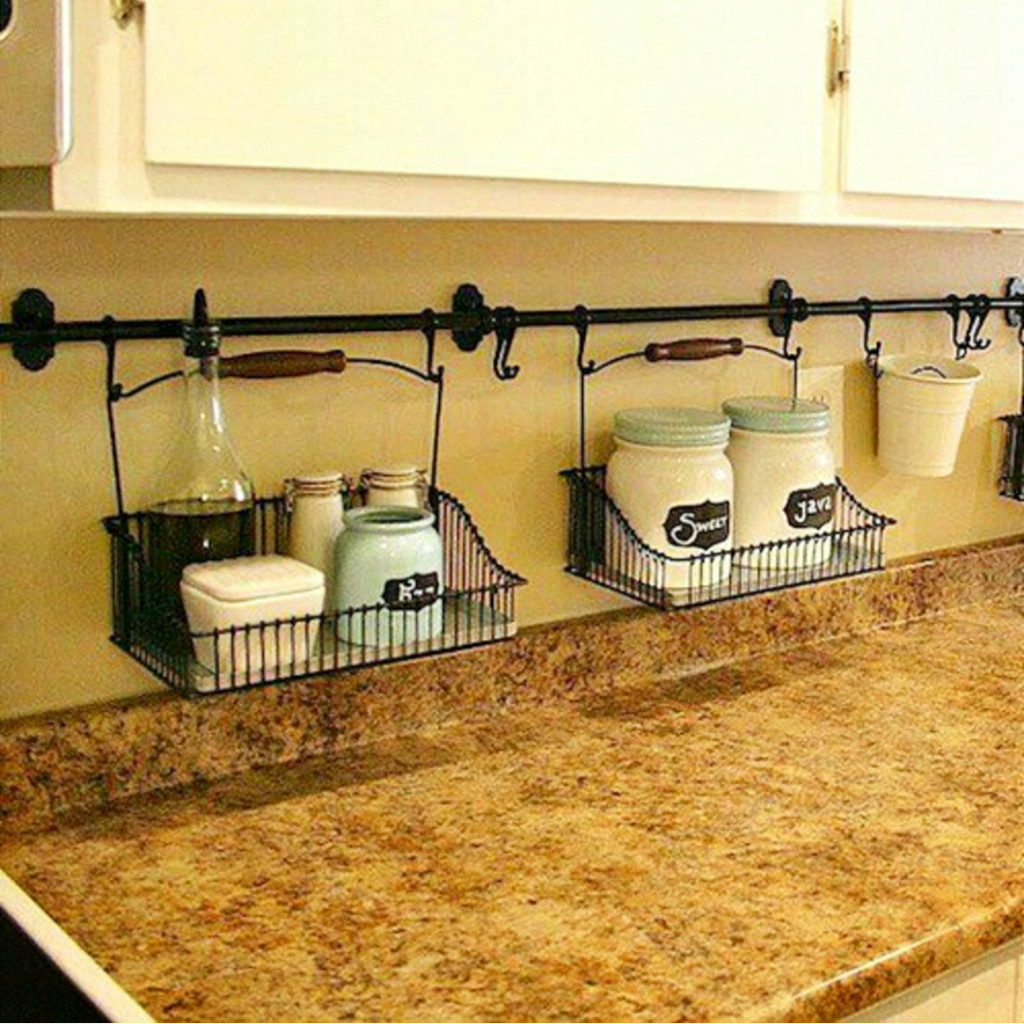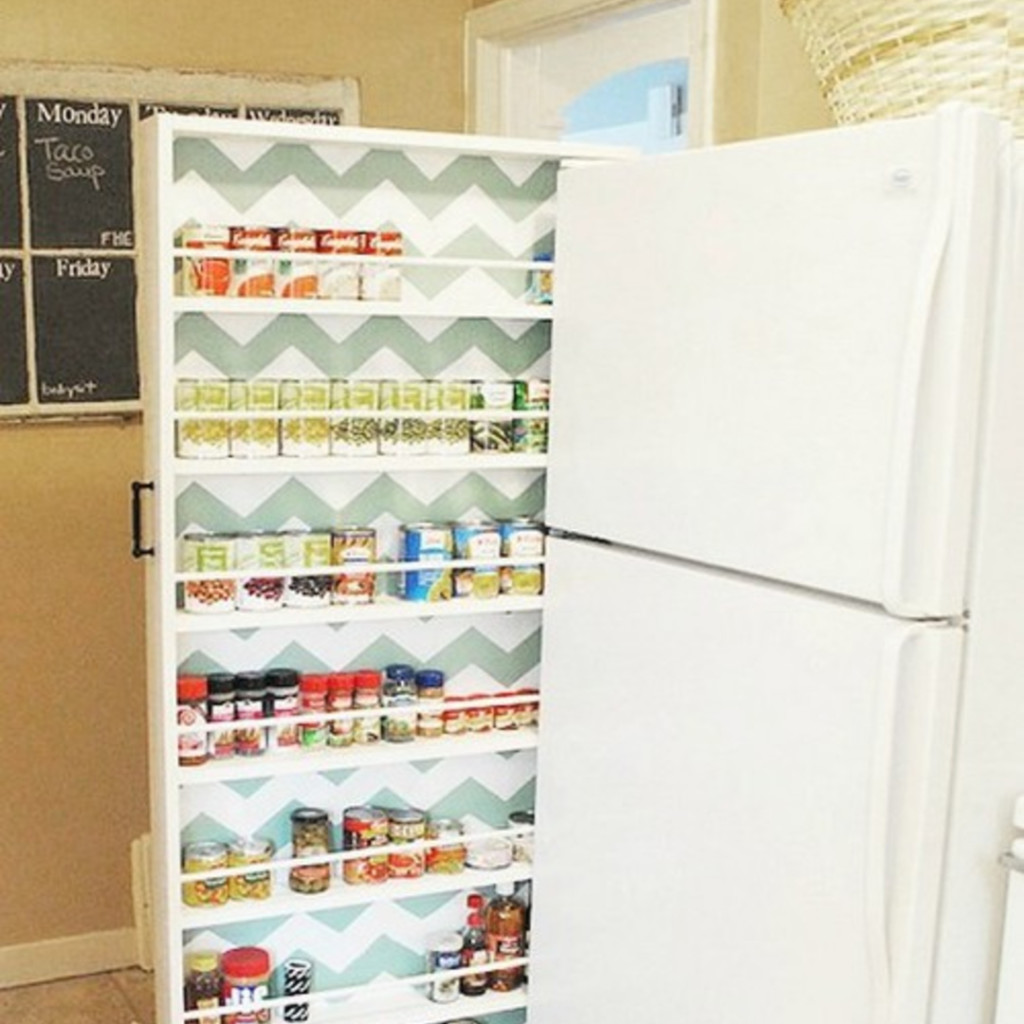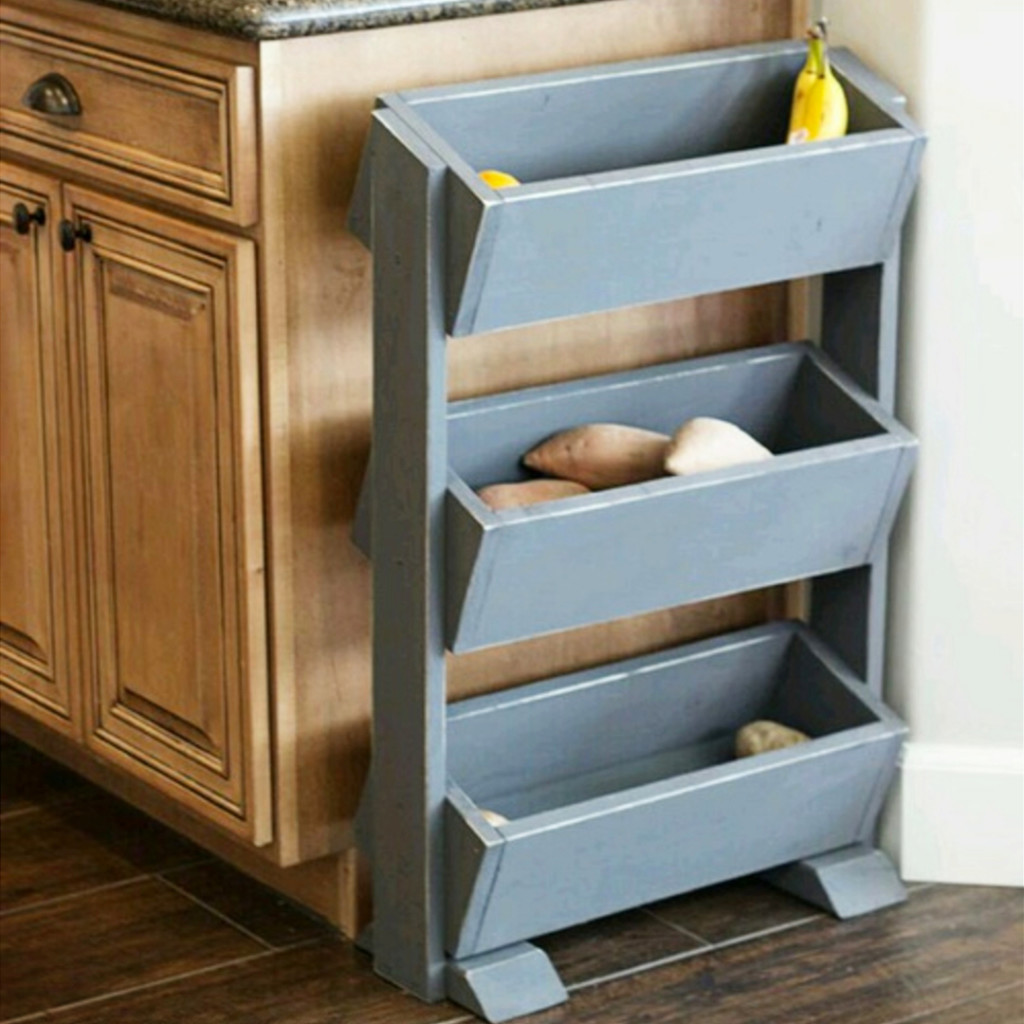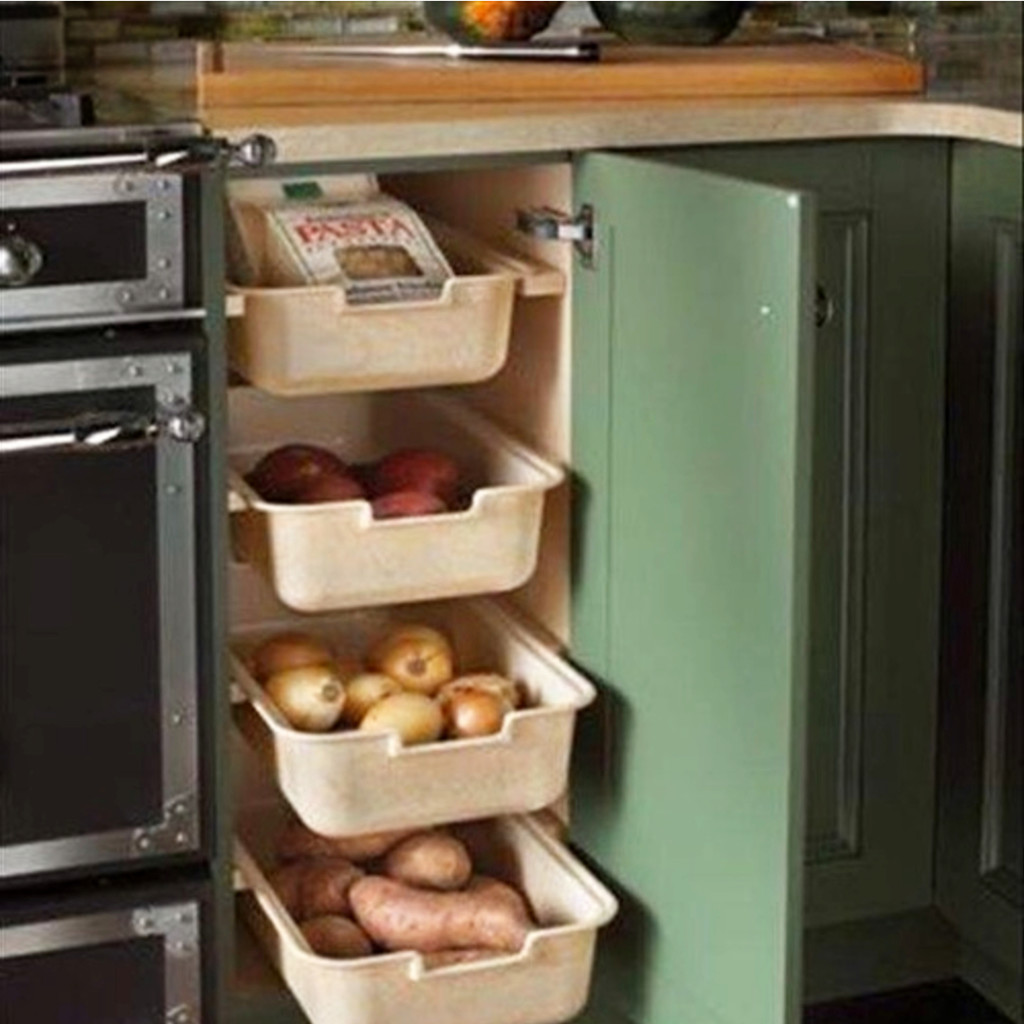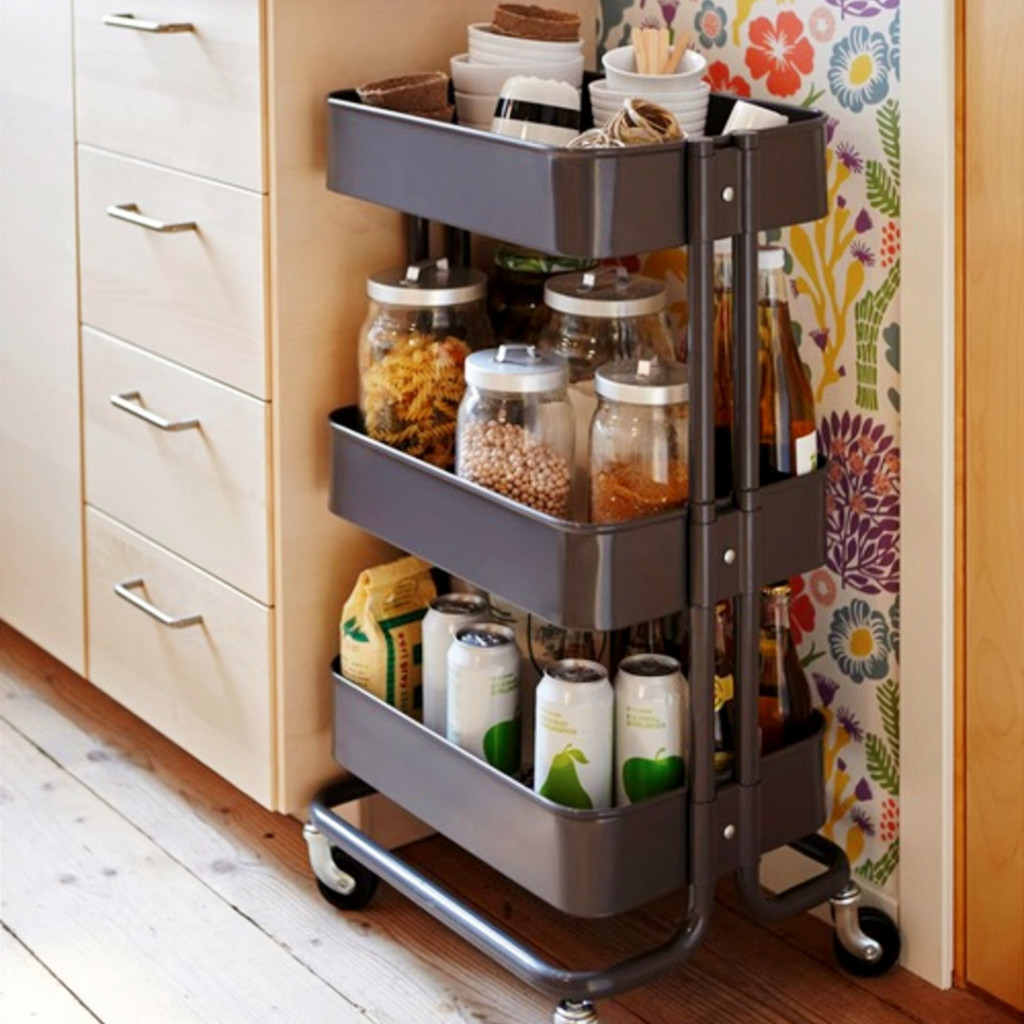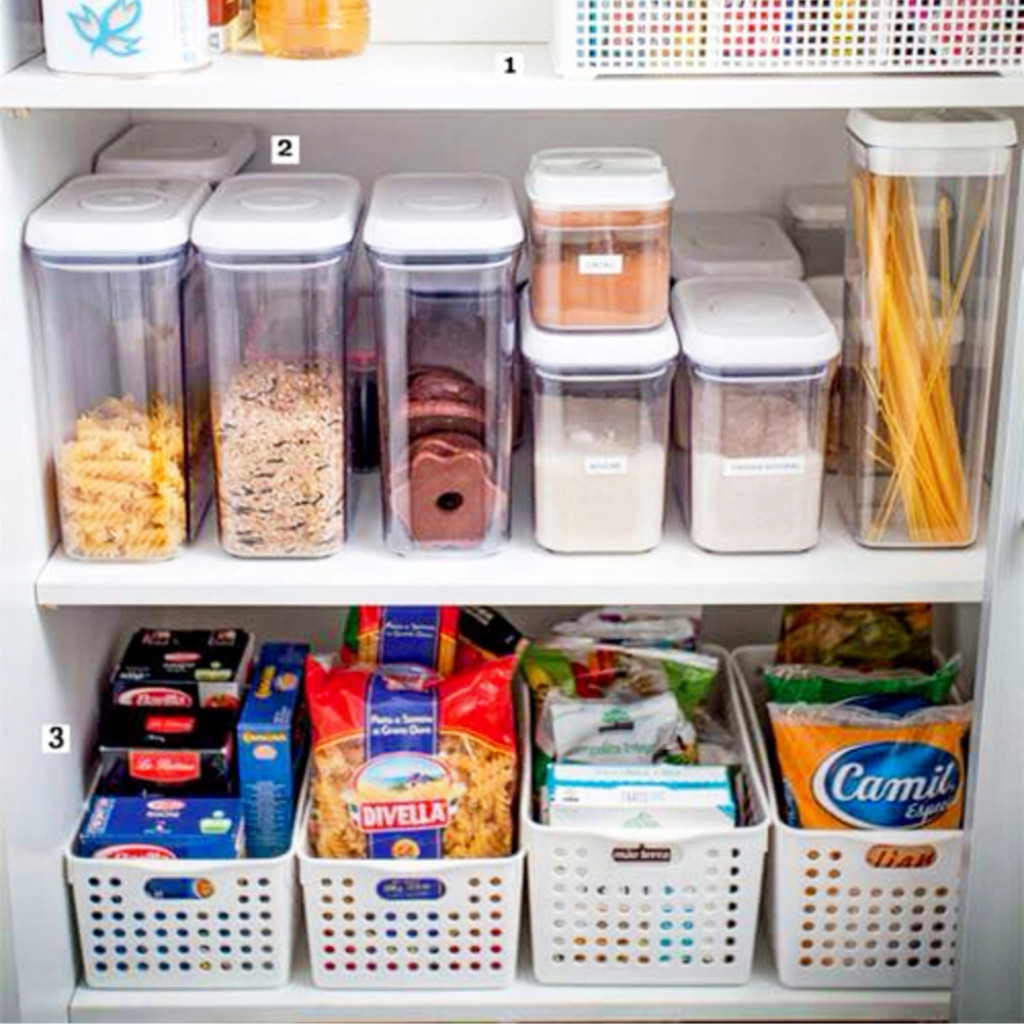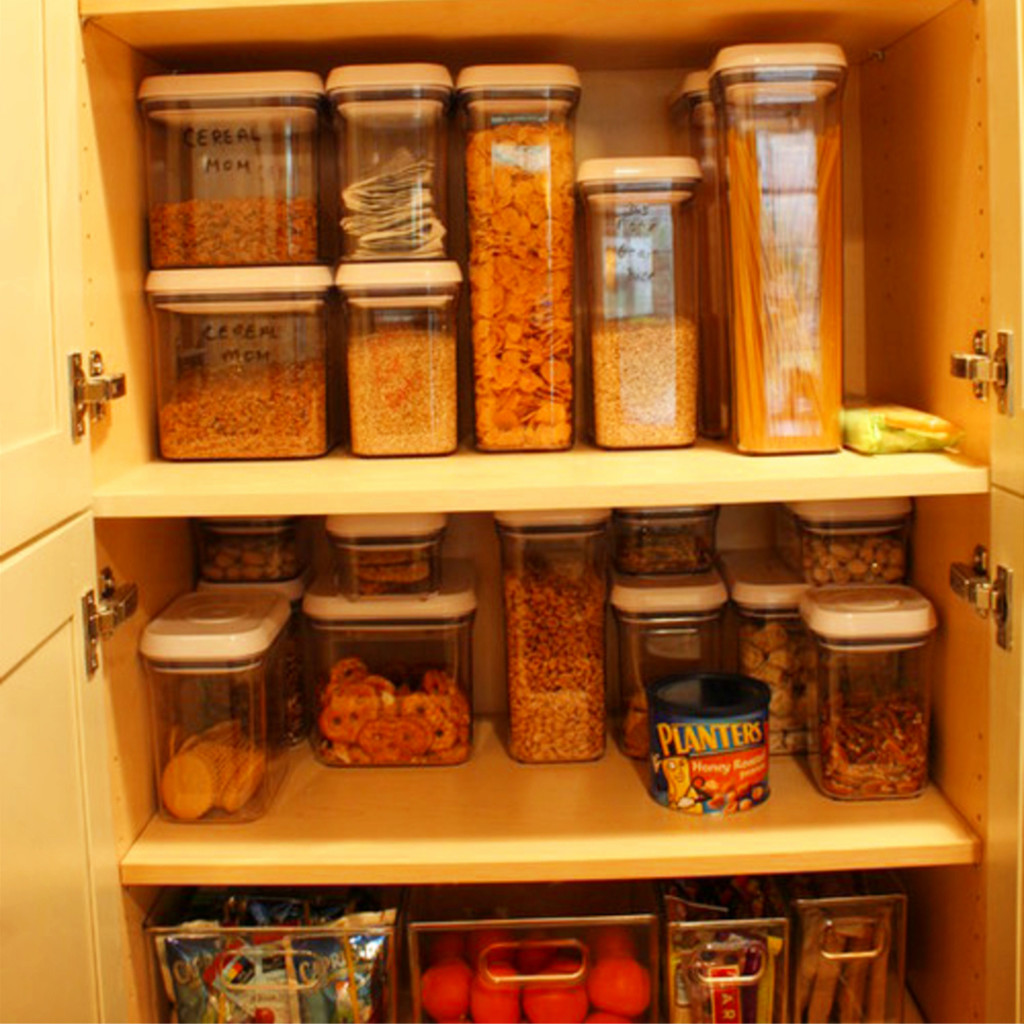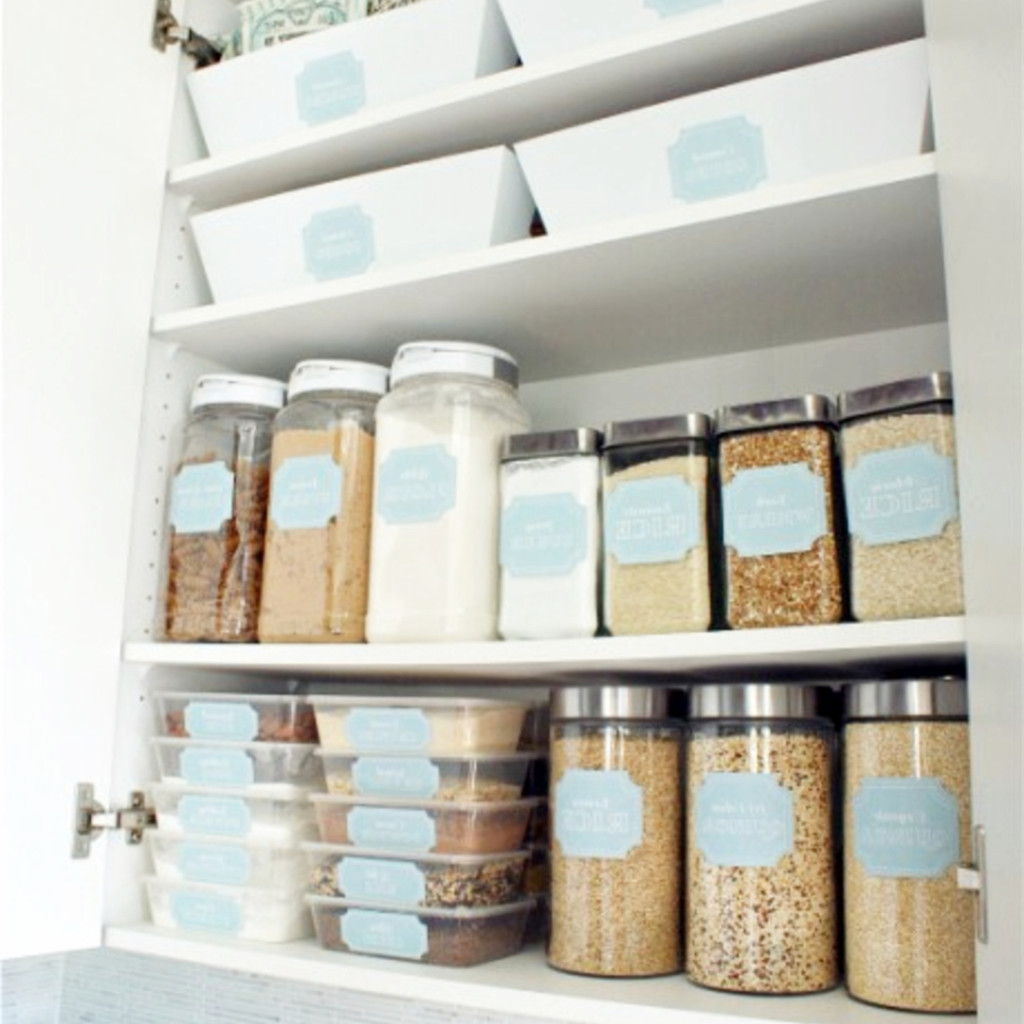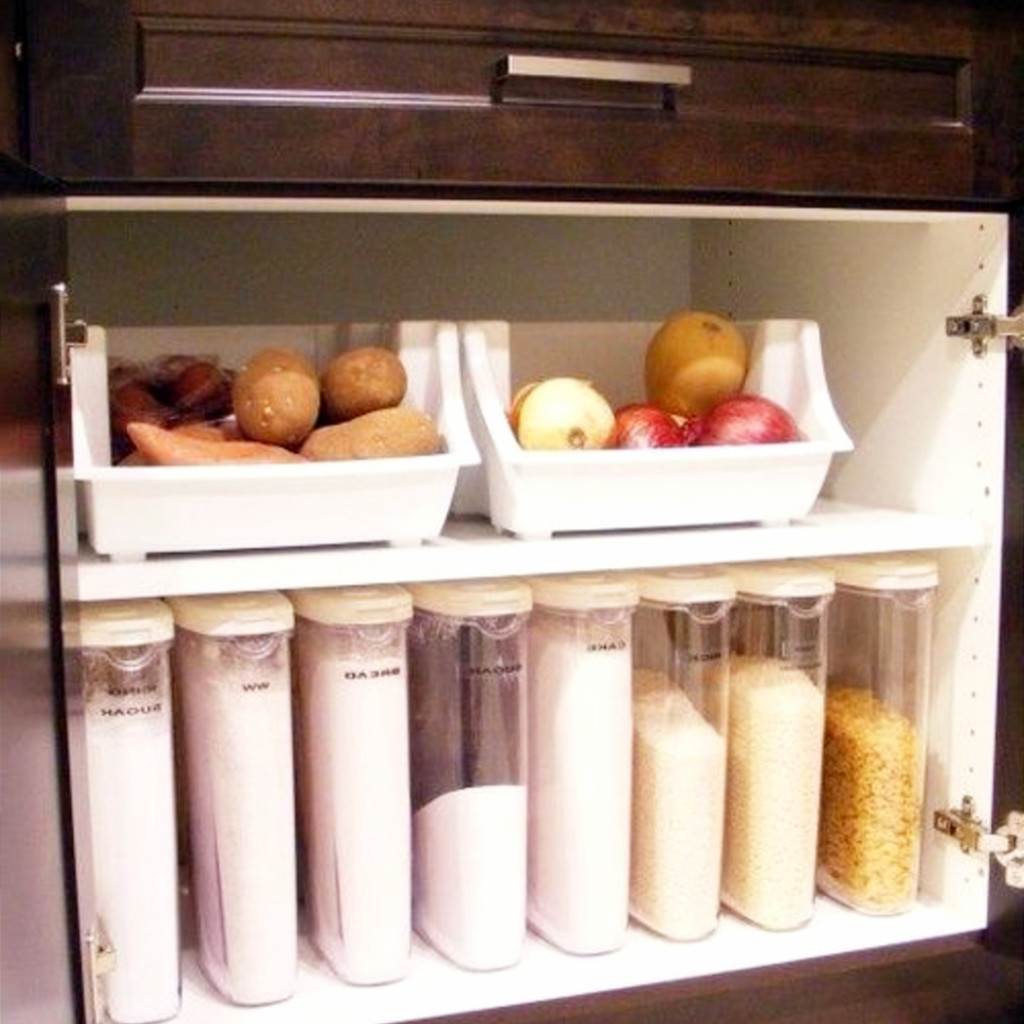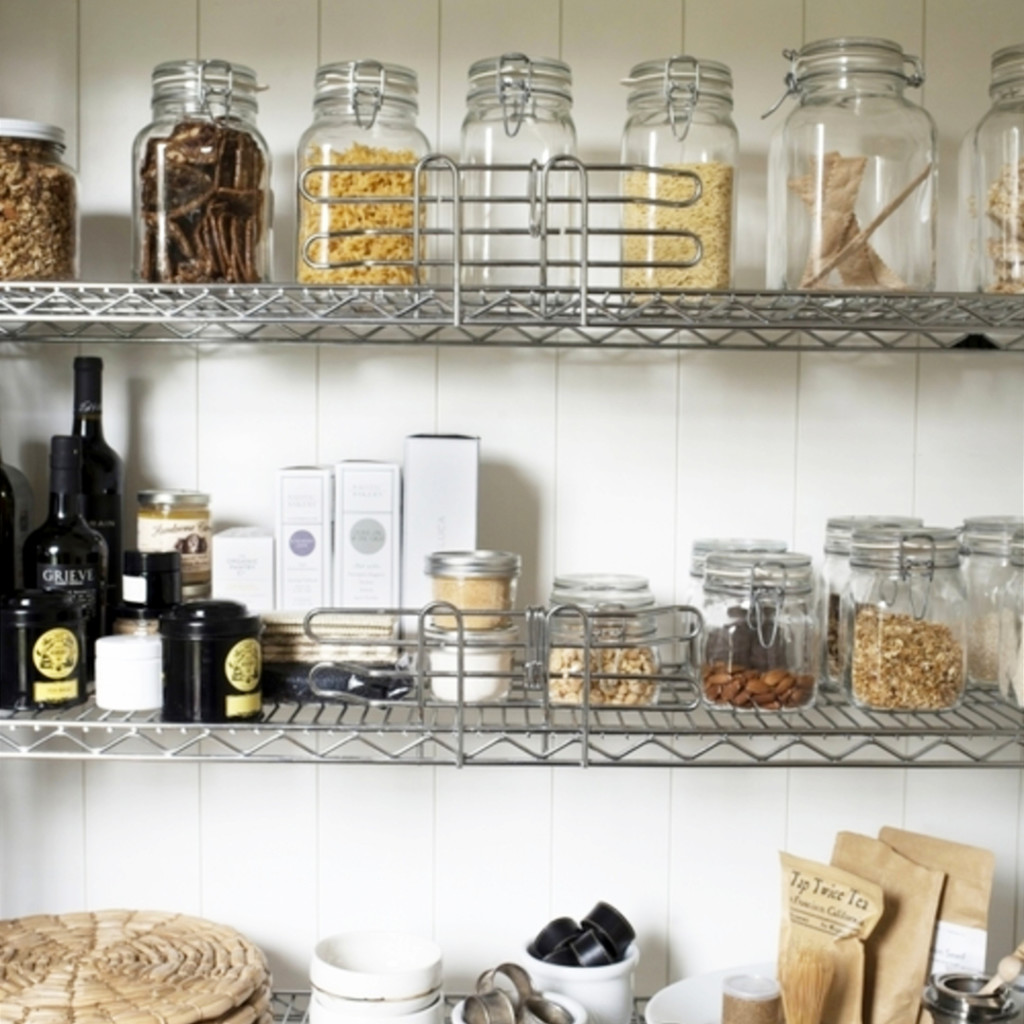 ---
---
Organize Small Kitchen WITHOUT a Pantry
When you're organizing a kitchen without a pantry, you sure have to get creative! Not every kitchen comes with a pantry, but that doesn't mean it can't be efficiently organized.
There are quite a few effective solutions for any kitchen without a pantry. The secret is to get creative.
Chances are, even without a pantry, your kitchen has cabinets and drawers. That is a great place to start. There are plenty of accessories and organization hacks you can try to increase their storage efficiency.
No Pantry Organization Tips
Kitchen pantry organization hacks for when you do NOT have a kitchen pantry area. Wish you had at least a small kitchen pantry, but you don't have ANY pantry space – meaning: you need pantry alternatives.
Here's Help!
Below are some more brilliant and clever DIY "No Pantry" ideas for small kitchens, apartment kitchens and other tiny kitchens that need some serious help and no pantry solutions.
If you need pantry ideas for small spaces BUT you do NOT have a pantry in your kitchen, these are the kitchen storage and organization ideas for you!
Small kitchen solutions for the win!
Let's take a look at some ideas for organizing your tiny kitchen that doesn't have a pantry closet…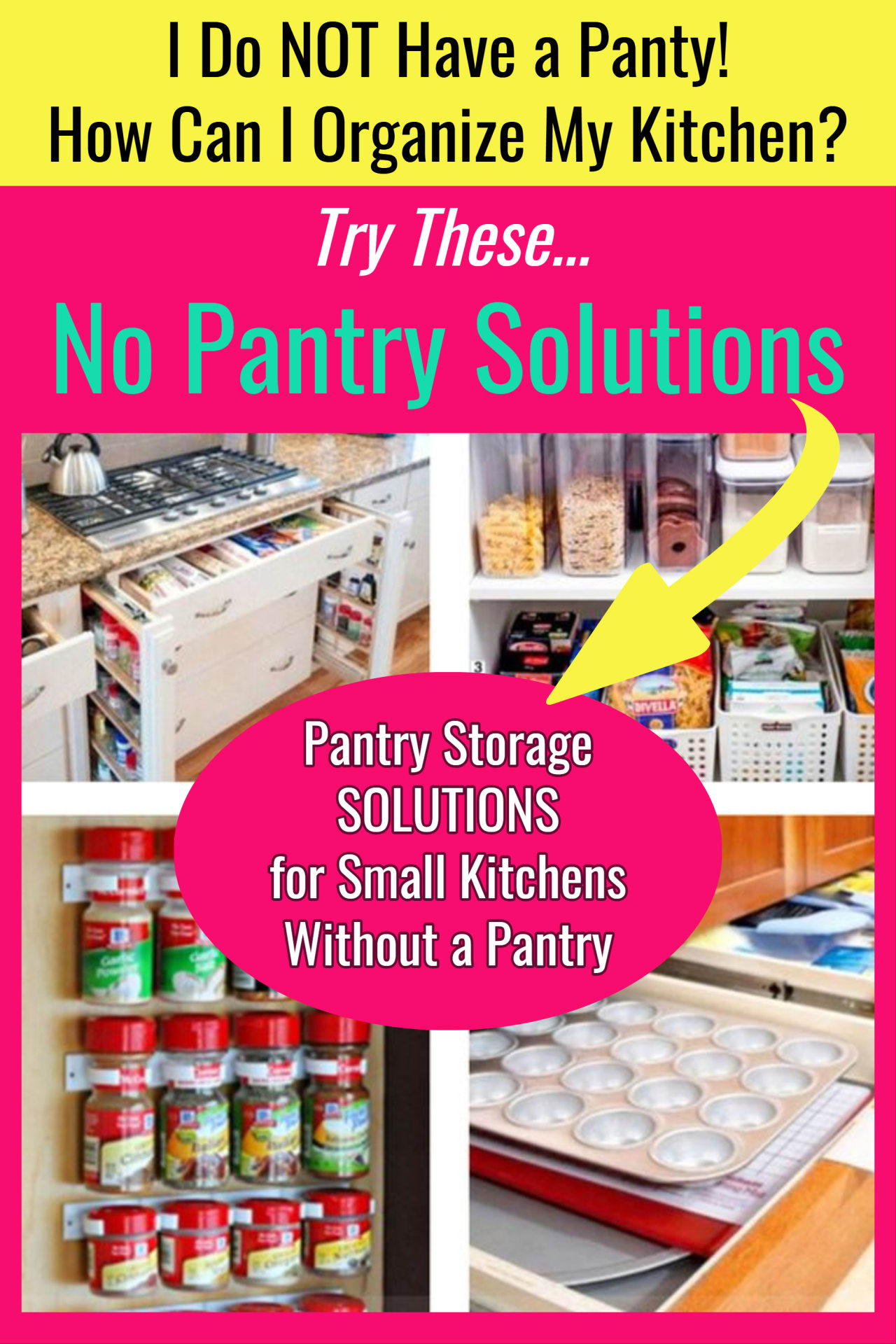 If you're wondering how to organize a small kitchen without a pantry, the key is to take advantage of existing storage space.
The last thing you want to do is clutter a small kitchen with MORE stuff.
Feeling stuck and overwhelmed with all your kitchen clutter?
There are a handful of free-standing storage compartments that might benefit your cause – I'll talk about those options in a moment.
For now, let's focus on utilizing all of the space that you already have available for storage.
Small Kitchen Cabinet Organization
If you're wondering HOW to organize a small kitchen WITHOUT a pantry, consider trying one of these easy ideas to get more space AND still be organized.
When considering existing storage space in the kitchen your cabinets are probably the first thing that comes to mind.
Organizing kitchen cabinets without a pantry can be difficult, but with a bit of work, they can store food, glasses, plates, bowls, pans, and everything else you might need in the kitchen.
Consider yourself extra lucky if you have sufficient space above your cabinets – That's a great place to store pots, pans, and accessories that aren't used as frequently as others.
You can shop online or at your local home goods store to find a variety of inserts meant to maximize storage efficiency.
For example, you can get tiered organizers for inside cabinets (see below) to make it easier to organize a small kitchen without a pantry – a perfect no pantry solution!
Each level on the organizer can hold cans or other food items while maximizing storage space AND making items easy to find.
 Food Storage Organizer Shelves✅ See This Kitchen Cabinet Sotrage Expanders✅ See This
And since they are stacked on top of one another it's more efficient than storing food in the cabinet on a single level.
No Pantry? How To Store Food
But what if you're wondering how to store food when you don't have a pantry and also don't want to buy additional items? If that's the case, it usually boils down to efficient organization.
There are some food items that can naturally be stacked on top of one another, thus taking advantage of otherwise empty cabinet space.
For example, you can stack two or three canned items in a cabinet whereas you would only be able to put one drinking glass in the same area.
 Stackable Can Rack OrganizersGet More Info Stackable Storage Bins for FoodGet More Info Fridge Bins and Freezer OrganizersGet More Info
Apartment Kitchen Solutions
Apartment pantry solutions can be a bit more difficult because apartments tend to have even less cabinet space.
In those situations, you may want to purchase a free-standing cabinet or wardrobe to function as a pantry.
You can even set it in a room other than the kitchen if there is limited space.
☑ See More Apartment Kitchen Organization Hacks
No Pantry Storage Ideas
From creating a pantry space in your kitchen corner to getting creative with basket organizers in your cabinets, there are many no pantry storage ideas you can try (as you've seen in the pictures and DIY ideas above).
Feel free to share what YOUR creative solution was for your No Pantry Kitchen.
---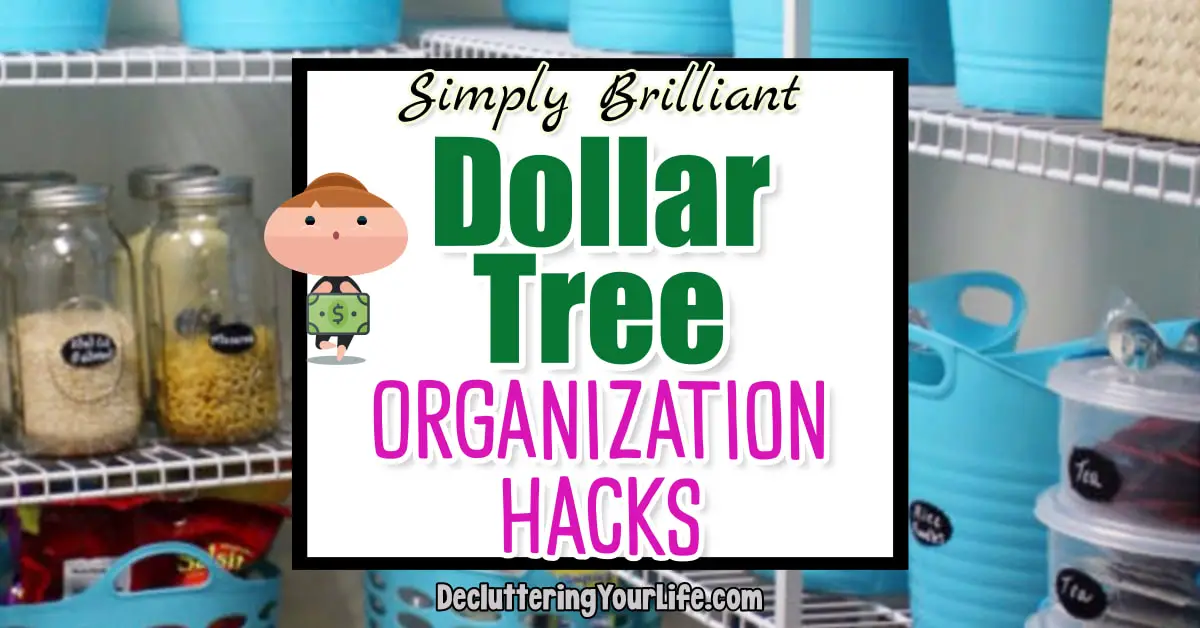 Dollar Store Organization Hacks and Cheap Organizing Ideas - Organizing Your Home on a Budget! Below are some BRILLIANT Dollar ...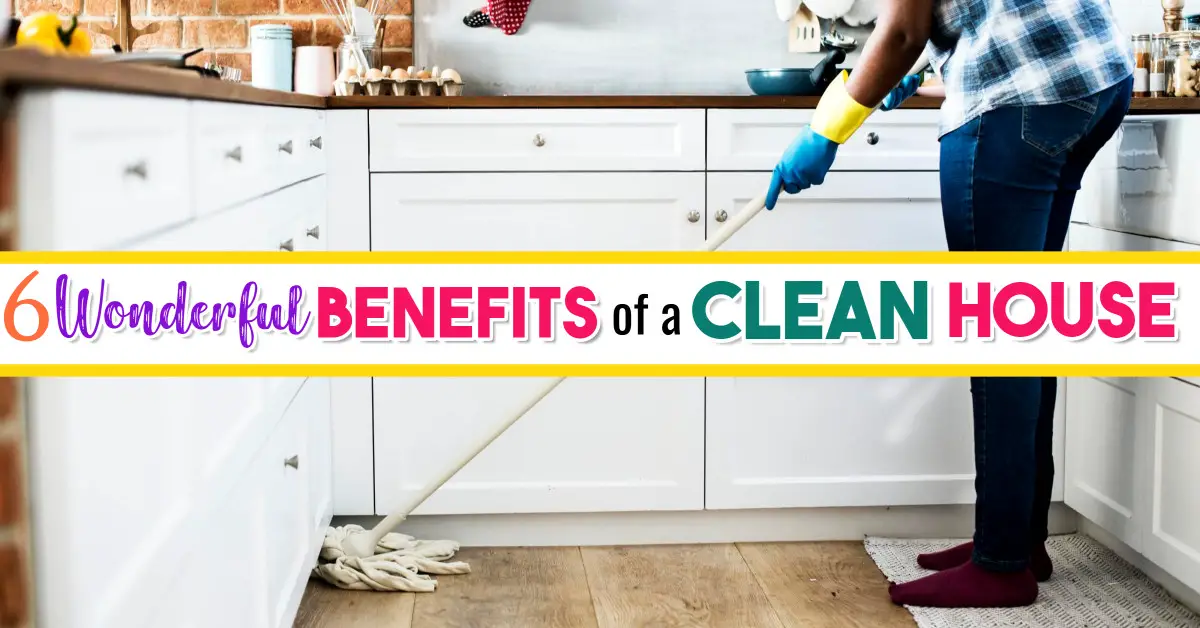 Why It's IMPORTANT To Have a Clean House • There are many benefits to being clean and organized and having ...

---
 Chef's Path Airtight Food Storage Container Set – 7 PC Set – 10 Chalkboard Labels & Marker – Kitchen & Pantry Containers – BPA-Free – Clear Plastic Canisters with Improved Durable LidsShow Me This [16 Pack] Food Storage Containers with Lids, Plastic Food Containers with Lids, Airtight Storage Container Sets for Healthy Diet, Vegetables, Snack & Fruit (Small&Large Size), BPA Free & LeakproofShow Me This BAYKA Food Storage Containers with Lids, 6 Pieces Set Airtight Food Containers with Chalkboard Labels, Interchangeable Lock Design & Heavy Duty BPA Free PlasticShow Me This 40 Pc Food Storage Containers Airtight Dry Food Space saver w/Innovative Dual Utility Interchangeable Lid, FREE 14 pc Measuring Cups/Spoons – One Lid Fits AllShow Me This
---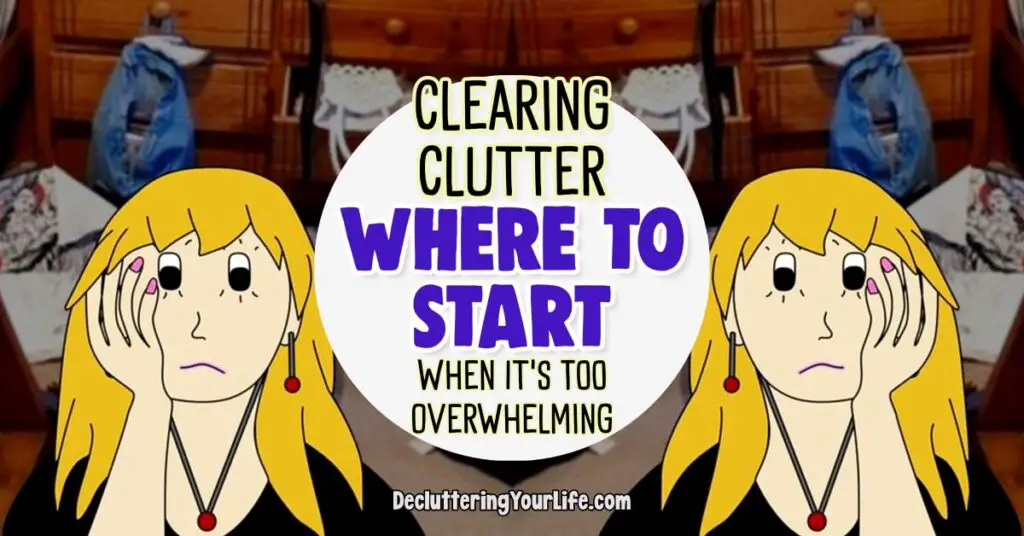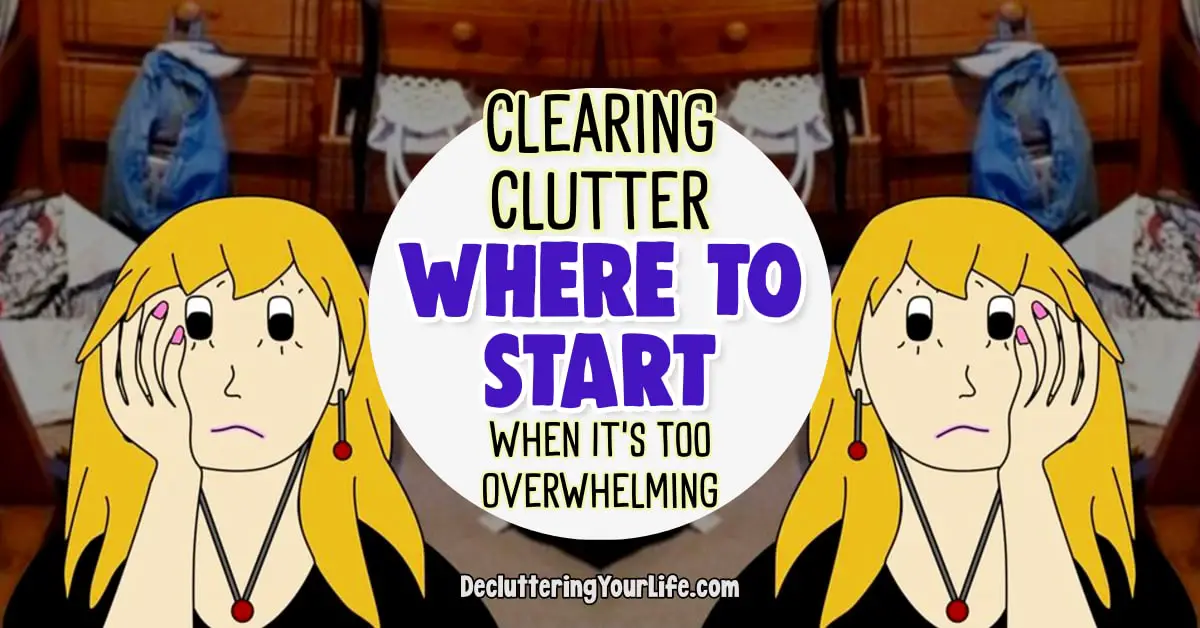 Clearing Clutter=Change Your LIFE! Here's How To START - Have you ever thought, "My house is a disgusting mess!" or ...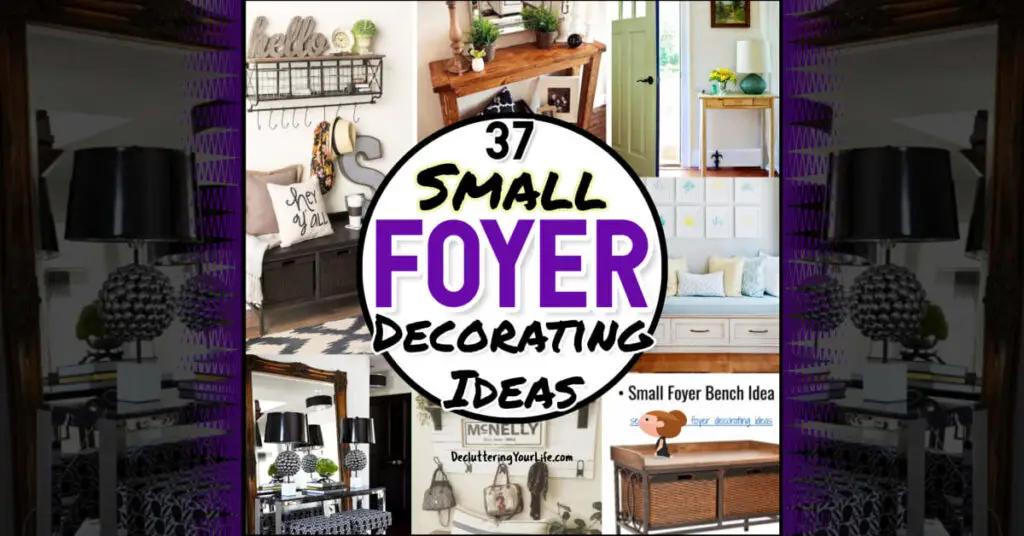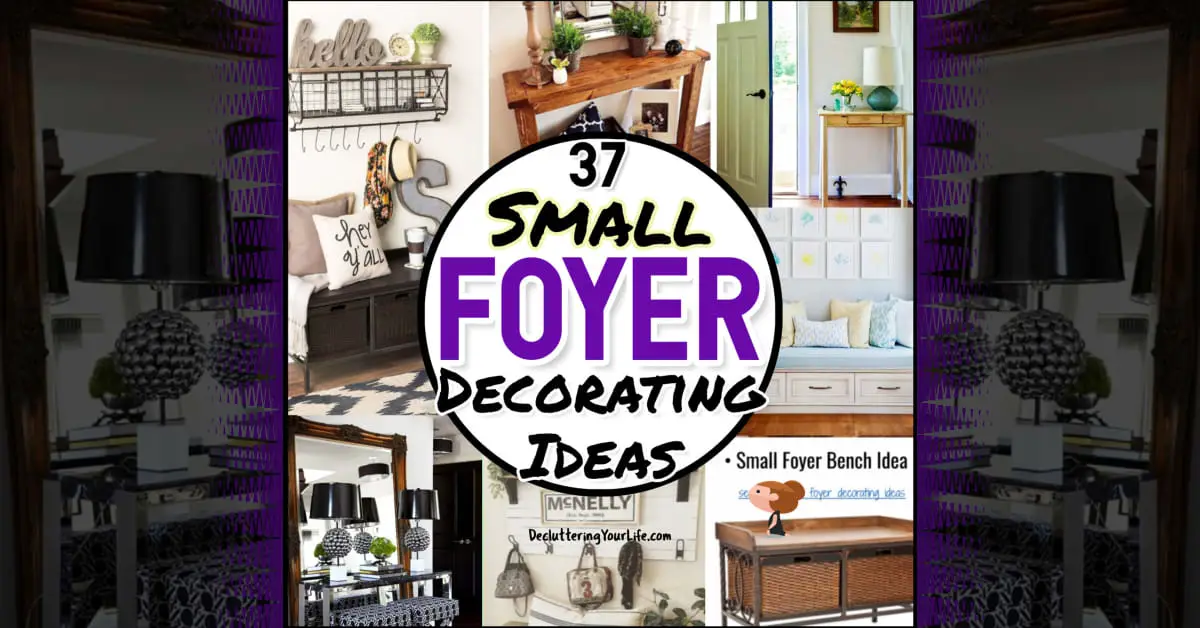 Small Foyer Decorating Ideas - Have a very small foyer or tiny apartment entryway you want to decorate? We found ...

---
Miss Anything?
 Soges 3-Tier Kitchen Baker's Rack Utility Microwave Oven Stand Storage Cart Workstation Shelf, W5s-BGet More Info SimpleHouseware Expandable Stackable Kitchen Cabinet and Counter Shelf Organizer, SilverGet More Info Inval America GCM-042 4 Door Storage Cabinet with Microwave Cart, Laricina WhiteGet More Info