Genius Small Space Storage Hacks & Ideas To Help YOU Get Organized on a Budget
Organizing clutter but have limited room in your small space to work with?
Below you will find 73+ simply genius clutter storage solutions ideas and hacks for small spaces in small homes.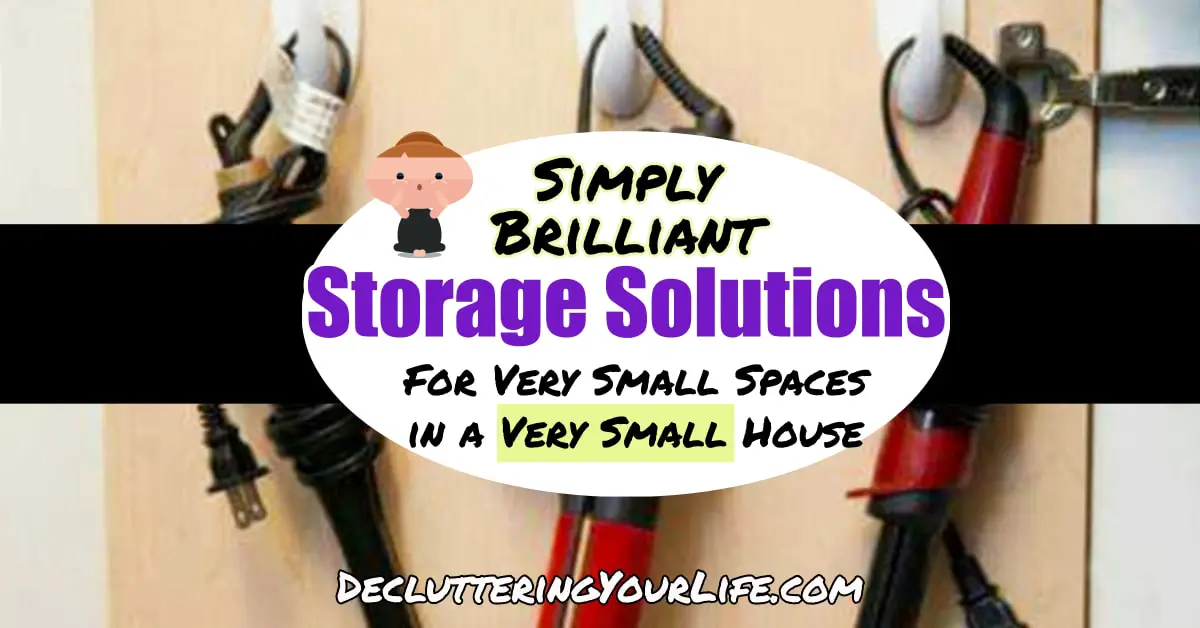 Many of the small space storage solutions below had me thinking:
"Why didn't *I* think of that?!?!"
Most of the creative and easy storage solutions below can be done cheaply – you could even do some organizing with Dollar Store items or items you already have around your house.
Live in a small apartment?
There are also some smart tips and tricks for getting more storage space in every nook and cranny in your home below the picture slideshow below.
You can click/tap the slideshow to stop it – use the arrows on either side to move to the next or previous idea (or swipe).
Small Space Storage Hacks and Tips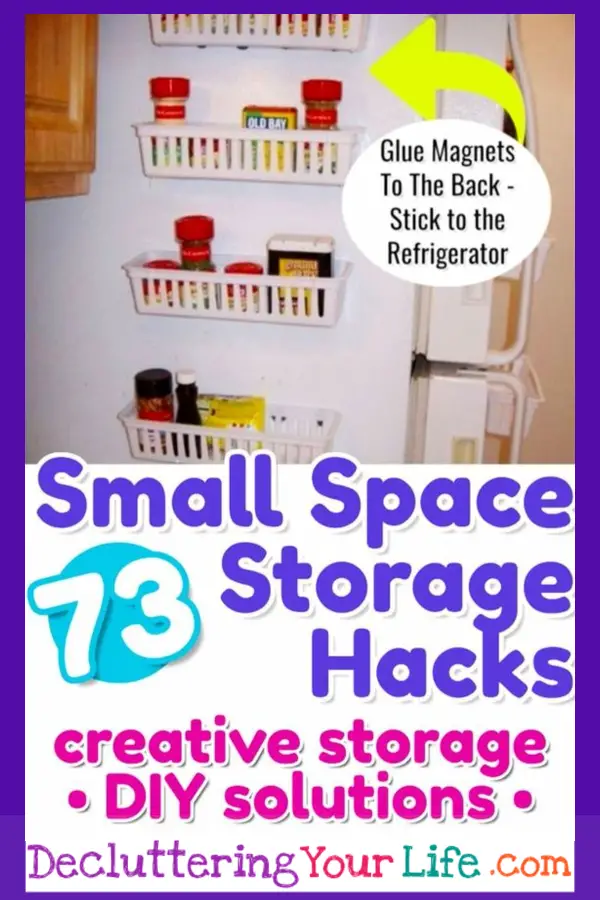 Small space is a real problem especially, when your things are starting to pile up. Organizing clutter gets extra difficult when you have more things to work on and less space to live by. What you need to do is to maximize what small space you have with smart small space storage solutions.
You can start with customizing some of your furniture. Let's say, your sofa for instance. You can turn the lower part of your sofa set into storage cabinets. Where you sit could serve as doors for your storage cabinets. Ask your friendly carpenter on how it could be done. This storage could be home to your books and magazines.
The back part of your doors could also be useful for things like brooms, dusters and other cleaning gadgets. All you need to do is screw hooks at your door and you have an instant space for your cleaning gadgets! Does it look messy? Go get a u-shaped shower rod with a shower curtain and place it at the door. That would cover up the mess.
• see: small linen closet organization ideas
Now, focus on the walls. What you need are a couple of L-shaped wall mounts and 1/2 inch thick plywood. Cut the plywood into your desired size and place them over the L-shaped wall mounts. You get to have extra shelves for your blender and juicer in the kitchen. It can also look good in your bedroom.
Try looking up the ceiling as well. You can hook up some racks where you can put other stuffs like coats, your bag organizer and other whatnots. Just try to group the things that you place in every section.
For Small Rooms
It is very important not to load a small room with too many things. First, a small room filled with lots of things will look even smaller and it will be difficult to find what is needed.
So what can you do?
1. Hang everything on the walls. You can hang shelving, TV, racks, etc.. These will create storage space and the room will look bigger and wider because there will be just a few things on the floor. Another big advantage in having almost no furniture on the floor is that it makes it much easier and convenient to clean and wash.
2. Choose a relatively large storage spaces instead of using many small ones. It is better to have one closet (of course, it shouldn't be too big in order to not take up all the space in the room) instead of 5 small cabinets. The more objects in a small room, the more it looks decluttered and it is harder to find things in there.
3. Use the corners of the room – furniture and objects that are located in the corners do not fill up too much space and don't block the light, since the windows are usually located in the middle of a wall.
• see: small foyer and entryway ideas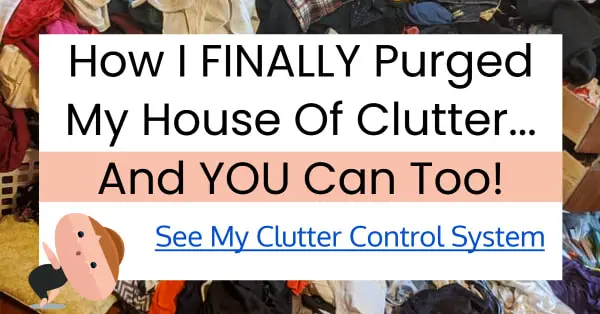 For Small Kitchens
1. If your counter is small, you need to create additional storage space so that the counter remains as free as possible. You can add shelving between the counter and the cupboards to increase work or storage space.
2. Use racks. There are many things in the kitchen that you can hang – pots' lids, spices stand, various spoons, mugs and more. If you have a work space in the middle of the kitchen, you can hang a special rack to hang pots and larger objects on it.
3. Use plastic boxes or containers. Small objects can be stored in one plastic box. These little things will more accessible that way and you'll also free some space.
• see: small kitchen re-do before and after pictures
For Small Bathrooms
1. If you have a small bathroom, you should only store the absolutely necessary items IN your bathroom, and then find other places to store the things that are used infrequently.
2. You can also use closed plastic boxes to store other cosmetics and toiletries in the bathroom. Be sure to label them so you can easily see what's IN the container.
3. You can add a special rack in the shower or bath to for shampoo, soap etc.
We love the idea of hanging an adjustable curtain rod in the shower to hang things from.
4. An over-the-door rack with pockets can be used to store lots of small items.
We also showed how to use one of these organizers for your cleaning supplies here.
For a Small Home Office
1. In a small home office, the organization is very important. In such cases, you should use a desk with many drawers and built-in shelves. That way, everything will be handy and you won't have to add a lot of separate shelves and other storage areas.
2. I also recommend using drawers unit on wheels. You can move it when necessary and make some extra room if you need to.
For Small Closets
You would think that organizing your clutter in a small closet would take you less time, just because it is small. But to be honest, if you are in the situation of having a small closet, it could you take you more time to declutter. So without further ado, let's get started on operation: Declutter Small Closet.
There are several reasons why it may take you more time to declutter. Firstly, space is at a premium, so you need to be more efficient with how you organize your space. Secondly, you may still have just as much stuff as another person with a big closet, so it's going to be a challenge to organize a small closet.
• see: small nursery closet organization ideas
But never fear, as there are many things that you can do to organize a small closet and use the space efficiently. The first step is to remove all the contents from your small closet. Sort all the items in your small closet into different categories. Place items of a like nature together, for example, place underwear and small items like socks together. Sort your clothes according to the seasons, if you happen to live in a country which has different seasons. In your winter pile, you may have a couple of thick woolly coats that you can place in the pile together.
In your summer pile, you may have some short sleeve tops and shorts, bathers, and swimming gear to place in the pile. If you also keep your shoes in your closet, place all your shoes together in a pile. If you like, you could also sort your shoes by the season. Sandals and slippers in the summer pile, winter boots and shoes in the winter pile etc.
You should be now be starting to get into the flow of sorting through your stuff. The whole idea behind using this sorting approach is to see how many items in each category that you have. Looking through your stuff, you should only really need a few essential items in each category. Beyond that, it is really a matter of preference what you keep. Everyone has favorite items that they like to wear. They may not be the most functional or easiest to wash, but we get attached to our favorite stuff. So we hang on to them.
Once you have sorted through your stuff, eliminate stuff that you no longer have a need for. Maybe it's past its use by date, or you are no longer able to wear it, or it is no longer in fashion. Throw away all these items and the organization of your closet is half way there.
• see: decluttering tips for pack rats
Now place these items back in your closet, and find the best place to store them in your closet based on frequency of use and accessibility. Lesser used items should be placed on higher or lower shelves. Buy some stackable containers as this is a good strategy to for storing awkward shaped items.
Small closets can be just as functional if you know how to maximize your storage space and only store essential items. Give yourself a pat on the back if you have managed to successfully declutter and organize your small closet.
Even small spaces can be organized in a way that it is convenient, accessible and tidy.
Sometimes, you just need a little creativity to find unique solutions to any room.
More Storage Solutions:
Miss Anything?